Have you recently been approached by someone promoting Shaklee and you are wondering Is Shaklee a pyramid scam…?  Let me guess, they have told you Shaklee is a great business opportunity for you to make money and you want to know whether it is legit or not.
Well, thanks for taking the time to do your research.  It is a fantastic way of avoiding online scams and finding legit ways to make money online.
Shaklee claims to help you with your health and wealth with their product range and lucrative business model.  But is it really true…?
Let us cut straight to it…
Shaklee does offer some fantastic products, but I don't think Shaklee is the best business opportunity for you to make money online…
Shaklee Review Summary
Product Name: Shaklee
Owner: Founded by Forrest C. Shaklee in 1956
Product Type: Health & Wellness MLM Company
Price: Varies Depending on Your Membership Level
Best For: Moms, Housewives, Parents…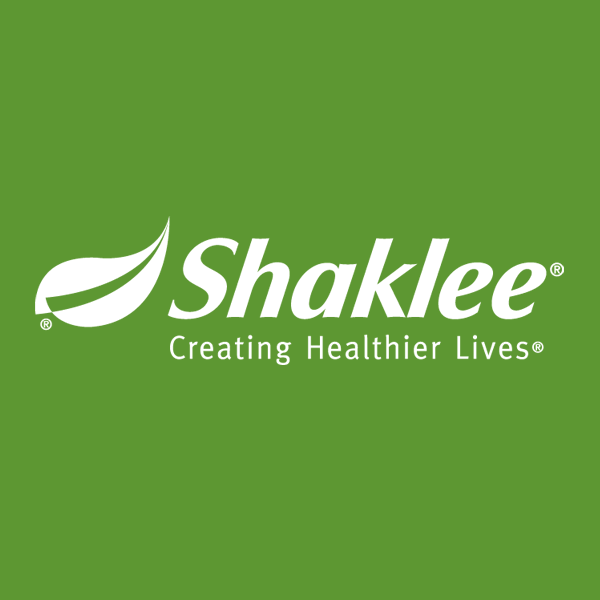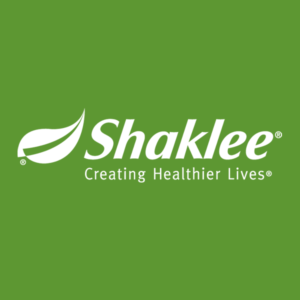 Summary:  Shaklee is an MLM company selling health related and eco-friendly products.  It is a long-established business, but if you are thinking it is a good business opportunity to make money online know that it is not as easy as they claim, and it is an expensive start-up cost for you to get started.
Rating: 50/100
Recommended? Not Really
Shaklee is a popular Health 7 Wellness Multi-Level Marketing (MLM) company.  It was founded in 1956 by Forrest C. Shaklee and is currently based in Pleasanton, California.
MLM companies do not spend money on advertising and instead it allows individuals the opportunity to market their products for them.
In return, Shaklee gives its distributors a commission for every sale that they make, and the distributors can also get a commission if they are able to recruit people into the system.
This follows a typical MLM model, which can be flawed (we will get into that later) but know that most people who join MLM's will lose their money… But the good thing is that Shaklee has been around a long time and this shows that there is little risk of Shaklee folding overnight a most MLM's only last for a couple of years.
Over the past 60+ years, they have expanded into 7 countries other than the US:
Canada
Japan
Malaysia
Mexico
Taiwan
China
Indonesia
When Shaklee started out, its products were to do with nutrition and weight management products.  But now it has expanded into beauty and home products too.
There are more than 200 products being sold by the company.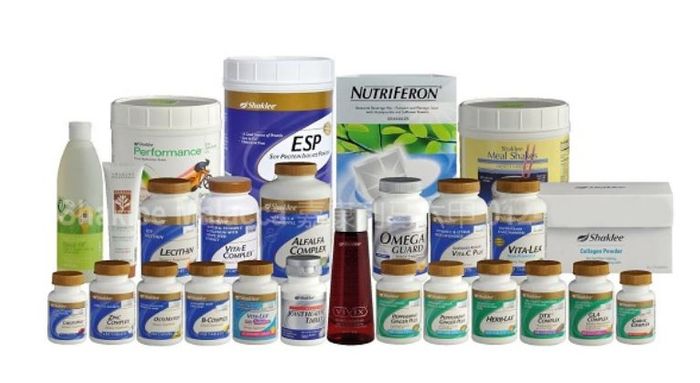 The products main "Unique Selling Point" (USP) is that they are aiming to benefit both the environment and your body.  They are trying to strive for being healthy and eco-friendly at the same time.
Is Shaklee a Pyramid Scheme?
The first point to make is that pyramid schemes are illegal and are not allowed to operate anywhere.  A company that has been around since the 50's is clearly not a pyramid scheme, but it does include elements of one.
Specifically, when it comes to the recruitment side of the commission structure.
Look at the picture below: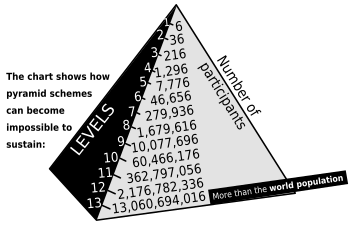 This what part of the commission structure looks like at Shaklee, when it comes to where you get compensated for recruiting new members.
But Shaklee, does not just give you commissions solely based on recruitment, which would have made it a Ponzi Scheme.  As they offer you a way to make money from selling their products to customers for commission.
Simple definition:
Ponzi Scheme – Only can earn money from recruiting new members
MLM – Make money from recruitment and selling products
By giving you the option to sell their products and earn money from recruiting new members, it escapes the Pyramid or Ponzi Scheme label.
But know that it will be extremely hard to make enough just by selling their products directly to the customers and you will need to recruit if you want to make any real money.
But as our graphic shows, it is only really those at the top that make the real money.
Success is Rare with MLM's like Shaklee
MLM's are designed to product a few winners and a lot of losers.  It could be possible to make a decent wage with Shaklee, but the odds are really stacked against you.
In fact, nearly 75% of those who join an MLM lose money and will not make any money.  The majority of those that do make money only really make a couple of hundred a month.
Another factor you have to consider is that Shaklee is an extremely crowded market – Health & Wellness.  It is really competitive, and you will need to be masterful to break the mould.
How to Make Money with Shaklee
Shaklee works like a typical network marketing company.  You can make money from either selling the products or recruiting downline members.
Shaklee offers 4 different membership levels.  The amount of money you can earn depends on how much you are willing to invest.
It makes it a bit like pay per play, as the more you pay you higher your commission level will be.
Shaklee Membership Levels:
Level 1: Customer (Free)
This is your usual customer level, no discounts and cannot promote:
No membership required
Can buy Shaklee Products at retail price
Cannot promote their products to make money
Level 2: Member ($19.95)
Might be considered, the premium customer level, but still cannot promote:
One-time fee to enjoy a 15%-25% discount on your purchases
Cannot promote products to make money as well
Level 3: Distributor ($49.95)
The starting point if you want to promote products for a commission. But there are hidden fees:
$49.95 up-front to become a distributor
You must have at least a 100PV of product each money in order to qualify for commissions.
To benefit from commission, you need to have a personal volume of 100 units.  This is like an autoship or order requirement each month.  If you are not hitting that target, you will need to increase your spend to qualify for any commissions you are supposedly making.
This means that you could be spending hundreds or even thousands in order to qualify for your commissions…
Level 4: Gold Ambassador ($299-$599)
There are 2 products within level 4 and this is the part where it seems like paying to play.  The only benefits seem to be higher commission rates, but you are also required to pay the $49.95 and meet the monthly order requirement to quality too.
The 2 products are:
Gold Pak ($299)
Gold Plus Pak ($599)
In my opinion, this is a pretty bad system for beginners because it makes it really expensive to get started and you are taking a huge risk with the amount of money you will need to spend to make money with this system.
This is a major reason as to why I DON'T recommend Shaklee as a business opportunity.
Personally, you could start your own online business for FREE, like we did and earn your own money with a beginner friendly model.
Shaklee's Compensation Plan
MLM's seem to love their compensation plans to be as complicated as they can be.  We have broken it down, but if you want to see the Shaklee compensation plan, you can check out their compensation plan PDF or check out the video below:
Like we said, we have broken down Shaklee's compensation plan and it works out there are 3 main ways you can make money from Shaklee:
Acquire customers and sell Shaklee products to them and earn retail commission.
Recruit members into your downline (you make money when their downline purchases any products or buys on the Gold membership levels – this is what resembles the pyramid model)
Earn various bonuses by advancing your PV rank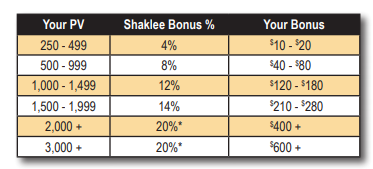 What is Good About Shaklee (PROS)
Here is what we liked about it:
Established Brand
Shaklee has been around for over 60 years and that is a good thing when it comes to an MLM company.  If it were a scam or had some serious issues with the way it runs, it would have been closed ages ago.
The FTC is there to protect the consumer and has taken action to close down known pyramid schemes like MOBE & Digital Altitude.  There were both found guilty of operating a pyramid scheme – MOBE only lasted 6 years and Digital Altitude was closed after less than 2 years in operation.
Good BBB Rating
The Better Business Bureau (BBB) is a great way of checking out a business model before stepping into the fray and know that it is extremely hard to get an A+, but Shaklee has maintained that A+ since 1965.  That is a pretty good stat to have…
Good Tools & Support
This is often absent from most MLM businesses, but Shaklee does offer some good tools and support for its members.
There are 3 main types of support:
Shakless University – It offers various business training materials
Sponsor Guidance – This type of support is common in MLM businesses, you can ask for support from your upline and will need to offer it to anyone you recruit too
Live Events – Shakless organises various local and regional meet-ups, conference calls or corporate-sponsored training events, etc.
It's All About the Products (Almost…)
90% of the compensation is based on making sales, and not on recruitment.
That is often the problem with MLM's, they focus solely on the recruitment side and wonder why they get such bad press.  Many of these types of MLM end up being labelled a pyramid scheme.
But members are generally urged to focus on explaining and selling the actual products and not the business opportunity.
What Could Shaklee Improve on? (CONS)
Here is what we didn't like:
Expensive Startup Cost
I hate the fact that you have to pay more to be able to earn more and that is a common trait of all MLM opportunities.  The Gold Ambassador membership levels are either $299 or $599 to earn more commission.
It should be about performance and not how much you are willing to spend.
Shaklee is one of the more expensive options out there.
For example, Malaleuca is a company that is a very similar niche to Shaklee and it only requires a start-up of $29.
But know, that our top recommended program is FREE to get started!
Competitive & Saturated Market
If you take the Health & Wellness market, it is hugely competitive.  Just listing a few of the options out there – Avon, Herbalife, Amway, Melaleuca, Norwex, that makes it a massively saturated market and will make it even harder for you to make a dent.
From our MLM experience, it is much easier to sell products in a less competitive niche like Essential Oils for example.
Way Too Many Products
If you consider that Shaklee has well over 200 products, how are you going to understand all the pros and cons of them to be able to promote the right ones to your customers?
This can also lead to another problem, where distributors only promote the ones that are making them a good profit margin instead of the right product.
Face-to-Face Selling
You also need to consider the fact that you are going to need to be able to present the products and sell them to people.  This is a typical MLM and Shaklee is no different.  You will need to become a salesperson to make sales.
Just check out this Shaklee guide.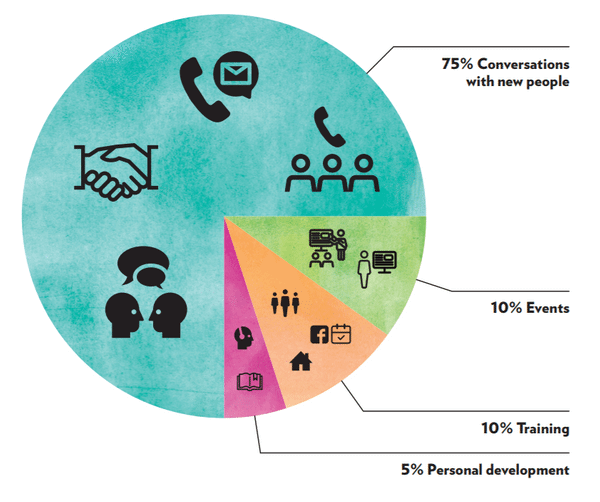 This guide and image clearly show that you will be expected to spend:
75% of your time chatting with new people
10% of your time to run events
10% of your time to take part in training
5% of your time in personal development
I personally do not feel this type of work is for me and it is definitely not for everyone.  Are you really comfortable with networking and socialising with new people?  Are you able to run this type of events to make some sales?
You also need to consider the fact that one downfall in most MLM models, is that because you are trying to get sales you end up bothering your friends and family and harming these relationships as you try to get them to recruit them.
I know that you can learn this skills, but I just don't feel like this is a great opportunity for everyone who is looking for ways to make money online.
If you are like me and don't want to feel like a sales person, then we do have a better option for you…
We have been able to create our own passive income online without the need to network, socialise or becoming a huge sales person.
All we did is create our own website and let the website bring in the earnings for me 24/7.
If that is what you are looking for, find out how we got started here!
My Honest Opinion of Shaklee – Is Shaklee a Pyramid Scam?
Look, let's put your mind at rest – Shaklee is definitely not a scam or a pyramid scam.  It features some of the bits that would be related to a pyramid scheme on the recruitment side, but then most MLM's do.  Shaklee does primarily focus on its product sales, which is a nice side to see to this type of business model.
So, Shaklees is a legitimate MLM company selling good health and wellness products.
But whilst it might be possible to make money with Shaklees if you put a lot of time and effort into it.  The odds of success will be low, and you could lose any money you invest into it.
I personally do not feel this is the best business opportunity.  For me it involves too much selling and not everyone is a salesperson.  It is also an extremely crowded market to get yourself noticed.
If you are looking for a way to make money online which does not involve you becoming the best salesperson in the world, then you might want to look at how we make money online and that is through Affiliate Marketing.
The reasons are simple:
We don't have to network or do any face-to-face sales. Our website is doing all of the hard work for us
We are not tied down to the products that any one company sell. We have the freedom to promote any product that we want
Making money from affiliate marketing is awesome as the focus is on helping people and not selling to people.
If you want to learn how you could live a dream laptop lifestyle, we highly recommend you check the affiliate marketing training platform that we used to get us started – Wealthy Affiliate.
You will find they provide everything you might need to get started with affiliate marketing and start on your way to financial freedom.
thanks for checking out our Shaklee Review.  If you have any further questions or want to share any experiences with Shaklee, we would love to hear from you.  Just write them in the comments below and we will get back to you as soon as we can. 🙂