Welcome to our AIM Global review!
AIM Global is recognised as the best MLM company in Southeast Asia, but does that necessarily mean that it is the right opportunity for you?
Well, this review plans to help you answer that questions by taking a closer look at their program, their products and most importantly, their compensation plan to show you whether AIM Global is worth your time and effort. 
That way you can decide whether it is the right opportunity for you.
First off, it is great to see that you are doing your research before buying into any "seemingly good" product or opportunity.
It's the best way to avoid online scams and find only legit ways to make money online!
Know that we are not associated with AIM Global in any way.  So, you can relax, as we are not here to pitch or sell anything to you.
Instead, we are more interested in helping you understand this MLM company and what they offer, plus whether it can help you make more than a full-time income…
Let's get started with a quick product overview…
Alliance in Motion Global Review Summary
Product Name: Alliance in Motion Global, AIM Global
Founder: Dr Eduardo, Francis Miguel, and John Asperin
Product Type: Health & Wellness MLM company
Price: $179 to get started, + costs up to $1,256
Best For: Those good at networking and recruiting


Cons
Expensive Products
Stockpiling
No Income Disclosure Statement
Confusing Compensation plan
Summary:   AIM Global or Alliance in Motion Global is a health and wellness MLM.  It claims to be able to make its distributors "millionaires" but the evidence is not there to back this claim up.  The fact they don't offer an income disclosure statement should be a clear sign that this is not a company to sign up with.  Add to that the complicated compensation plan and the costs versus where they are targeting (the Philippines) just shows that this MLM will more likely put you into debt, then ever get you close to earning a decent wage.
Rating: 40/100
Recommended? No
AIM Global or Alliance in Motion Global is a Health & Wellness MLM company founded in 2005 by Dr Eduardo Cabantog, Francis Miguel and John Asperin.
This is an MLM or Multi-Level Marketing company that distributes a range of food supplements manufactured by Nature's Way USA, as well as some other premium blended beverages.
AIM Global is also the only direct sales company that is accredited by Nature's Way USA as its exclusive distributor for direct sales within the Philippines.
AIM Global also claims to be the #1 MLM company in the world, but with a quick check on Google you will find that they do not even come close to being #1 and aren't even in the top 10.
Here is a video from their CEO, describing their vision:
Let's go through their product line.
AIM Global Product Line
AIM Global's product line has more than 20 products that are all related to health, wellness and nutrition.  These are spread across 4 categories:
Functional Beverages
Functional beverages make up for most of their product line, with more than ten options.  Most of these are coffee-flavoured drinks all with health-related benefits.
Nutritional Support
These are supplements and vitamins that are aimed at children's health.
Nutritional CosmeCeuticals
These products are their skin care product lines, this also includes their popular "World;s First Glutathione Sublingual Spray".
NaturaCentials
This is a range of soaps, facial cleansers and a toothpaste that contains certain chemicals that also have health benefits.
Does AIM Global's Products Work?
That is very hard to say, their official Facebook Page conveniently doesn't have a review section.  They aren't on the Better Business Bureau (BBB) website and a review that did exist on the BestCompany website no longer exists.
Considering how many people are in that Facebook page and there are a number of groups, it seems like people are more interested in selling the MLM opportunity rather than stating how good the products are. (typical MLM, then)
I am not saying the products do not work like they say, but the bigger problem around MLM is that people are more interested in recruiting distributors into their network, rather than promoting the product because that is where the money is with MLM (supposedly).
Haven't Made Your First $1 Yet?
Studies have shown that more than 70% of the people who want to make money online have not made their first dollar yet. So, you're not alone!
How To Make Money with AIM Global?
AIM Global is your typical MLM company and provides you one of three ways of making money:
Buying products at wholesale prices and selling at retail prices
Commissions
Recruitment bonuses
Getting Started with AIM Global
To first become eligible for commissions, etc. you first need to sign up as a distributor.  This then allows you to buy products at wholesale prices, earn volume and also build a team in AIM Global.
The default currency for AIM Global is in Phillipine Pesos.  This makes certain transactions more complicated due to the currency conversion rates.
For this review, we will be using a currency conversion of $1 (US) = Php 50, which is the annual average rounded down.
It is free to register with AIM Global, but you first need to be invited into the program to sign up.  So, you will join under another distributor and be in their team.
Then you will be required to purchase their packages to get started or you also need to invite two friends into the opportunity.
To become a distributor, you will need to purchase one of their Global Packages and include at least one position from the compensation plan when you purchase said package.
Like all MLM's they will typically encourage you to purchase the highest one, stating that it unlocks more opportunities in their compensation plan, but really just tends to end up putting a lot of people into debt.
Here are their global packages, and the prices…
1 Position: 7,980 Philippine Peso ($179.51)
3 Positions: 23,940 Philippine Peso ($538.53)
5 Positions: 39,990 Philippine Peso (899.57)
7 Positions: 55,860 Philippine Peso ($1256.57)
Then there is their unilevel commissions and Stair Step Commissions, but you will need to subscribe to a monthly purchase of $40.53 worth of products and gift certificates
AIM Global Compensation Plan
MLM's love to make their compensation plans as complicated as they can for some reason, so we have done our best to simplify it and cover the most important aspects:
Retailing – Distributors can earn money from the profit of any products they can sell. You will enjoy a 25% discount on any products you buy at wholesale to then sell one.  This price is called their Distributor Price.  However, you are limited to their One Price Policy, meaning that you cannot go over their suggested Retail Price.
Sponsoring – Every new recruit you get to sign up under you will earn you $10 in commission and 1,200 product points.
Matched Sales Bonus – this is the Binary System in play. You can form two groups under your team and can include several levesl per team.  To earn from this system, you will need to have a total of 1,200 points per leg or 2,400 for both.  You will earn $30 for every 2,400 points.
Unilevel Bonus – this bonus is related to your downlines or level. You will get 5% product points from the sales that your downline makes up to the 10th
You can refer to this video for more details on their compensation plan:
What We Liked About AIM Global
Here is where we would normally detail the things, we liked about a company's business opportunity, but unfortunately, we can't write anything about AIM Global.  It is a decent MLM, but MLM's are fraught with problems for a beginner looking to make money online.  The health and wellness sector is heavily saturated making the opportunity extremely hard.
What We Didn't Like About AIM Global
Here is what we didn't like about AIM Global:
#1 Expensive Products
MLM's seem to think they can charge really high prices, which I don't get as it just makes it harder for their distributors to make money.  But as most distributors sign up for the monthly autoship, most MLM's say their sales come from their distributors and not necessarily from the sales that those distributors make…  Other MLM's include Arbonne, Melaleuca, Youngevity, etc.
AIM Global is no different, some of the products they sell, including their most common product lines are quite expensive.
Check out the screenshot below.  The prices are in Philippine Peso, but if you converted it to US dollars with a ratio of $1 = Php 50.  You can see the average price is between $25 and $80, just for a few servings…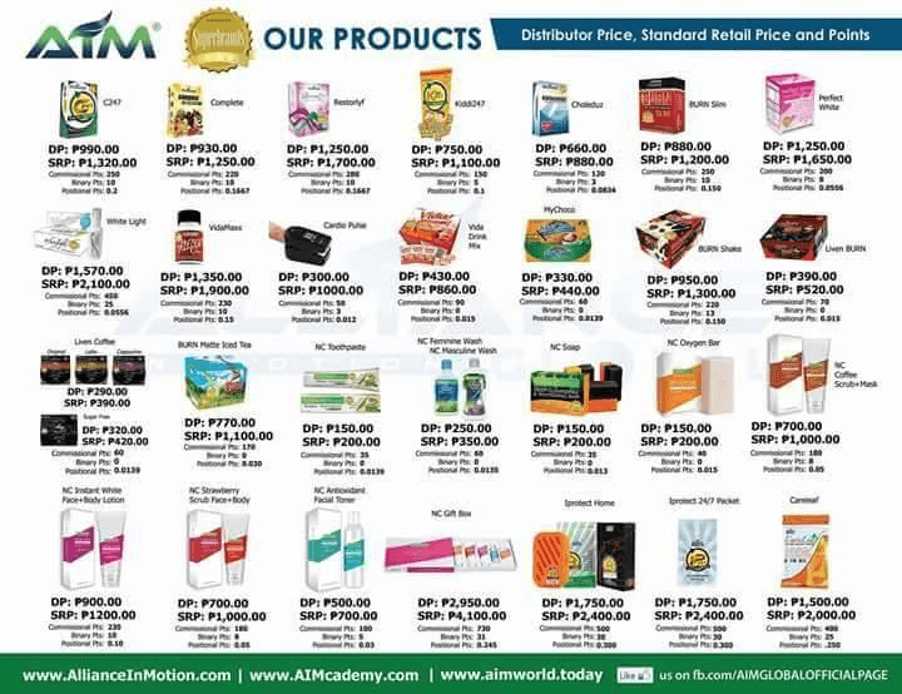 For example, the C24/7 Natura-Ceuticals is their own multivitamin line.  It costs $25 for 30 capsules.  But these aren't even 1 a day capsule!!
A full does requires you to take 9 capsules per day.  So, that $25 has only bought you 3 days' worth of multivitamin!!
When you compare that to Centrum's 250 Count Multivitamins that cost $19.77 on Amazon and it is good for one dose a day.  Which works out to about 8 months' worth of product.  Why would anyone want to buy the product you are offering from AIM Global?
Most people think like that too, they would rather trust a brand that is well-known than buying an MLM alternative, especially when you compare the prices which is one of the most important aspects for a consumer.
Recommended: Learn how to promote products you don't even own for FREE, with Affiliate Marketing!!
#2 Stockpiling
Another factor that we don't like is that you are buying these products to sell one.  This means you will end up sitting on stock that you will find really hard to actually sell.  Plus, if you sign up for the monthly autoship to further your chances in their compensation plan, you are going to need to spend a lot of money each month without a guarantee of a sale and end up filling your garage up with stock that you will never sell on.
99% of people lose money from MLM and even end up in huge debt because of the way MLM's operate!!
#3 No Income Disclosure Statement
It was interesting to find that the company does not have an income disclosure statement, and they have not released any form of income disclaimer since they first started back in 2005…
If you do not know, an income disclaimer is released every year by MLM companies as a form of transparency.  It shows how much their members are earning depending on their rank.
The more members at the bottom level earning a decent amount, the better the MLM opportunity is.
If we take the assumption, they are following the example of all the other MLM's within the health and wellness sector, we can reasonably believe two things:
No one is earning any money from their business opportunity, except maybe those at the very top ranks
The majority of their members are not making any money.
We can also use a little math to prove our point that no one is making any real money here.
Let's take their best-selling product, C24/7 which has a retail price of $25.  Your Distributor Price is $18.75 (wholesale price).
Remember that you cannot go above their SRP, so you are only allowed to sell it at $25 mark, making your income per box at $6.25.
The hourly minimum wage in the USA is at $7.25 per hour.  In the Philippines, it averages at $9 a day, or $0.11.
So, you would need to sell at least one box an hour if you want to earn past the US minimum wage, or more than a box per day if you are in the Philippines…
#4 Confusing Compensation Plan
Their compensation plan is really confusing, it is filled with loads of terms that don't really make sense and are just there to make it sound good.
But this is just part and parcel of being involved in an MLM.  They are confusing to keep you buying products to stay active to receive commissions, when really you have very little chance of success.
Remember, 99% of people lose money or end up in huge debt with MLM!!
Haven't Made Your First $1 Yet?
Studies have shown that more than 70% of the people who want to make money online have not made their first dollar yet. So, you're not alone!
My AIM Global Review - Final Conclusion
AIM Global is a legitimate MLM company that markets health and wellness products, as well as skin care products. This clearly means that AIM Global is not a scam.
However, if you are considering AIM Global as a source of full-time income, then we would be inclined to not recommend it to you.
The fact they have not provided an income disclosure statement shows they have something to hide from you, and their compensation plan is complicated.
Know that most MLM's are more interested in how many people you can recruit into the program rather than how many products you can sell, because each distributor is expected to buy products every month.  That is how MLM's make so much money and why so many distributors end up in huge debt and are no closer to making any money than they were before.
If you are still interested in MLM, then you need to know there are much better options out there…
Instead, Affiliate Marketing is our top recommended business model for anyone looking to make money online
The reasons are simple…
You can promote anything you want and aren't restricted to only promote products from one MLM company
You don't have to recruit anyone to make money
You never need to sell to your friends and family
It's free to get started
In fact, with affiliate marketing we've been able to Create a 4-Figure Monthly Passive Income Stream.  If you want to learn more, click here.
Thanks for checking out our AIM Global Review!  If you have any questions or comments to add, then please write them in the comments section below. 😉