You probably already know that Affiliate Marketing and Multi-Level Marketing (MLM) are two of the most popular ways for people to start working from home and making money online.
They are popular, mainly due to there being no need for prior experience to get started.  They are also a relatively low startup cost, when you compare them to a traditional "bricks and mortar" business.
Both opportunities are legit, but they both also share their own fair share of scam artists who are trying to fleece you of your money, instead of really helping you towards success.
And, if you've every spent any time on our website, you probably already know where our allegiance lies…  Our preference is Affiliate Marketing!
It's not that we just think that Affiliate Marketing is better than MLM, we believe it is a far superior business model for a number of different reasons.
Despite that preference, we're going to remain objective and ensure that we are not biased in our explanation of both business models.  There are some who do find success with MLM, and there are also those that find success with Affiliate Marketing.
Either way, at the end of this post, you'll have all the information you need to make an informed decision about which business model suits you…
We're going to get started with covering off what MLM is…
What's Multi-Level Marketing (MLM)?
MLM or Multi-Level Marketing also can be referred to in several different ways, like network marketing, referral marketing, pyramid selling, and there are also a number of "direct sales" companies that are really just MLM companies.
It offers two main ways of being able to make money.  The first method is where you can join the company to get the chance of making money from selling the products that the MLM company offers.
These "distributors" (which can also be known as consultants, representatives, or associates) can also recruit other people into the company to also sell the products the company offers.
These people they recruit become their "downline", and they can earn bonuses or commissions based on the sales that this team make.
The recruitment side starts making the company structure looking like this: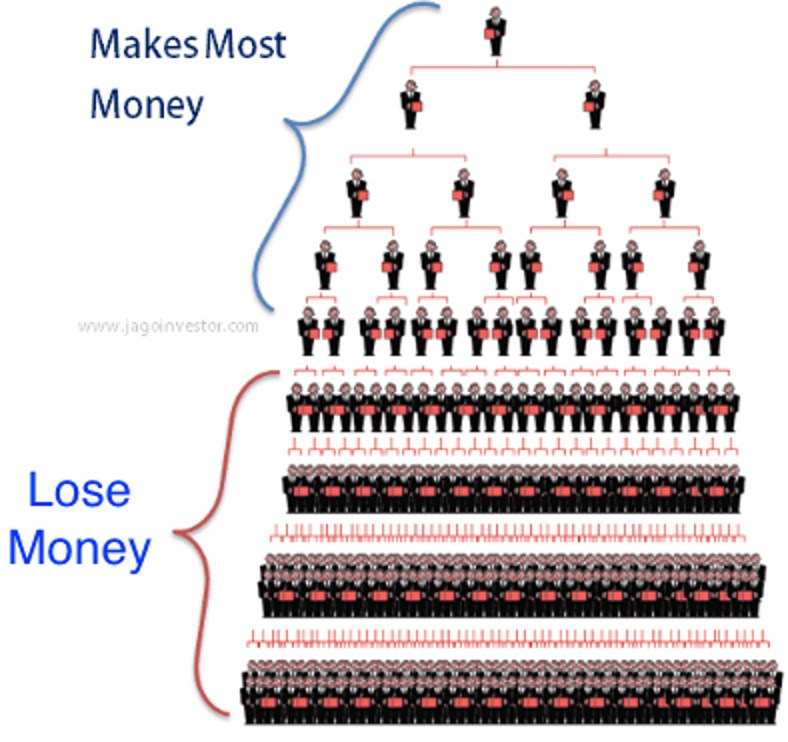 Typically, you'll find that most MLMs do sell a product or service.  With most MLM's focusing on Health, Wellness and Personal Care.   Products are typically nutritional supplements, makeup, protein shakes, etc.
On paper, the business model is a win-win for both parties.
The company saves itself millions of dollars on expensive marketing campaigns, and everyday people have a chance of making money from home.
MLM Pros & Cons
Here are the most common pros and cons of an MLM business opportunity…
Pros
It is possible to make money from home
There is no need for you to create your own product
You "work" in a team
It offers a Personal Development opportunity
Cons
The MLM companies have expensive products
The majority of MLMs have a monthly sales quota for members to achieve
The Startup Costs can add up, even before you try it out
You'll be encouraged to sell/recruit your friends and family
Most people lose money (92.3% of all members)
The people who do make money are, because of other people losing money in your "downline"
There is usually an emphasis on recruiting
MLM Conclusion
MLM companies, and their business opportunity, can be a legitimate way to make money from home.
But there is a strong emphasis on building a team and then helping people within your team.
So, when you break it down, the main way for you to make money with an MLM opportunity is to recruit people, so that you can earn commissions from the sales they are able to make.
MLM products are typically very expensive when you compare them to the alternatives you'll find on the market.  You also will need to sell a certain number of products a month to remain active for commission.
But what ends up happening (typically) is that the MLM members end up having to buy these products themselves.
The alarming statistic is that most MLM distributors end up losing money within MLM companies…
Be Aware Of Pyramid Schemes in Disguise?
There is an assumption out there that all MLMs are in fact, Pyramid Schemes!
But that isn't the case.  I know why some think that, and it goes back to how to recruitment structure looks like in an MLM, which looks pyramid shaped.
Having said that, there are also a lot of MLMs that do sell products to disguise the fact that the only way for members to make decent money is through recruiting a large downline team.
Any company that puts more of a focus on recruitment rather than selling products is operating like a pyramid scheme.
Pyramid schemes are unsustainable as the diagram from Wikipedia shows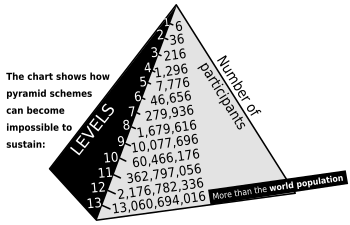 Check out the 5-minute video below to learn how to spot these pyramid schemes in disguise…
Most MLMs do appear like a pyramid scheme in disguise.  This is down to them offering expensive products, with a monthly sales quota, which pushes their members into recruiting to stop losing money.
But, not all MLMs are like this.  There are some legit ones out there too.  You can usually spot them straightaway, as they have reasonably priced products  and no monthly sales quota.
The problem is… These are usually really hard to find…
Now, we're going to go through 3 case studies.  That way you can see the differences between a legitimate company and a pyramid scheme in disguise…
Case Study #1 – Pyramid Scheme
This is the worst type of MLM there is…  The ONLY way for you to make money with this company is to recruit people into the company.
Prosperity of Life claims to offer "Personal Development" training that you can attend and are able to make money from.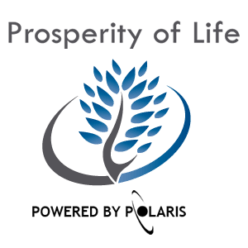 The marketing was really clever, and makes you think that you'll be learning stuff to help you.  But what it really did was teach you how to promote this company to other people.  There wasn't really a product there at all.
It was just a clever sales funnel, and helped you convince others to join. 
The problem is that it is impossible for everyone to make money when recruitment is your only option, oh and they are illegal too.
Case Study #2 – Pyramid Scheme in Disguise
This is the most common MLM company that we've seen, whilst reviewing them online.
Pyramid Schemes in disguise typically sell ridiculously expensive products.  They are usually 100% or more than competing products elsewhere.  They then place a monthly sales quota for their members to achieve, to remain active.
Le-Vel Thrive is an MLM where it will cost you $100+ a month to remain active as a distributor.
But you can only earn 20% commissions for any product sales you make.  This shows that most members will be hundreds, or even thousands of dollars out of pocket before they are able to sell anything.  then when they do, they will only be making $10-$50 from their sale.
When you break down the way the company operates, it soon becomes clear that there is a huge emphasis on recruiting.  Recruiting is the only way of making decent money from this type of MLM.
Once you're able to recruit two or more people, you've passed that inconvenience onto them.
Case Study #3 – Legitimate MLM Company
Farmasi will tell you that they are a "direct sales" company.  But as you are able to earn bonuses from your downline sales, it does make it an MLM company.
But it will only cost you $19.99 to join and they don't have a monthly sales quota to achieve too.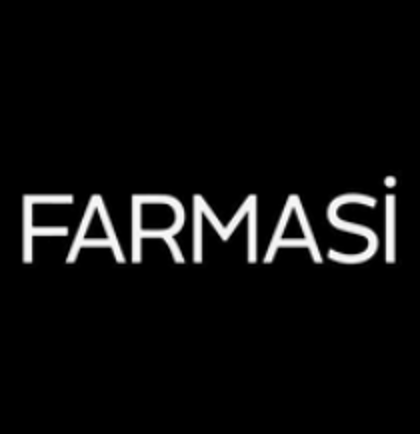 Their makeup product line is good quality, and is reasonably priced too.  Their distributors can also earn 50% commissions form any sales too.
This shows that Farmasi are focusing more on product sales, than recruiting more distributors.
It also shows that they are offering products that consumers actually want and like, making their products easier to promote.
But how much are you likely going to be able to sell in person to your friends and family? If only there was a way to use the internet to sell for you 24/7…
What's Affiliate Marketing?
Affiliate Marketing is a method of earning commissions by promoting other people's products.  This is in a completely different way to how you this with an MLM opportunity.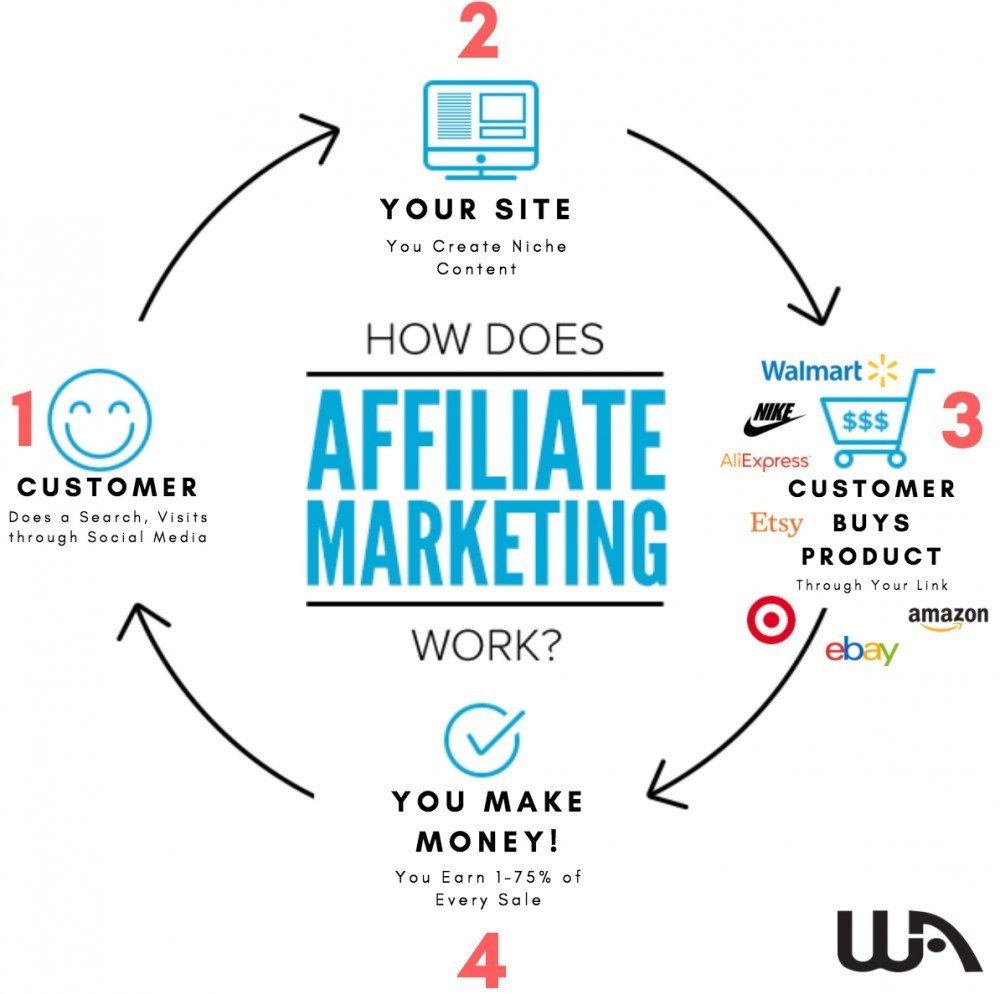 It's a business model that is truly beneficial to both parties:
Companies or Individuals create a product or service and saves money on their marketing costs
Affiliate Marketers promote these products or services and earn a commission for any sales
It's free to become an affiliate marketer, and you can join any of the affiliate networks (listed below) for free: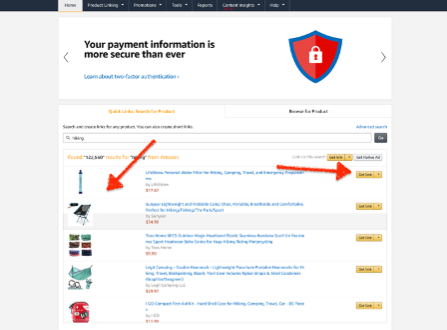 In fact, there are many businesses and entrepreneurs who will have their own affiliate program that you can join for FREE…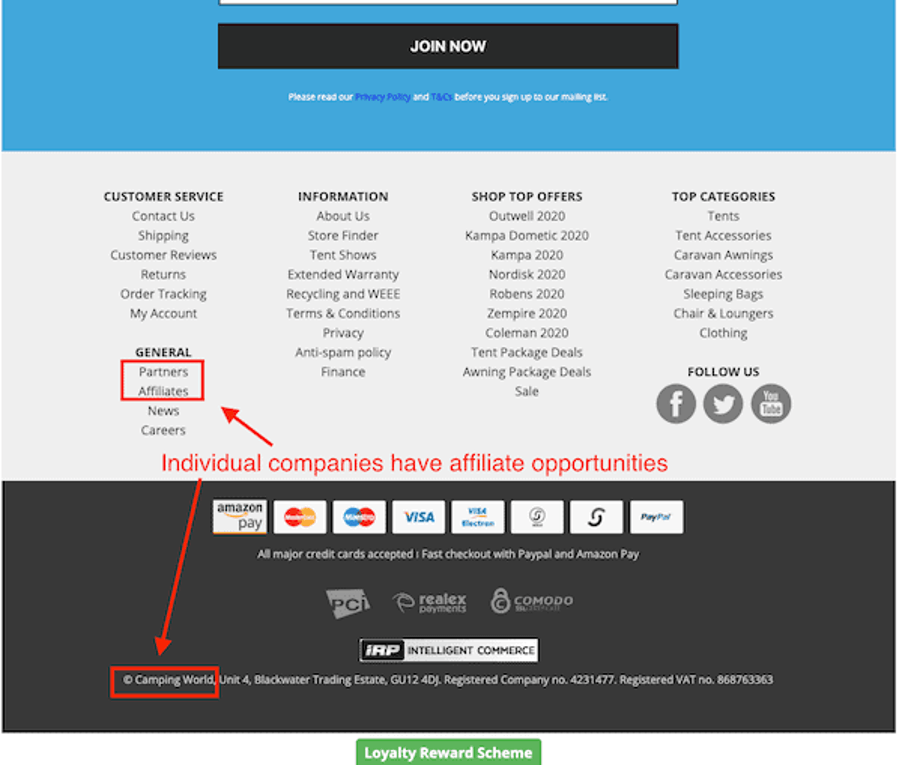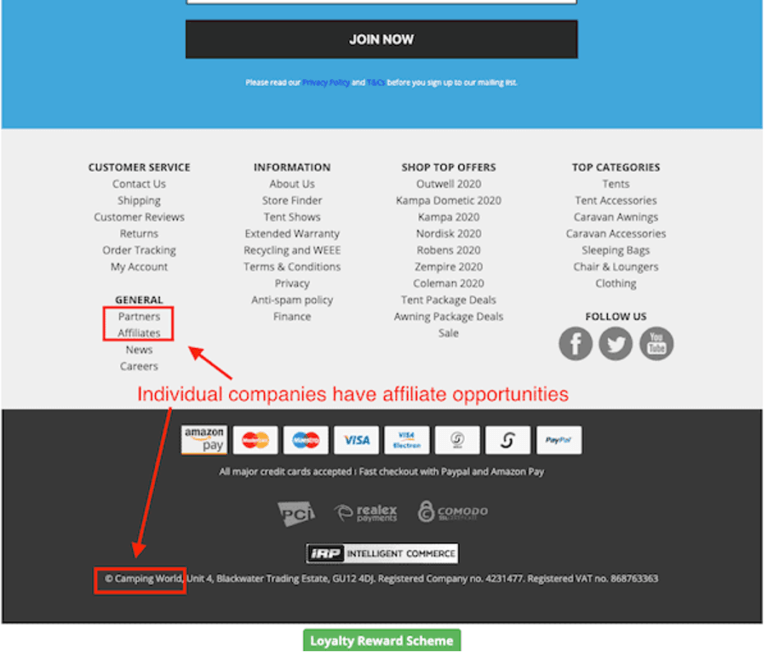 If you were to find a product that you liked, and wanted to promote, then you can share your "affiliate link" with people and then when they buy something via that link, then you make money!
It's possible for you to earn between 4% and 90% commissions, depending on the product you are choosing to promote.
I know, that might make it sound too easy and you'd be right.
That is an overly simple description and there is a little more too it than just sharing your affiliate link on social media, if you want to be earning good money with it.
The best way for affiliate marketers to promote products is via their own website to "drive traffic" to it and then promote products in return for commissions.
If these websites are helping people with their problems, or answering their questions, then people will naturally buy the products they are recommending.
It's possible for you to create a website that is drawing in hundreds of thousands of visitors each month for free… and that makes your website work for you 24/7.
Affiliate Marketing Pros & Cons
Pros
Free to get started
You can promote (pretty much) anything you want and genuinely help people
It's possible to build a brand
You can use the internet to sell you for 24/7
No need to recruit anyone
No limit on earning potential
You can learn plenty of transferable skills, useful for any business
Cons
It does take time and effort to learn how to do it well
Due to the number of options, it can make it difficult to choose a "niche"
To be successful, you'll need self-motivation
No control over the products or prices
Affiliate Marketing Conclusion
Affiliate Marketing is a way of making money by promoting other people's products.  As it's completely free to become an "affiliate marketer", many people try it out but don't make any money.
But that is usually down to a lack of effort, and a lack of patience.
The best affiliate marketers are those that build a website that helps solve problems and attracts thousands of visitors each month.
By doing this, your business grows over time.  Meaning it isn't a get-rich-quick scheme.  But the more time and effort you put into it, the more your potential income potential is.
The added benefit is that the skills you learn along the way, can be used to help any business!
Our step-by-step affiliate marketing guide might be a useful read for you…
Affiliate Marketing Vs MLM
Ok, so we've describe both business models.  Now is the time to do some comparisons between them to consider which one comes out on top…
#1 Start Up Costs
Both business model claims that you can get started for practically nothing.  And most MLMs do typically keep their initial cost as below $100.
But it isn't as simple as this…  These starter packs don't tend to include any products, so naturally they recommend a product pack so you can get some products to try and then have samples to show your friends and family.
These product packs can set you back anywhere between $50 to $1,000.
They also hit you with a monthly sales quota for you to achieve to remain active, and if you don't hit that target, you have to buy the products yourself.  This again can be between $50 to $200 a month.
Whereas, it's possible to start affiliate marketing for free.  Any legitimate affiliate marketing opportunity is free to join.
You can even get a website for free too.
It's also possible to learn how to build an affiliate marketing business, with all of the training and tools you need, from as little as $49 a month.  But you can get started for free…
So, the winner for Startup costs is Affiliate Marketing…
#2 Choice of Products
MLM companies offer a certain range of products or services.
If you were to join a company, you can only sell the products or services that MLM company provides.
There are also some MLMs that state that you are not allowed to work for another MLM.  So, if you were thinking of joining multiple MLM to widen the range of products you can promote, that isn't always an option.
Then there is the fact that these products are usually really expensive, and you can always find alternatives for a fraction of the price elsewhere.
Whereas, with Affiliate Marketing, you can choose anything and there is no limit to how many affiliate programs you can sign up for.
Honestly, you can choose anything.
If you were to be passionate about hiking, or makeup, or travelling, or technology; you can create a website specifically that helps people who are interested in the same passion.
If you're recommending certain products or offering information that helps people solve a problem, then you can get paid over and over again.
But you are also over complete control of what you choose to promote.  You aren't governed by one MLM company.
So, that is another win for Affiliate Marketing.
#3 Selling Style
Most MLMs tend to hide the real way that they members make money with this business opportunity.  The way to make money is by "building a team".
This sounds like a good thing to many people as most people don't want to do this business all by themselves.
But the reality is that you'll need to recruit people into the MLM company.
The MLM companies tend to offer you help in doing this, but that often means that they get you to write down a list of 100 people that you know.  Including friends, family, work colleagues, old school friends on Facebook.
They'll also teach you how to put your life onto social media to try and attract casual friends into the opportunity.
There are also a large majority of MLMs that still encourage "home parties" where you invite your friends and family over to show them how good your products are, and try to make a sale or recruit them in.
It ends up being awkward, if I'm honest about it.
Now, affiliate marketing is all done online.
This means that you are providing real value to people through your website.  There is no need to sell face-to-face.
Some will be put off by the fact that they will need to write a lot of content.
But this is done at your own pace, and without a hefty monthly sales quota to achieve.  You can build your website over time, as  part-time venture.
When I first got started, I didn't think I was a good writer and it isn't something I felt I could do consistently.  But it's a skill you learn, and I dictate when I work.
It's another win for Affiliate Marketing…
#4 Personal Development
Many MLM companies go big on personal development…
A lot of them also host live events around the world for you to attend (naturally at a price).
But if you've never been to an event like this, then it can really be a turning point in your motivation levels.
Most MLM members encourage each other to read self-development books and continue to improve.
There are events like this you can attend for affiliate marketing such as FinCon or Affiliate World Conference.
When it comes to affiliate marketing, it tends to be something people do all by themselves. 
There are communities and live events within affiliate marketing.  But most affiliate marketers could avoid personal development or connecting with others quite easily, if they wanted to.
It's a win for MLM
#5 Skills Learned
As we've said, you can learn crucial skills through affiliate marketing that you could take into any business model.  Even some MLM members have used internet marketing skills to sell their products effectively using the internet.
Learning how to market products or services online is useful for anyone.
Getting your website to rank in Google, using SEO, copywriting, email marketing, and social media marketing are all skills that you can learn and improve on, whilst building an affiliate marketing business.
Every business needs this level of skill, even the local business on the high street.  You can either use these skills to build your own affiliate marketing business, or you can actually market those skills as a freelancer.  
MLM companies don't tend to come near this type of training, still relying on outdated marketing methods like home parties.
You're taught how to sell the company to your friends and family, and  how to promote yourself on social media.  That's about it.  Then, it's all about how to recruit!
The winner is Affiliate Marketing!
#6 Income Potential
The income potential opportunities for affiliate marketing is endless.
The reason for this is the training and marketing skills they learn as part of building an affiliate marketing business.  There are many examples of affiliate marketers who are earning huge amounts of money.
A couple of examples are below: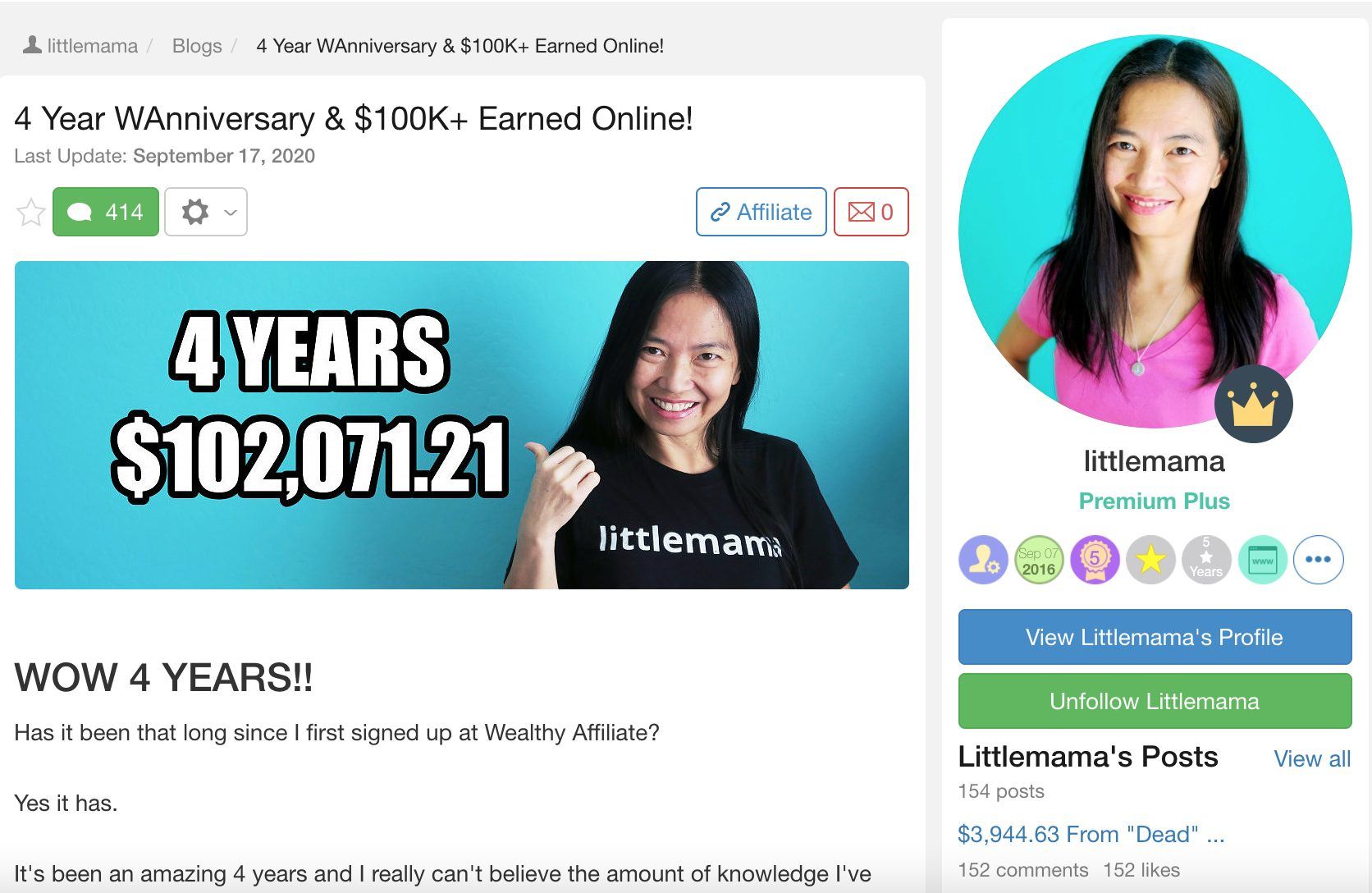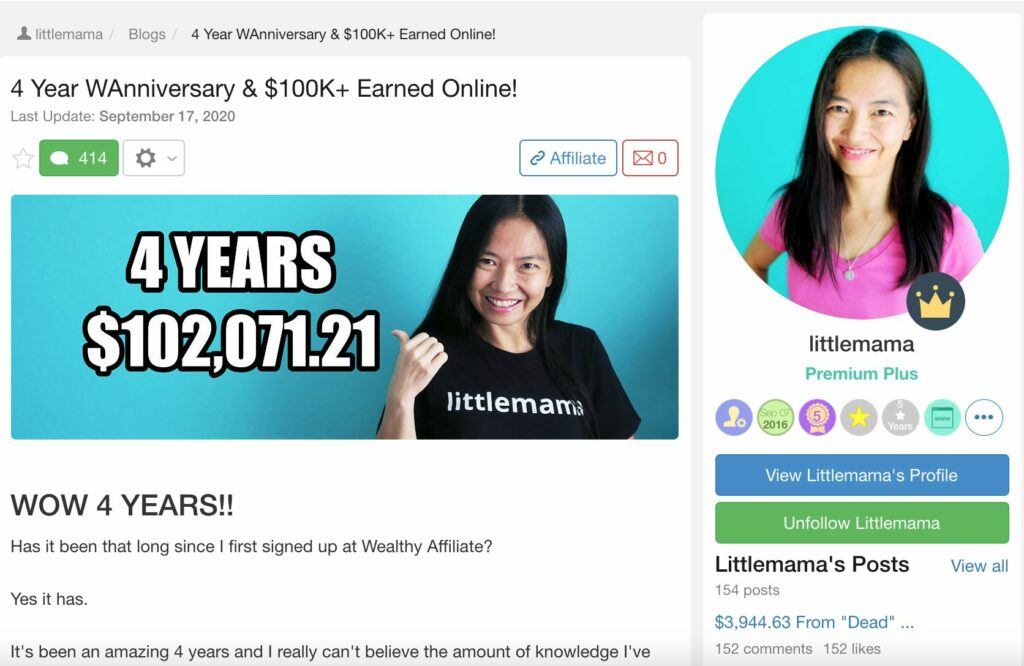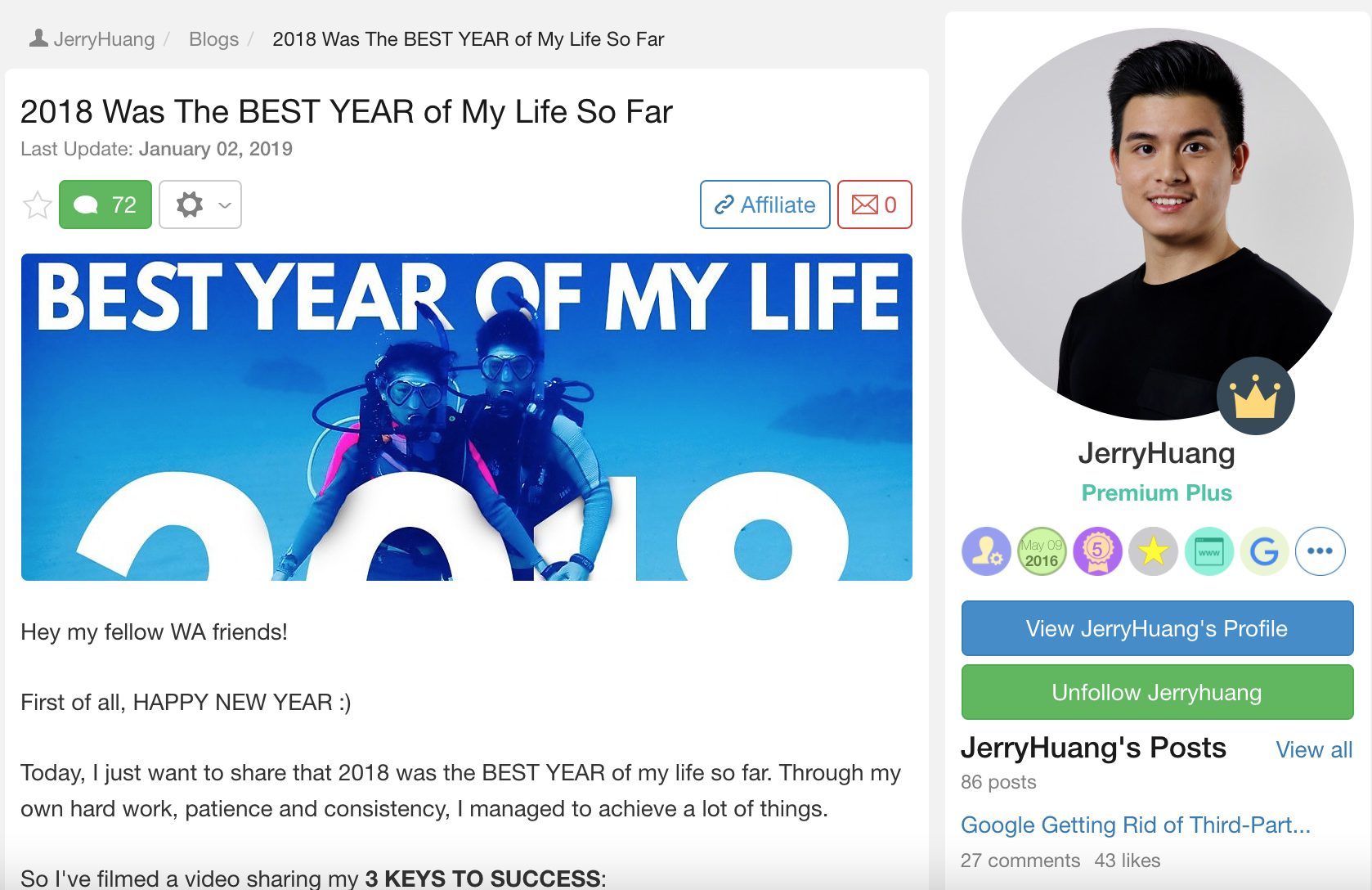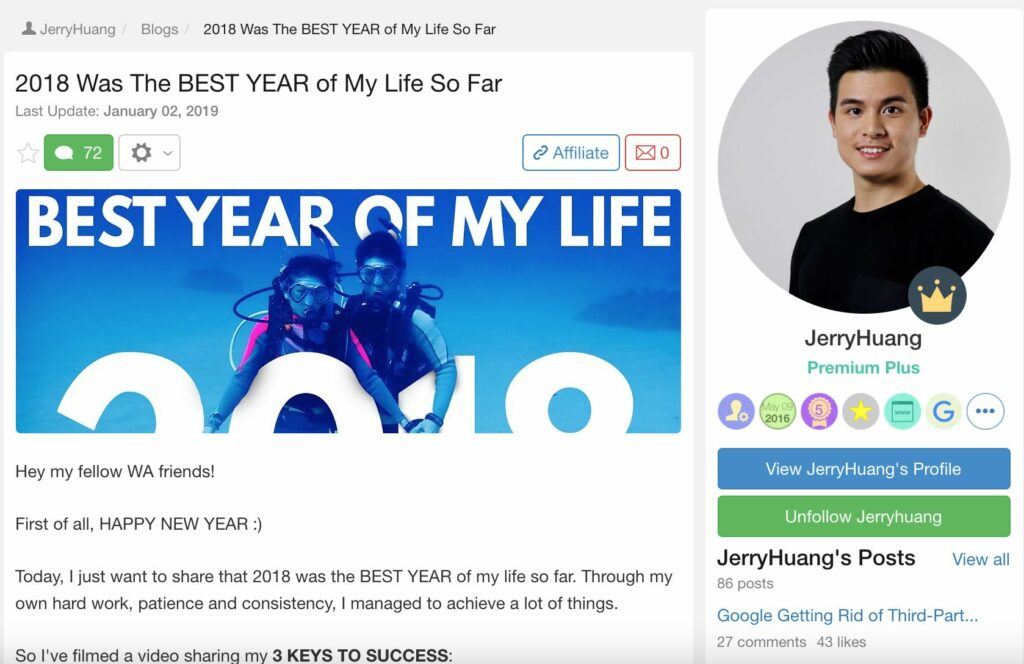 These are both examples of people who are financially free due to the work they have put into building a website up and using affiliate marketing.
But there are other examples of where people are earning millions of dollars a year.
It's possible to create a growing passive income as once you put the work in once your website can get found every single month by more and more people.
As for MLM, it's possible for you to earn decent money.  But you will always be a cog in the wheel (unless you go and create your own MLM company).
But all of the income disclosures I've seen how that 92.3% of the members are losing money and only a very small number are able to make a living from the business model showing how difficult it is to do it.
I'm putting Affiliate Marketer as the winner here too…
Final Scores: MLM 1 Vs 5 Affiliate Marketing
The Downsides to Both Business Models…
This is a topic that not many people will share with you.
There are so many examples of people trying to sell you something or suggesting that they have the answer to help you earn millions of dollars overnight.
To find success with either business model (MLM or Affiliate Marketing) it is going to require a lot of time and effort.  It's going to be hard!
Not only will it take you time and effort, you will come up against a number of setbacks to deal with along the way.  Ok, a lot of setbacks to do with…
We know this, as it isn't an easy road to walk if you want to be successful.  Any legitimate successful entrepreneur will tell you that you need to be able to deal with failure, to end up becoming successful.
We wouldn't consider ourselves successful yet, but we are continuing our journey despite the setbacks we've had.
If every-time you came across a bump in the road, and you stopped, then you will never find success.
Too many people get caught up in scams, as they are looking for the easy and quick road.  But they end up in tons of debt, and soon realise that it requires effort to make money.
If you compare it to an hourly paid job, there are times you are going to be working for free.  But you're working towards getting a return on your time and effort further down the road.
That goes for both business models, but the costs are bigger for MLM, and that means you are often losing money in the process.
If you are willing to work for free, and learn all of the skills you need and then remain consistent, you will find that further dow the road, you are earning consistently.
Why do so many people not succeed?  Because they give up.  This image is a perfect anology of what we mean…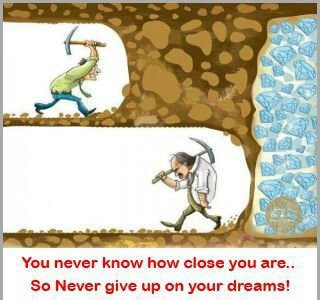 Affiliate Marketing Vs MLM – The Winner Is…
OK, I told you that I was a little biased, when we started this post.  But it is for a very good reason.
We do feel there are some very clear benefits that shows Affiliate Marketing clearly overshadows MLM.
Here are some of the reasons as to why we believe affiliate marketing wins a clear country mile:
You are in full control of the business

You're not restricted in what products you can promote, or the niche you choose
You won't get stuck with a duplicated website

The skills you learn can provide you with  a huge business, with financial freedom and the ways of not having to work a normal job again
There is no need to recruit anyone, or sell to your friends and family
There are examples where people are making money from both business models; affiliate marketing and MLM.
But I think the thing you need to ask yourself is how outgoing are you?  If you're extroverted and outgoing, then you may find that MLM is a better fit for you.
But if you're like me, you're a little more introverted and happy to help people from a distance, and that naturally leads more towards Affiliate Marketing.
Whatever you decide, the last thing to say is that you need to take action.  Taking action will always lead to results.
Thanks for checking out our MLM Vs Affiliate Marketing post.  If you have any questions or comments to add, then please write them i the comments below. 😉
Get Our

7-Day Passive Income Bootcamp For Beginners

,
Absolutely FREE!
The Free 7-Day Course + Our Blueprint will be sent to the email address you submit below: