Want to know how to start affiliate marketing today?  Then know that by the end of this step-by-step guide you will have already taken the first few steps to making that a reality.
Affiliate Marketing is a fantastic option for making money online, it doesn't require huge start-up costs and despite what some say, you do not need to be a technical know-it-all who knows computer coding to be able to achieve it.
In fact, you could get started with affiliate marketing today with expert help, support and training without any real technical knowledge and you will not need to spend a penny either.  Does that sound like a great deal…? 
Then read on and we will first talk about what real affiliate marketing is, how it works and then show you a simple step-by-step guide into how you could get started today… Let's get started…
What's Real Affiliate Marketing?
The reason I always start out with these posts with clarifying what real affiliate marketing is, is because there are plenty of scams or low-quality programs out there that claim to be affiliate marketing but are really not worthwhile, or are MLM schemes or are clearly there to just rob you of your money. 
Real Affiliate Marketing is by far one of the best ways of making money online, but it is not a get-rich-quick scheme.
That is one of the first signs that it is not real affiliate marketing or is not worth getting involved with.
Affiliate Marketing is not going to make you rich overnight.  Even if you get started today, you will not see instant results.  Anyone who promises that is not your friend.
There are four key stages of affiliate marketing:
Choosing a Niche
Start a Blog Website
Attract an Audience
Make Revenue

You will notice that the making money part is the last part and it will require a lot of your time and effort doing what I am doing now which is creating quality content to attract an audience.
Affiliate Marketing is a great passive income as you are not required to hand-hold any transactions, you do not need to keep stock.  In a sense, you are the middle person in-between the person who owns the product and the person who wants to buy the product but wants to know a little more about the product before buying.
That is your opportunity to be that person who offers an insightful post to highlight why you think that product is worthwhile buying or not and if your audience has trust in you, they will go and buy that product and you can earn a commission from that sale.
Let's get into how affiliate marketing really works…
How Does Affiliate Marketing Work?
There are a few different ways affiliate marketing works.  The main two examples refer to either someone promoting products for a commission. The other refers to getting a commission when people sign up for something, or complete an action.  This is referred to as CPA Affiliate Marketing.
We're going to focus mainly on the product/service route in this post as that is the most common route for beginners.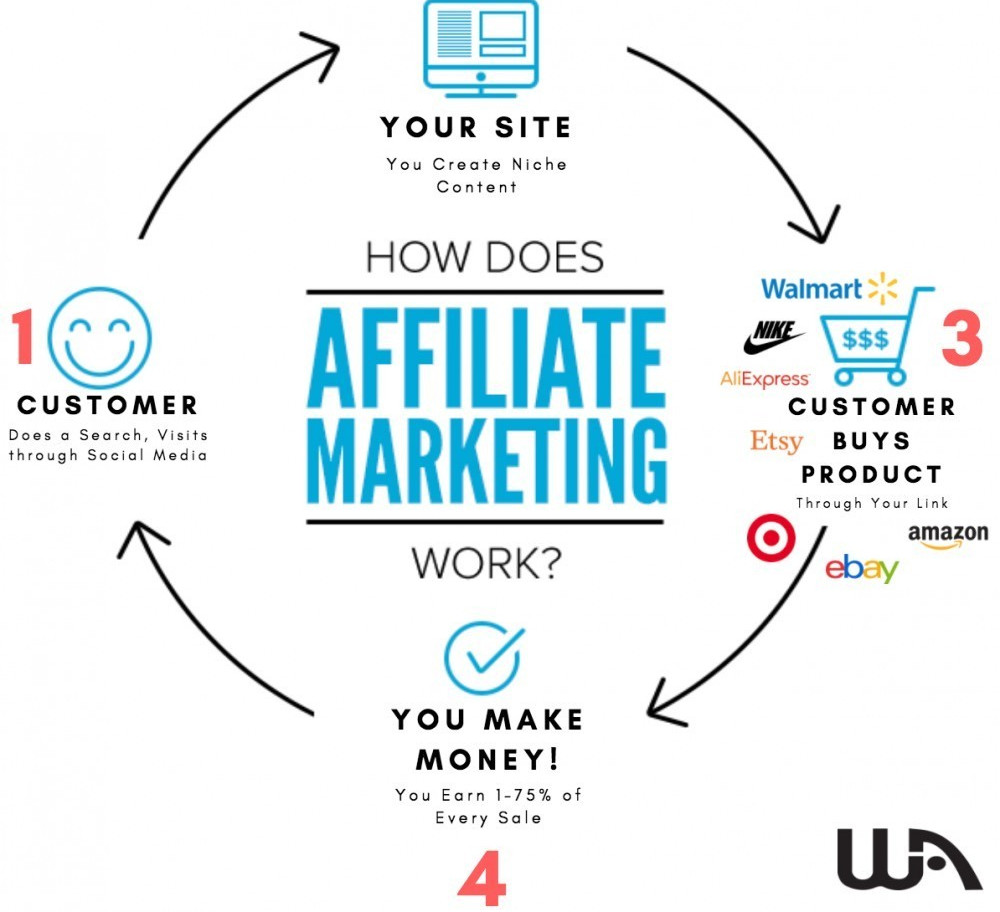 The first thing you need to understand is that Affiliate Marketing is only going to grow.  More and more people are shopping online, and they are looking for help and advice with their purchasing decisions.  Where to they turn to?  Typically online reviews, and that is the opportunity for you to offer that help, in return for a commission.
Affiliate Marketing works like this.
There is the Person looking for help with a particular product to help them make a purchasing decision.
There is you, the affiliate marketer.
And there is the owner of the product (for our example, we are going to use Amazon).
You have someone who is looking for the best gaming laptop online (it could be any niche you want; we are going to use gaming laptops for our example.
They want help finding this out and go to a search engine such as Google.
They type in: best gaming laptop
The search results come up with: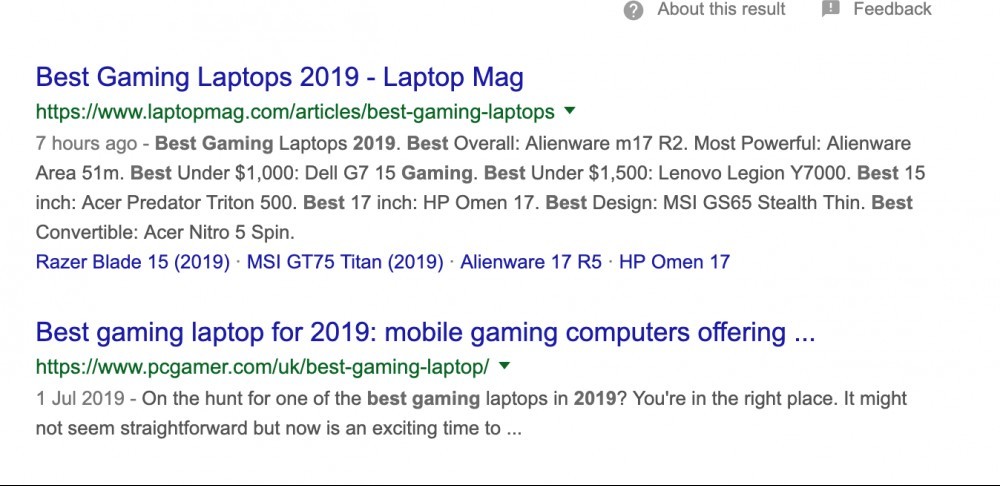 They will naturally go and visit the option at the top and read about the best gaming laptops on that page, which happens to be a blogger using affiliate marketing.
They read up on the best gaming laptops and decide that one of the options that the blogger has gone through in detail is the best option for them.
So, at this point we have a customer who is deciding on a purchase.  The affiliate marketer (you) has helped them come to a decision with that purchase with a helpful guide to what they consider the best gaming laptops for 2019 and our customer is ready to actually make a purchase.
The gaming laptop blog does not have any actual stock, but they are an affiliate with Amazon.  So, if the customer chooses to follow the link in the post to buy the Alienware m17 R2 laptop that they highly recommend.  They are taken to Amazon's page for that laptop.
The customer has a lot of trust in Amazon, as I think most of us do and they decide to go through and purchase the laptop.
Your reward for helping that customer to that decision is a percentage of the sale price.
No, this affiliate actually has signed up with the Dell Affiliate scheme, but it works in the same way and you will find there are literally thousands of affiliate programs you could sign up with.
The laptop's retail price is $1499.  If the affiliate program commission is 6%, that equals = $89.94 of passive income.
If you happen to help 10 people to a similar decision, that is $899.94. As you help more people, you will find your income can grow and that is just from one post that this blogger has written.
Not bad, when you do not need to be there for your reader to make the transaction.
Affiliate Programs do all the hard work of tracking this type of stuff, allowing you to crack on with the creation of high-quality content that gets you to page one of the search results.
How To Get Started with Affiliate Marketing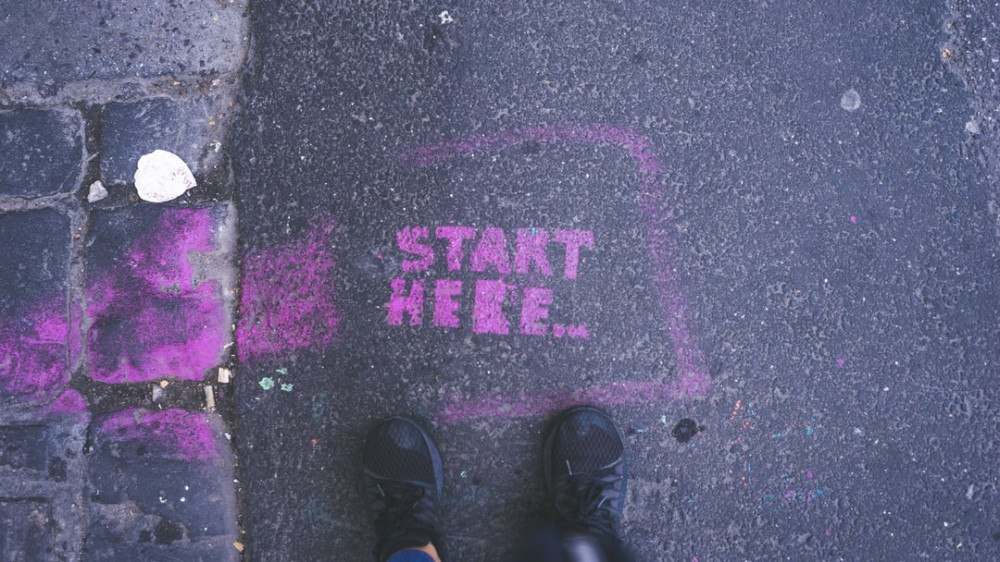 Affiliate Marketing is a great way of creating passive income, and the added advantage is that you could choose any subject you want.  We used Gaming Laptops in our example, but the same premise works for literally any topic you could think of:
technology
sports
fitness
health and wellness
losing weight
homeware
coffee
knitting
pets
childcare
new parents
making money online
gadgets
etc.
There are thousands of opportunities, if you still aren't sure what you could blog about, click here.
Affiliate Marketing does not have to be just about products, you will find a lot of services also provide an affiliate program. 
There are thousands of affiliate programs, Amazon is good for new affiliate marketers but as you progress you will soon find that there are programs with better commissions rates elsewhere. 
But Amazon is a great starting point due to the sheer number of products they offer…
All of the categories above are a good starting point, but to have a better chance when getting started, you need to focus on a specific niche within a category.  
A niche is described as a narrow or small segment of a market.  That is an important factor when it comes to breaking your blog into the search engines amongst all the competition.
The more niche you go, the better chance of getting your affiliate marketing campaigns a kick-start and appearing higher up the rankings.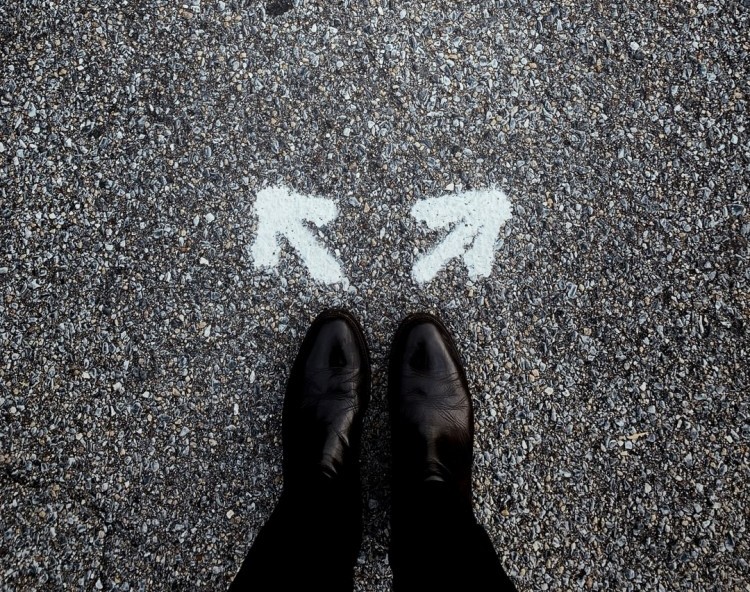 So, if you are thinking about a particular subject, try and narrow it down to as a small niche as you can.  You need to become an authority on this niche.  Once you have achieved this authority, you can then start broadening out into the larger market.
A great way to do this is to go to Amazon.  Go through their categories, and you will see they have done the hard work for you. You will see there are sub-categories and then sometimes they have dug down again to another sub-level.
It also gives you an idea of the products that you could review when you are up and running.
If you are not too sure what your niche could be, then you might find this training useful from the guys at Wealthy Affiliate.  It has helped a lot of people narrow down their niche…
Spend the next 30 minutes thinking about what your niche is going to be for your affiliate marketing business.  It is great brainstorming this and if you need any help, write your ideas in the comments section and we will help you narrow down your niche ideas.
Once you've come up with your niche, now you're ready to get started with creating your own blog website.
The first thing I will say, is don't get worried about this.  It's not very technical, and you don't need to have a degree in computer coding.
It is about as difficult as creating a social media account these days.
This guide will cover off how you can have one up and running in just a few minutes…
WordPress is the most common website builder online, over 50% of the websites out there are using WordPress and they have made it even easier for people with a one-click install for building a website, and then creating content is like creating a document in Microsoft Word or any similar word processor.
In fact, with the SiteRubix WordPress Builder, there are just four steps you need to go through to have your own FREE website!
Step 1 – Choose a Domain Name
What name do you want to give your website?  Think about what name do you want to use for your website address (the one that appears in the address bar).  Ideally it needs to connect to your niche, and something that your target audience will respond well too.
Then, you can use the tool below to see if it's available:
If you did decide to build a website using the SiteRubix tool above, then you will have been granted 1 free website, and access to the training platform called Wealthy Affiliate.  They give you ten free step-by-step lessons on how to get the best start to your affiliate marketing blog website!
You will have your own website ready to start creating awesome content, and then apply for affiliate programs to start promoting relevant products to your target audience.
Step 2: Complete Your Account with Wealthy Affiliate
To get access to your website, you just need to complete your sign up with Wealthy Affiliate.  It's totally free with the free starter membership, and gives you access to training and support.
Once you've done this step, you can then move onto customising your website…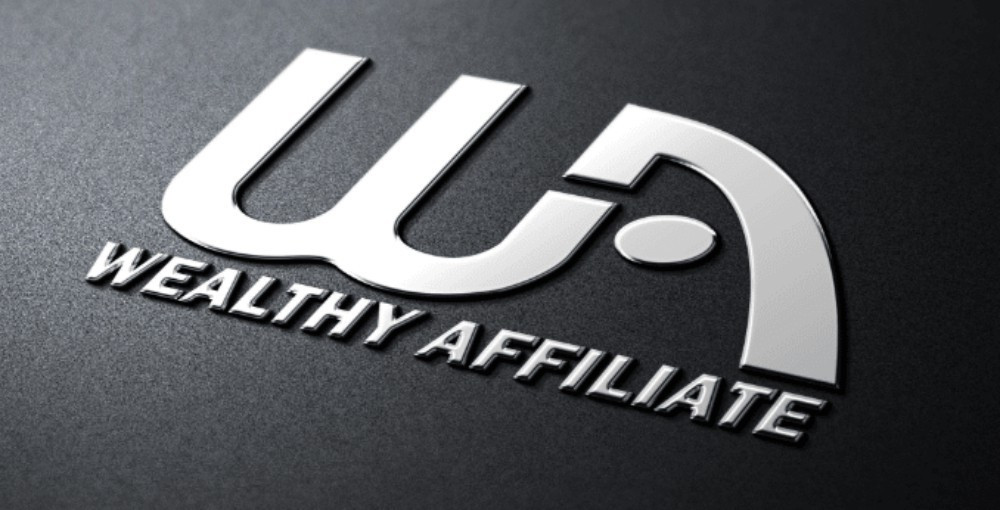 Step 3: Customise Your Website
Once you're inside, you will be taken to the page where you choose what you want to your website to look like.  You can always change this later on and as you build up your knowledge with the WordPress platform, but for now pick your website title, and then choose from one of the available themes.  See the steps here: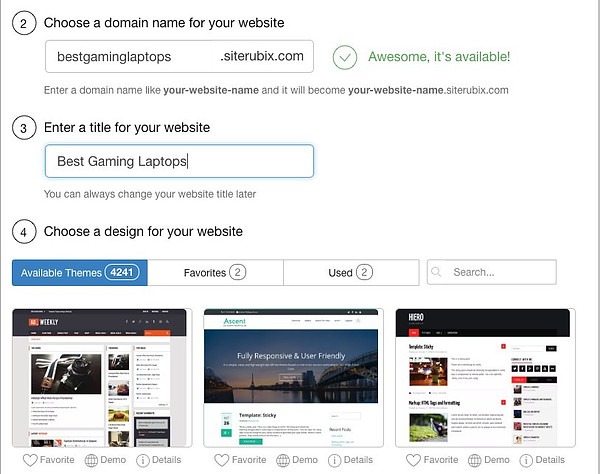 Step 4: Click Build This Website
This is the final moment before your website is built for you.  Within a minute or two, you'll be able to login to your new website and start affiliate marketing today!
You'll have also gained access to some fantastic training that will help you with the necessary steps to being your affiliate marketing journey.
There are a few things like affiliate disclaimers, etc. that you may not have thought about, but they will ensure you are definitely on the right path…
At this point, we have covered off the first couple of steps in our 4 steps to affiliate marketing.  So, this is the point where you need to start on step 3 – attracting visitors to your blog.
Without traffic, there is little point signing up to affiliate programs…
Your website will be a blank canvas, and you're going to need to fill that canvas with a variety of different bits of content to attract an audience to come to it.
Once you have people coming to your site, then you can worry about promoting affiliate products.  People often think it is the other way round.  But there is an important factor to getting people to your site, and that is to do with the search engines.
If you have a brand new site with very little content, but loads of affiliate links – you will struggle to rank your website in the search engines.  If you don't get your blog to the top of Google, then you won't make any money anyway.
So, you need to focus on helping people first, then you can start to include affiliate links a little later.
If people like your content, then more people will come.  Once you have a steady stream of people, you can start to include appropriate affiliate links, and they will trust you enough to buy through them.
So, you need to build trust and how do you do that?
You build high-quality content that helps people get the answers to questions relating to your niche.
These might include:
how-to guides
blog posts about the what/why/how/who/when questions
solutions to problems
People need to start seeing you as an authority in the subject, that is why when we spoke about choosing a niche, it does need to be something you can offer value in.  Picking gaming laptops is great if you know what you're talking about, and there is money in gaming laptops.  But if you haven't got a clue, this will translate in a lack of content that helps.
So, you need to do some research into what are the questions, problems or solutions, products and other things that your target audience would be looking for within your niche.
Then you can start looking for good keywords to target with your blog posts.  A keyword is what we all use when we do a search in google, so a relevant example would be "how to start affiliate marketing today" most likely led you here.
That was the keyword, we targeted with our post, and as long as we provide a helpful guide Google likes, it will appear at the top of the search engines.
This is a strategy called SEO or Search Engine Optimisation.  You need to ensure your website and your content, etc. is optimised to be Google friendly.
However…
This is where some get it wrong, your primary focus once you've identified a keyword to write a blog post about is to write it with the reader in mind, not Google.
Take the time to consider that the blog post you have written, does it answer the original questions, does it offer insightful information that helps.  If it does, you've done a great job.
Keyword Research & Niche Research is an important aspect of starting generating ideas for writing content, and do that you will need to use a tool.
There are many on the market, but if you followed our steps above you would have gained access to 30 free searches with Jaaxy.  It's a research tool that is included in the Wealthy Affiliate platform.
With Jaaxy, you could come up with a ton of ideas for what to write about.  If we go back to our gaming laptop niche, here are some examples from Jaaxy about that niche: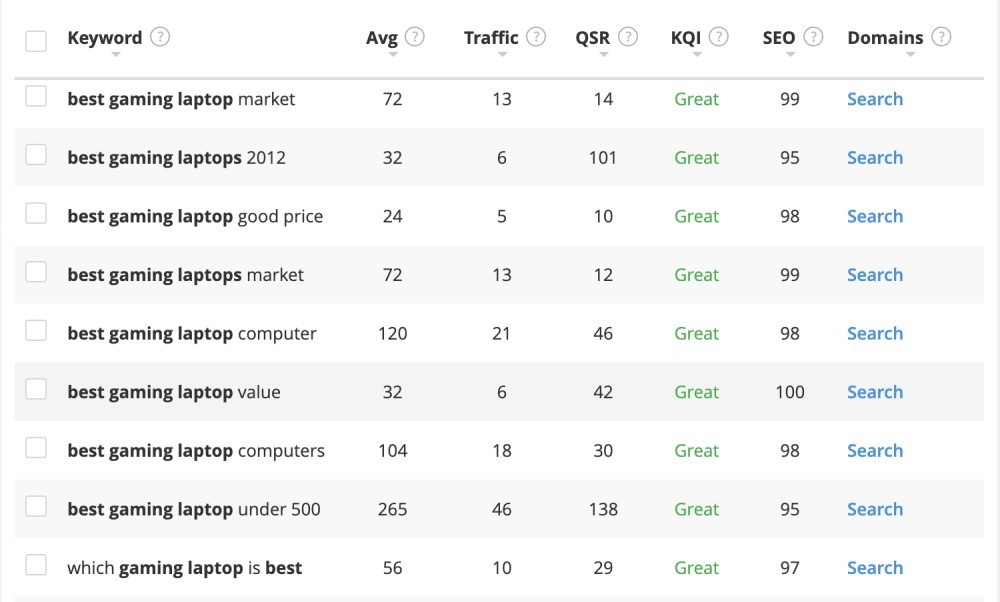 Once you have some keywords, topics and basically stuff to write about, get going with writing the best blog posts you can that help people in that niche.
Once you start getting a trickle of people coming to your site, and liking your content, then we get on with tackling finding affiliate programs for you to link your content to, and including some relevant product reviews…
Finding Affiliate Programs
We mentioned Amazon earlier, and their affiliate program (called Amazon Associates) is a solid option for a beginner, although the payout isn't exactly the best.  But they do have the trust element when it comes to your readers.
So, we would always recommend you sign up with them, due to the number of products they have available.
Remember, when you start out you will stay highly targeted to your niche, but as you grow your audience and authority, you can expand into other areas.
If we go back to gaming laptops, you could expand into backpacks, laptop bags, accessories, portable hard drives, etc.
There are loads of them, and Amazon makes it easier to expand into these as they sell them too.
But that doesn't mean that there aren't other opportunities with other Affiliate programs online.  Have a good look around and you will find them.  We have used the affiliate program search tool within Wealthy Affiliate.  But just a simple Google search will reveal loads, just type your niche + affiliate program into Google and there will be plenty for you to do some research on to find some good alternatives too.
Related Posts:
Once you have been approved for the affiliate program, then its time to get cracking with writing the posts that will lead your readers to your affiliate links… my advice is to keep them centralised within product review pages…
Some people don't like writing product reviews, but they don't have to be that tasking.  There will be those of you who think you have to have bought the product to do a review, and to a degree that does help.  But there are ways of writing objective product reviews based on research.
All you need to do is be honest with your readers, and say that your review is based on extensive research online and then write what you have found online.  This is a great guide for writing reviews…
You also need to understand where your customer could be in the customer purchase lifecycle.  Are they ready to buy the product, or are they still in the browsing stage.  Understand that will help you write a series of blog posts that lead them to your product review page.
Product Reviews are typical where a customer is in the ready to buy stage, they just want a second opinion before deciding.  But a customer who is just generally looking will not be so ready.
A good mixture of helping blog posts, alongside product review pages will present a good overview to a visitor and as long as they feel they can trust you, they will follow your directions.
Once, you are doing that regularly, you will be earning money…
I'll be completely honest with you at this point, you can start affiliate marketing really easily today.  Our guide has hopefully helped you with that, and the training at Wealthy Affiliate is the best starting point you could ask for.
But the point at which you will be making money will not be today.  There are plenty of scams out there that are claiming you could be rich tomorrow, and that will not happen.  It took us 6 months to earn our first few dollars, and that's a reality of many affiliate marketers.
This isn't about doing a weeks worth of work and seeing the profits coming in.  If you want to be successful, the first thing you need to get right is your mindset.
Are you ready to work for free?  Are you ready to put in the hours it takes to become an authority in your niche, and get trusted by the search engines (and your readers)?  It's totally worth it in the end, but too many people fail because they walk away thinking it doesn't work, when they were so close to seeing it come to something: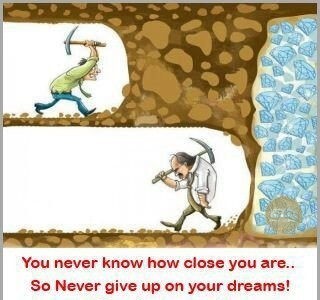 We can help you, the training can help you, and we will always be there to make sure you're on the right path.  But as soon as you take your foot off the gas, you will find that you'll have taken ten steps back.
That's why the part about making money comes at the end of the process.  You need to believe this is going to come to something, as the first few weeks or even months won't necessarily show you any signs of what's to come.
As soon as your content ranks towards the top of the search engines, that is some success.  As soon as people start visiting your blog, thats a success.  Then, hopefully it leads to income.
There are no get-rich-quick schemes out there – those claiming they are one, are not!! 
The only way you will get rich, or at least financially free is to chase, and chase and be consistent with taking action.
How to Start Affiliate Marketing Today!!
Affiliate Marketing is fantastic, and is our top recommended business model.  There are so many examples of people earning a real income stream from it, and those that are living the life they want because of it.  But they all started at the beginning and had to put in the time to get it to that point.
That is why we offer our help for those who are serious about it.  If you're ready to commit your time and effort into building an affiliate marketing business, and you're ready to start your training – then we do recommend you start with a free wealthy affiliate starter membership.
Complete the free ten lessons, and start your free affiliate marketing website.  But the end of today, you could have your own affiliate marketing website up and running.  We'll be on the inside ready to help you, alongside a community of other like-minded entrepreneurs.
If you are still in two minds, that's totally fine. But if you have any questions that we can answer to help you, then please write them in the comments section below and we will get you an answer to help you…
Get Your FREE Affiliate Marketing Blueprint
Learn How to Create Your Own Passive Income Making Machine – 4 Steps to Success