Welcome to our Credit Star Funding Review!
If you've been approached to take out a loan through Credit Star Funding, you need to read this entire post to learn the truth about this company.
It's really important that you know the facts before joining any company, but especially a company like Credit Star Rating.  The owner has a long history of pushing Ponzi schemes and scams, but this one is one of the worst schemes we have seen.
First off, it's great to see that you're doing your research before buying into any "seemingly good" product.
That is how you avoid scams and find only legitimate ways to make money online!
To be completely transparent with you, we're not associated with Credit Star Rating in any form.  We're not here to pitch or sell you anything.
Instead, we want to reveal all of the facts about this company, including why we feel this is a scam, but it will help you get a full understanding of what this company is all about, and how it actually works.
Credit Star Funding Review Summary
Product Name: Credit Star Funding
Founder: Riccardo Ferrari
Product Type: Loan & Investment MLM company
Price: Free to start, but additional fees and hefty interest fees.  Oh, it will also cost you $5,000-$6,000  to fix your credit score!
Best For: No One!

Cons
Unrealistic Returns
Sketchy Founder Reputation
It's a Pyramid Scheme!
Doesn't Provide Professional Financial Advice
Ponzi Schemes are Illegal
Put People More Into Debt
Summary: Credit Star Rating is a company that claims to fix people's credit scores and provide loan opportunities.  They claim not to be an MLM, but the reality is that they are a Ponzi Scheme and we wouldn't recommend it to anyone.
There isn't any real way for their members to make money here, as the only money is from inviting new people into the scheme, ergo a pyramid scheme.
I wouldn't waste your time with it, and their claims about fixing people's credit scores will actually cost you a lot more than you bargained for.
Rating: 1/100
Recommended? No
What is Credit Star Funding?
Credit Star Funding is a company that claims to fix credit scores and provides loans and investment opportunities.
The company claims it isn't an MLM or Multi-Level Marketing company, but they are very similar to one.
Here's the Wikipedia definition:
A marketing strategy where the revenue of the MLM company is derived from a non-salaried workforce selling the company's products/services, while the earnings of the participants are derived from a pyramid-shaped or binary compensation commission system.
They claim they aren't MLM, as they are only a "two-tiered agency"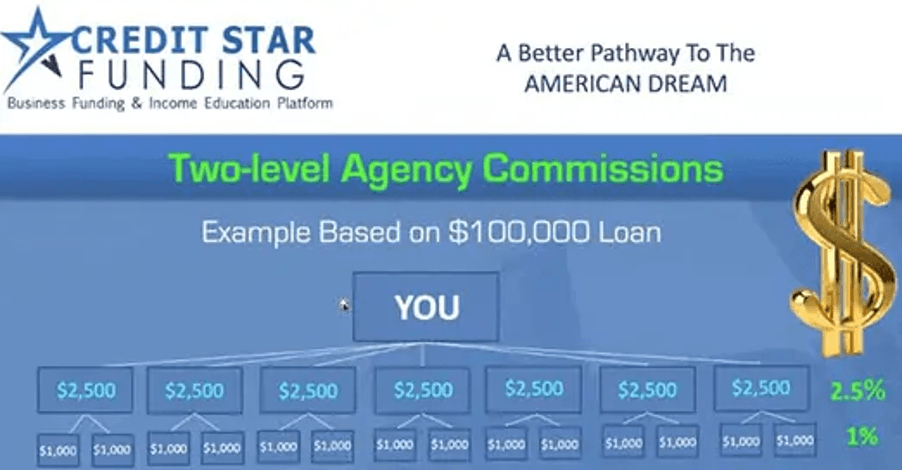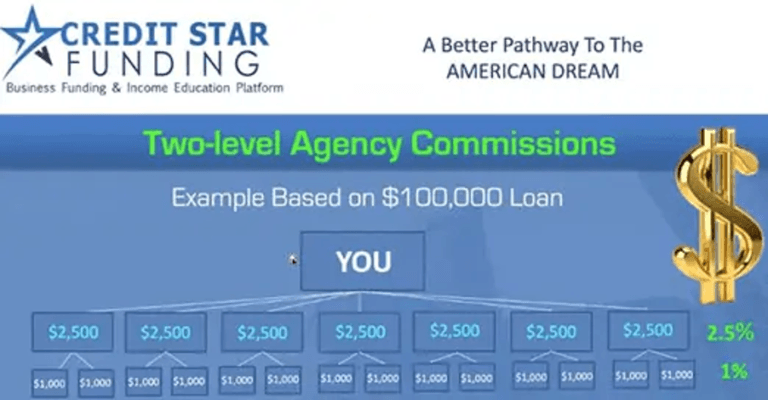 But, when you look at the screenshot above, it definitely looks like a pyramid-shaped commission structure to me.
So, you're probably still wondering…
Is Credit Star Funding a Pyramid Scheme
From everything we've seen, I would say that they are a pyramid scheme.
The only option you have to make money from this "opportunity" is to recruit more people into the company.
They claim that there are other ways to make money, such as getting a huge loan (or huge debt) and using unproven methods to make money such as trading for cryptocurrencies or Forex trading.
We'll get into the details about this shortly, so that you get all the information you need.
What's A Pyramid Scheme?
A pyramid scheme is a company that promises payment in return for you recruiting new people into the company, instead of for selling products or services.
They've been made illegal in most countries around the world, as it's impossible for everyone to be able to make money when recruitment is the only way of making money.
Because of how the structure is set, they become unsustainable quite quickly, meaning you run out of potential recruits and then it collapses.
This diagram from Wikipedia shows you why…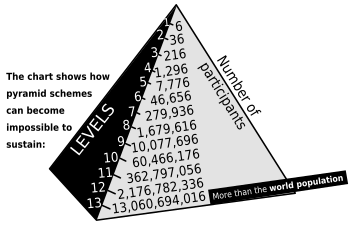 Credit Star Funding does offer a service for improving your credit score.
But if you want to become one of their "agents" to make money, your only option of getting paid is if you recruit people to take on these loans.
There is no real product or service you are selling.  The only way you can get a commission is to "sell these loans" and recruit more people into the system.
This 5-minute video is really helpful in helping you understand how to spot a pyramid scheme…
If you're in a hurry, you could always watch it on x2 speed…
How Does Credit Star Funding Work?
The funny thing about Credit Star Funding is that if you've already taken a look at their website, you're still no nearer to knowing how it all works.
Here's a basic explanation of what they are offering…
Pay $5,000 – $6,000 to improve your credit score quickly (21 – 60 days)
Then you can get a huge loan $20K to $250K (there is a $199 commitment fee + 22% generation fee + 9% – 18% interest rate)
Now you can invest in some dodgy investments that Credit Star Funding doesn't even provide themselves, but suggests you should be able to easily make between 10% – 60% returns each month.
According to Credit Star Funding, you can reach financial freedom in ten steps…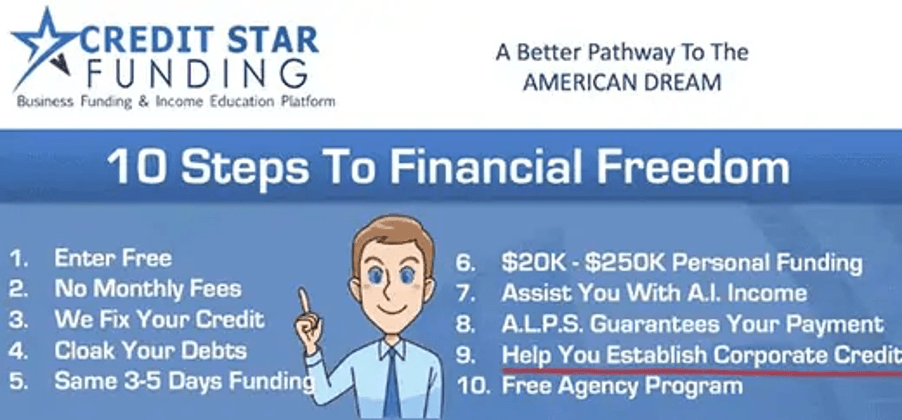 The most up-to-date video there is about Credit Star Funding is below.
It's a 45-minute video of Riccardo (the dodgy owner) going through how "amazing" this program is, without sharing any of the fees that are involved in taking out one of these loans…
He then goes on for ten minutes about how Credit Star Funding isn't a scam.  He does this without ever explaining the true costs of these loans, or any real details about the fraudulent investments where you can (apparently) make 10% to 60% each month.
*Unsurprisingly, this video is no longer available as it is has become quite clear, Credit Star Funding is a ponzi scheme.
Credit Star Funding Product Line
There isn't really any products or services to speak of, with Credit Star Funding.  None that their "agents" can sell anyway.
The only way their agents can earn commissions is from selling those expensive interest rate loans. The fraudulent investments they suggest you should use your deceptive loans for are not even a service Credit Star Funding provides.
You should also know that there are many other MLM companies that are selling very similar services.  The most notable are:
Usborne Books
Southwestern Advantage
Cutco
Online Team Builders
Haven't Made Your First $1 Yet?
Studies have shown that more than 70% of the people who want to make money online have not made their first dollar yet. So, you're not alone!
How To Make Money with Credit Star Funding?
There is really only the one way for you to make money with Credit Star Funding…
Recruit more people into taking one of those high-interest rate loans.
And then, they can recruit someone into taking out one of those loads.  Which perfectly describes a pyramid scheme.
Getting Started with Credit Star Funding
It gets interesting at this point.
It's completely free to join Riccardo's scheme.  He'll also allow you to become an "agent" so that you can sell these loans and earn a  commission from them for free.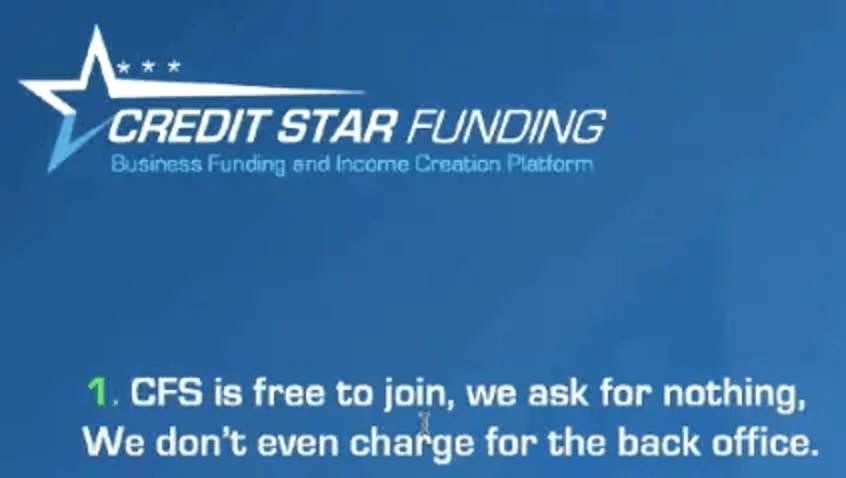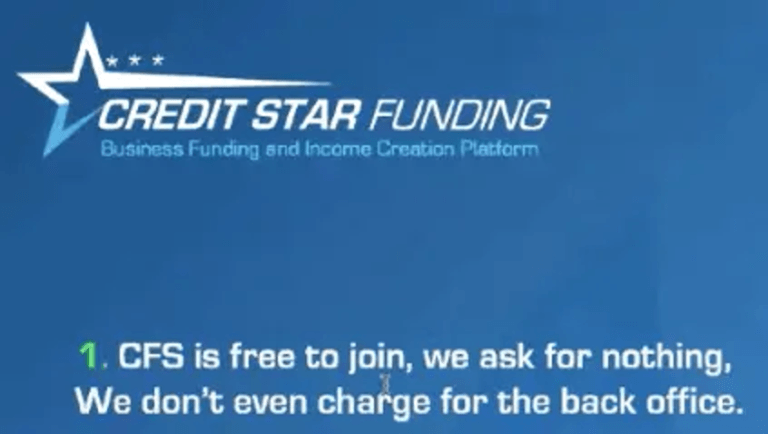 Of course, he does forget to mention that they charge you between $5,000 to $6,000 to repair your credit score.  (Apparently, they don't take any fee from this… they claim it is to pay the lawyers and experts to help you)
Then there is the fact, he forgets to mention that your loan comes with a setup fee of $199, and that they are charging interest between 9% and 22%.
So, that is nowhere near a free signup…
P.S. This program enabled us to Create a 4-Figure Monthly Passive Income Stream.  It's Free to get started and costs only $49/month to go full-
Credit Star Funding Compensation Plan
So, before the video was taken down, Riccardo talked about Credit Star Funding not being an MLM company.  Even though, it clearly looks like one, when you look at the structure.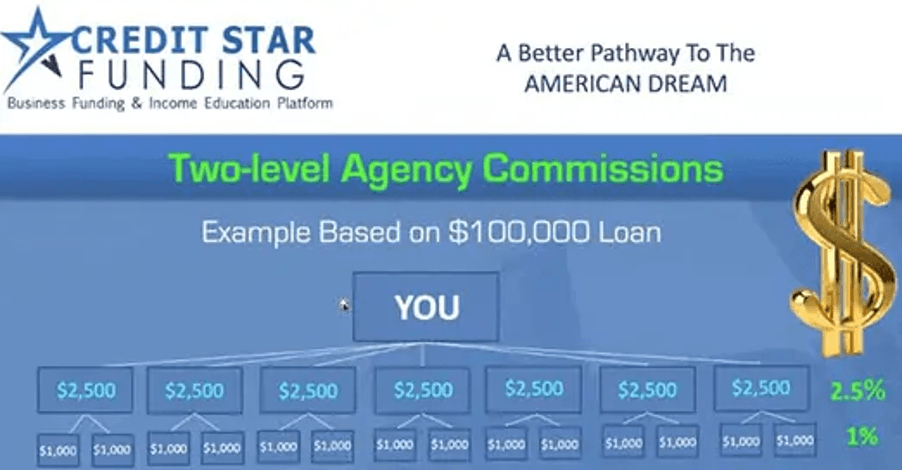 The simple way to think of it is this…
If you were able to sell a loan to someone, you would get 2.5% commission, and then if that person also went on to sell a loan, you would then earn 1% commission.
That is the only way you have of making money with this compensation plan.
There are no bonuses that you can earn past the two levels.  This is what makes it slightly different than most other MLMs, but still it is Multi-Level.
But the pyramid shape commission structure is very similar. MLM companies are not scams anyway if they offer legit products or services.
Where Your Loan Goes To…
Alright, so you paid your $199 fee, got your loan with high fees + interest rates, and now it's time to "invest" it.
Originally there were three destinations for your new money, but one was "hacked." In reality, it most likely folded because it was a Ponzi scheme.
That leads to two more choices.
The first is called Cloud Token and this a trading bot platform that invests in crypto. Again, the bot doesn't make money and the money comes from you dumping $200,000 into it (the money then gets redirected back to investors who got in early).
The second place is called Credit Star Forex, and this is an inhouse investment opportunity (meaning it's run by Credit Star Funding).
This is another trading platform where no real profits are made.
Is Credit Star Funding a Scam?
In our opinion, it is clearly a scam.  It's a Ponzi scheme!
Here the reasons that show this:
It offers a really expensive way of fixing your credit score (If you had that kind of money, you wouldn't need to fix your credit?)
It offers an unusual way of acquiring a huge loan with a very high-interest rate
Then, Credit Star Funding suggests you invest your money into fraudulent investment Ponzi schemes
Lastly, they then suggest you can earn some extra money by selling these expensive loans to other people
To me, these are all clear signs that it is a scam and should be avoided.
Just to be completely transparent with you, I'm not a distributor of Credit Star Funding, nor do I endorse Credit Star Funding in any way.  I have researched the website, testimonials, and information available on the internet to get the details about what this program genuinely does.    I do this, as I have been caught out by a scam in the past, and am trying to help others avoid a similar fate…
What We Liked About Credit Star Funding
I usually try to remain objective when reviewing these programs, but there are too many red flags here to even contemplate something positive to tell you about this program.
What We Didn't Like About Credit Star Funding
Here's what we didn't like about Credit Star Funding:
#1 Unrealistic Claims & Returns
The claims and promises that Credit Star Funding are giving on their sales page/videos is ridiculous.
Firstly, spending $5,000 to $6,00 to miraculously fix your credit score.  If you had that kind of money to spare, then you wouldn't have a problem with your credit score.
Then you take a look at their investment suggestion.  They don't even own the fraudulent investment Ponzi schemes.  The ones where they claim you can earn between 10% and 25%  return on your investment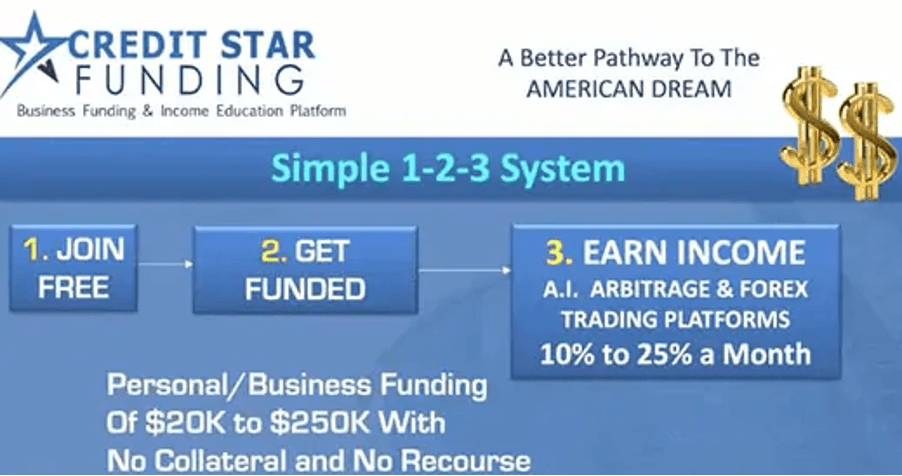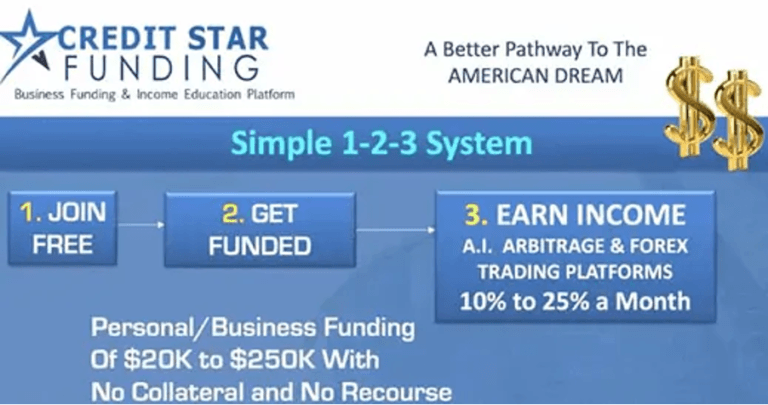 But, all they do is just tell you about people that make a good return by doing this.  They don't actually connect you or show you how you can do it.
So, you are completely in the blind with it really.
#2 Owners Bad Reputation & History
Riccardo Ferrari has had a sketchy past, and has been involved in several programs that have turned out to be scams.
Ferrari promoted the BitClub Network, before this, and it turned out to be a Ponzi scheme.
Richard Brook also cited Ferrari as an example of "outright lying, stupid, illegal claims and cheeseball videos about how cool it is to be rich…".
Someone who is guilty of being involved in these schemes, doesn't tend to change much.  If they are making money, and can evade the authorities, they will keep on doing it.
Riccardo is a fraudster, and any scheme he is involved in will typically be a scam.
#3 Credit Star Funding is a Pyramid Scheme
Credit Star Funding has no real products or services and the only way for you to make money here, is to recruit people by making them take out a ridiculous loan.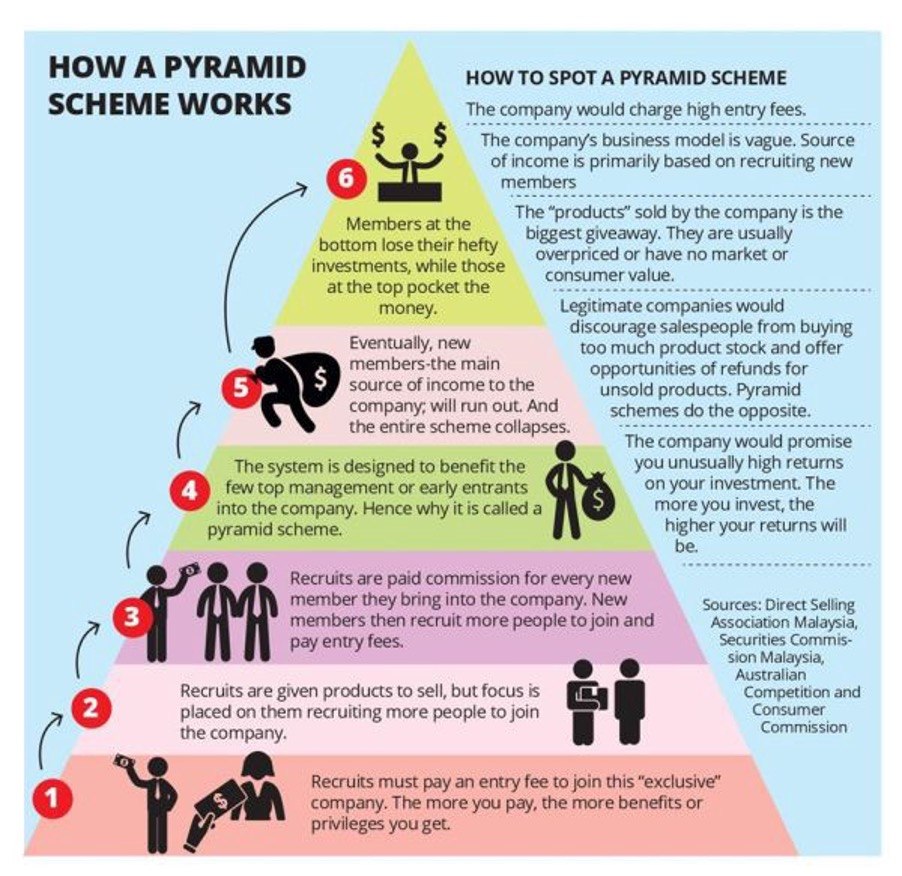 If that wasn't enough red flags about this scheme, there are more concerns…
#4 No Professional Financial Advice Provided
When you take the time to look at the small print within their FTC Disclaimer, some truthes are revealed…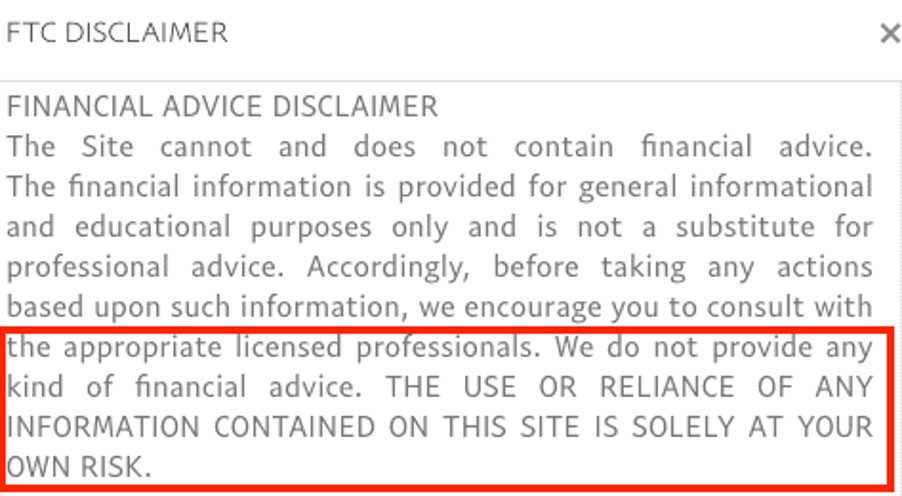 They are not authorised to provide any financial advice, and they even tell you they don't provide any financial advice.
So, how are they able to repair your credit score and offer you a huge loan?
You're expected to hand over huge tons of money over to them, and put yourself into huge levels of debt, and yet they are not registered with the SEC or any other governing body?
That is really worrying, to me…
#5 This Ponzi Scheme is Illegal
The company itself doesn't offer any actual investment paths.  But they do recommend you invest into known fraudulent Ponzi schemes, much like Ferrari's old BitClub Network.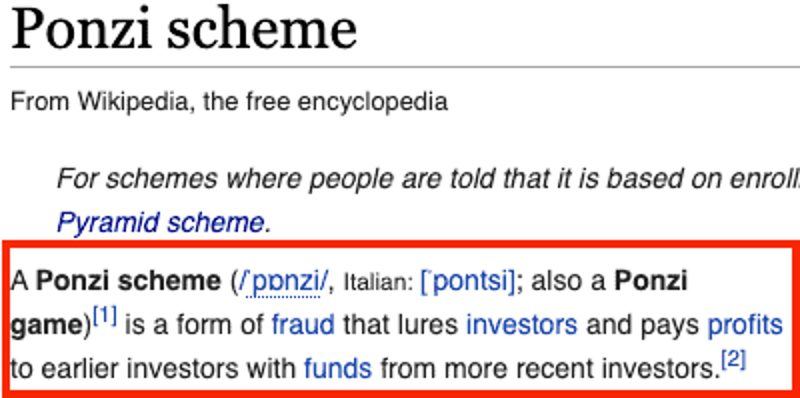 Any investment that offers returns of 60% a month is doing so by paying existing investors their returns by the funds received from new investors.
Eventually, these Ponzi schemes always come crashing down.
Haven't Made Your First $1 Yet?
Studies have shown that more than 70% of the people who want to make money online have not made their first dollar yet. So, you're not alone!
My Credit Star Funding Review - Final Conclusion
Credit Star Funding is an outright scam, and should be avoided at all costs.
All you will do is end up in huge level of debt, and a huge interest fee, with no way of making money unless you start recruiting other people to do the same.  This is an unsustainable business model, and will cause you all kinds of issues.
Get-Rich-Quick schemes or ways to solve money problems quickly, are never what they seem.
You can find out more about the pros and cons of Working Capital loans here if you need a quick loan. Or you can find out how to find the right business loan broker here.
But there are legit ways that people make money from home…
I'm not a fan of MLM, not because it's illegal or not profitable, but because of all the restrictions and expensive costs involved.
Instead, Affiliate Marketing is our top recommended business model for anyone looking to make money online
The reasons are simple…
You can promote anything you want and aren't restricted to only promote products from one MLM company
You don't have to recruit anyone to make money
You never need to sell to your friends and family
It's free to get started
In fact, with affiliate marketing we've been able to Create a 4-Figure Monthly Passive Income Stream.  If you want to learn more, click here.
Thanks for checking out our Credit Star Funding Review!  If you have any questions or comments to add, then please write them in the comments section below.  😉