Quick Update:
As of 29 Jan 2018, Digital Altitude has officially been shut down by the FTC because it has been confirmed to be an illegal pyramid scheme.
Digital Altitude is just using digital marketing products as a disguise to lure innocent people into the system and recruit more and more people.  Not only that, members were required to pay for a series of tiered memberships that had increasing fees.
If you want more information, read the official press release by the Federal Trade Commission (FTC).
Check out our Top Recommended Program to make Honest Money Online!
Is Digital Altitude a Pyramid Scheme?  It's a common question being asked about Digital Altitude, so we wrote this review to get your the answers you need…
Digital Altitude Review Summary
Product Name:
Founder: Michael Force
Product Type: Affiliate Marketing Pyramid Scheme
Price: $1 to join basic membership, 14-day trial and $37/month afterwards.  Plus many upsells.  And numerous membership upsells with the cheapest being $597 and the highest $27,997
Best For: The Founder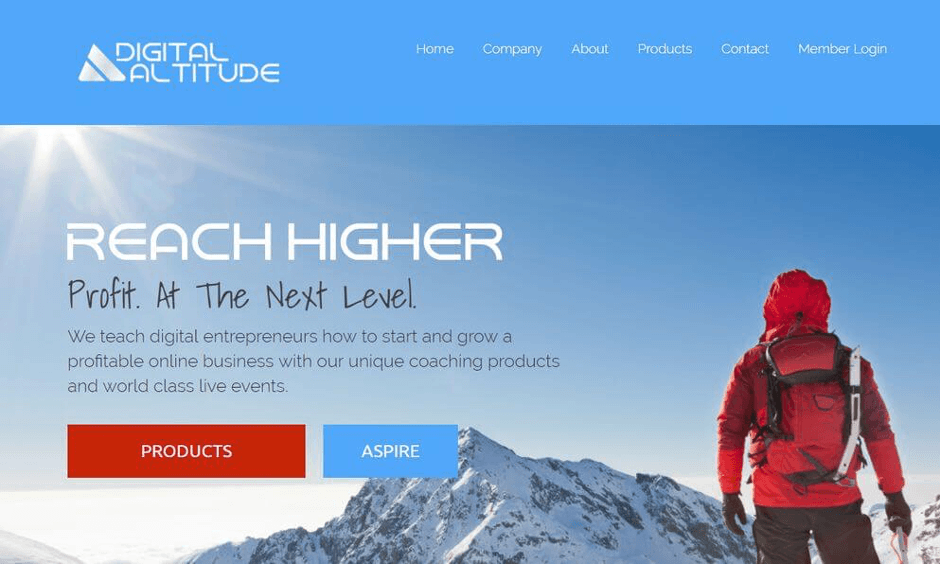 Summary: Digital Altitude is a company that offers online training courses to help beginners to make money online.  However, it's an extremely expensive course with numerous upsells.  The way it works is by helping people promote their own membership and recruit even more people into the memberships too. 
That makes Digital Altitude a Pyramid Scheme!
Rating: 45/100 1/100
Recommended? No (The FTC Has Closed This Scheme Down)
What is Digital Altitude?
Digital Altitude marketed itself as an online marketing 'training' program.  But this one came with a claim that you could be earning 6 figures online in as little as 90 days – even if you have no experience, whatsoever!!
It had been put together by a guy called Michael Force who claims to be an ex-marine.  His story continued to say he spent 4 years in the service, before moving into a cushy corporate job.  Things were going well, until he decided to quit and pursue an online income instead.
He was clever in the fact that he did not claim to become a millionaire overnight, like most 'gurus' do, and he said he struggled for several years before he finally 'cracked the code'.  He also came out with the claim that he went from 0 to a 6-figure earning in just 90 days.
The Digital Altitude platform became his way for you to learn from his secret and do just that.
It sounded like a great deal to many, and on the surface, it looked a great deal.  But on the inside, the signs it was a pyramid scheme became very apparent.
It claimed to be a 'Done for You' system but resembles another platform that the FTC has also closed – MOBE.
Let's look into how Digital Altitude conned people out of their money.
How Does Digital Altitude Work?
It started by people being sold that the price was $49 a month.  But once you had handed over your money, you found that this price gave you practically nothing.  Just some basic videos and a sense of needing to spend more money to get anywhere with this program.
Members also gained a 1-on-1 coaching call, but really it was a salesperson pushing you to upgrade to the higher packages.  You also find out that the only way you make money from this system is by promoting it to other people.
This is similar to how Six Figure Mentors and Super Affiliate Network work, you only get information about how to promote their products and not anything else.  Whilst Digital Altitude and MOBE have been closed by the FTC, as they were Pyramid Schemes.  SFM & SAN are clever in the way it is classed as a MLM scheme and not a pyramid.
But in essence they are the same thing, because you can only earn a commission for a referral if you own the relevant level.
So, if you stayed on the basic membership at Digital Altitude, and someone you referred joined the RISE package (which is $2,000), you would not receive any recognition for the introduction.
That is how Pyramid Schemes work, you need to climb the ladder to earn commissions.But when you look at the cost of the membership levels,
Aspire Walker – $49/month
Aspire Hiker – $67/month
Aspire Climber – $127/month
RISE Package – $2,000
APEX Package – $50,000.
It just shows that you needed to progress through the membership levels to get close to earning the money he was talking about.  Imagine, getting someone to buy the APEX package and find you are not eligible, because you hadn't spent $50k on it yourself?
His claims were what got him caught out with the FTC.
Haven't Made Your First $1 Yet?
Studies have shown that more than 70% of the people who want to make money online have not made their first dollar yet. So, you're not alone!
Digital Altitude Aspire Scam Shutdown by the FTC
The FTC has taken action to shut down the business coaching scam Digital Altitude. As of February 8th, 2018, they put in a federal court order to halt the operation that took more than $14 million from consumers seeking to start their own online business.
It all hinged on the claim that consumers could earn 6-figure earnings within 90 days. Which is entirely unrealistic, I am surprised it was allowed to continue for so long.
But it is a good sign that the FTC are actively looking into these scams – MOBE and Digital Altitude were two of the biggest scams out there, so hopefully it is sending a huge message out there.
See the full FTC report here
Haven't Made Your First $1 Yet?
Studies have shown that more than 70% of the people who want to make money online have not made their first dollar yet. So, you're not alone!
My Digital Altitude Review - Final Conclusion
Yes, wholeheartedly and even the FTC have confirmed this operation had one intention – to rob people blind.  Only the people at the top of the pyramid would have been making any money from this type of system.
But if you also think about the people who were earning money from promoting Digital Altitude, they have lost their income because they didn't teach them any other way of earning money online.
Of course, there is, people are earning money legitimately through Affiliate Marketing every day.  Without any need for pyramid schemes or MLM schemes where you only get to promote one product.
There are also opportunities to earn money from a passion or interest you have and get taught in a safe environment with training aimed at all aspects of affiliate marketing.  Not just the elements that make the owners rich.
If you are looking into learning online or affiliate marketing, a training platform such as Wealthy Affiliate can actually teach you the right way to get started online and it is free to get started.
Luckily, the FTC have saved a lot of people from Digital Altitude, but there are plenty of other scams out there that people need to watch out for.
Doing your research into any product is a great way of only finding genuine ways to earn money online.
Thanks for reading my post, if you have any questions or experiences with Digital Altitude I would love to hear from you.  Write them in the comments below and I wil definitely come back to you as soon as.  thanks, John
What Exactly is Digital Altitude?
How Does Digital Altitude Work?
Digital Altitude Aspire Scam Shutdown by the FTC
My Honest Opinion of Digital Altitude – Is Digital Altitude a Scam
Is There Another Way?