Get an in-depth look into this program in our Earn Easy Commissions review.  Can you really earn $100,000 with this automated system…?
[UPDATE – You will soon realise that if you visit the website of earn easy commission, you will be forwarded to a new website called My Online Startup.  From my initial look, it looks like it is the same deal but it has a rebrand.  Probably to get away from calls it was a pyramid scheme – I will release a full review of My Online Startup soon]
When you see the tagline, that you could be able to earn $100,000 without doing anything – it sounds almost too good to be true…
But when you cut away all the sales talk, is it really as easy as Chuck makes out???  We will reveal all in our review, whether it is really that easy and we will also share with you about our suspicions that this might be in fact a PYRAMID SCHEME IN DISGUISE…
First off, Congrats on taking the time to do your research, it is the best way to avoid online scams.
You will always find overly positive reviews about these types of product and that is because the people reviewing them are biased as they are trying to get a sale.  We are not affiliated with this product, so our views are not tainted by the need for  sale.  We are in the market to help people.
Let's get into our Earn Easy Commissions Review.
Earn Easy Commissions – Quick Summary
Product Name: Earn Easy Commissions
Owner: Chuck Nguyen
Product Type: Done-for-You Affiliate Marketing Program (But Pyramid Scheme in Disguise)
Price: Free for Basic Membership, $1000 for Pro/VIP + Hidden Costs & Upsells
Best For: Chuck Himself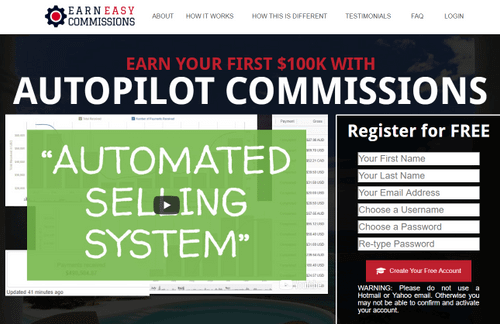 Summary: At first glance, Earn Easy Commissions looks like a good system for a newbie to get started with making money online.  However, as you start digging you realise, they are not telling you the whole truth, and it is actually a pyramid scheme in disguise.  They are promising you $100,000+ just on auto-pilot… But that is not possible without real hard work.  Don't be fooled by the free basic package, it doesn't include anything of value that will help you earn money, as like most of these programs you are going to have to spend big to actually learn anything that will really help you.
Rating: 20/100
Recommended? No
What is Earn Easy Commissions?
Earn Easy Commissions claims to be the easiest, Done-For-You System to make money online and it also claims that the system can do it for you all on Auto-Pilot…
Check out the sales video below:
The premise of Earn Easy Commissions is that you will be making money on your own, with everything done automatically.  That would definitely make it very appealing for anyone wanting to make money online from the comfort of your own home.
But this is where we burst your bubble… This is a common marketing strategy to fool beginners into believing there is a quick way to make money online with no real time or effort required to see it through.
Let's look at some of their claims, to show you what I mean – it looks too good to be true…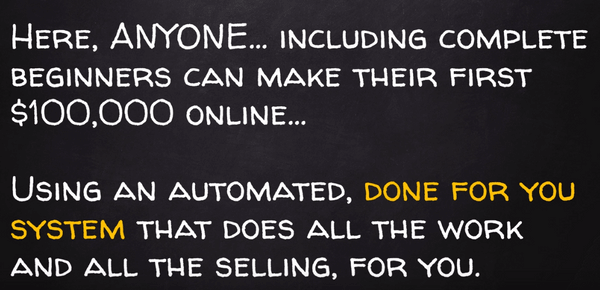 They will always promise you a figure that is out of this world for us normal people, $100,000 is a huge sum and who wouldn't want to be able to earn that through a system that is fully automated…
They then go on to claim that you will not be required to:
Create any Websites
Learn any Coding
Optimise any Funnels
Do any Data Analysis
Do any Selling
They also claim to give you their life-changing system for FREE…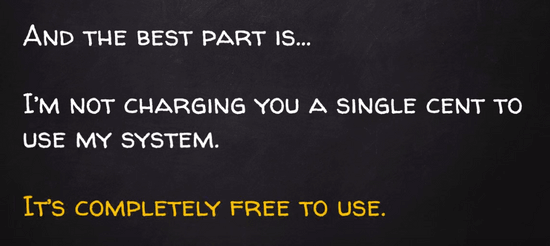 Now, if I go back to when I first started in the online world, all of this would have me drooling to know more and possible even be tempted.
But when we get into how Earn Easy Commissions works, you will see that all of this is a ploy to get you in and it is not actually that easy to make money online.
We have reviewed plenty of programs that are similar to earn easy commissions that promises untold riches quickly.  But the truth is that there is no get-rich-quick scheme out there that does anything they claim it says.
If you want to earn money online, the best success route is by doing hard work.
How Does Earn Easy Commissions Work?
Unless you sign up to this program, there is no real way of seeing actually what you will be doing to make money with Earn Easy Commissions.  As usual, there is no definitive information in their sales page or sales video.  Chuck is just using the usual sales technique to just draw you in and hook you into joining before they reveal anything to you.
Look at the answer Chuck gives to the question – "How Does Earn Easy Commissions Work?"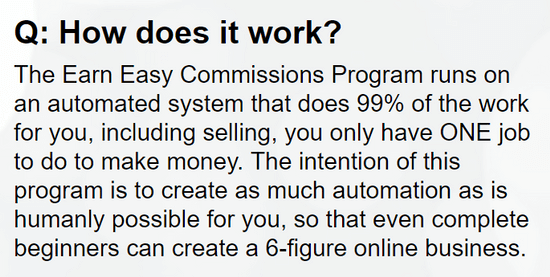 If you can actually break that down into a language we can all understand, that would be great! 
But I wasn't able to really get what you would be doing just from that short statement.
At this point, all we know is that we will have one job to make this system work.  But it is actually one of the hardest things to do, if you lack any real knowledge and that is Generating Traffic!
If you do not know any free or paid ways to generate traffic, this system will not help you make money!
Luckily, we can reveal how the system works for you.
So, here is How it Works…?
Earn Easy Commissions is actually a system that combines 3 different business types:
Multi-Level Marketing (MLM) / Pyramid Scheme
It is only natural to thing that their training will help you make money online using any or all of these methods, but that is actually not the way you will be making money from this system.
Simply put, to make money from Earn Easy Commissions you are going to have to recruit new members to join EEC.
They do provide you with training, but this training is aimed at teaching you how to promote EEC to others.
If you are a little more familiar with internet marketing, you will have noticed that there are commons themes between similar businesses that have been around.  These include Yoonla, Easy1Up and Digital Altitude, who actually got sued by the FTC.
This business model is not new, but if done incorrectly can be shut down by the FTC if they are not being honest or legit like Digital Altitude.
This might seem like a simple way to make money, recruit new members and receive a cut if they buy the upsells.  But EEC is a little more complicated that other programs.
It Gets More Complicated…
They way EEC works is that it combines the 3 business models, like we said.
The CPA method is that you will receive $1.00 or $1.20 for every qualified lead you introduce to their system.
The Affiliate Marketing method is because they use affiliate links to track your performance, etc.
You can also earn affiliate commission if they sign up with a few of the upsells, etc.
They then also have a 2-tier affiliate program, which looks very much like an MLM business model.
You might think at this point that EEC might just be an MLM and not necessarily a pyramid scheme.  But I firmly believe that Earn Easy Commissions is a pyramid scheme in disguise just like Digital Altitude.  The reason we say that is because EEC lacks any real products for you to sell.  They are also making wild promises that a complete beginner could never achieve without some proper training.
Whether you agree or not, I will cover more about this later on in the review…
What's Included in Earn Easy Commissions?
What you will get depends solely on how much you are willing to pay when you sign up.  There is a massive difference between what is there for a free member and what is there for a paid member.
It may be possible to make some money as a free member, as you can earn commission if you recruit someone.  But to make the kind of money he claims, for a start you are going to have to pay for the higher memberships…
Free Member – $0
You will receive some training videos, but you will notice that they are mainly focused on convincing you to go to the paid membership.
You will receive $1 for every person you get to sign up for a free version of EEC.  But they must be a qualified lead, that means they have confirmed their email and logged into their account.  They also need to be from one of 5 countries: US, Canada, UK, Australia or New Zealand.
You will also earn $100 per VIP Partner sale
You will not really make any life-changing money with this membership.  That is the idea, it allows the sell to the higher memberships easier for Chuck.
Included in FREE Membership:
Video Training with a huge focus on upselling to the paid membership
Earn $1.00 per Qualified Lead
Earn $100 per VIP Partner Sale
Pro Member – 2 Upsells  Over $100 a year
There is very little difference between what you get for the free and the pro membership.  The only real difference is that you are going to need to purchase two external products.
They are:
GetResponse – Email Service Provider $15/month
ClickMagick's – Link Tracking Tool $17 month
These are hidden costs that are not mention and will need to be taken into account if you want to take money with EEC.
Another thing to note that is that you will be buying these through Chuck's affiliate link.  So he will earn recurring income each month you keep paying.
Included in the PRO Membership:
Exact same training as the Free Membership
Earn $1.00 per qualified lead (same as free membership)
Earn $100 per VIP Partner Sale (same as free membership)
Earn recurring commissions from every GetResponse & ClickMagick sale (the only difference between the two membership)
If you watched Chuck's sales video, you will notice that he doesn't talk a lot about the Pro membership, because he won't actually make that much money from the Pro Membership.
What he really wants you to sign up to is the VIP Partner membership.
VIP Partner $1000
Many of the videos included within the platform are geared at convincing you that you need the VIP Partner membership.  This is where Chuck will be making the real money, as to whether you can I am not convinced.
Chuck is a great seller and he does a great job of convincing unsuspected newbies into feeling inclined to purchase whatever he recommends.
Included in the VIP Partner membership:
Additional training on Traffic Generation
Earn $1.20 per Qualified Lead
Earn $500 per VIP Partner Sale
Earn recurring commissions for GetResponse & ClickMagick sales
Traffic Commissions (whenever your referral buys traffic through your link)
Commissions from other tools, resources and software that EEC will recommend
Earn $200 from VIP Partner sales from your down link – this is the part that makes it a 2-tier affiliate program
Whilst the VIP Partner membership does have its incentives for both Chuck and anyone who signs up, but to be honest all you are doing is buying the right earn more commissions from reselling the same system.
You might also notice other reviews are stating it is $750 for the VIP Partner membership.  But it has been increased to $1,000 as of writing this review.
Do You Really Think This System is worth $1K?
If you are just starting out with the idea of making money online, then you may not know the real value and worth of this product.  But let me tell you that it isn't worth it in the slightest.
Think of it this way, you may learn a little about traffic generation and you could make some money with this system.  But you are not learning any skills on how to run a sustainable business online.  You are simply connecting to someone's else system that could potentially make you money.
But what if this system was shut down like Digital Altitude was.  Your whole business will be gone… and yet they are expecting you to pay $1k for it.
I also feel you will not learn the correct way to generate traffic other than paid ads.
What's Inside Earn Easy Commissions?
If you are interested about what is inside Earn Easy Commission, you can check out this section.  This is mainly around the free members area.
Training
There are five steps to the training included with Earn Easy Commissions:
Stage 1: How to Get Started
This is the part where he introduces and welcomes you to the EEC system.  But it still doesn't really cover what you will be doing.  This is mainly about showing you examples of his earnings and other members earnings.
You will have two steps to complete as part of this first stage:
Give him your paypal email address so that you can receive commission in the future. (this means he enters it, how do you know he doesn't change it for his own… it has been done in the past)
Join their Facebook Mastermind Group
Stage 2: Get Your Referral Link
Finally, you are shown how the system works: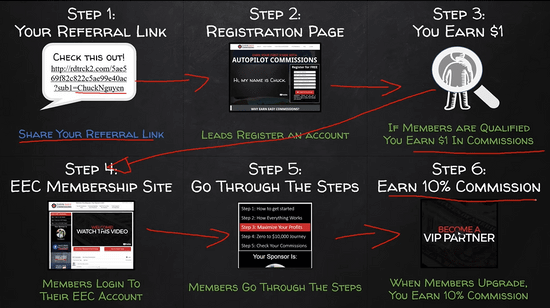 The sales funnel seems quite simple, you just share your affiliate link with people.  If anyone clicks your link, they will be taken through the automated process.
Step 3: Maximise Your Earnings
This is the part where you might expect to learn how to promote your affiliate links to get people to click it, but no.  Chuck starts talking about his VIP Partner membership.  That is how he claims you will maximise your earnings.
He is trying to upsell you without offering any real value.  He hasn't mentioned anything of use towards affiliate marketing or CPA marketing expect for a brief overview.
If you know nothing about generating traffic, you are basically being told you need to spend $1k to learn.
Step 4: Zero to $10K Journey
Chuck leads you to believe this step will be a series of step-by-step videos that show how Chuck went from nothing and built everything up.
Don't get me wrong, there is some value in these 9 videos…  But their primary focus is all about mindset, beliefs and personal development.
That is an important subject to cover, but I would find this really frustrating if I was looking to learn effective techniques to build an online business that will make you money.
Having the right mindset is important, but if you have no knowledge on how to make money online properly, then it is all for nothing.
It also doesn't show you how he went from nothing.  Why promise that, if you are not going to show it…?
Step 5: Check Your Referrals
This is the point where he shows you where you will see if you have had any referrals.  But it is a bit of a joke because Chuck has not taught you anything about getting anyone to see your affiliate links.  If you are a complete beginner, the only people you will be able to share your affiliate link with is your friends and family.
But this system doesn't provide you with any value at the free level, so why would you recommend it to your friends and family…
Even if you paid for the higher levels, I still do not think it is worth recommending to your family either.
Bonus: List Building System
Chuck claims this is a bonus, but it is in fact an Upsell.  It is "Chuck's 6-Figure System" for $97.
This is mainly around helping you to build your own email list.  He claims it is a setup fee, an overpriced fee which gives you the following:
100 Email Follow-Ups
Ready-Made Landing Page
You will also need to purchase memberships with GetResponse and CLickMagick to make these useful too.
The Tools Included
You will have 3 tools provided within the free members area:
Email Swipes
Banner Ads
Facebook Images
But know that they are a really low quality, and do not look like they will be very effective.
If you take the email swipes as an example, they are just not a good example of how to do effective email marketing.
At this point, I do find it laughable that they tell you that you will not need a website, and yet provide you landing pages, etc that are for a website to promote to people to buy into the system you are promoting…
Support
The 3 types of support are:
An FAQ pages
Submit a support ticket to the support team
You will be able to contact your sponsor, the person who referred you
Who is Earn Easy Commissions For… and Not For?
EEC is targeting those who are new to affiliate marketing or looking for a way to make money online.  It is pitched in such a way that anyone who wants a free way to get started can think it is the best option.
But in all honesty, I do not think this system will benefit anyone who is new to affiliate marketing or looking for a way to get started online.
It is full of false promises about making money online being easy and not requiring hard work when it does.
I personally feel there is no real value in this platform that can benefit anyone who is a beginner.  Anyone who has any real experience will also not benefit from this system as they now it doesn't offer any real value.
If you want a proven way to make money online, affiliate marketing is a great option, but you need the correct training to see any real success…
What is Good About Earn Easy Commissions (PROS)
Here is what we liked about it:
Free Membership is Actually Free
You can actually earn commission from promoting EEC as a free member.  You will receive $1 per lead or $100 per VIP Partner sale.
The only problem is a complete beginner to internet marketing, will not know how to properly promote this system to be able to make money unless you get some proper training.
Low Pay-out Threshold
You are only required to earn $10 before you can receive your commission via PayPal.  This is a relatively low threshold compared to other systems.
What Could Earn Easy Commissions Improve on? (CONS)
Here is what we didn't like:
A Pyramid Scheme in Disguise!
It does beg the question as to whether EEC is a pyramid scheme in disguise.  If you were to check out what Wikipedia says about a pyramid scheme, it does resemble what EEC is.
It states that a pyramid scheme is a business model that recruits it members via a promise of payments or services for recruiting others in the scheme, rather than providing investments or sale of products.
That just describes what Earn Easy Commission is, right?
Remember, there is no product provided with this platform.  All you get is some training, which doesn't provide a lot of value.
That is the reason why Digital Altitude got closed down by the FTC.  You have to remember that if it is outed as a pyramid scheme, you will lose anything you have invested into this program.
Hidden Costs
There is very little value in the free platform, and then you need to consider that most of the training is geared at getting you to upgrade to the paid memberships.  This is how Chuck makes his money with the promise that you will make money.
But whilst he claims it is a completely free system, it is not true.  There are hidden costs;
VIP Partner Upsell – $1,000
GetResponse Membership – $15/month
ClickMagick Membership – $17/month
Paid Traffic – can be thousands of dollars a month
Chuck's 6-Figure Upsell – $97
Very Restricted
Know that you will be very restricted in the decision you can make.  There are loads of different Email services providers and link trackers you could use, but you are stuck with GetResponse and ClickMagick.
But Chuck wants you to use these two, so he can earn affiliate commissions from you.
I am not saying they aren't any good, but I am saying you are not able to use who you wanted to use.
He also wants you to become totally reliant on his system, this is evident in the way he doesn't want you to have your own website.  That way you are totally reliant on him to make money.
It Stunts Your Ability to Learn
This is the problem with a done-for-you system.  You don't actually learn anything that might provide you with ways to make money online. You might be able to make money with this system, but if Chuck decided to close this system done your entire business will be gone.
Or if the FTC decided to take legal action, your business would be at risk.
But do you know how to go and build your own online business to be able to make money online – NO!
You would lack the necessary skills and lack the knowledge to build your own profitable online business.
That is why we recommend Wealthy Affiliate as our top recommended program to teach you all those skills and knowledge that you will require to make money online with your own online business.  You will not be reliant on anyone; you will be taught how to earn money online with effective strategies.
No Refund Policy
There is no refund policy for their VIP Partner membership.  They give you the reason it is a completely digital product… But if ClickBank are able to do it, why can't EEC do it.
ClickBank is the world's largest online marketplace and they offer a 60-day money back guarantee and their products are digital…
I am guessing it is because Chuck doesn't want to give the money back…
My Honest Opinion of EEC – Is Earn Easy Commissions a Scam?
Our final opinion is that Earn Easy Commissions is not something that we would recommend.  It is not a scam in the fact that it is free to join, but they do not offer any real value.  We also feel that it does constitute what a pyramid scheme is, or at least it is one that is in disguise.
Chuck has been known to be involved in Ponzi schemes in the past and whilst we do not think this product is a scam, there is enough to make us really worried about people who sign up for this program.
If you do check out the free version, know that it is geared to get you to pay out to get the pro version and ultimately Chuck wants you to buy the VIP Partner membership.
But there are no guarantees that this program will make you any money, as promoting a low-quality product to others doesn't seem like an effective sales funnel.
Personally, I would recommend you stay away from this system, even the Free Version.
If you are having doubts about being able to invest in the VIP membership, how could you convince other people to hand over their money to buy it so you can earn commissions?
Want to Learn the Right Way to Make Money Online…
There are plenty of crappy low-quality products that promise you the world and you soon realise they are just about leading you into the trap to get you to spend all of your money and you still walk away with no real clue on how to make money online.
If you are serious about making money online and are willing to put some time and effort into learning how to achieve it and then putting in the hard work to make it happen you can be making money online with affiliate marketing, like we are!
Please note, we can show you a simple step-by-step guide that will take you through everything you need to get started, but it will require hard work.
If you stay committed, you can and will be earning serious money online.  But it will not be a quick route.
If you want to learn affiliate marketing from experts and join a community of over 1.4 million like-minded people then we highly recommend you check out Wealthy Affiliate.
You will gain access to proper training, a website builder and tools, plus all the support you could ever need, and you can even get started for FREE.
If you want to learn more about this awesome platform, check out our full WA review.
But if you want to crack on and start building for your future, then click the button below.
thanks for checking out our Earn Easy Commissions review.  If you have any questions or maybe you have had some experience with this type of product before – we would love to hear from you.  Write them in the comments below and we will definitely get back to you as soon as we can 🙂