Welcome to my Xyngular Review!
I am guessing you are looking for a way to make some extra money and someone has told you about a health and wellness MLM business called Xyngular, right?
They are probably telling you that becoming a distributor can earn you good money and you are here because you want to do some research before buying into any "seemingly good" product.
That is the best way of avoiding scams and finding legitimate ways to make money online!
Please note that we are not associated with Xyngular in any form, we are here to provide you unbiased information about this business opportunity so that you are well informed before you decide to buy into anything.
In this Xyngular Review, we are going to provide you with information around what the company offers, its product line, how much it costs to join and its compensation plan.
We will also be answering the biggest question – Is Xyngular a Scam?
Read on to find out all you need to know.
Xyngular Review Summary
Product Name: Xyngular
Founder: Marc Walker
Product Type: Health and Wellness MLM company
Price: $14.95 + $49.95 Distributor Fee
Best For: People good are direct selling and recruitment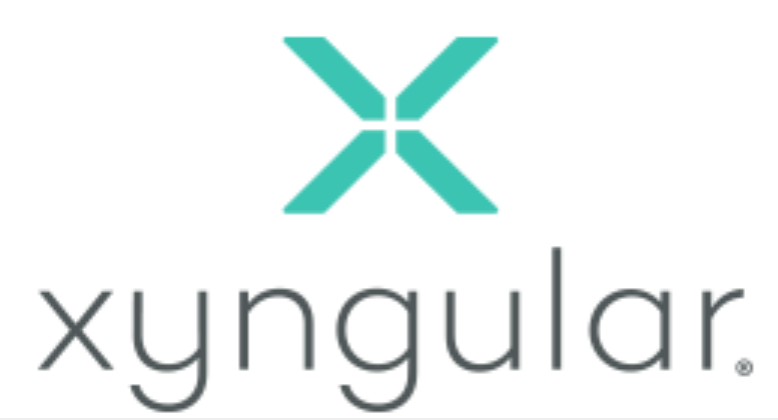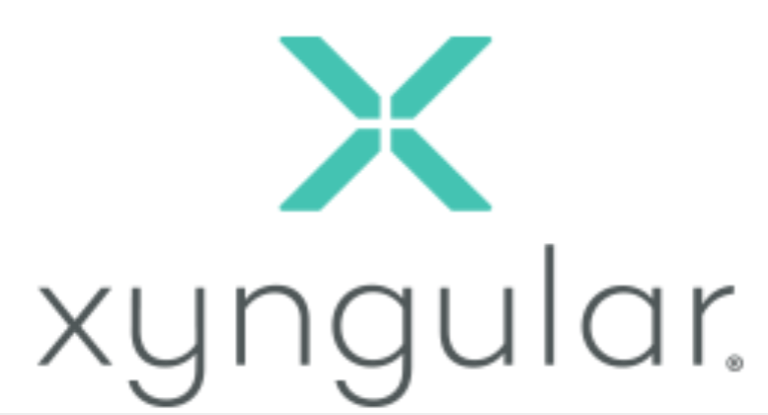 Summary: Xyngular is a health and wellness MLM company.  It is based in Utah and manufactures and sells weight-loss products and nutritional supplements.  It does offer a fair business opportunity, however there are certain elements that make me not want to recommend this to you. 
Firstly, there is no making real money from their business opportunity (we will show you later…). Secondly, the products are really expensive to market to anyone, or make yourself stand out from the competition as there are cheaper and better alternatives on the market already. 
Thirdly, there have been a number of complaints about the products not working or even causing people to have adverse effects, such as allergic reactions as a result of using the products.
Rating: 45/100
Recommended? No
Xyngular is a US based company that offers a range of weight-loss products, meal replacement products and other dietary and nutritional supplements.
Xyngular also offers a business opportunity using the MLM or Multi-Level Marketing business model for health and weight-loss products.
It was founded in 2009 by Marc Walker, who has a lot of knowledge and success in the MLM industry himself.  Xyngular's current CEO is Russ Fletcher.
Xyngular currently has hundreds of distributors across 27 different countries, showing that it is an MLM company that is quickly growing.
They also claim they are operating within the legal boundaries of all the countries they are operating in, but we cannot confirm that.  But you can always check out their legal disclaimer on their website.
There are also 3 listings for Xyngular on the BBB (Better Business Bureau) website.  2 of them are showing as an A+ rating, whilst the 3rd shows as an F rating. 
Either way, there are a mixture of positive reviews about their products and some negative reviews about their business model.
Xyngular is similar to other MLM or Multi-Level Marketing company's within the health and wellness sector, companies like Usana Health Services and Now Lifestyle.
They offer around twenty different products, but it is important to know that their product range is not endorsed by the Food and Drug Administration (FDA).
Xyngular also advises you to consult with your doctor before taking any of their products, which does make sense if you think about it.
This makes Xyngular stand out, as many other MLM businesses do not give you that advice, as they are wanting you to pay up and buy their products.
Xyngular offers a product portfolio which includes:
Energy Boosting Supplements
Fat Burning Supplements
Overall Nutritional Support
When you go onto their website, you will be advised to start with either of the following kits:
Xyngular Ignite Starter Kit – $391.40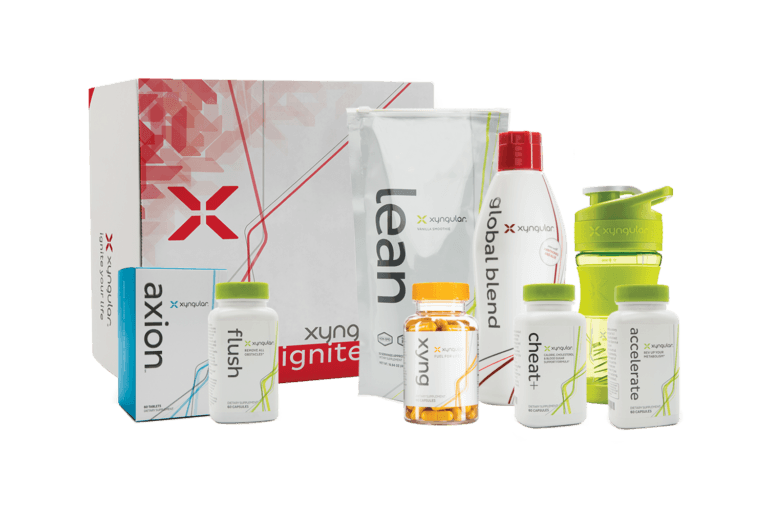 The Ignite Starter Kit includes enough weight loss products for 8 days.  But it also has quite the high price tag of $391.30!!
The contents include:
The Xyngular Global Blend – a liquid supplement for anti-aging, and is also rich in antioxidants
Axion – for overall health and digestive support
Xyng – For increasing energy and your mood
Lean – a snack replacement that will help build lean muscle
Accelerate – helps with appetite control and thermogenesis
Cheat+ – it "mitigates calories" with appetite control. (You sprinkle it on your food)
Flush – a cleanser for "gut" health
Includes a Shaker Bottle for Smoothies
The second kit available is:
Xyngular Ultimate Transformation Kit – $643.40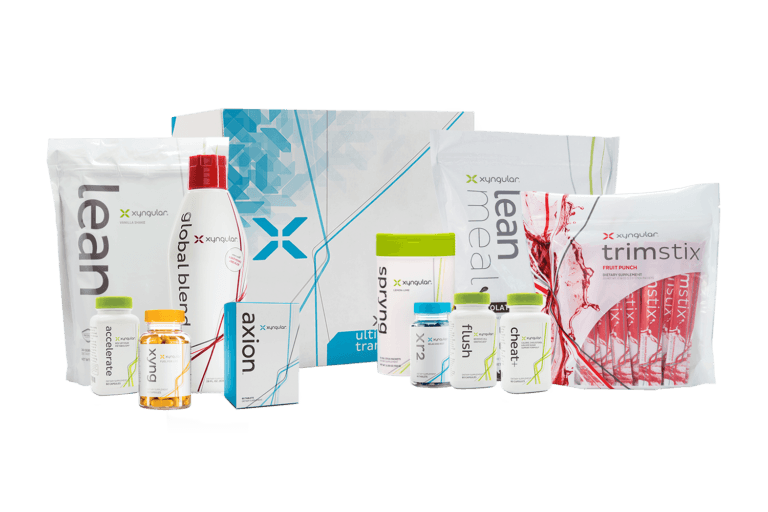 The Ultimate Transformation Kit comes with everything we have just listed in the Starter kit, plus four additional products that are designed to help you become healthier.
The four additional items are:
Lean Meal – a meal replacement supplement
Spring – this gives you a quick energy boost for when you are doing activities
Trimstic – designed to help you curb your appetite
XR2 – designed to help you with stress and sleep
If you are not ready to purchase these kits, (they are expensive) you can purchase them individually at full retail price, or at wholesale price when you become a member.
Does The Xyngular Product Work?
You will find that most products in this the health and wellness sector has its fair share of positive and negative reviews and Xyngular is no exception.
Not everything is going to agree with everyone.
In my research I found these complaints:


There are also complaints of side effects such as bloating, constipation and nausea.  There are also claims that the products do not work.


Their energy boosting products get their fair share of complaints such as it is giving people heartburn and a complaint of a bad crash (of energy) after the energy has died down.
On the flipside, there are also people sharing the positive results they got from using Xyngular products.




I don't think you will ever find a product in the health, wellness and weight loss sector that is going to work for anyone and everyone.  The point is you will never know unless you try them out.
It is also worth noting that Xyngular do state in their disclaimer, that is makes no claims about its nutritional products:

Haven't Made Your First $1 Yet?
Studies have shown that more than 70% of the people who want to make money online have not made their first dollar yet. So, you're not alone!
How to Make Money with Xyngular?
Xyngular is a typical example of an MLM company and offers two opportunities to make money with them.
The first is through direct sales, you buy the products at wholesale prices and sell them to people at the retail price
The second is earning commissions and other incentives through building up a downline (team)
Getting Started with Xyngular
To be able to qualify for the wholesale prices, you are going to need to pay a one-time fee of $14.95, and also pay for a distribution fee of $49.95.
That might not sound too bad, it is a lot less than many other MLM's.  However, you need to read on to find out that is only the start of things to come.
To remain qualified for the wholesale price, you are going to need to register for what they call auto-ship.  This is where you pay for products to be delivered every month.
In short, like many MLM's you sign up to buy products every month.  But if you don't sell any, you are stuck on two accounts:
You are stuck with stock coming every month
You are paying for this stock, even if you aren't selling it!
There are many shortfalls to MLM as a Business model, that is why we recommend Affiliate Marketing as it is 100x Better than MLM!!
Let's get into the Xyngular Compensation Plan:
Xyngular Compensation Plan
Xyngular has a unilevel approach to its compensation plan, it does seem a fairer way than most MLM's.  But the problem with all MLM's is the compensation plans are also ridiculously hard to understand and get your head around.  Xyngular isn't much different.  Read on the learn more.
Members are able to earn 8 levels deep into the matrix and can also go wide with direct recruits.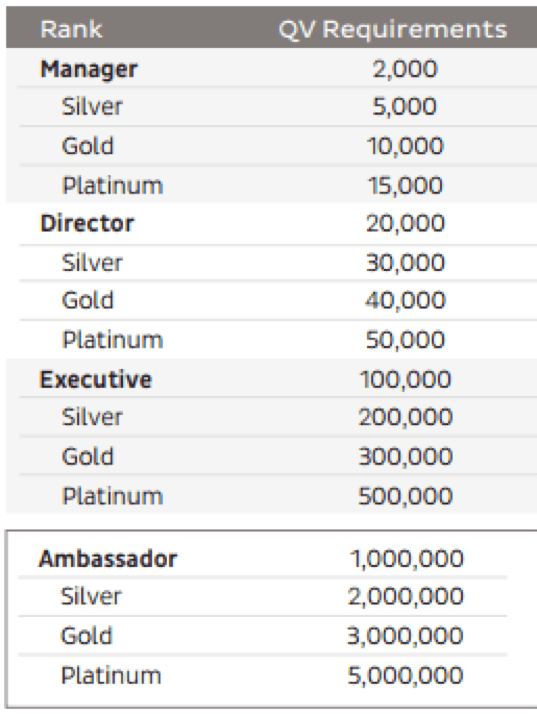 But, like most MLMs, to earn the higher commissions and bonuses, you are going to need to advance up the ranks.
Xyngular has four ranks:
Manager
Director
Executive
Ambassador
But, within each rank there are three different levels:
Silver
Gold
Platinum
Here is how you will be earning with Xyngular.
Get Paid by Direct Sales
You will earn the difference between the wholesale price (the price you buy it at) and the retail price (the price you sell it at). ON top of this, you can accumulate Personal Volume or PV points for each dollar amount sold.
Collect Unilevel Commissions
This commission is paid out once you have achieved 30PV, which is about $270 in product sales.  You will get around 10% of your PV from your top level and then 1% for each level up to the 8th.
Rapid Rewards Commissions
This commission is paid out on the first 4 levels of your downline (anyone you recruit) if you are the team leader.  This commission is also dependant on the number of new members you are able to recruit into your downline.
Quick Start Bonus
This is a reward for meeting specific goals within your first month.  You need to set up 120PV in auto-ship sales and also recruit 4 people into your downline
Corporate Sales Pool
The corporate Sales pool allows you to earn 12% of the total sales revenue for the month
Incentives & Additional Rewards
There are also a number of different incentives and additional rewards based on the time of year to help motivate their consultants to sell more products.  Examples include trips around the world, cash bonuses and certificates.
If you want to know more about their compensation plan, then you can check out this video:
P.S. This program enabled us to Create a 4-Figure Monthly Passive Income Stream.  It's Free to get started and costs only $49/month to go full-time!
What We Liked About Xyngular
Here is what we liked about Xyngular:
#1 Positive Product Reviews
I am not a fan of the MLM business model and for good reason, it is very rare for people to make a decent amount of money using MLM.  But when you put that aside for a minute, you can see that Xyngular's products do get a very positive review.  BBB shows that there have been 383 Positive Reviews about their products.  Even though the business gets an overall F rating on BBB: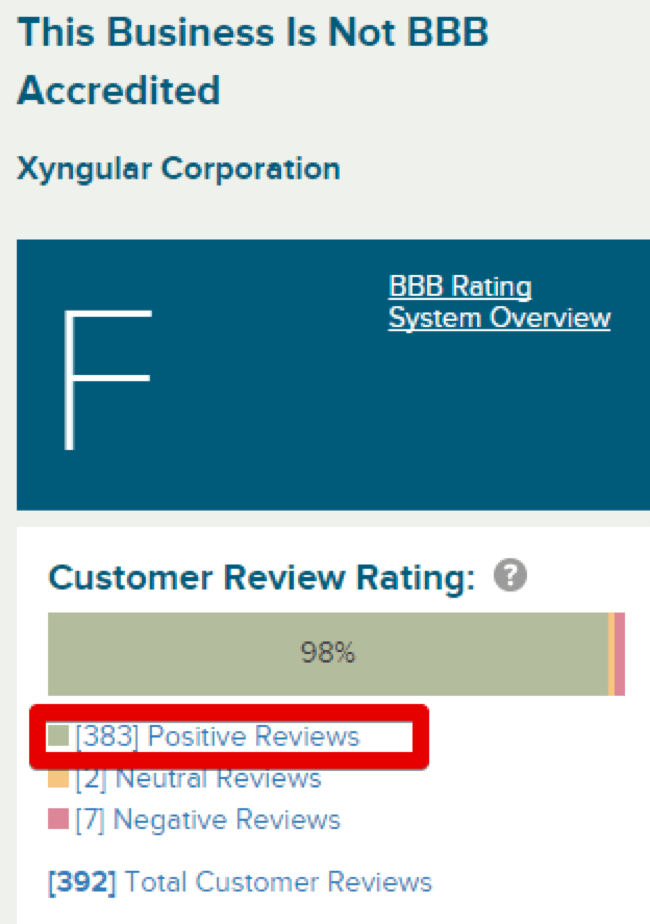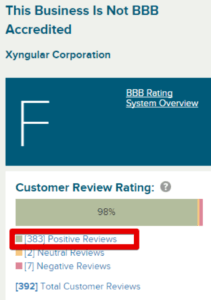 #2 Distributors Refund Policy
Xyngular actually offers their distributors the option to change their mind.  You only have 3 days to do it after paying your membership fee, but you can actually request a refund on your membership fee.  That is a huge positive.
What We Didn't Like About Xyngular
Here is what we didn't like about Xyngular:
#1 Is Anyone Making Enough Money to Make it Worthwhile?
This is the biggest question to be answered, and unfortunately the results do not make for good reading.  In short the answer is no, it is not worthwhile.
In their Income Disclosure Statement, they showed how many of their members are distributors:


So, 24% of their users are distributors and not just using the products for their own use.  But are they making decent money?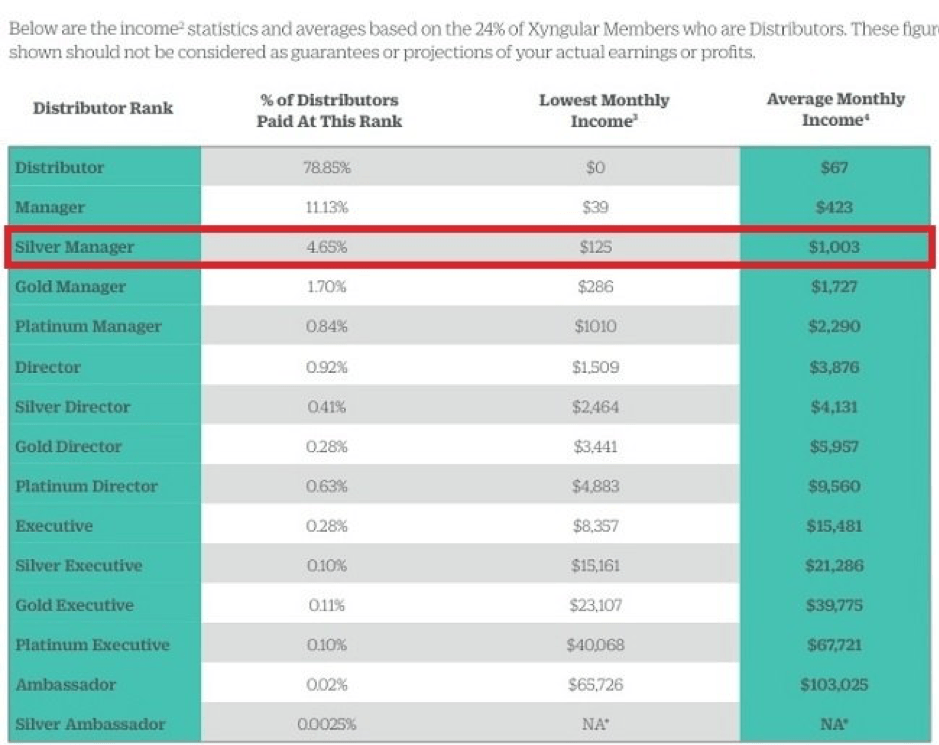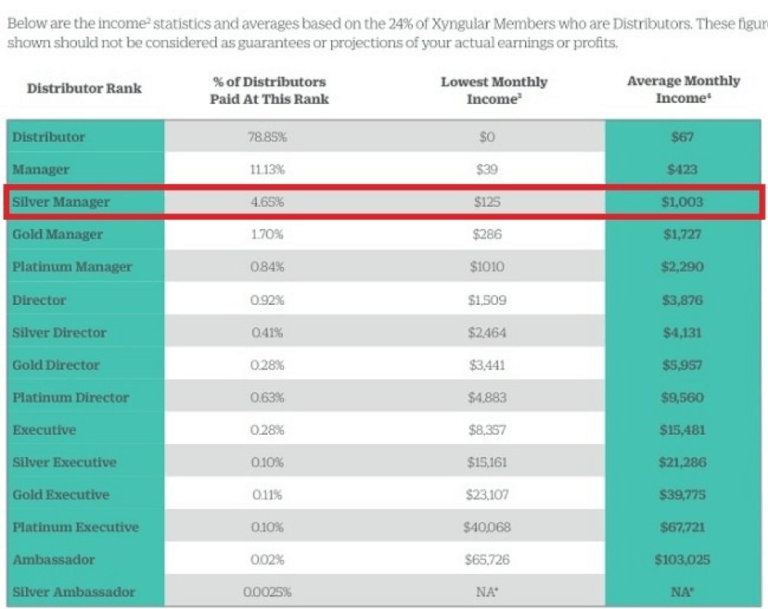 Well, the income disclosure shows that only 4.65 of those distributors are earning enough to make it worthwhile.  Roughly 5 people out of a 100 are earning $1,000 a month.  The vast majority are only earning $70 on average a month.
That is a really low number, considering you are having to pay for products every month.  You may not even be covering your costs with this amount.
#2 Some Consumers Report Products Not Working… & Even Adverse Effects
We spoke about this earlier in the post, but whilst there are plenty of positive reviews online there is also its fair share of reports of their products not working and even some people having adverse effects… I cannot comment on the products, but would you promote something you haven't even tried first?
#3 Expensive Products
Like most MLM businesses, the products seem massively overpriced and I can totally understand why people struggle to make money.  People have to market these overpriced products to other people, that can buy cheaper (and often better) alternatives elsewhere.
I mean the Ignite Starter Kit costs $391 for only 8 products.
No wonder people struggle to earn decent money with MLM
#4 The MLM Business Model
Success is rare with MLM.  The income disclosure speaks for itself.  Only 5 out of 100 are making it seem worthwhile at Xyngular.
There are a number of factors as to why you might struggle with Xyngular.  The weight-loss and nutritional supplement market is highly saturated.  There are going to be hundreds of people trying to make it with an MLM business model all in one location.  They are all going to be your competitors.  All targeting the same people with overpriced products and trying to convince them yours is better than the others.
The second factor is that MLMs have a top-heavy commission structure.  What this means is that you the people at the top are typically the ones that earn most of the profit, leaving the people at the bottom with the scraps.
At the end of the day, unless you are an expert salesperson or can get some quality training you are going to find this a really hard journey.
Haven't Made Your First $1 Yet?
Studies have shown that more than 70% of the people who want to make money online have not made their first dollar yet. So, you're not alone!
Xyngular is definitely a legit MLM business that offers weight-loss and nutritional supplements.  You can be a regular customer who just buys their products or can choose to explore the business opportunity.
They offer a range of products that could benefit you individually if you are looking to lose weight but expect the prices to be high and you could probably find better and cheaper alternatives elsewhere.
As a business opportunity, I would not recommend this though.  Firstly, no one is making enough money with its business model to make it worthwhile.  We showed you earlier, how only 5 out of a 100 are actually achieving what we would consider to be a good amount online to make it worthwhile.  In fact, for most distributors a minimum wage job would be a better return…
Secondly, the products are just way too expensive and there is nothing particularly special about them to give you the edge when selling them to other people.
I am not a fan of MLM, it is a very restrictive business model and always costs you way more than you expect to get started.
That is why our top recommendation is Affiliate Marketing.  It is the ideal way to make money online.
When you compare it to MLM, you can see why:
You do not have to recruit anyone to make money
You have the freedom to promote any product or niche you want, without being restricted to only promote products from one MLM company
It is FREE to get Started
With Affiliate Marketing, you can choose a hobby or passion you have and can build a profitable online business and you can get started for FREE!
Our top recommended training platform Wealthy Affiliate offers you a way of learning everything you need to know, build your own website and start on your path to make money.  The best bit is you can get started for FREE.  If you want to learn more about Wealthy Affiliate and what they have to offer, then check out our Wealthy Affiliate Review.
Wealthy Affiliate offers all the training and tools you need and includes you within a community of over 1 million other entrepreneurs to help you out at every step of the way.
Thanks for checking out our Xyngular Review!  If you have any questions or comments to add, then please write them in the comments section below. 😉