Welcome to our Melaleuca Wellness Company Review!
I'm going to take a guess and say that someone has talked to you about a company that offers some amazing products with the added bonus of being able to make a full-time living from selling these products too.
You're probably here as you're wondering if the products are as good as they claim, and also wanting the answer to the question – Is Melaleuca Wellness Company a Scam?
First off, it's great to see that you're doing your research before buying into any "seemingly good" product.
That is how you avoid scams and find only legitimate ways to make money online!
To be completely transparent with you, we're not associated with Melaleuca in any form.  We're not here to pitch or sell you anything.
Instead we want to ensure you get all the details you need to make an informed decision about whether this is the right option for you.  Melaleuca is definitely a legitimate MLM company, however that doesn't automatically guarantee that it's the best option.
In fact, when you factor in that between 72% and 99% of people who join an MLM end up losing money.  It's vital that you know all the facts, and that is what we will provide.
Let's get started with a quick product overview…
Melaleuca Review Summary
Product Name: Melaleuca
Founder: Frank L. Vandersloot, in 1985
Product Type: Health and Wellness MLM Company
Price: $19 per year + tax + allow up to $60+ a month to remain active
Best For: Those with experience in direct selling, recruiting, and network marketing

Pros
 Long History
Positive Product Reviews
Large Selection of Products
Cons
The Number of Products
Expensive Products
Low Income Potential
Cancellation Policy is Flawed
No Transparency
Pyramid Scheme in Disguise
Summary: Melaleuca is an MLM company within the Health and Wellness niche.  They offer some safe and toxic-free products in a wide range of categories.  Their products also receive some good feedback, with people enjoying the benefits of their 400+ products.  However, as they are an MLM company their products are a little overpriced.
As far as the business opportunity is concerned, the story isn't as positive. Their income disclosure proves that over 90% of their distributors are not earning enough to cover their costs, and the only real way of earning a full-time income is to do a lot of recruitment, which could define them as a pyramid scheme in disguise…
Rating: 50/100
Recommended?  Not for their business opportunity
Melaleuca is a Network Marketing, more commonly referred to as an MLM or Multi-Level Marketing company that sells a huge range of health and wellness related products.  Although, the company tries hard to market themselves as a direct selling company and not an MLM.
Not sure why, there isn't anything particularly wrong with being an MLM, although they do often get a bad rep due to the small success rate within them.
The company was founded in 1985 by Frank L. Vandersloot.  Melaleuca is a multi-billion dollar company and now operates in over 20 countries worldwide.
They offer a range of over 400 different products and they are targeting the eco-friendly approach as their range is safe and free from toxins.
It does sound great, the eco-friendly spin but it doesn't actually make them unique as there are so many other MLM companies that try to go this route too.
Examples include:
Like I said, Melaleuca tries to give you the impression they are not an MLM company.  They try to make it out that they are just a Direct Selling company, but as their compensation proves the bigger income opportunity comes from building a team of downline sellers under you, which makes them an MLM company.
The main reason why you may not have heard of their brand name before is they prefer to rely on their distributors to spread the word of their brand.  This saves them money on advertising.  
But as they are a huge company, their main competition tends to be Procter and Colgate-Palmolive.  You've probably heard about those two before.
As people know those, people don't tend to question their legitimacy.  But as Melaleuca hides in the shadows, that is why people tend to wonder if they are a scam or not.
Anyways, the 3-minute video below explains the idea behind Melaleuca…
So, that video might make it sound like an interesting company…
But you're clever enough to know that this is just a marketing video… So, you may still be wondering if Melaleuca could be a pyramid scheme…
Is Melaleuca a Pyramid Scheme?
Let's clear this up straightaway…
No, Melaleuca is not a pyramid scheme…
They offer a legitimate range of health and wellness products and their "executives" (also called members, directors, distributors, and ambassadors, etc.) all get paid on time when selling these products.
The more prudent question to answer is, whether Melaleuca is operating as a pyramid scheme in disguise…
What is a Pyramid Scheme?
A pyramid scheme is a company where the only way of making money is through recruitment alone.  They will often try and market it differently, but you'll find the only way of earning money is by recruiting more and more people into the scheme.
They will have no products or services available.
Pyramid schemes are illegal in most countries, as they are unsustainable.  Check out the diagram from Wikipedia that shows you how they are unsustainable… as the recruitment dries up, so does the money…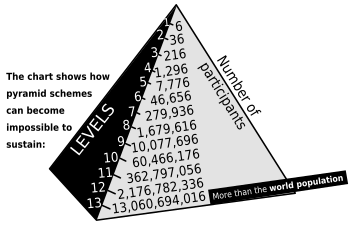 Most MLM companies will offer products, just like Melaleuca does.
But there are also some MLM companies that offer products, just to "appear legit" on the outside.  The reality is that the only way their distributors are able to earn good money, as in $1K+ a month, is through recruiting.
When recruitment is the only way of earning a full-time income, it makes the company appear very much like a pyramid scheme in disguise…
You can learn more about how to spot a pyramid scheme, or a pyramid scheme in disguise in the video below…
So, now you might be wondering how successful people are at Melaleuca? Let's explore that now…
Success is Rare at Melaleuca...
Success isn't just rare at Melaleuca, most MLM's have a really low success rate.
Did you know that between 72% and 99% of all MLM representatives lose money?
When you take a look at the Melaleuca income disclosure statements, it shows the uphill struggle their distributors have to getting to the point where they are earning a good income.
Their latest income disclousre statement shows that 89.7% of their "Business Builders" earn $2,209 on average a year.
And only 1% of earning more than $1,000 a month!!
We'll go through that in more detail later.  But you're going to have to work really hard if you want to buck the trend, and the only real option you have is to build a huge and effective team under you to enable you to earn a passive income.
So, the basic idea behind Melaleuca is that they produce a range of health and wellness products and you can become an executive or distributor and sell these onto consumers.  You'll receive a commission when someone buys something, or you'll receive a commission when one of your downlines sells a product.
The idea is that the company doesn't have to rely on expensive marketing campaigns, and they provide everyday people the opportunity to work from home.
Before you consider whether any MLM opportunity is the right option for you, you need to check out the product line the company offers.  These are the products you'll need to sell by the bucketload to have any chance of making money.
When it comes to Melaleuca, that is a lot of products to get your head around as they have over 400+ items…


To give you an idea of what they have to offer, here's a snapshot of the different categories they have…
Nutrition – Multivitamins, peak performance packs, speciality supplements, etc.
Medicine Cabinet (Over 70 Products) – cold relief, ibuprofen, pain relief cream, aftersun, moisturisers, etc.
Beauty (Over 280 Products) – brow pencils, cc creme, cologne lip pencil, lip treatment, makeup remover, hair treatment, styling aids
Household (this is split into three main categories:

Cleaning & Laundry
Home Fragrances
Pet Care

Bath & Body – antiperspirants, body lotions, gums, toothpastes, toothbrushes, etc.
Essential Oils
If you want to take a look at the complete list of products, including the prices they charge, then you can find out here.
Whilst they have a wide range of products, I should point out that for you to make money, you are going to need to sell these products.  I do not profess to be an expert when it comes to the products or indeed their recommended selling price, but it is a factor you need to take into account if you are going to make a living from selling them.
For example, I know their products are all natural and are supposed to be eco-friendly but none of these MLM's actually come up with scientific proof that they are in fact 100% natural, etc.  So, when you see the price of their Mela Power – Laundry Detergent at $25.00 that is really expensive.
I know I live in the UK, but I can get laundry detergent that is natural for a lot less than this.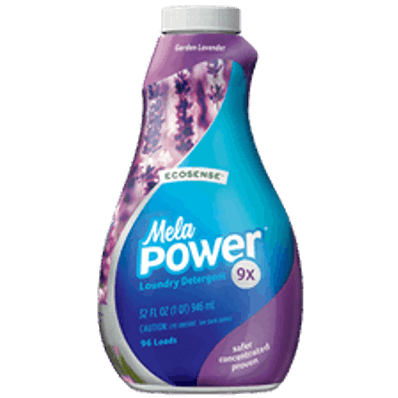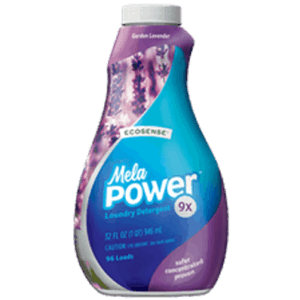 Their peak performance bone and joint product that retails for $140.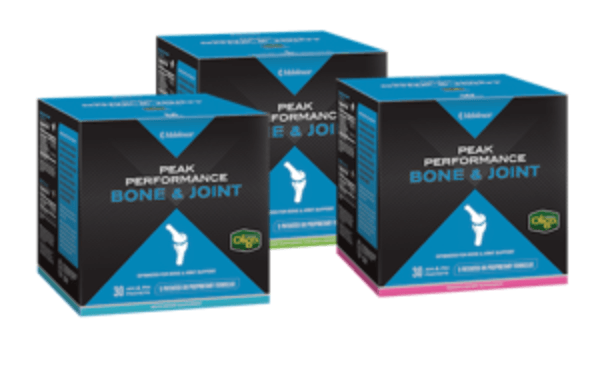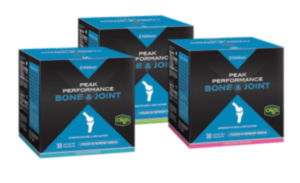 I am not trying to say their products do not work, etc.  But what I am trying to say is if you lack the experience to be able to sell these products to people the right way, these prices will stop you achieving any sales…
The other factor is that this market is heavily saturated, and what I mean is there are so many of these companies selling "natural products" that you may find it really hard to stand out…
The unique selling point that Melaleuca goes for is that their cleaning products are not toxic, and are natural and kind to the environment.
However, they don't release the list of ingredients for these products as they use a "proprietary formula", which is a little suspicious…
To learn more about their cleaning products, here's a 5-minute video…
Looks like an amazing marketing video, doesn't it?
Haven't Made Your First $1 Yet?
Studies have shown that more than 70% of the people who want to make money online have not made their first dollar yet. So, you're not alone!
How to Make Money with Melaleuca?
Right… let's get into the details that you are probably looking for…
With Melaleuca, there are two ways for you to make money from becoming an Executive…
Sell those products onto people
Recruit more "executives" into your downline and earn commissions from any products they are able to sell
To avoid being labelled as an outright pyramid scheme, you should know that you do not earn money for the actual recruitment of people, but from any sales they are able to make.
This is there to encourage you to coach and support your recruitments too.
The short video below shows why some people became an executive for Melaleuca…
Again, this makes it sound awesome… But let's first go through how much it will cost you to get started with Melaleuca…
Getting Started with Melaleuca...
On the face of it, it looks like it's a really low start-up cost to get started with Melaeuca…
It costs $19 + tax to get started with Melalueca.  This is an annual fee, but once you have paid this fee you can start making money.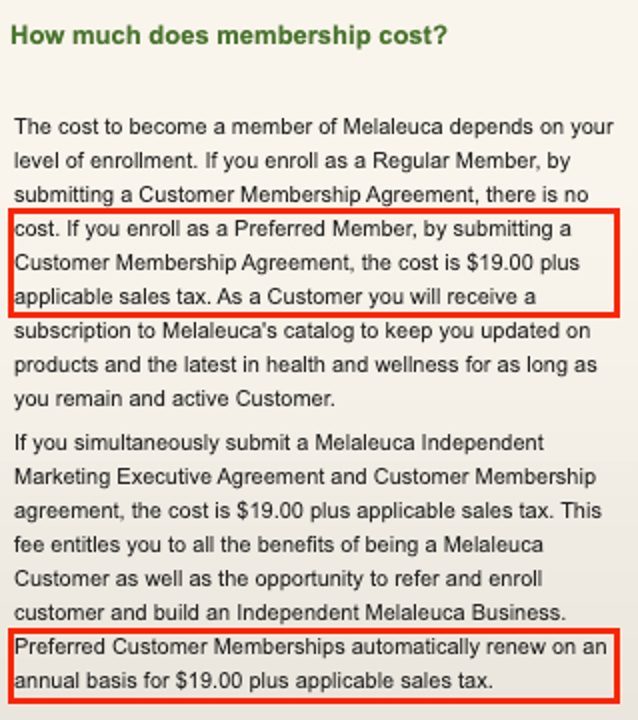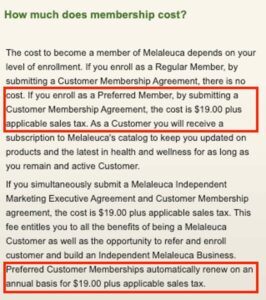 So, it sounds like it's really cheap to start making money with Melaleuca, but what's the catch???
Well, you have to factor in the monthly costs that are needed to remain active as an executive…
Melaleuca Monthly Costs
There is costs that go with remaining active, especially when you first get started.  This is down to you needing to accumulate 35 "product points" each month.
There are those that claim that it can cost as little as $50 per month…

But when I took a look at their product pricing pdf, the best price I can see you paying each month is at least $60!
There is a caveat with this, and that relies on you being able to sell at least $50 worth of product every month from the day you start.
That is often the problem, especially for those just getting started.  It leaves no room for you to build up your business.  You have to either get selling straightaway.  Or, you will need to buy the products yourself every month to bridge the gap.
Then, there are all the other costs that go with running a business. Marketing material, gas, training, etc.
But the total cost for your 1st year will be at least $19 + ($60 x 12) + $739
From the brief, it makes it look like you only need to pay $19 and you're good to go.  But the reality is far from different.
P.S. This program enables us to Create a 4-Figure Monthly Passive Income Stream.  It's Free to get started, and costs only $49/month to go full-time!
Melaleuca Compensation Plan
MLM Compensation plans are one of the most difficult things to understand.  I think they do it, so you don't really understand it.  They want you to just jump in with both feet without checking out the details.
Rest assured, we've done our best to simplify it as much as we can.
Fundamentally, there are 9 ways for you to get paid with Melaleuca…
Commissions (20% for your referrals and 7% fir 7 "tiers below")
Advancement Bonus – rank up one of the 49 "statuses" (have a look at the diagram below)
Pacesetter Bonus – Rank up in the given timeframe
Mentoring Bonus – When you enrolees (recruits) move up the ranks
Core Mentoring Bonus – When you enroless move up the ranks
Double Core Mentoring Bonus – When your enrolees move up the ranks
Leadership Growth Bonus – More bonuses when you get to really high ranks
Monthly Car Bonus – Monthly bonus for a car at certain ranks
20/20 Bonus – 20 enrolees in your first 5 months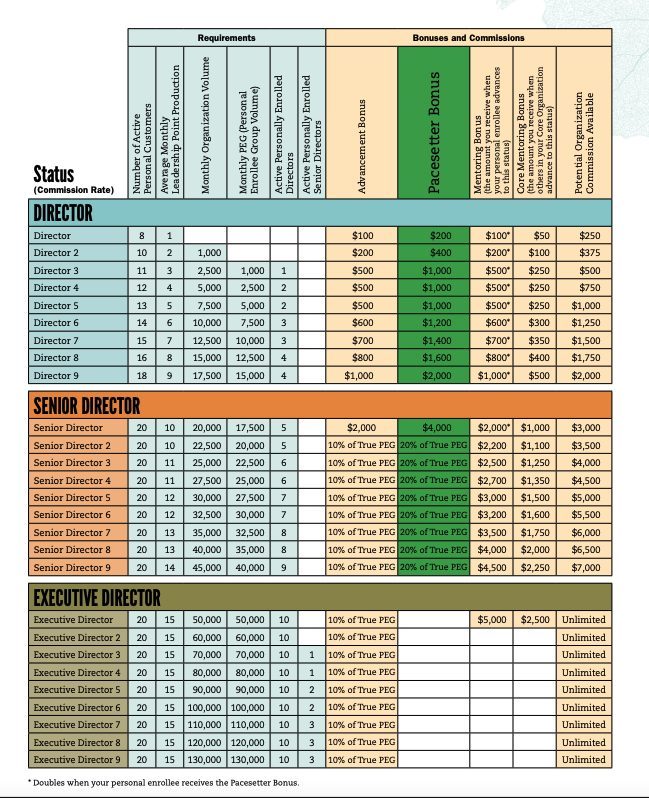 It may sound really great, but like we said earlier the success rate and chances of getting really high in the ranks is pretty rare.  
It makes it look great, that there are multiple ways of earning money and earning bonuses…  
But here's the harsh reality…
When you make sales you only get paid commissions in one way
To make money from the other 8 routes requires you to recruit people!!
This pretty much makes it this… You will need to recruit if you want any chance of making this a success for you.
Here's a video that explains their compensation plan, or you can read their compensation plan PDF here…
I hope it's quite clear that Melaleuca is not a scam .  
They do sell a range of legitimate products and members of the Melaleuca program get paid like they claim they will.
However, it is also not as transparent or as simple as they make out too.  The business opportunity might be legit, that doesn't automatically make it the right option for you.
The rest of our Melaleuca review will help you make an informed decision about whether you should join it or not.
Just to be completely transparent with you, I'm not a distributor of Melaleuca, nor do I endorse Melaleuca in any way.  I have researched the website, testimonials, and information available on the internet to get the details about what this program genuinely does.    I do this, as I have been caught out by a scam in the past, and am trying to help others avoid a similar fate…
What We Liked About Melaleuca
Here's what we liked about Melaleuca:
#1 Long History
Melaleuca has been around since 1985…  That is a great sign for any company.
But as Melaleuca is an MLM , it is even more of a great sign.  Over 50% of MLM companies don't get to the 5-year mark and one 1 in 3 last longer than ten years!
#2 Positive Melaleuca Product Reviews
There are people who really do rate their products.  Not all reviews are positive, but there are plenty of examples on TrustPilot or BBB that shows that people do rate the products well.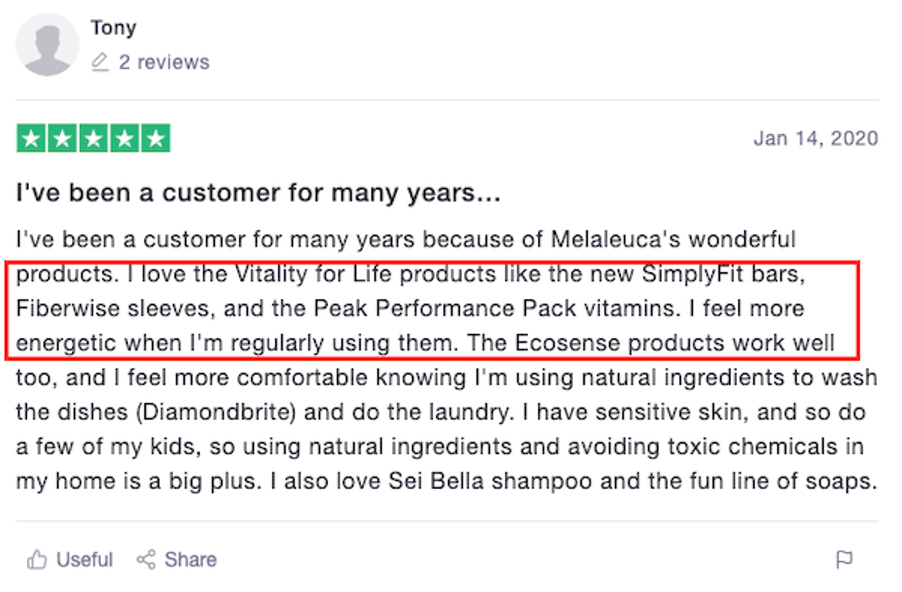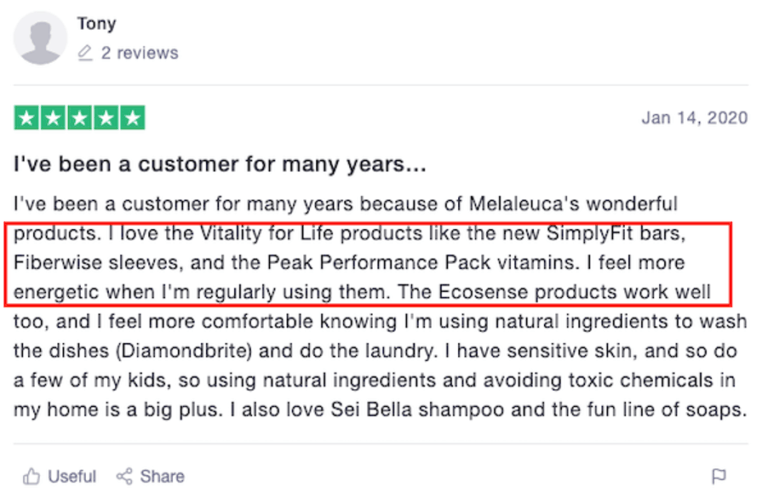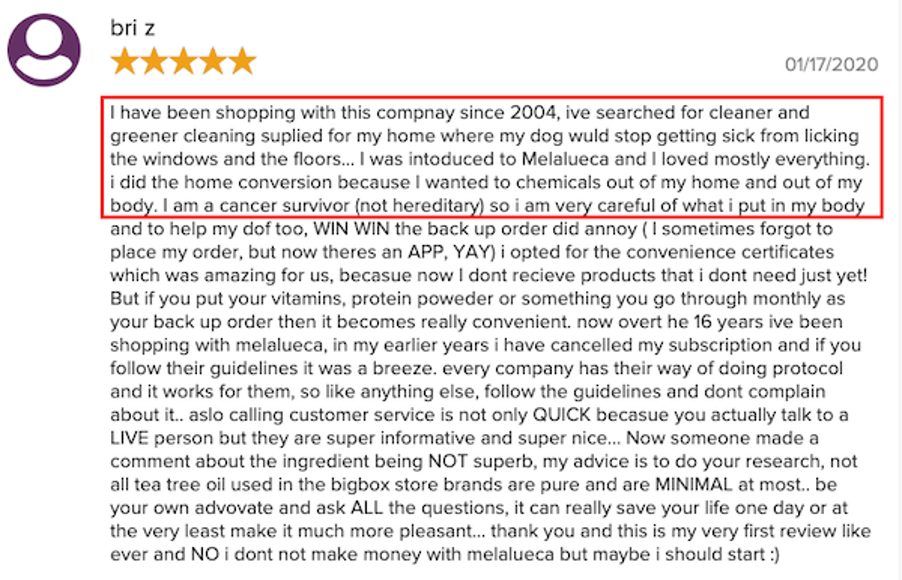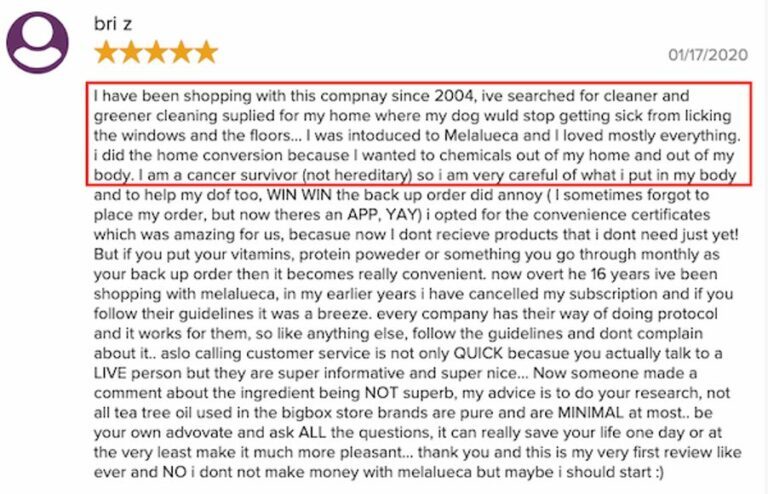 If people like the products, it shows that if you have the ability to sell those items, then you have a good product to sell.
#3 Large Selection of Products
The sheer size of the range that Melaleuca provides, does offer you a chance at a bigger customer base.  Most MLM's stay really specific, so you have to find the right customer for your products.
With Melaleuca, you're more likely to bump into someone in the street who would benefit from products from Melaleuca.
See the complete list, with the prices here…
What We Didn't Like About Melaleuca
Here's what we didn't like about Melaleuca:
#1 The Number of Products
Melaleuca has over 400 products, so you could consider that it covers all bases and you will have something for everyone…
But for you as a potential distributor that is a lot of products you are going to have to familiarise yourself with to be able to offer the right product for the right customer.
The number of products can be overwhelming for consumers, especially if they are not sure which product is most suitable for them.
That will make it dependent on the person introducing and promoting their products to you.
There are some distributors who genuinely want to help you find the right product, but there are also greedy distributors who are only after the money, hence promoting expensive products that have a higher commission value on them.
But like I said, a new Melaleuca distributor will find it will take a lot of time just to learn what products there are and how they will benefit customers.
Experience tells me, that the more products you have the harder it is.
#2 Expensive Products
Aside from the vast number of products to get your head around, there is also the fact that their products are expensive.
When an MLM company is offering an expensive product and a monthly "sales quota", then that pretty much points to the company working like a Pyramid Scheme in Disguise…
Let me explain why…
Who would anyone want to pay MLM prices, when they can find a very similar product for a fraction of the price?
Well, the answer becomes simple in an MLM…
That is because MLM members have to hit that sales quota every month, regardless of whether they sell anything or not.  If you don't sell it, you have to buy it!
Take this example, a multivitamin from Amazon costs between $0.07 to $0.13 per tablet depending on the brand.
At Melaleuca, that is $0.41 per tablet.  Making them over 300% more expensive…
Here's another example…
Wax melts.  On Amazon they range from $0.83 to $0.99 per ounce.  But at Melaleuca, that is $2.50 per ounce.  
That equates to them being 250% more expensive.
You'll be stuck having to buy these products every month.  Having to find the money for it, and somewhere to store all the products.  Many MLM reps end up with a garage full of stock and no one to sell them too.
#3 Low Income Potential
Then there is the fact their income disclosure statement shows that 89% of Melaleuca members don't make any money.

And the ones that do have at least 8 customers, 90% of them are earning an average income of $2,209 a year.  That is only up $108 on the income from the income disclosure statement before this one.
That works out to 1.1% of Melaleuca members that are making more than that $2,209!!  And that doesn't even take into account any other running expenses that go with running a business.
#4 Their Cancellation Policy is Flawed
Whether you are a preferred customer or a distributor they have a serious issue with their cancellation procedure.
If you wanted to cancel your membership or an order you have placed, including your monthly auto-ship you will need to do this in writing.
There are no exceptions and it must be sent in and received by a certain date in the month to stop another automatic shipment…
Whilst most other places, let you do this online; Melaleuca does not give you that option.  You have to print off the form and then fill it in, then send it in the post.
This is the policy for all cancellations, regardless of what it is do with.  It is their biggest point of complaint: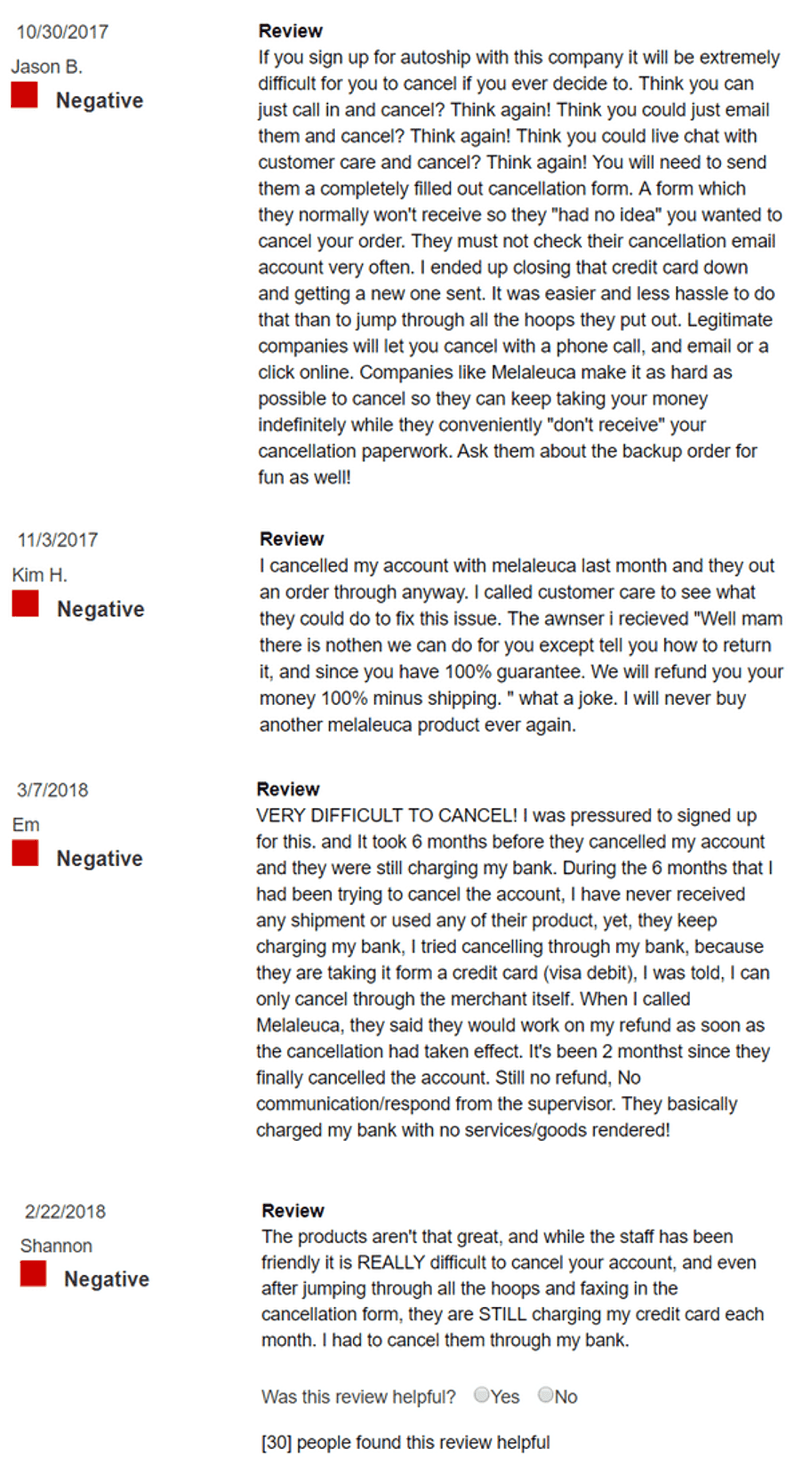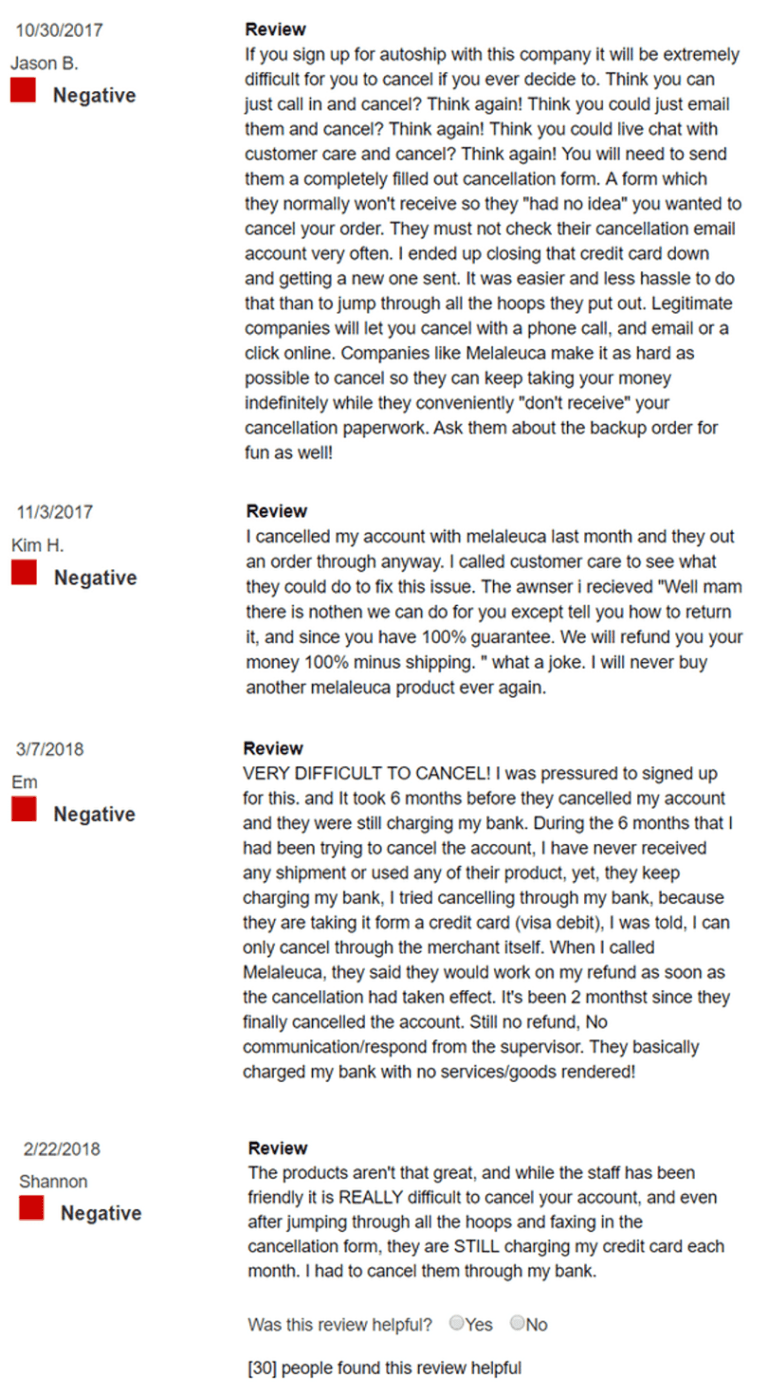 #5 Melaleuca Isn't Transparent!  Could Be Pyramid Scheme in Disguise…
Here are some of the dishonest things that Melaleuca does…
They get quite annoyed when anyone describes them as an MLM, even though they are clearly one.  
Doesn't show you the products prices on the website
Doesn't make it really clear on how much it costs to get started
Hides the ingredients in certain products.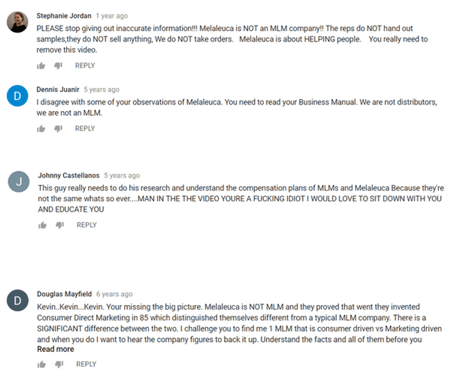 How can anyone trust a company that isn't transparent or honest?  That makes it harder for distributors when they have people ask them the same questions.
#6 Executives Are Forced to Keep Buying…
The Melaleuca compensation plan is so hard to understand that it can be easy to miss that there is a "monthly sales quota" to achieve each month just to remain active.
But when you do the right research, you can find out the truth.


There are a lot of complaints about being forced to buy products every month and it becomes clear that this is a 35 "product points" require each month to remain active.
Melaleuca makes it very clear that it is only $19 to get started… But that is simply NOT TRUE!
The fact is that you'll be expected to sell at least $60 worth of product every month and if you are unable to do this, you will need to buy them yourself!!
Haven't Made Your First $1 Yet?
Studies have shown that more than 70% of the people who want to make money online have not made their first dollar yet. So, you're not alone!
My Melaleuca Review - Final Conclusion
Melaleuca is definitely not a scam; the proof is in their BBB accreditation and holding an A+ rating for so long too.
Many other MLM's fail to achieve that rating, so it is commendable of Melaleuca to achieve this.
This is a great sign of how good their products are.  This holds in our rating of 50/100.
This leads us to the conclusion that, whilst their products are good their business opportunity is not worthwhile.  When you work out that 89.9% of their distributors are earning an average of only $175 a month plus the need to buy at least $60 worth of products a month.  Plus, all the other costs associated with direct selling, this is going to be a hard slog to turn into a full-time business.
You have to ask yourself the question on why, so few decide to explore the business opportunity side of Melaleuca… Is it because their customers just prefer buying the products or have, they decided it isn't worthwhile?
If you think you can excel at networking, direct-selling and recruiting the right distributors under you and you can provide them with the right training, then you might excel with these products and this business model.
But if you are just getting started, we would not recommend this to you…
MLM, Direct Selling, Network Marketing, however you want to describe it you need to factor in your ability to sell or recruit.  If you are not effective at either, you are going to find that this is not the business model for you.  Most MLM's will tell you that they can help gather a list of 100 people you could sell too. 
But that list consists a lot of your family and friends.  They will consider some of these products in the early stages, but as you are struggling to hit certain criteria, you apply more pressure and that is why MLM has ruined so many relationships, as there is only so much they can take.
Melaleuca is slightly different, and recruiting is not the focus.  However, if you do decide to recruit someone, you are going to need to be ready to help them sell products.
You really need to ask yourself is selling really your thing?
Building a business this way is going to require a lot of time and effort in perfecting your sales technique.  We prefer to help people and make sales in a less-direct approach (our website makes money whilst we sleep…)  Read on to learn more.
We are not fans of MLM, not because it isn't legit, but it is a really restrictive business model with high start-up costs.
Our top recommendation for anyone looking to make money online is Affiliate Marketing!
The reasons are simple:
You don't need to do any recruiting or face-to-face selling
You have the freedom to promote any products you like, and not get stuck promoting only products sold by one MLM company
It is FREE to get started.
There are many benefits to starting an affiliate marketing business over an MLM, that is why we believe Affiliate Marketing is 100x Better than MLM.
With the right training, we are now regularly earning a 4-Digit Monthly Passive Income thanks to Affiliate Marketing.  Click HERE to learn more.
Thanks for checking out our Melaleuca Review!  If you have any questions or comments to add to our review, then please write them in the comments section below. 😉
Melaleuca
$29 to start + $19.90/year, minimum monthly order requirement + overpriced products