Welcome to our Amare Global Review!
Amare is another health and wellness MLM that claims its products are backed up by science, but is it really the sign of a high-quality product and is there business opportunity really something you should be investing your time and money in?
That is what we are going to find out together in our Amare Global Review.
It is good to see that you are doing your own research before buying into a "seemingly good" product.
Research is the best way to avoid online scams and find the legitimate way to make money online!
First off, you should know that we are not associated with Amare Global in any form.
So, rest assured we are not here to pitch or sell you anything to you.
We just want to make sure you have all the details about this company, its products and its business opportunity before you decide whether it is the right decision for you.
Let's get started with a quick product overview…
Amare Global Review Summary
Product Name: Amare Global
Founder: Hiep Tran & Shawn Talbott
Product Type: Health and Mental Wellness MLM company
Price: $24.95 to $69.95 (annual) or $845.95 one-time fee + 100PV a month
Best For: Those good at networking and recruiting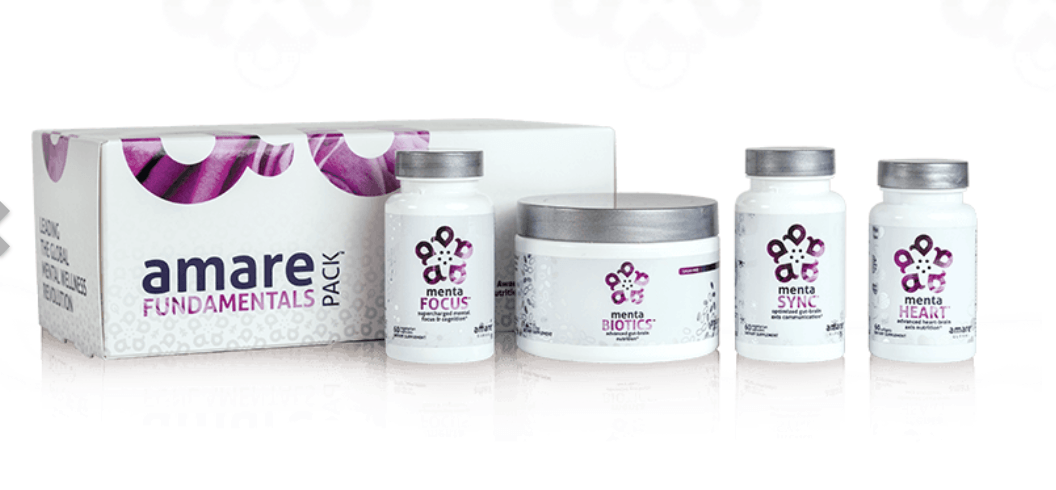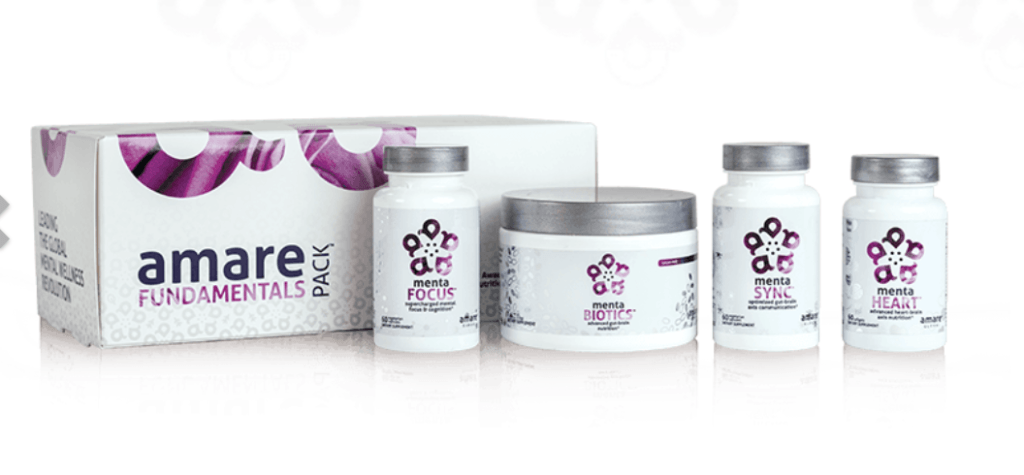 Pros
Decent Commissions
Good Quality Products
Still in Momentum Stage
Cons
Expensive Products
Emphasis on Recruiting
Founder's Shady Past
No Income Disclosure Statement
Saturated Market
Summary: Amare Global is a health and wellness MLM company.  It's still relatively new, as it was launched in 2016.  Most MLMs don't get past the 5 year mark, so the jury is still out on whether they will.  
But there are a few issues you need to know about this business opportunity.  From expensive products, and a founder with a shady past and trouble with the FTC.   My thoughts are that this MLM is just like all of the others, and not worth your time unless you are great at recruiting…
Rating: 40/100
Recommended? No
Amare Global is an MLM or Multi-Level Marketing company that was founded in 2014, by Hiep Tran and Shawn Talbott.  
Their product line markets several mental wellness and nutritional products.
They claim that their products are backed by science too.  You can learn a little more about the company in the video below…
But now is a good time to introduce you to the people behind Amare Global, as there are a couple of concerns…
Hiep Tran is Amare Global's CEO.
I couldn't find any information on Hiep in having any MLM experience, but he was the co-founder of a company in 2008 called Meritus.
It was quite a big card payment business which got acquired by Optimal payments in 2014.
Tran worked very long hours and managed to help build the business, but it took a toll on his health and subsequently he resigned in 2016.
It's a big reason why his focus is now on Amare Global, which helps with mental wellness.
But he is not the only one running the show…
Now, for Shawn Talbott…
He hasn't exactly kept his nose clean and Talbott has had some serious legal issues with his past MLM company called Cortislim.  He has been under fire by the FTC for exaggerating their products benefits.  In 2005, Cortislim had to pay $4.5 million due their lawsuits.
Hopefully, Shawn has learned his lesson with this new venture.
Is Amare Global a Pyramid Scheme
Amare Global isn't a pyramid scheme.  They have a range of legitimate products that their members can sell in return for commissions, without the need to recruit anyone.
But, like with most MLMs, recruitment is an option and it tends to be the method that makes people the most money.  So, it's prudent to ask… Is Amare Global a pyramid scheme in disguise?
What's a Pyramid Scheme?
A pyramid scheme is a company that promises payment in return for you recruiting more members into the company, instead of by selling any products or services.  In fact, a pyramid scheme typically doesn't have any products or services to speak of.
Most countries have made pyramid schemes illegal, as it is impossible for everyone to make money when recruitment is the only currency.  They become unsustainable very quickly, meaning they collapse quickly too…
This diagram from Wikipedia shows you why…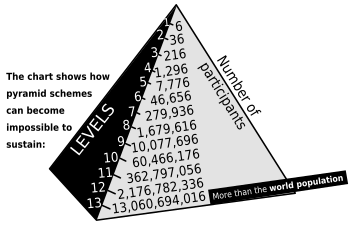 As you can see just by recruiting 6 members each the world's population is not enough to cope with a 13-level company!
…and most pyramid schemes require you to recruit more than 6 people each to make any decent money!
Check out the 5-minute video below to learn how to spot and avoid a pyramid scheme…
Success is Rare at Amare Global
Success is rare at all MLM companies.  It is not an easy business model…
Did you know that between 72.5% and 99.9% of MLM members are losing money?
What makes it harder to understand is that Amare Global doesn't publish an income disclosure statement.
But if we go off the market average, most members are losing money due to the monthly sales quota that their distributors are having to achieve.  
How Does Amare Global Work?
Amare Global produces a line of health and mental wellness products.
They also a chance for everyday people to sell these products in return for a commission.
It sounds like a good deal for both parties, but the bigger advantage goes to Amare Global.  They save millions of dollars on marketing campaigns and leave that hardship up to people like you…
Before we get into more details about their business opportunity, let's first take a look at their products…
Amare Global Product Line
Before considering any MLM opportunity, you should take the time to get to know their products.  After all, you'll be expected to know them well enough to sell them to your friends and family.
They have a wide range of products, but their most popular item is their Amare Global Probiotics.  Here's Shawn Talbot explaining the science behind them…
They Unique Selling Point is that Amare targets the gut, the brain, and the connection between the two (called the axis).
Every product at Amare is designed to improve mental wellness and our bodies physical energy by providing essential nutrients and include:
Probiotics
Sleep tablets
Energy drinks
Tablets for focus
Digestion tablets
Protein powder
Vitamins for fiber, omega and superfoods
The individual products range in price from $22-$70.
You can buy any product individually, but it works out cheaper to buy a pack (if you are looking to get more than one product).
Here are some of the most popular packs that are on sale at Amare:
FundaMental Pack ($134.95)
Launch Pack ($849.95)
Family Wellness Pack ($459.95)
Core Wellness Pack ($188.95)
Kids FundaMental Pack ($119.90)
Project B3 Pack ($274.95)
You can find the full list of Amare products here.
Whilst the product line looks special and unique, you should know that there are hundreds of other MLMs in the health and wellness sector.  They are all offering a very similar line up to Amare Global.
Examples include…
Does the Amare Global Product Work?
From their Facebook Page, there is a lot of support for Amare Global with an average of 4.9 out of 5.  They seem to praise both the products and the business opportunity.  Having said that you do need to be wary of these reviews, as they will typically be from distributors trying to make a sale.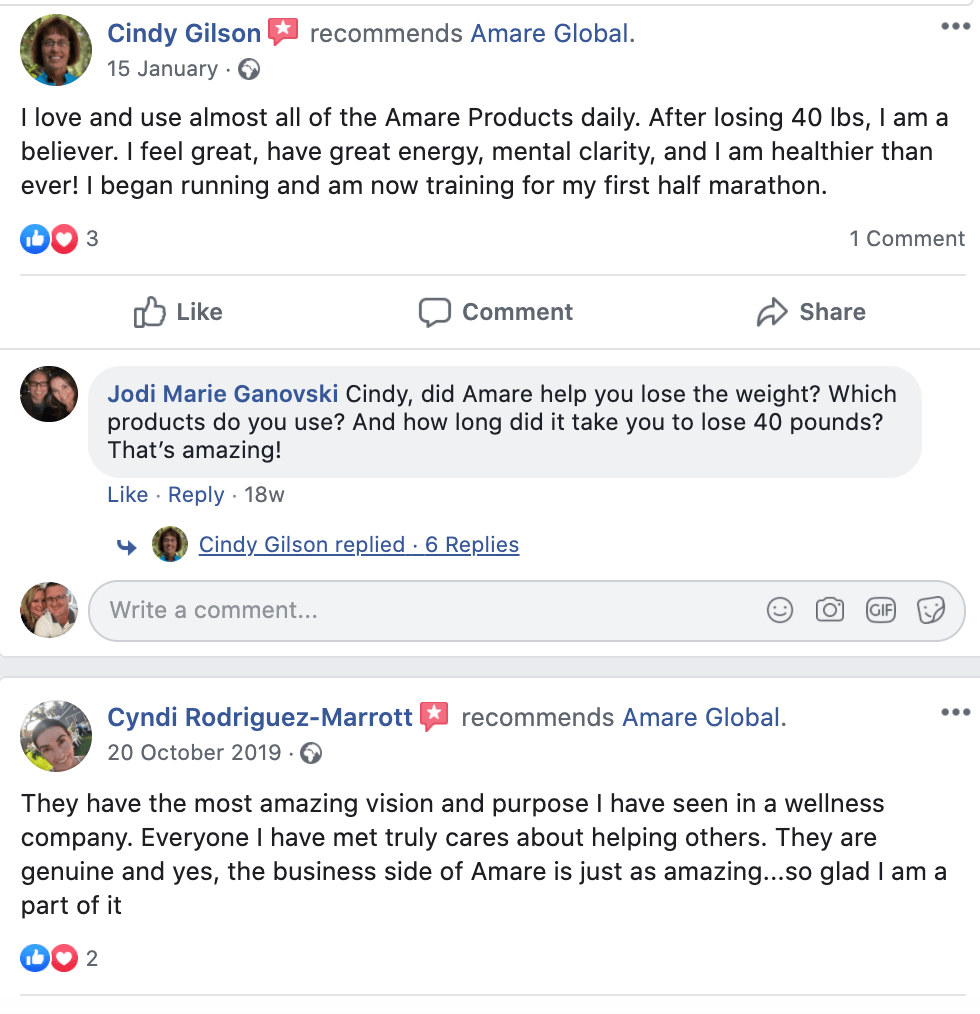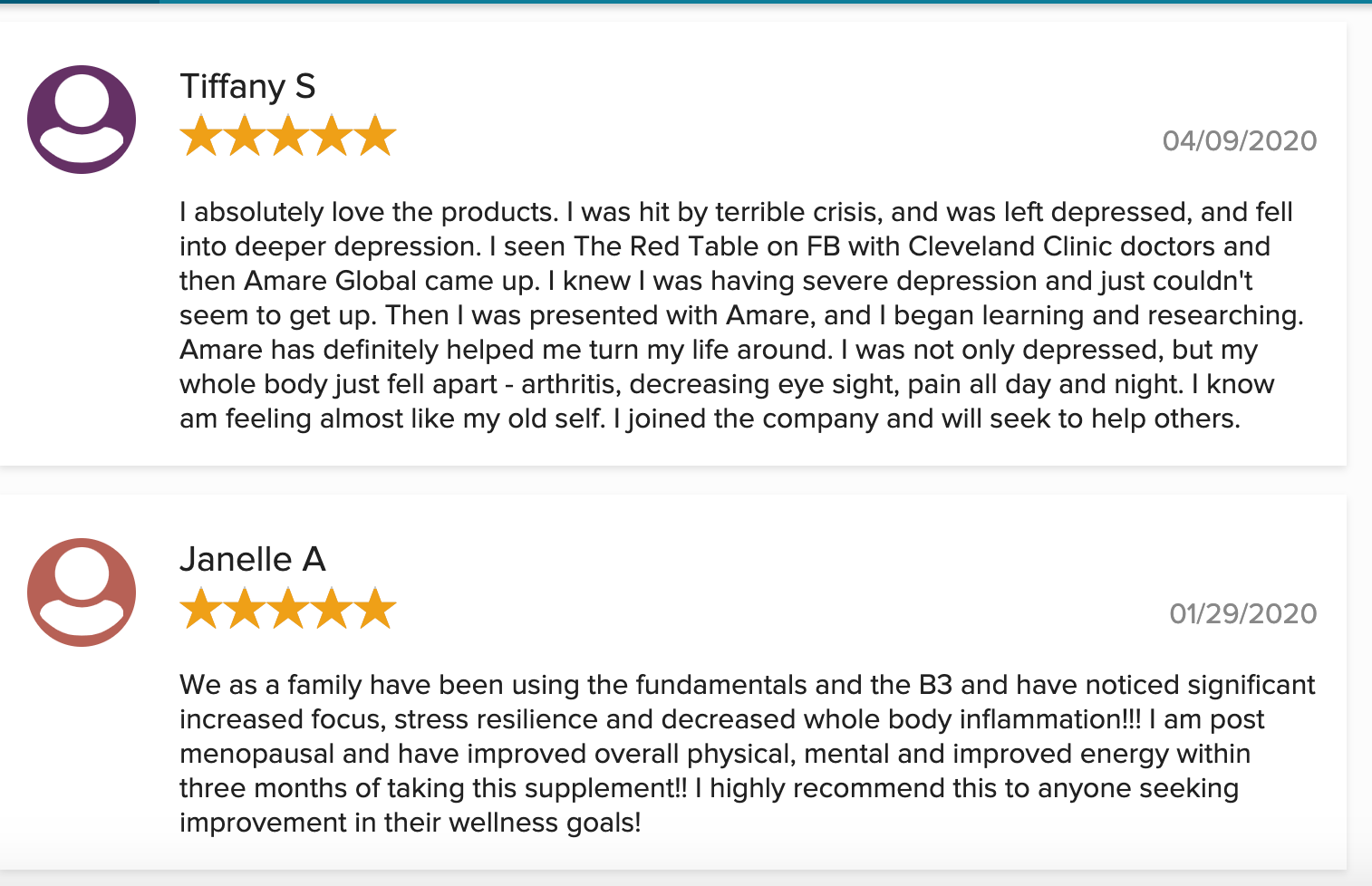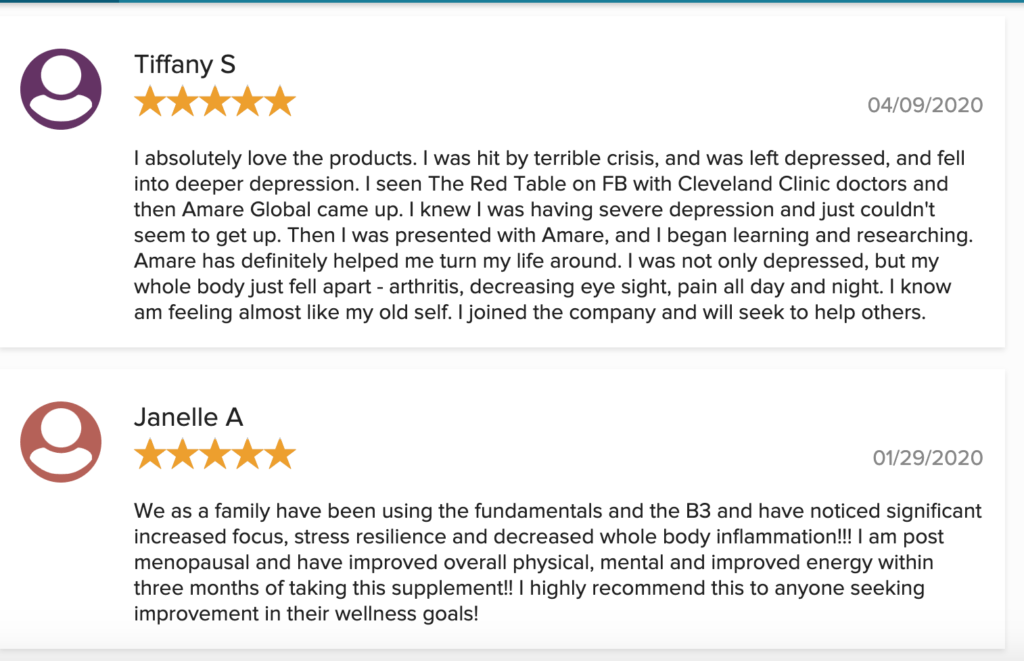 Haven't Made Your First $1 Yet?
Studies have shown that more than 70% of the people who want to make money online have not made their first dollar yet. So, you're not alone!
How To Make Money with Amare Global?
Amare Global is your typical MLM business, so that brings with it the usual two ways of making money:
Sell Amare Global products for retail commissions
Recruit people into your downline team and earn bonuses
Please keep in mind that you don't actually earn money for recruiting people, that would make it a pyramid scheme.
You only earn bonuses based on your downline teams sales, etc.
Getting Started with Amare Global
There are two membership plans, which they refer to them as "Entry Points" to get into the company.
You can choose to be a Preferred Customer or a Wellness Partner.
Preferred Customer – $24.95/year
You pay $24.95 a year and get the following perks:
25% off on retail product prices
Get free products when you refer other people as customers.
Wellness Partner – $69.95/year
You pay $69.95 a year and get the following perks:
25% off on retail product prices
Earn commission with the company's Compensation Plan.
You will also receive a business starter kit, systems and tools
Needs to sell 100 PV (Personal Volume) each month to remain active
Launch Pack – $849.95 (one-time fee)
This is claimed to be a complete MLM package, which will cost you a one-time fee of $699.95.  The pack (apparently) promises a ROI of that amount and more, you will also become a Wellness Partner without needing to pay the annual fee.
P.S. This program enabled us to Create a 4-Figure Monthly Passive Income Stream.  It's Free to get started and costs only $49/month to go full-time!
Amare Global Compensation Plan
MLM's love to have over-complicated compensation plans and Amare Global is no different, their compensation plan is 20 pages long…
The video that explains their plan is also 43 minutes long, so we will do our best to break it down and summarise it for you.
In a nutshell, there are only two things that you need to know about their compensation plan:
The 25% commissions comes from the 25% discount price you get from their products. Think of it as your profit.  If you were to buy a product for $75, you would sell it for $100.  You would keep the additional $25. (yep, you need to buy stock to sell it on).
Downline commissions are your second avenue for earning money, this is where you have to build a team of sellers.
The image below shows you how their downline system works:

Don't worry if it doesn't make much sense, like I said MLM's are deliberately overcomplicated.  The chart was designed to be difficult to understand. 
But the thing to point out is that you can earn commissions for up to 7 levels.  This means you can build a team of up to 7 tiers and earn money from them.

If you imagine the structure above went down to the 7th level, you can imagine how many people would be in that level.  If you could achieve that you would be making a lot of money.
The thing you need to know though, is that is much easier said than done to build up a successful team and sell their products. 
No, Amare Global isn't a scam.  They have a legit product line and they also pay their members on time like they say they do.
The main reason so many MLMs get labelled as a scam is down to the lack of transparency to newbies about the actual cost of running this type of business and how difficult it is unless you are an expert in sales or recruiting.
The remainder of our review will aim to give you all of the other details you need to know to make an informed decision about this business opportunity.
Just to be completely transparent with you, I'm not a distributor of Amare Global, nor do I endorse Amare Global in any way.  I have researched the website, testimonials, and information available on the internet to get the details about what this program genuinely does.    I do this, as I have been caught out by a scam in the past, and am trying to help others avoid a similar fate…
What We Liked About Amare Global
Here is what we liked about Amare Global:
#1 Decent Commissions
Amare Global do offer a decent commission percentage compared to other MLMs.  But, as the products have high prices, it might still be a challenge to sell them!
What We Didn't Like About Amare Global
Here is what we didn't like about Amare Global:
#1 Hard to Sell Products
Regardless of whether they are products based on science, they are still expensive products that will be difficult for you to sell on.  Especially, when there are products available elsewhere that have a brand name that is trusted and is half the price.
No one is going to want to buy $100 worth of supplements, when there are cheaper alternatives.
If you were able to sell them, you might be able to make some decent money.  But, as 99% people tend to lose money from MLM's we are going to go with the fact that you will struggle to achieve it.
#2 Stockpiling
This is common with MLM's, you need to buy the stock to be able to sell it.  Many distributors end up with garage's full of stock and no one to sell it to.  But you need products to be able to sell them.  It is a catch 22 situation.
It also something you need to factor in with any MLM opportunity.
#3 Huge Emphasis on Recruitment
There is a huge emphasis on recruitment in their compensation plan.  It's no secret that the bigger income opportunities rely on your ability to build a solid team of sellers.
But you need to know how to recruit the right team under you and have the ability to sell all these products to make it worthwhile.
#4 No Income Disclosure Statement
It was interesting to find that the company does not have an income disclosure statement!
If you do not know, an income disclaimer is released every year by MLM companies as a form of transparency.  It shows how much their members are earning depending on their rank.
The more members at the bottom level earning a decent amount, the better the MLM opportunity is.
If we take the assumption, they are following the example of all the other MLM's within the health and wellness sector, we can reasonably believe two things:
No one is earning any money from their business opportunity, except maybe those at the very top ranks
The majority of their members are not making any money.
#5 Shawn Talbott's History
One of the founders has been in a lot of trouble with the law for some of his previous companies.  It is down to him selling sketchy products where he has exaggerated their claims.  He has had to pay millions of dollars because of this.
The FTC or Federal Trade Commission alleged that Shawn and two other defendants made unsubstantiated claims about their products and made deceptive infomercials about their supplements.  You can see the complete FTC statement here.
Haven't Made Your First $1 Yet?
Studies have shown that more than 70% of the people who want to make money online have not made their first dollar yet. So, you're not alone!
Amare Global Alternatives?
If you are still interested in pursuing an MLM opportunity with regards the health and wellness sector, there are plenty of them but they still seem to yield similar results of people getting started having a tough time.  But here is a selection you could read up on: Melaleuca, Youngevity, Norwex, Now Living, Young Living.
But know, that we prefer Affiliate Marketing.  With Affiliate Marketing you can promote any number of health and wellness products without a huge start-up cost and without the restriction of being tied down to one MLM company.  Learn how you can get started with this fantastic business model in our step-by-step guide…
My Amare Global Review - Final Conclusion
Amare Global is a legitimate MLM company with a decent compensation plan, although no proof it makes anyone any money due to the lack of a income disclosure statement.  The products receive good feedback, although you do have to be mindful as these could be distributors stating that the products are great.
But like with all MLM's, it is only really the people at the top that are making the good money with them.  The products are really expensive, making it harder to sell against cheaper competitors' products that are probably just as good.
There will also be a huge focus on recruitment with this opportunity to even make it worth your while.
Also, let's not forget the co-founder has a very negative reputation due to his previous companies, so I wouldn't be so confident with this program with him around.
I'm not a fan of MLM, not because it's illegal or not profitable, but because of all the restrictions and expensive costs involved.
Instead, Affiliate Marketing is our top recommended business model for anyone looking to make money online
The reasons are simple…
You can promote anything you want and aren't restricted to only promote products from one MLM company
You don't have to recruit anyone to make money
You never need to sell to your friends and family
It's free to get started
In fact, with affiliate marketing we've been able to Create a 4-Figure Monthly Passive Income Stream.  If you want to learn more, click here.
Thanks for checking out our Amare Global Review!  If you have any questions or comments to add, then please write them in the comments section below. 😉