Welcome to our Nikken Review!
So, someone has approached you with an "amazing" opportunity for you to improve your health with magnets, and make some money at the same time.  But part of you is not convinced, so you're asking yourself – Is Nikken a Scam?
First off, it's great to see that you're doing your research before buying into any "seemingly good" product.
That is how you avoid scams and find only legitimate ways to make money online!
To be completely transparent with you, we're not associated with Nikken in any form.  We're not here to pitch or sell you anything.
Instead we want to reveal to you all of the details you need to know about this MLM opportunity.  But a major reason why 99% of MLM members lose money is due to them not getting all of the details they need before jumping in with both feet.
Our Nikken review will provide you with everything you need to consider before making an informed decision about whether this business opportunity is for you…
Nikken Review Summary
Product Name: Nikken
Founder: Isamu Masuda, in 1975
Product Type: Health and Wellness MLM company
Price: $99 to start + Monthly Autoship
Best For: People who are good at networking and recruiting


Pros
Proven History
Positive Product Reviews
No Monthly Sales Quota to Start
Cons
Expensive Products
Low-Income Potential
Pyramid Scheme in Disguise?
Do Magnets Work?
Summary: Nikken is a legit health and wellness MLM company.  If you have the right recruiting skills and work hard enough at selling their products, you might be able to make money here.
But the sad truth is that over 98% of their members FAILED at this business, and we'll show you the proof in our review…
Rating: 30/100
Recommended? No
Nikken is a Japanese MLM or Multi-Level Marketing company that was founded by Isamu Masuda back in 1975.
In 1988, the company moved their operation from Japan over to California, USA.  Fast forward to today, they've expanded into over 40 countries around the world.
They specialise in helping people improve their "5 pillars of health". According to Isamu, these are:
Healthy Body
Healthy Finances
Healthy Family
Healthy Society
Healthy Mind
They actually describe themselves as a "Research & Development Company"  which has invested over 40 years in studying how to accomplish their mission of helping people to live a better live by balancing their "5 Pillars of Health".
You can learn a little more about the company and their business opportunity with the promotional Nikken video…
That made it sound awesome, right?
But you're clever enough to know that this is just a marketing video…
So, you may still be wondering…
Is Nikken a Pyramid Scheme
Strictly speaking No, Nikken isn't a pyramid scheme.
Nikken distributors are able to make money selling their products, without a need for recruiting anyone.
But as most MLMs sell overpriced products, and have low income opportunities unless you start recruiting heavily, it is worth asking the question – Is Nikken a pyramid scheme in disguise?
What's a Pyramid Scheme?
A pyramid scheme is a company that promises payment in return for you recruiting more members into the company, instead of by selling any products or services.  In fact, a pyramid scheme typically doesn't have any products or services to speak of.
Most countries have made pyramid schemes illegal, as it is impossible for everyone to make money when recruitment is the only currency.  They become unsustainable very quickly, meaning they collapse quickly too…
This diagram from Wikipedia shows you why…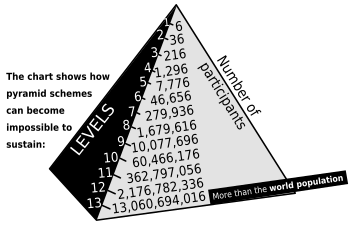 Now, most MLMs including Nikken, offer a legitimate range of products.
But it is also true that many of them hide behind these products to cover up the fact that the only way of earning a decent income ($1K+ a month) is by recruiting more and more people.
These companies operate as a pyramid scheme in disguise, and it is very hard to distinguish them from a legitimate MLM company.
We'll get into more details about Nikken shortly, but for now you might find the 5-minute video below useful in understanding how to spot these pyramid schemes in disguise…
Success is Rare at Nikken
Success is rare at all MLM companies.  It is not an easy business model…
Did you know that between 72.5% and 99.9% of MLM members are losing money?
It's very hard to understand the current standpoint with what Nikken distributors are earning, as the only income disclosure statement we could find was from 2016 (5 years old). 
But what that shows is that 98.12% of their members are earning $2,847.87 per year or below.
Considering that they typically have to work like full-time sales managers to be earning that amount, plus the other expenses that go with this type of business.  It hardly feels worth it?
Nikken is an MLM that produces a wide range of health and wellness products.
They also offer everyday people the opportunity to work from home and sell these products or recruit their friends and family for commissions and bonuses.
It sounds like a good deal for both parties, but what it allows Nikken to do is save millions of dollars on marketing every year.
But it also means that these Nikken members have the hard job of promoting the brand to people why may not have heard of it before…
Before we explore this business opportunity any more, let me take you through their product line…
Before considering any MLM opportunity, you need to get your head around their product line.  You'll need to become an expert of them, and their benefits, etc. so that customers trust you enough to make a purchase.
Giving them a try is something that you should really consider, if serious about it.
Nikken have a wide range of products that are aimed at them accomplishing their mission statement, of promoting good health and sleep.
They typically fall within 4 main categories, these are:
Nutrition – Supplements, weight management, bone health, etc.
Personal Care – Skincare, shampoos, moisturisers, etc.
Rest & Relaxation – Sleep masks. magnetic products including jewellery, wraps, back support, insoles, etc.
Environment – Sports bottle, water filters, accessories, etc.
You can check out the full listings here…
This might sound like a good product range, but you should know that there are hundreds of other MLM companies that are all selling a very similar product line.  Examples include:
So, is there anything that makes Nikken stand out from the rest?
Nikken Flagship Product – Magnets
What does make Nikken unique compared to the other health and wellness MLM companies is that their products are infused with their "magnetic technology".
Basically, according to their research & development, they found out that magnetic technology can help the body to correct unhealthy imbalances which can in turn help us to reach optimum health.
Their first product to be created was their "Magsteps Magnetic Insoles", which aims to provide relief for sore feet and lead to a better health.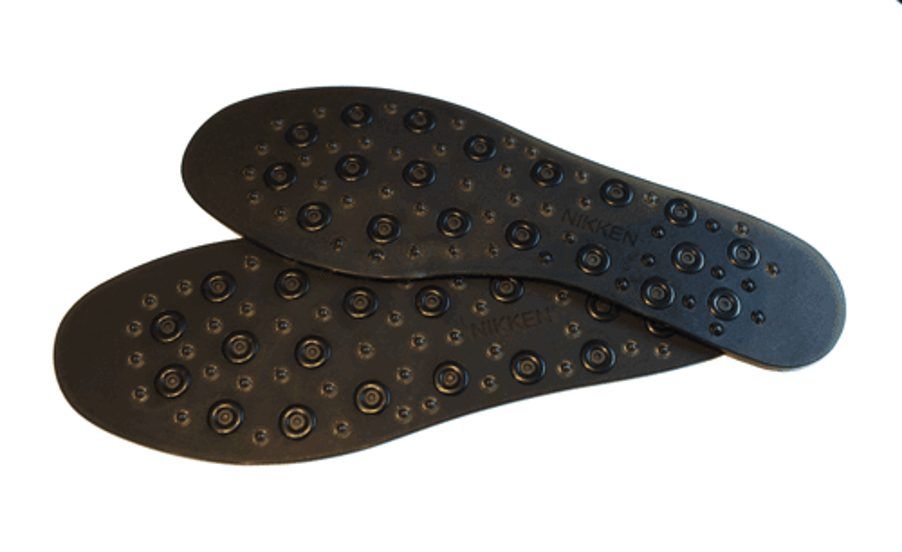 Some of their most popular products include:
KenkoTouch ($199) –A deep-tissue and patented magnetic massage machine
Kalki Watch ($123.75) –Unique watch with built-in magnets to keep your time and health at the same time
Milana Set ($97.50) –Cord necklace & earrings infused with crystals and most importantly their "Kenko Magnetic Technology"
Some of the supposed benefits of this "magnetic technology" include:
Improves blood pressure
Strengthens the immune system
Increase metabolism
Improves your sleep
There is some debate about the benefits of using magnets, however.  Some science-based studies suggest that magnets don't provide any of the supposed benefits.  Yet, there are also those who swear by their use!
I cannot really provide you an opinion,  as I haven't personally used them.  All I can do is provide you with the research and you can go from there…
What I can say is that it is typical of an MLM to provide a gimmicky reason as to why their products are unique and a reason why you should use their product and not others.
Here's a video we found to help you understand more about these "magentic products".
Haven't Made Your First $1 Yet?
Studies have shown that more than 70% of the people who want to make money online have not made their first dollar yet. So, you're not alone!
Can You Make Money with Nikken?
Yes it is possible, but it is going to be really hard.
Their income disclosure statement proves that 98.12% of their members are making less than $2,847.87 per year.
That works out to $237 a month.  Yet, the few that will be earning the good money will be those that have worked like full-time sales managers to achieve what is below the minimum wage.
The only way out of it is to start recruiting people, to climb the ranks but then that moves Nikken into the possible pyramid scheme in disguise area.
It's not the casual part-time income route that you may have thought it was…
How To Make Money with Nikken?
Just like any other MLM company, there are 2 main ways for you to make money with Nikken:
Sell their products and earn retail commissions
Recruit people into your downline teams and earn bonuses
To be clear, you don't actually earn money for recruiting people – that would make them a pyramid scheme.
Instead, you only get paid bonuses based on the sales that your downline team make.  It's a clever way of MLM companies avoiding the spotlight of the FTC and being labelled a pyramid scheme.
What it doesn't do is hide the fact that you need to recruit here…
Getting Started with Nikken
This isn't that clear on initial inspection, which was odd to me.  MLMs are usually super eager to give you this information so you can sign up.
But we did find the information about how much it costs to get started with Nikken.
They do keep it simple, which is a good thing…
All you need to do is purchase a $99 one-time "Business Success Suite".
This is basically a business stareter kit, which includes:
 a personalised website
complete support system
being eligible to earn commissions
Unlike many other MLM companies that require you to purchase product packages for hundreds of dollars, you don't have to purchase any product packs to start earning commissions with Nikken.
The only other cost required is the monthly autoship.
You need to have a minimum of 100 PPV (Personal Point Volume) every month for you to stay active and eligible for commission.
They didn't explicitly say how much is 100 PPV equivalent to but from my experience, it's at least $150/month for most MLMs.
P.S. This program enabled us to Create a 4-Figure Monthly Passive Income Stream.  It's Free to get started and costs only $49/month to go full-time!
MLMs usually have really complicated compensation plans, making it out there are tons of ways to make money, and Nikken is no different.
Below is a screenshot of their compensation plan, or at least the latest version we could find…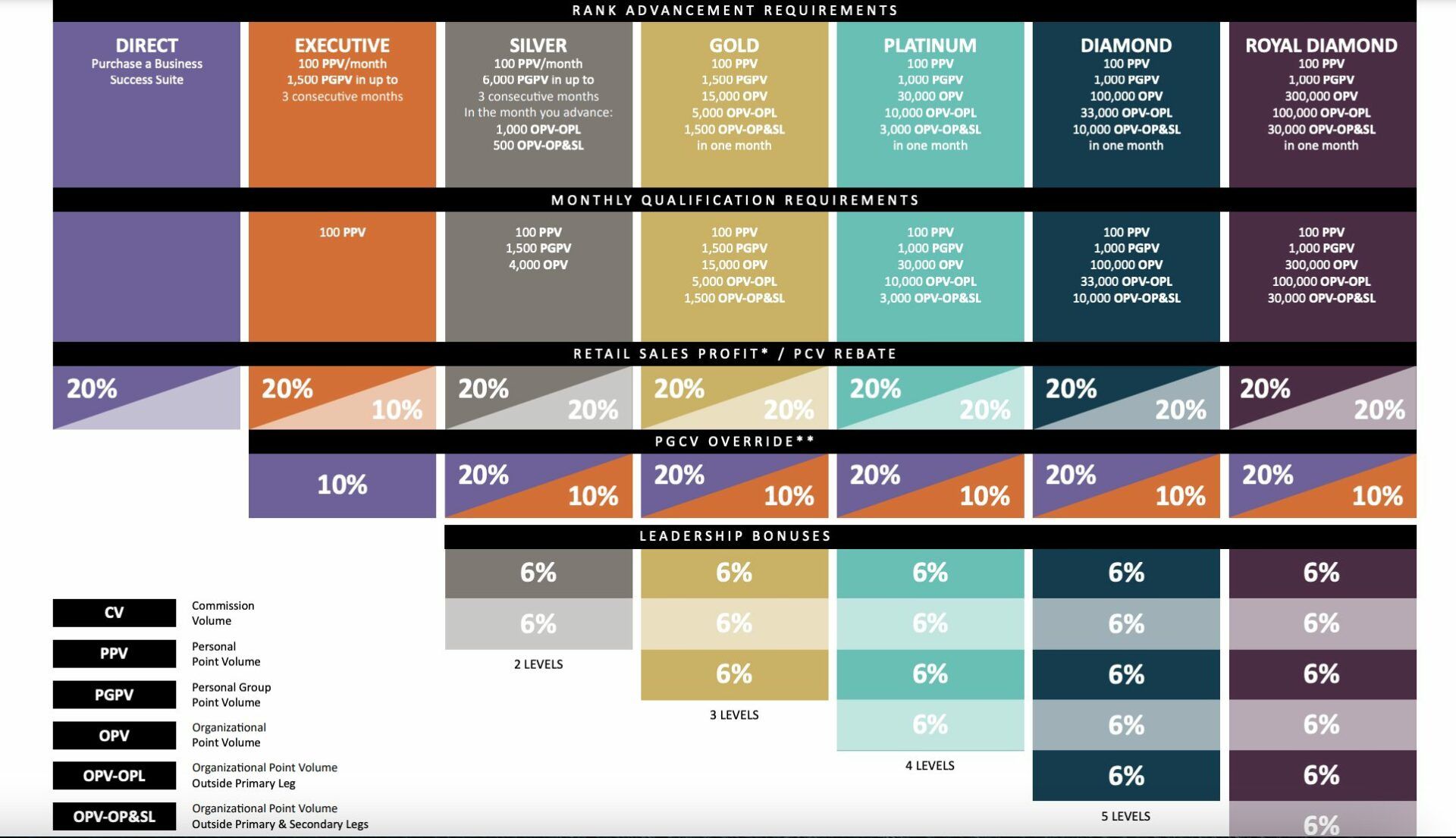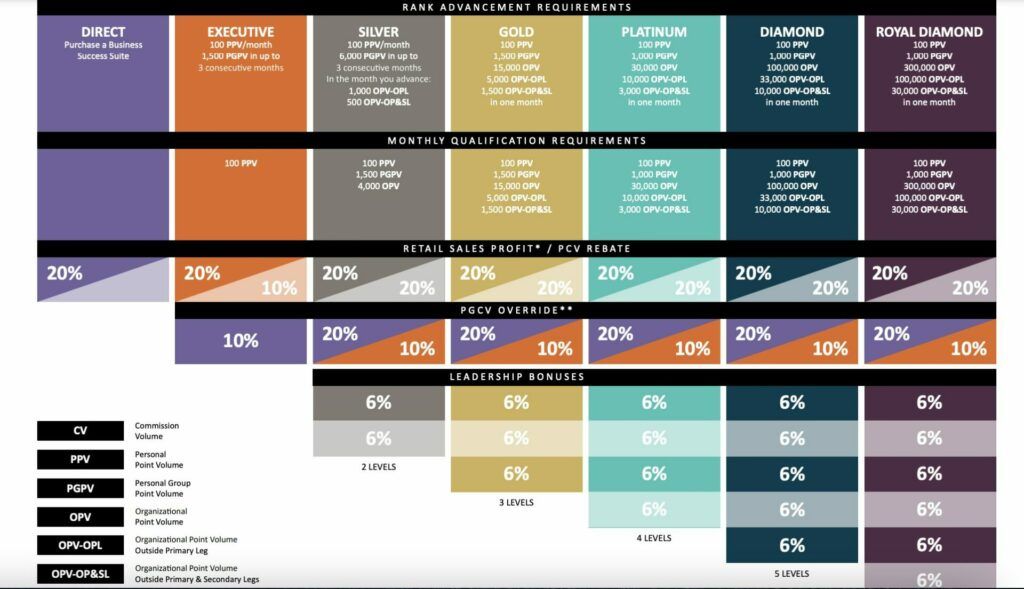 Don't worry if you find it's hard to read, you can find the complete document here.
Simply put, there are 7 different ranks.  The types of commission and their respective percentage levels are determined by your rank.  The higher the rank, the better the commission rate.
How do you climb ranks?    Well, you need to keep on recruiting people and build a bigger downline team.
Your rank is determined by how many other distributors you have in your downline team.  (Err, that is sounding like a pyramid scheme…)
Another thing to consider is that at the lowest rank, the one you are on when you first buy the $99 starter kit, only gives you 20% retail profit.
You cannot earn any overrides or other bonuses at this level.
In order to increase the ways of getting paid, you need to start recruiting people so that you can advance in rank to Executive or above.
(Still sounds like a pyramid scheme…)
If you want to know more about their entire compensation plan, then you can watch the video below…
No, Nikken isn't a scam.  They produce a line of legitimate products and they also pay their members on time like they say they do.
The main reason why so many people start calling out MLMs as a scam is down to them not always knowing all of the details before they get involved in one.  They make it sound like it is a part time gig, where you can sell products to your family and friends and earn some money.
But the reality is that they are often losing money constantly with the monthly autoship, and recruiting people is not as easy as anyone makes out, as most people are wary of it being a pyramid scheme.
The rest of our review will give you all of the other details you need to know to ensure you can make an informed decision about whether this business opportunity is the right move for you…
Just to be completely transparent with you, I'm not a distributor of Nikken, nor do I endorse Nikken in any way.  I have researched the website, testimonials, and information available on the internet to get the details about what this program genuinely does.    I do this, as I have been caught out by a scam in the past, and am trying to help others avoid a similar fate…
What We Liked About Nikken
Here's what we liked about Nikken:
#1 Proven History
Did you know that 1 in 3 MLM's don't make it past the 10 year mark?
Nikken has been in business for over 40 years, so it is highly unlikely that they are a scam or that the FTC is going to investigate them and shut them down.
#2 Positive Product Reviews
Overall, the reviews about their products do appear positive.  MLM product reviews are sometimes hard to figure out, as they could be by distributors trying to sell them.  But they do appear to have positive reviews that aren't manufactured.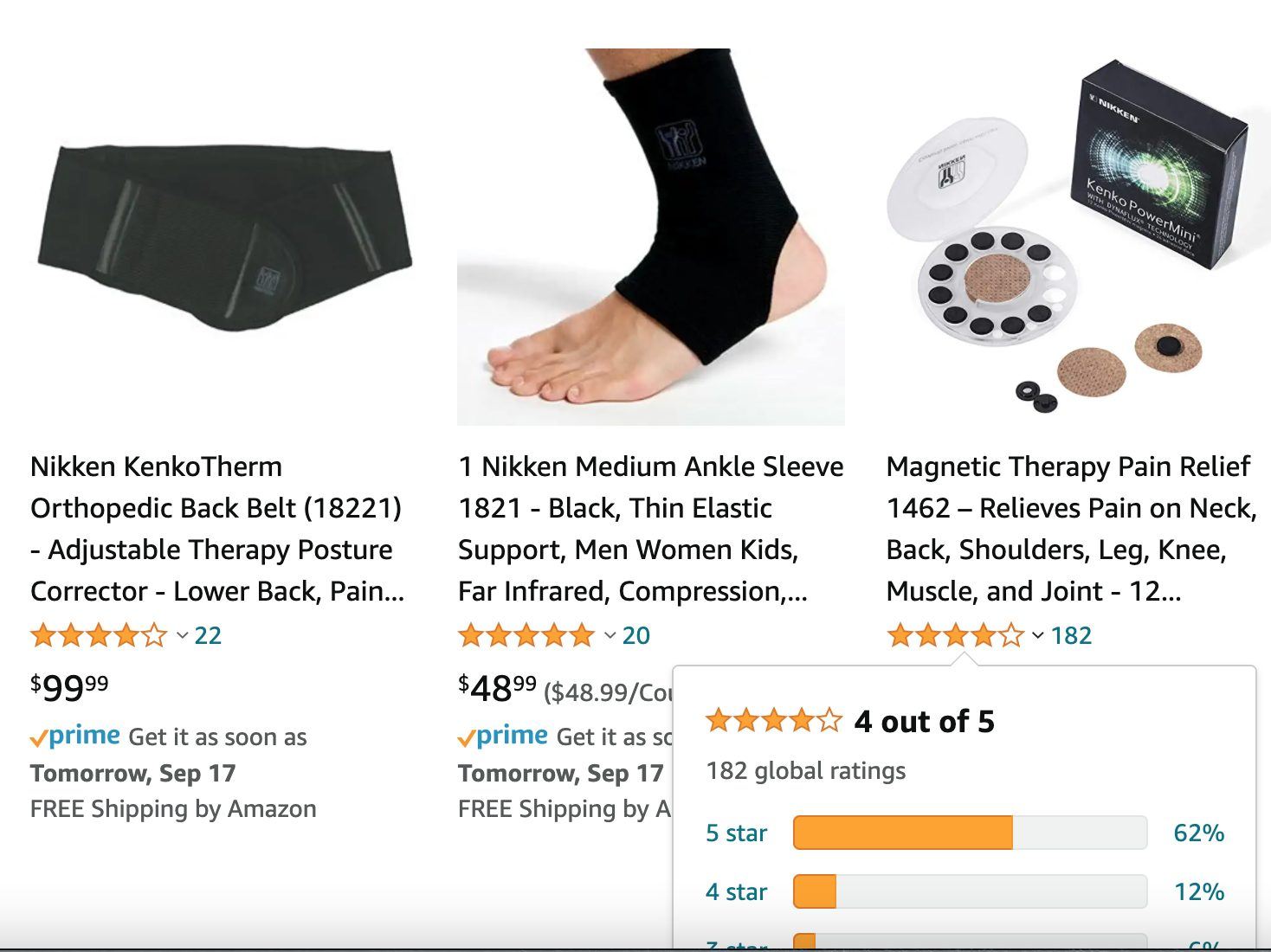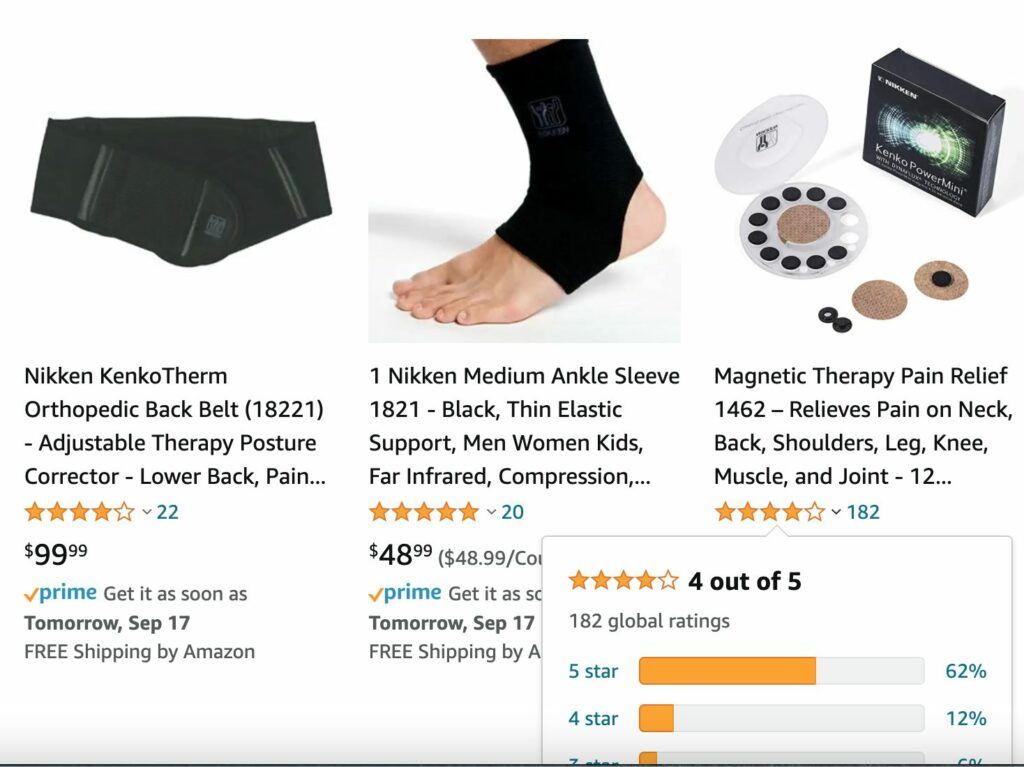 My only watch out is that these reviews are from back in 2018…
#3 No Monthly Sales Quota To Begin With…
A major reason why so many MLM members lose money is due to them having to fulfil a monthly sales quota to remain active and eligible for commissions.    Most are unable to do this, so they are obliged to keep on buying products each month to stay active.
This usually means that you are having to buy between $100-$200 worth of product each month.
With Nikken, it only kicks in once you have started recruiting and start climbing the ranks.  This has it's own concern, which we will get into in a moment.
But at least you are not expected to keep on buying until you do have a customer base, etc.
What We Didn't Like About Nikken
Here's what we didn't like about Nikken:
#1 Recruit, Recruit, Recruit
Our main concern here is the only way to advance in rank, and make more money is through recruitment!  Recruiting more people into your team.
There is a secondary worry here, as they are a traditional MLM company that relies on the traditional ways of recruiting.  Which are:
Creating a list of prospects – these include your friends, family members, co-workers, neighbours, etc.
Contacting as many people as possible, even people you're not that close too.  Examples would be people you haven't seen since school, but they are on your Facebook friends list
Scheduling meetups
Hosting home parties/workshops
Basically, your job is to sell and recruit as many people as you can so that you can slowly grow the size of your downline team.
I'm not saying that is necessarily a bad thing, but is probably a lot different than you initially thought this business opportunity was about…  Did you think that you would be having to tap up your friends and family for this opportunity?
MLMs are a major cause of relationships breaking down, as people don't want to be constantly sold too.
There is an art to recruitment, and some people are very capable of doing it and they are the ones that climb the ranks and become successful.
But the majority of us, this isn't going to be the case.  It also points to Nikken being a possible pyramid scheme in disguise, as recruitment seems to be a major goal…
#2 Questionable Products
Whilst the product line at Nikken sounds interesting and unique, there is no actual scientific evidence to suggest that magnets have any effect or provide a benefit on the brain whilst sleeping.
It's also impossible for people to cure all their illnesses and live a healthy life by just using magnetic products. 
From a scientific point of view, there seems to be little basis that any of these products work as is claimed.
On that basis, you have to say that the effects of these products are highly subjective.  The only way someone will really know if there are benefits or not is to spend hundreds of dollars to try them out.
And by the way, if you're interested to make money with Nikken, you should only join them if you're truly benefiting from their products and you genuinely want to share with others.
#3 Most People Failed!
This is the hard facts that make this business opportunity not something we would recommend.  Most people have failed with this business opportunity.
Here's their 2016 Income Disclosure Statement (latest info we could find)

At first glance, you can see that the distributors at the Royal Diamond Rank are making a sustainable income ($102,625/year).
But that is only 0.57% of the total number of distributors in the company.
Even at the Diamond rank, the average income is $18,322/year.  But that is only $1,526.85/month.
This could be a good side income for some but it's definitely not a full-time sustainable income for most people, right?
As for all other ranks, the average income is only a few hundred dollars PER YEAR, at most a few thousands per year, which is obviously not profitable for everyone.
And if you add everyone except those at Diamond & Royal Diamond, it adds up to over 99% of the entire Nikken Consultants.
Which mean, less than 1% of people who join Nikken are actually profitable, and sustainable!
To me, that is a shocking and disappoint statistic…
Haven't Made Your First $1 Yet?
Studies have shown that more than 70% of the people who want to make money online have not made their first dollar yet. So, you're not alone!
My Nikken Review - Final Conclusion
Nikken is a legitimate MLM company that has been in operation for over 40 years, which is a great thing to have achieved as most MLMs aren't able to make it past the 5 or 10 year mark.  There is a debate about the effectiveness of their magnetic products, but overall they have an interesting and legit product line up.
But as for their business opportunity, the story doesn't look good…
They have an expensive product line, with an emphasis on recruitment.  Recruitment is the only way of advancing in rank, and that does stink of a pyramid scheme in disguise.
Then there is the fact their own income disclosure statement proves that 99% of their members are not earning a sustainable income.  But as that income disclosure statement is over 5 years old now, it makes me wonder if the latest information is even worse.  And that is why they are not sharing it with you…
I'm not a fan of MLM, not because it's illegal or not profitable, but because of all the restrictions and expensive costs involved.
Instead, Affiliate Marketing is our top recommended business model for anyone looking to make money online
The reasons are simple…
You can promote anything you want and aren't restricted to only promote products from one MLM company
You don't have to recruit anyone to make money
You never need to sell to your friends and family
It's free to get started
In fact, with affiliate marketing we've been able to Create a 4-Figure Monthly Passive Income Stream.  If you want to learn more, click here.
Thanks for checking out our Nikken Review!  If you have any questions or comments to add, then please write them in the comments section below. 😉