*This post may have affiliate links, which means I may receive commissions if you choose to purchase through links I provide (at no extra cost to you). Thank you for supporting the work we put into this site!
Welcome to our Melaleuca Review!
Has someone approached you about some amazing products available to you from a company called Melaleuca? Or have they even told you that you could make a living from the same company too?
You might be wondering if the products are any good, whether this business opportunity will do what they say it will, or you might even be thinking it is all a scam?
We are so glad you are doing your research; it is hands down the best way to avoid scams and find only legitimate ways to make money online!
We are going to cover all the different and important aspects you need to know about this MLM company, including the fact that it is an MLM despite what the company and many of their distributors try to say.  MLM's have a bad rep with over 99% of people losing their money, that is probably why they do not want that label.
But done right, MLM can earn you money…
Anyways, let's get right into our Melaleuca Review with a quick product overview:
Product Review Summary
Product Name: Melaleuca
Founder: Founded by Frank L. Vandersloot, in 1985
Product Type: Health & Wellness MLM Company
Price: $29 to start + $19.95/year, Minimum Monthly Order Volume + Overpriced Products
Best For: Those with experience in direct selling, recruiting, network marketing

Summary: Melaleuca is an MLM or Multi-Level Marketing company within the health and wellness market.  Their products receive high praise in online reviews, but like most companies in health and wellness they are overpriced.  Having said that, as a customer you might find benefits with some of their "natural" products.
If you are here for the products, they are worth having a look at.  If you are here to see if you have a real chance of making a full-time income from selling their products, then you will be sorely disappointed.  Their income disclosure shows that 90% of their distributors are not covering their costs (we will show you proof later on)
Rating: 50/100
Recommended? Not for their business opportunity
Better Option: If you are looking to make money from products within the health and wellness sector, then MLM is not the best option.  They have high start up costs, are in very saturated markets and have products that are just too darn expensive.  That is why we recommend Affiliate Marketing, MLM is restrictive whilst Affiliate Marketing is liberating.  Click the Button to Learn How you Could Earn Money with Affiliate Marketing, with awesome training…
Melaleuca is a Network Marketing, more commonly known as an Multi-Level Marketing (MLM) company selling health and wellness related products.  It was founded in 1985 by Frank L. Vandersloot. 
Melaleuca is a multi-billion-dollar company and operates in 20 countries worldwide.  They offer over 400 different products within the health and wellness sector and are targeting an eco-friendly approach with their range of natural products.
This isn't particularly unique and puts them in the same place as other MLM companies like Amway, Herbalife, Norwex, Modere, Essante Organics and Arbonne.
Melaleuca does try to give you the impression that it is not an MLM, and we will cover that in the section about their compensation plan, but it is all about Direct Selling & making commissions from your downlines sales, so whichever way you look at it, it is an MLM.
Their preferred marketing method is through word of mouth marketing and they send the products straight to your door.  This may be why you haven't really heard of the name, whilst it is a huge company and has direct competition with Procter & Gamble and Colgate-Palmolive (who are huge brand names).  They do not really promote their products via other forms of advertising other than their customers passing on the word.
But this lack of exposure leads to questions about whether they are a scam or not.
Is Melaleuca a Scam? Or Even a Pyramid Scheme?
Like I said, not many people may have heard of the brand, but they are definitely not a scam.  They prefer their customers to pass on the word, word of mouth is the most powerful (and free) marketing methods.
Most people prefer to just stay as a customer, with a few deciding to join as part of their business opportunity.
We will cover off how well they are doing later on, but their income disclosure shows for poor reading in that regard.  Put it this way, you will not be quitting your day job any time soon.
But that does not make the company a scam.
Neither is Melaleuca a Pyramid Scheme.  In fact, it is further away from this model compared to other MLM's as their compensation plan does not emphasise the need to recruit, their compensation plan is all about selling products.
Just to clarify, a proven Pyramid Scheme is solely reliant on recruiting people.  They do not have any products to speak of and are illegal.  Melaleuca is a legit direct selling company utilising aspects of MLM.
You will find that Pyramid Schemes try to convince you it is an MLM to get you to sign up…
Watch this video to show you how to tell the difference between an MLM and a Pyramid Scheme:
The Melaleuca Product Line

Melaleuca has over 400 different products, so we are not going to list them all but here is a snapshot of products from their different categories:
Nutrition – Multi-vitamins, peak performance packs, specialty supplements, etc
Medicine Cabinet – (Over 70 Products) cold relief, ibuprofen, pain relief cream, after sun, moisturisers, etc.
Beauty – (over 280 products) brow pencils, cc crème, cologne lip pencil, lip treatment, makeup remover, hair treatment, styling aids
Household – there are three main categories within household:

Cleaning & Laundry
Home Fragrances
Pet Care

Bath & Body – antiperspirants, body lotions, gums, toothpaste, toothbrushes, etc.
Essential Oils
For a complete list of what products they offer, including their prices click HERE.
Whilst they have a wide range of products, I should point out that for you to make money, you are going to need to sell these products.  I do not profess to be an expert when it comes to the products or indeed their recommended selling price, but it is a factor you need to take into account if you are going to make a living from selling them.
For example, I know their products are all natural and are supposed to be eco-friendly but none of these MLM's actually come up with scientific proof that they are in fact 100% natural, etc.  So, when you see the price of their Mela Power – Laundry Detergent at $25.00 that is really expensive.
I know I live in the UK, but I can get laundry detergent that is natural for half the price of this.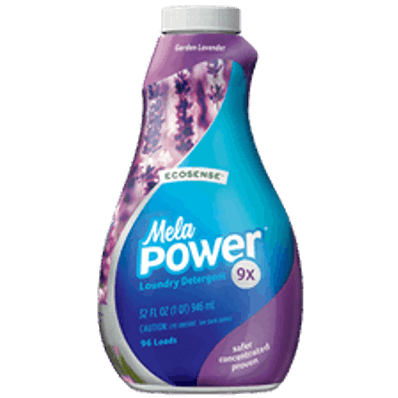 Their peak performance bone and joint product that retails for $140.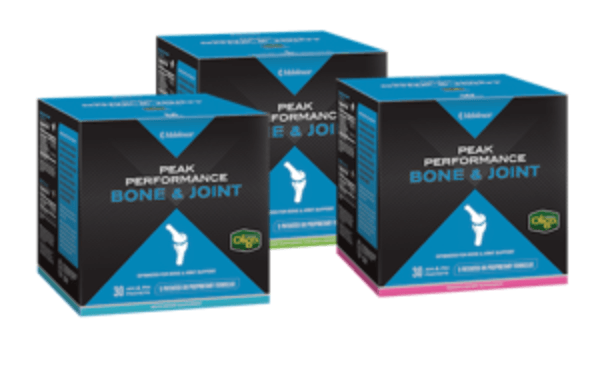 I am not trying to say their products do not work, etc.  But what I am trying to say is if you lack the experience to be able to sell these products to people the right way, these prices will stop you achieving any sales…
The other factor is that this market is heavily saturated, and what I mean is there are so many of these companies selling "natural products" that you may find it really hard to stand out…
How to Make Money with Melaleuca?
Melaleuca adopts an MLM business model.
This means that to make any money with them, you need to pay a $29 initial fee.  This allows you to become their "Independent Marketing Executive".  This is the term they give to their distributors.
This allows you the right to resell their products and earn commission based on the amount you can sell.
Melaleuca Compensation Plan Explained
Like most MLM's, the Melaleuca compensation plan is quite complicated and gets confusing.
Here you will find a brief overview of their compensation plan…
There are three main ways for you to make money with Melaleuca:
Sell products to customers and earn a retail commission (7% plus a 30-40% discount on any products you purchased yourself)
Recruit downlines and coach them to make sales on their own (this is different to many MLM's, you earn based on their product sales and not just recruiting them)
Earn Bonuses – including Advancement bonus, Mentoring bonus, Leadership growth bonus, etc.
These three ways to make money are very common in an MLM setup.
The only difference is on the second option.  Most other MLM's allow you to earn commission directly from recruiting members.
This leads to many distributors focusing on recruiting people, rather than selling products.
Which leads to many incorrectly labelling it a Pyramid Scheme.
This is a good thing, Melaleuca wants you focused on selling their products, and training people if you do decide to recruit someone. 
Definitely puts room between them and a lot of MLM's…
The amount of income you can earn from your Melaleuca business will be determined by the following 3 factors:
The number of customers and downlines you have
The number of purchases each customer makes each month, this includes the customers of any downlines you have
How effective you are at training and building your downline team. The more effective they are, the more you can make
It is also important to know that you will need to fulfil a monthly order requirement, this qualifies you as an active member eligible for earning commission.  This works out to roughly $80 per month.  This is not unique to Melaleuca, but is definitely something you need to factor in with regards your monthly costs.
We have tried to simplify their compensation plan down, as there are a few other factors but if you want to see it in more detail, please refer to their compensation plan PDF here or check out this video we found:
What We Liked About Melaleuca
Here is what we liked:
Accredited with BBB & Good Rating
Meleleuca has been accredited with the Better Business Bureau since 1987 and holds an A+ rating which is a good sign.

An A+ rating is extremely hard to achieve.  Lots of legit companies struggle to get that rating.
Considering the length of time that Melaleuca has been accredited by BBB (1987), this is a long time to have maintained that rating…
Note – The rating given by the BBB is mainly based on customer complaints and how the company manages those complaints.    So, this rating gives you a great insight into what their customer service is like and how well they resolve any issues.
Long History
Melaleuca got started in 1985, this means they have been in business for over 30 years.  That is really commendable!!
If you haven't got decent products and the right business model, that is so difficult to do.
If you compare this to companies like MOBE or Digital Altitude, both of which were really popular, but have now both been shut down by the FTC.
MOBE lasted about 6 years, whilst Digital Altitude didn't even make it past the 2-year mark…
Good Customer Reviews on Products
I think it is safe to say that customers like Melaleuca's products.  It is evident in that most of the comments made about the company are about the products and not the business opportunity, and those comments state that the products are good.  You cannot establish a business without good products and Melaleuca have done this: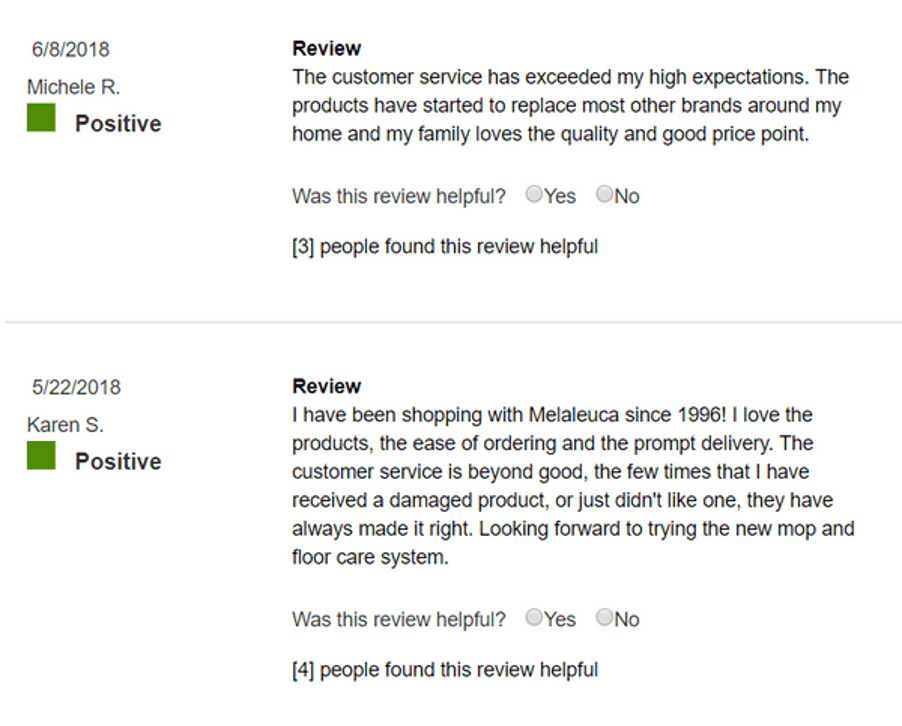 What We Didn't Like About Melaleuca
Here is what we didn't like:
The Number of Products
Melaleuca has over 400 products, so you could consider that it covers all bases and you will have something for everyone…
But for you as a potential distributor that is a lot of products you are going to have to familiarise yourself with to be able to offer the right product for the right customer.
The number of products can be overwhelming for consumers, especially if they are not sure which product is most suitable for them.
That will make it dependent on the person introducing and promoting their products to you.
There are some distributors who genuinely want to help you find the right product, but there are also greedy distributors who are only after the money, hence promoting expensive products that have a higher commission value on them.
But like I said, a new Melaleuca distributor will find it will take a lot of time just to learn what products there are and how they will benefit customers.
Experience tells me, that the more products you have the harder it is.
Their Cancellation Policy is Flawed
Whether you are a preferred customer or a distributor they have a serious issue with their cancellation procedure.
If you wanted to cancel your membership or an order you have placed, including your monthly auto-ship you will need to do this in writing.
There are no exceptions and it must be sent in and received by a certain date in the month to stop another automatic shipment…
Whilst most other places, let you do this online; Melaleuca does not give you that option.  You have to print off the form and then fill it in, then send it in the post.
This is the policy for all cancellations, regardless of what it is do with.  It is their biggest point of complaint: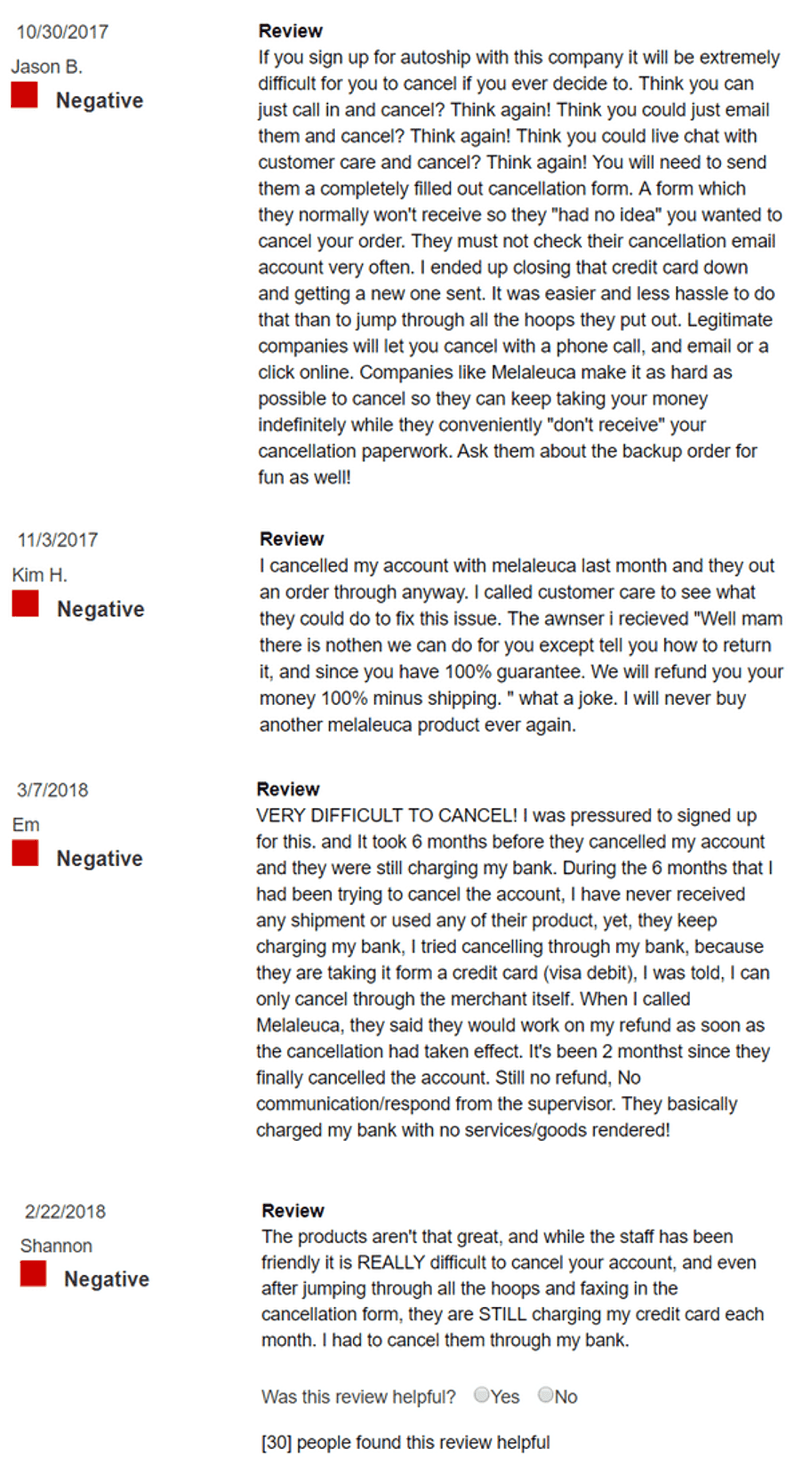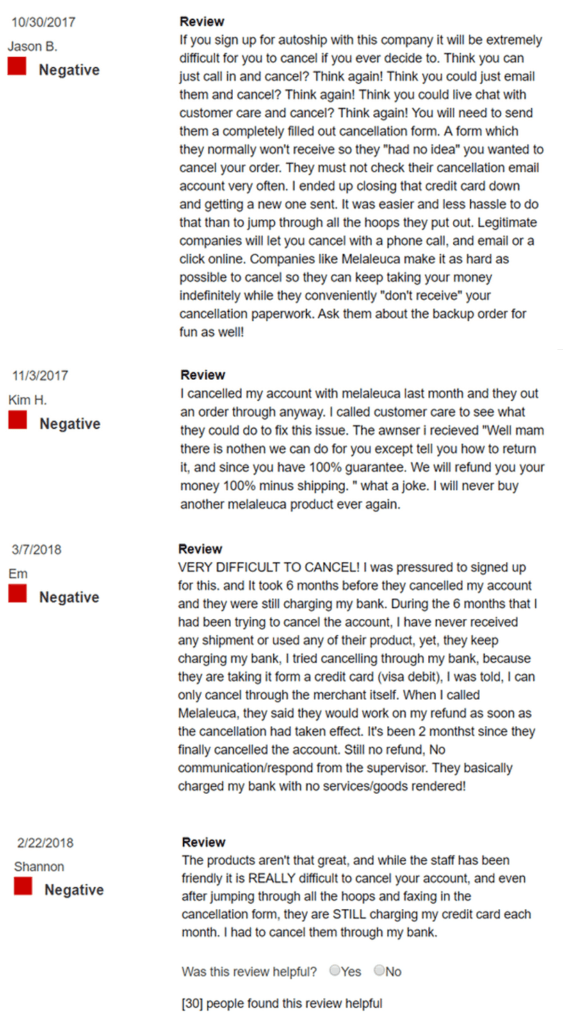 Saturated Market
The health and wellness market is heavily saturated with companies all claiming to have the best natural/organic product for all ailments, but the truth is there is no scientific proof behind a lot of claims and all our bodies are different, so it is really hard to know which product is the best for us to use.
But, for you as someone looking to make money from this business, it makes it even harder for you to stand out against the crowd.
You are going to rely on home parties or selling face-to-face with these products which is much harder for you to do unless you buy loads of products to show them off.  You are going to need to research your products against all of these other products so you can tell people why your products are the ones they need to buy.
Founder Claims it isn't an MLM?
I cannot get my head around this one, as there is nothing wrong with an MLM.  But he is adamant it isn't an MLM, and there are even examples of distributors getting quite annoyed with anyone that does describe it as an MLM.  They use terms like "Direct Marketing Program".  Well, as you can build a downline and earn commissions plus sell products for commissions, that constitutes an MLM.
When you review their compensation plan, it is pretty clear it is an MLM and the fact they use the term "compensation plan", which is only used in MLM proves the point.
Like I said, there are examples of Melaleuca members debating with people around whether it is an MLM or not.  It seems like they are desperate not to have that label.  They even get really rude, which I feel there is no place for it.  Just because you are typing a message, doesn't mean it isn't abuse: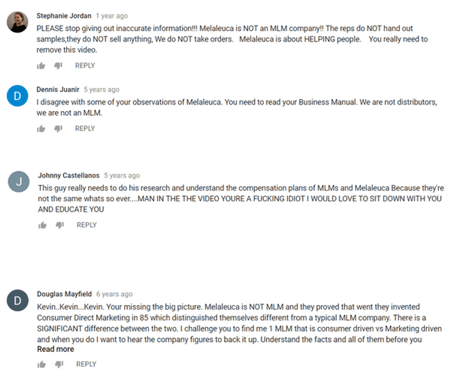 Like I said, there is nothing wrong with MLM.  Just because a company is an MLM, it doesn't mean it is a scam or not legit.  There are plenty of successful and rich people from their work at MLM.
This kind of shows that these people do not really have the right mindset and probable sit in the camp where they are not making money and are probably in denial.  They do not really understand what MLM is…
Low Success Rate
It is this point we show you that the majority of people building a business with Melaleuca did not succeed.
Take a look at the screenshot below from their income disclosure statement:


This shows that 89.8% of business builders are in the "Director/Director 2" rank.  The average annual income per person is only $2,101.  That is only $175/month!
There are people who are only earning a total of $314 a year.  That is $26 a month.  Remember you have to factor in that you need to purchase at least $80 a month to qualify.
You are going to need to be really dedicated to your business, put in lots of effort with the correct help and resources, so that you could turn it into a full-time income…
Otherwise, you could easily end up not covering your costs.
Related Post: How to Increase MLM Sales
Is Melaleuca Wellness Company a Scam?
Melaleuca is definitely not a scam; the proof is in their BBB accreditation and holding an A+ rating for so long too.
Many other MLM's fail to achieve that rating, so it is commendable of Melaleuca to achieve this.
This is a great sign of how good their products are.  This holds in our rating of 50/100.
This leads us to the conclusion that, whilst their products are good their business opportunity is not worthwhile.  When you work out that 89.9% of their distributors are earning an average of only $175 a month plus the need to buy at least $80 worth of products a month.  Plus, all the other costs associated with direct selling, this is going to be a hard slog to turn into a full-time business.
You have to ask yourself the question on why, so few decide to explore the business opportunity side of Melaleuca… Is it because their customers just prefer buying the products or have, they decided it isn't worthwhile?
If you think you can excel at networking, direct-selling and recruiting the right distributors under you and you can provide them with the right training, then you might excel with these products and this business model.
But if you are just getting started, we would not recommend this to you…
MLM, Direct Selling, Network Marketing, however you want to describe it you need to factor in your ability to sell or recruit.  If you are not effective at either, you are going to find that this is not the business model for you.  Most MLM's will tell you that they can help gather a list of 100 people you could sell too. 
But that list consists a lot of your family and friends.  They will consider some of these products in the early stages, but as you are struggling to hit certain criteria, you apply more pressure and that is why MLM has ruined so many relationships, as there is only so much they can take.
Melaleuca is slightly different, and recruiting is not the focus.  However, if you do decide to recruit someone, you are going to need to be ready to help them sell products.
You really need to ask yourself is selling really your thing?
Building a business this way is going to require a lot of time and effort in perfecting your sales technique.  We prefer to help people and make sales in a less-direct approach (our website makes money whilst we sleep…)  Read on to learn more.
We are not fans of MLM, not because it isn't legit, but it is a really restrictive business model with high start-up costs.
Our top recommendation for anyone looking to make money online is Affiliate Marketing!
The reasons are simple:
You don't need to do any recruiting or face-to-face selling
You have the freedom to promote any products you like, and not get stuck promoting only products sold by one MLM company
It is FREE to get started.
There are many benefits to starting an affiliate marketing business over an MLM, that is why we believe Affiliate Marketing is 100x Better than MLM.
With the right training, we are now regularly earning a 4-Digit Monthly Passive Income thanks to Affiliate Marketing.  Click HERE to learn more.
Thanks for checking out our Melaleuca Review!  If you have any questions or want to share any experiences you have had with Melaleuca, we would love to hear from you in the comments section below.
Melaleuca
$29 to start + $19.90/year, minimum monthly order requirement + overpriced products