*This post may have affiliate links, which means I may receive commissions if you choose to purchase through links I provide (at no extra cost to you). Thank you for supporting the work we put into this site!
Getting fit and earning money too, that is what Now Lifestyle is offering.  But does it offer a decent MLM business for a change or is it still a hard sell.  We will go through all you need to know in our Now Lifestyle review.
Now Lifestyle wants to help you achieve the following 3 goals:

Achieve Time & Financial Freedom

Maintain a Healthy Body

Build Healthy Relationships with Friends & Family
We would all love to be able to achieve those 3 things, but does Now Lifestyle help you with that, is it the right business opportunity for you and ultimately is it possible?  Or is Now Lifestyle a Scam?
Let's dig in and find out, shall we?
Product Review Summary
Product Name: Now Lifestyle
Founder: Joel Therien, in 2017
Product Type: Health, Wellness & Fitness Online Business based MLM company
Price: Free to get started, $50/month to access complete platform
Best For: People wanting to make money as well as getting fit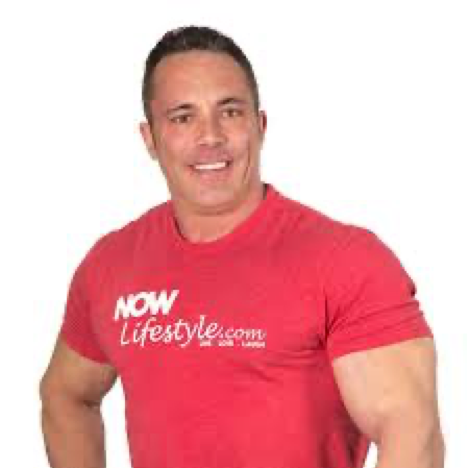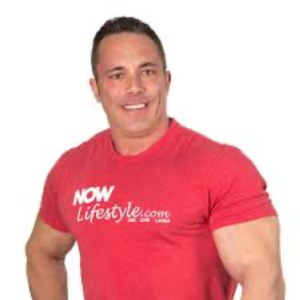 Summary:  Now Lifestyle has brought a different spin to MLM, and it is something that should be commended.  Bringing in some good tools to help you promote this fitness and wellness product, on the face of it if MLM is something you want to explore this could be right for you.  Having said that, MLM is still very competitive with little success, and this is a new company and we will see if it is here for the long haul.  Might be still too early to draw conclusions.
Rating: 55/100
Recommended? No
Now Lifestyle is an online Multi-Level Marketing (MLM) company selling health and wellness related products.  It includes a health membership program and nutritional supplements.
Now Lifestyle follows the MLM business model, so it includes some business-related tools and a business opportunity aimed at helping you make money online.
Now Lifestyle was founded by Joel Therien in February 2017.  Joel has a back catalog of a number of companies including:
Host Then Profit (2011)

7 Minute Workout (2011)

Pure Leverage (2013)

Get Backup (2015)
But if you have heard of Joel for anything, it is probably for being the founder of Global Virtual Opportunities (GVO).  GVO is an internet-based company offering services like Email Marketing, Web Hosting and a few other Internet Marketing Tools.
You will notice that some of the business tools within Now Lifestyle are provided by GVO.  This includes the autoresponder and the lead capture system.
Now Lifestyle Product Line
The 3 main product lines are based around health, fitness and wellness:
Health & Wellness Membership Program – $24.97/month
Included within this membership are:
A range of customised Workout Plans

Video Workout Training for use within a gym or at home, designed for all ages and sexes. This includes over 800 workout and weight loss videos

Complete Diet and Calorie Counters

Live Video Workouts

Live video education on Health & Wellness

It also includes 5 personal membership, so you can share this with your friends and family.
Nutritional Supplements

They offer a range of nutritional supplements to help you get in shape:
Protein Powder

Energy Capsules

Intestinal Health Capsules
Business Automation Tools – $24.97/month
This is the part where we get to the tools designed to help you make money by remarketing Now Lifestyle.
Joel brings the technology and tools from Global Virtual Opportunities.  Within Now Lifestyle, you also gain the following:
An Autoresponder system for Email Marketing

A Lead Capture System for you to Generate Leads

Professional Templates for you to use to build some custom lead generation campaigns.
You will use these to resell the Now Lifestyle membership to other people to make money.  Let's get into how you will make money with Now Lifestyle…
How to Make Money with Now Lifestyle
It is better if we talk about how you get started with Now Lifestyle first, before you understand how you can make money with it.
How to Get Started with Now Lifestyle
There are two memberships with Now Lifestyle, the free membership and the paid membership.  We will start by going through the free membership.
Free Membership
With the free membership you get access to a customised 10-day workout routine, based on your "fit profile". This profile will be something you fill in, so you can receive training suitable for your current fitness level.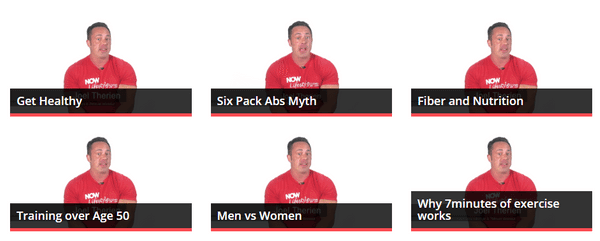 It is a good thing for if you want a fitness program to follow, but it will not allow you to make any money.  It is a good start for Now Lifestyle, as most MLM's expect you to pay up with a sign-up fee.  But it is limited, as you will not be able to use this membership level to make any money.
You get access to the membership level, your 10 customised lessons and that is that.
To make money, you are going to look at the next level – the paid membership.
Paid Membership
If you are sold by the training plan within the free membership and are only interested in following a personalised training plan and benefitting from the supplements you only need to sign up for the $24.97/month Health & Wellness package.
However, if it was the opportunity to make money you were more interested in, then you are going to need to pay for the $24.97/month Reseller Program.
But don't think the costs stop there…
In order for you to leverage their system, you are going to need to buy their $24.97/month Business Automation Tools.
If you check out the image below, you will see the necessary packages that you are going to need to buy in order to start building a business designed at reselling Now Lifestyle: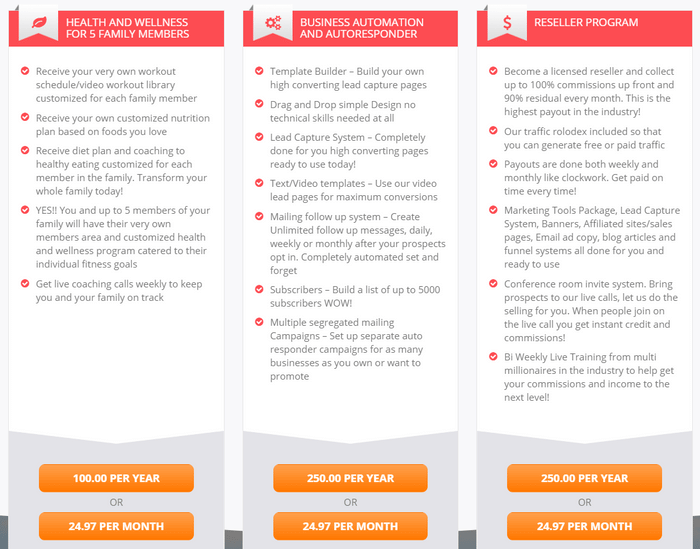 At first glance, you will think that you are going to need to buy all 3 and pay $75 a month, but Now Lifestyle does turn around and offer you the 3 for $50/month.
What is the Now Lifestyle Compensation Plan?
There are 4 ways for you to get paid with the Now Lifestyle Compensation Plan.
Direct Sales Commission – you will earn 50% commission from any sales you personally make
Matching Bonus Commission – you will earn another 50% matching bonus from any earnings form your direct downline referrals
Binary Residual Commission – as part of Now Lifestyle, you are required to build 2 teams. One on the left and another on the right, so you can earn residual commissions when you have enough downlines on both sides
Now Lifestyle University Sales Commission – There are a couple of high-ticket items that are available too. Courses like Email Marketing Mastery ($497), Now Body Certification ($2,997) & the Now Lifestyle Seminar Retreat (a staggering $14,977).  All of which you can earn 50% commission on any direct sales and 5% on any sales made by your downline.
But like many MLM's we have reviewed, there is a catch…  There are some requirements needed before you can go and earn those commission.  These include:
For your Binary Commissions, you will need to recruit at least 2 active downline referrals

To stay active, you need to recruit at least one new downline every month until you are able to maintain 6 active downlines.
To learn more about their compensation plan and how to get paid please check out the following videos:
What We Liked About Now Lifestyle
Here is what we liked about it:
Not Like Your Usual MLM
Let's face it, your usual MLM will get you to target your friends and family and get you to convince them to sign up to something they don't really want or need.
Joel has taken a different approach and give you some good tools to help you target people who are going to be really interested in this fitness course.  You will be using their Lead Capture Pages & Email Marketing Campaigns to promote the Now Lifestyle to people who are looking to get fit or interested in fitness in general.
It does put a very different spin on MLM, which is very rare, and it does look like a good business opportunity for the right person.
50% Commission Rate
50% commission rate on direct sales is a really good offer, and you can also earn 50% from a matching bonus from your direct referrals.  Such commission pay-out for MLM's is rare but does looking appealing.
It does bring into question, whether it is sustainable in the long run. 
Free to Get Started
I like the fact that you get to check out what you are going to be promoting before handing over any money.  Most MLM's just expect you to pay up and keep paying up.  But with Now Lifestyle, you get to check out the members area and get a customised 10-part training too.
What We Didn't Like About Now Lifestyle
Here is what we didn't like:
The 36 Hour Holding Tank
If you checked out the videos before, you will have heard them talk about the "36 Hour Holding Tank" for new referrals.
Basically, new referrals are put into this holding tank for up to 36 hours, before you place them into your downline team.
If you have any experience with MLM, you will know that where you are positioned can have massive implications for your earning potential.
The holding tank is there so you have time to decide on which position you put someone into your team.
At first, this seems like a pretty good feature to have, however…
It actually leads to some questionable tactics to recruit new people to join your team.  Because, you can encourage them to join by offering them free downlines.
Because you have the time to hold them, you can say join now and I will add x number of downlines under you straightaway.
Such techniques are really bad in MLM, and it will become a constant battle as new members will have the wrong mindset and expect you to keep helping them get downlines instead of going and getting their own leads.
This makes the holding tank sound great, but it is really not going to help your business.
The Business Tools are Restrictive
If you plan on only promoting Now Lifestyle, the tools are fine.  But as experienced Internet Marketers, we can tell you that they will not help you if you want to explore other avenues to diversify your earnings.
The purpose of the tools is simply to promote Now Lifestyle.  You couldn't use them to promote anything else.
There are also Now Lifestyle members that have come out and stated they are using the Aweber Email Service Provider instead of the one provided by Now Lifestyle because of how inflexible it is.
Not Enough Experience in the Business
Now Lifestyle is relatively young, so it is really too early to call whether it is a reliable business to join.  Added to the fact there is no income disclosure statement available yet to help find out if members are actually making money.
It is Still MLM
Now Lifestyle is different to many others that we have reviewed, but it still comes down to the fact that it is an MLM and the only real way you are going to make any serious money is by building up a downline.  A team below you who are selling Now Lifestyle and getting people to build their own downlines, which in turn are yours.
It will still resemble a pyramid and it will be the reselling side that people will concentrate on.  How many people can go on YouTube and watch fitness videos, you need to be serious about fitness to want to pay $30 a month to have a personalised training program.
The fact is to make money with MLM, you need to get to the top and stay there to make money.  If you are great at sales, you might make this happen.
Our Final Opinion About Now Lifestyle
In our opinion, Now Lifestyle isn't a scam.  It offers a unique take on MLM and with the business tools provide the right individual could make this work.
However, it is still an MLM and that requires you to promote not only the products but also build a team under you.  You will also be tied down to one company, as the tools cannot be used to promote anything other than Now Lifestyle.  They do focus on getting you to target the right individuals which is a nice change for an MLM, but it is still relatively new and that might be a factor.
Either way, if this is right for you it might be worth a look at the free membership at least.
We are not particularly fond of MLMs – you end up tied to one company, trying to sell expensive products and trying to recruit a team with little chance of any success. (Only 1% of People Make Money with MLM).
Instead, our top recommend business model for anyone wanting to make money online is Affiliate Marketing!
The reasons are simple…
You do not need to recruit anybody to make money

You have the freedom to promote any products or services you want and not be restricted to only sell products from one MLM company

It is FREE to get started
Affiliate Marketing is our favourite business model.  Hard work with MLM will get you nothing!! Hard work with Affiliate Marketing will get you financial freedom with your own passive income stream.  Put your effort into the right decision and learn more about how you could get started with Affiliate Marketing HERE.