Welcome to our Profit Product Creator Review!
Profit Product Creator claims to help you create "highly profitable" digital products & get "unlimited traffic & Leads" in UNDER 60 seconds…
When you start to see claims like that, it is natural to want to understand a little more before handing over your money on a "seemingly good" product.
First off, it is great to see that you are doing your research as it is the best way to avoid online scams and find only legitimate ways to make money online.
Rest assured, we are not associated with Profit Product Creator in any way, so we are not here to pitch or sell you anything.
We just want to ensure you get an objective review of this product.  Can it really achieve all it claims it can or is there a little more to it than they are telling you, or maybe it is all just a total scam.
We will reveal all in our full Profit Product Creator review.
Profit Product Creator Review Summary
Product Name: Profit Product Creator
Founder: Glynn Kosky
Product Type: Digital Product Creator (ebooks, reports, pdfs)
Price: $17 + Upsells (to the value of $629!)
Best For: No One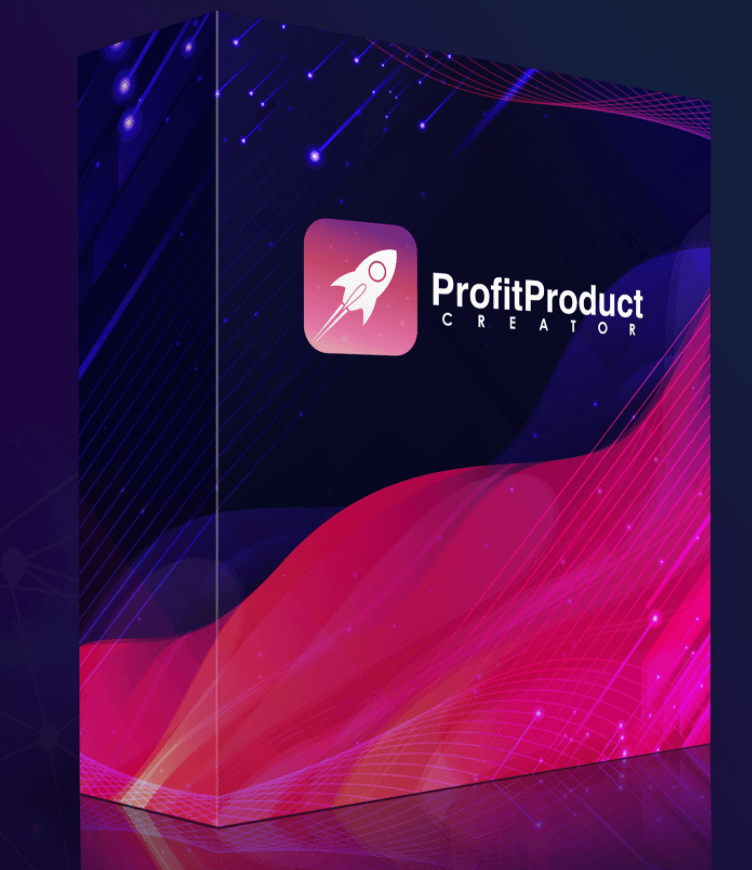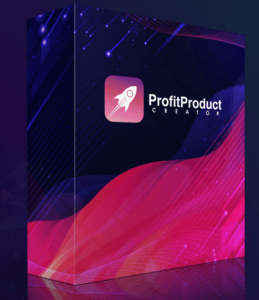 Cons
Full of Hype & False Promises
Don't Expect Sales with "Free Traffic"
Promotes Plagiarism
Using Top Marketers To Promote (Without Permission)
Pay to Play
100% Positive "Fake" Reviews
Summary:  Profit Product Creator is a web-based product that helps marketers create digital information products.  However, it is promoting plagiarism, which we cannot endorse.  Plus, the fact that whilst it might help you create a product, it will not help you actually market it.  Unless you pay to go through their sales funnel.  This is a typical MMO sales funnel to get you to spend more money, and probably end up putting you into debt.
Rating: 25/100
Recommended? No
What is Profit Product Creator?
Profit Product Creator is a web-based product that helps marketers create digital information products, such as eBooks, reports and PDF's.
They claim to be the "World's first 100% Done-for-You Digital Product Creation Suite", but these products have been here before.  They are hoping newbies do not dig into the detail of their claims.  Just know that we have seen the likes of this product before.
They also claim that you will be able to create "highly profitable digital products and get unlimited buyer traffic & leads in under 60 seconds".
If you take it for granted what they tell you, you will think this is really achievable and awesome.  But as we have a little more experience, we know there is a little more to it than all they claim.  Especially when it comes to the traffic side, which we will go into detail a little later.
Profit Product Creator was founded by Glynn Kosky, who has launched a number of digital products all professing similar claims like Affiliate Traffic Lab, AffiliFunnels.  Whilst we haven't reviewed these other products, our research shows they have similar claims without much to back them up…
How Does Profit Product Creator
Using their web-based platform allows you to create a digital product such as a eBook based on your chosen niche.  Choose a niche, then it generates a list of articles relating to the subject matter and then this allows you to copy and paste sections you want into your eBook.
Now, that straightaway is a problem.  The reason is that these articles are someone's else property.  It would be like copy and pasting from a website, then putting it into a Word document and then using it elsewhere.  I am not sure on the legal stance of that, but it is definitely plagiarism in our view.
Basically you "borrow" other people content/articles and create your own digital product that you can then promote to others for money.
Here are the 3 steps they claim will make you rich:
Purchase – Purchase the Product (Before the Price increases)
Create – Login and select some content for your "brand new" product and watch the app create this for you in under 60 seconds
Monetise – Add your affiliate links, hit the traffic button and watch the sales and commissions roll in on autopilot.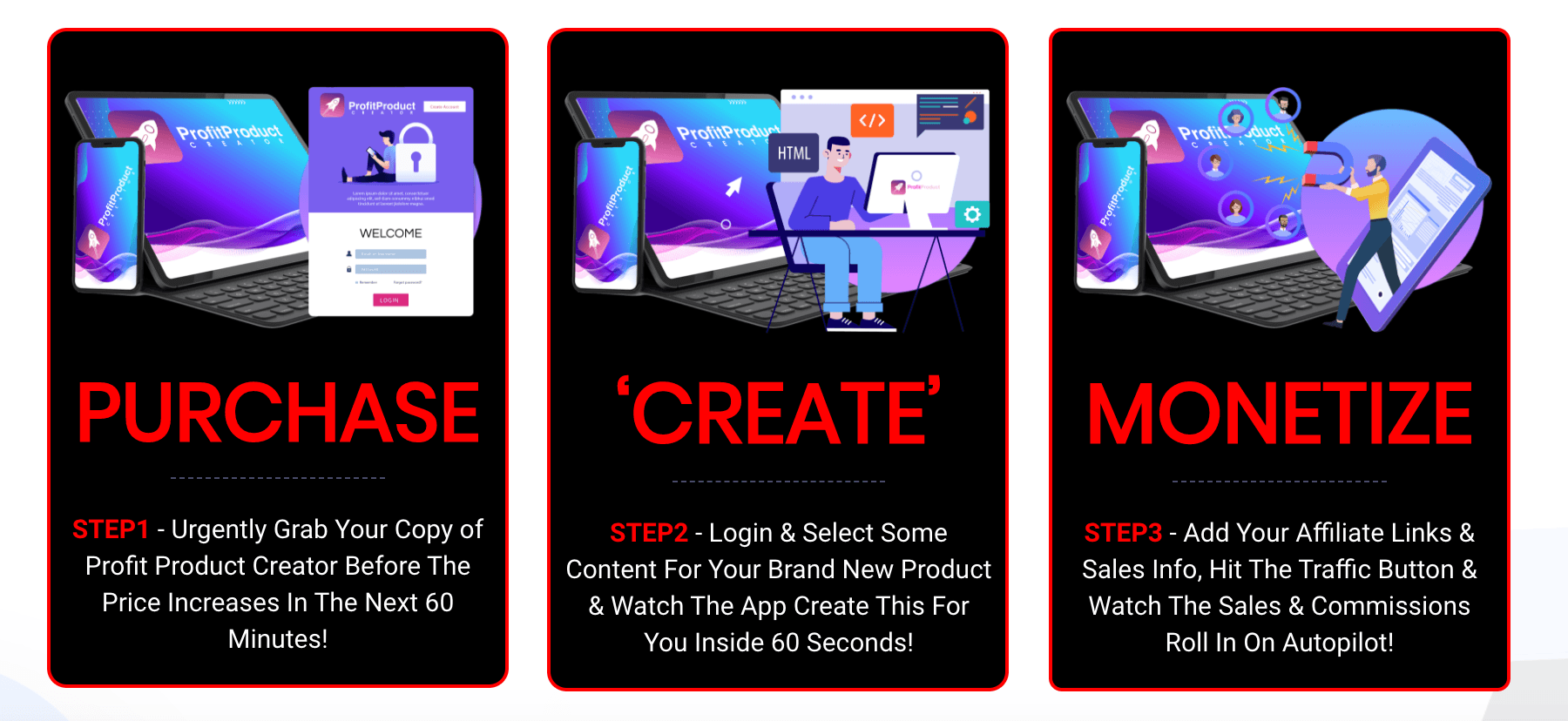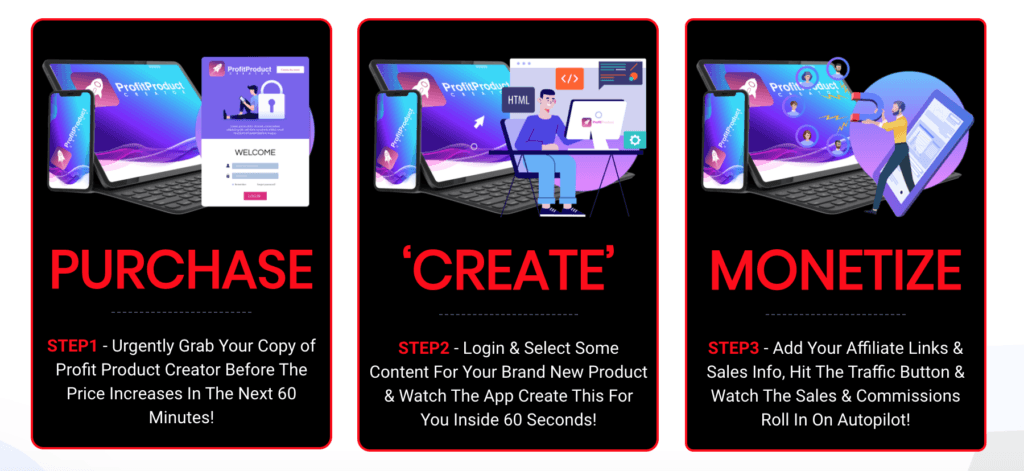 There are issues with this product besides the "borrowing" of another person's content.  They tell you it is legal, but I would highly doubt it is and if someone does find that you have used their content, you could find yourself in court.
There is also the fact that you will still need to pick the content you want to use, put it into an order that makes sense, etc.  The process will take you a lot longer than the 60 seconds they quoted.
Check out this demo and you will see that there is a little more to it then they tell you on the sales page. (be mindful of a sales pitch in this video, it is from someone more interested in getting you to buy it…)
Haven't Made Your First $1 Yet?
Studies have shown that more than 70% of the people who want to make money online have not made their first dollar yet. So, you're not alone!
How Much Does Profit Product Creator Cost?
Then there is the price, the fact they are offering it for a low price, but only if you "buy it now" is another sign that the owner is more interested in making money from you, then helping you make money.
Here is a full rundown of the prices that you will encounter once you are into their sales funnel…
Profit Product Creator – $17
OTO 1 – Unlimited Version – $97 upsell, $47 downsell
OTO 2 – 100% Done-For-You – $97/$47
OTO 3 – Unlimited Traffic – $97/$47
OTO 4 – $30K in 30 Days Vision – $97/$47
OTO 5 – Super Affiliate Version – $97/$37
OTO 6 – License Rights – $97/$67
OTO 7 – AUTOPilot List Builder – $47/$37
This is usually the part they do not reveal to you until you have already handed over your $17 thinking that this is a fantastic deal, only to then find yourself in a sales funnel where you have to pay to unlock some of the features they told you were included.
You have to pay to unlock the traffic they told you was included; they make some interesting claims with their "$30K in 30 Days module.
But these guys are experts at making something sound fantastic and before you know it you are out over $600.
Sorry, but we have seen many of these DFY products that claim to make you money on autopilot and they are really far from the truth.  If this product really did everything it claimed to do and was really worth your money, then it would be on sale for a lot more than just $17.
I bet some of those marketers on their sales page, like Neil Patel would hate to see that they are being used to promote such a low-quality product.  Neil Patel is one of the biggest names in Affiliate Marketing and offers tons of free advice on his website, if he knew that he was on their sales page without permission, I bet he would say something.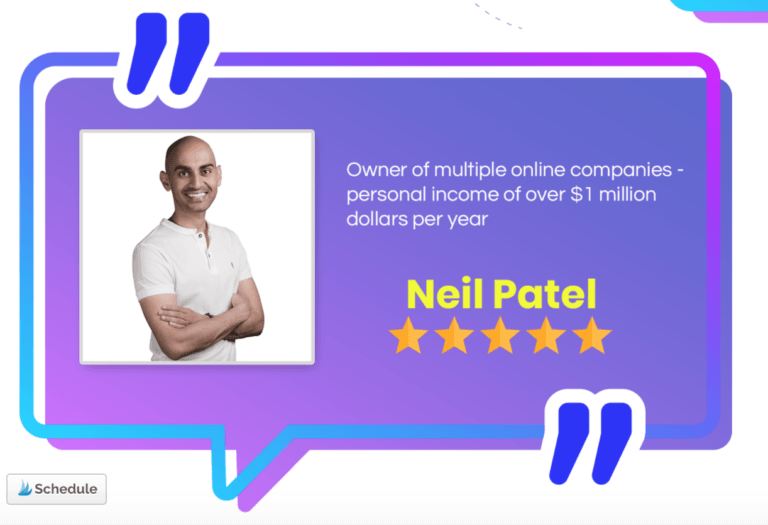 He may be making money from digital products.  But he would have took the time to create it himself and not plagiarise other people's products.
P.S. This program enabled us to Create a 4-Figure Monthly Passive Income Stream.  It's Free to get started and costs only $49/month to go full-time!
What We Liked About Profit Product Creator
Here is where we would normally write something positive about the products we review, but I have really struggled to find anything positive, due to the way they are marketing this product as a get-rich-quick scheme.  The fact they are talking about plagiarising another person's content is a big no-no for us.
What We Didn't Like About Profit Product Creator
Here is what we didn't like about Product:
#1 Full of Hype & False Promises
The fact that this product is steeped in hype should tell you everything you need to know about this product.  They prey on those people desperate for money and tell you what you want to hear.


But this is just a sales tactic to get you into their sales funnel.  $17 for a money-making machine sounds like the perfect deal.  But know that you will end up having to spend a lot more, without a guarantee of this actually working out like they say it will.
They make false promises, whereas a true marketer will tell you what is reasonably possible.
#2 Don't Expect Sales with Their "Free Traffic"
Again, their sales page makes it sound like you are going to get tons of free traffic from this software.  But these issues is the same with a lot of these MMO programs.
Their idea of generating free traffic is giving you the ability to share it on social media.  Which is not exactly that reliable, and you will typically only have your own circle to promote it to, unless you learn a little more about how to expand that circle.
The only way you get access to their "Free Traffic", which is an alternative is by handing over another $97.
But again, this traffic will not be as reliable as they make out.  It will be typically bots that are sent to your sales page.
#3 Promotes Plagiarism
This is a huge deal, as a website owner myself I don't see how they have any right to steal someone's else content to use for you to create an eBook.
In my book, it is illegal regardless of what they are telling you.
#4 Using Top Marketers to Promote (I Suspect Without Permission)
I would love to hear what Neil Patel says about them using him on their sales page to endorse this product.  He helps thousands of people with his content and I am sure he has created plenty of digital products, but he would not suggest you duplicate someone else's content for your own benefit.
If you want to create an eBook in a subject you know, you would do better learning how to create one based on your own knowledge then keep trying to take shortcuts.
#5 Pay to Play
This is like many of these programs, you need to pay a lot to get the full resources they offer, but still we are not convinced this will actually work.
You will end up with a digital product with this program, but without effective training you will not know how to share this product with people to buy unless you pay more with them or go elsewhere.
You might as well save your money and learn how to make money the correct way.
#6 100% Positive "Fake" Reviews
Last, but not least, you will find tons of reviews out there for this product that only go into the positives.  They will not even contemplate there are any issues with this product, and they will also offer you plenty of bonuses to buy it through their link. 
The reason they are only giving you the positives is because they will benefit from you buying through their link.  If you buy it and by all the upsells, they will earn commission from it.  If you fail and earn nothing, they will not particularly care as you have already given them your money…
Haven't Made Your First $1 Yet?
Studies have shown that more than 70% of the people who want to make money online have not made their first dollar yet. So, you're not alone!
My Profit Product Creator Review - Final Conclusion
Will Profit Product Creator help you build a digital product, yes?  But is it really going to live up to all the hype and false promises on their sales page, we do not believe it will?
There are too many issues with these types of program, mainly down to the fact they leave the part about getting traffic to your product down to you.  They will offer you some traffic, if you pay for it.  But Solo ads is rarely successful, and you will be totally reliant on them to get you any of it.  They also cost you money…
You are much better learning the correct way of generating traffic online, you can also learn how to turn a hobby into a profitable online business too without buying into a crappy IM product like this one.
We make money online via Affiliate Marketing.  It is our top recommended business model for anyone looking to make money online.  If you learn the correct way via our top recommended training program, you will be in a much better position to create your own digital product (if you so wish) and actually know how to generate high-quality free traffic to your product and make some serious money.
Affiliate Marketing allows you to make money from promoting other people's products, but once you know that, you can turn it to marketing your own products or both.
The point is that you can get started and learn the basics, without the need to even hand over any money.  Our top recommended training program has a FREE starter membership that will get you started on a road to making money online.  If you want to learn more, check out our Wealthy Affiliate review.
Thanks for checking out our Profit Product Creator Review!  If you have any questions or comments to add, then please write them in the comments section below. 😉