Welcome to our Jeunesse Review!
Has someone just introduced you to some anti-aging products from Jeunesse? Or have they told you about an exciting business opportunity where you can look younger and make money at the same time?
Are you wondering if it is the real deal, or that maybe wondering is Jeunesse is a scam?
We are so glad you are doing your research; it is the best way to avoid scams and find legitimate ways to make money online!
Jeunesse is a health and wellness MLM company, but that doesn't take aware the fact that Jeunesse is also an extremely controversial MLM company!
We will be answering all your questions about this company, can you really enjoy younger looking skin and increase your wealth too?  That is what we will be trying to determine.
Just to be clear, Gem and I are not associated with Jeunesse in any way, unlike many distributors who are trying to recruit you. 
We are here to give you an objective view, give you the full information they may not be telling you about this business opportunity.  Is it the right decision for you?  Well, hopefully you will have that answer by the time we have finished this review.
Let's get started with a quick overview…
Product Review Summary
Product Name: Jeunesse
Founder: Wendy Lewis & Randy Ray in 2009
Product Type: Health and Wellness MLM (Pyramid Scheme in Disguise?)
Price: $49.95 + upsells + minimum monthly order requirements of $85+
Best For: Those people who are good at recruiting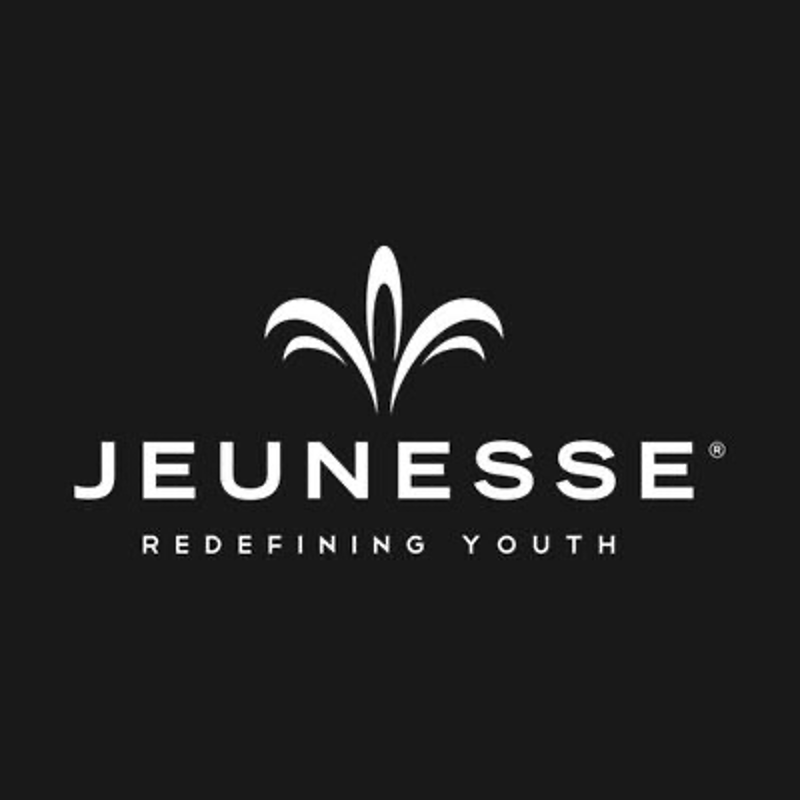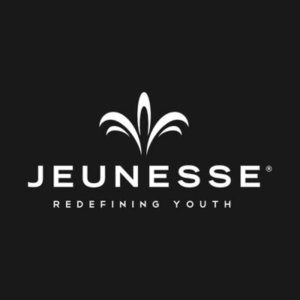 Summary:  Jeunesse is a health and beauty MLM company.  It has made some great achievements in terms of the growth of the company over the years.  But that time has also been clouded in a number of legal battles.  There is a huge emphasis on recruiting rather than selling the products they have to offer.  That focus has led to many people believing it is a Pyramid scheme and a number of these legal battles have been about that very subject.
I would not recommend Jeunesse Global purely for the fact around the pressure to recruit alone, let alone a number of other reasons which we will go through in our review.
Rating: 20/100
Recommended? No
Better Option: MLM is so restrictive and expensive to get started, why not have the freedom to promote any products you want without any pressure to do face-to-face sales and no recruiting at all?  Affiliate Marketing is how we make a living, and best of all it is FREE to get started.  Learn more about Affiliate Marketing HERE!
Jeunesse (pronounced Juh-Ness) or Jeunesse Global is a health, wellness and skincare Multi-Level Marketing (MLM) company, founded by Wendy Lewis and Randy Ray in 2009.
Their mission statement is this…
"The Jeunesse family creates positive impact in the world by helping people look and feel young, while empowering each other to unleash their potential".
Another way to think about that statement is that they focus on selling anti-aging products as well as offering a network marketing business opportunity for members to make money with.
I found it interesting to learn that Jeunesse was not Wendy & Randy's first venture into Network Marketing…
Some Background Info…
Before they created Jeunesse, Wendy Lewis and Randy Ray founded another network marketing company called Fuel Freedom International.
Fuel Freedom International sold micro-thin coating known as "MPG-CAPS" which claimed to help vehicles burn fuel more efficiently and reduced fuel consumption.
But independent testing proved that this actually didn't work.  It was just a way to make them money.
Strangely enough, after this venture didn't work, they chose to move away from the MPG-CAPS and launched an anti-aging face cream instead?  Completely random, right?
The positive thing about Jeunesse is that they are a company that is growing really fast.  In 2016, they achieved annual sales of over US$1.4 Billion!  This makes it one of the fastest growing MLM companies.
But alongside this exponential growth, they have also managed to get themselves into many controversies, a lot of media attention and a ton of lawsuits.  We will go through all the details shortly…
The Jeunesse Product Line

Jeunesse sells a range of products, including their anti-aging products.  They also sell a range of nutritional supplements, creams and gels.
We are going to list the main products, their purpose as well as their prices (which are typical MLM prices, I'm afraid):
Instantly Ageless ($74.95) – a facial cream to hide your under-eye bags, fine lines, wrinkles and pores for 6-9 hours
Luminesce ($44.95 – $137.95) – a series of skincare products to help restore luminosity, firmness and smoother skin
NV "Envy" ($55.95) – perfecting mist facial spray to give you an enviable, professional airbrush finish
AM & PM Essentials ($139.95) – dietary multivitamin supplements take in the morning and evening
RESERVE ($137.95) – antioxidant fruit juice
FINITI ($144.95 – $289.95) – a supplement
ZEN Bodi ($21.95 – $399.95) – an (expensive) health drink with fruit and plant extracts
M1ND ($137.95) – dietary supplement clinically shown to support memory and reduce mental distractions
MONAVIE ($175) – another health drink which contains 19 body-beneficial fruits and plant-derived glucosamine
Naara ($41.95) – a collagen drink
NEVO ($71.95) – an energy drink with no artificial flavours, colours and sweeteners
Whilst there are some beneficial products within this list, and some are even clinically proven and science-based it still doesn't justify the price in my opinion.
This is a major problem with most MLM's.  They are just over-hyped and over-priced products.
This becomes a problem when you consider certain aspects about their business opportunity.  More about that shortly.
How to Make Money with Jeunesse?
Jeunesse is running an MLM business model, so like other MLM's like Norwex, Melaleuca, Shaklee, Essante Organics, etc. when you sponsor a person into the business you get paid on the product pack they purchase.
There are 6 ways you can make money in Jeunesse, which we will cover off in a second.  But first we need to cover off, what it really takes for you to be eligible to earn that money… and why the main emphasis on most of these 6 ways is recruiting!!
Getting Started with Jeunesse
There are a few requirements that are to be met to be able to make money with Jeunesse and as with many MLM's this is the point where you start to realise the actual cost of getting started…
First off, to become their independent distributor you will need to pay a $49.95 upfront fee, this will get you a "Starter Kit".
Technically, this is all you need to spend to be able to start promoting Jeunesse products.
However, they will strongly encourage or even push you to purchase other product packages.  This product packages can cost all the way up to $1,800!
They will tell you that this will help you "jump-start" your business and give you a good head-start by purchasing such packages.  This will even make sense as they will also tell you that you will need sample products to show people to encourage sales…
But it is all really for a different reason.  Your upline (sponsor) will earn a commission on your purchase.  So, of course they are going to encourage you to buy the most expensive package as this will give them a bigger commission.
This is just one of the ways that many people get themselves deeper into debt around MLM's.  Do not blindly follow someone's suggestion just because you think it will earn you more money – Do your research!
The costs do not end there…
There is also a $19.95 annual renewal fee and you MUST order a minimum of $85 worth of products every month.
This is just to qualify you as being an "active distributor" and therefore eligibly for any commissions.
Can you now see why so many people lose money within MLM's and get themselves deeper into debt, and not get anywhere near the results these companies are claiming…?
Seriously, starting a business of your own doesn't need to be so expensive, especially with the internet being so accessible.
P.S. this program that has enable us to generate a 4-Figure Monthly Passive Income is FREE to get started and only costs $49/month to go full-time!
Jeunesse Compensation Plan Explained
Jeunesse offers 6 main ways to earn commissions:
Retail Profits – 35% commission on each retail product sale
New Customer Acquisition Bonus – $25 – $250 bonus when new downline purchases any of the jump-start packages (hence the desire to sell the higher priced packages)
Team Commission – this is based on the binary compensation plan concept, earn commission based on the performance of your 2 downline teams
Leadership Matching Bonus – bonus rewarded for helping your downline achieve certain ranks
Customer Acquisition Incentive – get a higher matching bonus commission percentage by recruiting more people within a certain period of time
Leadership Bonus Pool – get a percentage from the company's profit sharing once you achieve a certain leadership rank
MLM's compensation plans are highly complicated and we have done our best to simplify those 6 points, but there is much more to it than just what we have put above.
However, the most important factor you need to know about the Jeunesse compensation plan is that you are going to need to prepare to do a lot of face-to-face selling and most importantly, a lot of Recruiting!!
For a more in-depth look at their compensation plan, please check out their compensation plan PDF or you can watch the video below:
What We Liked About Jeunesse
Here is what we liked about Jeunesse:
One of America's Fastest-Growing Companies
Jeunesse is the only direct selling company listed in INC 500's List of Fastest Growing Privately Held Companies and they have also been in business for a decade now.  Many MLM's go out of business with the first five years…
Science-Based Products
Jeunesse has done a lot of research into their skincare products, including research in stem cells, DNA repair and antioxidants.
This does make their skincare products unique to many other MLM's where they just make claims rather than have the science to back up their claims.
But this can also make you think that all of their products have had this research done, and that would not be true.
This research only covers their skincare and anti-aging products!
The rest of the products, including their supplements follow the same route as all other health and wellness MLM's.  They are overpriced multivitamin products…
Something to consider if you are going to rely on selling them…
What We Didn't Like About Jeunesse
Here is what we didn't like:
Pyramid Scheme in Disguise…
There will definitely be those that disagree with me here, but I would surmise that Jeunesse is a Pyramid Scheme in disguise.  Not an outright pyramid scheme, as they do have products for you to buy and sell.
But the reason I would suggest it is more likely a pyramid scheme in disguise, is because the entire business model is focused on recruiting a lot people into their business opportunity.  The majority of the bonuses are laid out to reward you for recruiting people and then recruiting more people and getting them to buy these expensive starter product packs…
Let's go back to what the FTC considers to be a pyramid scheme.
According to the FTC, a company can be considered a pyramid scheme if the entire business is focusing more on recruiting members into the system rather than offering real products and services.
I get it, Jeunesse has its own products but their real focus is on recruiting and the problem is, the recruiting side is where the money is made.
Then you need to factor in what Kim Hui says, she is one of the top earners in Jeunesse: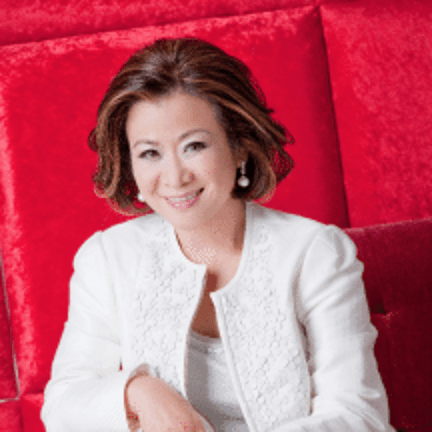 The First Thing We Do is Recruit!
"So first thing we've got to do is go out there and recruit… We're building a distribution channel if you would and so what we do – the first thing we do is recruit. What do we recruit? We recruit entrepreneurs…
And the second thing we do is that we teach other people how to recruit because this business is all about duplication. It's not about one person selling all the time cause that's linear income, you know, trading time for money. But this business model is about building distribution and about creating wealth…
And then the third thing we do is we teach other people on how to teach other people and so that's when true duplication happens… With wealth, with the money would be – we are paid to build our distribution network."
KIM HUI – Jeunesse Top Earner
Doesn't that just prove that there Jeunesse is all about recruiting people and it doesn't stop there…
Australian authorities have already taken action against Jeunesse due to the fact they consider them to be a Pyramid Scheme.  This is just one of the lawsuits that this company has faced… (more on that later)
Just know that if you are going to consider this business, you are going to need to do a lot of face-to-face selling and most importantly – Recruiting!
Don't get me wrong, recruiting isn't always a bad thing.  It can be a good way to build a sustainable business.  But it needs to be done with the right recruiting techniques and targeting the right people.
Here's the thing…
When everyone is entering the business just because of the money and not because they love the product, the business is nearly never sustainable.
To sell products effectively, you have to believe in the product.  But if you are just there for the money, then you will never really succeed.  When researching whether an MLM opportunity is right for you, consider which you are focusing on more – the products or the money. If you don't really believe in the products, then you will never get to the point where you are making money.
If the products are something you believe in and are selling because they are really going to help your target audience and are the best products, then the money will come.
If you chose a company because the compensation plan looks awesome, but you have no belief in the products, it doesn't really matter how good the compensation plan is, because people are not going to buy from you.
Stockpiling
In order to remain an active distributor and therefore qualify for commission, you need to have a minimum monthly order of 100PV, this works out to roughly $85.
But if you cannot sell enough products and meet the requirement, your upline will definitely ask you to purchase those products yourself so that you remain active.
I have also heard that you need to purchase the products first to then retail them to people.
This will lead to you having a lot of stock stacked at home.
There are even been examples of people desperate to shift some stock and they have resorted to selling their stock on Amazon or eBay.
This should not be something a legitimate MLM does, but unfortunately, they do.
This just pushes people into further debt, with little chance of clearing that stock.  99% of people lose money with MLM and with this issue you can see why.
Products Are Expensive
The products are extremely expensive, definitely overpriced.  Most MLM company's seemed to think they can charge these prices…
It will cost between $45-$300 just for one month's supply of ONE single product.
Can you see how running Jeunesse as a business is going to be a huge financial burden for many people, especially if you are just starting out?
FALSE Health & Income Claims
The bad stuff does not end there.
Through our research, we found a number of distributors giving inappropriate and unsubstantiated health claims.
For example, we have found distributors claiming Jeunesse products can cure cancer, lower blood pressure and other illnesses. This is definitely inappropriate, especially as Jeunesse products have not been evaluated by the Food and Drug Administration (FDA).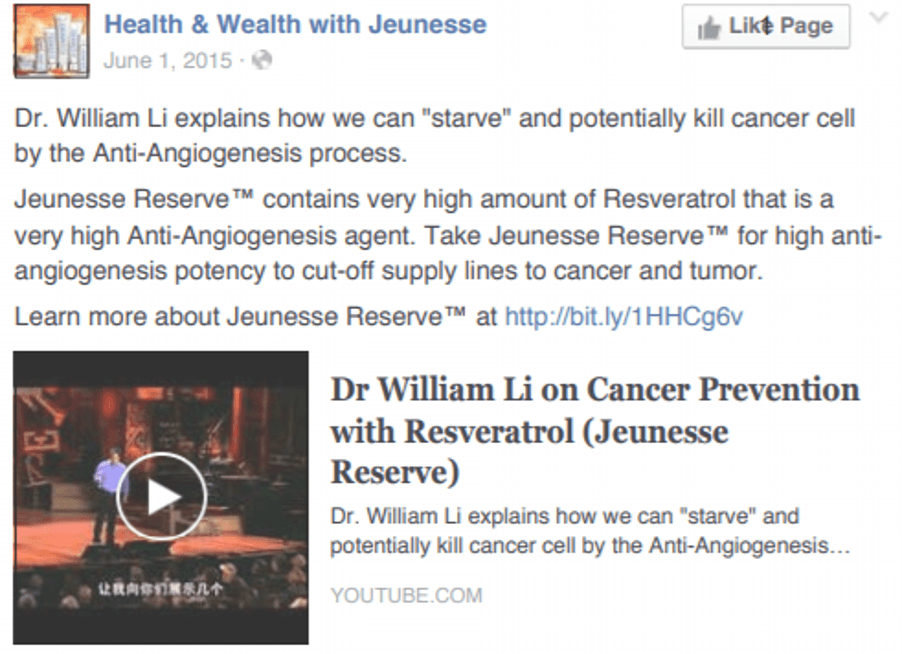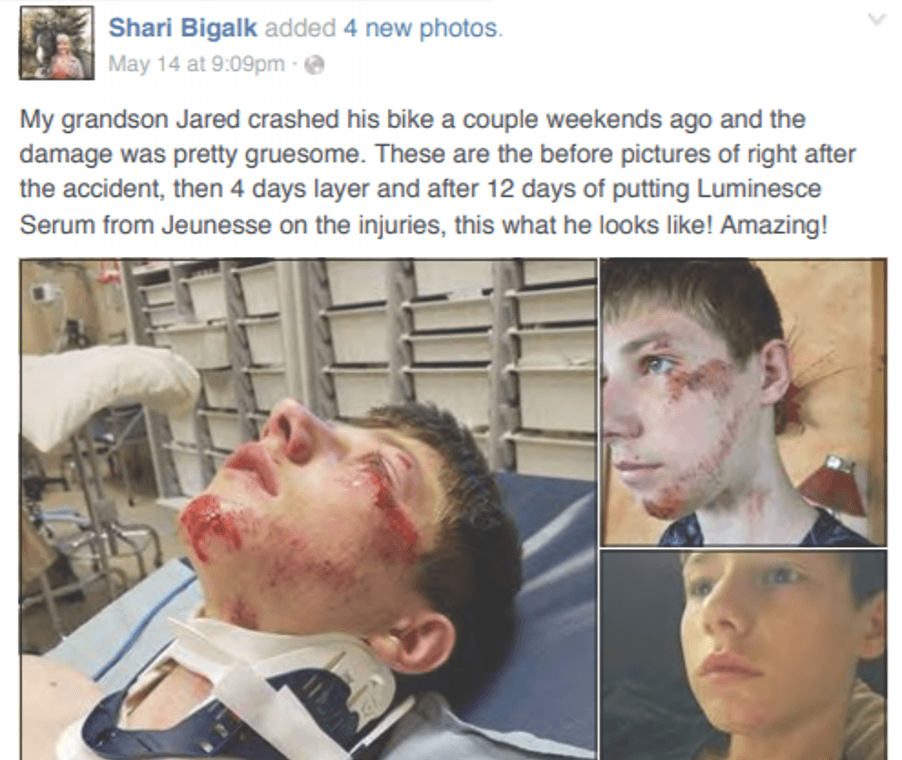 In fact, there is a huge database of distributors' FALSE health claims.  Check it out HERE!
Whilst Jeunesse does disclose that their products are not intended to diagnose, treat, cure or prevent any diseases, these claims come as a fault on the company's behalf in regard to providing proper training to help distributors promote their products legitimately and truthfully.
As well as the inappropriate health claims, there are also distributors using deceptive income claims to promote their business.
Again, it is totally Jeunesse's fault, but the problem goes back to a lack of training for their distributors!
Lawsuit After Lawsuit
To date, there have been at least 16 lawsuits filed against Jeunesse, this includes 4 class-Action Lawsuits around whether Jeunesse is a Pyramid Scheme or not. (Source: TINA.org)
Since 2016, Jeunesse has faced 4 separate class-action alleging it is a pyramid scheme.
The latest action was file in a California federal court by Blake Lindemann, an attorney who has sued multiple MLM businesses making similar pyramid scheme allegations.
"The 30-page complaint, which, in addition to naming the company, also names top Jeunesse distributor Kim Hui and 10 unknown Diamond Director co-conspirators, claims that "Jeunesse admitted through its top-earning distributorships, that its method of operation constitutes a pyramid scheme," and "[i]ts distributors also make unrealistic financial promises, such as being able to make millions of dollars per year." The lawsuit further alleges that "Jeunesse uniformly misclassifies all of its representatives as independent contractors when they are, in fact, employees."
See the full article HERE.
These are the facts about this company, so my question to you is would you still want to be involved in a company such as this?
Many Have Already Failed!
Last but not least, the success rate and income potential is something that you must always check out when researching an MLM.
But as we check out the 2019 income disclosure statement, they don't even give you any detail into the income their distributors are earning.
It tells us that of the 9,139 U.S. distributors who have been active in 2018.  19.4% of them did not earn any commission.
AS for income stats, here they are:
96% earned more than $245 in 2018, the rest earned less
14% earned more than $4,350
12% earned more than $82,000
Reading between the lines, that is a big jump but that also tells you that considering you need to spend $85 a month to stay qualified, 59% of distributors made at least $245 but spent a minimum of $1,020 on their monthly quota.
Even if you factor in the 13% that made $4,350.  That works out to 362.5 a month – $85.
It just doesn't make financial sense.  The income disclosure statement also says it took an average of 6 years for that 2% to achieve those kinds of earnings.
But it comes back to the point around building a pyramid under you and focusing on recruiting, and the top of the pyramid is always where the money is within MLM.
But unless you are already good with sales and recruitment and are still interested in joining a dodgy company like this one, you are going to find it extremely difficult to earn enough to cover your outgoings with this business opportunity.
My Jeunesse Review - Final Conclusion
We have to be careful, as we write this review, they are technically not considered a Pyramid Scheme by the FTC, therefore we cannot say it is a scam.
But this could change depending on the stance of the FTC.
Considering there have been 4 class action lawsuits against them on the topic of whether they are a pyramid scheme should give you enough alarm bells around this though.
It is a clear sign that no matter how good their products may be, we should stay away from this company at all costs.
The FTC have received a number of complaints about Jeunesse.  In fact, a leading expert economist with the FTC recently issues a report declaring Jeunesse a Pyramid Scheme.
You do not want to have invested money into a business that gets outed as a Pyramid scheme…. If they are shut down, you will lose any money you have invested and could potentially be investigated yourself for touted the company.
A quick example would be MOBE or Digital Altitude…
They were both really popular and seemed to be making people good money.
But they were both operating Pyramid schemes and were eventually shut down by the FTC.  Anyone who was involved in the business were shocked at how quickly everything happened.
They found their entire business and source of income were gone. I am worried that anyone getting involved with Jeunesse could find themselves in that same boat.
Final word, we are advising you to stay away from this business opportunity.  Regardless of how good the anti-aging products are, unless Jeunesse completely changes the way they operate, they could be taken out of business.
We have reviewed many MLM's and we are not particularly a fan.  The health and wellness niche is heavily saturated with all the companies you will find in that area like Norwex, Melaleuca, Shaklee, Essante Organics, Youngevity, etc.
They all have slightly different approaches, but the business model is still the same.
The problem with MLM is it is so restrictive and has an expensive start-up cost.
Our top recommended business model for anyone looking to make money online is Affiliate Marketing!
The reasons are simple…
No need to do any face-to-face selling or recruiting
You can promote any products you like and not restricted to promoting products from one MLM company
It's FREE to get started
In fact, with affiliate marketing, we have been able to create a 4-Figure Monthly Passive Income Stream!!  With the right training and support, you can to.  Click HERE to learn how.
Thanks for checking out our Jeunesse Review.  If you have any questions or want to share any experiences you may have had with this MLM or any other, please write to us in the comments section below.  Thanks