Rain International does offer a number of good products in the health and wellness sector, but I am more interested in the question – "Is Rain International a Scam?"
There are plenty of ways to make money online, but there is a lot of concerns about MLM's and for good reasons.  Most share some similarities with Pyramid Schemes and those are definitely the ones to stay away from.
First off, congrats on doing your research and after reading our review about Rain International, you should know everything you need to know about this MLM business.
Product Review Summary
Product Name: Rain International
Owner: Byron Belka
Product Type: MLM Business in Health & Wellness
Price: $249-$1259
Best For: No One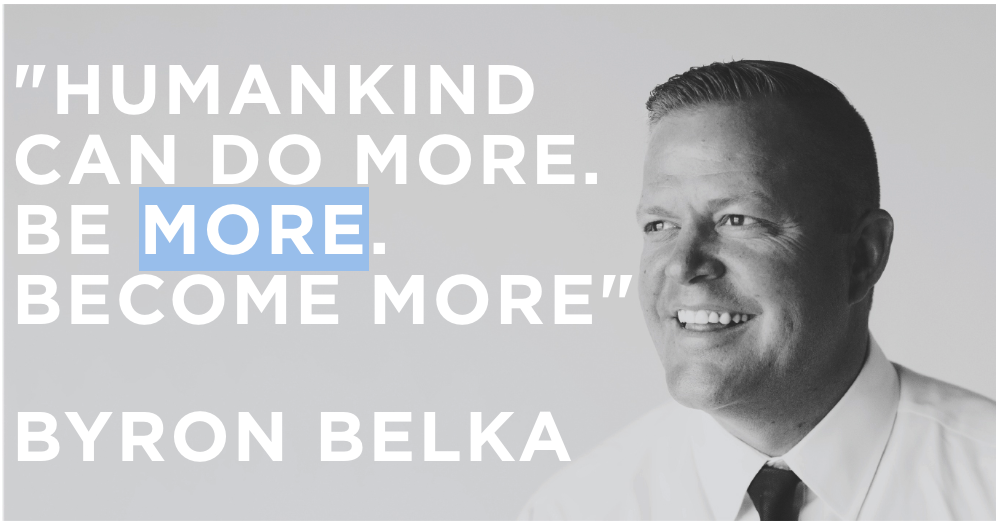 Summary:  Rain International offers a range of products in the health and wellness sector and is a typical MLM company.  As like most MLM businesses, there is a huge emphasis on recruiting new sellers to be able to make any money.  Most of their revenue comes from their direct sellers buying the products, they also do not have an income disclosure which is a major red flag.  This is usually because their sellers do not make any real money.
We definitely do not recommend this program to anyone.
Rating: 10/100
Recommended? No
What Exactly is Rain International?
Rain International is an MLM company.  It has a number of various health products that are seed based, that you can promote as one of their direct sellers. They are nutrition pack supplements for your body.
In exchange for selling these products you will receive a commission as well as earning money if you recruit someone else to become a seller.
An MLM company typically doesn't spend any money on advertising and rely on direct sellers or distributors to promote their product range.
Rain International has been established for a long time, as it was launched in 2009.  A lot of these MLM companies do not last that kind of length of time, so this is a good sign for Rain International.
Although as Rain International is located in Utah, where it is pretty easy to start a business there because of the limited regulations doe beg the question about why so many MLM businesses decide to setup shop there…
Is Rain International an MLM or a Pyramid Scheme
It is very easy to confuse the two models and accuse most MLM's of being a Pyramid Scheme.  Most MLM's have elements of a pyramid scheme but are not outright pyramid schemes because of one factor.
A pyramid scheme is where you only recruit into the system.  That is how you make your money, but as most pyramid models will show you.  Only the guys at the top are really the only ones making any money.
If Rain International only offered you the opportunity to earn money from recruiting, then yes it could be a pyramid scheme.
But because they also allow you to promote their products to customers for a commission, that is what makes they MLM.  As there are a number of ways you can make money.
However, you must understand that it is a very fine line between the two and whether you are able to actually make any money with Rain is another story which we will get into shortly.
Can You Expect Success with Rain International?
Look, MLM's do not tend to have a great success record.  Most Income Disclosures for MLM's are not great to read if you are thinking about joining one.  You would like to read one that shows most are making money, but that is never really the reality.  Hence why the pyramid does kind of sum it up.  If you are at the top of an MLM or Pyramid scheme, then you are going to make money because the people below you are making money.  But if you are at the bottom, you are going to find it extremely hard to make money.
But the scary thing is that whilst Rain International has been around for ten years, they do not provide an income disclosure.  This is a major concern for me, that kind of makes me think that hardly anyone is making money with this MLM.  Even if you went with the industry standard, it would not make for pretty reading.
Here are some facts about MLM programs:
Between 75%-99% of people lose money when joining an MLM
If you are one of the ones that make money with an MLM only make less than $400 a month
70% of those who join an MLM say they would never join another
50% of people left an MLM because they didn't want to sell to friends and family as it felt awkward…
MLM only works for a select few and you need to be one of those who can climb to the top very quickly and for most of us, the pushy sales technique is not for us.  That is why there are better options out there.
What Products Do Rain International Offer?
There are two ways you can make money from Rain International.  One is by recruiting new people to become sellers and the other is by promoting their product range.  Let's look into their product range first.  They products on first glance are really good, and they also receive positive reviews.  But we are more interested in the money-making opportunity they present.
So, there are four different products available for you to promote:
Soul – Restores
Core – Cleanses
Form – Builds
Revri – Skin Care
How Much Does Rain International Cost?
There are a number of different packages for you to choose from when joining Rain International:
Business Builder $249
Professional Builder $599
Rain Elite $919
Super Elite $1259
What is Rain's Compensation Plan Look Like?
MLM companies seem to think that the more complicated they make the compensation plan, the better.  Seriously, Rain's compensation plan is no different.  To read it fully and understand it, it takes a 24-page PDF… If you don't believe me, take a look and read it here.
Or you can check out the video below.
If you prefer, I have written a summary of their compensation plan here:
Retail Commissions
Most MLM companies will let you promote their products and you can earn a commission on every sale.  But not at Rain, it works a different way.
You will need to buy their products in bulk and then sell them to customers at your own price.
This is what I would call a risky move, as you could end up losing your money and being stuck with a load of stock if you cannot shift it.  I am guessing it will have a limited shelf life too, as it is organic products.  Definitely something to factor in as well is where are you going to store your stock.
I wouldn't recommend this method, personally.
Preferred Customers
If you can convince a customer to order on a regular basis, you could earn money from making a customer a preferred customer.  This is where they become a monthly buyer.  Rain will auto-ship to this customer each month and you can receive a $10 commission for every $40 that customer spends.
Affiliate Rank
AS you sell more products and recruit more people to become a direct seller, you will start to rise in the ranks.  There are a number of ranks starting from the bottom and as you climb you will receive more perks.
The different ranks are:
Associate
Rain Associate
Manager
Senior Manager
Bronze Executive
Silver Executive
Gold Executive
Platinum Elite
Pearl Elite
Sapphire Elite
Diamond Elite
Black Rain Diamond
Like we said, there are more incentives and perks as you climb the ladder but know that you will never climb high enough solely based on how many units you can shift on your own.  You will need to be able to recruit others into selling and joining your downline to make it worthwhile.
First Order Bonus
When you are able to recruit someone into the system, you will receive a commission that will depend on how much they spent.  Typically, this would be between $30-$90 per recruit.
Residual Commissions
This is where, if you can get it right will earn most of your money.  It is also the part that closely resembles the pyramid scheme.
The commission structure is binary and will look like the following: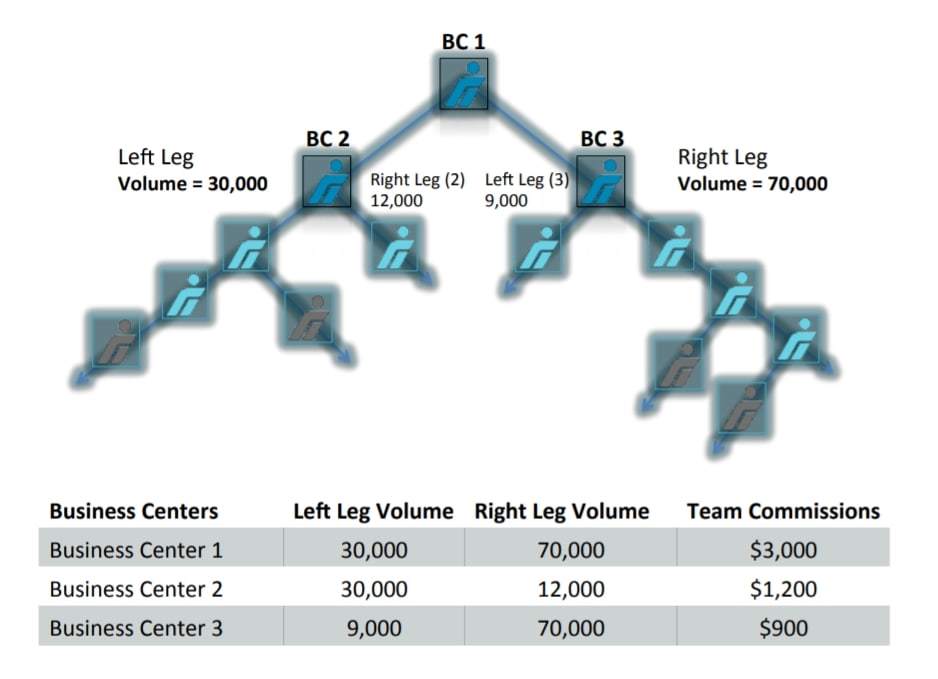 How much money you can earn will depend on your legs group volume and your rank.  If your leg sells more and you have a higher rank, you will earn more.
What is Good About Rain International (PROS)
Here is what we liked about it:
Length of Time in Business
With a lot of MLM businesses folding or being outed as a scam, it is a positive thing about Rain International to know that it has been around for ten years.  This reduces the risk of the company closing and you losing everything you have worked for.
What Could Rain International Improve on? (CONS)
Here is what we didn't like:
You Need to Be Able to Recruit!
You are going to have to be able to sell this MLM to others to make an real money from it.  The retail commissions are a tough one, when you are going to have to buy them to be able to sell them and then you are going to need to be competitive with other sellers.  But you are not going to be able to make any real money until you are able to climb that ladder and be in a higher rank. 
That is going to require you to focus on recruiting.
You Need Customers to Auto-Ship
This is what closely resembles the pyramid scheme, a large portion of the Rain's revenue comes from affiliates buying products.
Little Chance of Success
The fact is that MLM's are extremely difficult to succeed with and most walk away without earning anything and most lose their initial investment and never make it back.
You Will Have to Sell to Family & Friends
This is a common problem with MLM's.  You normally have to try to recruit family and friends to make your first sales.  This often leads to problems with those relationships and I don't feel making money is as important as your relationship with your family…
My Honest Opinion of Rain International - Is Rain International a Scam?
That is the difficulty of most MLM's, answering the question about whether they are a scam or not.  But the majority of MLM's are typically bad business opportunities.  Is Rain International a scam or a bad business opportunity – I would say it is a definite bad business opportunity and borders on being a scam.
The only thing showing that it isn't a scam is the length of time it has been in business – 10 years.
But after checking out Rain International, I would say whether it is a scam or not this is not the right option if you are looking at making money online.
Want a Better Option for Making Money Online...?
We are hoping at this point you can see that Rain International is not a great opportunity as the chances of success are extremely low.  But we want to suggest a better option!
If you want an option that has a better chance of success and all it will require is some time and effort, then we suggest you do some research into affiliate marketing.
It is the business model we use to make money, and the risks are much lower than those of an MLM business.
The main benefit of Affiliate Marketing compared to MLM is the fact that you are not going to have to recruit new members to make money.
Affiliate Marketing allows you to choose any subject you are interested in and promote products and services within that market and earn commissions every time someone follows your recommendation.
If you are still interested in the health and wellness market, then you can start an affiliate marketing website writing and helping people within that specific area.
You can also sign up for free affiliate programs that include products and services within that market, and you can promote their products and make commissions every time someone follows your recommendations.
No Need to Pay to Sign up with an Affiliate Program, Amazon is Great for Beginners
No Need to Buy or Store any Stock
No Need to Convince People That the Products Are Worthwhile
All you do is Help People and Make Money from that
Affiliate Marketing is the exact business model we use to make money and we can also help you get started with the same training and support we received when we first started out:
If you are serious about making money online, then there is no better platform to learn affiliate marketing than Wealthy Affiliate.
The best part is that you can get started with Wealthy Affiliate for free and there is no pressure to bother your family and friends to make sales.
Click the button below to learn more about Wealthy Affiliate and what they have to offer you:
Thanks for checking out our Rain International review.  Have you any experience with Rain or any other MLM?  We would love to hear from you.  Write any comments below.  We will also answer any questions you may have if you write them below.  🙂