Welcome to our ByDzyne Review!
Has someone mentioned an opportunity to you, to work from home and make some money selling smartwatches, and some other stuff?  And you're wondering if ByDzyne is a legitimate opportunity, or is ByDzyne a scam?
First off, it's great to see that you're doing your research before buying into any "seemingly good" product.
That is how you avoid scams and find only legitimate ways to make money online!
To be completely transparent with you, we're not associated with ByDzyne in any form.  We're not here to pitch or sell you anything.
Instead, we want to reveal to you what this MLM company has to offer.  It may not be a scam, but that doesn't necessarily mean it's the right business opportunity for you…
So, our ByDzyne review will go through all the details you need to know, to be able to make an informed decision.
Let's get started with a quick product overview… 
ByDzyne Review Summary
Product Name: ByDzyne
Founder: Nat Puranputra, Chanida Puranputra, Chad Chong, Nattida Chong, Henry Mash, Sophie Wong
Product Type: Technology & Personal Care MLM company
Price: $39/year + $300-$5,000 product pack + 60 PV Monthly Quota
Best For: Those capable with regards direct selling and recruiting a downline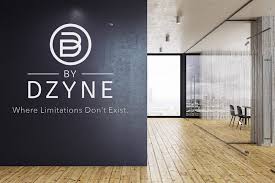 Cons
Low Success Rate
The Products Are Expensive
Hidden Monthly Costs/Expenses
Pyramid Scheme in Disguise?
Summary: ByDzyne is an MLM company that offers a range of products.  Rather than focusing on just one market, it has targeted quite a few, including technology, travel, and health and wellness.
The company offers a business opportunity where you can sell these products to people in return for commission.  However, there are a few concerns around this company, including the overpriced products which points to ByDzyne potentially being a pyramid scheme in disguise. The hidden monthly costs, and the dropping interest in the brand.
Overall, I'm not convinced this is a great business opportunity, and with the really low success rate of MLM, I don't think this is a great one to recommend to you…
Rating: 20/100
Recommended? No!
ByDzyne is an MLM or Multi-Level Marketing company, and it was launched in 2018.  Rather than targeting just one industry, it has gone with targeting several… These include technology, beauty, health and wellness, and the travel sector.
The company was founded by a group of people, including Nat Puranputra, Chanida Puranputra, Chad Chong, Nattida Chong, Henry Mash, and Sophie Wong.
They have all been involved with MLM companies in the past, which isn't necessarily a good thing.  They all seem to have been involved in companies that have been called out as scams, or as having scammy features. 
Examples include World Global Network and Wealth Generators.
If you'd like to learn a little more about the ByDzyne company, you can watch this 3-minute video…
With ByDzyne being an MLM company, and their owners having been involved in shady enterprises in the past, I think it's important we cover off an important question before we continue… and that is whether or not ByDzyne is a pyramid scheme?
Is ByDzyne A Pyramid Scheme?
No, I don't think ByDzyne is a pyramid scheme…
The company provides a legitimate product range, and their members can make money from selling these products alone, without the need to recruit anyone…
However, there is still the option for recruiting, so a more prudent question to answer would be, Is ByDzyne a Pyramid Scheme in Disguise?
What's A Pyramid Scheme?
A pyramid scheme is a company that promises payment to members for the recruitment of new people into the company, rather than selling any products.
In fact, most pyramid schemes don't actually have a product to offer, and when they do it's just a token product to try and fool the authorities.
They are illegal in the majority of countries, as all of the members cannot earn money from a scheme like this.  The only money coming in is from new recruits, when they slows or stops, there is no money for anyone to earn.
This diagram from Wikipedia shows why…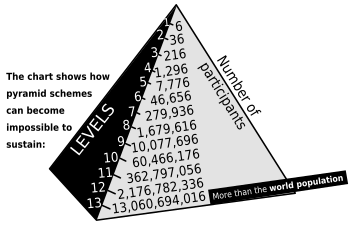 This diagram shows that if you were to recruit 6 people into a pyramid scheme, and everyone only recruited 6 people – you'd run out of people (in the world) after the 13th level…  Hence, they are unsustainable.
These people make money by selling the business opportunity, rather than selling any products.  But there is a limit, as the diagram describes.
So, ByDzyne isn't a true pyramid scheme, but many MLM's could be considered a pyramid scheme in disguise, and it's because not many people actually make decent money just by selling the products.  You have to explore the recruitment side of the compensation plan, if you want to do that…
You can learn more about this so-called "Pyramid scheme in disguise" in this 5-minute video…
But why is that the case…?
Success is Rare at ByDzyne...
MLM is much harder than many people think it could be, when they first get started with one.  But it gets even harder when you join an MLM like ByDzyne when they have a monthly sales quota to achieve…
In fact, between 73% and 99% of all MLM representatives lose money…
This happens due to these MLM companies putting a monthly sales quota on you to ensure you stay "active" and eligible for commissions.
So, you have to sell so many products a month to earn commissions from your sales…
But what if you're unable to do this?  Well, your only option is to buy the products yourself to meet the quota.
That's why most MLM reps, including those at ByDzyne are losing money every month.  This is before they are able to start building a network to sell these products, or to recruit some people into your team…
We'll share what we found out from their income disclosure statement later in the review…
Like I said, ByDzyne has a range of products in many different industrys, including technology, health/beauty and wellness, and travel products.
They also offer an affiliate program where regular people can become agents or representatives, and sell these products in return for commissions.
On the surface, it might seem like a good business opportunity and a chance to work from home.
There are benefits on both sides – The MLM company doesn't have to spend millions on expensive advertising campaigns when their reps can do all the selling for them.  The members (if they are able) can earn commissions…
Let's take a look at the product line at ByDzyne…
Part of researching into a potential business opportunity is to understand what products do they offer, are they well received, and offer value for money…
Instead of focusing on one industry, ByDzyne has focused on 5 markets, these are:
Technology
Beauty
Wellness
Lifestyle
Wealth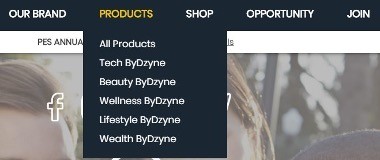 We'll go through a few of their best-selling products here…
Xceler8 – $185
This is a skin regimen that improves skin cell regeneration, which helps remove wrinkles, dark spots, and improve skin complexion…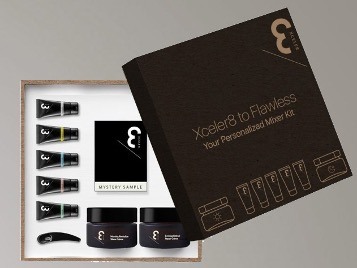 Allur Relief Balm – $185
This is a hemp extract that is used to relieve aches and pains in different parts of the body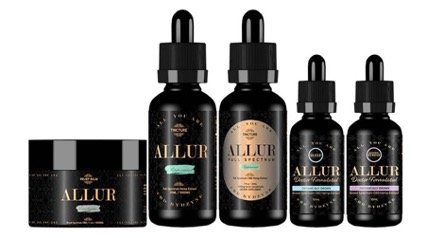 Regardless of the claims made by ByDzyne about these products, you should know that there are many different companies that all offer, pretty much, the same products.  All MLM's, especially in the health and wellness sector have very similar products all claiming to be a miracle product.
Some of the more notable MLMs are:
They all claim to be special, and claim to stand out from the other brands, even though they are all selling very similar products and a very similar business opportunity.
So, what does ByDzyne have to stand out?  What is their flagship product, and does it make them unique?
ByDzyne Flagship Product – TUW Smartwatch – $428
Their flagship product is a smart watch, that keeps track of your overall health and wellness, with the help if its touchscreen display that's wrapped around a steel magnetic band.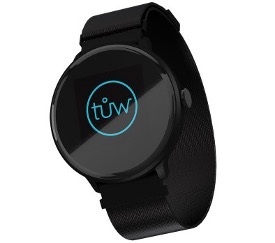 If you want to learn about this smartwatch, you watch this short video ad about the ByDzyne smartwatch…
It might sound interesting, but what you have to factor in is, that by pricing it at $428, they are putting their product up against smartwatches from companies like Apple and Samsung.
Both brands have worldwide recognition, and awareness from people who are interested in buying a smartwatch… With Samsung have a well-reviewed smartwatch that only costs around $200…
Does the ByDzyne smartwatch stack up against these other products, I wouldn't be convinced.  
Remember, to make this business opportunity to work for you, you'll need to sell these products to make money. 
Let's look into that now…
Haven't Made Your First $1 Yet?
Studies have shown that more than 70% of the people who want to make money online have not made their first dollar yet. So, you're not alone!
Can You Make Money with ByDzyne?
I think, you'll have a really hard time making money with the ByDzyne business opportunity.
There are some people who are earning good money, but they are the people who are expert sales people and capable recruiters.  So, the question would be better answered by whether or not you believe you'll be able to make the difference.
But when you take a look at their income disclosure statement, it shows that 84% of their distributors made an average of $0.84!

There are very few that do manage to climb the pyramid within their structure, but the stats show how difficult this business opportunity is going to be to make money with ByDzyne.
And on that, how do you make money with ByDzyne?
How to Make Money with ByDzyne?
ByDzyne is a typical MLM, so they offer the usual two ways for you to make money with their business opportunity.
Selling their products for retail commissions
Recruiting members into your downline, and earning bonuses based on their sales.
It's important to point out, that you don't earn directly from recruiting people, that would make ByDzyne an outright pyramid scheme.  What you will do is earn bonuses based on your team's sales, etc.
Now, let's get into the costs of joining ByDzyne…
How Much Does ByDzyne Cost?
There is annual fee of $39 to become a member.
Then there is the cost of buying one of their business kits.  They have five available, each including products and discounts, etc.
The five business kits cost:
Basic Kit – $300
Advance Kit – $1,200
Promo Kit – $1,600
Premium Kit – $2,500
Founders Kit – $5,000
You should know, that if someone is trying to recruit you, they will naturally try and get you to buy the biggest kit, as they will say that will give you a bigger chance of success, but really it means they earn a bigger commission from the sale…
ByDzyne Monthly Costs…
You should also know, that the costs don't stop there…
To remain an active member, you'll need to maintain a 60 PV (personal volume) every month.  This means that you'll need to sell at least $60 worth of products to remain active.
If you are unable to do this, you'll need to buy $60 worth of product every month.
When you think back to the income disclosure statement, every one of those 5663 reps who were making an average of $0.84 in that year.  Had to spend $720 on products that year too.
That is how these MLM's make their money, they make their reps/distributors, whatever you want to call them, become their biggest customer base.
Bottom line, for your first year, you would need to budget for the following costs:
$39
$300 – $5,000
$60 x 12 – $720
So, you'll need to factor in expenses of between $1059 to $5,759!!
That is before any other costs, such as training, fuel, travel, etc.
P.S. This program enabled us to Create a 4-Figure Monthly Passive Income Stream.  It's Free to get started and costs only $49/month to go full-time!  
ByDzyne Compensation Plan
ByDzyne's compensation plan is very complicated, just like any other MLM's compensation plan.  It's filled with jargon, lengthy and there are a lot of factors you have to consider…
To make it simpler, we're only going to go over the most important factors you need to know about.
ByDzyne offers members three main ways for you to earn money…
Retail Commissions – earn between 10$ and 20% on commission from every sale you make
Recruitment Commissions – earn 20% to 30% commissions from your downline members, this depends on their rank
Strong Leg Commissions – Earn 5% commission from the sales of your newly recruited members

Don't worry if you're still confused… I think MLM companies like it that way…
The main things you need to know are, there are two main ways to make money.  And, it'll require you to work really hard to make a dent, before worrying about the different affiliate ranks, etc.
If you'd like to learn a little more about their compensation plan, you can check this video below…
No, I don't believe that ByDzyne is a scam.  They have a legitimate range of products, and they pay people when they're able to sell products.
However…
When you factor in the high proportion of their reps that are losing money, understandable they become disillusioned with the company, and start labelling the company as a scam.
They may not be a scam, but there is definitely evidence that most of their reps lose money…
The remainder of our review, will help you get all the details you need to make an informed decision about whether this business opportunity is right for you…
Just to be completely transparent with you, I'm not a distributor of ByDzyne, nor do I endorse ByDzyne in any way.  I have researched the website, testimonials, and information available on the internet to get the details about what this program genuinely does.    I do this, as I have been caught out by a scam in the past, and am trying to help others avoid a similar fate…
What We Liked About ByDzyne
Here's what we liked about ByDzyne:
#1 Wide Product Range
Their product line does attract a wider audience, due to them offering products in several different sectors.  If you had interest in technology or travel, over the health and wellness sector.  This business opportunity would work with that…
What We Didn't Like About ByDzyne
Here's what we didn't like about ByDzyne:
#1 Low Success Rate
It's going to be really hard to become successful within the ByDzyne company.  Their income disclosure shows how many of their reps are losing money, and only the select few at the top are making decent money.  There are a number of reasons as to why it's going to be hard, including…
#2 The Products Are Expensive
This is usually a sign that an MLM is operating as a pyramid scheme in disguise… Instead of offering affordable products that offer quality, they sell overpriced products that aren't really that good.
Think about it, why would you spend $185 on Xceler8, when you could get better products for a much lower price elsewhere…
Why would you buy a $428 smartwatch, that only does fitness stuff, when you can get an Apple or Samsung one, with all the features they offer, plus tracking your fitness.
These are all things you're going to need an answer for, to be able to convince people to buy your products.  As selling products is only one of two ways to avoid the next point…
#3 Hidden Monthly Expenses
If you aren't able to sell $60 worth of product a month, then you'll need to buy the products yourself.
This means you end up spending a lot more than you make… It also makes their members or reps, their biggest customer group.
The company aren't bothered, as they have over 5,000 reps at the bottom rung all buying $60 worth of product every month, even though they are only earning an average of $0.85!!
Other than hopelessly trying to sell their products, there is only one other way of avoiding having to buy all these products, and that is by recruiting a team.
#4 Is ByDzyne a Pyramid Scheme in Disguise?
There's only really one legit way to avoid having to spend $60 a month of products, and that is by recruiting members… Here's a diagram of how that works…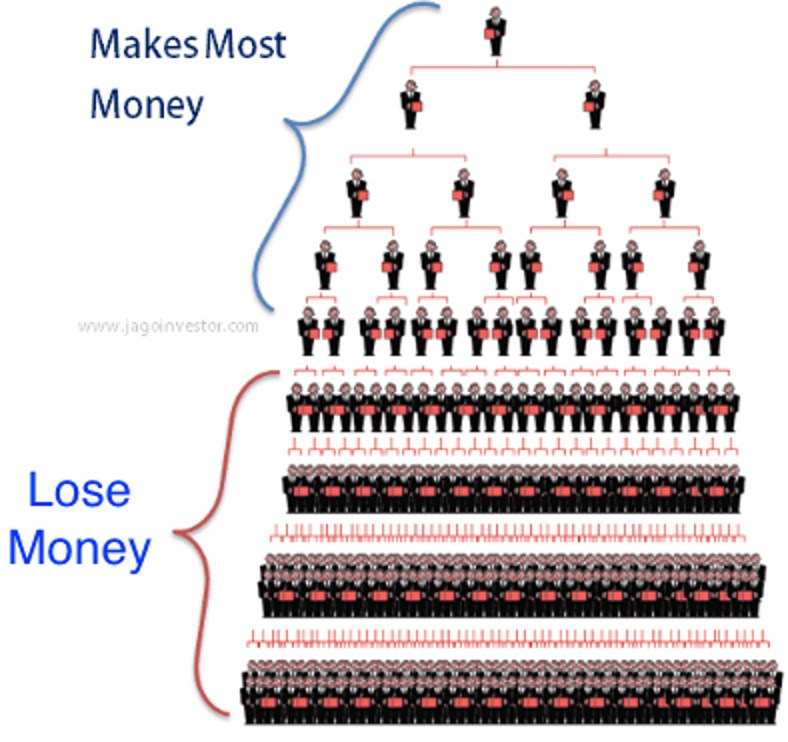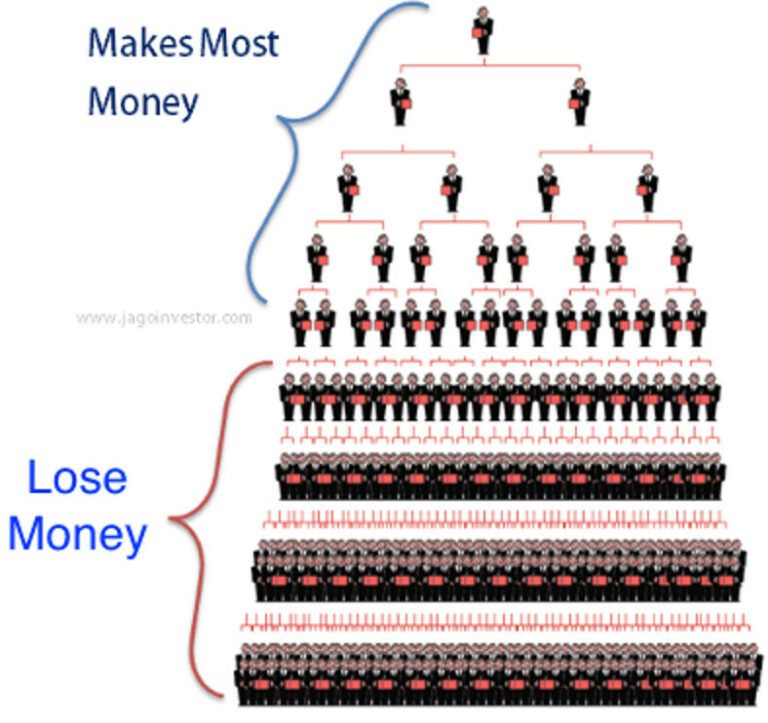 If you can recruit a big enough team, so that they do all the selling for you, then you don't need to be buying products yourself every month.
It doesn't sound right, but that is how MLM's work.
Haven't Made Your First $1 Yet?
Studies have shown that more than 70% of the people who want to make money online have not made their first dollar yet. So, you're not alone!
My ByDzyne Review - Final Conclusion
ByDzyne is a legitimate MLM company with a wide range of products.  You could make money with their business opportunity, but their income disclosure proves that people are losing money with this business opportunity.
They are forced to buy products every month to remain active, putting more and more pressure on the need to recruit a team.  Their products are expensive and there are much better (and cheaper) alternatives online.
There has also been a decline in interest in this business, and their products, meaning that they may not make it to the 5 year mark, that most MLM's don't actually reach…
I wouldn't recommend this business opportunity to you, you'll end up spending a lot more than you will ever make, based on the numbers…
I'm not a fan of MLM, not because it's illegal or not profitable, but because of all the restrictions and expensive costs involved.
Instead, Affiliate Marketing is our top recommended business model for anyone looking to make money online
The reasons are simple…
You can promote anything you want and aren't restricted to only promote products from one MLM company
You don't have to recruit anyone to make money
You never need to sell to your friends and family
It's free to get started
In fact, with affiliate marketing we've been able to Create a 4-Figure Monthly Passive Income Stream.  If you want to learn more, click here.
Thanks for checking out our ByDzyne review!  If you have any questions or comments to add, then please write them in the comments section below. 😉