*This post may have affiliate links, which means I may receive commissions if you choose to purchase through links I provide (at no extra cost to you). Thank you for supporting the work we put into this site!
Hey, one of the first questions I get asked is "how does affiliate marketing really work?"  It is a really simple premise, but not everyone is up to date with the online world and they worry that it is more complicated than it really is.
I decided the easiest way to answer the questions was to break it down and go through the different aspects of affiliate marketing in this post.
Let's start with the affiliate marketing process.
The Affiliate Marketing Process – The Basics of Affiliate Marketing
When it comes to affiliate marketing, there are 3 parties. There is the affiliate (you), there is the affiliate program (the company/product owner) and there is the customer (the buyer).
As an affiliate, you choose to join an affiliate program – this gives you the ability to promote a product or service via a blog (website) or social media.
When you join an affiliate program they give you a link that is specific to you – this means that when you promote a product or service the affiliate program can track that the buyer came through you. It is like a stamp on it that says, "I am the one that introduced the customer to that product".
If the buyer follows that link to the website offering the product or service and they make a purchase, you then earn a commission. This commission is either a flat rate or a percentage depending on the affiliate program.
To make it easier, let's have a look at the flow chart below: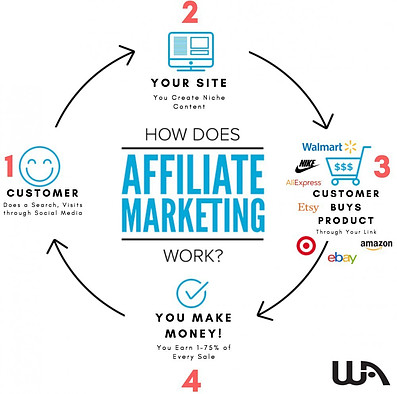 One of the easiest affiliate programs to join and use as an example is Amazon.  More and more people are using Amazon to purchase items and they offer an affiliate program called Amazon Associates.
They offer over 500 million products (yep, that is a lot of products). This also helps show the opportunity that affiliate marketing offers as there is a niche for anyone to explore.  Whatever your interest, hobby or subject you can help others with – they will typically have products for you to promote.
If I drive someone from my website, social media account or even an email sent out to a mailing list with affiliate links included and they make a purchase, say a kitchen appliance like a coffee machine, I earn 6% commission on that.  So, if the coffee machine cost $100, I earn $6.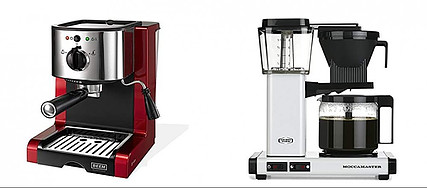 That might not sound a lot, but there are 100,000's buying kitchen appliances every day on Amazon. If you managed to sell 100 kettles a day that is $180 a day that you could be earning.
The thing to consider is that if you were selling a more expensive item, say $1000 flat screen TV and you managed to sell 30 of those that is $1,800 commission.
That shows the reality of Affiliate Marketing with only a couple of examples.
Now you know what the Affiliate Marketing Process is, let's talk a bit about what that means for You, the Affiliate.
Related Post: Why Do Companies Use Affiliate Marketing?
Who Can Become an Affiliate?
Generally speaking, it is usually free to join an affiliate program. There are a few cases where they may charge a small fee, but that is usually to verify you are a real person. But, like I said it is very rare.
It is also a thing to look out for, to protect yourself from scams.
Affiliate Programs should be free, as they will benefit from you introducing a customer.  If you find they are charging what seems like a high fee, they are likely a scam or a low quality affiliate program and I would steer clear.
What is great about affiliate programs are they are (usually) free to join as an affiliate, you get to promote pretty much every brand, product or service going and get to earn a commission for doing so. With Amazon alone, there are over 500 million products and services to promote as an affiliate.
But there are tons of affiliate programs out there, many start out with Amazon, but when you do the research required – there are many companies and affiliate networks that offer an affiliate program.
How Do Affiliate Programs Work?
Put Simply, an affiliate program is a piece of software that allows affiliates (you) to promote merchants and earn a commission. The affiliate program tracks all clicks, sales transactions and calculates all the commission automatically.  It will also allow you to manage payment details and personal details.  They also give you a dashboard that allows you to track your own progress.
Affiliate Program stats are automated and accurate. They are always getting technological updates all the time to allow Affiliates & Company's to get better data to improve the processes.
It is especially important for an Affiliate to know which links are converting better than others and which sources you are getting better results with to capitalise on them.
Affiliate Programs also offer promotional materials – banners, widgets or even plugins that help you leverage the offer on your website or social media.
The better the affiliate program is, the more the affiliate has on offer to promote products or services.
What is an Affiliate Network?
Whilst there are many independent affiliate programs, sometimes it is easier to go with an Affiliate Network. For example, Awin is the largest Affiliate network in the world and you would gain access to promoting 6,000 different companies and their respective products with one account.
There are plenty of affiliate networks out there, with 100,000's of companies and brands within those networks.  Joining a couple of affiliate networks could save you a lot of time and effort, as you would only need to manage a couple of accounts rather than doing it independently with each company and having loads to worry about.
Some of the most popular Affiliate Networks are:
How Do You Get Paid?
Affiliate Programs do not make it difficult for you to get paid. They want the process to be seamless to encourage affiliates to join them.
Of course, they all pay differently, have different pay schedules. It is also typical for them pay in US Dollars, regardless of where you are in the world.  There are some that will pay you in your own currency, but don't be surprised if you find it to be US dollars.
There are also payment gateways, such as PayPal that will convert it into your own currency.
Depending on the affiliate program, you could receive payment via:
Cheque Payment
PayPal
Bank Transfer
Payoneer
Cryptocurrency
As an example, Amazon associates offers the option of Amazon gift cards or bank transfer. Or Wealthy Affiliate (Which I am a member) pays primarily through Paypal, but there is the option of Cheque payments or if you are earning enough they will do a bank transfer.
Affiliate Programs would shoot themselves in the foot if they made it difficult to pay affiliates… Would you promote a company that made it difficult for you to receive your money?
What is the Affiliate Opportunity?
The Affiliate Opportunity is endless… The number of people who are buying online is growing by the day. But when people buy online it is so different to when they go to a store.
If you go to a store you get to see the product, feel the product and check it out.  Online, people are resorting to researching reviews of products.
What did other buyers think, is there an in-depth review of the product online??  That is your opportunity, regardless of the niche you pick.
If you know a lot about digital cameras and could share your knowledge and experience of how to use cameras, which would be a great camera for a starter and the prospective buyer gets a great amount of information from you and they trust you through what you write.
There is your opportunity to earn commissions.  My biggest piece of advice for wannabe Affiliate Marketers is help the reader, do not sell to them.
Help them with their questions, answer problems in the given niche, review products in your niche and you will become successful.
Write Product Reviews, How to Guides, Share Your Experiences With the Audience and you will have yourself the foundations of a great affiliate marketing business.
If you just put a load of affiliate links on your website and sold things to them too hard, they will switch off very easily.
Where Can You Go to Run an Affiliate Business?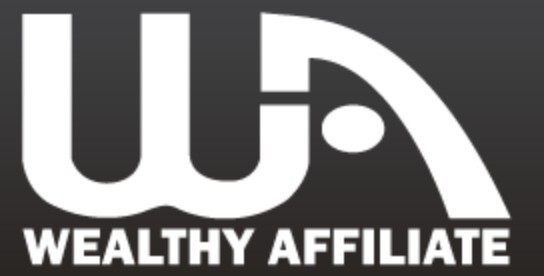 So you have decided that you want to get started in Affiliate Marketing, but have no clue as to where to go…  It can be really hard, as there are tons of programs and learning tools claiming to be the best.  The biggest problem with some of them, they are not even related to affiliate marketing or they are complete scams.
Where do you start your research??
I want to help you speed up your research and get started in affiliate marketing.  There is a platform out there that does stand out against the rest. I have been using this platform for the last couple of years and have had a great experience with them and it is called Wealthy Affiliate.
It is where Affiliate Marketing experts hang out, manage their respective businesses and aid people wanting to get started with Affiliate Marketing.
It is the one platform that you need if you plan on learning affiliate marketing. It also provides an environment where you can get all the tools, websites, hosting, training, coaching and interactive support to create and grow a business that will succeed within the affiliate marketing world.
There are 2 membership options, a completely free starter membership (free to try) and an advanced premium option (as low as $29 a month). I personally recommend you try the starter membership, as you will want to check it out before making any purchasing decision.

Within a handful of lessons, you will have your own affiliate coach, chosen which niche and a direction for your business, your own affiliate website complete with hosting and access to awesome training that will take you on a journey to becoming an expert in affiliate marketing.
If you have any questions about anything to do with affiliate marketing, please ask. I am here to help anyone who wants to know more and will share my knowledge and experience.  Leave any questions below and I will get back to you shortly