Welcome to our Funnel X ROI Review!
Funnel X ROI states that it is an automated system that can bring in $300 a day.  This sounds like a system anyone would want if they were looking for ways to make money online.  But is it really a system you can trust? 
Is it a system you can use and just what is Funnel X ROI? The main question, most will be asking is "Is the Funnel X ROI System a Scam…?"  As is the way with most of these products, the information is quite misleading, and we want to ensure you get the full picture of this product and whether it is worth your while.
You need to be mindful of any sort of funnel, as they tend to start free but end up leading you into high-ticket products that are the real bait behind the funnel.  Let's see if Funnel X ROI is any different.
First off, it's great to see that you're doing your research before buying into any "seemingly good" product.
That is how you avoid scams and find only legitimate ways to make money online!
To be completely transparent with you, we're not associated with Funnel X ROI in any form.  We're not here to pitch or sell you anything.
Instead, we want to reveal whats really inside this program…
Funnel X ROI Review Summary
Product Name: Funnel X ROI
Founder: David Dekel
Product Type: Sales Funnel
Price: Free to Get Started + Upsells
Best For: Experience Marketers with Experience in Sales Funnels

Summary: Funnel X ROI is a comprehensive affiliate marketing training platform that was developed by David Dekel.  But it is a pay-to-earn system.  That means that you have to pay more to earn more because of the way the commission structure is.  This also makes the program really expensive and not that accessible to novice affiliate marketers, even though it has tons of training material.
If you're experienced, it might be worth a look if you want to increase your revenue stream.
Rating: 40/100
Recommended? No
Funnel X ROI is a sales funnel system, that was put together by David Dekel. His claims are around this system generating $300 a day.  Whilst stating that it could earn more than this. David also claims that you could use this system and have the potential to make your "first $100" quickly… Even today!
He goes onto mention the fact you do not need any experience and can get started for free.
This is all sounds great at this point (to the unsuspecting eye) and the funnel is done for you, all you have to do is "plug" it in.  He provides step-by-step guides to get you going and double your income without doing any extra work.
He states you are getting all of his hard work for free, and you can make a ton of money with this system.  Which he claims he will be charging $1997 for, when he gets enough testimonials.
To be honest, reading all of the above does make me feel really nervous about this product, and I would wonder what it really involved as I have not found an easy way to make money quickly online yet.  But let's see how this Funnel X ROI works…
Who's Behind Funnel X ROI?
The man behind this Funnel X ROI is David Dekel, who not only created the whole system, but also the training videos as well.
I wouldn't want to make a judgement with really knowing anything about the guy, and this is the first time I've heard of him.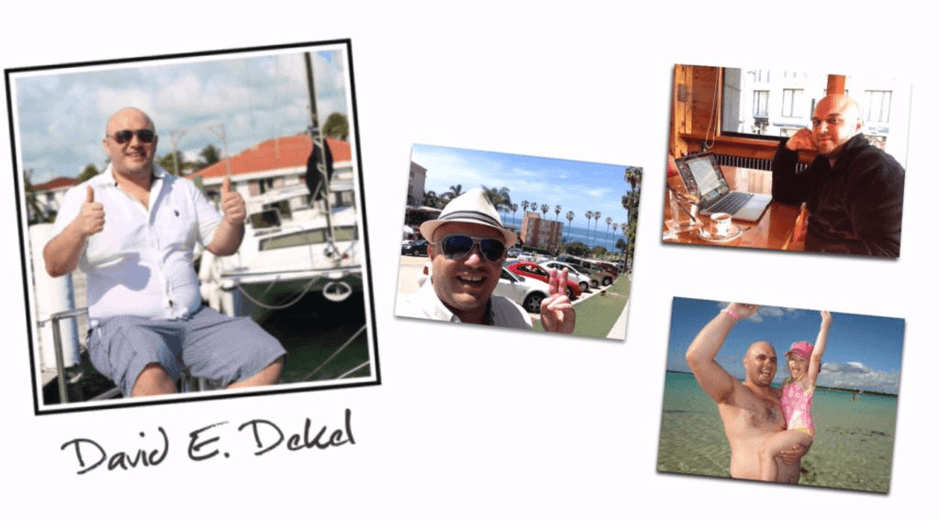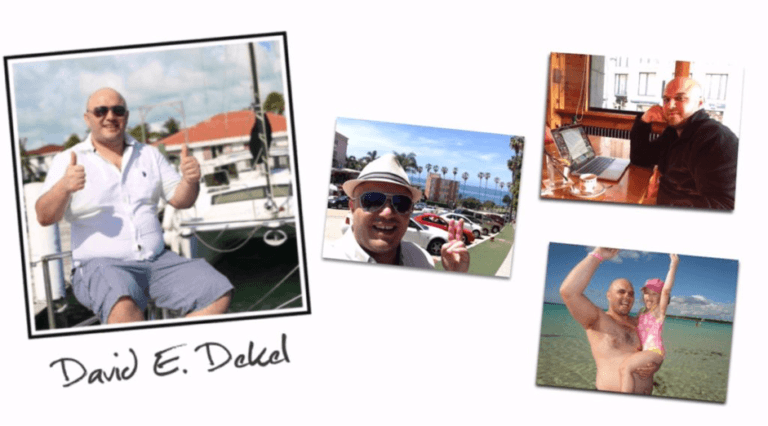 But if this program is anything to go on, David knows his stuff and it could be an effective money making tool, if it were used correctly…
Within Funnel X ROI, there are five main programs and 2 supplementary programs where you can earn money from.
This is also where the costs start to rise…  The funnel is free to join, but each program will have its own associated cost as all of these programs are from 3rd party sources.
The way the system is laid out is a step-by-step walkthrough where each sales video will lay out its opportunities for you and share the benefits of adding them to your own funnel.
Here's a breakdown of the programs, and their costs:
#1 Easy 1UP – $25 to $2,000
Easy 1UP is an MLM or Multi-Level Marketing style of business, with six different levels that you can buy into.
You also earn 100% commission from each customer sign-up and evolves into a more complex commission structure.  It's isn't a program we particularly recommend though, you can why in our Easy 1UP review.
But the bottom line is that it's totally geared up towards recruitment only, making it a pyramid scheme!
#2 Now Lifestyle – $600/year or $74.91/month
Now Lifestyle is a health and wellness MLM company.  It provides supplements and video workout programs.
They have also taken a different route to the usual MLM style compensation plan, and introduce internet marketing elements, which means they offer an affiliate program.
As an affiliate you're required to buy three levels of product:
Health & Wellness for 5 Family Members – $100/year or $24.97/month: A membership for a customised diet and exercise program for you and 5 family members
Business Automation & Autoresponder – $250/year or $24.97/month: A landing page builder, lead capture system, text/video templates, autoresponder, a list of 5,000 subscribers, and email swipe files
Reseller Program – $250/year or $24.97/month: This is where you receive the licence to resell the program and collect 100% commissions upfront, and 90% for any residual monthly commissions
#3 The ROI Panel – $197, $597, or $1,497
The Profit Vision system is the system that David uses himself to earn a lot of commissions.
It's a system that shows you where profits are coming from, and where your money is going.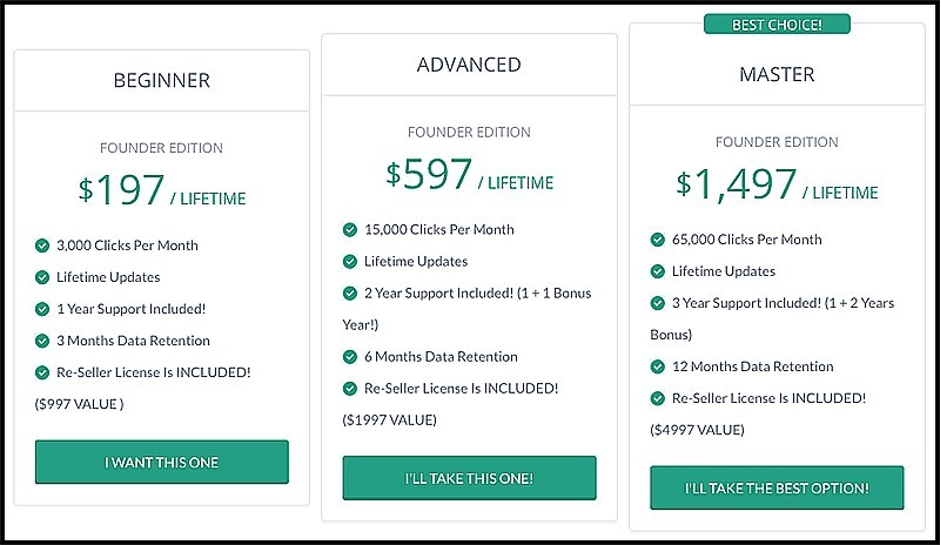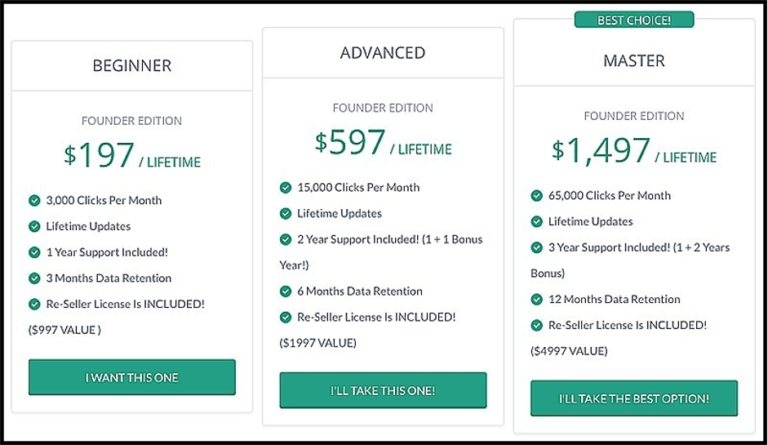 If you spend money on traffic, like Solo Ads, the system tracks which traffic source is the one that is most profitable.
You'll also receive a reseller licence with the level you purchase and earn a 50% commission for selling that level.
So, if you signed up for the $197 level, you would receive 50% of $197, regardless of whatever level your referral joined.
This could be used to convince you to buy the highest level to not leave commissions on the table.  So, just be aware, this is often how they convince you to spend more than you're comfortable with.
#4 Funnel X Advance – $200+ up to $1,997
Funnel X Advance, is another of David's systems, and it is a Pay-Per-Lead system.
With this one, you don't need to sell anything since you only need to pay per lead.


You earn $1 for every qualified lead you send to this program.
There are four levels to choose from, with the top three levels all offering tools and pre-written material for you to use with your campaigns.
You'll also need to subscribe to the Now Lifestyle Autorepsonder, which is roughly $50 per month and with the ROI Panel for $197 and up.
Haven't Made Your First $1 Yet?
Studies have shown that more than 70% of the people who want to make money online have not made their first dollar yet. So, you're not alone!
The Supplementary Programs
Advertising Boost – $49/month or $458/year
This program allows you to create "enticing" offers by adding vacation stay bonuses to help you generate more leads.
This program also includes its own affiliate program where you can earn commissions from that too.
Udimi (Solo Ads) – $100's Per Email Campaign
This is claimed as David's secret traffic source, but it's not really a secret.
There are a lot of marketers outside of his system that uses this site to buy solo ads.
It is a free program to join, and then you can search for which seller you want to use.
David recommends that you only pay for traffic for earning commissions, but this can get really expensive.  Especially if you plan on running a lot of campaigns each month.
Getting Started with Funnel X ROI
The system is technically free to join, but we've just gone through the numerous costs of the products that you will need to actually make this system work.
If you were to purchase everything that David recommends, here's what you are looking at spending:
A Minimum cost of $880 upfront with $50/month recurring cost
A Maximum of $5,952 upfront with $50/month recurring cost
P.S. This program helped us Create a 4-Figure Monthly Passive Income Stream. It's Free to get started and only costs $49/month to go full-time!
It might initial seem geared up for a beginner, as they keep reminding you it's free to join.  I honestly don't believe this will help a beginner get anywhere with it.
It's definitely not intended for beginners, despite it's marketing.  It's only really going to be useful for serious marketers looking to expand on their current income
What We Liked About Funnel X ROI
Here's what I lived about Funnel X ROI:
#1 Comprehensive Platform
The platform does offer a lot of content and detail within each step, but this doesn't make it ideal for a beginner due to the high costs associated with it.
But for an experience marketer, looking to make the most of their income, it could be useful…
What We Didn't Like About Funnel X ROI
Here's what we didn't like about Funnel X ROI:
#1 Not For Beginners
Despite all the hype and promises made on their sales page, this system is not good for a beginner.  It might seem like it is, but really it's designed for a more experience marketer who already knows their way around funnels, email marketing, affiliate marketing, etc.
A beginner would get lost in this system, and have lost a lot of money in the process…
Luckily there are platforms that are designed for beginners, so I would recommend you to have a look at the following platforms:
#2 Pay-to-Win Platform
The way the commissions are with the different programs, this makes it that the high you pay, the higher your profits will be.
So, you're going to need to spend as much as $5K to get the most out of this system…
#3 Recommends a Pyramid Scheme!
Easy 1Up is driven by recruitment, there is nothing else within other than recruiting others into the scheme.  That is known as a pyramid scheme and is illegal.
Haven't Made Your First $1 Yet?
Studies have shown that more than 70% of the people who want to make money online have not made their first dollar yet. So, you're not alone!
My Funnel X ROI Review - Final Conclusion
Whilst I do not think it is a scam, I do think it is a front to push you into these other high-ticket MLM schemes where you will be focused on one thing.  Recruiting new members.  Now, that isn't necessarily the problem with this system, but most that would fall into this funnel are complete beginners without the experience or knowledge to actually make the funnels work.
If you know how to promote these funnels, you could have a lot more success with your own affiliate marketing business and you can promote what you want to promote and not be stuck with MLM schemes that get a lot of bad press.
I also question whether this has a future?  The reason I say this is, there must be a reason why they stopped promoting MCA to change it up and move over to Easy 1 Up.  I also, see Easy 1 Up needing to be careful, as it is a very similar recruitment scheme to MOBE and Digital Altitude.  Both of which have been closed down by the FTC recently, as they have both been classed as scams. If you compare Digital Altitude to Funnel X ROI, DA was closed down due to the owner stating that you could earn thousands in 90 days.  This was found to be totally unrealistic.  Funnel X ROI, states that you could be earning $100 a day from day one… again, totally unrealistic.
However, they could just change the product they promote in their funnel quite easily
If you are looking for a way to earn money online and are a beginner, I would not recommend this type of sales funnel to you.  Whilst the right marketer could make money form this system, it is something of a risk for you to take.  The reason I say this is it is quite a deceptive product, starting out free only to start telling you to invest in other products. Also, "done for you" systems are never really a good idea.
You never learn enough from them to be able to expand into your own online business and as you are totally reliant on them, as soon as they are gone you have nothing to show for it.  These types of funnel system do not hang around that long, as they are promoting scam products or products that the FTC have an eye on.
But, if you are looking for a genuine way of earning money online, without having to promote products like these you can start your own online business choosing a niche that you want to promote.
Our preferred method is Affiliate Marketing, it is a great way to earn money online and means you get to start out with something you love.  Check out my guide on How Does Affiliate Marketing work to understand how you can build your own profitable online business.
Thanks for checking out our Funnel X ROI Review.  If you have any questions or comments to add, then please write them in the comments section below. 😉