Welcome to our Affiliate Marketing Mastery Review!
Affiliate Marketing is an awesome business model to get started online, but does The Affiliate Marketing Mastery course stack up for the price they are asking for?
Stefan claims to help you build a 7-figure business from scratch through his course, but we ask the question is it worth nearly $2k or is there a better option…?
First off, it's great to see that you're doing your research before buying into any "seemingly good" product.
That's how you avoid scams and find only legitimate ways to make money online!
Stefan James is a very experience Internet Marketer, and in our review we're going to reveal to you what we found out about this course in our review.  That way, you can make an objective decision as to whether it is the right move for you…
Let's get started with a quick product overview…
Affiliate Marketing Mastery Review Summary
Product Name: Affiliate Marketing Mastery
Founder: Stefan James
Product Type: Affiliate Marketing Training Course
Price: $1,977 (or 3 payments of $767)
Best For: Aspiring Affiliate Marketers with a Budget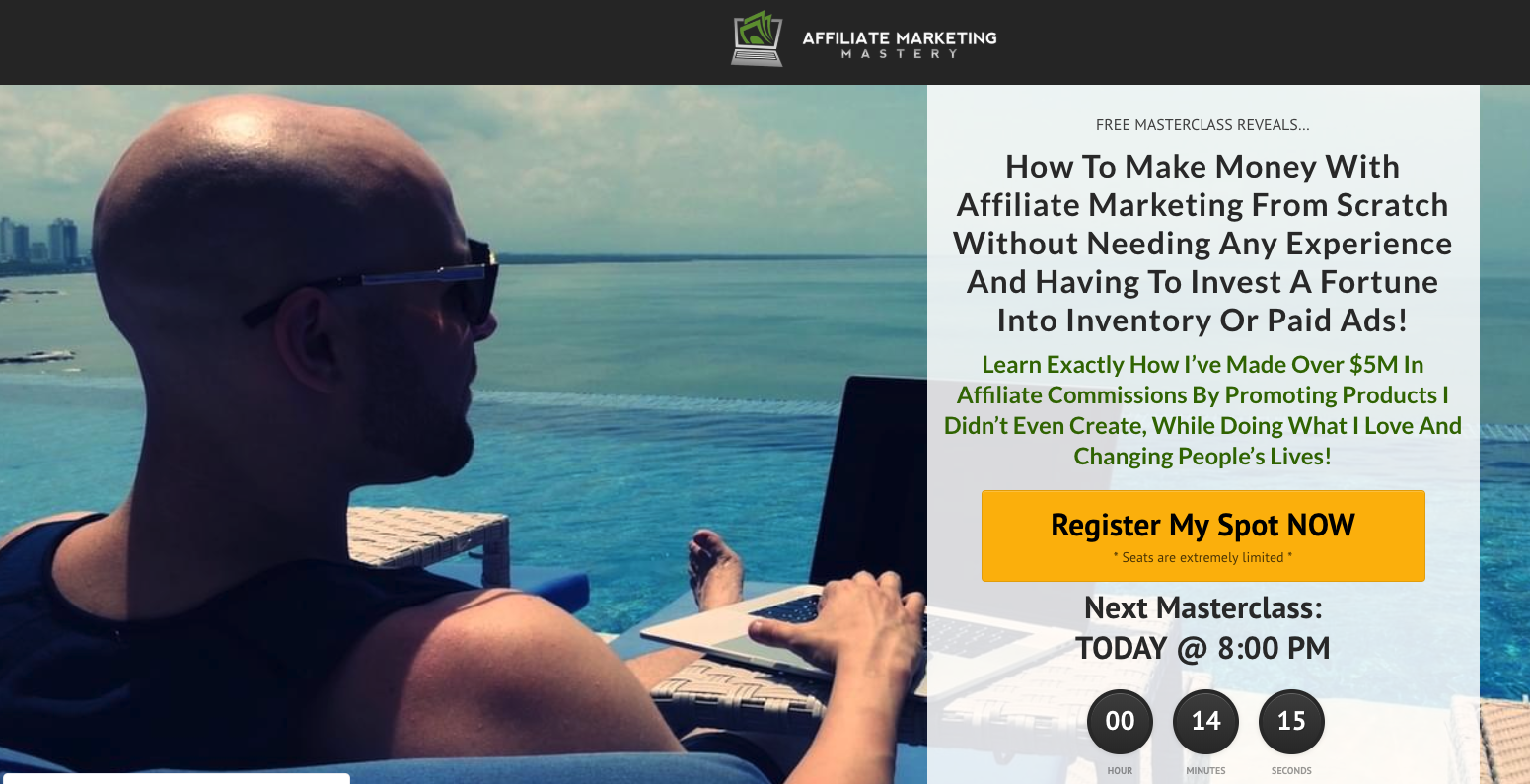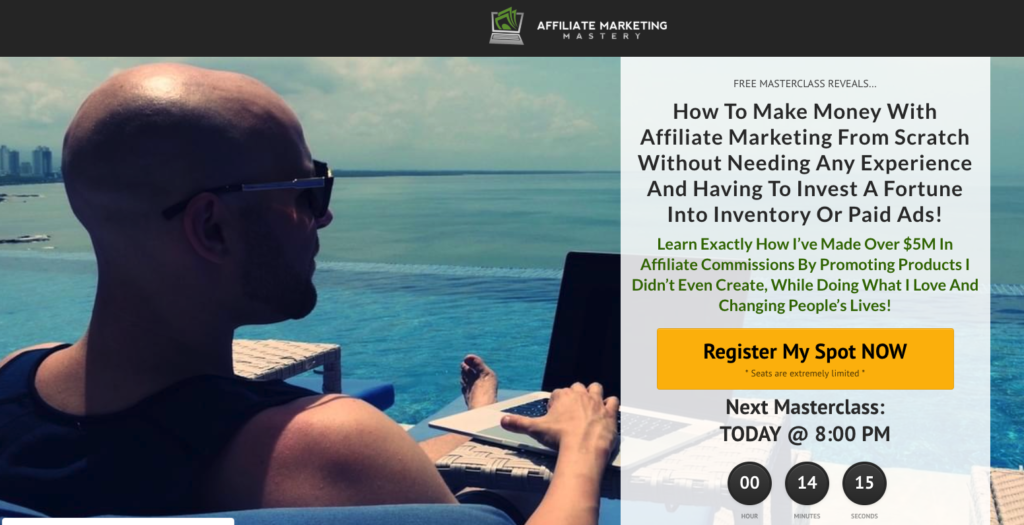 Summary: Affiliate Marketing Mastery is a training program that will show you how to get started with Affiliate Marketing, and Stefan also claims it will be the foundation to build a 7-figure affiliate marketing business on.
Stefan definitely knows his stuff, but I would expect to see some tools and other features for that kind of money, but you only get training here.  Meaning that you will need to expect to spend additional money to achieve the steps involved.
Definitely a solid option, although it is an expensive investment.
Rating: 81/100
Recommended? Yes & No
What is Affiiate Marketing Mastery?
Stefan James created Affiliate Marketing Master (AMM) in 2016, and he is also the found of many other high-quality products such as K Money Mastery.
AMM is a step-by-step training course that teaches people how to build an online business that makes money using Affiliate Marketing.
The AMM Course includes training on topics such as:
Finding a Niche
Blogging
YouTube Marketing
Social Media Marketing
Email Marketing
How to Monetise Your Business through Affiliate Marketing.
What is Affiliate Marketing?
If you are new to affiliate marketing, or are not sure what affiliate marketing is Stefan James gives you a great explanation in the video below:
Put simply, Affiliate Marketing does not require you to have your own products, worry about handling the transaction or shipping any products.  You also do not handle customer service and refunds too.
You make money by promoting other people's products and earn a commission based on any sales you produce.
Being able to help people and market relevant products and services to your audience is the key.
Inside Affiliate Marketing Mastery
We want to cover 4 aspects within Affiliate Marketing Mastery, to give you an insight into what is available.  Let's start with the Training.
Affiliate Marketing Mastery Training
The training available within Affiliate Marketing Mastery includes:
Over 70+ step-by-step tutorial videos throughout 7 main modules. It works out to over 20+ hours' worth of content.
Downloadable PDF, which includes transcripts and summaries of each lesson
90-Day Email Coaching Program
Weekly Webinars
Below we have described an overview of each of the modules, to show you what is covered in each:
Module 1: Strategy & Mindset – Introduction to course and getting your mentality right for success with affiliate marketing.
Module 2: Niche Selection – how to find a profitable niche that is suitable for you. It also covers how to find affiliate products to sell.
Module 3: Creating Your Online Brand & Presence – Setting up your WordPress website, YouTube, Facebook, Twitter, etc.
Module 4: Quality Content Creation – How to create quality content for each platform and building relationships, and the "pre-sell to your audience.
Module 5: Marketing Strategies – Strategies to attract traffic, visitors, building up followers on social media and subscribers to YouTube.
Module 6: Earning Revenue & Monetising Your Traffic – Monetisation Strategies
Module 7: Performance & Analytics – All around analytics for your business, including tracking conversions and split testing to get the best results.
Amongst all of these modules it covers:
How to find a profitable niche
How to set up your blog, including find a domain name and web hosting
Which plugins you need for your blog with explanations
Keyword research
How to attract traffic
How to work with social media accounts
How to get visitors to subscribe to your email list
Automating emails
Finding affiliate programs and products to promote
Blog design
Creating content
Promoting via Kindle Books
Building a Brand
Creating the Success mindset.
Stefan does spend a lot of time covering the mindset of becoming successful. 
Tools
Whilst the training is fantastic, there are no tools provided with Affiliate Marketing Mastery.
Some of the essential tools for affiliate marketing include:
Web Hosting
Website Domain Registration
Keyword Research Tool (For Search Engine Optimisation)
Email Autoresponder (for Email Marketing)
None of these are provided within Affiliate Marketing Mastery, you will need to go elsewhere to implement the training provided.
Support
Once you sign up with Affiliate Marketing Mastery, you get access to a private Facebook Group.  This is pretty active and useful.  You will get prompt answers to your questions through it.
There is also a support team via their website.
Who Will Benefit from Affiliate Marketing Mastery
Affiliate Marketing Mastery would benefit complete beginners who are looking to learn affiliate marketing from scratch.
The training is teaching you how to set up everything from the beginning including setting up your website, Facebook, etc.
However, like our top recommended training program, not every complete beginner is suitable for Affiliate Marketing Mastery.
There are two types of beginner who shouldn't waste their time or money on AMM:
People are looking for get-rich-quick type schemes
People who cannot afford the initial investment
Affiliate Marketing is a long-term business plan, Stefan's training and his strategies do work in the long run.  But there are many people who lack the patience to and determination to see it through.
If you are looking for a way to make money quickly, neither affiliate marketing nor Affiliate Marketing Mastery will help you achieve this.
Secondly, this is an expensive course and if you do not have the money to invest in this course, it kind of answers the point.
Haven't Made Your First $1 Yet?
Studies have shown that more than 70% of the people who want to make money online have not made their first dollar yet. So, you're not alone!
How Much Does Affiliate Marketing Mastery Cost?
This is something that is hard to stomach, considering there are not tools provided.  Whilst it is covered by a 30-day money back guarantee, the price is either:
One-time payment of $1,997
3 Instalments of $767 (or $2,301)
Whilst I appreciate the training is great, and Stefan has a lot to offer someone just starting out.  That is a really high price for a beginner to contemplate.
What We Liked About Affiliate Marketing Mastery
Here's what we liked about Affiliate Marketing Mastery:
#1 It is Genuine Affiliate Marketing Training
Affiliate Marketing is a great business model for those looking to make money online, and there are plenty of training courses out there pretending to be Affiliate Marketing and they are clearly nothing of the sort.
Affiliate Marketing Mastery is the real thing.  His course has some really quality and will definitely help people get started with affiliate marketing correctly
With over 20 hours of content, the training materials showcase the time and effort Stefan has put into the course.
#2 Stefan is a Real Person
This might seem like an odd one, but there are plenty of courses out there that offer you just a name of the owner, with no identity for anyone to relate to.  When they are just a non-entity like that it is hard to feel like anyone cares about you making money or not.
Stefan is really involved in his training, and his webinars show his enthusiasm too.
These people who are just a name often just create low-quality products with the aim of making money.  Many products on ClickBank tend to fit this cliché, however whilst AMM is available via ClickBank it is one of the better products on there.
#3 His Sales Page is Useful & Informative
Most products have this ridiculous sales pages that claim you will be making thousands at a touch of a button or have so much hype from testimonials galore and the one thing they do not tell you, is what you will actually be doing!
Affiliate Marketing Mastery is completely different, and you could describe their sales page as educational.  His income proof, success stories and testimonials are all genuine. 
The sales video is not really a sales video, it is actually a training video that is 1 hour and 40 minutes long teaching you the basics of affiliate marketing.
This does go a long way to show that Stefan takes pride in whatever he does and wants to ensure people fully understand what they are getting into before starting.
#4 30-Day Money Back Guarantee
Affiliate Marketing Mastery also comes with a 30-day money back guarantee.  All you need to do is contact his team via email and they will refund you your money.
What We Didn't Like About Affiliate Marketing Mastery
Here is what we didn't like about Affiliate Marketing Mastery:
#1 Only Training, No Tools Included
The training is a really big positive, but training is not enough to get started with affiliate marketing.
To set up a website, you will need to register a domain and you will also require web hosting for your domain.
To drive traffic to your website, you will need a keyword research tool to get free traffic via SEO.
This will mean you will need to invest more money into 3rd party tools and services.
My personal recommendation for beginners, is to get started with a training platform like Wealthy Affiliate that has everything together in one place.  You can get started with training and tools and not have to worry about going elsewhere for these services.
#2 The Price!
$1,997 is a heck of a lot of money, and for most people will put this training out of reach.
As it is only training, I do question why it is so much.  I know you are getting 20+ hours of training, but that is still a really high price considering this is aimed at those wanting to get started within affiliate marketing.
Again, Wealthy Affiliate offers a free starter membership and if you like the platform and decide to go premium and gain access to all of the features, it is just $49/month and nowhere near the $1,997 of Affiliate Marketing Mastery.
Haven't Made Your First $1 Yet?
Studies have shown that more than 70% of the people who want to make money online have not made their first dollar yet. So, you're not alone!
My AMM Review - Final Conclusion
Affiliate Marketing Mastery is definitely not a scam, and it is a really good affiliate marketing training that will give you a lot of information and strategies for an affiliate marketing online business.
However, I feel the lack of tools provided with this course brings into question whether it is worth the high initial investment.
Having to go elsewhere for a number of basic features can easily skyrocket the price you are paying.
For this reason, I would say it is a good option but not a great option.
If you are really looking for a way to get started with Affiliate Marketing and want to get started in a safe environment and not have to pay this sort of price, we highly recommend Wealthy Affiliate.
You can get started for free and start your own journey towards financial independence.  Learn more in our Wealthy Affiliate review.
Thanks for taking the time to read our review. Still have questions or want to share any experience with Affiliate Marketing Mastery, then write them in the comments below.