Welcome to our Easy1Up Review!
Easy 1Up claims to empower online entrepreneurs and can allegedly earn you big money fast. Checking out their site it claims to become your personal ATM. But with these kinds of promises, it could quite easily fall into the scam category. But is it?
First off, it's great to see that you're doing your research before buying into any "seemingly good" product.
That is how you avoid scams and find only legitimate ways to make money online!
To be completely transparent with you, we're not associated with Easy1Up in any form.  We're not here to pitch or sell you anything.
Instead, I'll go through how Easy 1 Up works and whether it is actually worth your time or is Easy1Up a Scam?
Easy 1Up Review Summary
Product Name: Easy 1Up
Founder: Peter
Product Type: Multi-Level Marketing Company (Pyramid Scheme)
Price: S$25, $100, $250, $500, $1,000
Best For: No One! 

Summary: Easy 1Up has no real products or services to offer within their platform.  Recruiting people into your downline is the only way for members to make money.  The training system it has is of a really low quality, and it's only purpose is to train you to recruit others into the system.  It's a really obvious scam for more experienced online marketers.
Rating: 1/100
Recommended? Definitely Not 
Easy 1Up describes itself as an online educational platform, where it'll show you how to start your own online business.  But that's not exactly what they really are…
Easy1Up does have video training as their products for sale.  But the training's sole purpose is to show you how to recruit others into buying into the Easy1Up system.
Let me Explain…
Simply put, you need to buy the training to enable you to promote the training and also to learn how you can promote the exact same "system" to others who want to make money online.
So, what you need to do to be able to make money is simply "recruit: other beginners into purchasing the same training that you've just bought and use, and hope that the cycle keeps going on.
They states as "Introducing the Easy 1 Up products and concepts to other".
They claim that they are  an Affiliate Marketing business, but they're more like a Multi-Level Marketing or MLM company.  Although, in reality they could be considered closer to a Pyramid Scheme…
Who's Behind Easy 1 Up?
If you only go by the about us page on their website, The founder is a Peter.  But after a little digging, we can reveal them to be Peter Wolfing.
Upon a little more digging, we have found that Peter has created a number of scam programs.  These include Turbo Cycler, Business Toolbox, Infinity 100, Pay Me Forward, And National Wealthy Center.  The majority are no longer in business, but it wouldn't be surprised if they were out there with a different name…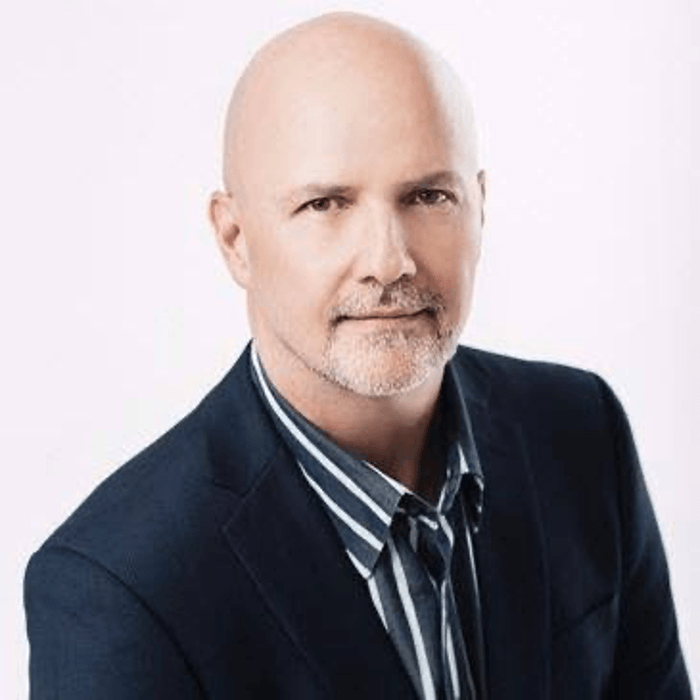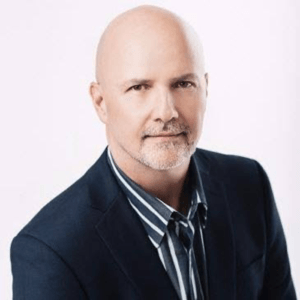 Peter has created a ton of scam programs, and has kept on creating them as they are completely unsustainable.  He's the only person who benefits from these systems.  He tends to take the money earned to create a new scam product just to make himself more money.  Anything that you see that is linked to Peter, should be avoided completely…
The only "product" for want of a better word, are the five levels of video training that they use to attract people to join.  Let's go through these five levels for you.  Please note that each are one-time payments and there is no refund allowed.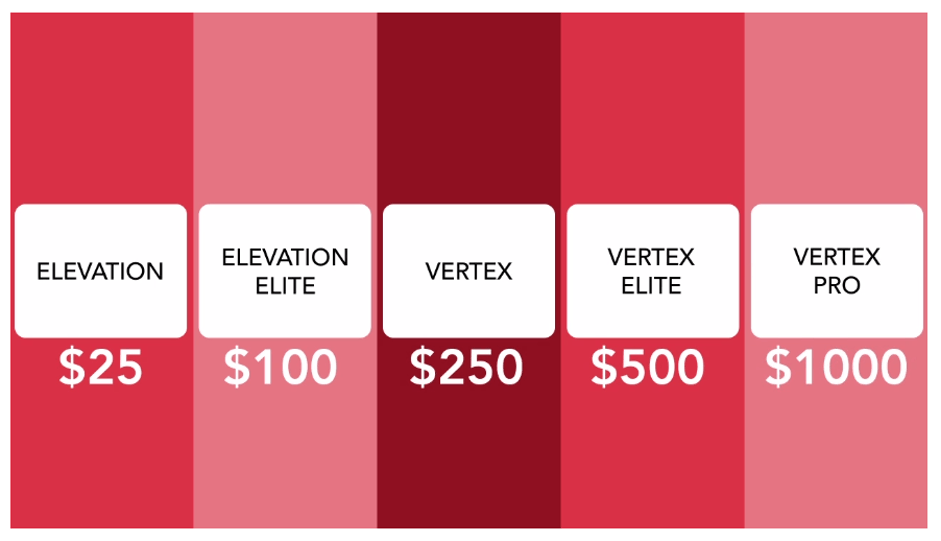 Here are the five levels and some details:
Level 1 – Elevation ($25 + $5)
This is the basic level.  It covers the basics of network marketing and social media lead generation.  It also teaches you how to sign up and use an Email Service Provider (ESP) to integrate with the social media lead generation techniques
Level 2 – Elevation Elite ($100 + $10)
The second level focuses on Video Marketing.  It teaches you how to use YouTube and Udemy to drive traffic to promote your "affiliate link".
Level 3 – Vertex ($250 + $25)
They refer to the Vertex level as a more advanced and in-depth level.  Within this level, they talk about more things on the concept of Affiliate Marketing, although they are actually an MLM company in nature.
Level 4 – Vertex Elite ($500 + $50)
The main two concepts within this level are generating free online traffic, and drop shipping.
It seems really odd, that they are introducing a completely different business model, like dropshipping here.  Especially as they are claiming to be an affiliate marketing company.
I reckon it's just so they have justification for the price of this level…
Level 5 – Vertex Pro ($1,000 + $100)
This is a level that is relatively new, compared to the others and even some reviews don't include details on it.
This additional level includes stuff on Facebook Paid Ads, and some other small marketing techniques they claim to have.
If you decided to go straight in at level 5, then you would get access to all the levels underneath.  But if you start at the bottom, and then decided to upgrade you would need to fork out for each additional level at the prices stated above.
That would equate to $2,065 in total!!!
P.S. this program has helped us create a 4-Figure Monthly Passive Income.  It's FREE to get started and only costs $49/month to go full-time!
The Biggest Issue With Their Training!
Easy 1Up wants you to purchase one of the levels in order to be part of the system.  But, they really don may any clear distinction amongst the five levels to help people to choose which level to join.
There is no information on the differences between them and how to choose which is the right level for you.  Also, there is no Refund Allowed.  This is something that we really don't like, and is another reason why we didn't purchase it to test it our ourselves to do our review.
There is also another issue…
For any level that you want to purchase, theres a 10% additional admin fee (except level 1: 20%) as they claim this is to help "maintain the system". 
But what this actually means is that this "admin fee" is what Peter earns from each member since they guarantee people to earn 100% commission.
Haven't Made Your First $1 Yet?
Studies have shown that more than 70% of the people who want to make money online have not made their first dollar yet. So, you're not alone!
How to Get Paid & It's Compensation Plan
Easy 1Up uses what is called a Reverse 1 Up compensation plan.  This means that you'll earn a commission on all your sales, except for the second sale.
This second sale will be passed up to your sponsor, the person who referred you to the system.
All of your downlines' second sales will be passed up to you as part of this plan.  This is the concept, and it encourages you to help your downlines to make sales.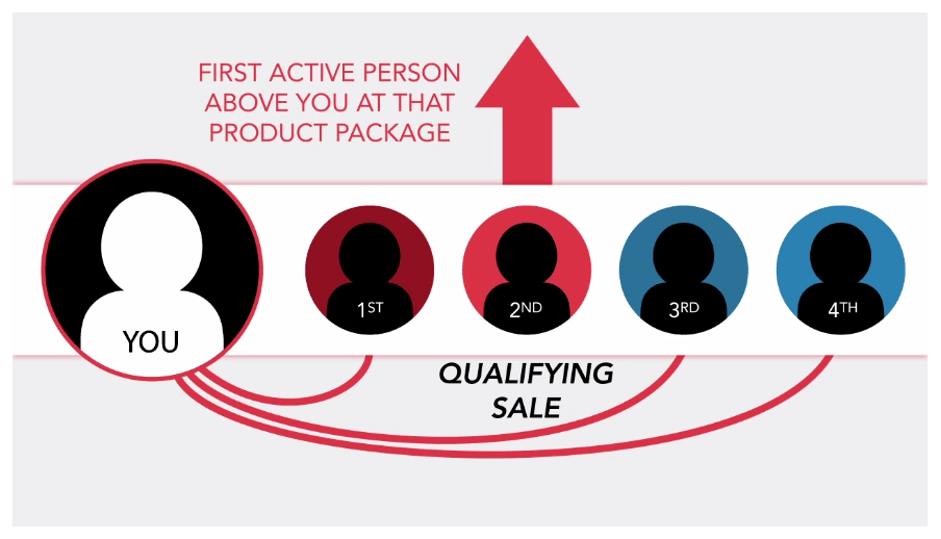 You'll be paid 100% for every sale you make with this system, other than the second sale, which will go to your referrer.  The commission will be rewarded to you immediately without going through the company' system.
Peter makes his money by taking the admin fee of each sale, that's why they can reward you immediately with the sale.
What We Liked About Easy 1Up
Nothing Really…
Let me show you some of the features that are seemingly good that will attract beginners, but are actually not that good:
#1 100% Commission
Easy 1Up offers it members 100% commission for any sales they make by attracting newbies into the system.
Many will join the system because the system claims that it only takes one sale to recoup your investment.
Many beginners are most concerned about the ability to recoup their investment as part of any program.  Whilst it is a mindset that does need to change to be successful online, there is no guarantee that you'll be able to recoup your money with this system.
#2 Get Paid Immediately
Most other companies will hold your commission within the system first, because of possible refunds or chargebacks, and then only release your income on certain dates within the month.
However, Easy 1Up offers NO refund and 100% commission.  This is the reason why they're able to give you the commission straightaway after the sales has been made.
This might seem like a good feature for some beginners, but it's a really bad and scammy system in the eyes of the more experienced marketers, because what they're really doing is just "member to member payments".
What We Didn't Like About Easy 1Up
Here's what we didn't like about Easy 1Up:
#1 It's a Pyramid Scheme in Disguise
According to Wikipedia…
"A Pyramid scheme is an illegal business model that recruits members via a promise of payments for enrolling others into the scheme, rather than supplying investments or sale of products or services."
What this means is that the Easy 1Up system has no real products or services to offer to people.  The only way to earn money is by recruiting other people into the system.  Your downlines in turn, are supposed to recruit other people into the system as well, so this cycle just goes on and on, until it becomes unsustainable and collapses.
The only thing that stops they being a out and out pyramid scheme, and they've done this to stay legal, and that is they have included training.  But don't be fooled, this training only offers training based on how to promote the program itself.
The only way you have to make money is by recruiting more people into the scheme.  They even admit that in their own promotional video:

In our opinion, it is a pyramid scheme in disguise!
#2 The System is Unsustainable
As we have established, the system is a pyramid scheme in disguise, the system will become unsustainable pretty quickly.
As you go down the pyramid, more and more people will be recruited to that people on top can get their money.
However, it's very unlikely they will be able to keep the recruitment going to ensure enough people come in to keep people being able to earn money.  Once people stop coming into the system, the whole scheme will collapse as there will be no more money in the system to pay anyone.
If you want to read a little more detail on this, then check out this article.
#3 Sales Pages Offers Very Little Useful Information
In our opinion, the system is just a scam and there is very little value they can give to you, and the same could be said for the training.
Their training is the main selling point, but they are not giving you any information on what's the difference between the different levels to help people choose the right one for them.
Furthermore, there isn't any place that gives people a good look inside to help with this decision.  they are hiding a lot of information that would normally help you decide.
#4 This System Receives Zero Positive Reviews
Of the numerous reviews we have checked out, as part of our research and they all have a similar thought process.  This is not a scheme that will help beginners make money online, it only works to help the people at the top make more money and help Peter earn more.
#5 No Free Trial & No Refund Allowed
This is a clear sign that this scheme is a scam.  It offers no free trial and doesn't even include any information of what's really inside.  Then they hit you with the double whammy of not giving you the ability of asking for a refund.
Although, not having either of these is a proof of a scam, having none of them clearly implies that there are several things that are hidden and suspicious about Easy 1Up.  This is a typical sign of a scam…
Haven't Made Your First $1 Yet?
Studies have shown that more than 70% of the people who want to make money online have not made their first dollar yet. So, you're not alone!
My Easy 1Up Review - Final Conclusion
In our opinion, Easy 1UP is a scam!  This is definitely a Pyramid Scheme in Disguise!  The only way to make money is through recruitment, and all of the training is geared towards introducing new people to the scheme.
Don't think this will lead to a sustainable income online!!
Our top recommended business model is Affiliate Marketing for anyone wanting to make money online.
The reasons is simple…
there's no need to recruit anyone to make money like what people usually do in MLM
You are building your own passive income stream for financial freedom
It's Free to get started
In fact, with affiliate marketing…
we've personally create a 4-Figure Monthly Passive Income Stream, If you want to see the recommended training program that helped us achieve it, then click here.
Thanks for checking out our Easy 1Up Review!  If you have any questions, or comments to add to our review then please write them in the comments section below. 😉