Welcome to our Swagbucks Review!
If you are looking into whether completing surveys and watching videos is a good way to earn money online and wondering if Swagbucks is any good, then you have come to the right place.
First of all, I love the fact that you are doing your research as this is a great way to avoid scams and find genuine ways to earn money online.
Swagbucks offers a number of ways to earn money online, and it is a really popular site.  But is it really a good return for the time spent doing them??
That is what we will cover off in this Swagbucks Review.
Swagbucks Review Summary
Product Name: Swagbucks
Founders: Prodege LLC
Product Type: Get-Paid-To (GPT) Site
Price: Free to Join
Best For: Those Looking for Casual Income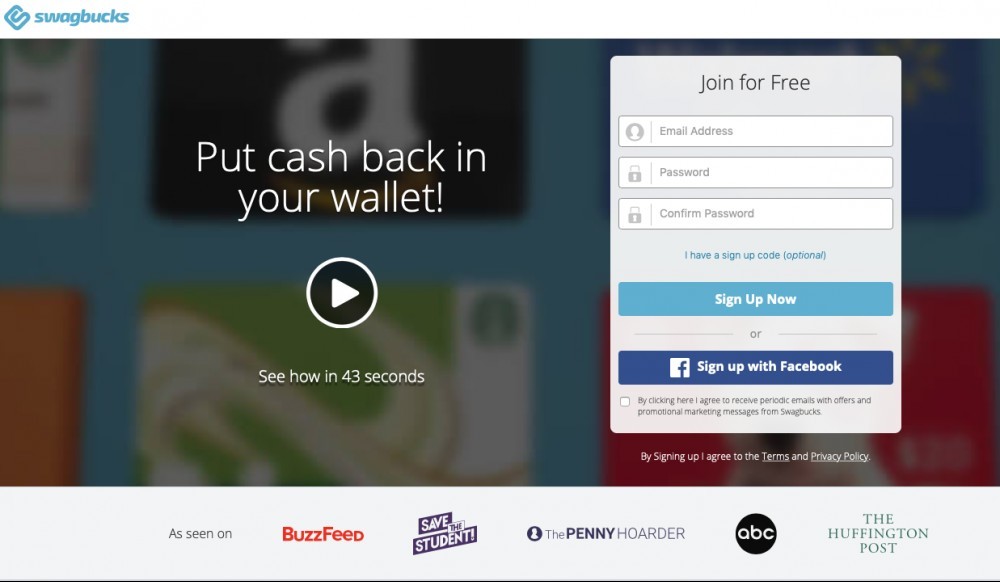 Summary: Swagbucks is a get-paid-to site.  It gives you a wide array of ways to earn money, including completing surveys, watching videos, etc.
It is only really an option for those that are looking for casual income, but with it being legitimate I would have to say it is one of the better options out there, if that is your primary goal.
Rating: 60/100
Recommended? Yes
Swagbucks is a very popular choice online, with the ability to earn gift cards for completing tasks like:
Completing Surveys
Watching Videos
Earning Cashback
Purchasing Products & Earning Points
Searching the Internet
By completing these actions, you earn SB points which you can cash out for gift cards.  Their options have expanded, and you can choose the option that is best for you.  With special offers available at times.  It might be that you have an amazon gift card one month, and then a PayPal gift card another.
Whilst the amount of Points needed to redeem is harder to achieve than you think, if you already shop online then I would join just to benefit from the cash back opportunities.
Who Does Swagbuck Benefit
Swagbucks is for those looking for some casual money, it will not lead to a full-time income from using this service.  I personally see it as a way of earning some money ready for Christmas.
If you are looking for a way of earning a more realistic wage for your time spent, then I suggest you check out my guide on Affiliate Marketing.
Swagbucks offers a number of different ways for you to earn SB points.  These are points that are rewarded for completing these actions and you have to earn a certain amount of these SB points to cash them in for a selection of gift card options.
They do not offer a way of getting it straight into PayPal or a bank transfer option.
They do offer a wide selection of these gift cards, though so you can choose them to depend on your preference.
But to be clear, an SB point is worth roughly £0.68.  that is working it out against a £3 Amazon gift card needing 480 points to redeem.
Personally, I do not see this as a great return for your time.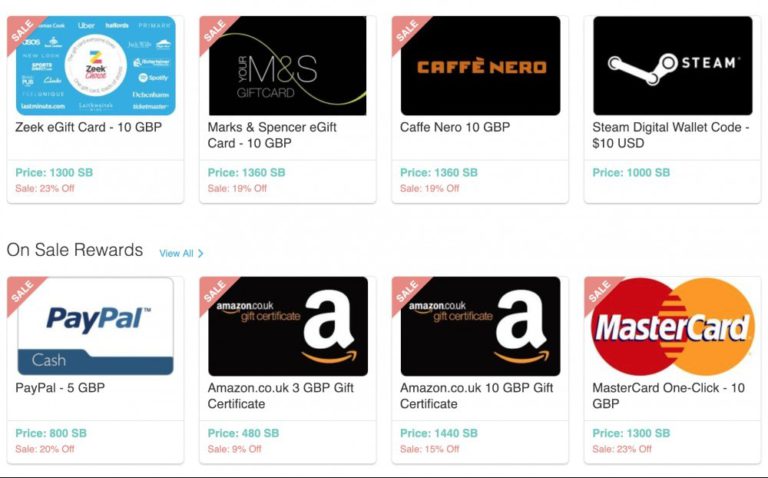 Sign up is completely free and trouble free, and then you are presented with your dashboard and can choose how you want to earn your SB points.
Ways to Earn SB Points with Swagbucks
Here are the different ways to earn SB points within Swagbucks:
Completing Surveys – this is predominantly what Swagbucks is known for with the offer of completing surveys for SB points.  The amount you receive depends, and sometimes it can be a good offer where you can receive 500 SB points for a 20-minute survey, and the others where you are lucky to get 50 points for another survey also taking you 20 minutes.
Another thing I noticed though, was the fact that I didn't seem to be eligible for that many.  This may be to do with me being in the UK, and the surveys seeming to want to understand trends in the US.  So, you might have more luck, if you are across the pond and live in the US or Canada.
Watching Videos –This sounds like it might be a good deal, if you spend a lot of time on YouTube then you might think watching videos for points is a great deal.  But in this instance, it is not, and the videos will not be anything you want to spend too much time on at all.  See the screenshot below: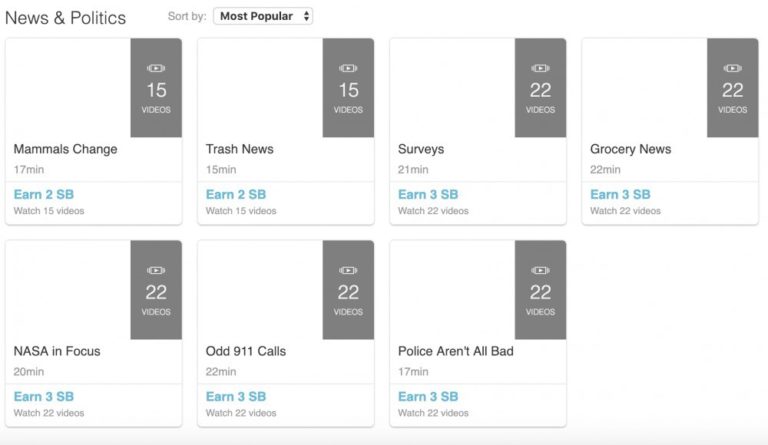 Watch 15 videos, lasting 17 minutes for 2 SB point.  Not worth your time (unless you let it run in the background).
There is also an option to use Swagbucks Watch, this opens in a separate window and you have to watch the video, as you will be asked to answer questions at the end.  But the return is not that great again. 
Paying Games – If you like playing online games, then this is a option.  Although a very limited one, as they only have 3 games for you to choose from…
Earning Cashback when shopping – This is probably the one that I would use more than any of the others.  If you shop online, they getting cashback is one of the benefits of using services like Swagbucks or Top Cash Back for.  Redeem points for shopping to get gift cards for your favourite retailers.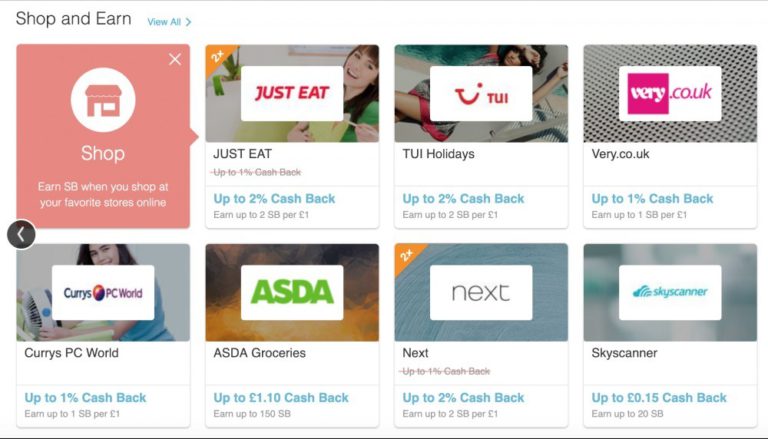 I would advise you check out the list of retailers when you are thinking of making a purchase as you have to go through Swagbucks to make the purchase for it to register.
Making Sponsored Purchases and earning SB Points – Again, worth a look if you are thinking of making an online purchase.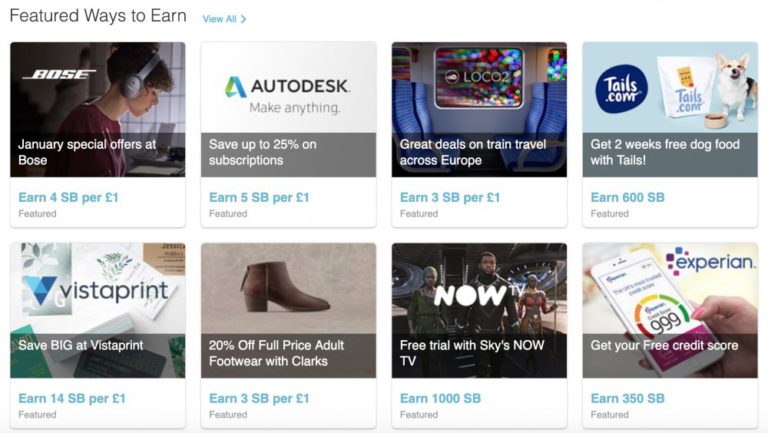 It would depend on the retailers and the offers on.  I have also seen some where you can sign up with services such as the lottery club and you gain points for joining.
There are also other ways to earn SB points such as referring friends and family, completing daily tasks and participating in sweepstakes with your points in the hopes of earning more money.
I think there are definitely benefits to an online service like Swagbucks, particularly if you shop online.
But I see the cash back side more of a benefit than making money online with the services.  Getting cashback on stuff you are already buying is a definite benefit.  But if you are looking to make serious online money, this is not the best route.  You would do much better with something like affiliate marketing than Swagbucks.
Haven't Made Your First $1 Yet?
Studies have shown that more than 70% of the people who want to make money online have not made their first dollar yet. So, you're not alone!
How Much Does Swagbucks Cost?
Whilst It is totally free to sign up with Swagbucks, the time you will need to invest to get a good return is really high.
Surveys are quite time consuming and are not always a great return of SB points, whilst watching videos is easy but again you do not get a lot of points for watching them.  You could watch 10 videos in a row, and only receive a handful of points for the trouble.
What We Liked About Swagbucks
Here's what I liked about Swagbucks:
Free to Join
A variety of ways to earn
Simple website making it easy to get your way around
What We Didn't Like About Product
Here's what I didn't like about
#1 Earning SB Points is Time Consuming
If you are only after some pocket money, you might forgive this one.  But it can take a lot of time to earning enough points to cash out at a level that seems worth it.  You will see surveys on there, they are only five minutes, but you will only earn 25 SB points.  Others where they are 23 minutes and you will only earn 60 SB Points.
You will do better if you are purchasing from their offers with cash back or earning SB points for a purchase, but that depends on whether the products are what you want to buy.
#2 Survey Eligibility
This will depend on your initial survey questions, but I found that I was not actually able to do many surveys, they kept telling me I wasn't able to complete this survey.  So, how can you earn points form surveys, if you cannot complete them.
Haven't Made Your First $1 Yet?
Studies have shown that more than 70% of the people who want to make money online have not made their first dollar yet. So, you're not alone!
My Swagbucks Review - Final Conclusion
If you are looking for some pocket money, or shop online a lot then I can definitely recommend Swagbucks.  Whilst completing surveys and watching videos is not a great return on the time needed, you could definitely benefit from the cash back offers to earn some money ready for Christmas.
If you are looking for a serious way of earning money online, then this would be not be a great choice and here is why.
It is down to amount of time you would need to invest to earn anything.  30 minutes of video to earn 2 SB points is not worthwhile.  30 minutes of survey to earn 75 SB points again is not a great return on your time invest.
If you are looking for some serious ways to earn money online, we can recommend affiliate marketing or blogging as a better way to earn money online.
But if you are just after some casual cash, or love shopping then it is definitely worth a try.
You have to ask yourself the questions at this point whether you're quite content to complete surveys for some extra pocket money, or whether you want to start a journey towards achieving financial freedom.
Affiliate Marketing is our top recommended business model, and can even have you quitting your day job and earning money from home.  But it isn't a get-rich-quick scheme and requires time and effort.
But with the right training, tools, and support, we were able to create a 4-Figure Monthly Passive Income Stream.  If you want to learn more about our top recommended training program, click here…
Thanks for checking out our Swagbucks Review!  If you have any questions or comments to add, then please write them in the comments section below. 😉