Welcome to our Six Figure Mentors Review!
I am guessing, that someone has just introduced you to a program that will "allegedly" help you earn tons of money and you want to see if it is the real deal, right?
First off, it is great to see that you are doing some research before buying into a "seemingly good" product or scheme. 
Research is the best way to avoid online scams and only find legitimate ways to make money online!
To be completely transparent with you, we are not affiliated with the Six Figure Mentor program in any way, so relax we are not here to pitch or sell anything.  We just want to help you get all the facts you need to know before you decide on what the best course of action for you is.
The Six Figure Program has many claims about being able to help you achieve a 6-figure income.  But there are also a number of reports that this is a total scam!  We wanted to find out what the truth really is, a scam, a proven money-maker or something inbetween.
Let's get started with a quick product overview…
Six Figure Mentors Review Summary
Product Name: The Six Figure Mentors
Founder: Jay Kubassak Stuart Ross
Product Type: High Ticket Affiliate Marketing/MLM Training + Membership
Price: Free 7-Day Trial, $29.95 – $2,500 + Monthly Costs & An Expensive Upsell
Best For: The Owners & The Top 2%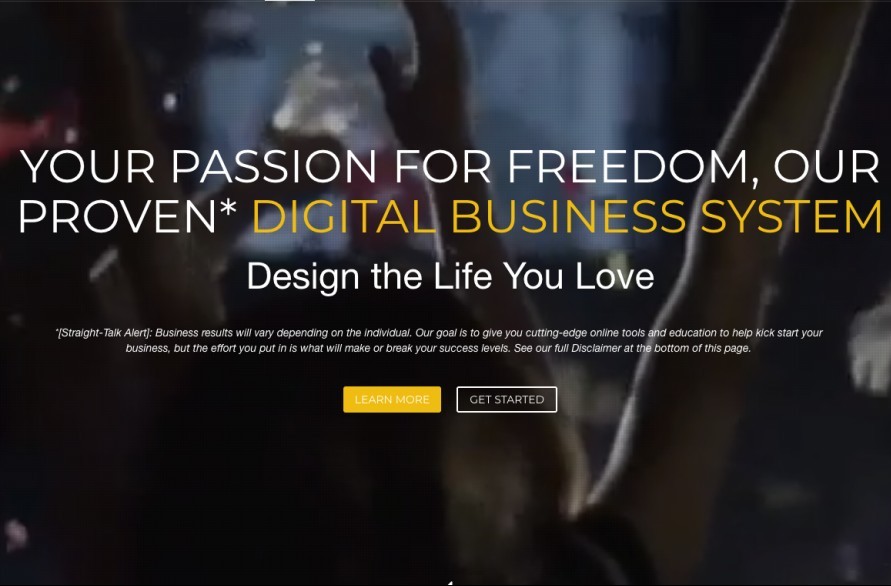 Summary: The Six Figure Mentors program claims to be a training program teaching you affiliate marketing, but a better way to describe it would be as a high-ticket Multi-Level Marketing company.  They offer limited Internet Marketing training and services with a number of different membership levels, but it is all designed to push a very expensive upsell on to you.
One of the co-founders has been found to have been involved in a huge scam in the past too.  For a number of reasons, I would not recommend this program to you.
Rating: 40/100
Recommended? No
What is Six Figure Mentors?
Founded in 2011, the Six-Figure-Mentor program offers step-by-step training based on Internet Marketing, with various marketing tools and resources all with the intention of helping people earn money online.
They claims that they can help people live the "Internet Laptop Lifestyle" just by following their training.  Check out the video explanation below by Six Figure Mentor Co-founder, Stuart Ross:
They offer a variety of done-for-you resources that include:
Marketing Banners
Affiliate Links & Sales Pages
Customisable Sales Funnells
Customisable Link Generator
Customisable Tracking Generator
Customisable Tracking Stats
The claim that all you need to do is following their training, listen to what your "assigned" coach has to tell you and build a website using one of their tools.  Then just promote the Landing Page they provide you with.
This sounds really appealing to people who are really eager to achieve success online, escape from their day job.
However, know that there are major flaws in their system which we will detail to you within our review.  There is a lot that they do not tell you…
Before we go any further, I think it is important to take a look at their founders first…
Stuart Ross and Jay Kubbasek are the guys behind the Six Figure Mentors.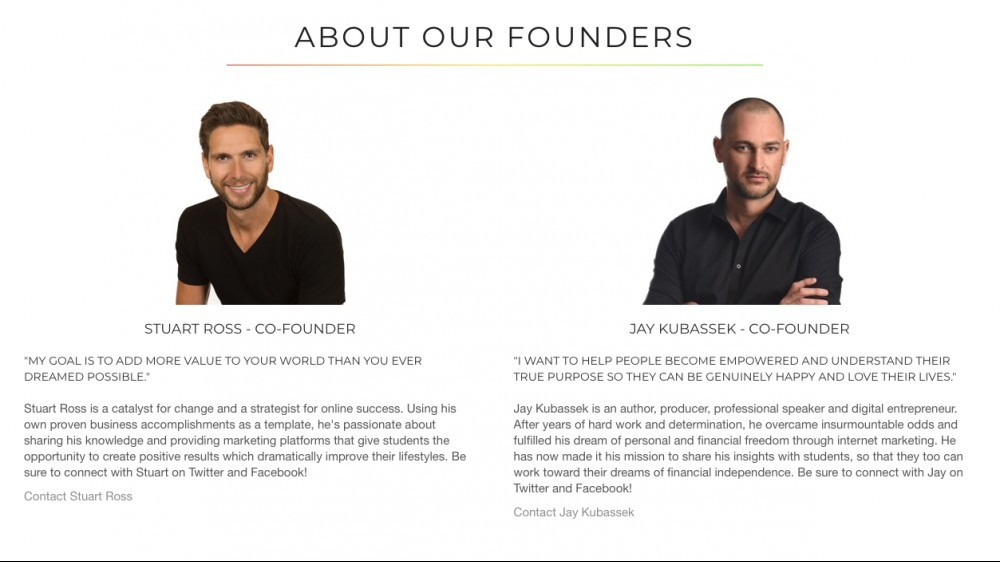 If you have had a little experience with online marketing, you may have heard about Jay before?  Jay was actually the owner of another company called Carbon Copy Pro or Pro U.  You will not longer find it online because it was exposed as a SCAM!
You may also notice that Stuart and Jay are running another company online called Digital Experts Academy (DEA).
When you actually get into more detail about Six Figure Mentors you soon realise that there is a major push for you to buy DEA as part of an upsell.  Yep, they will try to convince you that you will need to spend money on the DEA membership as part of this program and that is not a cheap investment.
This is huge red flag for us, and knowing they are owners of both shows they are going to push you to buy both.
Once you sign up with Six Figure Mentors, you will soon find it apparent that you are only going to be promoting the same program you just bought.  You will use their funnel to attract new leads, recruit new members and make money…
Step 1: SFM Ads
This is your typical entry point, you see an ad via a blog post, social media or YouTube which will lead you to their standard capture page.  The typical one is Stuart's YouTube ad showing you how he is making money whilst relaxing on the beach
Step 2: Capture an Email
This is all they ask at first, give them your email address and they will gift you a free 70day Video Training on how to live a 'Laptop Lifestyle!'
Step 3: 7-Day Free Video Training
You will receive a video each day for a week.  The videos are a mixture of Stuart or Jay and they are talking to you about an introduction to affiliate marketing (but a very basic one).  They will also be pitching to you why their business model is better than the rest and why you should join them.
Step 4: Buy the Basic Membership
To progress any further, you will need to purchase their basic starter membership which costs $29.95.  This might seem a reasonable deal, but it has a very limited access to their whole system.  It is just enough to entice you with the upcoming upsells…
Step 5: Contact Your SFM System Consultant
At some point, you will be asked to contact your system consultant, as well as booking a skype call with one of their business coaches.  This is about answering any questions you may have, offer help but more importantly to get you to upgrade your membership to the next level, gain more access to the system and pay more money!
Step 6: The Upsells Kick in…
This stage is where they will bombard you with upsells to the next membership level.  You will always hit a snag and need the next level to progress.  This is a typical tactic used in MLM programs, to get you to upgrade otherwise you will not be able to enjoy the laptop lifestyle they talk about so much about.
This is the exact same business model as Digital Altitude by Michael Force, My Top Tier Business (MTTB) by Matt Lloyd and My Own Business Education (MOBE) also by Matt Lloyd.
Haven't Made Your First $1 Yet?
Studies have shown that more than 70% of the people who want to make money online have not made their first dollar yet. So, you're not alone!
There are four membership levels within the Six Figure Mentors platform, and like I said each level has a limited access unless you go for the top tier membership.

Affiliate Access: Free 7-Day Video Series, no access to anything other than the videos
Student Access: $29.95 + $25/month (optional)
Essential Membership: $297 + $97/month
Elite Membership: $2,500/year + $97/month
The key bit is that now they have your email address, they will start promoting their membership to you.
But many people are drawn in with the free membership and are not even aware there are a range of different membership levels.
Although they have a free option, it is a very limited membership.  It only grants you access to one introductory course and that is all.  You get no access to any tools or features and it is designed to make you feel like you need to pay for a membership.
On top of the memberships, they will also keep asking you to upgrade to get more seemingly indispensable tools for your success.  They won't offer everything to you at once!
P.S. This program that has enabled me to generate a 4-Figure Monthly Passive Income is FREE to get started and only costs $49/month fee to go full-time!
Digital Experts Academy Membership Upsell
The Elite Membership is not the end though…
After the Elite Membership, they will introduce another program to you, which is called
Digital Experts Academy (DEA)
which is integrated with Six Figure Mentors.  This they claim will get you more support and training and that you need to upgrade.
There are 4 Membership levels for Digital Experts Academy:
DEA Silver: $2,500
DEA Gold: $8,000
DEA Platinum: $11,000
DEA Black: $20,000
So, if you think about it this company isn't just full of upsells, but it is full of high-ticket upsells!!
If you want more detailed membership prices and affiliate commission, please refer to their payout structure.  As you can see, most commissions are just 5-10%.  You can only make huge commission by selling their high-ticket membership at the end of the funnel.
When you put together the low commission rate and the expensive costs, the main winner of this program is going to be the owner of the company.
On top of the membership, they also provide tools for you to build and run your online business.  But these tools are not included in the membership.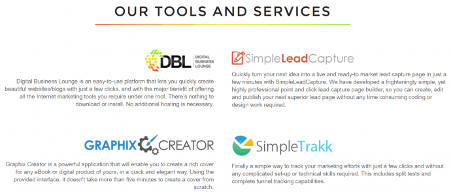 Here are the main 4 tools offered by SFM:
Digital Business Lounge: $37/month or $67/month
Simple Lead Capture: $29.95/month
Grapix Creator: $99
SimpleTrakk: $9.95/month
These tools are very useful for building your website and online business.  But there are 2 main issues with them.  They are too expensive and they have some major flaws with them.
The biggest problem is that you are "locked-in" to them, which means when you start using them, you will find it extremely difficult to change to other (better) tools.  If you want to continue running your online business, you will have to keep paying to get access to them
Here is what we liked about Six Figure Mentors:
#1 Basic Affiliate Marketing Knowledge
This program will give you some basic knowledge around Affiliate Marketing.  Affiliate Marketing is definitely a legit business model, but whilst they will teach you some of the basics their main focus is teaching you how to promote the program itself to others.
But you will learn some bits along the way.
#2 Mindset Training
They start their training off by focusing on having the right mindset.  It is a very important aspect to any business owner or prospective business owner, but it is often not something people talk about in training.  
Having the right mindset is just as important as anything else.  So the fact they start the training off with it is a good thing.
#3 30-Day Money Back Guarantee
They do actually offer a 30-day money back guarantee.
What We Didn't Like About SFM
Here is what we didn't like about Six Figure Mentors:
#1 Only Good If You Want to Promote SFM
I mean this in the way that you do not learn anything related outside of Promoting SFM, so if you wanted to promote something else like many Affiliate Marketers do you would still need to learn how to do this elsewhere.
You also do not get to choose what you want to build your online business about.  It is promoting SFM and that is it.  No option to promote something you are passionate about and that is really limiting your opportunities online.
They claim you can build your business in any niche you like, but do not offer any training or support to help with this.
This is where the signs it is an MLM scheme becomes very apparent. Or even a Pyramid Scheme as their primary focus is for you to recruit more people into the program.
#2 Have to Pay to Become an Affiliate
Affiliate programs are normally free to join.  They shouldn't be charging you anything, as you are helping them to promote their products.
But with SFM, you have to pay in order to promote SFM.  They will only provide you with marketing material once you have paid up to become a member.
#3 Unreasonable Investment & Upsells
In a world where most information is freely available on the internet, why would anyone want to put $20,000 down on all of these programs they are pushing onto you in the form of upsells…
This is just too much money for ordinary people to contemplate spending on an opportunity.
Haven't Made Your First $1 Yet?
Studies have shown that more than 70% of the people who want to make money online have not made their first dollar yet. So, you're not alone!
There are definitely success stories from those within SFM, take a look at this one:
There are definitely real people making serious money with the Six Figure Mentors and Digital Experts Academy platform.
But there is something in common with all the success stories, they are all on the highest membership levels.  They are all paying for the $20k DEA Black membership + all the other costs associated with the platform.
How many ordinary people can afford to make that kind of investment?
I am of the opinion, the only people who will get success with this program is those at the top, the top 1-2% of members and the owners.
The majority of other users will be suffering with trying to promote a product which is hard to sell anyway. They will also be stuck, as they have invested their time and money which makes it hard to walk away from it.
My SFM Review - Final Conclusion
We cannot say that Six Figure Mentors is a scam, it does have some legit training and content to build an online business.  But having said that, it is only a platform designed to teach you how to promote this program to other people.
There is a 30-Day Money Back Guarantee option out there too.
But when you factor in the costs and the system being really restrictive and the costs of the programs they will try and push on you (and don't forget them trying to get you to buy DEA).
We cannot recommend this to anyone looking to find a way of making money online!
We make money online via Affiliate Marketing.  But rather than learning from a restrictive program like Six Figure Mentors.  We learned how we could literally pick any hobby or passion we had and followed a proven step-by-step training program to make that a reality…
Our top recommended training program gave us the training, tools and support we needed to get started online and it does not cost anywhere near what SFM is charging.  
They only have two memberships – One is FREE and the other is $49/month.  No Upsells, No Hype.  Just good old honest training and support.
If you want to learn how to make money online in a safe environment without having to spend thousands, then you definitely need to check out Wealthy Affiliate.  Here is a link to our full review.
Thanks for checking out our SFM review.  If you have any questions or comments to add, then please write them in the comments section below. 😉