Welcome to our PowerHouse Affiliate review!
Are you sitting there wondering if PowerHouse Affiliate is the right training course for you?  Or, you might be sitting there asking is PowerHouse Affiliate a Scam?  Either way we have you covered with our review.
Affiliate Marketing is a great way for beginners to learn and get started with making money online.  But there are many training programs out there and they are not all on the same level, or indeed ideal for a beginner. 
So, where does PowerHouse Affiliate sit within that conversation? That is what we will aim to answer within our review.
First off, it is great to see that you are doing your research before buying into any "seemingly good" products.
It is the best way to avoid scams and find only legitimate ways to make money online!
To be completely transparent with you, we are not associated with PowerHouse Affiliate in any form.
So, relax and know that we are not here to pitch or sell you anything.
Instead, we are here to reveal what makes this affiliate marketing training course worth looking into, what makes this one of the few legitimate programs out there and ultimately answer the questions as to whether they are the right training program for you.
Let's get started and answer your questions, let's start with a quick product overview.
PowerHouse Affiliate Review Summary
Product Name: PowerHouse Affiliate
Founder: Joey Babineau
Product Type: Affiliate Marketing Training Platform
Price: Free for 1 course.  $47/month to access all course
Best For: Those with experience of affiliate marketing, looking to develop their skills with paid advertising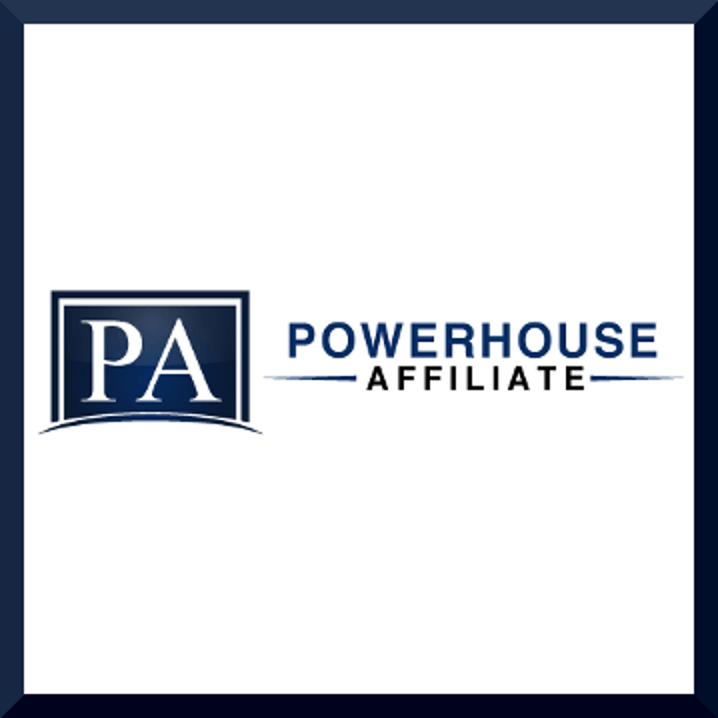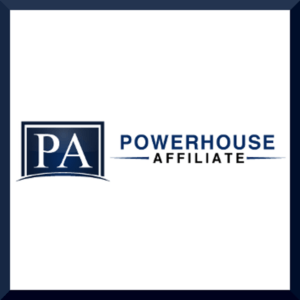 Pros
Free Certification Course
Learn Paid Advertising & CPA Marketing
Cons
Hidden Costs
No Module on Content Creation
Lack of Execution
75% of Lessons are Text-Based
Summary:  Powerhouse Affiliate is an affiliate marketing training program with a focus on CPA or Cost-Per-Action Marketing.  That is what the owners are really good at and want to share their knowledge.  For this reason, I would not recommend it to a complete beginner and that is simply because it focuses on one aspect of affiliate marketing and that is paid advertising.  There are a number of components of affiliate marketing like content creation, lead generation, etc. that are not explained or introduced.
But if you are a more experienced marketer looking to expand their knowledge with paid advertising, then this training would be a good shout.  Or, if you have the budget to go straight in with paid advertising (CPA), then this is a good training platform to join.
Rating: 70/100
Recommended? Not for Complete Beginners, But More Experienced Marketers With a Budget, Yes
For a complete beginner, we would recommend you check out this training.  This training provider will give you a more solid foundation of affiliate marketing.
What is PowerHouse Affiliate?
Before I go into our review, I would like to just be honest and tell you that I have not purchased the monthly membership.
Instead, we signed up for the free membership so that we could take a look at what is inside this affiliate marketing program.  With that in mind, our review will be honest and unbiased to help you make an informed decision.
Let's get into the review…
The Powerhouse Affiliate program was founded by Joey Babineau, in February 2013.  It is a training platform focusing on teaching you about affiliate marketing.  It is slightly different to other platforms out there (like Wealthy Affiliate) and that is because it's main focus is on one form of marketing and that is Cost-Per-Action or Cost-Per-Acquistion.  
This is typically referred to as CPA.  This means that you will be being taught methods that require you to have an initial budget and the platform does lack a level of detail into other methods of marketing, such as Search Engine Optimisation which gets you free traffic and doesn't require a budget.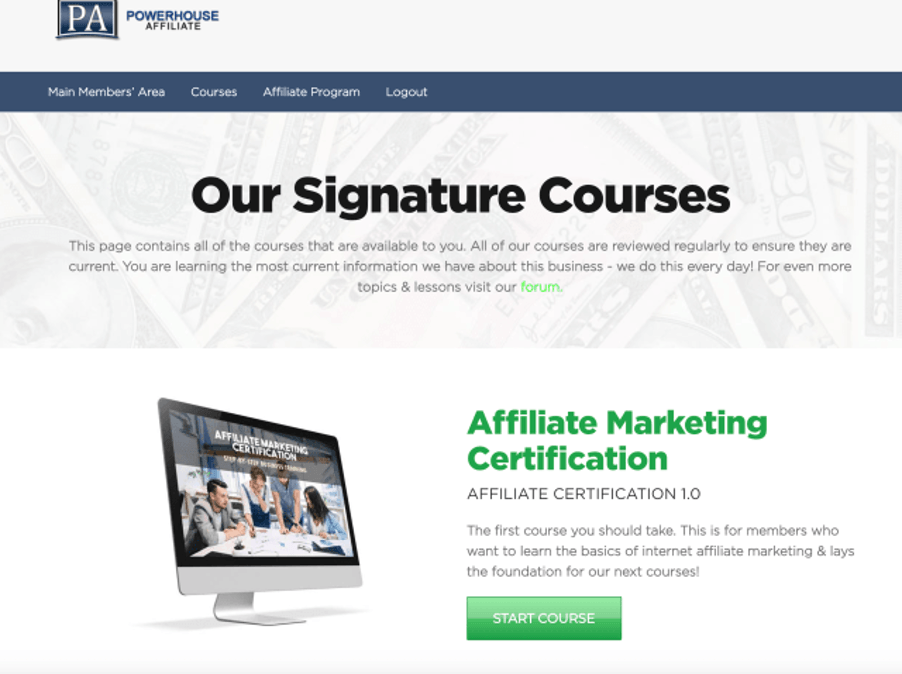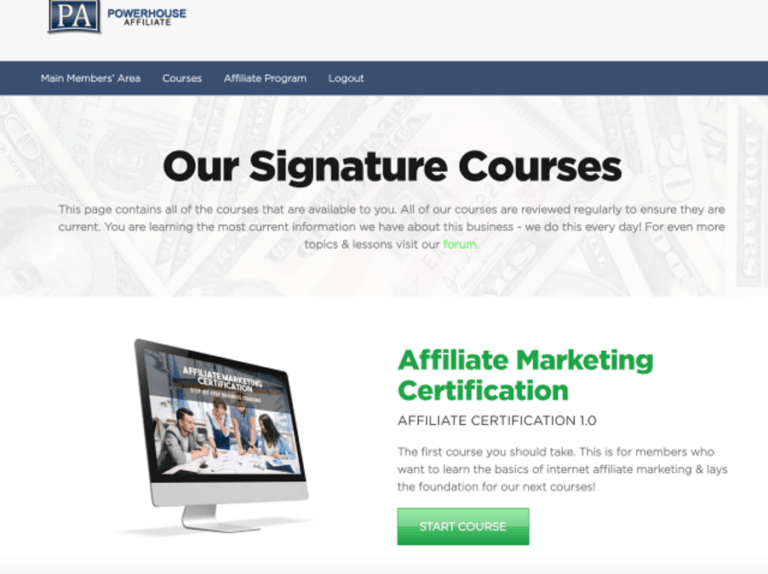 Babineau had been a full time affiliate marketing that had given up his 9 to 5 job and began to provide training for others on how to get started in the industry following the same marketing techniques he had used.
Powerhouse Affiliate has many positives, but it does not provide a holistic training program on affiliate marketing and that is based on the fact it has a bigger focus on just one aspect of it, which is paid advertising or more commonly known as CPA Marketing (Cost Per Action).
To ensure you know what we mean by CPA, let's just cover that off…
This is what Wikipedia has to say about what CPA Marketing is…
"Cost Per Acquistion (CPA), also known as cost per action, pay per acquisition (PPA) is an online advertising pricing model where the advertiser pays for a specified acquisition – for example a sale, click or form submit…
In affiliate marketing, this means that advertisers only pay the affiliates for leads that result in a desired action such as a sale.  This removes the risk for the advertiser because they know in advance that they will not have to pay for bad referrals, and it encourages the affiliate to send good referrals"
If you are still not sure, below you will find a great video that goes through what CPA from a marketers point of view is…
Ok, so now you should have a good idea of what Cost Per Action (CPA) marketing is and that is what Powerhouse Affiliate is going to be focused on providing training related to.
Inside PowerHouse Affiliate
Now, Powerhouse Affiliate is an affiliate marketing training platform that will help you develop your skills on affiliate marketing, but specifically with regards to paid advertising.
This is primarily down to the fact that Joey and his team are very good at CPA Marketing and want to help you develop your skills at paid advertising.
Let's take a look at the course they are offering…
Haven't Made Your First $1 Yet?
Studies have shown that more than 70% of the people who want to make money online have not made their first dollar yet. So, you're not alone!
PowerHouse Affiliate Training Courses
In total, there are 7 training courses that you can choose from within Powerhouse affiliate in their members area.
Like I said, with a free membership, you can only access the first course.  To access, the remaining six courses, you will need a premium membership.
#1 Affiliate Marketing Certification – Free
This course has the aim of giving you a general overview and information on what affiliate marketing is all about.   After completing this course, you will have a basic understanding of the following concepts:
How to choose niches and products through affiliate networks
How to choose your domain name and where to host your website
How to create blogs and landing pages
How to track pages
How to get free traffic from Facebook
#2 Powerhouse Affiliate Marketing Bootcamp
This is the second course of ten, but will require you to pay for the paid membership to access it.  This course covers more in-depth.
#3 Affiliate Business Builder
This is a two-in-one course delivered in video format.
It is done as an over-the-shoulder video on how to grow your knowledge in affiliate marketing and covers everything that is taught in the platform.
#4 CPA Display Academy
This will cover examples of live campaigns using native ads such as Facebook.
They also show you the different types of landing pages they use and what they do to profit from these landing pages.
You have the choice of reading the ten modules of text, or watch their 2.5 hour-long webinar.  Or Both.
#5 CPA Cash Vault 3.0
This is an 8-lesson course which shows you how to generate and build your email list and set up your marketing funnel.
However, you'll need to further this course by signing up for  third-party platforms like autoresponders and affiliate networks.
If you are just getting started, I would recommend looking at autoresponders such as Market Hero to get you started.
#6 Website Traffic Certification
This is another text-based lesson course and it focuses on how to get traffic to your website through different traffic sources.
It also shows you how to purchase advertising from platforms such as Bing Ads, Solo Ads, and so on.
As Powerhouse Affiliate is focused solely CPA, you can expect to pay  for the advertising as they recommend.
The training does touch on how to generate free traffic, but it takes a lot of time to see results.
#7 5-Phase Email List Building
This training focuses on the basics of email marketing and divides it into 5 phases.  There are no videos in this course, it is again a text-based course.
How Much Does PowerHouse Affiliate Cost?
There are two membership options for you to choose from:
Free Membership – This will give you access to the Affiliate Marketing Certification Course.  We will detail what is included later, but you also gain access to free templates for landing pages, website pages, and so on.
Premium Membership ($47/month) – The Premium Membership gives you access to the Affiliate Marketing Certification Course and then six additional courses too.  You also gain access to their Facebook Group, Forum and Affiliate Program.
It is also important for you to know that if you want to replicate their methods there are also going to be some additional costs that could soon mount up.  An already established marketer would probably be able to soak up some of the costs.  But a complete beginner may find they are out of their depth with the costs…
For example, they use and promote 3rd party programs that all have an additional cost on top of the membership.
These include:
BlueHost – Domain/Hosting – Minimum $127/year
OptimizePress – Landing Page Software – $79 – $199/year
Aweber – Email Autoresponder – $19/month with a free trial
Bemob – Tracking Software – $25/month to $1499/month
Solo Ads – $$ per month
PowerHouse Affiliate Referral Program
There is the opportunity for you to earn some money from promoting Powerhouse Affiliate, but you do have to be subscribed to the premium membership.
As of November 2018, Free members were no longer allowed to take part in their referral program.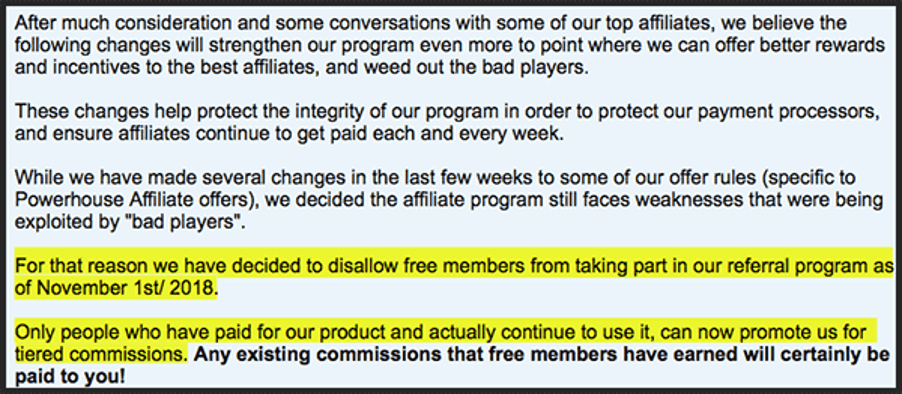 The main reason behind this change seems to be to improve the integrity of their program.  They only want serious people to come to their platform and those that are willing to pay.
Looks like too many people were joining the free membership in the hope of promoting the platform to earn money, rather than helping people find a solution.
If you do join their premium membership, the rates do show it to be a lucrative opportunity.
It also follows an MLM or multi-level marketing tiered commissions plan, without the products or fancy presentations.
Here is how it works: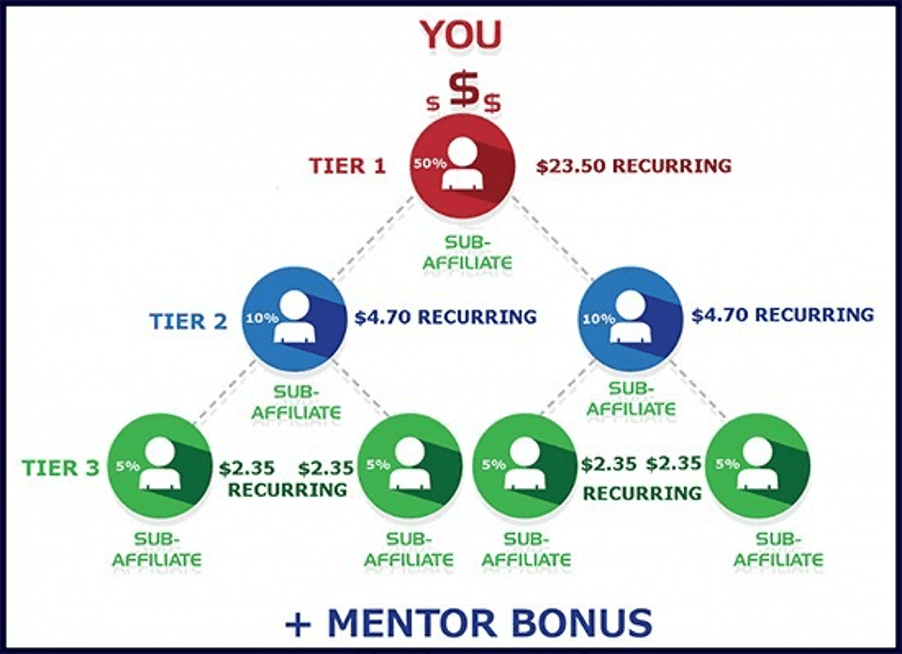 Tier 1 Commission Payout – Pays out at 50% when a person you referred upgrades as a Premium Member.  You will continue to earn this (each month) as long as they stay a premium member.
Tier 2 Commission Payout –

Pays out at 10%

when the person you referred introduces someone else to the program and upgrades to the premium membership.
Tier 3 Commission Payout – 

Pays out at 5% 

when your Tier 2 member refers a person and upgrades to the premium membership.
Who's PowerHouse Affiliate For?
Powerhouse Affiliate is a great program for you if:
You are interested in knowing more about Affiliate Marketing and Paid Advertising
You don't mind reading a lot of text from these courses
You can commit a few hours of your time to go through this training course
It is also important to point out that if you want to learn their methods, they all involve you paying for advertising.  That is the basis of CPA Marketing.
It can be very lucrative, if done correctly but there is the fact that you will need two things if you want to pursue Affiliate Marketing via CPA methods:
You will require an initial start-up budget
A budget to invest into the third-party programs they use in their methods
There is not just the monthly membership cost to factor in.  It can end up being quite expensive, especially if you are not getting the return on investment (ROI) that you need to remain profitable.
I have no doubt their training will help with this, but you need money in the first place to get started with their techniques.
What We Liked About PowerHouse Affiliate
Here is what we liked about Powerhouse Affiliate:
#1 – Free Certification Course
The Free membership and course that goes with it is really good and it gets you into what you can expect from the course and if you were to upgrade.
This goes a long way beyond what a free demo is all about and they shows they are there to help people and not exploit people.
There is also good content within the course. Despite it being heavily text-based it is really detailed and gives you a good look at how CPA Marketing works and the Affiliate Marketing Industry.
#2 Great Way to Learn Paid Advertising & CPA Marketing

 
If you are more experienced or have a budget to get started, then I think this is a great way to learn how paid advertising and CPA marketing can be used to achieve success within Affiliate Marketing.
A complete beginner might get a little lost, especially if they lack the funds but someone who is already seeing returns with affiliate marketing would definitely benefit from taking this course to expand into Paid ads.
What We Didn't Like About PowerHouse Affiliate
Here is what we didn't like about Powerhouse Affiliate:
#1 Hidden Costs
When you are considering whether to join Powerhouse Affiliate or not, you are only looking at the cost of the training program which is $49/month.
Doesn't sound too bad, but that is only the start of the costs.
This is because they are teaching you paid methods, which again you would be expecting with a course that is focused on it.
But the cost you may not have considered is the cost of the 3rd party products they are promoting.  We listed them earlier in the review, but if you follow all of their methods that could lead to being hundreds of dollars a month.
This is partly why we think this training is not ideal for a beginner, who lacks some of the basics.
#2 No Module on Content Creation
The training platform lacks any training and doesn't provide you with a solid foundation on content creation.  This is a problem as content is one of the core principles of Affiliate Marketing.
When you go through the course, there is an assumption from the founders that you already know how to create content.
Here is the problem…
If you are a beginner, you don't know how to do this yet.
If you want an affiliate marketing platform that provides you with training and all the resources that you need to get started, then we would invite you to look at Wealthy Affiliate.
#3 Lack of Execution
The training within the course are more focused on the "why" and the "what, but there is a lack of actually explaining the "how" of these concepts.
This is a problem for a total beginner who hasn't really got enough knowledge of affiliate marketing.  This makes this training not ideal for a beginner.
#4 75% of All Lessons Are Text-Based
We are all different and we all learn in different ways.  Some of the best training these days are training videos that actually demonstrate the concept you want someone to learn.
But Powerhouse Affiliate has mainly relied on text-based training.  There are a lack of training videos or audio files that you can check out for these lessons.
By having 75% of the training only via text, brings a number of disadvantages:
I cannot watch or listen to their lessons on the go.  I will need to be in front of my computer to go through the training
More people are moving over to videos, rather than text.  According to this LA Times article, only a handful are reading books or anything over the last few years.
Text-based training can be hard for some to follow, leading many people to have to go elsewhere to find a YouTube video to show the method they are trying to get you to understand.  I personally learn more from watching someone do something, rather than reading a set of instructions that do not clearly show me how to do something.
It can be very boring, having to read pages and pages of text.  It is easy to miss key points when you do this.
P.S. This program that has allowed us to generate a 4-Figure Monthly Passive Income is

FREE to get started

and only costs $49/month to go full-time!
Haven't Made Your First $1 Yet?
Studies have shown that more than 70% of the people who want to make money online have not made their first dollar yet. So, you're not alone!
Is PowerHouse Affiliate a Scam?
Powerhouse Affiliate is one of the few legitimate affiliate marketing training programs that are available online.  Joey Babineau is an experienced Affiliate Marketer with more than a decades worth of experience and shares his knowledge within this platform.
However, despite it offering amazing in-depth training and content, we would not recommend this training program to beginners.
The reason I wouldn't recommend this training platform to beginners is that it doesn't help you build a solid foundation on how affiliate marketing works in its entirety.  It only focuses on CPA & Paid Advertising.  It lacks any depth into how to set up your affiliate marketing business and how content creation is an important aspect.
However, if you already have a good understand of how affiliate marketing works and are looking to expand your knowledge into paid advertising routes, then this program is definitely worth looking into.
Affiliate Marketing is our top recommended business model for beginners.  It is a great way to get started and it is not necessary to have a huge start-up budget to get started.
There are many factors that you need to learn if you want to start working from home and enjoying a passive income with affiliate marketing.  Our #1 Recommended Training Program has led us through a step-by-step program that has allowed us to earn money from affiliate marketing.  It is free to get started with and teaches you the basics of content creation, free traffic generation and allows you to get started for FREE.
Thanks for checking out our PowerHouse Affiliate Review!  If you have any questions or comments to add, then please write them in the comments section below. 😉