Welcome to our Aweber Review!
To be effective at email marketing, you definitely need a good autoresponder… But is Aweber the best option for you? In our Aweber Email Marketing Review, we will show you how it works, why email marketing is still very effective at building trust and why Affiliate Marketers would benefit from Aweber.
There are plenty of autoresponders on the market, they all have their quirks and to be honest, the differences are often down to your preferences.  We use Aweber ourselves and wanted to share with you what we thought about it to help you decide whether Aweber is right for your business, as well as give you a few alternatives you could check too at the end of the post.
Aweber Review Summary
Product Name: Aweber
Founder: Tom Kulzer (CEO), founded in 1998
Product Type: Email Marketing Autoresponder
Price: Free 30-day trial, then plans start from $19/month
Best For: Those looking to get into email marketing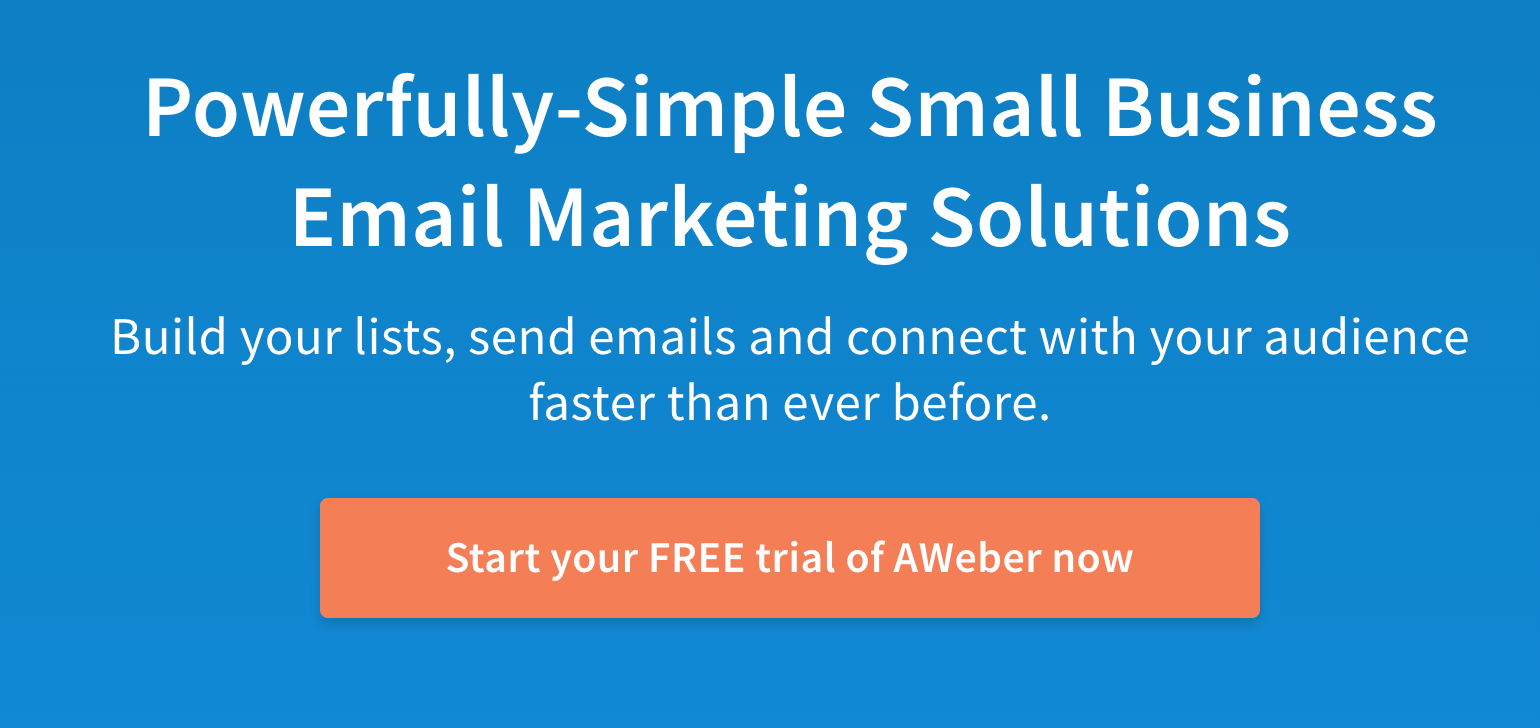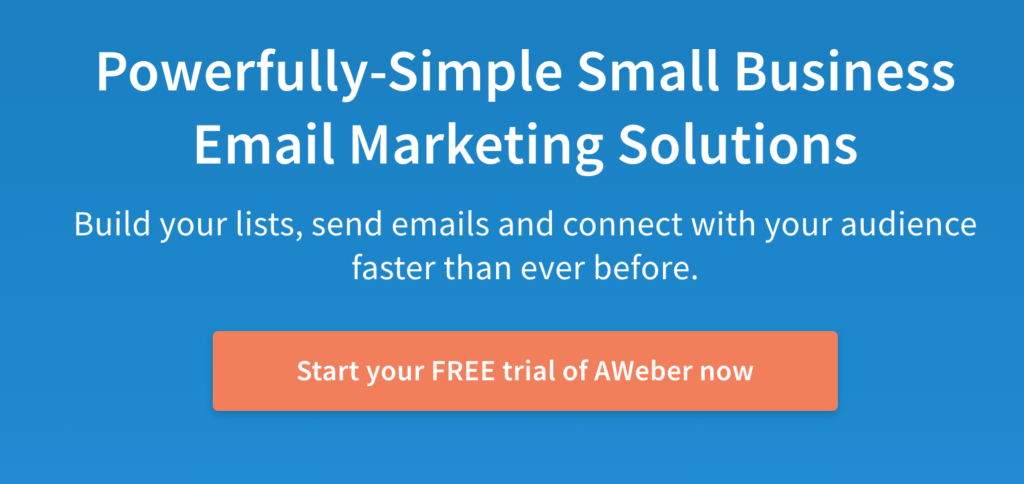 Summary: Aweber is an Email Marketing Autoresponder, designed to help business owners or bloggers with their email marketing campaigns.
They offer a mid-price ranged solution, and packages are based on the number of subscribers you have.  So, you can start small and only pay more as your subscribers increase.  Aweber throws all of their features into all of the packages, which is a good thing.
Aweber has a high number of templates you can use, they operate an easy to use drag and drop builder, with some other great features like split testing, and integration with third party apps.
But probably the best thing about Aweber is the level of support they provide you with.  They offer a unique phone option and a huge knowledge base, so making it ideal for those who are just dipping their toe into email marketing.
We would definitely recommend Aweber, we use it ourselves.  But like with most things online, if you haven't got the traffic yet there is little point adding this expense to your business. (Click here to learn how to bring more traffic to your blog)
Rating: 90/100
Recommended? Yes
Before we get into Aweber and all its features, we wanted to give you a little perspective if you are just deciding on whether it is time to start email marketing within your business.
Email Marketing is Very Effective
The whole premise of making money from affiliate marketing, ecommerce or anything online is all about TRUST.  Many people come to your website and they might not yet trust you yet.  We can all relate because of the high number of scams out there, and that is why email marketing is still very effective.  By capturing someone's email, you can then start helping them via email marketing and they will start to trust you and then they will be willing to follow your recommendations.
But Email Autoresponders will cost you money. Maybe not a lot, but it all mounts up. So, when should you be considering adding an autoresponder to your business?  It will depend on your budget, but our recommendation is that you should wait until you are getting a decent amount of traffic to your website.
Many people will hear that email marketing is very effective and then they sign up with an autoresponder they cannot really afford, and yet they are not even getting visitors to their website yet.  So, our advice would be is that once you have traffic and they are starting to mount up, that is the time to start capturing emails and considering an autoresponder.
They is always a time for automation, but if you are only getting 1 or 2 clicks a day, then I would wait.  If you have any questions or want some advice, then write anything in the comments below and we will get back to you with an answer!!
Aweber is an Email Marketing Solution, commonly known as an Autoresponder.  Email Marketing is still very effective these days and it is a great way of building up trust with people using your business.  Trust means more sales.
Aweber allows you to start capturing email addresses and then you can use Aweber to further communicate to people on a bigger scale.  Imagine having to write an email each time someone signs up to your newsletter.  An email marketing autoresponder does the hard work for you.
Email Marketing Solutions offer:
The ability to create a mailing list
Create newsletters that can be sent to subscribers on your mailing list
Automate your emails to subscribers via the autoresponder
View and Analyse data related to your email marketing campaigns
Let's get into how Aweber works:
We are going to go through all the different features of Aweber, so you get an idea of what you get by signing up with Aweber.
Broadcasts
Broadcasts is a great way of creating a unique email that you can send to all of your subscribers all at once.  Rather than it being part of a blog broadcast or a follow-up series, it might just be an email to ask them how they are doing or sending them a special offer, etc.
Split Tests
Split testing, also known as A/B testing is where you send different versions of your newsletter to your mailing list. Then you can monitor the performance differences and see which gets the best response for future reference.
This is included in most e-marketing tools, Aweber gives you the option to send up to 3 variations on your newsletter for split testing.
Campaigns
You can have multiple campaigns going, for example.  We have our campaign for this website, but as Gemma runs a wedding stationery business, we have a separate campaign on the same Aweber account and that way we can have 2 different subscriber bases getting information that is relevant to them.
Follow up Series
A follow up series is a great way of introducing subscribers to your list, this is where you can set a series of emails up to go automatically to a timeline you want.
If you are offering a 5-day course as your thank you for joining my list, you can spend the time to set up these emails to go automatically each day as part of the follow up series settings.
Blog Broadcasts (RSS Feed)
This is a feature where you can power your newsletter via the content on your website.  You connect your RSS feed to Aweber, and they pull your latest post to send to your mailing list.
It is a useful feature for bloggers, however there is a different email template list that they use with these, and it makes the emails look quite bad.  They look a little dated, and you will need to factor in the time you will need to make they look presentable before you switch this feature on.
It is a useful feature, but spend the time making it look good before sending out to your list.
Opt-In Options
Aweber's options with regards to opt-ins are really flexible and you have the choose of using a single opt-in or a double opt-in.  A single opt-in is where a user who fills in your email capture will automatically be added to your list, whereas a double opt-in requires the user to click a link in a confirmation email to complete and confirm their subscription.
Both have their uses, but not all of Awebers competitors offer this as a choose, which limits your flexibility.
Templates
Aweber provides you over 700 templates for you to use with your email marketing, if you compare that to GetResponse, they offer 500.  Providers like Mailchimp only offer about 80 templates.
Whilst there is a high number available, that doesn't mean all of them are what you want, as some are quite dated.  However, it means you are a lot more likely to pick one that fits in with your brand and style you are looking for.  You can also tweak the templates to get the exact look you want.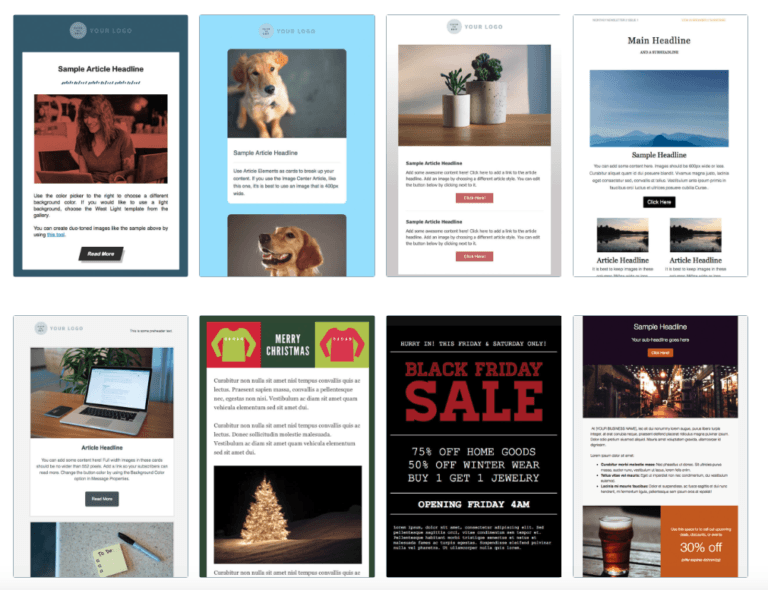 Integrations with 3rd Party Apps
Aweber does offer a good range of integrations with other solutions.  For example, you can directly connect it to Wix and WordPress and other such platforms.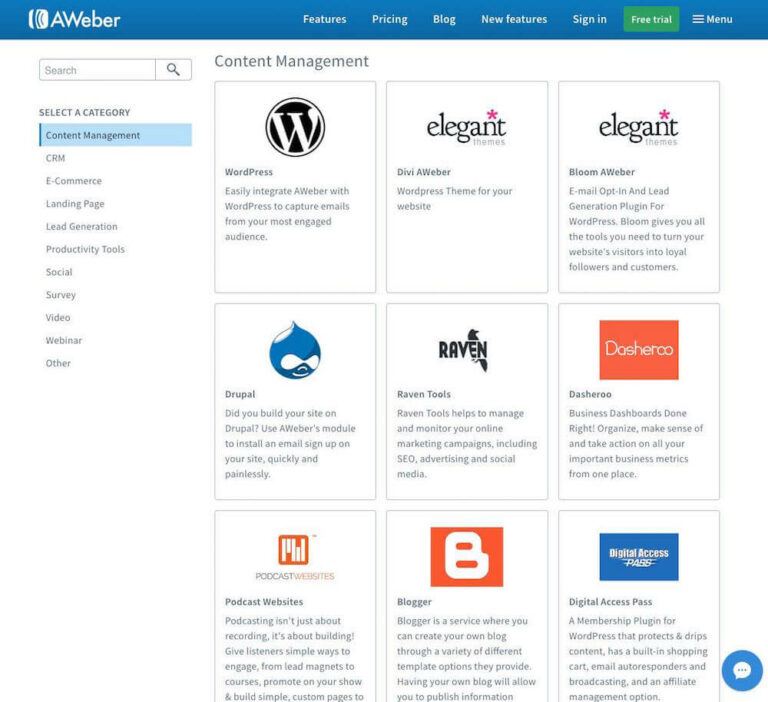 Some of these integrations do involve either dedicated widgets, or a snippet of code into your website and others require a separate sync tool.
But we have used it for integrating with Sumo before and are currently using it with Mailoptin and Elementor to capture emails with little stress into setting it up.
If you ever have problems though, the Knowledge base or YouTube will show you how to integrate it with whatever form you are using.
The Email Designs are Responsive
This is a major plus these days, more and more of us are searching the web and checking out emails on our smartphones, so the designs need to be able to adapt to whatever your subscribers are checking their emails on.
Responsive means just that.  It will automatically resize itself depending on whether they are reading it on a laptop, tablet or phone.
The only downside to this is in the design stage.  To see if it works, you have to email a test to yourself and check it on all of them.  It doesn't make it the worst thing, as once you have designed a template you like that you are going to use going forward, you won't need to do it again.  But it still does require the time to do it.
It would be great if they included a feature where you can see the design for different platforms at the same time.
We use Elementor as a page builder, and it has this great feature. Aweber would definitely benefit from this.
Subscriber Segmenting
This is a great tool if you are a local business and want to target subscribers based on their location, choose whether to target geographically or actions they have taken in the past.
If people are reading your emails more than others, they might be the ones to target with a specific email.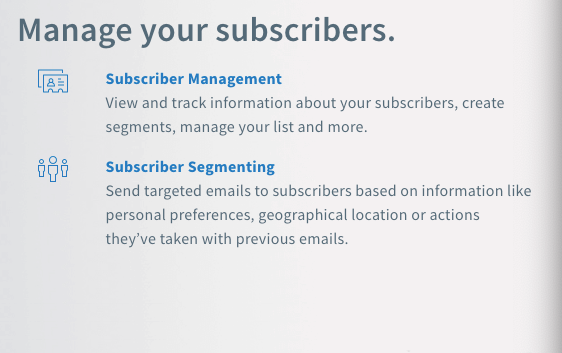 Reports
Aweber's analytics and reporting is really good.  They give you ways to monitor your key stats like open rate, clickthrough's and bounces.
There are also other stats like:
The growth of lists over time
An overview of sign up methods
Where people are opening your emails from (locations)
An individual's activity over time
Plus a few other great features
The problem isn't with the information, it is with the way you have to access it.  Unlike competitors like Mailchimp where reporting is all in one place, in Aweber you are going to need to switch between 3 different sections – broadcasts, subscribers and reports.
Aweber Smartphone App
I do like the fact that Aweber gives you a smartphone app which gives you the latest information on how your emails are performing and any new subscriber info.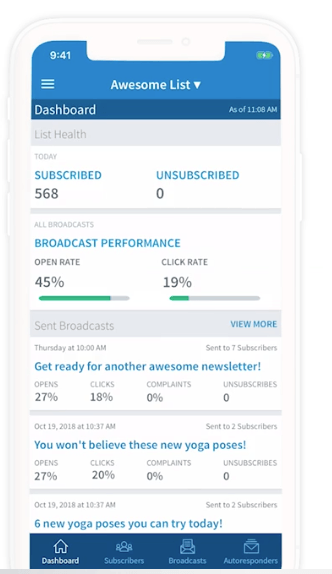 All of the features are included in each of the different levels of membership, the only thing that really makes the difference between them and their prices is the number of subscribers you have on your list, let's get into that now…
Haven't Made Your First $1 Yet?
Studies have shown that more than 70% of the people who want to make money online have not made their first dollar yet. So, you're not alone!
How Much Does Aweber Cost?
Aweber has 5 pricing plans, they are all based on the number of subscribers you have and not the number of emails you can send.  Here are the plans:
Hosting & Emailing a list of up to 500 subscribers: $19/month
501 – 2,500 subscribers: $29/month
2,501 – 5,000 subscribers: $49/month
5,001 to 10,000 subscribers: $69/month
10,001 – 25,000 subscribers: $149/month
If you are lucky enough to get to the point where you have more than 25,000 subscribers, you are going to need to contact Aweber for a bespoke package.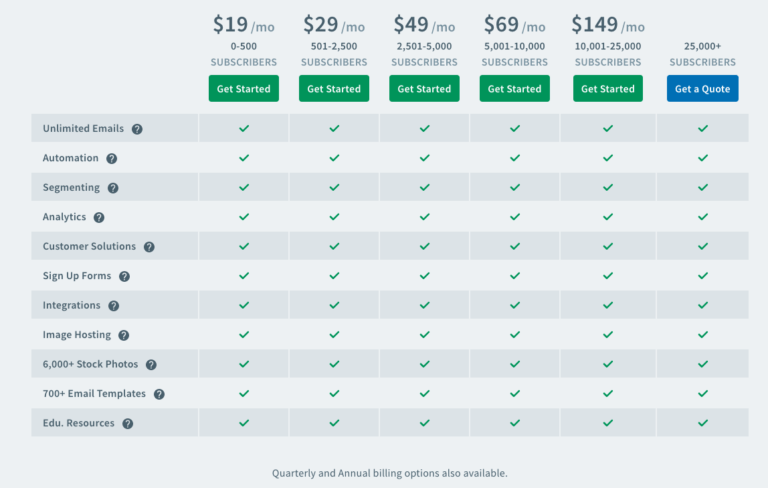 There are discounts available if you pay quarterly or even annually.  There are discounts available for students and not-for-profit organisations too.
If you pay quarterly you get a 14% discount, and if you pay annually you will receive a 15% discount on the prices above.
One thing you will notice, and we love is that the bands are based on subscribers and not features.  If you are just starting out, you will get the same features as someone who has a huge list too.
Other competitors do not offer everything in the smaller packages, meaning that you often have to pay quite a lot to get a feature you want or need.
Aweber keeps it fair by offering everything, regardless of package.
How Does Aweber Compare to Others?
Whilst they all have their differences when it comes to what is included in their packages, Aweber has priced itself roughly in the middle of the email marketing solution scale.
The main thing you need to look for is what is included within the packages as well as the price, Aweber includes all of its features in all of the packages, some others do not.
The Aweber support is one of the best parts of the product.
Whether it is phone support, email support or using the live chat feature, you will get great support.  Comparing this to others in the market, the addition of the phone option sets Aweber apart.
Unlike others, there is no need to go through endless FAQ pages before you have the option to pick up the phone, just go ahead and give them a ring and someone will be able to help you with your query.
Aweber has won awards for its support too. 
It won the Gold Award in 2016 for the US's National Customer Association's Stevie Awards and won a bronze in 2017, silver in 2018.
It shows they take support seriously, which is a major plus for someone who is just getting into email marketing.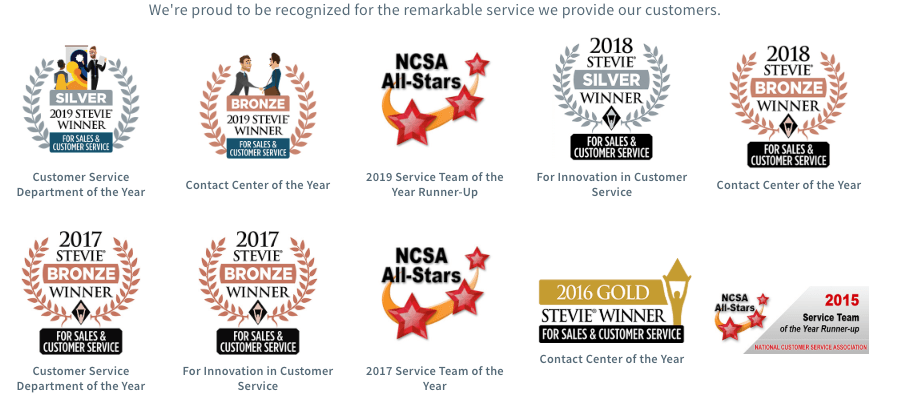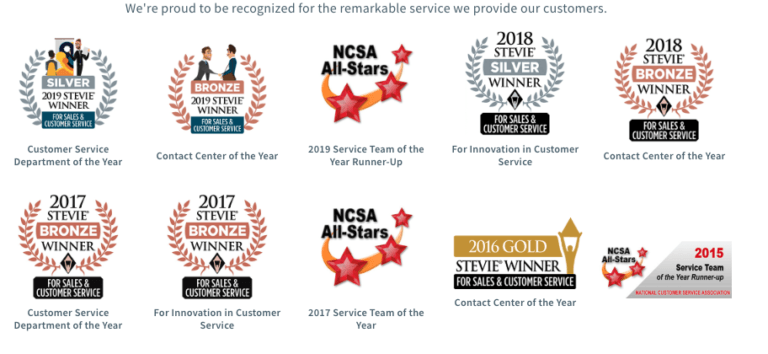 Support is available via the following options:
24/7 Chat Feature
Live Phone Support
Email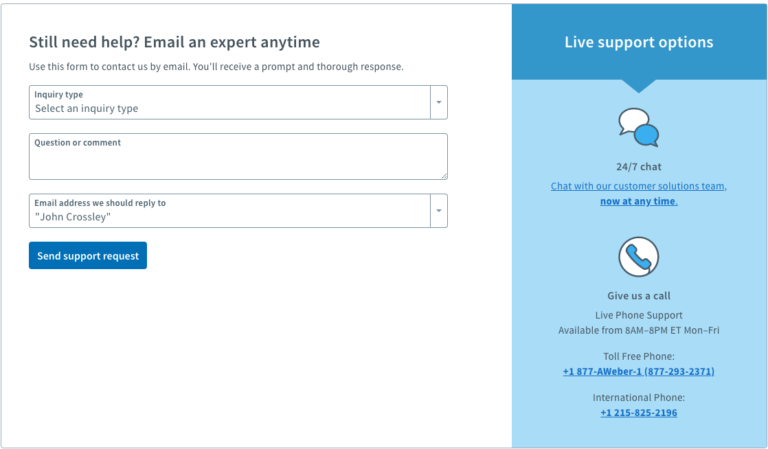 Having said all that, their knowledge base is quite extensive and answers most questions, and if you are just getting started, they include a couple of other great things for you to check out too:
Video Library
Aweber also has a comprehensive video library to show you how to get things done within Aweber.

Aweber Academy
Once you sign up with your account, when you are in your dashboard if you go to Help, you will get the option to join a few call features too.  One is the Aweber Academy.  It is a video course designed to help you with your email marketing, master the basics, etc.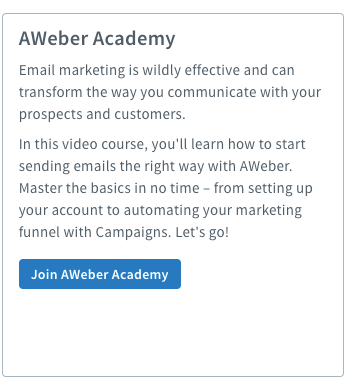 We have gone through it and it is very effective and getting you to understand how to use Aweber properly.
Aweber offers an affiliate program called the Aweber Advocate program.  By introducing someone to join Aweber you will benefit from earning a recurring 30% payment for each month they stay an Aweber member.
Please note, you are going to need to apply for this program via CJ Affiliate and not directly through Aweber,
See the image below to see what you could earn:

What We Liked About Aweber
Here is what we liked about Aweber:
#1 All of the Features in Each Package
The best thing we liked about Aweber is that the features you get aren't based on how much you pay.  This is great for small businesses just getting into email marketing.  Some of Awebers competitors limit what you can do on the basic package, meaning you have to spend more even though you do not have any subscribers yet.  Aweber keeps it really simple, you get everything and only pay more as your subscriber list grows.  This means the costs should grow in line with your business.
#2 Large Number of Templates
Aweber offers a huge number of templates to help you with your email campaigns.  A lot more than its main competitors
#3 Top Quality Support
From the number of awards alone, you can see how seriously Aweber takes it support.  It also includes the phone option, which is unique against its competitors.
#4 Easy to Use
The dashboard and drag and drop editor are really easy to use, and the video tutorials are great to when you are not entirely sure how to do something.
#5 Easy Integration with 3rd Party Apps
Aweber makes it really easy to integrate with a range of 3rd party apps.  Our experience has been with Sumo, MailOptin and Elementor and our experience has been good with all 3.
#6 Good Reporting
The reports you gain access to are a positive for Aweber, you can really get to know what your subscribers are doing with your emails.
#7 30-Day Free Trial
One of the best things about Aweber is that they give you 30 days to decide if it's the right option for you, there are many different autoresponders out there, so take it for a test drive and see if it fits for you…
What We Didn't Like About Aweber
Here is what we didn't like about Aweber:
#1 Outdated Templates
More so, on the blog broadcast side more than the drag and drop builder but still, whilst there are over 700 templates for you to choose from, many of them are not ideal for an up-to-date email marketing campaign
#2 RSS to Email Templates are Poor
This goes with the one above, it is a useful feature to build emails from your blog content, but the templates are really not up to scratch
#3 There are Cheaper Options Out There
Aweber is good, but there are cheaper options out there with more features in the marketing automation department, an example would be GetResponse
Haven't Made Your First $1 Yet?
Studies have shown that more than 70% of the people who want to make money online have not made their first dollar yet. So, you're not alone!
My Aweber Review - Final Conclusion
We feel Aweber is a very solid choice as an email marketing tool and we use it ourselves.
The key reasons are it is easy to use, contains most of the features you would want from an email marketing solution and is reasonably priced.
The support is top-notch and the video tutorials, etc. make it really simple to learn how to get the best out of Aweber.  This would be a major positive for someone just starting out with email marketing as you can pick up the phone and speak to a real person if you need to.
We hope you have found our Aweber review useful, but if you still haven't made up your mind on whether Aweber is the right solution for you and want to know what the alternatives are, here are out thoughts on the alternative products
If you are still not feeling Aweber, or want to check out some others first, there are many alternatives to Aweber.
If you are on the lookout for something that has more features, then you might want to consider researching GetResponse or MailChimp.  GetResponse is a little cheaper than Aweber.
If you are looking for something at the lower end of the cost bracket, then you could check out Mad Mimi.  But you need to bear in mind that Mad Mimi is a much more basic solution that Aweber.
At the other end of the cost bracket is Campaign Monitor.  It boasts a lot of cool features, but it is also quite expensive by comparison.
Thanks for checking out our Aweber Review!  If you have any questions or comments to add, then please write them in the comments section below. 😉
Aweber
Free 30-Day Trial, Prices from $19/month
Pros
All Packages Include All the Features
Large Number of Templates
Top Quality Support
Easy to Use
Easy Integration with 3rd Party Apps
Cons
Outdated Templates
RSS to Email Marketing Templates are Poor
There are Cheaper Options Out There