Welcome to our Noonday Collection Review!
I am guessing you have been approached by a friend or family member who is telling you that you can make money with Noonday Collection, right?
But there is part of you that is wanting to know a little bit more about this company before you sign up, or you are even questioning whether Noonday Collection is a scam?
If that is you, then you are definitely in the right place.
First off, it's great to see that you're doing your research before buying into any "seemingly good" product.
That's how you avoid scams and find only legitimate ways to make money online!
To be completely transparent with you, we're not associated with Noonday Collection in any form.
We're not here to pitch or sell you anything. 
Instead, we want to reveal to you all the information you will need to know about Noonday Collection, including some background information, how much it is to join, a breakdown of their compensation plan and what products they offer. 
We will also tell you how you are supposed to make money from Noonday Collection too.
Let's get into our Noonday Collection review…
Noonday Collection Review Summary
Product Name: Noonday Collection
Founder: Jessica Honneger
Product Type: Jewelry & Accessory MLM Company
Price: $199 – $699 + $9.99/month
Best For: Those Already Established in The Jewelry market

Summary:  Noonday Collection is an MLM or Multi-Level Marketing company that works in the Jewellery & Accessory Industry.  It is an established business with a good collection of products and does operate a legit MLM business model.
However, there are a number of reasons why we would not recommend this as a business opportunity.  Chief among these is the difficulty relating to success within MLM.  We also found it extremely difficult to get hold of information about their Compensation plan.  MLM compensation plans are normally quite difficult to grasp, but not finding one was a new one on us.  We also couldn't find an income disclosure document, which begs the question on what are they trying to hide from you.
The start up costs are high, and unless you are really good at sales and recruitment, we feel this will be a very difficult business opportunity.
MLM has a really low success rate, and only ever benefits the people at the top of the pile.  If you are someone who can climb to the top, you might find this an ideal fit.  But for the rest of us, we have a better recommendation…
Rating: 45/100
Recommended? No
What is Noonday Collection?
I want to be clear from the start, it is the business model that I feel is the problem and that is because it is MLM and mirrors a Pyramid Scheme too much.
But when you start digging into what Noonday Collection represents – it looks like a fanastic business.
Started back in 2010 by Jessica Honegger, it is now an established brand with an A+ Rating on BBB and is a member of the Direct Selling Association (DSA).  This gives it all great feedback about the business itself and pulls away from the Scam tag.
They offer a range of Jewellery & Accessories for you to buy and have a charitable side where they work with people in various poorer countries and sell their products for them.
It was in 2011, that the business opportunity came about and that is what they call their Ambassador program.
This is the business opportunity we are reviewing to see whether it is worthwhile.  As far as the products go, you would need to check out their website to see if they are something you might buy for yourself as we feel Noonday Collection has an honourable side, with the charity work.
But the problem with the business model is that it follows the MLM model.  MLM has a really low success rate, and you would need to be fantastic at sales to make this a full-time income opportunity.  More on that later, let's get into the products they offer.
Noonday Collection Product Line
Noonday Collection offers a line of various jewellery and accessory products including:
Necklaces
Bracelets
Earrings
Ring Bags
Scarves
Accessories
Seasonal Collections
Loads more


At a guess, there are more than 100 different items in their range, and the prices range from $14 to over $120.
The prices seem fair, although I am no expert on jewellery.  But I think the fact that a number of these items come from artists in poorer countries could be a good selling point.
The quality seems pretty good and the reviews are positive.
How Do You Make Money at Noonday Collection?
Let's get into the details around their business opportunity.  Becoming an Ambassador (distributor) gives you two routes to make money with Noonday Collection.  As with most MLM's, you can either:
Directly sell the products to other individuals and earn a commission on the sale
Recruiting other people to become an ambassador (distributor) as your downline, and earning residual income from them meeting certain criteria and you earning certain criteria
Naturally, the money is in option 2.  But that doesn't mean it is the right choice for many people.  Many do not realise how difficult it is to sell these products to other people to meet the criteria, how much you need to spend to get started and how much competition you will be up against because there are plenty of other people in your area trying to do the same thing.
If you take the Jewellery niche alone, there are other MLMs that have distributors trying to sell these products or recruit new people into their downline.  Examples include Touchstone Crystal, Stella and Dot, Vantel Pearls, Origami Owl, Paparazzi Accessories, to name a few.
Whether you decide to choose option 1 or option 2 or both, this is going to be a really difficult route.  Let alone, the expensive start-up costs you will need to spend to get started…
Haven't Made Your First $1 Yet?
Studies have shown that more than 70% of the people who want to make money online have not made their first dollar yet. So, you're not alone!
Getting Started with Noonday Collection
Joining Noonday involves you spending money on one of their starter kits and paying a monthly fee.
The 3 Starter Packs are:
The Basic ($199)
The Essentials ($349)
The Luxe ($699)
The more you spend, the more products you receive.  You will also get some training materials and marketing materials.
The next cost is a monthly fee of $9.99.  This gives you access to:
A personal e-commerce website
Web office to manage your business
On-demand training courses
Digital marketing materials to book shows and sell
Top Rated customer service team
But there is also an additional cost that you will need to commit to.  This is common amongst direct selling businesses and that is that you will need to throw a "trunk show" every six months.  But not only do you need to throw this party to try and shift some products, but you are going to need to earn at least $300 at each of these parties to remain an active member.
I have found their Ambassador Policy from 2017, if you want more detail about their business opportunity.  Click here to read it.
Noonday Collection Compensation Plan
MLM Compensation Plans are not the simplest to understand, many are really complicated and confusing.  But in the case of Noonday Collection, it is impossible to find.  They do not display their compensation plan on their website, as they prefer for you to hear it from someone already in their plan.  This comes out as a red flag to me, it means the person who is trying to recruit you might not give you the full details of the compensation plan, so you don't question whether to join or not.
Through a bit of digging and doing some research, we have been able to find some of the compensation plan and we will detail it for you here.
Affiliate Ranks
MLM's usually have a ranking system, where the more you sell or the more people you recruit, the higher up the ladder you are.  Hit the goals they set and you climb up.
The bonuses as you climb up include larger commission rates and a one-time bonus each time you level up.
Commission Eligibility
To be eligible to receive commissions you need to hold a "trunk show" or a party/event where you sell Noonday Collection products to people once every 6 months.
At this show, you must achieve at least $300 in sales and have at least 3 different orders.
Retail Sales
This is commission from the sales you make by selling directly to customers.  You can earn between 20% to 30% on these sales.
Residual Commissions
Residual Commissions is where it starts to look like a Pyramid Structure and gets likened to a Pyramid Scheme. This is because it tends to look a little like this:

The residual commissions come from you building up a team under you called your downline.
You earn a certain percentage on all sales made from the team below you and at Noonday you earn between 5% – 10% of those sales.
How much you earn will depend on your affiliate rank and the size of the team below you and how well they do too.  We will talk about whether Noonday Collection could be considered a Pyramid scheme shortly.
Smaller Bonuses
At a typical MLM, most commissions are made from increasing your rank, getting retail sales and your residual commissions.
Noonday also offers some smaller bonuses too, although as it is hard to get concrete information on their compensation plan we can only guess what these are.
Related Post: How to Increase MLM Sales – Effective Tips to Improve Network Marketing Success
Is Noonday Collection a Pyramid Scheme
It is hard to deny that there are elements of a Pyramid Scheme with any MLM. It always comes from the recruitment side, as you have to build up a team under you and the more you recruit and the higher you get, the more likely you are to earn money.
Pyramid Schemes always benefit the very few who can climb to the top of the pyramid and always cause the people at the bottom of the pile to lose money and ultimately fail.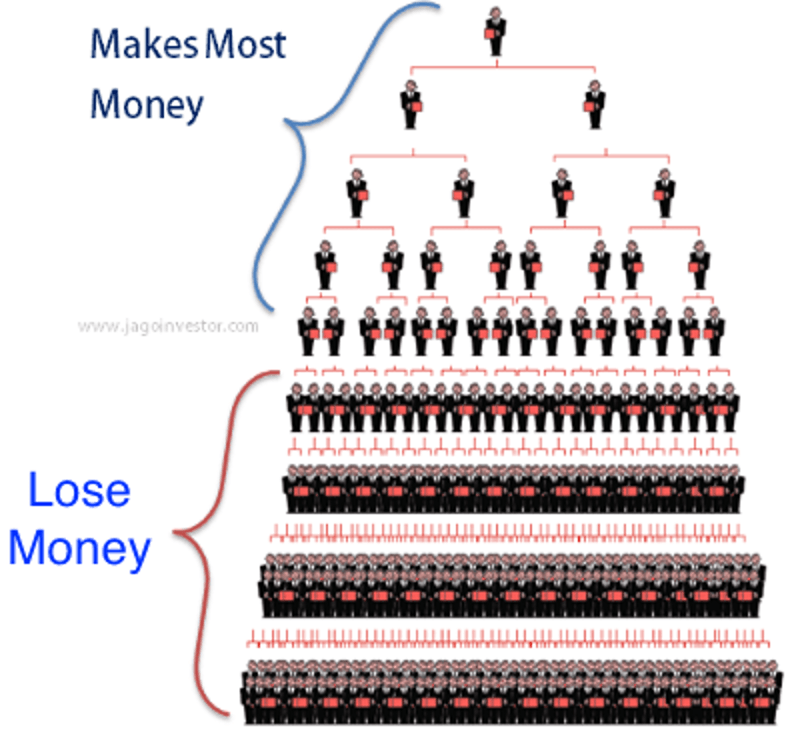 That is why a pure Pyramid Scheme is illegal.  The FTC are actively seeking them out and have even closed down programs that have been deemed a Pyramid Scheme or don't offer enough value, examples include Digital Altitude & MOBE.
But, the difference between a legit MLM opportunity and a Pyramid Scheme is that a legit MLM offers real products and services and recruitment is not the only opportunity to make money.
This is what Noonday Collection offers.  You can choose to just buy the products for yourself, buy and sell the products or explore the recruitment side or do all three.
It does have elements of a pyramid scheme, on the side of the recruitment side.  But it is not the only option open to you and that is why we can say it isn't a Pyramid Scheme, but a legit MLM opportunity.
Having said that, it doesn't mean it is going to be an easy route to making money online.
Success Will Be Hard at Noonday Collection
The reason we know that Success will be hard to achieve is because there is a track record with MLM schemes.  There is such an emphasis on the recruitment side to make money and ultimately 99% of people who join an MLM business opportunity end up losing money.
To be successful, you are going to need to be one of the very few who can be on top of the pyramid with a huge network of direct sellers under you all making money for you to make money.
Have you got the network already to start promoting the products or the business opportunity? Are you going to be able to build up a network of hundreds of direct sellers in your downline to make this opportunity pay off?
You might be able to get a friend or two to sign up, but in reality this is an almost impossible task.
You have to remember, the people who run these MLM companies and are promoting it are experts at sales, so they will make the business opportunity sound like the best thing since sliced bread. 
But you need to ask yourself, is selling really something you enjoy or are good at?
Check out these stats about MLM against our top recommended model, Affiliate Marketing:

If you are looking for a genuine business opportunity, and want something more realistic, can get started for FREE and is based on helping people and not selling to people, then keep reading to find out our Top Recommended Business Model…
What We Liked About Noonday Collection
Here is what we liked about it:
#1 Good Products
The MLM business aside, the products they are offering are good quality, and I love the fact they are helping those from poorer countries get an audience to their products.
The products get a good review, and they are reasonably priced for an MLM.  Most MLM's are only interested in the money and are often charging 4x the value of the products you would find elsewhere.
#2 Good Causes
It is worthwhile mentioning this again, most MLM's are only interested in lining their own pockets, so to help out people from poorer countries is a good thing for Noonday Collection.
#3 A+ BBB Rating
Noonday Collection has been accredited with BBB since 2013, has an A+ rating about its products and this goes to show it is a legit business.  Being part of the Direct Selling Association is also a good sign.
Most MLM's are only around for the short term, and if they go it means your business is gone too.  So, at least with Noonday Collection this wouldn't be a worry.
What We Didn't Like About Noonday Collection
Here is what we didn't like:
#1 Massive Emphasis on Recruitment
Like most MLM opportunities, the real money comes from recruiting new direct sellers into your downline, but this is not always a reality or even achievable.  You need to be really good at sales and recruitment as you need to push the products and the business opportunity.  How many people do you know that might be interested in buying some jewellery?  You might say a few, but would the same people be interested in the business opportunity, when they know you are probably not making ends meet with it?
MLM's have a really low success rate and 99% of people lose their money.  There is nothing about Noonday Collection that changes our opinion on this point.
#2 Compensation Plan is Not Available
This is normally the first-place people go to when they are considering a business opportunity and it is not available.  I know they claim it is so someone can explain it to you, but as most MLM compensation plans require a degree to understand, this doesn't wash with me.
It actually shows a red flag, and might show they are hiding something from you or they don't want you to understand it and the lack of a real opportunity?
#3 No Income Disclosure
This is another thing that I find hard to believe they don't show people.  This normally means that the reading isn't that good, and they don't want you to know that not many of their ambassadors are making a decent amount online.
Even if we compare other MLM's we have reviewed, the number of people who are earning a minimum of $1,000 a month are typically 1% – 5% at a push.  So, if you are considering joining up with Noonday Collection remember this figure and the amount you need to spend in the first place to get started.
Haven't Made Your First $1 Yet?
Studies have shown that more than 70% of the people who want to make money online have not made their first dollar yet. So, you're not alone!
My Noonday Collection Review - Final Conclusion
Noonday Collection isn't a scam.  Noonday Collection offers legit products and is a legit business.
But this is a bad business opportunity.
The earning potential is just so low, and you will not be properly rewarded for the time and effort you are going to put in.  You will feel tied down to a bad business opportunity trying to claw your investment back and that is going to be extremely hard to do.
MLM is not a great business model, but don't worry we have a much better way to make money online:
I'm not a fan of MLM, not because it isn't legit or profitable.  But because it is almost guaranteed to fail on you.
That is why our top recommended business model is Affiliate Marketing.
The reasons are simple…
There is no need to recruit anyone
You are not tied down to one MLM company and the products they sell
You can build a profitable online business in any niche you want
You can get started for FREE
I am not going to say that it is an easy path, you are going to need to put in the time and effort to build up your affiliate marketing online business.  But with the right training, the success rate is much higher and with no huge investment at the beginning and choosing a niche you already enjoy, you are going to find it a much simpler path to follow.
Wealthy Affiliate is the best place online to learn how to make money online and it is where we learned everything, we know about Affiliate Marketing and Online Business.
Because of Wealthy Affiliate, we are earning consistent money every month.  You can too.
Learn more about Wealthy Affiliate, by clicking the button below:
Thanks for checking out our Noonday Collection Review!  If you have any questions or comments to add, then please write them in the comments section below. 😉