Welcome to our Vantel Pearls Review!
This is definitely a different take on the jewellery MLM concept.  This business is all based on Pearl based Jewellery.  They even offer the opportunity for you to receive your jewellery with an oyster, so you can open it up for your very own pearl.
But is all as it seems, or are there things that make us question the opportunity?  That is what we will tell you in our review.
We have found out all the details you need to know about this company and the business opportunity and will share it with you in this review.
First off, it's great to see that you're doing your research before buying into any "seemingly good" product.
That is how you avoid scams and find only legitimate ways to make money online!
To be completely transparent with you, we're not associated with Vantel Pearls in any form.  We're not here to pitch or sell you anything.
Instead, I just want to share with you what we found, so you can make an informed decision.
Vantel Pearls Review Summary
Product Name: Vantel Pearls
Founder: Joan Hartel Cabral
Product Type: Jewelry MLM Company
Price: $99 Membership Fee
Best For: People Who Love Jewelry and Are Good Are Direct Selling/Recruiting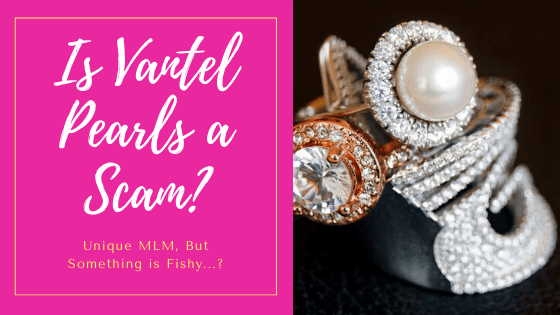 Summary: Vantel Pearls has a unique take on the MLM business model and is based on Jewellery featuring Pearls.  They have been in business for over 20 years, which is long standing for an MLM and shows they are legit.  Having said that, there are a few concerns that we have around this company.  Between lawsuits, product quality issues and the fact it is an MLM have us worried about recommending this opportunity.  MLM is tough and also has a really low income potential, coupled with the other issues we do not recommend this program to you.
Rating: 20/100
Recommended? No
Founded in 1990, Vantel Pearls is a Jewellery MLM or Multi-Level Marketing company.  It was founded by Joan Hartel Cabral and it currently operates out of Massachusetts, USA.
The story goes that Joan was on holiday in Hawaii in 1987 and she was in awe at the tourist attraction of opening pearls themselves to find Pearls.  It somehow got turned into a home party money making opportunity, or rather a lot of people showing themselves opening them on Facebook Live.
Vantel Pearls provides an MLM opportunity related to Pearl Jewellery and other Pearl-related jewellery.  It is similar to other MLM companies like Touchstone Crystals and Stella and Dot.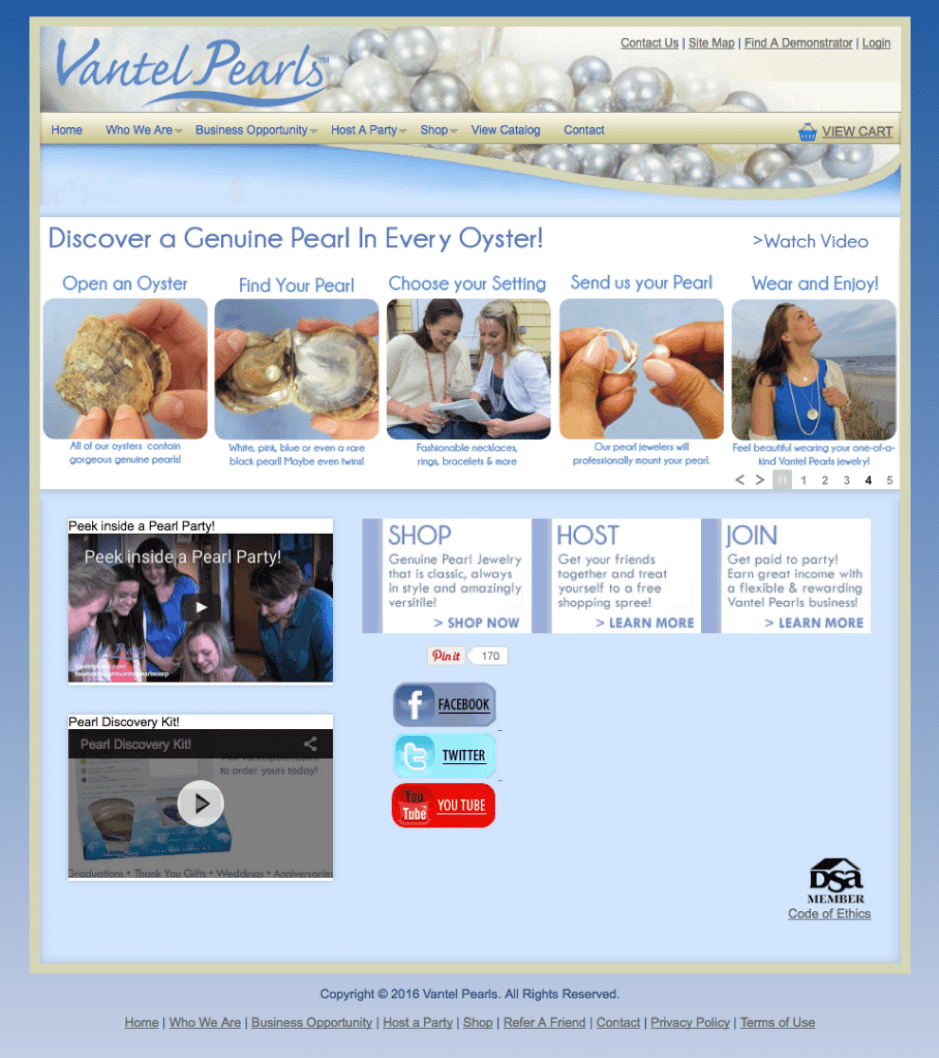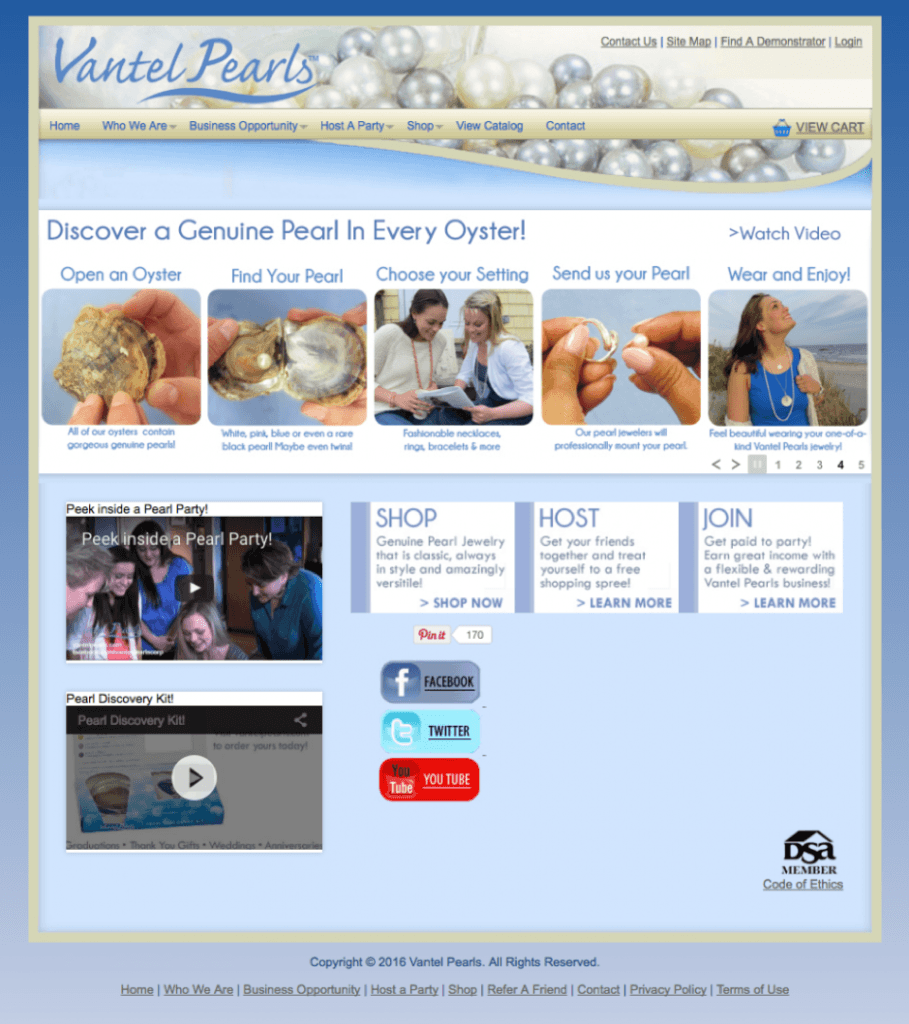 But these are not just any pearls… these are pearls you are going to open yourselves at home.  Some of the products will included a sealed oyster for you to open. 
The oyster will contain a pearl that you can then send back to them to place inside a necklace or ring, etc. of your choosing.
Vantel Pearls focuses more on the product selling than the recruiting new sellers, which is not normally the case with MLMs.
Vantel Pearls has seen its share of legal issues over the last few years.
In our research, we found this thread from the forum for pearl information.
There was a class action lawsuit against Vantel Pearls, which stemmed from delayed shipments and the quality of the jewellery. Attorneys from ClassAction.org were hired to look into the issues.
Examples of issues raised were:
Shipments taking several months to arrive
The jewellery was breaking part easily
The jewellery was changing colour
The pearls are fake and displayed into oysters
Jewellery pieces aren't delivered as promised. An example would be sterling silver jewellery were not in fact sterling silver.
This didn't surprise me, especially after them trying to fob you off that their pearls are Akoya pearls and they are nothing of the sort.
Vantel Pearls Product Line
Vantel Pearls Product Line includes:
Anklets
Bracelets
Cage Necklaces
Candles
Chains and Extenders
Charms
Earrings
Extenders
Necklaces
Bridal Jewellery
Rings
Wine Stoppers
You can order the jewellery ready-made, or you can order the jewellery piece casing along with a sealed oyster which includes a pearl.
The idea is you get to experience finding your own pearl and then fitting it yourself. It is supposed to be fun, I kind of get it.  But then again, it can get messy.  I know Gem would not be thrilled, lol
The website details all the prices and products, so transparency isn't an issue there.
There is a range of colours for the pearls, all with a meaning which you can see in the image below: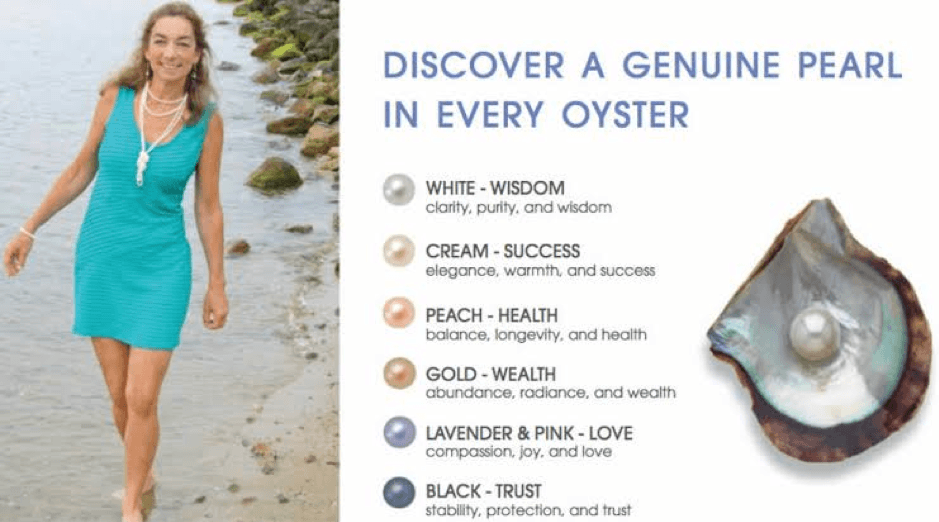 Vantel Pearls is a member of the Direct Selling Association, which adds to its legitimacy.  They are also BBB accredited with an A- rating.
Their pearls are imported from Japan and the South Pacific.
Does the Vantel Pearls Product Work?
So far, so good. If Pearls is your thing, this is an opportunity to get some pearls relatively easy…
However, we found a HUGE BUT!
We have found an issue with the product itself.
Some people have pointed out that the Pearls sold to you from Vantel Pearls are not in fact Akoya Pearls as advertised. This means that the pearls you are paying for are not in fact real pearls.
What we mean is that they are just run of the mill pearls that can be purchases at wholesale for about $3.50.
Basically, there are two types of Pearls, freshwater and saltwater pearls. There are also naturally occurring pearls, but these are extremely rare and valuable. Both freshwater and saltwater pearls are "cultured" or grown by workers. They insert a piece of oyster shell into a mullusk and incubate it for anywhere from 6 months to 6 years in order to product a pearl. They can then market it.
Akoya Pearls are made from Akoya sheels in Japan and China, whilst the freshwater pearls are cultivated in lakes and ponds.
But the problem is, freshwater pearls are actually harvested from Molluscs and not actually from Oysters. All they do is insert the pearl into an oyster before they put into the packaging.
Check out the comments below about someone asking about Akoya pearls: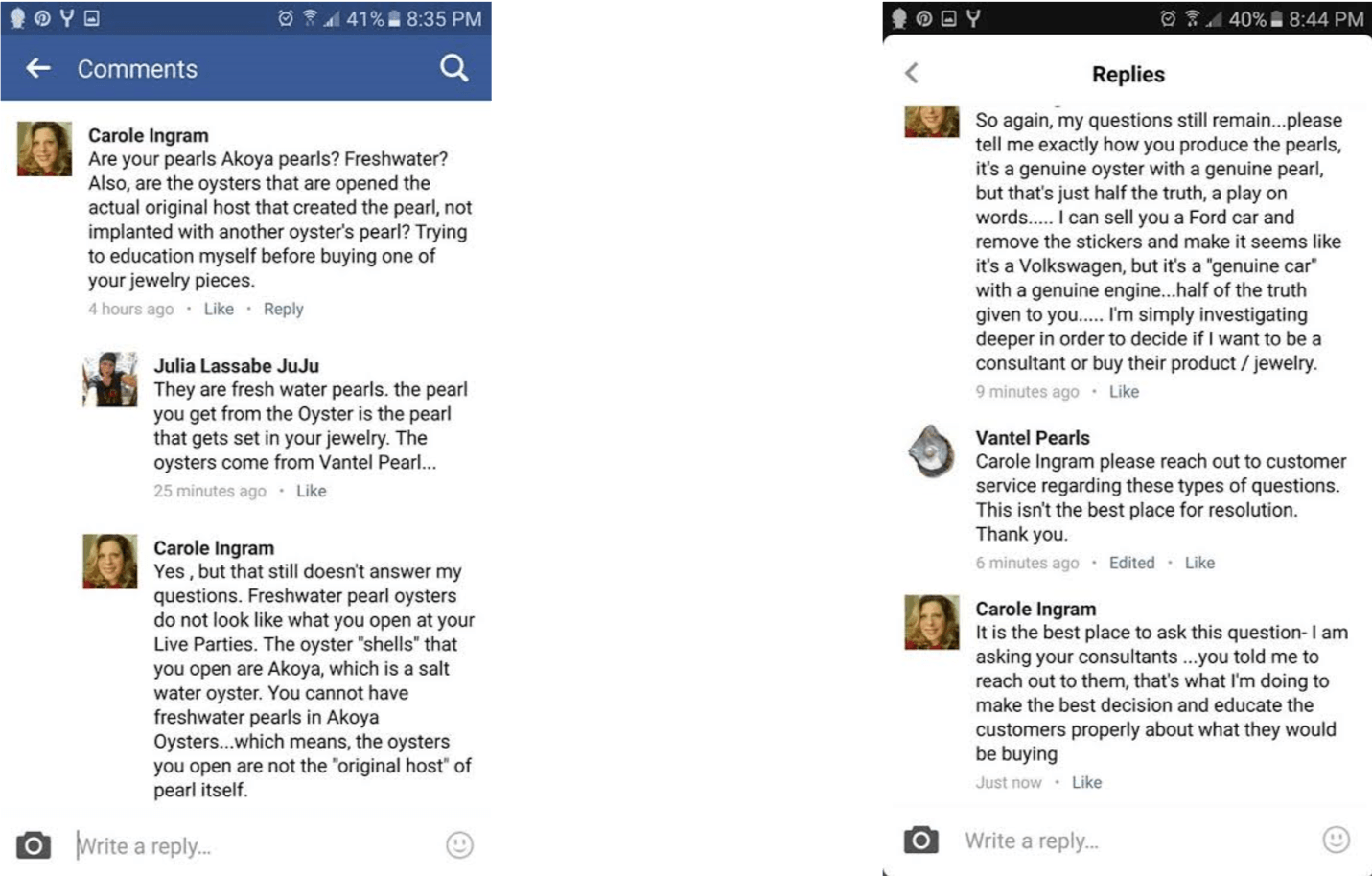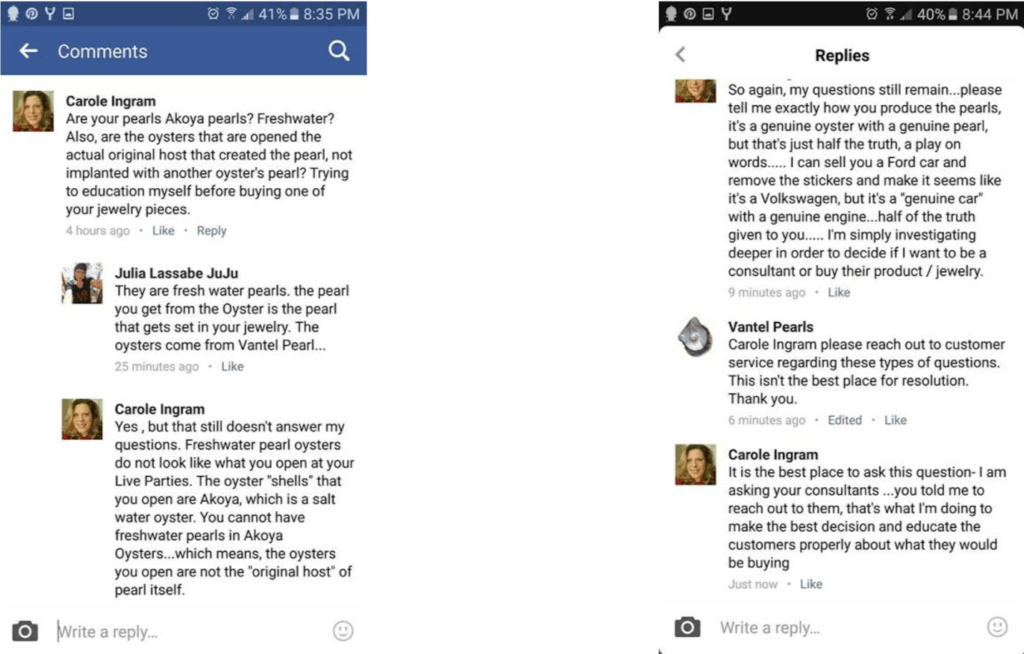 So, at best your pearls might be freshwater cheap Chinese pearls.
Haven't Made Your First $1 Yet?
Studies have shown that more than 70% of the people who want to make money online have not made their first dollar yet. So, you're not alone!
How to Make Money with Vantel Pearls
The only way you have to make money with Vantel Pearls is to sell their products. You sign up as a member and you will earn commissions on every product you sell.
However, you are going to need to generate at least $500 in personal sales over a 2-month period to qualify for any commissions.
Any products you buy for yourself, do not quality against this figure so you need to get selling and quickly to reach those targets.
Direct Selling is not as easy as it may seem, it is a high-pressured system that requires sales experience.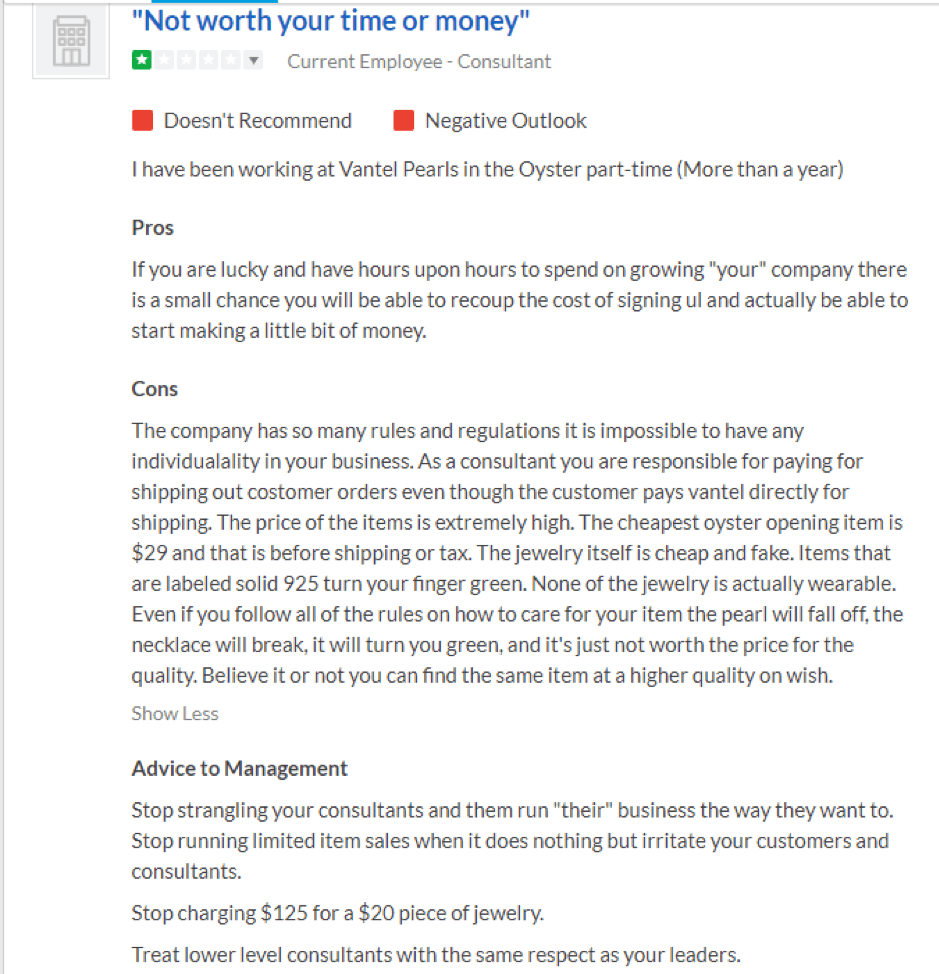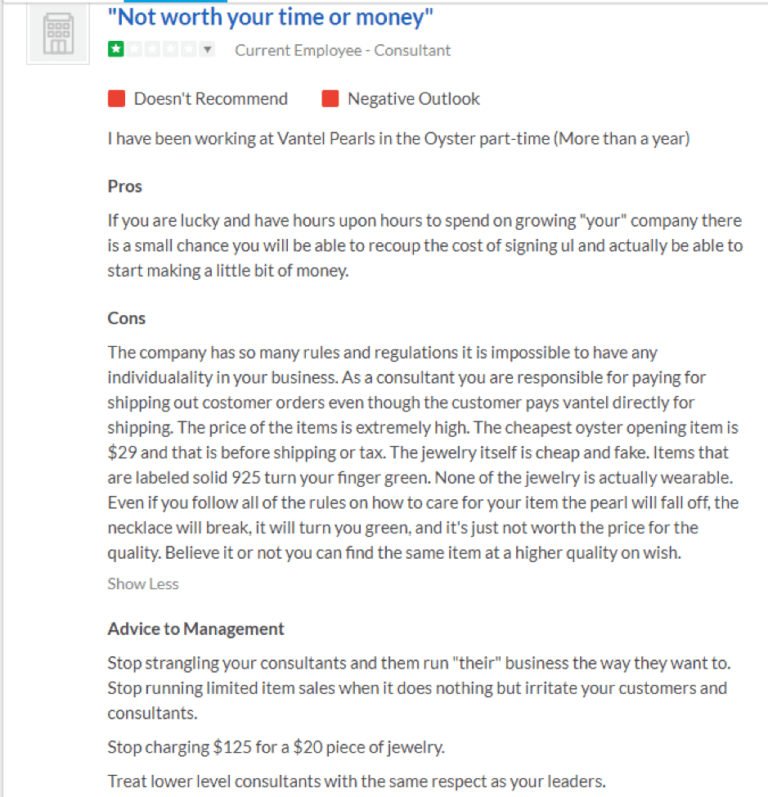 Getting Started with Vantel Pearls
To become a member, you will be required to pay a $99 joining fee and then you need to meet the minimum quota ($500 every two months) to be able to earn any commissions.
Vantel Pearls Compensation Plan
Vantel Pearls compensation plan follows a unilevel compensation structure.
Here are a list of the different ways you can earn money from Vantel Pearls
Vantel Pearls Commission
This is the commissions you can earn for selling products to the public, you will need to sell at least $500 every two months and as mentioned before, anything you buy for yourself does not count towards this figure.
The amount of commission you can earn will depend on your rank:
New Recruits – earn 25% on sales to retail customers
Consultant – earn 25% on sales to retail customers. This increases to 30% when your sales reach $4000
Star Consultant – earn 29% on sales to retail customers. This increases to 34% when your sales reach $4000
Leader – earn 32% on sales to retail customers. This increases to 37% when your sales reach $4000
Star Leader – earn 33% on sales to retail customers. This increases to 38% when your sales reach $4000
Director/Executive Director – earn 34% on sales to retail customers. This increases to 39% when your sales reach $4000
Star Executive Director – earn 36% on sales to retail customers. This increases to 41% when your sales reach $4000
Residual Commissions
There is also the chance of earning commissions on any sales made by your downline, this can range from 2% for Consultants to 13% for Star Executive Directors.
Vantel Pearls Rank Bonus
You can earn a one-off bonus for reaching certain ranks and holding that rank for 3 months.
Become a Director and earn a $500 bonus
Become an Executive Director and earn a $1000 bonus
Become a Star Executive Director and earn a $2000 bonus
Vantel Pearls Monthly Sales Bonus
The higher ranks also can benefit from a monthly sales bonus, based on their sales performance:
An Executive Director selling $60,000 through their downline can earn a $600 bonus
A Star Executive Director selling $80,000 through their downline can earn a $800 bonus
Is Vantel Pearls a Pyramid Scheme?
This question always comes up when you start talking about MLM. All MLM's have an element of a Pyramid as the more people you can recruit into your downline, the more money you are likely to earn.
It is why a lot of MLM's get bad press, as too many people try to recruit a downline rather than sell the products.
It is partly why it is extremely difficult to make money with MLM, as the products are normally really expensive and in a competitive market and if you are not a salesperson, you will struggle to shift the products.
The same can be said for the recruiting a downline side, as you don't have the ideal product to build a team around you to make money.
Either way, the Pyramid title comes from the fact that the people making the most money are the people at the top with a huge downline team under them.
Brand new people struggle to break into the market and end up losing their money.
Vantel Pearls is not a pyramid scheme as it has a product and a true Pyramid Scheme only has the recruitment side.
Having said that, it will be extremely difficult for anyone to make good money with this, especially with all the complaints about the products they are wanting you to sell.
What We Liked About Vantel Pearls
Whilst I have tried to remain objective in my review, I couldn't find anything positive to write about this company.  The reasons will become apparent in the next section.
What We Didn't Like About Vantel Pearls
Here's what we didn't like about Vantel Pearls:
#1 Lawsuits & Fake Pearls
I won't harp on about it, but the lawsuits say a lot about this company and the fact they are trying to sell off freshwater pearls as saltwater pearls shows they are misleading people. 
Any company that is misleading people is definitely not a good partner to be in business with.  If the business gets closed down due to a lawsuit, there goes your business.  You are solely reliant on them to make money.  If it went away, you wouldn't have anything, and you will lose any money you have invested too
#2 Low Earning Potential
MLM has an extremely low success rate, in fact 99% of people lose money when getting into MLM and I cannot see any reason why Vantel Pearls would make me change that impression.
Do you think you have the networks needed to sell this jewellery and earn the required sales figures to earn commissions?  Jewellery is a highly competitive sector and you will find that you will need to dedicate long hours to market the products.  Do you think this would work as a home party concept?
If sales is your thing and you have the connections, you might be able to?
#3 High Quotas
Quotas are a part of it being a sales-driven environment, but to stay in the commission program you do need to make $500 every two months just to stay in the program.  If you do not meet that, you don't earn any commission.  Even if you have managed to sell something!
It will be difficult to rank up and also to maintain your membership too because of the quota. 
#4 Expensive (and Low Quality) Products
The products range in price from between $28 to $128. If the quality was great, people would probably pay it.  But we have found the products not to that good.  The quality has been called into question, the Pearls are not what they say they are and yet to make money you need to convince people to shell out high prices for them…
That is why members will find it difficult to make money from selling these products.  Especially when you compare the products against other retailers that have a higher quality product and for a better price.
Haven't Made Your First $1 Yet?
Studies have shown that more than 70% of the people who want to make money online have not made their first dollar yet. So, you're not alone!
Vantel Pearls is a legitimate MLM company, it is a member of the Direct Selling Association and offers a business opportunity for you.
But having gone through what I have found as part of my research, I cannot recommend it as a way for someone to earn a full-time income from it.
MLM is a difficult route for someone just starting out anyway, and throw in the stuff around the lawsuits, product quality and the high prices it just goes to show why so many people fail at MLM.
You will be competing against more established businesses and retailers that have a much higher quality product and they have a much lower price than you will be offering.  That is why we feel it is not worth you invest your time or money into this business venture.
Recommended Post: How to Increase MLM Sales – Effective Tips to Improve Network Marketing Success
We are not a fan of MLM, not because it is illegal or that it isn't profitable, but because it is really restrictive, and the expensive costs involved.
That is why we recommend Affiliate Marketing.  It is our top recommended business model for anyone wanting to make money online.
The reasons are simple…
You don't have to recruit anyone to make money
You have the freedom to promote any products or services you want and not get restricted by only promoting products from one MLM company
It is FREE to get started
In fact, with affiliate marketing we are close to earning a 4-figure monthly passive income stream.  With the right help and guidance, you can too.  Click here to find out about our top recommended training platform for learning affiliate marketing.
Thanks for checking out our Vantel Pearls Review!  If you have any questions or comments to add, then please write them in the comments section below. 😉