Welcome to our Touchstone Crystal Review!
Have you been approached about a way of making money by selling jewellery at home parties?  Sounds fantastic doesn't it, but part of you is wondering whether it is actually legit.
Touchstone Crystals claims that you could quit your job and make a living from hosting home parties… Is that a claim that can become a reality, or is there a little more to it than they are making out?
We are going to reveal to you the truth behind this business opportunity.
First, let me put your mind at rest, I am not affiliated with Touchstone Crystal and I am not here to sell the opportunity to you.  We review these business opportunities to give you the facts.  There are plenty of reviews out there that will tell you this is the best thing and sign up, and that is because they will benefit from your sign up. 
We only recommend products that we fully believe in, so read on and see what we found out about Touchstone Crystal…
Touchstone Crystal Review Summary
Product Name: Touchstone Crystal
Founder: Swarovski
Product Type: Jewelry MLM company
Price: $129 to $299 + $12.99/month
Best For: Effective Network Marketers interested in Jewelry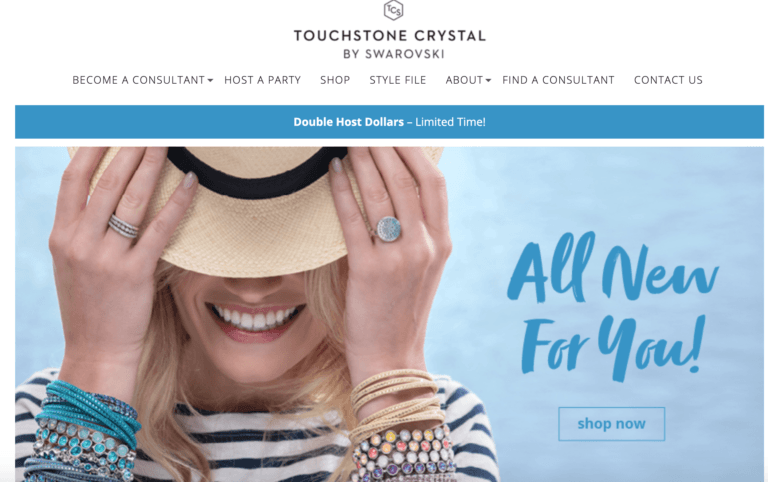 Summary: If you are into Jewellery, this might seem like the ideal opportunity for you to make some money by promoting these products to your friends and family.  But the reality is that this is one of the hardest business models to succeed in. Hosting a weekly home party to promote jewellery to your friends and family will soon feel like hard work and will definitely affect your relationships with those close to you.
It is a competitive and ultimately expensive venture and whilst the products are a good quality, they are not up to the standard of what you would find in their shops.
99% of people lose money with MLM & Direct Selling opportunities. Unless you are an expert seller already, you may find you are going down the same path. If you are not a salesperson, then we cannot recommend this to you.
Rating: 43/100
Recommended? No
What is Touchstone Crystal?
Touchstone Crystal is an MLM or Multi-Level Marketing Business Opportunity where you sell Jewellery, specifically jewellery from Swarovski.
Many of you will know the name Swarovski, but here is a little more information just in case.  Swarovski was found back in 1891.  It entered the US Jewellery market in 1977.  The Touchstone Crystal part of its business launched in 2009, this is the opportunity we will be reviewing today.  It allows people to sign up and direct sell the Swarovski jewellery product range to other people and earn a commission.
The main concept embraced by Touchstone Crystals is for you to host home parties.  You invite your friends and family around to your house and promote the products to them.  If they buy anything, you will earn a commission from the sales.
The biggest problem with this business model is that it actually much harder to make this work through at-home parties.  It is a much harder sell than you might think!
This business model is aimed at mainly women.  How many women do you know that are available to spend time at a jewellery party to listen to their friends sales pitch? With the internet giving people much better access to anything really, I think most would prefer to do their own research and not feel like their friend or family member is hard selling jewellery to them.
That is the main problem with these MLMs, they cannot keep up with the way things work these days.
But before I digress any further, let's get into the products…
Touchstone Crystal Product Line
The jewellery you will be promoting are designed and manufactured by Swarovski, so you should be seeing some quality….
However, when you start getting into the detail around their products you will notice that these products are not to the standard or level you would see in a Swarovski store.
They actually look more like costume jewellery, rather than high end jewellery. Although, this does mean the prices are more affordable to the people you are going to try and sell them to.
But although the prices aren't as high as you might expect, I would still question whether the products are still worth the price tag they have.
It seems slightly better than Origami Owl or Paparazzi Accessories, but not by much.
The products available at Stella & Dot seem to be a little more fashionable when it comes to styles and designs.
The product range available at Touchstone Crystals include:
Necklaces
Statement Pieces
Rings
Bracelets
Earrings
Bridal Jewellery
They also include pieces that include pearls, birthstones, sterling silver and gold (gold-ion plating).
For example, there is a gold necklace with rhinestone jewels that costs $150 and a long necklace featuring crystal pearls costs $140.
There are close to 500 products ranging from between $30 to $150.
I think they have some lovely pieces, however that doesn't mean you could go and find better and probably cheaper products elsewhere…
Haven't Made Your First $1 Yet?
Studies have shown that more than 70% of the people who want to make money online have not made their first dollar yet. So, you're not alone!
How to Make Money with Touchstone Crystal
As with most MLM schemes, there are 2 ways for you to make money with them:
You sell the products direct to other people earning between 25% – 45% on anything you can sell at your at-home parties
Recruiting other direct sellers or glambassadors into your downline. You will earn 9% commission on any sales they are able to make.
Can You Sell Jewellery with Home Parties?
It does sound great, doesn't it?  Hosting a home party where you invite your friends and family around for them to check out what you have to offer and then hopefully, they cave in and buy something from you…
But the company recommends (pushes you) to have one party per week.
How many times do you think your friends and family are going to want to keep coming before they say no?
How quickly do you think you can build up your network to include new people into your circle to host enough parties to make this a viable business option?
The other problem is that the alternative is that you recruit your friends and family into your downline, so they can host parties.  But depending on the size of your social circle, they will walk into the same problem as you have.
There is no one left to sell to…
One jewellery party a week is not actually as easy as it sounds too.
This is the biggest problem with MLM's, there just isn't enough demand for the products locally.  99% of people who get into MLM actually walk away from it losing money as they are much more difficult to promote products that are typically more expensive than alternatives and involve pushing people to become salespeople.
It's like the old Tupperware party, once you have bought some Tupperware how often do you need to replace it?
Depending on how much jewellery you already have, how willing are you to keep attending your friends party to see more jewellery?  That is what you need to think about as that is what your audience might be thinking.  MLM has harmed many relationships because they always try to push you to convince your friends and family into it.
But if you are still interested in this business model, here is how you get started with Touchstone Crystal
Getting Started with Touchstone Crystal
To get started with Touchstone Crystal, you need to buy a starter kit.  At the time I write this, the starter kit is $129 and you will receive $600 worth of jewellery to showcase at your parties, you will also receive marketing material and catalogues, etc.
You will also need to pay $12 a month, but this gains you access to a website you can use to promote to.  Although you will need to learn how to promote this website to better aid your earnings.
Touchstone Crystal Compensation Plan
There are a couple of factors you need to consider as to how much you could earn from Touchstone Crystal and being a Glambassador.
The first is the number of home parties you could arrange and reasonably ask the same people to come to them to make sales.  To aid this, you would need to be good at networking as you would need to build up a bigger pool of people to promote these products too. 
You also need to remember is they are recommending you host a party on a weekly basis.  There are costs associated with this, as you are going to need to stock up on wine and nibbles too.
Another factor you need to consider is that you need to average $300 in sales each month across 3 months to remain an active member.
Ok the product prices might help here, but can you realistically expect your friends and family to keep coming to these parties and buying jewellery so that you can earn a wage?  They will only put up with it for a certain amount of time.
The majority of people are not making enough from it as in they couldn't live off what they make if they make anything at all, because of how the model works. A weekly home party is totally unrealistic, but could you imagine having to host two a week? And who would come to them?
The commission rate for any sales you make is between 25% – 40%.  You receive free jewellery for your hosting parties, up to 30% of sales and then there is the 9% commission you receive for any of your recruits sales.
What We Liked About Touchstone Crystal
Here is what we liked about Touchstone Crystal:
#1 The Products are Good Quality
I know we said that the products look more like fashion jewellery, but the Swarovski brand still produces a certain quality and if you like Swarovski already and your friends do too.  You might be able to benefit from this model.
What We Didn't Like About Touchstone Crystal
Here is what we didn't like about Touchstone Crystal:
#1 99% of People Lose Money with MLM
The biggest problem with Touchstone Crystal is the business model they employ.  Jewellery is a competitive market; home parties are only justified for so long and the opportunity dries up.
People find it much harder to make money through direct sales, so they rush towards the recruitment side, as they think that it is an easier route to making money as you have direct sellers doing their own thing and you make money from their sales.
But the problem is, they also struggle to sell their products, especially if they are in the same social circle as you, and so they decide to chase the recruitment side too.
It is a vicious circle and the reality is that MLM only really benefits the people at the top of the pile and the rest of people end up losing money and going back to the drawing board.
Personally, that is why we feel Affiliate marketing is 100x Better than MLM.
#2 Ends Up Harming Relationships
The first home party might be fun, you can open a bottle of wine, show your friends and family some jewellery that they might buy.  They buy something they like, great.
But, do you think that will be the same when you are inviting them every week? I will be honest with you, from what I have learned about MLM – this is a one-way route to your friends starting to find reasons not to meet you.  You get so drawn into selling to people that they feel like they will give you some space.
Do you really want to do that to your friends?
The products are good, don't get me wrong, but they will not be releasing new stuff that often and I think it is totally unrealistic to suggest you host weekly home parties.
#3 MLM Needs Sales Skills
Have you got sales skills, or recruitment skills?  That is the only way that MLM might be an option for you.  These businesses are expert salespeople, so they will make any business opportunity look fantastic, but the reality is that it is easier if you are able to make a sale.
I have a friend who is an expert salesman, to a point he is now a Sales Director for a big company.  He could sell ice to the eskimo's, he is that good.  The rest of us are not natural salespeople and it is hard to sell.
That is why I chose a business model where I help people, rather than sell to people.  It is a much better route to making money online. Learn more HERE.
Haven't Made Your First $1 Yet?
Studies have shown that more than 70% of the people who want to make money online have not made their first dollar yet. So, you're not alone!
Is Touchstone Crystal A Scam?
You shouldn't worry that Touchstone Crystal is a scam, but you do need to take the time to consider whether this is the right business opportunity for you…
You might like jewellery and your friends might be interested in buying a few items from you.  But the reality is that most of their distributors will not be making enough money to make this a worthwhile venture.
MLM just doesn't work as well as it used to, you will need to put in a lot of time and effort in a venture that has a very high chance of it not making you any money.
Touchstone Crystal is not as expensive as many other MLM opportunities to get started with; however, the costs will be much higher than you think when you factor in the cost of hosting these parties and the pressure to make sales from your friends and family.
There is much more to making money than just having a great product.  The home party model is not as effective as you think it might be.
So, then you need to consider the website route.  Have you got the marketing skills and knowledge to go out and get your products out there, when it is such a competitive niche?
I am not an MLM hater, but my experience shows that it is not beginner friendly and requires a certain level of marketing skills to become successful.  That is why we chose a different route…
The route we chose was Affiliate Marketing.  MLM is highly restrictive, whereas Affiliate Marketing is highly inclusive.
We love recommending Affiliate Marketing and the reasons are simple:
There is no pressure to recruit people to make money
You are not tied down to one MLM company with one product range, you can choose
You can base your business on a hobby or passion (something you love)
There is no need to sell, you will be helping!
You can get started for FREE
We are not all born salespeople, and Affiliate Marketing doesn't need you to be.  All you need is the same time and effort levels as you would need for MLM, but with a business model where you can choose a subject that you really enjoy.
You can also learn and earn at the same time by following the exact same training platform we used when we first got started.  Affiliate Marketing is 100x Better Than MLM and with the training that Wealthy Affiliate provide, you will be on a proven step-by-step route to earning passive income from Affiliate Marketing.
If you are serious about making money online, working from home and taking control of your destiny, then you really need to check out our Top Recommended Training Platform, Wealthy Affiliate.
Thanks for checking out our Touchstone Crystal Review!  If you have any questions or comments to add, then please write them in the comments section below. 😉