Welcome to our Stella and Dot Review.
Wondering if Stella and Dot is the real deal or if it might be a pyramid scheme?  Then we are going to help you out with giving you an in-depth look into the Stella and Dot business opportunity.
First off, it's great to see that you're doing your research before buying into any "seemingly good" product.
That is how you avoid scams and find only legitimate ways to make money online!
To be completely transparent with you, we're not associated with Stella and Dot in any form.  We're not here to pitch or sell you anything.
Instead, we will be sharing with you everything you need to know about Stella and Dot including company information, price to join, compensation plan and more.
Stella and Dot Review Summary
Product Name: Stella and Dot
Founder: Jessica Herrin and Blythe Harris
Product Type: Jewelry MLM company
Price: $199 to $699
Best For: Effective Direct Sellers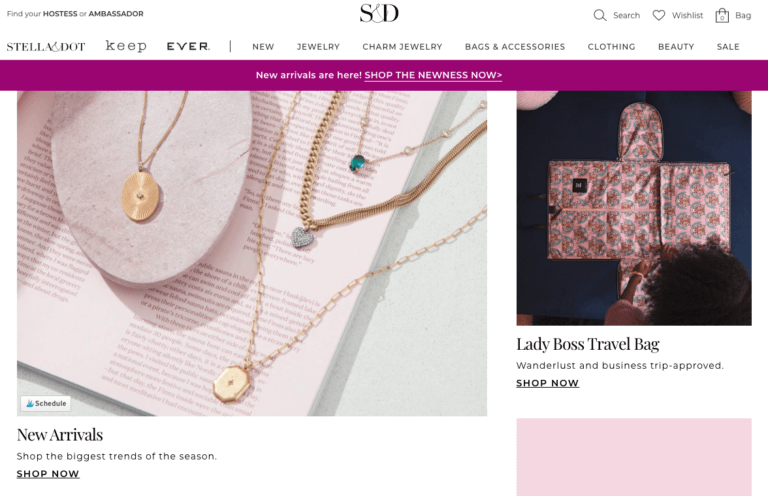 Summary: Stella and Dot are an MLM company selling jewelry and accessories.  The product line is pretty good and the founders have a successful business.
But it's the MLM business model that gives us the most concerns – with 99% of people joining an MLM ending up losing money, you need to be really good at sales and recruiting to have a chance with this business model…
Rating: 50/100
Recommended? No
Stella and Dot is a Direct Selling & Multi-Level Marketing (MLM) company within the jewellery, accessories and fashion product line.
The founders are Jessica Herrin and Blythe Harris.  Jessica co-founded the wedding channel.com, which is now owned by theknot.com.  She moved on from there to start designing her own jewellery.
In 2007, she co-founded Stella and Dot with Blythe (who is also a jewellery designer).  The brand name came from their grandmothers name "Stella and Dot".
The business itself is successful, however the business model it employs for you to make money is not such a great deal. When you take into account that 99% of people lose money from entering the MLM business world, it shows how hard it can be to actually become successful.
Jessica and Blythe have done a great job with their business, but unless you have experience with direct sales or recruiting a team you may find this a hard route to earning enough money to pay back your initial investment.
Stella and Dot Product Line
Stella and Dot have a diverse product line, giving you a wide range of products to be able to promote and sell.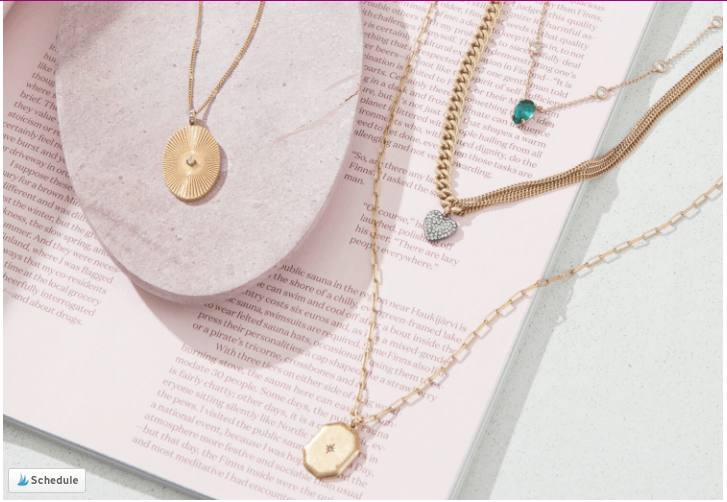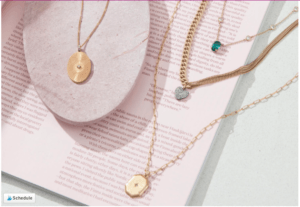 These include:
Necklaces
Bracelets
Earrings
Rings
Charms & Engravables
Fine Jewellery
Watches
Totes
Clutch & Crossbody Bags
Wallets
Versatile Bags
Covet Leather Accessories
Travel Bags
Sunglasses
Scarves & Hats
Sarongs
Bag Charms
Tops
Tunics
I wouldn't profess to be an expert on jewellery or fashion, but with sales in the hundreds of millions, it shows that these products are popular.  But before you decide to do anything with Stella and Dot, I would recommend you go and have a detailed look at their product range before plunging in.
Is Stella and Dot a Pyramid Scheme?
In the strictest sense, Stella and Dot is not a pyramid scheme but like most MLM businesses, it does have elements of it.
A pyramid scheme is where you can only make money from recruiting others into the scheme.  They are pretty much illegal in every country and are easy to spot as they do not provide a product for you to sell, apart from recruiting people into the scheme.
As Stella and Dot have a product line where you can earn money and you don't actually have to recruit anyone in (although you do have the choice) it is not a pyramid scheme.
If you consider schemes that the FTC have closed down as Pyramid schemes or have not had a real business opportunity like Digital Altitude & MOBE.
But the reality is that all MLM's offer a way of making money by building a team under you called a downline.  The bigger your downline, and then their downline, the more money you have a chance of earning.  That is the bit that resembles a pyramid.
But that is also the problem with MLM.  It becomes more about building up a downline then it does to sell the products.
That is why the people at the top of the pyramid will be making money, but the people on the bottom will struggle to even cover their costs.
You also need to consider how much of the products you will be able to sell to make this a viable option.
For the right network marketer who has experience in sales and recruitment this might be the right opportunity for you.
If you are looking for a more passive route to making money online where you don't need to sell or recruit, you can leverage the web to work from home and make money without feeling pressured into sales.  If you want to check out a step-by-step guide to making money online, then click HERE.
Will You Make Money with Stella and Dot?
There is a chance you could make money with Stella & Dot, but on the whole MLM does produce a lot more losers than winners.
It is unfortunate, but the truth is 99% of people who join an MLM will lose money.  The vast majority that do earn money are typically only earning a few bucks a day.
Let's check out the income disclosure for Stella and Dot: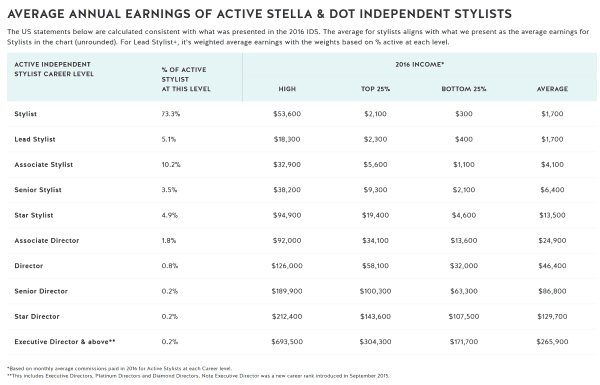 On the face of it, it shows the stylist earned on average $1,200.  But the high point (the people at the top of the pyramid) earned $36,400 and lowest is $200.  But the top 25% only earn $1,700 on average.
You need to decide if you can climb up the pyramid to be at the top.
The reality is you need to climb the pyramid and build a huge team under you.
Do you know people you could sell these products to?  Do you know people you could recruit into your team?
For more freedom and independence and if you are not really wanting to drive around and do home parties, then you might want to consider an online business where you have more control on your time and your costs
Haven't Made Your First $1 Yet?
Studies have shown that more than 70% of the people who want to make money online have not made their first dollar yet. So, you're not alone!
How to Make Money with Stella and Dot
There are 2 ways you can earn money from Stella & Dot:
Direct Selling the products to people via home parties, etc.
Recruiting a Downline (team) under you where you earn commissions if they sell products
We will discuss more about this when we go through the compensation plan.
Getting Started with Stella and Dot
You are going to need to purchase a starter kit to get started with Stella and Dot.
There are three options to choose from.  The options include:
50% off your first 30 days
Your own personal website
Dottie, Stella and Dot's easy-to-use business app
Digital & Printing Marketing Materials
Mimi, Mobile Digital Assistant
Online & In-Person Training
Trunk Show Display Tools (Neck Forms & Trays)
New Stylist Workbook & Launch Guides
The difference between the three starter kits differ in the amount of jewellery you receive and the price:
Option 1 – Essentials $199
Includes all of the above, plus $350 in jewellery and accessories
Option 2 – More to Love it $499
Includes all of the above, plus $1000 in jewellery and accessories
Option 3 – Ultimate $699
Includes all of the above, plus $1500 in jewellery and accessories
On top of these costs you need to consider that the majority of this opportunity will be the fact that home parties are going to be your main sales environment.
This will mean you need to factor into your costing; travel, fuel, parking, additional stock, etc.
Plus, there is the fact that to remain eligible for your earnings you have to generate 500 PV in three consecutive months.  PV stands for personal volume, so you need to have shifted 500 PV every 3 months to remain eligible.
P.S. This program enabled us to Create a 4-Figure Monthly Passive Income Stream.  It's Free to get started and costs only $49/month to go full-time!
Stella and Dot Compensation Plan
MLM Compensation plans are often detailed and confusing, and it can make it hard for someone just starting out to fully understand it.
What we have done is summarise the main points which should help you with your decision as to whether Stella and Dot is right for you.
Let's start with the product selling first before we get into the recruitment side.
Retail Commissions
The good thing is that Stella and Dot do not require you to buy stock to sell it, they allow you to earn commission on making a sale instead.
You can earn up to 35%.  The more you sell, the higher the percentage.  The commission rate is based on your PQV (personal qualifying volume).  Base commission is 25%, then there are monthly power seller bonuses:
2,500 PQV – 30%
5,000 PQV – 32%
10,000 PQV – 35%
You can also earn commission on your downline sales.  This is determined by your GQV (group qualifying volume), you CV (commissionable volume) and your rank.
How much you earn and how many levels you earn from, depends on your own rank and the amount your downline sells.
Affiliates at the second rank can earn up to 4% of group sales from level 1. Third level affiliate ranks can earn 8% on level 1. Fourth rank affiliates can earn 9% on level 1 and 3% on level 2. Fifth and higher rank affiliates earn 10% on level 1 and % on level 2. 
Affiliate Rank
There are 13 different affiliate ranks you can reach at Stella and Dot. There are goals you need to reach to rank up to the next rank.
For example, to reach the first rank you have to just sign up and buy a starter kit, but to reach the second rank you have to generate and maintain a PV of 500 and GV of 2500 a month and recruit one person into the system.
This carries on throughout all the levels, to hit the top rank you need to generate 2000 PV and 6,000,000 GV a month, recruit and maintain 12 different recruits at various affiliate ranks and recruit 8 more affiliates in the last 12 months.
But most people do not even get to the first rank.
What We Liked About Stella and Dot
Here is what we liked about Stella and Dot:
#1 Diverse Product Range
The range of products is vast, and they are always updating their range to stay up to date which is a good thing.  Many MLM's go out of business within a few years and Stella and Dot are going from strength to strength.
#2 Low Investment to Join
MLM is an expensive business model, but when you compare Stella and Dot to many other MLM's, it is relatively cheap to get started.  You can get started for as low as $199.
There is no need to buy a huge inventory either, as Stella and Dot is a commission-based sales model.
But if you are already in debt, I would still advise another solution which we will show you at the end of the review.
What We Didn't Like About Stella and Dot
Here is what we didn't like:
#1 Disappointing Product Reviews
Something you need to consider with MLM, your business is only as good as the products that you are promoting.  It isn't really your business!  You can choose when or where to work, but ultimately, you will still be working for Stella and Dot.
And within our research we unfortunately found a lot of disappointing product reviews about Stella and Dot.  You have no control over these products, but if you are the one who sold it to someone you will need to deal with the backlash. You can see some of the reviews below.  You will always get these with a big company, but are you ready to deal with the customer service side and losing sales through refunds?
#2 Sales & Recruitment
This probably won't come as a surprise, but you need to be able to sell these products and recruit a team if you want a chance of this being a full-time income.  You need to really enjoy sales and recruiting if you want to make MLM work.
You will not earn a realistic full-time income just selling the products so they will encourage you to start recruiting a team.  The you need to consider if you recruit family and friends, how they will feel about you if it doesn't work and if you are all targeting the same circle of friends how are you going to make this viable.
You still need to meet your minimum sales requirements to remain active.
#3 Bothering Friends & Family
I briefly mentioned this, but you really need to consider that the worst part of MLM is the fact that your immediate audience will be your friends and family.  AS you are desperate to make your first sale, you end up bothering your friends and family to make a sale or even recruit them.  It really affects relationships and is one of the biggest reasons why people drop out of MLM's.
Haven't Made Your First $1 Yet?
Studies have shown that more than 70% of the people who want to make money online have not made their first dollar yet. So, you're not alone!
Is Stella and Dot Right For You?
Stella and Dot have been in business a while, it has a solid marketing plan.  It also has a diverse product range that appeals to a large demographic with founders who many would want to emulate.
But the real question is what you want from the opportunity that Stella and Dot are offering…
It is easy to jump into MLM because you think that it will bring freedom, independence and of course, Money!
But the reality is that 99% of people who join an MLM do not achieve any of those three.
Not everyone is born to sell or recruit.  These are actually a lot harder than you might think…
It is much harder if you don't like something, and let's face it most of us hate selling or recruiting.
It is not sustainable, if you do not enjoy it.  If jewellery or fashion are not really your thing and you are not great at selling or recruiting, the reality is you will be one of the 99% who lose money.
The question you really need to answer is, do you see yourself doing this still in a year's time?  Can you realistically spend that money and then stay motivated enough to build a downline to be one of the 1%?
If you take car salespeople.  It has one of the highest turnover rates at 67%.  That is because it is hard to sell and hard to stay motivated, but there is also a huge pressure to sell.  If you do not carry on selling, you will be out of a job.  In the sense of MLM, you will be booted out of the program.  Even though you have paid.
They are doing it to make money, not necessarily help you.
The decision is up to you, but if MLM is not sounding that great to you then you might want to consider a much better option.  No need to sell or recruit and choose any passion or hobby you want.  Plus, you can get started for FREE.  Click Here to learn about our No.1 Recommendation.
Is Stella and Dot a Scam?
The problem with MLM is the people behind them are salespeople.  Meaning they can convince you that anyone can do it.
Take Stella and Dot, they say you don't need any experience in sales.  They take your natural skills into professional talents.
But the truth is that it takes a unique person to succeed at MLM.  You might be that person, but are you any good at sales and do you enjoy it?
But if you don't enjoy sales and have no interest in sales, then unfortunately MLM is not for you.
Regardless of what they tell you, it is just a clever sales pitch.  You can still make money online, but MLM is not the best route for you.
If you are just looking for a little extra money, you might want to consider doing online surveys such as those at Swagbucks.
But what if you want something more? What if you are looking for a way to earn more, have your own freedom and independence.  A way where you do not need to recruit or sell or host home parties. Then you might want to read on and check out our top recommended business model – Affiliate Marketing!
If MLM is not sounding like your thing, then you might want to check out our top recommended business model for earning passive income online.
MLM requires sales and recruiting experience. That is why we recommend Affiliate Marketing.
The reasons are simple:
There is no pressure to recruit people to make money
You are not tied down to one MLM company with one product range, you can choose
You can base your business on a hobby or passion (something you love)
There is no need to sell, you will be helping!
You can get started for FREE
We are not all born salespeople, and Affiliate Marketing doesn't need you to be.  All you need is the same time and effort levels as you would need for MLM, but with a business model where you can choose a subject that you really enjoy.
You can also learn and earn at the same time by following the exact same training platform we used when we first got started.  Affiliate Marketing is 100x Better Than MLM and with the training that Wealthy Affiliate provide, you will be on a proven step-by-step route to earning passive income from Affiliate Marketing.
If you are serious about making money online, working from home and taking control of your destiny, then you really need to check out our Top Recommended Training Platform, Wealthy Affiliate.
Thanks for checking out our Stella and Dot Review!  If you have any questions or comments to add, then please write them in the comments section below. 😉