Welcome to our Arbonne Review!
I am guessing someone has spoken to you about this amazing business opportunity where you could make money with a company called Arbonne.
First off, it is a great that you are choosing to do your research before buying into a "seemingly good" product or business.
It is the best way to avoid scams and find legit ways to make money online!
To be completely transparent with you, we're not associated with Arbonne in any form.  We're not here to pitch or sell you anything.
We are going to go through all the details you need to know about this health and Beauty MLM company including what they offer, whether they are a scam and also is it really a sound decision to become one of their distributors…
Let's get into the details with a quick overview.
Arbonne Review Summary
Product Name: Arbonne International
Founder: Peter Morck, in 1975
Product Type: Health & Beauty MLM Company
Price: $79 Registration Fee + $30/year.  Starter Packs Are Between $275 – $500 + Monthly Autoship
Best For: Those With Experience of Network Marketing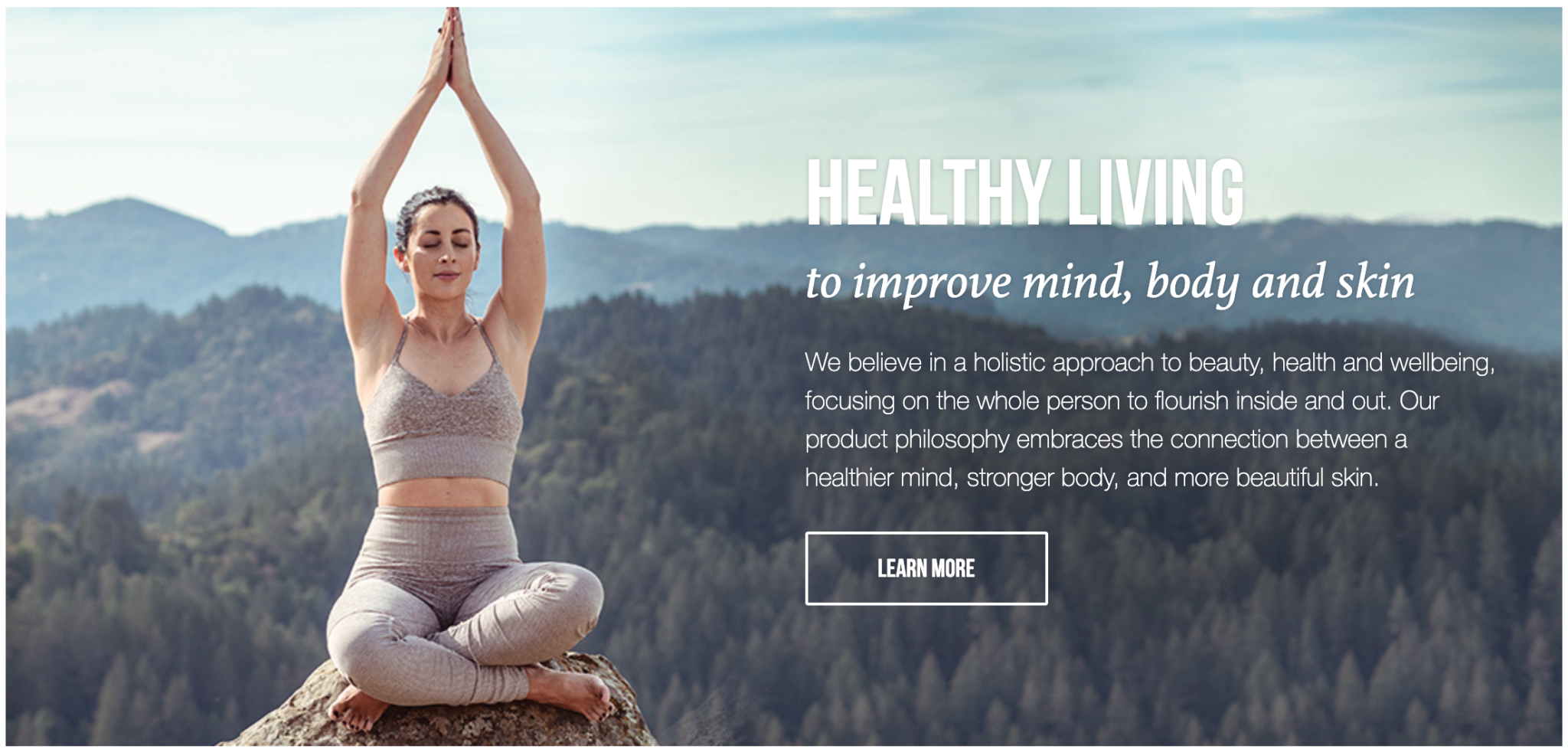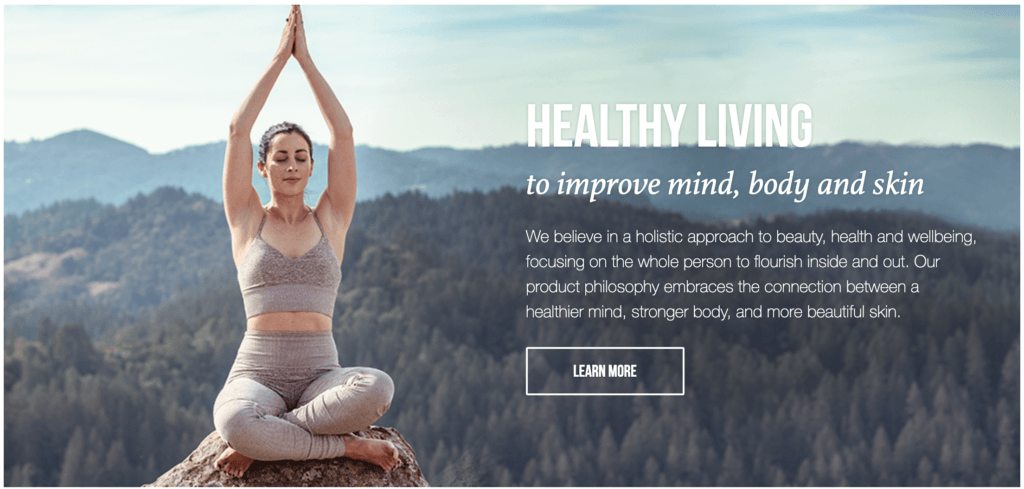 Summary: Arbonne International is a legit MLM company and it could be possible for you to make some money with them or even make a living with them.  However, it is important to point that Arbonne is also a typical MLM where the emphasis iwill be on recruiting, hosting home parties and putting pressure on family and friends to sign up to make you that money.  From our research, we would not recommend it to you…
Rating: 25/100
Recommended? No
Better Option: Why get stuck with one MLM company when you could have the freedom to promote any and all products with Affiliate Marketing?  WE recommend it as our top recommended method for people to make money online, it is also free to get started…  Click the button below to learn more.
Arbonne International is a Health & Beauty MLM or Multi-Level Marketing Company that is based in Irvine, California.  It was founded in 1975 by Peter Morck.
They have been in business since 1975 and they now operate in 7 different countries, which include Australia, Canada, New Zealand, Poland, Taiwan, the UK & the USA.
Everything seems ok so far, however there is information about their ex-holding company, Natural Products Group LLC.  This company went bankrupt in 2010.
Before establishing Arbonne, Peter worked for a Norwegian Skincare Company for a number of years.  He used his knowledge and experience to go and launch his own company with some his ideas.
He had an aim to produce natural skincare products that had a high quality, meaning they aspire to have products that are safe and beneficial to your skin.
Peter even introduced their own policy for ingredients.  They have a "Not Allowed List" of more than 2,000 ingredients that they will not use in their products.
All of this will make the company and the product seem quite appealing, however there are so many companies that are making claims about the same thing – creating natural, organic, non-toxic products. They state they have used science to product the best results.
But this means a couple of things:
They increase the price due to these claims
The overall competition in the health and wellness industry.
We have reviewed a lot of MLM opportunities.  When you start reading about all of the different companies that are claiming their products are organic, science based with clinical trials that prove they are really effective.  You will start to realise their claims are not as compelling as you might have thought.
For example, there are Essante Organics, Modere, Melaleuca, and many more…
When you start researching into all of these different MLM's, you will soon realise that Arbonne is actually just another typical MLM company that has nothing that really makes it stand out as being special.
As with the MLM companies that we listed above, Arbonne has a wide range of overpriced products.


Here are the major categories within Arbonne:
Skincare – Facial Cleansers, sunscreen, eye cream, toner, etc.
Bath & Body – Essential Oils, hand wash, lotions, masks, lip balm, etc. (For 100% natural essential oils, check out Young Living)
Nutrition – Protein shakes, energy sticks, snack bars, immunity boosters, etc.
Makeup – Eye liner, makeup primer, mascara, lip sticks, etc.
Hair – Shampoo, Conditioner, hair sprays, hair serum, etc.
Again, when you look at these products there is nothing really unique to other MLM's in their range.  The health and wellness sector is heavily saturated, and it will be extremely hard to stand out in a crowd.
How To Make Money with Arbonne?
Arbonne International is, of course an MLM or Multi-Level Marketing company, so there are the two usual ways of making money with their business model:
Selling their products to earn retail commissions
Recruiting members and build your downline teams to earn commissions and bonuses
But it is not just as simple as signing up to be able to earn commissions, there are certain requirements you will need to tick off…
Related Post: How to Increase MLM Sales – Effective Tips to Improve Network Marketing Success
Getting Started with Arbonne
For starters, you will need to pay a $79 registration fee which comes with a basic starter kit, which includes training and materials to help you get started with the business.
There is a $30 annual fee, which you will pay from your second year.
It is important to point out that this starter kit does not include any products.  You are going to need to invest in some products to be able to promote them, otherwise you will have nothing to show your potential customers.
Arbonne provides value packs that you could buy which cost anywhere between $270 to $500 for you to choose from.
But this isn't where the costs stop.  To remain eligible for any commissions you may earn, you need to sign up to a monthly autoship…
Factoring in everything, the start-up costs could easily add up to a few hundred dollars and then you need to remember the monthly recurring orders you have to purchase.
P.S. This program has enabled us to generate a 4-figure Monthly Passive Income and it is free to get started and only costs $49/month to go full-time.
Haven't Made Your First $1 Yet?
Studies have shown that more than 70% of the people who want to make money online have not made their first dollar yet. So, you're not alone!
Arbonne Compensation Plan Explained...
Arbonne call their distributors Independent Consultants and there are four main ways for you to earn commissions with Arbonne International:
Client Commission – These are the retail commissions you earn when you sell products to your clients. You will earn 35% for normal clients and you will earn 15% for preferred customers
Overrides – These are the commissions you earn based on the performance and sales volume of your downline team. The more distributors you can recruit into your downline and the better they perform, the better your earnings
Mercedes–Benz Cash Bonus – If a distributor earns the "Vice President" rank based on their performance and their teams performance; you could get a one-year lease of a white Mercedes-Benz car. This is odd, as it is only a lease whereas other MLM's offer dream cars for hitting certain targets.
Other Cash Bonuses – Like other MLM's there are also a variety of bonuses available as you hit certain personal or team sales performance.
Arbonne does differ from many other MLM's in the way and it does cause a problem.  When you are just starting out, you can earn commissions from your downline's downline (see image below):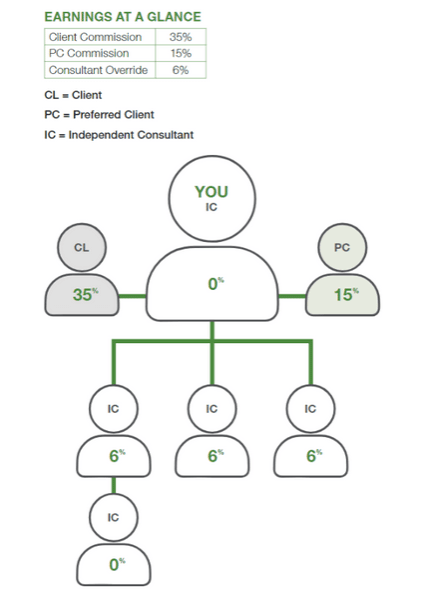 That problem is that you only earn 6% overrides from your direct referral.  That is the person who is directly below you in your downline.
But beyond that, you will earn 0%, yep that is nothing.  That means, it is not technically following the "Multi-Level Marketing" structure.
You will only become eligible for these overrides when you have reached a certain rank.
Ranks include:
Consultant
District Manager
Area Manager
Regional Vice President
National Vice President
For more detailed information, here is their compensation plan in detail or you could refer to the video below:
What We Liked About Arbonne
Here is what we liked about Arbonne:
#1 Long Established Business
Arbonne has been in business since 1975.  Although it has been through bankruptcy, it has still endured to be around for over 40 years.
If Arbonne was really a scam or pyramid scheme, then the FTC would have shut it down a long time ago.
#2 You Could Make Money (If you do it the right way!)
It is possible you could make money promoting Arbonne products, here is a success story we found: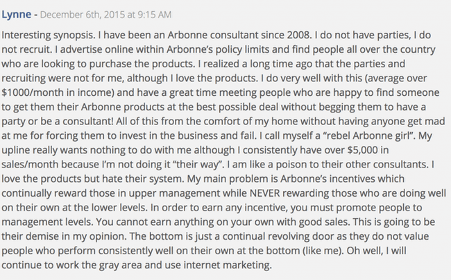 Lynne has been an Arbonne consultant since 2008.  She has also been consistently earning $5,000 a month too.
But as you can see from her comments, she is not finding success using the traditional way of hosting parties.
Instead, she has been leveraging internet marketing to grow her MLM business.
MLM company's often tell you that you could work from home, but the reality is that it is not possible.  You are going to need to get out and network with people.  You are going to run up costs from hosting parties.  You are going to need to find clients, etc.
If you are looking for a way to make money from home, then you are going to need to leverage the internet (like we do).
If you compare typical MLM's to companies like Now Lifestyle, who are integrating traditional MLM with Internet Marketing, then you soon realise the future of MLM.
Home Parties and Recruiting are not going to help you achieve your goals.  Utilising Internet Marketing has a real chance of giving you success.
Related Post: How to Increase MLM Sales – Effective Tips to Improve Network Marketing Success
#3 BBB Accredited & Member of DSA
This is a great way of checking whether a company is a scam or not.  Are they accredited by the Better Business Bureau (BBB) and are they a member of the Direct Selling Association?
Arbonne can tick both off their list.
Arbonne has an A+ rating with the BBB: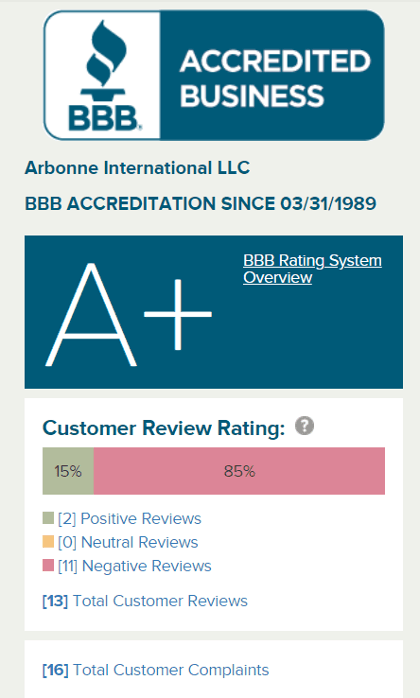 What We Didn't Like About Arbonne
Here is what we didn't like about Arbonne:
#1 Expensive Products
MLM's tend to charge more for their products, with the claims they make about their products being natural and organic, but I think it is just a front.  They charge more because they want to charge more.
That is fine in one sense, they are business and charge what they think is the right price.  But the problem comes for you as a distributor.
Price is one of the most important aspects to a consumer.  If you are clients are not willing to pay the prices, when they can get it a product that does everything your products does but for a lower price, then that will really affect your ability to make sales.
#2 It's All About Recruiting
Let's be honest, most traditional MLM's will tell you that you can make money by selling their products, but the real money comes from building up a downline and earning commissions from their sales.  How successful does depend on a number of factors, but the problem is that Arbonne is just a typical MLM company that is pushing you to recruit more distributors.
They even offer you help with building a list of 100 people you could sell to or recruit from.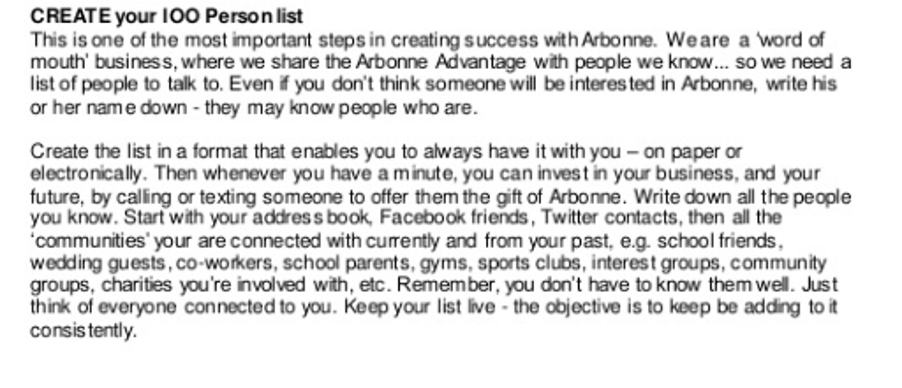 Most MLM's will offer to help you find a list of 100 people to promote the business opportunity to.
If you are familiar with MLM or Network Marketing, you will recognise this as "Warm Market Money Jogger"
They tout this as a way of coming up with a list of 100 people who could benefit from either the health and beauty products of the business or the business opportunity to make money from Arbonne.
But the reality is, that this means you will be pitching this to your friends and family to buy the products or recruit them in this business.
The most common strategy they will show you is teaching you how to host home parties and invite your friends and family to come.
There are a couple of issues here:
how many times are your friends and family going to want to come to these before they decide they don't want to buy any more or they don't want to join the business.
The cost of hosting these parties needs to be a factor.
This strategy is really outdated, it will not work long-term.
Due to the huge focus on recruitment, people start thinking all MLM's are a Pyramid Scheme.  This includes Arbonne, there is such a huge emphasis on recruitment, because this is the best way for the company itself to make money.
There is only so much money you can earn by selling the products, especially as you have to buy so many products a month yourself.  Naturally, it leads to the bulk of the money being paid to the consultants comes from other consultants.
Whilst I do not believe Arbonne is a Pyramid Scheme, you need to know that recruiting is a major part of any MLM.  Arbonne does offer products, so it isn't a pyramid scheme.
#3 Ruins Relationships
You have to be really careful with the normal routes of selling or recruiting with MLM.  You risk alienating your friends and family.
The success rate of MLM's only 1%.  99% of distributors lose money.  This makes them desperate to make sales or recruit people and they put pressure on their friends and family and there is only so much they will take.
It can happen as many lack the training on how to properly promote Arbonne's products and the business opportunity.
#4 Spend More Than You Earn
This is a common issue within MLM, most MLM companies require their distributors to purchase lots of products to get started and then to sign up to buy products on a monthly basis.
This is the most common reason on why many people both fail and get into debt with MLM.
Take a look at the image below: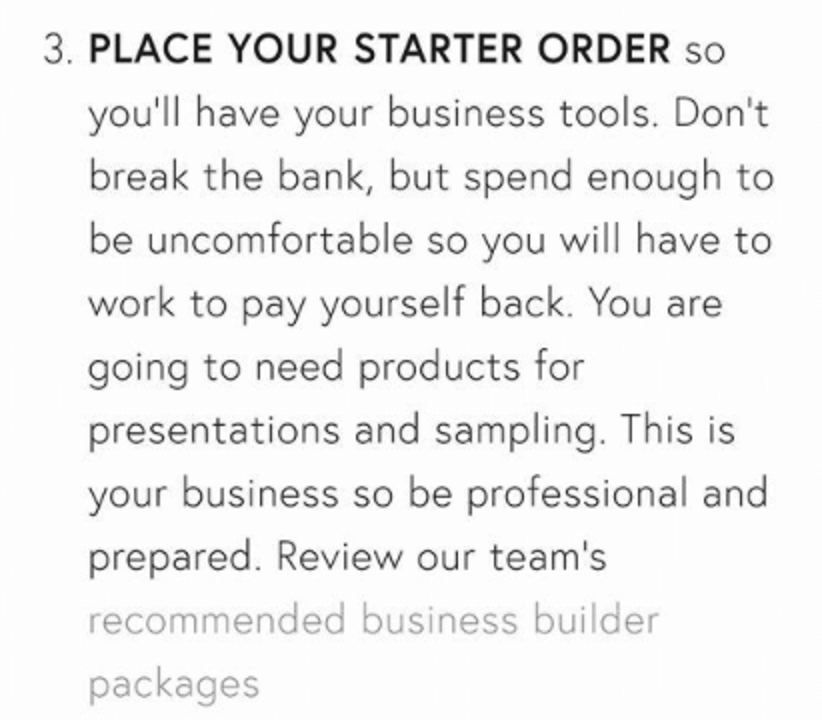 Arbonne are encouraging you to spend beyond your means and they are calling it an "investment".
This might be deemed motivation to work hard and eventually succeed.  But like we said, the rate of success is really low (99% of people fail at MLM and we will prove it with Arbonne in a moment).
The majority of distributors struggle financially.
#5 90% of Arbonne Distributors FAILED!
Most consultants lose money, it is only the top executives that are profitable.
Take a look at their income disclosure statement:


66% of active Arbonne consultants earn an average of $839 in the year 2018

24% of active Arbonne consultants earn an average of $3,450 in the year 2018
In other words, 90% of Arbonne consultants are not earning a sustainable income.
If you break down $3,450 per year, that works out at just $287/month. If you factor in your monthly bills, plus the costs associated with the business you will see that just doesn't cover the costs.
But when you read those figures again, you will see that the bottom 50 on average are only earning $103 a year or only $18!!!
Haven't Made Your First $1 Yet?
Studies have shown that more than 70% of the people who want to make money online have not made their first dollar yet. So, you're not alone!
My Arbonne Review - Final Conclusion
We can safely say that Arbonne International is not a scam or a pyramid scheme.  It has been a legit business that has been in operation for over 40 years.  It is accredited by the BBB and is a member of the Direct Selling Association.
But like any MLM, they have their pros and cons, which we have discussed.  That is the problem.
If you are an extrovert with a network, you could utilise or have experience in sales and recruitment you might be able to become a top consultant.
But the odds are firmly against you.  90% of Arbonne consultants are not earning enough to make it feasible, the company wants you to spend more than you earn, and the compensation plan really restricts starters trying to climb the ladder.
If you could leverage the internet to market your products, then you might be in with a chance. (Learn more here).
But when 90% of their consultants are earning less than $300 a month, then I consider that not worthwhile – the traditional route is not going to work for you.
We are not a fan of MLM, not because it's illegal or not profitable, but because the business model is really restrictive, and the expensive costs associated.
Instead, Affiliate Marketing is our top recommended business model for anyone looking to make money online.
The reasons are simple…
You don't have to recruit anyone to make money
You have the freedom to promote any products you want and not being restricted to only promote the products from one MLM company
It's FREE to get started
It is how we are earning money online, if you want to learn how you could too click HERE.
Thanks for checking out our Arbonne Review!  If you have any questions or comments to add, then please write them in the comments section below. 😉
Arbonne International
$79 registration fee, plus $30/year + a number of other costs