Welcome to our Bocannaco Review!
Have you been looking for ways of earning some additional money, and someone seems to have pointed you towards Bocannaco is a great way of working from home and earning some money too…
But you're not entirely convinced that it's really a legitimate option and are asking yourself "Is Bocannaco a Scam?
First off, it's great to see that you're doing your research before buying into any "seemingly good" product.
That is how you avoid scams and find only legitimate ways to make money online!
To be completely transparent with you, we're not associated with Bocannaco in any form.  We're not here to pitch or sell you anything.
Instead, we want to help you get all the information you need to know about this business opportunity, to help you make an informed decision about whether it's right for you or not.
Know that 99% of people MLM members lose money as they don't really know what they are getting themselves into…
So, we've done the hard work and gathered all the information together for you in this Bocannaco review…
Bocannaco Review Summary
Product Name: Bocannaco
Founder: Mark Lammons, Barbara Lammons, Robert Lawrence, John Daniels
Product Type: CBD Health and Wellness MLM company
Price: $99 annual fee
Best For: Experienced Network Marketers in CBD Market

Pros
Low Startup Cost
Positive Product Reviews
Cons
Expensive Products
Lacks Information
Saturated Market
Pyramid Scheme in Disguise?
Summary: Bocannaco is an MLM company that sells a range of "terpene-rich" hemp oil products, including a topical gel, oral solution, energy drink, and face mask.  They have a really small product line with a really high price tag, but the quality does seem to be good.
They also offer a chance for everyday people to earn an income from selling these products or through recruiting new members as per the MLM model.  But there is more of a focus on the recruitment side, and makes us wonder if they are really operating as a pyramid scheme in disguise?
Rating: 40/100
Recommended? No
Bocannaco is an MLM or Multi-Level Marketing company that sells a range of hemp oil products.  They claims that these have a lot of health benefits, even though hemp and CBD oil is still a little controversial in the health and wellness market.
Bocannaco was founded by Mark Lammons, Barbara Lammons, Robert Lawrence, and John Daniels in 2018.
They also claim to make the purest form of hemp oil on the market.  Is this really the case?  
It's also become apparent that Bocannaco has rebranded themselves to Zogena… we're not too sure why yet?
It might be the name sounds better, or is there another reason why they are trying to leave the Bocannaco brand behind…
You can learn a little more about the company with this 4-minute video…
As it's one of their sales video, you can clearly see it is very promotional and doesn't give you the real details into how this company works…
Is Bocannaco A Pyramid Scheme?
No, Bocannaco is not a pyramid scheme…
Their members are able to sell their products alone and earn commissions, without the need to recruit.  Whether anyone is actually making any money by doing just that is another matter, which we'll explore later.
So, a more appropriate question would be, is Bocannaco a pyramid scheme in disguise?
What's A Pyramid Scheme?
A pyramid scheme is a company that pays member solely for recruiting new members instead of selling products and services.
They are illegal in most countries, as they are totally unsustainable…  This image from Wikipedia shows you why…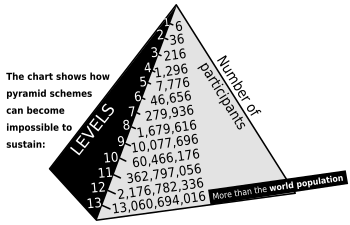 The only people who are making decent money are those who are at the top and recruiting everyone and anyone into the scheme.  But the vast majority of members are only losing money.
Most MLM's do offer an opportunity to do both – sell products and recruit members.  But the only way of making money and stop spending money each month is to keep on recruiting people to avoid the monthly sales quota many cripple you with.
That's why some MLM's could be a pyramid scheme in disguise…  Here's a 5-minute video to help you uncover these pyramid schemes in disguise…
Success is Rare at Bocannaco
It is really hard to find success with any MLM company.
Did you know that between 72.5% and 99.9% of MLM members are losing money?
The main reasons are the expensive products within an MLM, and then the monthly sales quota. 
You are usually tasked with making a certain amount of sales every month to remain active.  If you are unable to do this, you have to buy products yourself to remain active.
Most members end up with a garage full of stock, have burned through their savings, and still be no closer to making any sales.
MLM's don't want you to know this, but their biggest customer group is usually their own members.  The only route of escaping this is to recruit a team of your own…
Bocannaco sells a range of hemp products within the health and wellness market.  They also offer everyday people a chance of earning an income by selling these products for a commission.
It sounds like a great deal for both parties.  But the reality is that the company saves themselves a fortune on expensive marketing campaigns, and their members get the tough job of encouraging people to buy their products.
Let's take a look at their product line now…
If you want to consider an MLM opportunity fully, then you need to have a deep understanding of the products that they offer – you're going to be selling them after all.
You're going to need to use the products, so you can understand them to then understand how they work.
Here's a video testimonial about one of Bocannaco's top products, which is the BocannaCaine CBD gel…
Here's some of their most popular Hemp products:
BocannaCaine ($99) – helps ease body pains and discomfort with the help of terpenes and "ultra-nano emulsion particles"
Macy Mask ($149.95) – Smoothens skin and removes imperfections and dark spots.  It hydrates the skin, giving a nice glow with the help of its terpene and various plant extracts
CanaGize ($129) – Gives you an energy boost with the help of it's terpenes and other undisclosed "herbs and minerals"
They all sound well and good, but the reality is that these products are not that unique.  You see there are tons of MLM's all vying to sell very similar products, making the CBD health and wellness market very saturated.
Here's a just a handful of CBD MLM's, all selling very similar products:
All of these brands claim that they are special and unique, having features that will help make them stand out from the crowd.  But the reality is that they are all offering the same thing!!
So, is there a product that Bocannaco offers that makes them stand out?
Bocannaco Excalibur – Flagship Product
Well, their flagship prodcut is called Bocannaco Excalibur and it will set you back $149. 
It has "active-drive" terpenes and THC-free Hemp ingredients combined with a variety of vitamins and minerals, that will supposedly relieve body pains and anxiety.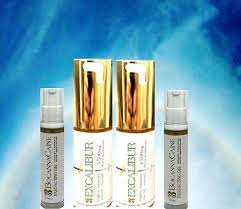 Whilst it might sound good, its actually effectiveness isn't full proven.
There is evidence that also suggests that more research is required to prove if it actually has any noticeable effects…
You might also be wondering what really with all this CBD or Hemp oil?
So, this short 1-minute video should help answer that…
Now, let's answer the question that you're probably asking yourself now… Can you really make money here?
Haven't Made Your First $1 Yet?
Studies have shown that more than 70% of the people who want to make money online have not made their first dollar yet. So, you're not alone!
Can You Make Money with Bocannaco?
Yes, it is possible to make money with Bocannaco…
However, it's going to be really hard for you to be able to make the kind of money you are looking for…
There may be a few who are earning, but most will be losing money.
The rare few who are probably making money, are either working like full-time sales managers or are recruiting a lot of sales-orientated people to sell these expensive products.
It's really hard to know if anyone is making money here, as they haven't released an income disclosure statement.  
This shows they are trying to hide the truth about who is really making money here…
How to Make Money with Bocannaco
Bocannaco is a typically MLM company, so they offer the usual two ways of making money:
Sell their hemp products for a commission
Recruit people into the company and earn bonuses
Note, to avoid being called a pyramid scheme, you will not earn from recruiting itself, but rather from any sales your downline team can make.
Getting Started with Bocannaco
The Bocannaco registration fee is $99, which is an annual fee.  You'll have to pay this every year.
Included in that fee is a duplicated website, training materials, and tools to promote the business.
After that, you can just buy the products to then sell on.
One thing we did find out is that you cannot just decide to be a distributor, you require a sponsor to become a reseller.
If you don't have any friends or family who can be your sponsor and introduce you to the company.  You can contact the company and they will forward you details of a sponsor in your local area.
Now, let's get into their compensation plan…
P.S. This program enabled us to Create a 4-Figure Monthly Passive Income Stream. It's Free to get started and costs only $49/month to go full-time!
Bocannaco Compensation Plan
Most MLM compensation plans are really complicated and have so many different ways to make money, without anyone really understanding how it all works.
Bocannaco is a little different, as they only have 3 ways to make money with their compensation plan.
Here are the 3 ways to make money at Bocannaco:
Residual Commissions
Earn 15% profit of every product you sell.  You need to buy them at wholesale price, to then sell on at retail price.
You can also earn bonus commissions weekly and monthly based on your personal sales volume (PV).
Sales Bonus
Get a bonus from the sales that your downline team members make.
You'll also earn more if your downline has their own team.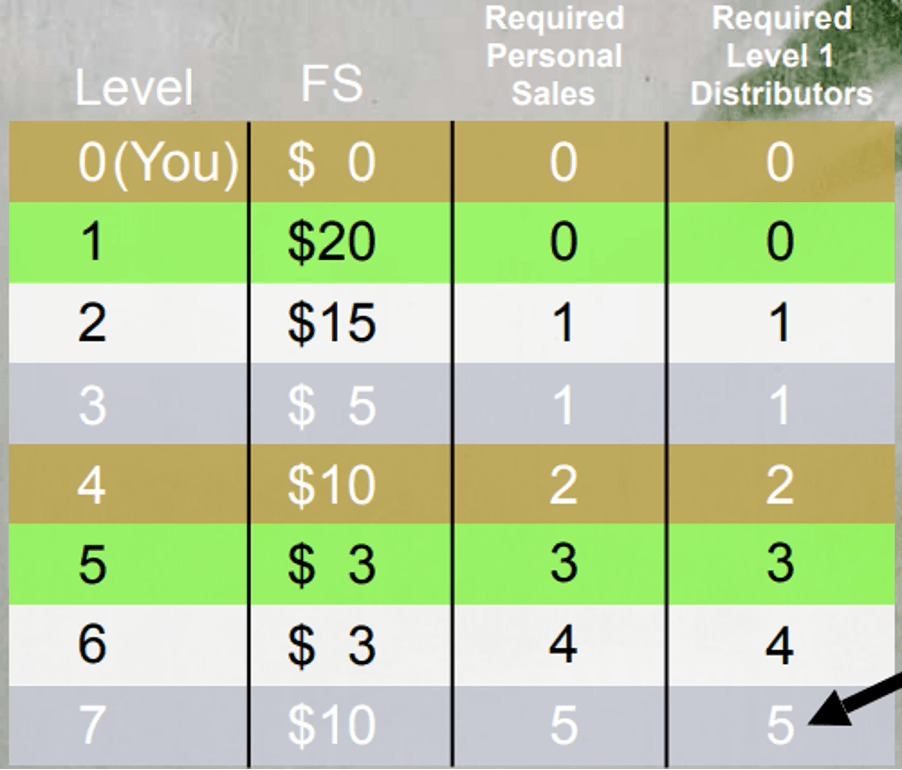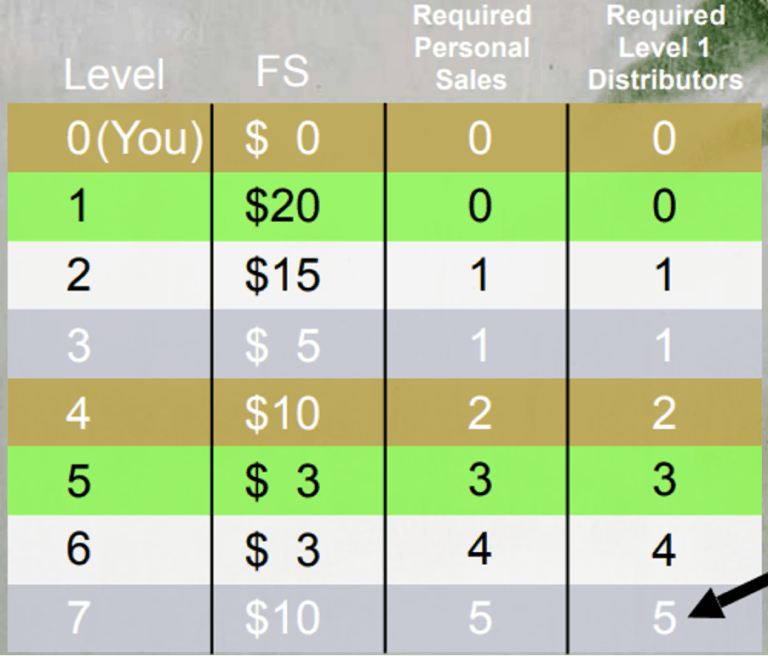 Organisational Sales
Earn bonuses from the total sales of your entire downline, up to 7 levels deep.
But you need to be an active distributor and hit monthly quotas to be eligible.
Ok, it wasn't that easy.  But the bottom line is that there are two ways for you to make money with their compensation plan:
Sell Hemp products
Recruit a downline team
As Bocannaco has rebranded to Zogena, here's a video explaining their compensation plan…
So, you may still be wondering…
No, Bocannaco is not a scam.
They sell a range of legitimate products, and they do pay their members like they say they do.
The problem is, that too many people jump into an MLM blind and without all the facts.  They end up losing a lot of money and calling the whole thing a scam…  It's not always necessarily the companies fault.
The rest of our Bocannaco review will help you get all the information you need to know to make an informed decision.
Just to be completely transparent with you, I'm not a distributor of Bocannaco, nor do I endorse Bocannaco in any way.  I have researched the website, testimonials, and information available on the internet to get the details about what this program genuinely does.    I do this, as I have been caught out by a scam in the past, and am trying to help others avoid a similar fate…
What We Liked About Bocannaco
Here's what we liked about Bocannaco:
#1 Low Startup Cost
Bocannaco has a really low startup cost, especially for an MLM.  You only need to pay the $99 annual fee to get started.
#2 Positive Product Reviews
Also, we found that there were people who were really happy with the products, and the quality of the products too.
The products are also free from THC, the bit that gives you the high, which is a good thing.
Their products are also laboratory tested, which is a good thing to know.
What We Didn't Like About Bocanacco
Here's what we didn't like about Bocannaco:
#1 Expensive Products
Bocannaco sells expensive products – you won't find a product cheaper than $99!
This is a problem, as you need to market these to people who are not going to want to spend those prices, so this sort of points towards the company operating as a pyramid scheme in disguise.
When you consider there are a number of CBD and hemp products on amazon for a fraction of the price of what these MLM companies are offering.
This means you will have a really hard job of selling these to people.
#2 Lacks Information
The lack of an income disclosure statement, coupled with having very little information on their website about becoming a distributor is also a concern.
An income disclosure statement lets you know if anyone is making any money, as they don't publish one, it tells me that no one is making money and they are trying to hide this from you.
#3 Saturated Market
The CBD health and wellness market is really, really competitive.  As the legal issues have started to subside, more and more companies are jumping on the bandwagon.  If you have a unique product that stands out, then great. 
But as we listed earlier, there are many different companies all with a "unique" product that are really just the same thing with different branding.
#4 Is Bocannaco a Pyramid Scheme in Disguise?
When you consider that their compensation plan does focus more on recruitment, over selling the products.  In our mind, that makes them more like a pyramid scheme in disguise.
To make a decent wage, you'll need to recruit and you won't make enough just by selling their products.  Making their structure look like this…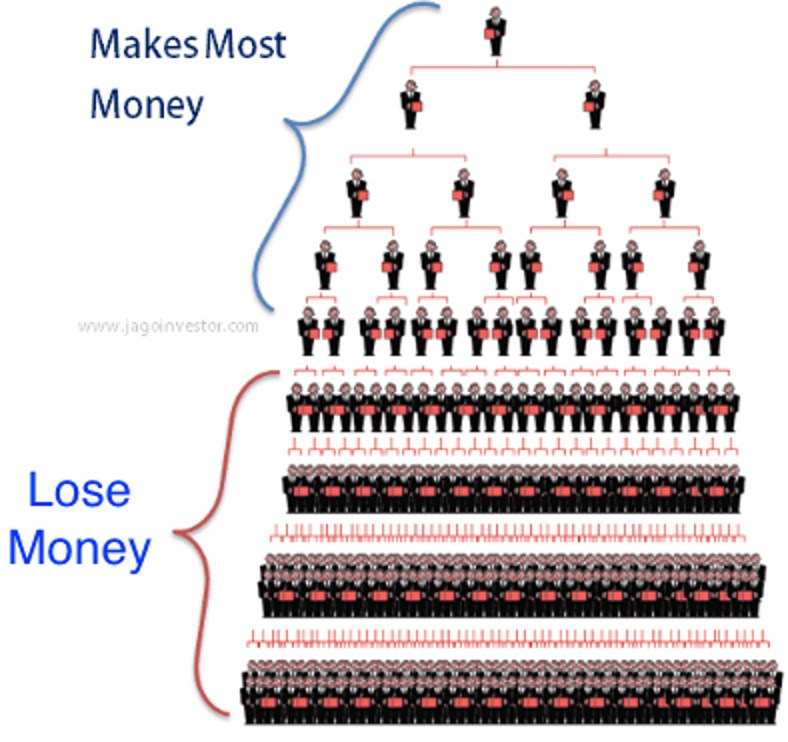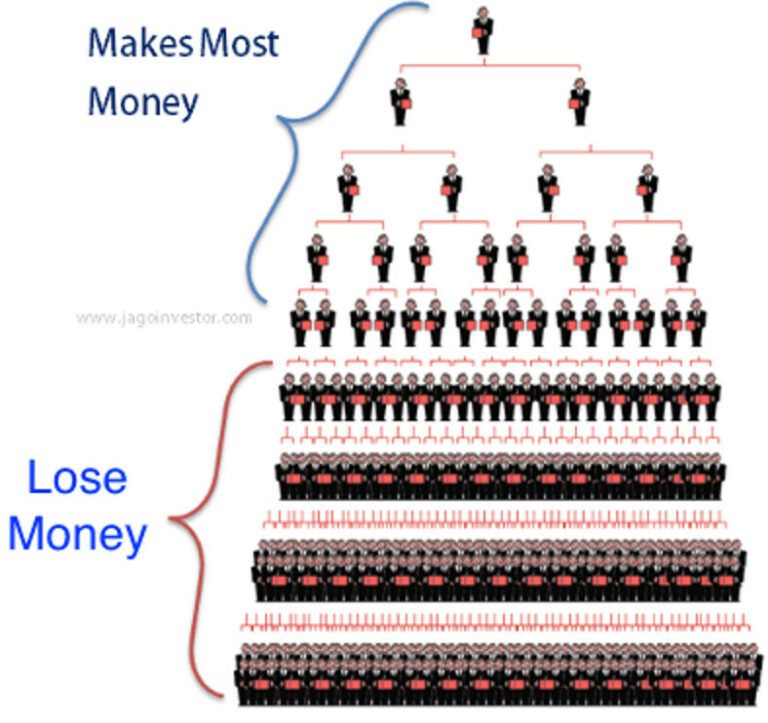 You're going to need to recruit a lot of people to make this a worthwhile venture.  But with such expensive products, who do you sell them too?  Or recruit people to sell them?
Haven't Made Your First $1 Yet?
Studies have shown that more than 70% of the people who want to make money online have not made their first dollar yet. So, you're not alone!
My Bocannaco Review - Final Conclusion
Bocannaco is a legitimate MLM, rebranded to Zogeno, that sells a range of hemp-based products.
It brings with it a chance of making money, but that will depend on your ability to sell these overpriced products in a very competitive market.
The website they give you, will require you to learn online marketing to make use of it, as they don't provide you the training to do this.
But still I think this is a tough route, and I won't be recommending it to you…
There is a way of selling CBD or Hemp based products online, without tying yourself to one MLM company…  Read on to learn how you can do that with affiliate marketing.
We are not fans of MLM, the business model is legit, but the success rate is extremely low (only 1%).
We prefer affiliate marketing, the reasons are simple:
No need to sell face to face
No need to recruit other people into your downline
You are not tied down to one MLM company
There are endless possibilities
Affiliate programs are usually free to join
No monthly quotas
We prefer to help people with their purchasing decisions and not push for sales or go face-to-face, we have found a way of making a passive income online and we would like to help you achieve the same thing.
You can still go with CBD or Hemp Oil as your niche, but with our list of 23 affiliate programs you can join, you can promote products for free and still make money.
If you don't want to promote CBD, then you can still make money.  Why not choose something that you are passionate about, why not find out how you could turn a hobby into a money-making business opportunity.
If you want to make money online or from home, without all the MLM stuff, then we highly recommend you read our Wealthy Affiliate review.  Find out how with the right training, you can turn your hobby into a profitable online business.
If you want to learn more, click the button below and read how we did it…
Thanks for checking out our Bocannaco Review!  If you have any questions or comments to add, then please write them in the comments section below. 😉