*This post may have affiliate links, which means I may receive commissions if you choose to purchase through links I provide (at no extra cost to you). Thank you for supporting the work we put into this site!
One of the most fundamental basics of any online business will be keyword research.  Without keyword research you will be walking blind and hoping for the best.
Whether you are targeting SEO or PPC Marketing you need a keyword research tool you can rely on to help you get started and still be relevant when you become an experience Internet Marketer.  Today, we are going to explore Jaaxy.  Brought to us from the guys behind Wealthy Affiliate, we are going to see just how it stacks up.
I use affiliate links to help support the running of bestaffiliatemarketingtools.org, for more information click here.
Jaaxy Overview & Rankings 
Name: Jaaxy
Website: Jaaxy.com
Owners: Kyle & Carson from Wealthy Affiliate
Training: 





 4.8/5
Tools: 





 4.8/5
Support: 





 4.5/5
Price: $0 Starter, $49/month Pro, $99/month Enterprise. Free Jaaxy Lite for Premium WA members
BestAffiliateMarketingTools.org Rating:   4.7/5
A Quick Jaaxy Product Summary
Offering an easy to use layout and offering a number of important tools for an online business, Jaaxy delivers with its product.  Niche research, keyword research tool and tools to track your rankings in the search engines make this an ideal product for both the beginner and the more experience marketers.  The training and support are really effective too.  Being fully integrated into Wealthy Affiliate, means that they cover pretty much everything one would need to start an online business.
What is Jaaxy, a Product Overview
It would be wrong to just describe Jaaxy as a keyword research tool.  Yes, that is one of the functions, but after using the program you find that it has a number of great research features for an online business.  We will cover them more in detail later on in the review, but here is the list of tools provided:
Keyword Research Tool
Keyword Lists
Site Rank – Monitor Your Website Rankings
Search Analysis – Analyse Your Competition
Alphabet Soup – Uncover Millions of Niches & Keywords
Brainstorm HQ – Find Trending, Popular & Lucrative Ideas
Affiliate Programs – Search & Find Relevant Affiliate Programs in your Niche
Whether you are researching a new niche or wanting to expand your current niche, all of these tools are really useful.
Who is Jaaxy for?  Anyone Online!
Anyone with an online presence, needs to be doing keyword research and niche research.  SO quite honestly, the list is endless but here are a few to give you an idea:
Niche or Article Marketers
Freelance Writers
Professional Bloggers
Domain Buyer & Sellers
Pay-Per-Click Advertisers
Online Advertisers
YouTube Marketers
SEO Companies
Anyone who wants to keep an eye on their competition
Viral News Sites that want to know the latest trends to leverage
Internet Marketers looking for how high they are ranking in the Search Engine Results
Local Marketers
Local Businesses
Small Businesses
Affiliate Marketers
Email Marketers looking for relevant topics for their readers
What is Great about the Jaaxy Keyword Tool
The Results appear super quick
Reliably Accurate Information
It is an online application, so no downloads
Use it on any device – PC, Mac or even Smartphone
Owners always keep the software up-to-date without any downtime
Will work for both SEO & PPC (Pay-Per-Click) strategies
Gathers data from Google, Bing & Yahoo (99% of the search audience) to get you the most accurate data.
Excellent Training Material
Awesome Support Team
Also offers a good affiliate program
What Could Be Improved by Jaaxy?
Cannot select whether you are targeting local or global search results
No option to choose the language – It is an English only Platform
Pro plan can be expensive if you are just starting out
Some of the features will not be relevant to everyone.
 Let's Explore the Jaaxy Tools
We will start with the keyword research tool, and with quick results and easy to understand metrics it will bring you closer to understanding which keywords to target.
Related Post: What is Keyword Research & How to Master it Like a Pro.
Keyword Research
Just targeting any keyword will not yield the types of results you really want, and sometimes the keyword we want to use is actually not that great either.  Doing keyword research allows you to target the right keyword for the topic.  If you are just starting out, the best strategy is the low hanging fruit keyword.
I have typed a search term into Jaaxy below to give us an example to play with.  When we look at the results, you will see some headings and figures, let's break those down.
Avg. (Monthly Searches) – The number of searches this keyword has on average per month across Google, Bing and Yahoo.
Traffic – the estimated number of clicks you could receive from being on the first page of Google
Quoted Search Results (QSR) – this is how many other posts/sites are ranking for that given keyword on Google. This is where Jaaxy is a step apart from others, as they use a state-of-the-art algorithm to produce precise keyword competition results.  You would need to manually do this in Google, otherwise.
Keyword Quality Indicator (KQI) – How good is the keyword.  Advice typically states the keyword must make sense.  It uses a traffic light system to let you know if it is good to use.  Green for great, yellow for ok and red is not advised.
SEO Power – Using a score between 0 and 100 this uses the previous results to give you a number based on how easy it would be to rank for. The higher the better.  Aim for 90 or better.
Domain Search – Lets you know if a given keyword has availability to make it a domain.
We can use these metrics to target the right keyword research tool, from one screen. Even though just "affiliate marketing tools" is a good keyword, it has 182 competing posts for that same keyword.  If you are experienced and know what you are doing you could easily target this and write a better post to get up top.  But starting out, there are better options.  To be honest, that is why my domain name is bestaffiliatemarketingtools.org as I had more chance of competing as this domain is still relatively new.
That is where I go back to the low-hanging-fruit analogy.
Low Hanging Fruit
If you keep targeting highly competitive keywords, you will struggle to get anywhere.  But if you target keywords that might not get a lot of monthly searches or traffic, but you target a lot of them you will still gain traffic but from more sources.  These types of keyword are typically called the low hanging fruit.  10 low hanging fruit keywords could actually get you more traffic than targeting one keyword that has loads of searches, but you don't see any of it.
This is what using a keyword research tool like Jaaxy allows you to do.
Alphabet Soup
Whenever you start searching in Google, they will give you suggestions.  These are based on what other people are commonly searching for.  It is called Google Instant and is a fantastic tool for marketers researching a niche.  But it does take time.  What Jaaxy's alphabet soup feature does is do all the hard work for you and displays it on one page.  In just a few seconds, you will see a whole list of ideas from that Google Instant feature.
From here you can search on any terms and get the metrics for that keyword, or you can brainstorm further on the concept.
Search Analysis (Competition)
This feature tells you who is ranking at the top of the search engines for a given niche/keyword. This will be your competition for that specific keyword. It is an important step when creating content to see who is ranking first for that keyword you are going to write an article for.  If you can write a better article, you have a good chance of knocking them off top spot. (the prime location for marketers).
I typed in best affiliate marketing tools, this shows me who I am competing against for that keyword.  Below is an example of the details of the post at the top.
Affiliate Programs
This feature allows you to search for affiliate programs in your given niche. Quickly search for products on four affiliate program providers – Linkshare, Commission Junction, Digital River and Click Bank.  I am going to use the example of pet products to show you the details:
Site Rank
Keep track of where your website is in the search engines (Google, Bing or Yahoo) for any keyword. Dependant on your plan will determine how far they search for your site. For example, the starter membership will only check if you are on page one. But the pro version will check down to 20 pages. You can also select to track a keyword and keep an eye on it, is it staying consistent or not.  This is a useful feature once you start ranking well, you can then start to monitor your position
Brain Storm
Quickly see what is trending on Google trends, Alexa Topics, Amazon Best Sellers & Twitter Trends. Keeping an eye on the latest news for ideas is important, Jaaxy combines it all easily into one page. You can also add items to a brainstorm queue.
The Jaaxy Affiliate Program
You can also earn commissions for promoting Jaaxy.  Even someone using their free starter account will earn commissions.
What is the Jaaxy Training Like?
You will find four high-quality training videos that cover all of the aspects of Jaaxy.  Kyle & Carson are not only the guys behind Jaaxy, but they are also the owners of Wealthy Affiliate.  They pride themselves on excellent training and this shows in these four videos.
1.Jaaxy Keyword Research & Management
2.Jaaxy Website Research & Analysis
3.Niche Research Refinement
The Affiliate Program Walkthrough
Having benefitted from the four videos immensely I can say there will be no questions left after watching them to understand how Jaaxy works and the benefits you will gain.
What is the Jaaxy Support Like
Jaaxy is an online keyword research tool, that is always available and doesn't suffer from techie bugs.  The training videos cover all aspects of the program and answer any questions you may have.  But as it is also integrated in the Wealthy Affiliate Platform – support is available there.
How Much Will Jaaxy Cost Me?
Jaaxy is a premium product and is designed to help anyone from the beginner to the professional.  But you might be surprised by the pricing.  Let's start with the starter membership.  This is entirely free, you benefit from the affiliate program.  You are limited to 30 free searches – whether that be keyword, affiliate program, search analysis or site rank.
This plan is to give you some experience with the platform before deciding on a plan.
Pro Plan – $49/month.
The Pro plan benefits from the following:
3x as fast as the starter plan
Unlimited keyword researches
QSR Keyword Competition (On Demand)
Domain Availability (On Demand)
SEO Power Analysis
Keyword Lists
Brain Storm feature
To do Lists
2 simultaneous Search tabs
Competition Analysis
But there is a way of getting this plan free… I'll share that secret shortly.
Enterprise Plan – $99/month.
Designed for Advanced Internet Marketers Who need to compile large lists for their own or customers businesses.
Benefits from the following:
5x as fast
Instant Competition Analysis
Instant Domain Availability
Sort the Data by Results (i.e. SEO Power, Competition, etc.)
5 tabbed searches
A lot more results on the Alphabet Soup option
Let me Share that Secret…
The Pro plan is the idea plan for any blogger, once anyone is established and looking at offering their services out is where the enterprise plan comes into its own.  But I did say there was a way of getting the (almost) Pro Plan for free.  This is called the Jaaxy Lite Membership and is only open to Premium Wealthy Affiliate Members.
I am a Premium Member of a platform called Wealthy Affiliate.  I mentioned them before, Kyle and Carson are the owners of both WA & Jaaxy.  Earlier this year, they made a change, and this meant that The Jaaxy Keyword Research Tool became fully integrated into the Premium Membership for Wealthy Affiliate.
They started offering a membership that included unlimited search terms, and we can also access it direct from the WA dashboard.
Why Would That Interest Me?
I know you might be thinking, that's great but I am only after a keyword research tool.  Fine, but don't discount the benefits until you have understood what Wealthy Affiliate can offer any blogger, internet marketer, small business owner. Pretty much anyone online.
See some key features here:
Training resources on all elements of an online business. Starting out, Scaling a Current Business. Promoting an Online business, SEO & PPC Marketing and much more
Effective Marketing Strategies, regardless of what your online business is
Top Quality Hosting for up to 50 websites with free SSL Certificates and a host of great tools to ensure your audience gets a great experience.
Live Weekly Webinars – Jay runs weekly webinars on all aspects on online business, recently running courses on selling and promoting a product, drop shipping, affiliate marketing business, Ranking content and much more.  All with replays available at any time.
Live Chat – access to a community of experts straightaway. Ask a question and get a response a lot quicker than other forums.
Top Quality Support from other members and access to Kyle & Carson for help with your business.
You will also find that if you want a higher package than the Jaaxy lite you get as a premium WA member, you will get discounts on the Pro & Enterprise packages of Jaaxy.
How Much Does a Premium WA Member Pay?
$49/month or $359/year.  That's right, for the same price as the Jaaxy Pro Plan (which is $49/month) you will get access to the best platform online for people wanting to start successfully or scale their business effectively.  Many people have used both platforms to grow businesses to a full-time income and beyond.
There are a couple of related posts below, for if you want to learn more about Wealthy Affiliate.  But if you thought Jaaxy was great, then why not benefit from both for the same price?
Related Post: Wealthy Affiliate Review
Related Post: Web Hosting from Wealthy Affiliate
My Final Opinion of Jaaxy
If you haven't realised the importance of keyword research, hopefully you do now.  Jaxxy offers a powerful tool, built by experts but offers it in a package that is avoidable to an online business.
Experience Marketers will find this tool helps them become more efficient and progress easier towards their goals.
Beginners will not feel overpowered by the same tool and will definitely benefit when starting out and challenging the current competition.  Having to manually click for some results does frustrate you at times.  But is something you can live with until you can progress to the higher plans.  But if you are just starting out and are struggling with getting started, I highly recommend you research Wealthy Affiliate and see what help and support they offer.  You will not be disappointed.  You will also gain access to Jaaxy too.
Take it for a test drive, with 30 free searches.  Type in your keyword in the box below and see for yourselves if it is worthwhile.
Jaaxy at a Glance…
Name: Jaaxy Keyword/Niche Research Tool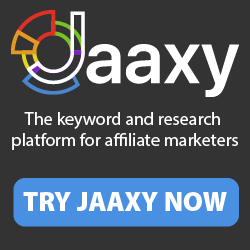 Website: Jaaxy.com
Owners: Kyle & Carson (the guys behind both Jaaxy & Wealthy Affiliate)
Training: 





 4.8/5
Tools: 





 4.8/5
Support: 





 4.5/5
Price: $0 Starter, $49/month Pro, $99/month Enterprise. Free Jaaxy Lite for Premium WA members
BestAffiliateMarketingTools.org Rating:   4.7/5
Jaaxy is a fantastic keyword and niche research tool and is hands down the easiest and best I have used.  With the partnering of WA & Jaaxy, this makes it so much easier for beginners to advance to their dream of building their own business.  But any current business owner would still benefit from the overall tools and training on offer.  Learning is a key factor of any business owner, so keeping up to date has its own rewards.
---
Thanks for taking the time to read this review.  If you still have any questions or want to share some experiences with Jaaxy, then please write them in the comments and I will get back to you as soon as I can.
Pros
Really Easy to Use
Super Quick Results
Accurate & Reliable information
Excellent Training
Generous Affiliate Program
Cons
Cannot select local or global searches
English Only
Some features are not relevant to everyone