Welcome to our Uforia Review!
Have you been approached by someone inviting you into this "exciting" nutrition MLM, and you're wondering Is Uforia a Scam?  Well, we're going to help you with all the information you need, within this review.
First off, it's great to see that you're doing your research before buying into any "seemingly good" product.
That is how you avoid scams and find only legitimate ways to make money online!
To be completely transparent with you, we're not associated with Uforia in any form.  We're not here to pitch or sell you anything.
Instead, we're want to provide all the information that you need to know before making an informed decision about this MLM business opportunity.
Is Uforia A Scam… Let's get started with a quick product overview…
Uforia Review Summary
Product Name: Uforia Science
Founder: Terry Lacore, Ron Williams
Product Type: Health and Wellness MLM company
Price: $39 subscription + $159/monthly
Best For:  No One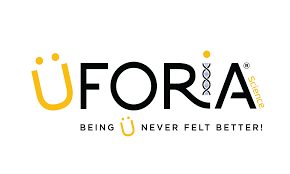 Summary: Uforia or Uforia Science is an MLM company that sells a range of health and nutritional supplements that are based on your DNA.  They give you a DNA testing kit, and then send you a batch of supplements based on the report.  
Unfortunately, there isn't a lot of proof that their products actually work, or the claims they make.  They don't have an income disclosure statement show if anyone is actually making any money, and their monthly autoship is highly disappointing…
Rating: 10/100
Recommended? No!
Uforia or Uforia Sciences, is an MLM or Multi-Level Marketing company.  It was established in 2017 by Ron Williams, and is based out of Utah.
The company provides a rather unique proposition, where they use the DNA of people as a source for designer supplements based on their customer profile.
Their goal is to create "highly-effective" nutritional supplements with the use of DNA testing.  This enables them to examine the DNA profile of their customer, so they can provide a supplement that is specifically designed for that individual customer…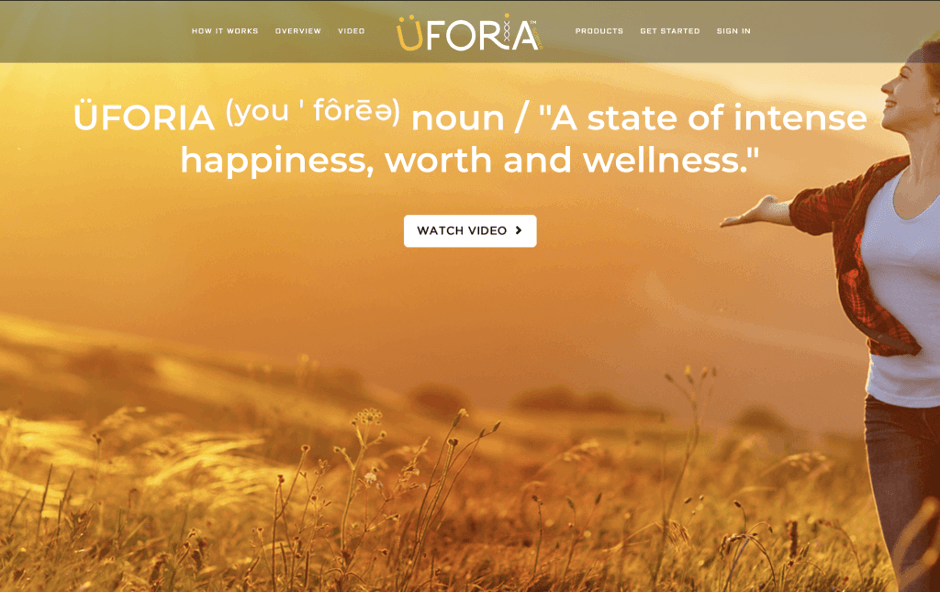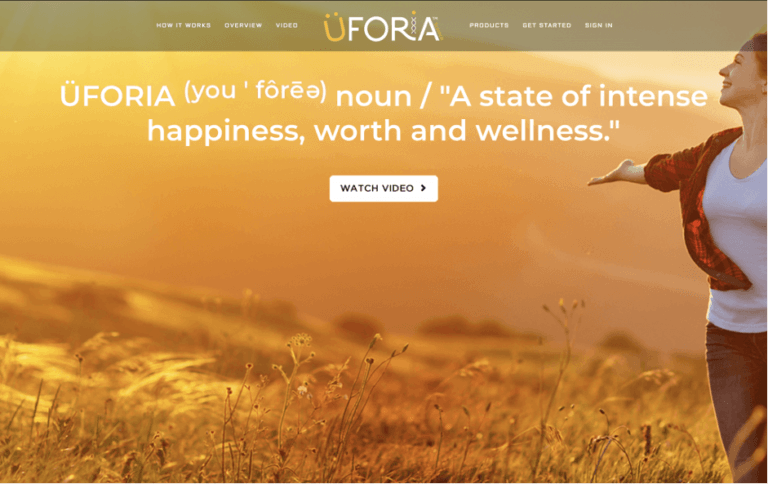 According to their website, their DNA test will unlock the "secrets" to your "actionable genes and how they influence the body".
We'll get into a little more detail about whether this technique actually works later… For now…
What we found interestingly though, is that Ron Williams is the CEO and founder of this company, but you won't find his name on the website at all.
In a Harcourt Health article, Terry Lacore is credited as the owner of Uforia Sciences.
What is interesting here is, that both of them have worked together in a previous MLM venture that ended up in a lawsuit.  The lawsuit is not related to Uforia, but does speak a lot about the people involved… 
Anyway, here's a short two-minute video that gives you an insight into Uforia Sciences…
You might still be wondering whether Uforia might be a pyramid scheme… So, let's go into that discussion now…
Is Uforia Science A Pyramid Scheme?
No, I don't believe that Uforia Sciences is a pyramid scheme.
Their consultants can make money only by selling their nutritional supplements, and there is technically no need to recruit people, although it is an option.
But, the more appropriate question to ask is whether Uforia Sciences is a pyramid scheme in disguise…
What is a Pyramid Scheme?
A pyramid scheme is a company that promises members payment for when they recruit someone into the company, instead of any way of making money from selling a product or service.
It's illegal in most countries, as it is impossible for all of their members to make money, knowing that recruitment is the only way for people to get paid.
Wikipedia has a great graphic (below) that describes why they are unsustainable…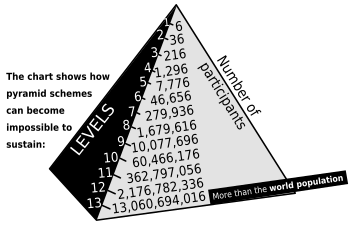 What happens is those at the top (typically the owners) earn money, but the guys towards the bottom really struggle, and as the graphic shows, any pyramid scheme would become impossible to keep going after the 13th level, as there just aren't enough people in the world to keep it going…
They will run out of people to recruit, and the owners walk away with the money… and everyone else is left licking their wounds…
Many MLM's could be described as a pyramid scheme in disguise… Despite them having products or services to sell, the only real way of making decent money is through recruitment.  Not many MLM members make any money just by selling products, let's talk about why…
Success is Rare at Uforia Sciences
This isn't just with Uforia Sciences, but in fact with all MLM's…
Did you know that between 73% and 99% of all MLM representatives lose money?
This happens too often with MLM businesses as they stipulate a monthly sales quota on their consultants.  This means that they have to meet a certain target each month to remain active and eligible for commissions.
Many of their consultants aren't really aware of this when signing up, and soon find that they are unable to meet this quota… so, what ends up happening???
Yes, you guessed… The consultants end up buying the products themselves to meet these targets.
This is why the high majority of people are losing money within the MLM environment.  The only way to get out of this cycle is through recruitment, so it becomes easier to hit these targets…
How Does Uforia Sciences Work?
Like I said earlier, Uforia Sciences works by selling nutritional supplements that have been designed according to the DNA of the customer.
They do this by selling DNA testing kits, which they use to pattern the nutritional supplement they will supply the owner of the DNA with.
In turn, they offer an opportunity for everyday people to work from home by selling these products and receiving commissions for any sales.
Before we explore this business opportunity any further, I think it's a good point to discuss their products…
Uforia Sciences Product Line
The best way for you to understand their products, would be to go ahead and take one of their tests and then see if you get the benefits from their supplements.
But the only way to do it is to buy their products, and here's our first stumbling block with this opportunity, and that is the prices we're talking about.
So, you'll need to spend $159.95 for the kit, and then you'll need to pay $99 if you want your DNA samples to be tested by Uforia Sciences themselves.
Then there are the two offerings:
Customised Supplements Based on DNA ($99) – Nutritional supplements that are specifically designed for you, the member of the company
PRETrition Supplements ($159/month) – Nutritional supplements that are specifically designed to the person who will use it, aside from yourself. (This is the product you will be selling)
It's necessary at this point, to say that there are a lot of other companies out there, all offering a nutritional supplement product, that is the same as Uforia, although maybe not designed by DNA profiling.
Examples would include:
The thing is, they all make the same claim as to why their supplement is the best on the market, and they all sell the same health and wellness opportunity.
So, does the Uforia Sciences flagship product make them stand out amongst the crowd?
Uforia Sciences Flagship Product
Well, in the case of Uforia, their flagship product is the DNA Testing Kit ($159).  This gets sent to the customer, who will capture a sample of their DNA through a swab of their mouth.
The swab then gets stored inside the test kit, and gets sent back to the company lab, where it will be processed and analysed.
This analysis will then be used to create a bespoke nutritional supplement, which can then be sent out to the customer.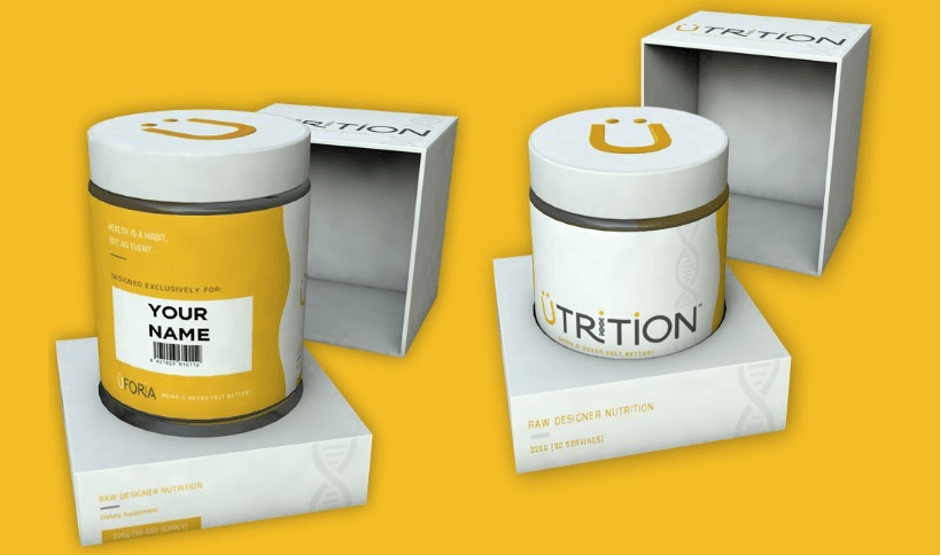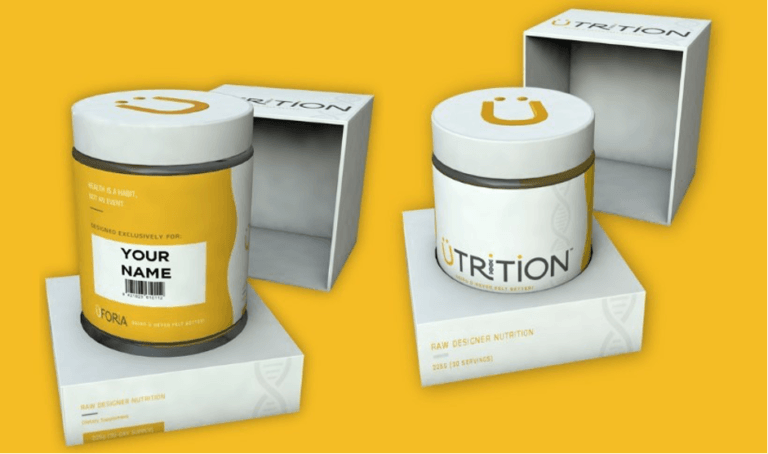 Here's a 4-minute video that talks about this product…
Does the Uforia Product Work?
It all sounds good in principle, and I'm definitely no expert.  However, when a company that is supposed to be based on science cannot provide you with any scientific basis to back up their claims, then you do have a problem…
Especially if you have to go out and find people to sell these products too.  You'll be asking people to buy expensive supplements, without any scientific backing to prove they actually work, or any external papers that back up their claims too…
Without these kind of studies, and not those that are produced by the company themselves, I think we have to stick with the facts – there is no proof the products work!
Can You Make Money with Uforia Sciences?
If you are the right kind of individual that can drive sales, and recruit an effective team, then I think the answer is… Yes, you can make money with Uforia.
However, it's going to be extremely difficult!!
What is worrying is that Uforia doesn't publish an income disclosure statement, making think they have something to hide about the success of their distributors, or lack of.
Haven't Made Your First $1 Yet?
Studies have shown that more than 70% of the people who want to make money online have not made their first dollar yet. So, you're not alone!
How to Make Money with Uforia Sciences
There are two main ways you can make money with Uforia Sciences, these are:
Selling The Products
Recruiting Members
Although, you should know you don't earn money for recruiting (that would be a pyramid scheme), instead you earn bonuses based on their sales, recruitment, etc.
Getting Started with Uforia Sciences
Getting started with Uforia Sciences requires you to spend $39 on their membership fee.  This is not a ridiculous amount, unlike some MLM opportunities we've reviewed…
However, that isn't the only cost you should know about.
Uforia Sciences Monthly Costs
They actually task you with reaching a 159 PV per month to remain an active member.   You might notice this was the cost of their monthly supplement plan…  So, basically you are going to need to buy the monthly subscription to the supplements to be eligible for any commissions.
This tells me two things… their biggest customer base is their distributors, and not many of them are making any money…
So, when you factor in the costs for your first year, they will be over £2,000… and that is before you factor in any other expenses like training, gas, travel, marketing, etc.
Uforia Sciences Compensation Plan
Uforia Sciences Compensation plan is very similar to many other MLM's (and that is make them really complicated), so we're just going to break down the most important details you need to know…
Basically, as we said earlier, there are two ways for you to earn money from Uforia.
Retail Commissions
They claim you earn a percentage of the total amount of every product you sell.  However, I could not find any details about what that percentage actually is… I've also checked other reviews and they couldn't either.
That seems strange…and a little suspicious…
Residual Commission
You earn residual commissions using a unilevel compensation plan structure.  The lowest ranking members don't get to actually earn from the residual commissions, and the only way to get promoted is through recruitment.
Residual Commissions are based on a percentage of sales generated across all 8 levels.
Builders earn 5% on levels 1 and 2
Producers & Movers earn 8% on levels 1 and 2, 7% on level 3, and 6% on level 4
Shakers earn 8% on levels 1 and 2, 7% on level 3 and 6% on levels 4 and 5
Leaders earn 8% on levels 1 and 2, 7% on level 3, 6% on levels 4 and 5 and 2% on levels 6 and 7
Innovators earn 8% on levels 1 and 2, 7% on level 3, 6% on levels 4 and 5, 4% on level 6 and 2% on level 7
Generators and higher earn 8% on levels 1 and 2, 7% on level 3, 6% on levels 4 to 6 and 3% on level 7
Don't worry if you cannot get your head around all of this, MLM companies love their complicated plans.  
Here's a ten-minute video that might help you understand it a little better…
Or you can take a look at their full compensation plan here…
P.S. This program enabled us to Create a 4-Figure Monthly Passive Income Stream.  It's Free to get started and costs only $49/month to go full-time!
Is Uforia Sciences A Scam?
With so many people losing money with the MLM industry, it's natural that a lot of them claim it doesn't work, and start throwing out that a company is a scam…  There are a lot of people who get concerned when they learn a company is an MLM…
But the short story is that Uforia Sciences is not a scam.  It's a legitimate company that sells a product, and pays it members like it says it does.
But that doesn't automatically answer the most important question you need to ask yourself, and that is whether this business opportunity is right for you… So, the remainder of our review will help you get all the details you need to know to make an informed decision about Uforia and their business opportunity…
Just to be completely transparent with you, I'm not a distributor of Uforia Sciences, nor do I endorse Uforia Sciences in any way.  I have researched the website, testimonials, and information available on the internet to get the details about what this program genuinely does.    I do this, as I have been caught out by a scam in the past, and am trying to help others avoid a similar fate…
What We Liked About Uforia Sciences
Here's what we liked about Uforia Sciences:
#1 It's Got a Unique Spin
I said to you earlier, there are tons of MLM's in the health and wellness sector, with many promising an awesome nutritional supplement.  But they are all really the same thing.  Expensive, and not unique…
However, the one thing that can be said for the Uforia supplements is that they are unique, as they are designed specifically for the user. 
We'll get into our concerns with this later, but for now, this could help you when telling people why they should trust your product over all the others on the market.
What We Didn't Like About Uforia Sciences
Here's what we didn't like about Uforia Sciences:
#1 Not Scientifically Tested or Proven
There just isn't any scientific basis or proof that their products are able to diagnose, treat, or prevent illness.
There don't actually make any real claim as to how their DNA testing works in finding the perfect supplement for nutrition.
And even if they were able to do this, they would not be able to keep up with the demands of customers specific nutritional supplements.
It would cost a lot more to manufacture and produce all these different supplements, making me think that they don't really make it that specific, and that could mean the product is just a multi-vitamin… but at a much higher price tag.
Not only that, there have been reports into DNA reporting, that provides proof that this might not actually work, even if they did manage to do it…
For example, this report from Scientific American …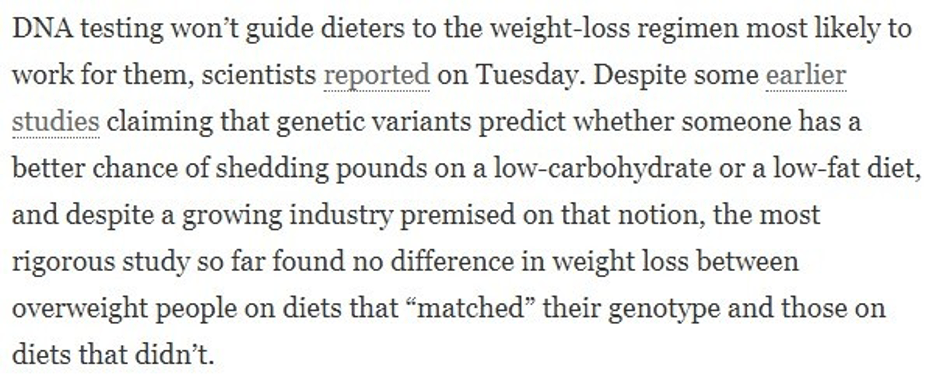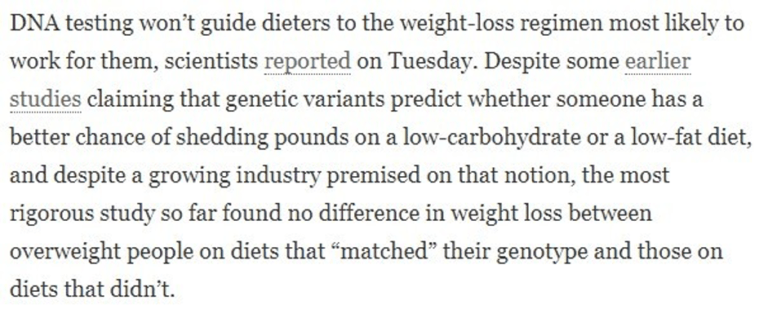 Sounds to me that Uforia are just using some hype to make it sound like this is a great product, and business opportunity…
#2 The Products Are Expensive…
Forget the price of the DNA testing, but the supplement is still going to set your customers back $159/month… with no scientific backing or anything.  How many people do you know that are willing to spend $159/month on a nutritional supplement, that could be as good as a cheap multivitamin?
The cost for a year, would be over $2,000!  That puts it out of reach of so many people, so who are you going to sell it too?
#3 No Income Disclosure Statement
This says it all for the business opportunity.  A business that had plenty of distributors making good money would be proud of their income disclosure statement.  A company that doesn't publish one shows that no one is making any money here.
If we go with typical MLM models, the company will be making money as their distributors are tied into that expensive monthly autoship, and then there may be a few distributors at the top of the model who are making decent money.
But the remainder will be losing money, and that is where I think most people will be if they join the Uforia business opportunity.
#4 Could Be a Pyramid Scheme in Disguise
Due to the expensive autoship, and that you will not be making decent money just from selling these products, it pushes you into the need to recruit… ergo, a pyramid scheme in disguise.
The people who are successful at MLM are those that recruit huge teams of distributors, so they can earn bonuses from their teams sales and not need to actually buy the products themselves every month (unless they wanted too).
Only by doing that will it become a profitable business model.  But it starts to look like the image below…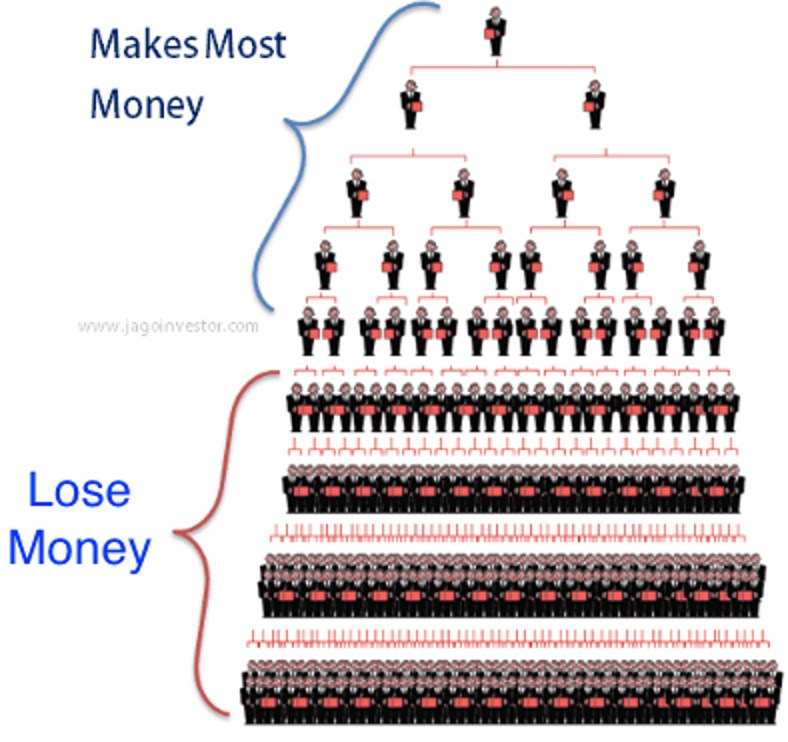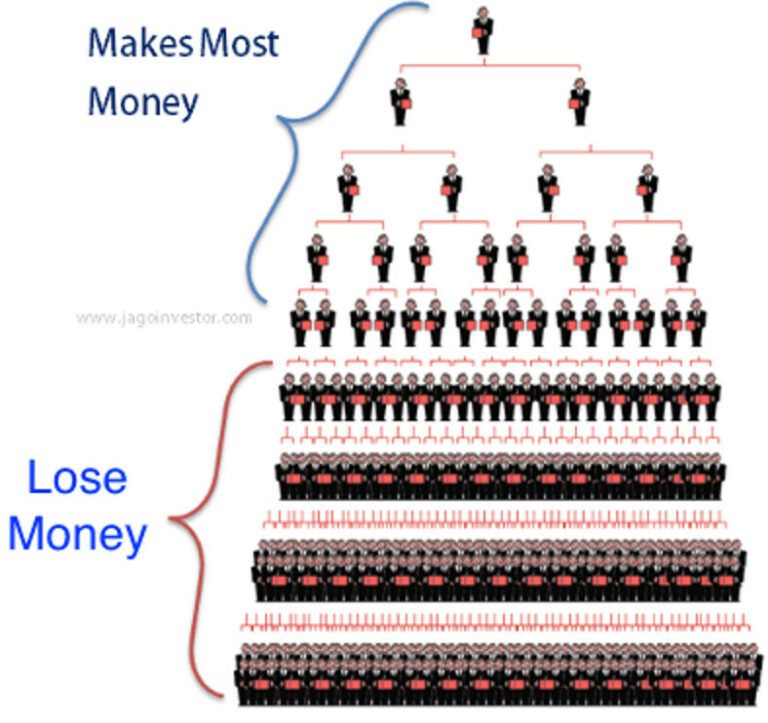 The people at the top with huge downlines make good money ($1,000+ a month), whilst the remainder are struggling to hit monthly quotas and end up spending more and more on products, and are no nearer to escaping the loop.
MLM is geared up to a specific individual, you need to decide where you sit within that bracket…
Haven't Made Your First $1 Yet?
Studies have shown that more than 70% of the people who want to make money online have not made their first dollar yet. So, you're not alone!
My Ufora Sciences Review - Final Conclusion
The biggest problem with Uforia, their product and their business opportunity, is that the product has no scientific evidence to prove that it's product actually works like they claim it does…
The fact they don't produce an income disclosure statement also points to the fact that no one is making any money here, other than the company due to them expecting their consultants to sign up to an expensive monthly autoship.
Even if the product were good, you would still need to invest heavily in recruitment to make it worthwhile… But that isn't a guarantee, as as it's typical to expect between 73% and 99% to lose money.  I see nothing to make me think this opportunity will be any different…
I'm not a fan of MLM, not because it's illegal or not profitable, but because of all the restrictions and expensive costs involved.
Instead, Affiliate Marketing is our top recommended business model for anyone looking to make money online
The reasons are simple…
You can promote anything you want and aren't restricted to only promote products from one MLM company
You don't have to recruit anyone to make money
You never need to sell to your friends and family
It's free to get started
In fact, with affiliate marketing we've been able to Create a 4-Figure Monthly Passive Income Stream.  If you want to learn more, click here.
Thanks for checking out our Ufora Review!  If you have any questions or comments to add, then please write them in the comments section below. 😉