Welcome to our SeneGence International Review!
There are lots of MLM business opportunities within the beauty and cosmetics world, with many companies trying to make their products, and business opportunity sound the best. 
Today, we're going to talk about one that has been around for over two decades, SeneGence International… We'll give you all the information you need about this MLM, and it's business opportunity, so that you can make an informed decision.
First off, it's great to see that you're doing your research before buying into any "seemingly good" product.
That is how you avoid scams and find only legitimate ways to make money online!
To be completely transparent with you, we're not associated with SeneGence in any form.  We're not here to pitch or sell you anything.
Instead, I want to reveal to you the truth behind this business opportunity and also what people are saying about this company too.
Is SeneGence a Scam?
Let's find out…
SeneGence International Review Summary
Product Name: SeneGence International
Founder: Joni Rogers-Kante
Product Type: Beauty, Personal Care MLM company
Price: $55 for Distributor Membership Fee + $75 – $1,150 Distributor Packs + $550 Optional Training Package
Best For: People who love to use beauty, skincare, and personal care products, and those who can sell them without difficulty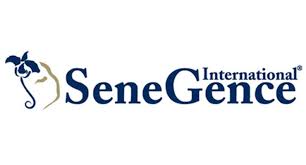 Summary: SeneGence or SeneGence International is an MLM company that was established in 1999, making it an MLM that has been around for over two decades (no mean feat).  They provide a range of beauty and personal care products, with LipSense as their flagship product.
They have a decent compensation plan in  place, but they are still flooded with several issues that make it extremely difficult for any distributor to earn a serious income with their business, like negative products reviews, no income disclosure, and it's expensive to remain active.
Rating: 25/100
Recommended? No
SeneGence or SeneGence International is an MLM or Multi-Level Marketing company.  It was established back in 1999 by Joni Rogers-Kante.  The company was founded in Irvine, California and still operates out of there now.
SeneGence International offers a range of beauty, makeup and skincare products, but their primary goal is to offer women with an opportunity to work from home, by selling their products.
Their most popular product, which you may have already heard of, is their LipSense lipstick range.
Here's a short video from one of their distributors talking about the business opportunity….
So, that might make it sound like an interesting business opportunity…
However, it's important to understand more about who's behind the company as this will tend to show you how well the company will do in the long run…
Who's Behind Senegence International?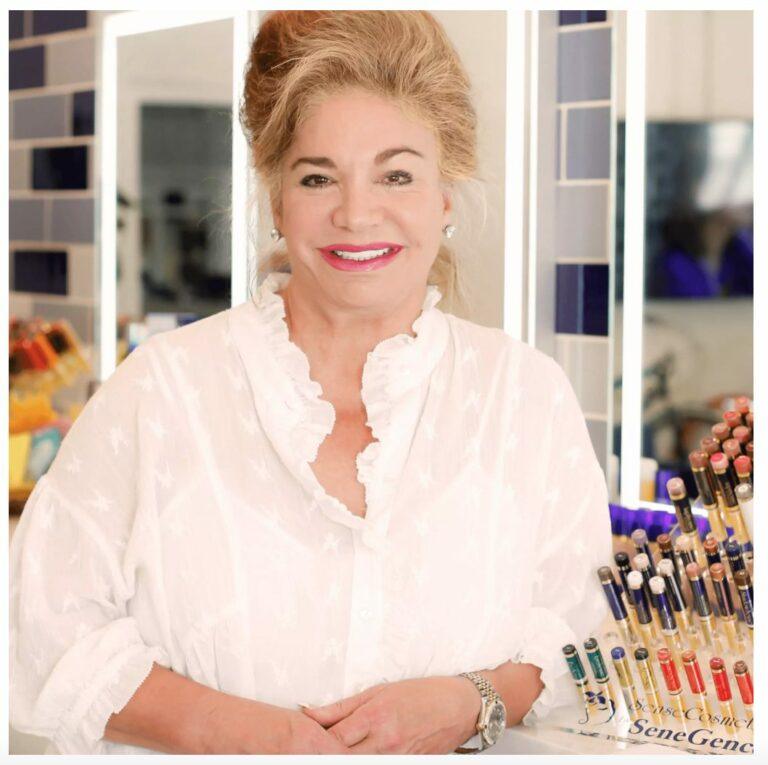 The founder of SeneGence International is Joni Rogers-Kante.  She launched SeneGence in 1999 and it has grown into an international known company.
There doesn't appear to be anything out of the ordinary against Joni, apart from being sued in 2018 by one of her distributors. There wasn't really any evidence provided as to why or how this went…
She oversees the company with over 500 employees, and is known for her Christian beliefs, her patience, and her work ethic.
SeneGence has become a family affair, as her husband, Ben is the Chief Strategy Officer and her eldest son, Alan, is the Chief Experience Officer.
I think it's safe to say that Joni has done an excellent job with regards to running her company.
Now let's get into how SeneGence International works…
SeneGence makes the claim they use the Direct Selling business model, as in paying commissions to people that sell their products.  This is true in a sense, but the reality is that it's more like the MLM structure as distributors will get the most rewards when they recruit more people into their downline.
Although, the part that makes the company stand out amongst the others is that they have found unique ingredients from around the world for their original, patented, and proprietary formulas.
Let's take a look at the SeneGence products…
The SeneGence Product Line
As I said earlier, their LipSense lipstick range is their most popular and it's what the company is most known for.
But they also have a number of other products within six categories:
Skincare – 6 products from $30 to $60
Anti-Aging – 4 products from $40 to $85
Face – creams and moisturisers, starting from $30
Eyes – around $30 each
Lips – including LipSense for $25
Body – soaps, sunscreens, and body washes between $20 to $55
By far their most popular product is their LipSense lipstick, this video helps you get an idea about it…
Aside from the LipSense brand, they have a wide range of other products, but their primary focus seems to be on anti-aging and personal care.  They also provide the same products lines as other MLM companies, such as Jeunesse, Arbonne, and Younique.
SeneGence makes several claims about their products too, these include:
Their products are not tested on animals
They use no animal byproducts
They use naturally reoccurring natural ingredients
Products are formulated using FDA approved ingredients
Products are made under a "Pharmaceutical Grade" rated manufacturing facility
Products are made in the USA for stringent quality control
Products are gluten-free and GMO-free (Most products, they say)
LipSense doesn't contain any wax or lead
Do The Products Work?
This is where it doesn't make sense.  They make all those claims about their production methods, etc. and yet there are a lot more complaints about their products, than there are positive reviews.  With MLM, you also have to factor in a percentage of the positive reviews will be distributors trying to make a sale.  But to still see that the complaint reviews, outweigh the positive reviews two to one.
When you see complaints like the ones below, you do have to worry about their Quality Control… no product should leaves someones face burning…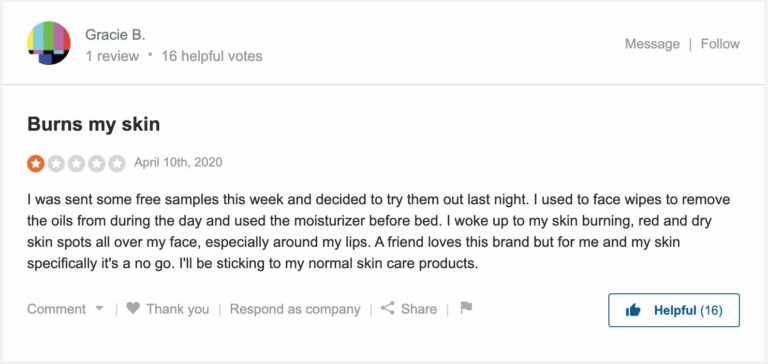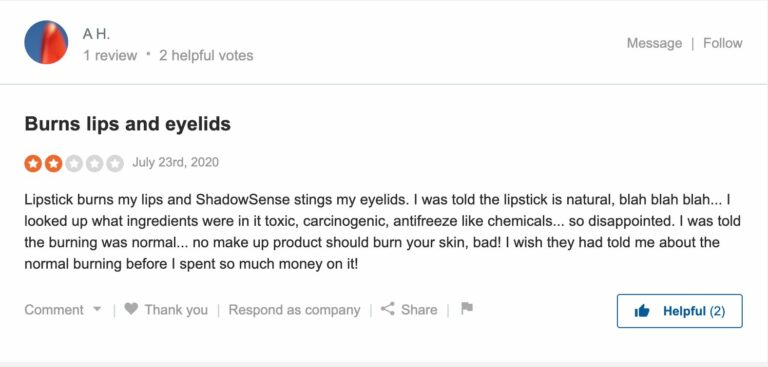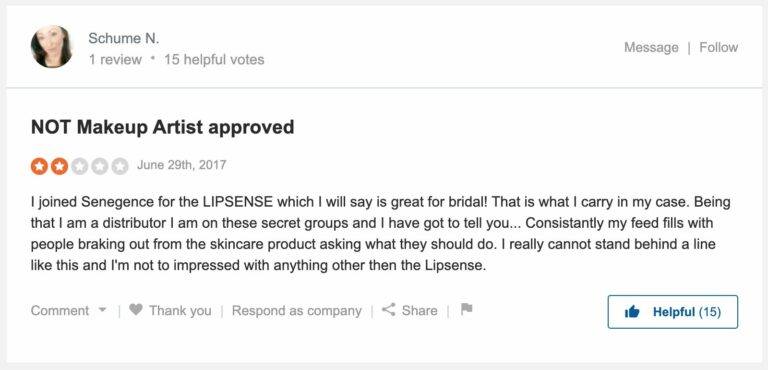 It has to bring into question their claims about all-natural ingredients…
You can check out the reviews in a little more detail on SiteJabber.  But here's as screenshot of their reviews on their, and it's worrying when they are ranking 117th in the list…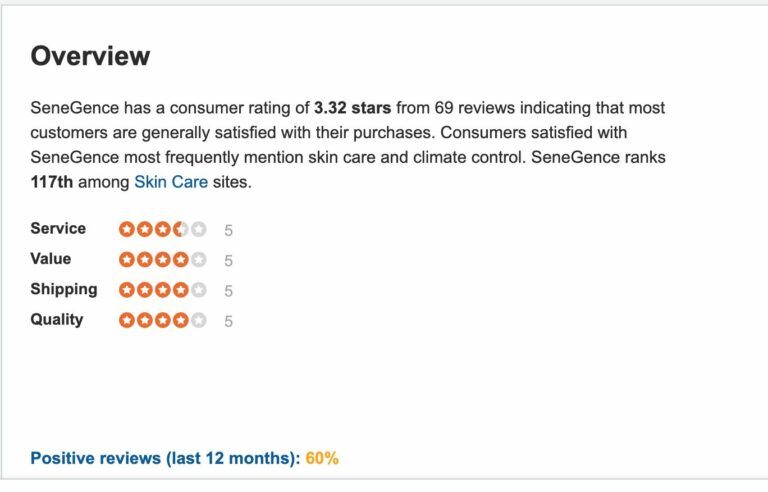 When you factor in that you will need to sell these products as part of the business opportunity, all these negative comments about their products, will have a huge factor when you try and sell them.
Speaking of which, let's go into how you make money with SeneGence.
Haven't Made Your First $1 Yet?
Studies have shown that more than 70% of the people who want to make money online have not made their first dollar yet. So, you're not alone!
How to Make Money with SeneGence
Now, as SeneGence International is an MLM company, there are the usual two ways for you to make money with their business opportunity.  These are:
Selling their products for commissions
Getting people to join your team (downline) and earning bonuses from their sales
To clear up a common misconception…
You don't earn money for actually recruiting people, that would make it a pyramid scheme, but you do earn bonuses related to how well your downline does.
Here's a video where Joni explains what happens when you join the company as a distributor…
Now, let's talk about getting started with SeneGence International…
Getting Started with SeneGence...
There are two steps to becoming a distributor with SeneGence:
The first is to pay the Distributor Membership fee, which is $55, and the you'll be required to purchase one of their Distributor Business Kits.  These range in price from between $75 and $1,195.
Each Distributor Business Kit comes with more products and better resources to get started with.
If you're not entirely sure about the company, you'll probably be best to stick with the $75 LIPS Pack… Regardless of what your sponsor is trying to tell you (they will earn a bigger commission if you spend more…just saying).
Having said that, if you are going to have a chance of succeeding with an MLM business opportunity, you've go a better chance if you immerse yourself properly and get the best training available.
This is where SeneGence is different to many other MLM's we've reviewed, they actually offer a training package.
The $550 SeneGence Training package includes the following elements:
Weekly Online Training
SeneGence Website ($300/year renewal)
Seminar General Seating
SeneU Event Registration
PIT Stop Registration
SeneMedia Collection
SeneLibrary Training Materials
MSF Donation
Launch Demo
So, the reality of the cost of getting started with SeneGence is a total of $1,800!
There is also the requirement to hit a PV (Personal Volume) of 300 every three months.  This equates to $300 worth of product sales every three months.  
If you don't achieve this level (which will be hard when getting started), you'll need to buy enough to meet your shortfall.
So, if you only sell $50 worth of stock in your first three months, you'll need to buy $250 worth of stock yourself.  To spread the cost, many will buy so many products each month.
SeneGence Compensation Plan Explained
Like I said, the SeneGence compensation plan requires their distributors to purchase products every month in order to qualify for commissions.
SeneGence Commission Qualification
This isn't unique to just SeneGence, most MLM's do it.  The only difference is the level at which they expect you to buy.  With SeneGence it is a 100 PV each month, against your qualifying sales.
This puts their distributors in a bad place straightaway because you have to hit the ground running with sales if you don't want to end up having to buy products just to remain active.
I'll get to why this is not entirely a good thing as we continue the review…
Retail Commissions
Whenever you are able to sell their products to retail customers, you can earn between 20% and 50% commission.  The amount will depend on your rankings, and the amount you sell.
Residual Commission
This is the part where recruitment comes in.  SeneGence pays residual commissions using a unilevel compensation plan…


The unilevel compensation structure places the distributor at the top of the team, and then every personally recruited member is placed under them, at the first level tier.
Then, any recruit they make will in turn be placed into their team, but under your in the second level tier, and so on.
However, one thing I noticed was that SeneGence caps the income potential at the 5th level, and these commissions are only based on the first 100PV purchased by their recruited distributors in the team.
The number of levels, of which a SeneGence distributor can earn is also based on how much they spend on products each month.
The more products they buy, the more levels they can earn through.
Based on their compensation plan, you have to purchase at least 100PV to earn commissions on the first 3 levels.
Then you would need to purchase 200PV or higher to earn through your 5 levels.
Considering MLM is a hard business model anyway, it's a little disappointing to find that your earnings are capped at a certain level.  It would have been a better incentive for their distributors to build a better and more solid team.
You can check out this video to learn more about their compensation plan…
No, SeneGence International is not a scam.  
It's a legitimate MLM company, offering products and a business opportunity too. 
When you factor in that most MLM's don't even make it past the 5 year, or even 10 year mark.  For SeneGence to be over 20 years in operation, shows that Joni and her team know what they are doing.
As for their business opportunity, it is legit.  It could also be possible for you to make money through it.
Having said that, whether it's the right business opportunity for you… that's a different matter.
So, the rest of our review is going to help you get all the details you need, to help you make an informed decision.
Just to be completely transparent with you, I'm not a distributor of SeneGence, nor do I endorse SeneGence in any way.  I have researched the website, testimonials, and information available on the internet to get the details about what this program genuinely does.    I do this, as I have been caught out by a scam in the past, and am trying to help others avoid a similar fate…
What We Liked About SeneGence
Here's what we liked about SeneGence:
#1 Established MLM Company
Like I said earlier, you've got a good MLM company if it can pass the ten year mark, and SeneGence has passed the 20-year mark.
It shows it isn't going anywhere, so you're not investing into something that is going to disappear overnight.
#2 Decent Profit Margins
The main focus with most MLM's is actually on the recruitment side, which is evident when it comes to the retail commission levels.  It basically makes it pointless to sell the products, but rather recruit instead.
But the SeneGence compensation plan shows they do favour the actual sale of their products.
SeneGence pays between 20% to 50% for every sale made.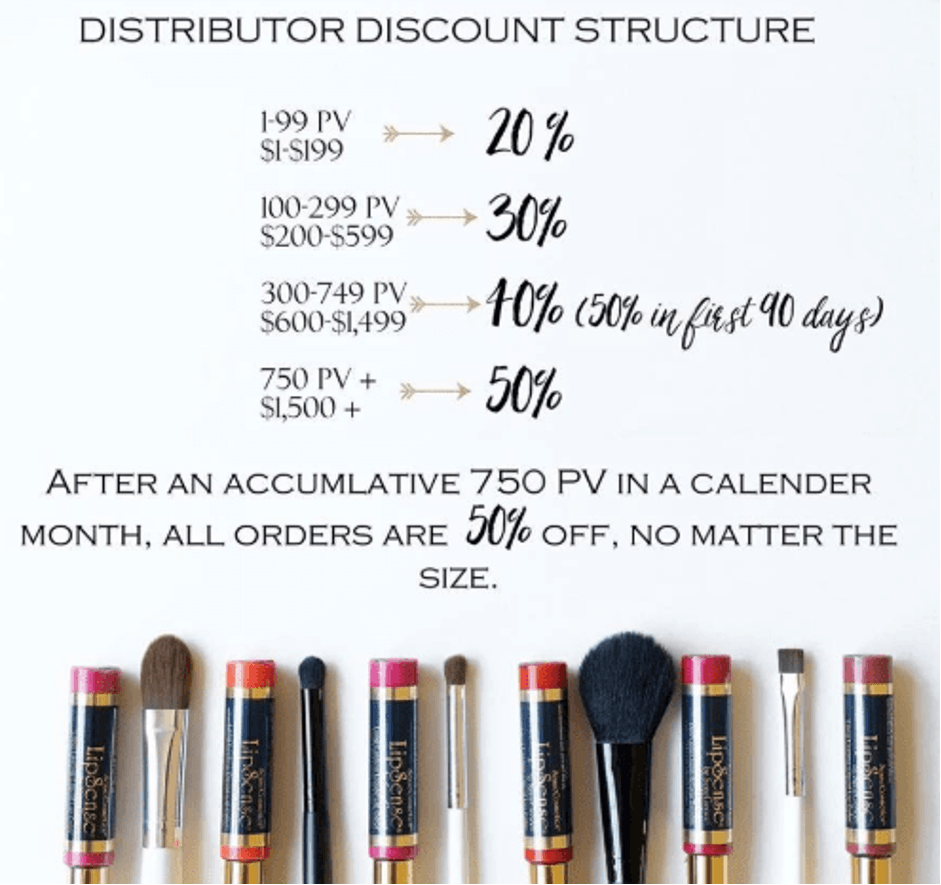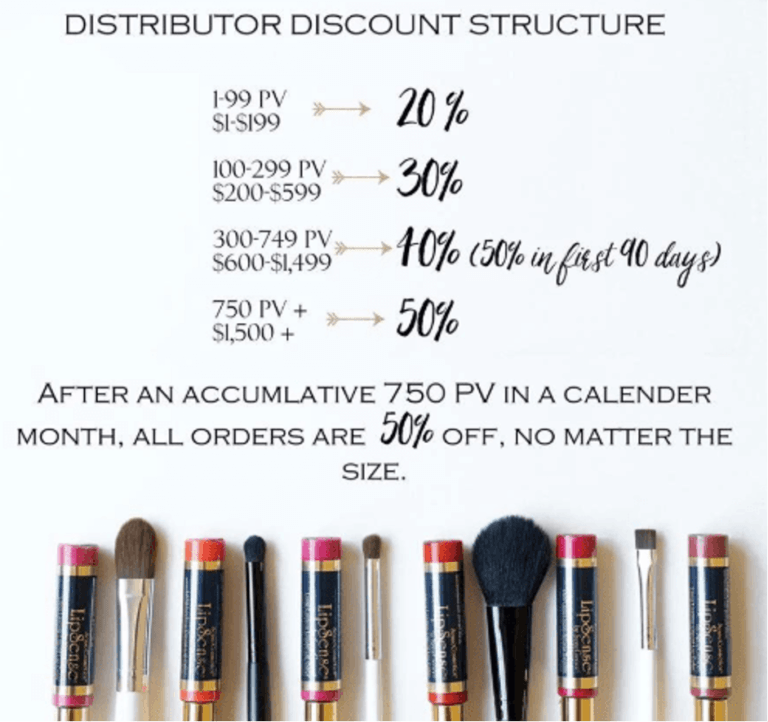 This shows it is possible to make decent income must from selling their products.
#3 Popular Products Are Already Established
It's much easier to sell a product that people are already aware of, and there are many people that use it regularly… although, this does show they already have a source of where to get it already…
What We Didn't Like About SeneGence
Here's what we didn't like about SeneGence:
#1 No Income Disclosure Statement
This is a huge red flag, and is most often the reason we wouldn't recommend a business opportunity to you.
It's a document that allows people to see how well distributors are doing with the company, and how much (or little they are earning.
This document shows you how transparent a company is, or isn't.  You have to remember, that MLM companies don't provide you with any form of fixed income, so these statements are how much distributors earn on each tier or level each year, and the percentage that do.
But because SeneGence don't disclosure one, I think it's safe to assume the following:
That their distributors are not earning enough money through profit or through commissions
They are not confident about their compensation plan, so they don't want people to see the results
Bottom line, between 73% and 99% of MLM distributors lose money, and there isn't anything that SeneGence shows to prove that they don't end up in the same place…
#2 Negative Product Reviews
We showed you some negative reviews earlier, and there are plenty of them on SiteJabber.
The most common complaints are to do with:
Products are not safe or sealed
LipSense only lasts a few hours, and not the whole day
Certain products are leaving rashes or blemishes on the skin
In some cases, it is actually leaving people with burning sensations…
#3 MLM's Success Rate (1%)
This isn't just relatable to SeneGence, but the FTC products a report on over 300 MLM companies.  The most important metric was to do with the success rate, which shows that 99% of MLM distributors actually lose money!!
The lack of an income disclosure tells me straightaway, that most people trying to make a go of the SeneGence business opportunity are probably going the same way.  WIth the company doing nothing to dispel that issue.
#4 There Are Stock Issues
The majority of distributors have complained about the stock issues, which is a major problem for any potential distributor.  You cannot sell what isn't in stock.  There are examples like the ones below: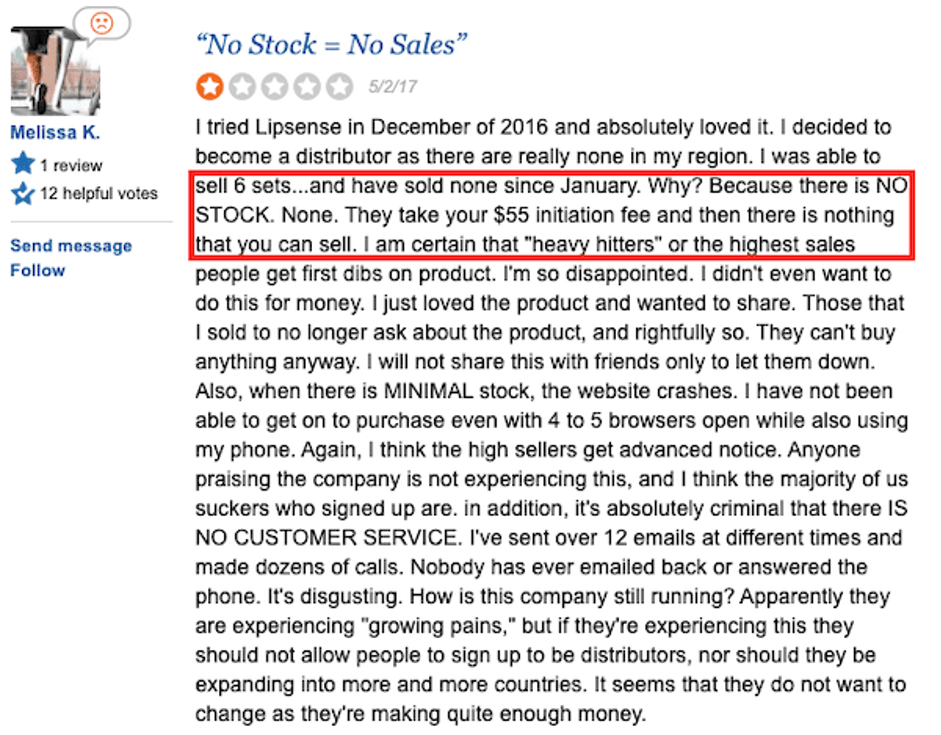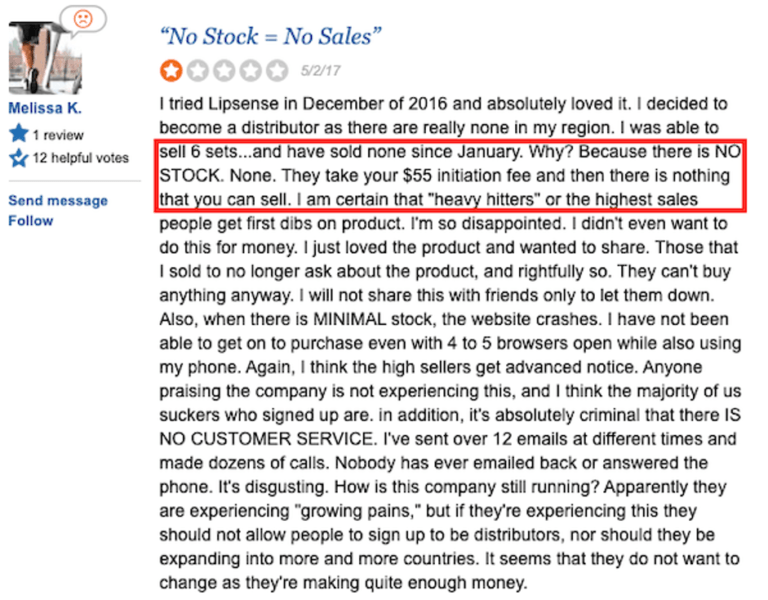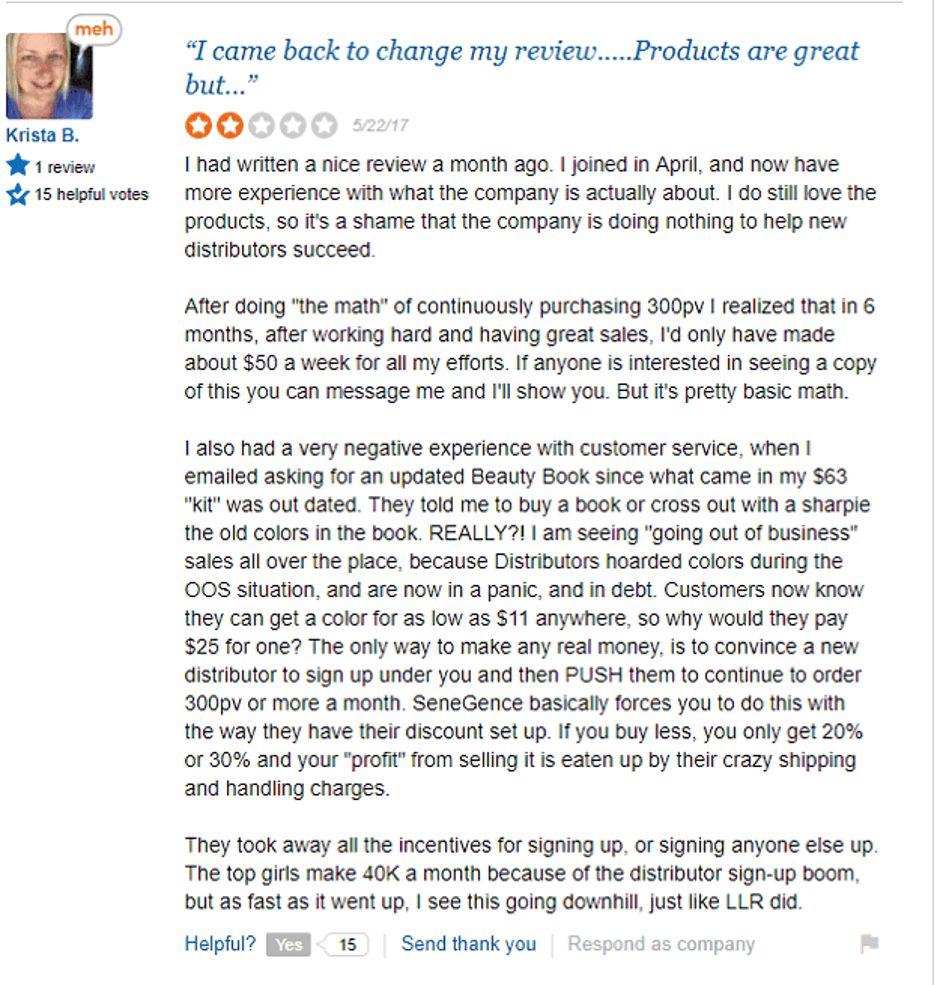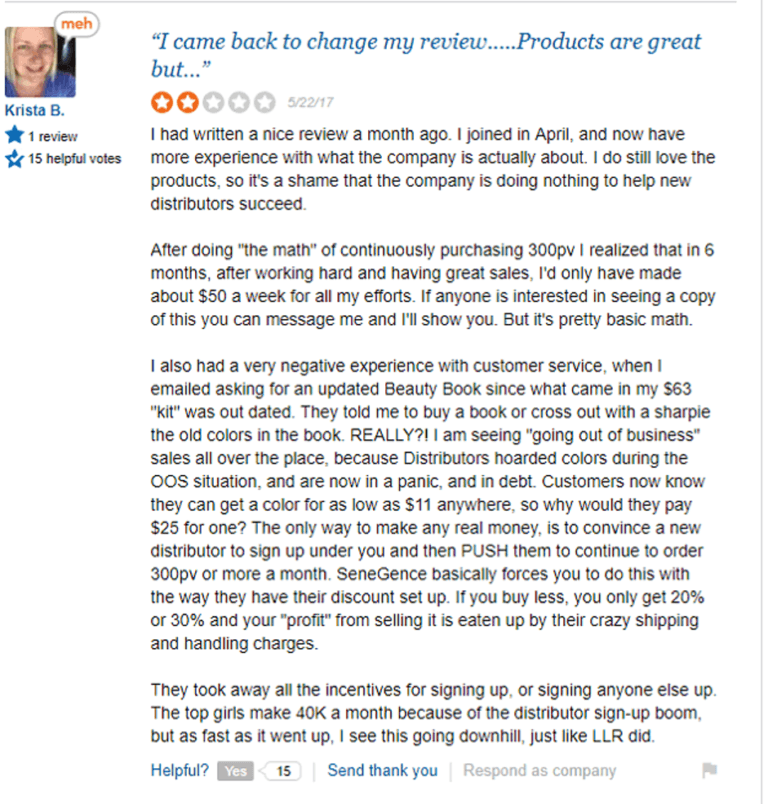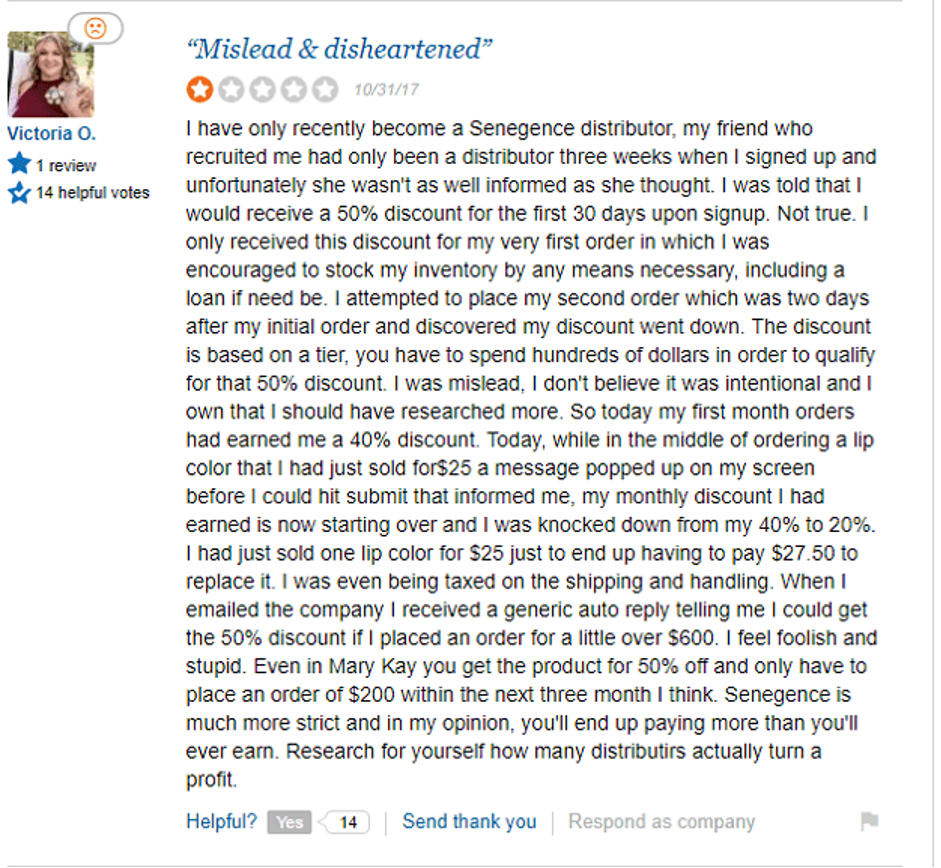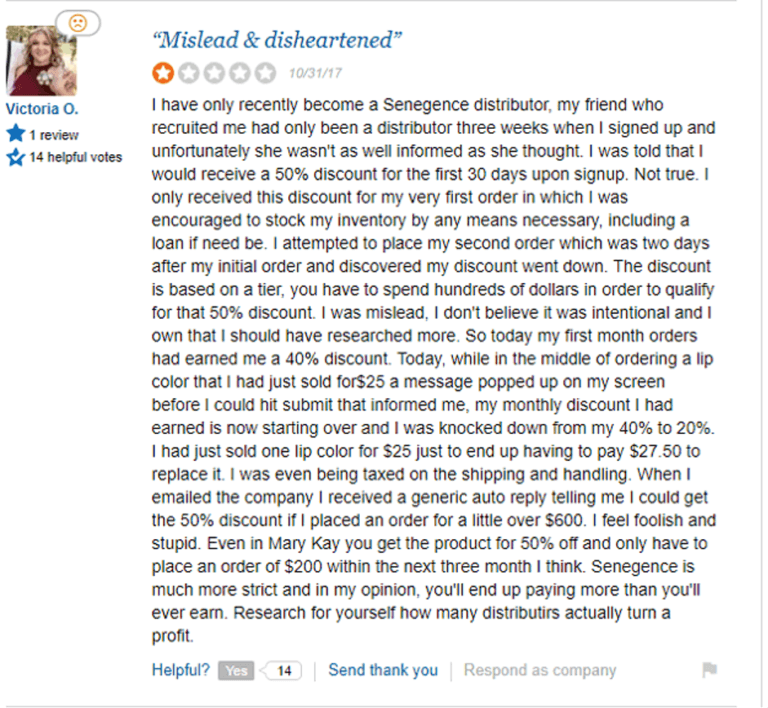 There are numerous examples, it sounds like distributors panic buy their products whenever they are in stock, as they aren't sure how long it will stay in stock.
If you don't want to deal with any physical products, then you might be better off with other forms of making money, such as Affiliate Marketing.
#5 It's Expensive To Get Started & To Remain Active
I think it's important to still remember that SeneGence is an MLM company, and their business opportunity is not that different to any of the others.
But when you compare their startup costs to others out there, SeneGences is one very expensive. Then you have to factor in the cost just to remain active, where you have to keep on buying stock.
If you're sitting there thinking it'll be easy to sell $300 worth of stock in three months, then I suggest you take a look at this…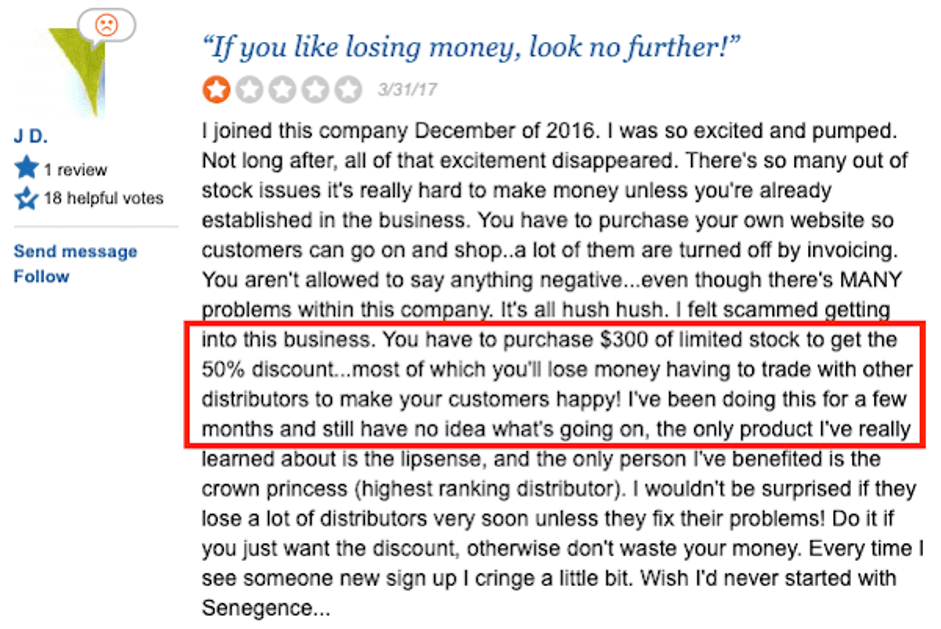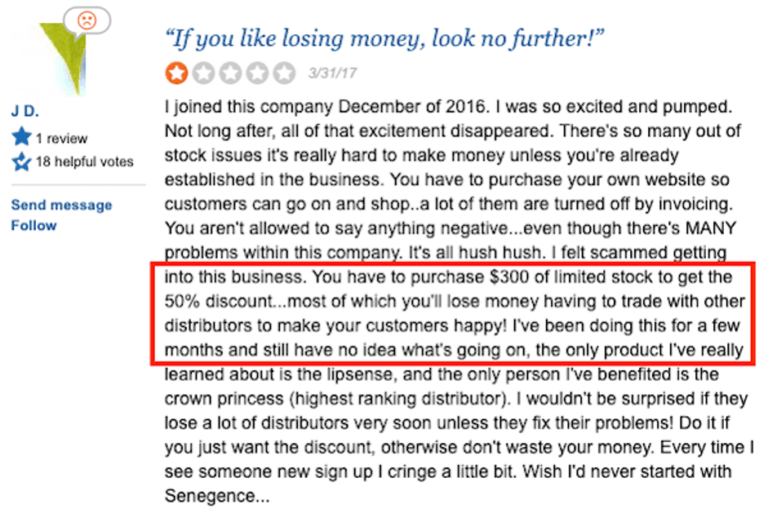 If you cannot sell that amount of stock, then you'll need to buy the products just to remain active… you might need to consider where you're going to store all this extra stock!
P.S. This program enabled us to Create a 4-Figure Monthly Passive Income Stream.  It's Free to get started, and costs only $49/month to go full-time!
#6 You'll Need to Recruit
When you take in the information in their compensation plan, it shows that you will not be able to rely solely on selling the products and earning retail commissions.
Just like with any MLM, you'll still end up having to recruit a team, so you can earn bonuses/commissions from their sales.  The only people that really find success (as in the 1%) are those that are able to recruit an effective team.
But what is disappointing about this is, that even if you were able to recruit a good and effective team, the company actually caps your earnings at a certain level.
It shows that you have to work really hard to just to make SeneGence work for you, but then your income potential is limited by the company.
Haven't Made Your First $1 Yet?
Studies have shown that more than 70% of the people who want to make money online have not made their first dollar yet. So, you're not alone!
My SeneGence Review - Final Conclusion
SeneGence is a legitimate company, with over twenty years in the industry, and the compensation plan does focus as much on retail sales, as well as recruitment.
But when you factor in that this is a highly competitive sector, with a business opportunity that is going to cost a couple of thousand dollars to get started, expensive monthly costs, and all those negative reviews… I feel this isn't a great option for a newbie network marketer.
It might look good on paper, as the company has been around for a while and has a product that people are aware of, and like.  But that might also mean they already know where to get those products, so why change the norm to buy from you?
The company also lacks transparency with no income disclosure statement, which surprised me for a longstanding company like SeneGence.  I was also concerned with the stock issues, that present themselves.  Sounds like you need to be in there first, which means you need to spend more, and quickly to guarantee you have something to sell.
I know one thing this shows me, is that their distributors are their biggest customer too…
I'm not a fan of MLM, not because it's illegal or not profitable, but because of all the restrictions and expensive costs involved.
Instead, Affiliate Marketing is our top recommended business model for anyone looking to make money online
The reasons are simple…
You can promote anything you want and aren't restricted to only promote products from one MLM company
You don't have to recruit anyone to make money
You never need to sell to your friends and family
It's free to get started
In fact, with affiliate marketing we've been able to Create a 4-Figure Monthly Passive Income Stream.  If you want to learn more, click here.
Thanks for checking out our SeneGence review… If you have any questions or comments to add, then please write them in the comments section below. 😉
SeneGence International
$55 + $75-$1,150 (Distributor Packs) + Training $550