Welcome to our Pruvit Review!
There are so many health and wellness companies in the MLM industry.  More and more of them are cropping up, all promising you the best products and a way to make money from them.
However, not many of them are able to hold up on either promise.  Some of them give you poor expensive products that even cause health issues and ultimately do not make you any money.
In fact, there are only a handful of MLM companies in the health and wellness niche that are successful and worthwhile.
I am guessing someone has approached you to join Pruvit and you are wondering if it's a scam, or a pyramid or scheme or in fact worthwhile at all.
Is it a solid choice or one that will lead you into debt?
First off, it is great to see that you are doing your research before buying into a "seemingly good" product.
It is the best way to avoid scams and find only legitimate ways to make money online!
To be completely transparent with you, we are not associated with Pruvit in any way.
So relax, we are not here to pitch or sell you anything.
Instead, we just want to share with you all the details of this program, including company info, pricings, compensation plan and ultimately why it is not worth your time.
Let's get started with a quick product overview…
Pruvit Review Summary
Product Name: Pruvit
Founder: Brian Underwood
Product Type: Keto Health & Wellness MLM company
Price: $350 + $73-$133 monthly autoship
Best For: Those good at networking and recruiting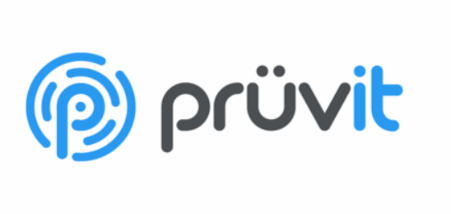 Pros
Interesting Products
Good Leadership
Cons
Expensive Products
Crowded Market
Low Income Potential
Autoship
Stockpiling
Expensive Startup Costs
Bothering Friends & Family
Summary:  Pruvit is a health and wellness MLM company that markets Keto Products. But their income opportunity has too many concerns and not enough to prove you will make any money.  Their products are expensive and are in an already crowded market.  The income potential is really low and the company itself proves that their distributors are not earning a lot of money.  You also have to factor in that you will be tied into a monthly autoship which means you are more likely to be spending more than you are making.
For this reason and many others, we would not recommend this program to you.
Rating: 30/100
Recommended? No
Pruvit is an MLM or Multi-Level Marketing company that sells and markets different Keto based drinks.
I would not be surprised if you have never heard of them before, and that is because they do not advertise their products on billboards or do any commercials.
They rely solely on their members to promote their products for them.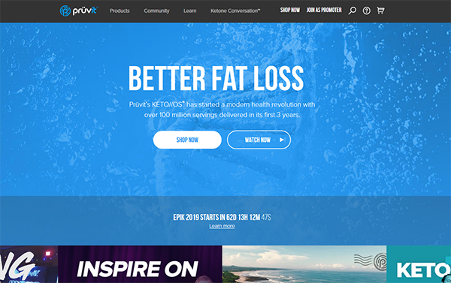 As an affiliate you can sell their products and earn a commission or recruit new members in and get rewarded for building up a team.  Whilst this might sound good, it is not actually as good as it may sound, which we will go through later in this review.
The company was founded by Brian Underwood, who is also the CEO and it was founded back in 2015.  It has it's HQ in Texas, USA.
Underwood has a lot experience within the MLM industry.  He was also the founder of another popular MLM called bHip Global amongst others.
As far as Pruvit is concerned, they have a stable and decent leadership in place.
Here's a 5-minute video that introduces you to Pruvit…
Sounds amazing, right?
But you're clever enough to know that this is just a sales video from Pruvit, so you may still be wondering…
Is Pruvit a Pyramid Scheme
A lot of people wrongly label legit MLM's as Pyramid Schemes.  But I think that is more about understanding the differences.  A Pyramid scheme is where your sole income is reliant on recruitment alone.
Whereas MLM has products for you to sell and then the recruitment part of their commission structure has elements of a pyramid scheme.  That is where the confusion comes in.
Pruvit is not an outright pyramid scheme but has elements of a pyramid scheme.
Look at the image below to understand what I mean: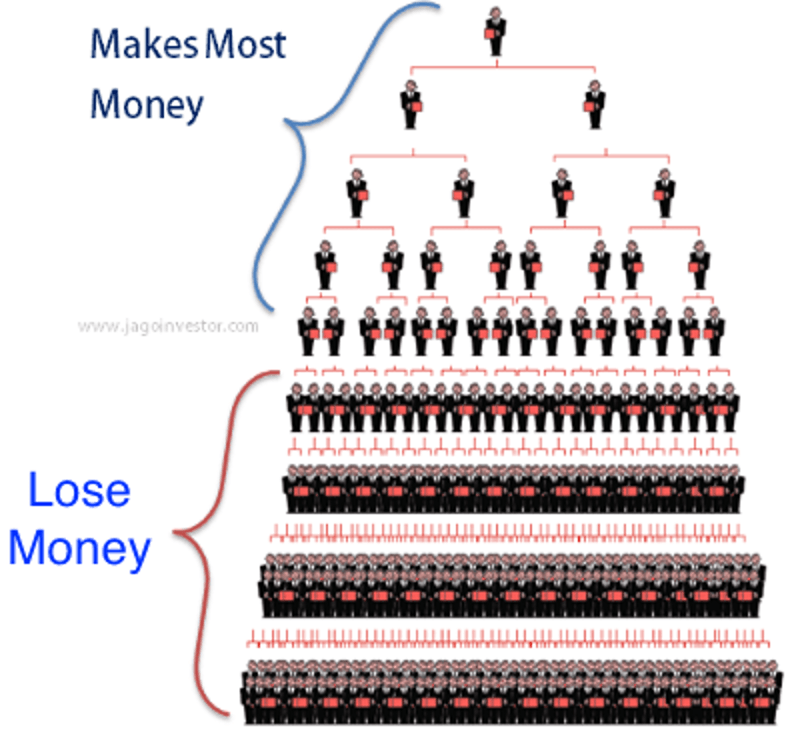 This is what a pyramid structure looks like and is how you could describe the recruitment side of any MLM.
A pyramid scheme would only have recruitment as an option.  Pruvit does have real products and you don't have to recruit with Pruvit to make money.
However, anyone who is anyone in MLM will tell you that the real money is in building up your team.
Those who are really successful with MLM have managed to climb up that pyramid and sit up the top where they earn money from their sales as well as those below them.
Here's a 5-minute video that will help you spot a pyramid scheme in diguise…
Success is Rare at Pruvit
The problem is that the statistics out there show that 73% of people who join an MLM lose the money they have invested and 65% of people who join an MLM quit because of the pressure and awkwardness of selling to friends and family.
The only way to see if an MLM could be worthwhile is to check the company's income disclosure statement.  But the problem is that Pruvit does not have one to show you.  An income disclosure statement lets you see how much their current distributors make and gives you an idea of whether it is a good opportunity.
But all Pruvit does is tell you that the average affiliate in MLM (not Pruvit) makes between $500 to $2000 per year.
But you cannot tell where Pruvit Distributors sit within that.  Just note that if that is the average you could earn that works out to about $41 to $166 per month.  Which isn't enough to live on.  Plus you have to factor in the ongoing costs associated with the Pruvit opportunity.
Here are some stats about MLM that will give you an idea of the difficulty with regards MLM:
Most People Lose Money – Between 73%-99% lose money when joining an MLM
$5,000/year – of the small percentage of people who do make money, most make less that $5k a year. That is about $13/day
Selling to Friends & Family – 65% of people who join an MLM said they quit because selling to friends and family was too awkward
75% Will Never Join Another MLM Again
It is always worthwhile delving into a number of things when it comes to MLM's.  MLM's and lawsuits seem to go hand-in-hand at times.
Now, we did find a lawsuit involving Pruvit, but it was not against Pruvit.  It was actually Pruvit putting in an underlying lawsuit against another MLM called Elevacity.
We reviewed Elevacity recently and you can read it HERE.  But the lawsuit was around Elevacity violated the terms and agreements between themselves and Pruvit when Elevacity started to market a keto-coffee creamer product that is in direct competition with Pruvit's keto product line.
They also claimed that Elevacity were cross-recruiting Pruvit sellers and promoters and misappropriating Pruvit's trade secrets.  If you become a member of Pruvit, you cannot actually become a Elevacity member.
Pruvit only offers two products at this company and they are:
Keto//OS Nat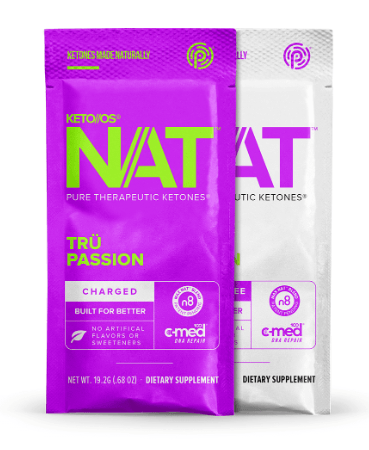 This is like a Kool-Aid where you get a mixer to go into a drink.  They have the following flavours:
Tru Passion
Raspberry Lemonade
Mint Chip Cream
Heart Tart
The product is pretty expensive as it costs $100 for 20 servings.  Meaning you would need to spend $160 for an entire month's worth of supplies.
Keto//Reboot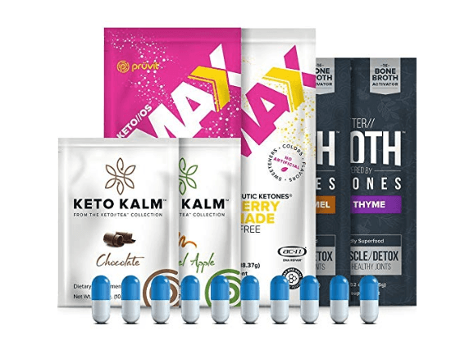 This kit will cost you $100 and is designed to be taken on a 1-hour fast.  This means you will have no meals before taking this product.  It appears to be their most popular product and is almost always sold out.
Currently this product is sold out on the Pruvit website.
Does the Product Work?
The products at Pruvit are based on a bodily process called Ketone.  It is apparently a process that happens in your liver and turns sugar into energy.
We are not experts, so we cannot say whether the Pruvit products work the way they are supposed or not.  But at a guess, I would question the it due to the product reviews we found on Amazon: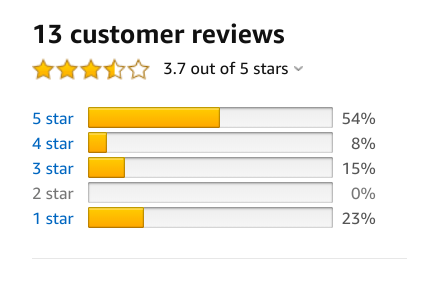 They only average a 3.7/5 rating, which is really not that good.
We did find some reviews from health and fitness bloggers who have reviewed the products, and both say that the product does work as promised:
I would take these reviews with a grain of salt because they could be affiliate with the products and are just after selling them to you.
Haven't Made Your First $1 Yet?
Studies have shown that more than 70% of the people who want to make money online have not made their first dollar yet. So, you're not alone!
How To Make Money with Pruvit?
Pruvit is practically the same as any other MLM and their compensation plan shows that.
You can make money from their program through:
Retail Commissions
Commissions from building/recruiting a team
Commissions from Promotions
Other Bonuses
Getting Started with Product
You will have to pay a $37 annual fee, plus sign up for their autoship program which comes up to about $350.
But there is also a hidden cost when joining Pruvit.
In order to remain eligible for commission you will have to order a certain number of products each month.  This is something we don't like and Pruvit is essentially forcing its affiliates to buy their products.
The amount you will buy will depend on your rank, so as you rank up you will need to buy more.  This cost will vary from about $76 up to $133 per month.
This could cost you over a thousand dollars per year.  Something to consider if you find yourself struggling to sell products and end up with a garage full of products you will not use…
P.S. This program enabled us to Create a 4-Figure Monthly Passive Income Stream.  It's Free to get started and costs only $49/month to go full-time!
MLM's compensation plans are often so complicated it is hard to actually work out how they work.  Pruvit's compensation plan is no different and is difficult to grasp.  We will detail the most important aspects for you in our review, but if you wanted to read the whole thing, then click here.
Alternatively, you watch this video below where they will go through the compensation plan for you:
Here we will summarise the most important details for you:
Retail Commissions
You can make money from buying their products at wholesale prices and selling them at retail prices.  The difference between the price is your commission.
Residual Commissions
Done right, this is where most of your money will be coming from.  You will need to recruit and build a team of sellers to get some form of passive income.
This part of the compensation plan follows a unilevel structure and looks like this:

The more people you can recruit, the more money you can make.  Below is the percentage you make depending on your level and your own personal rank: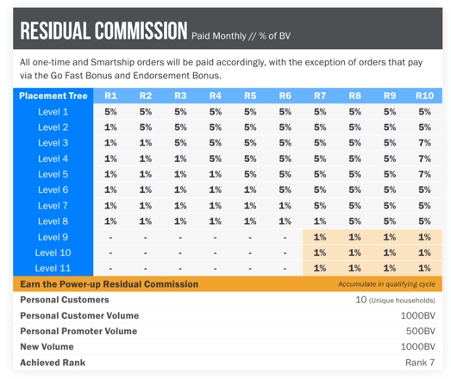 Basically, the more people you can recruit, and the more people that your recruit can recruit, the more money you will be able to make from their program.
Various Smaller Bonuses
You can also earn various bonuses from joining their program.  You can earn additional income based on your performance, your sales and the performance of your team.
Some of the bonuses are one-off payments, while others are paid out monthly, 6-monthly or annually.
They are meant as incentives to recruit more people and make more sales.
Can You Make Money with Pruvit?
That will totally depend on your ability to go and sell expensive products that have cheaper and better alternatives elsewhere.  It will also depend on your ability to recruit sales-focused individuals who can also sell this product to others.
But when their income disclosure clearly shows that people at the bottom, which is where you will start, are typically earning $100 or less.  It shows how difficult MLM can be.
I know myself I couldn't do sales.  Many of us look at MLM as the only option out there.  But we are not all salespeople and it takes a lot of hard work to get to the point where this becomes worthwhile.
If you are not great at sales or feel like it would be too awkward, then I would say the answer is no, you can't make money with Pruvit.
For the right person, you could.  But you need to ask yourself whether you can go out there and meet new people and make sales happen.
For me, I feel that the statistics for MLM show that only the very few are making the big money they claim on their sales page.
What We Liked About Pruvit
Here is what we liked about Pruvit:
#1 Interesting Products
Their products are quite interesting, and I can see that there is an interest from consumers for them.  They also seem to have found a niche where many other MLM's have not ventured into them to compete against.
#2 Good Leadership
The CEO of the company has got a lot of experience with running an MLM and so has much of the leadership of the team.
What We Didn't Like About Pruvit
Here is what we didn't like about Pruvit:
#1 Expensive Products
You have to remember, that when looking at this we are trying to figure out whether it is a good business opportunity.  But expensive products makes it really hard for you to sell these products on to others.
I mean $100 for a 20-day supply is really expensive.
Especially when you can get Keto Products on Amazon that are priced at an average of $19 to $25 per bottle.  That is 75% cheaper than Pruvit and get a better rating from consumers showing they are more effective.
How can you sell this product at $100 when people can log on and buy stuff much cheaper elsewhere?
#2 Crowded Market
There are so many health products on the open market and these will be your competition when it comes to selling these products.  You will have to compete against all the other MLM's out there, plus the fact that there are many better products available online and cheaper…
Selling the products is difficult enough but recruiting people into an MLM is getting much harder as the income potential is so low.  The best time to join an MLM is when it is just starting out or before it booms.  Any other time and you have missed the boat.
#3 Low Income Potential
The biggest disappointment with Pruvit is that there is not much money to be made from their program: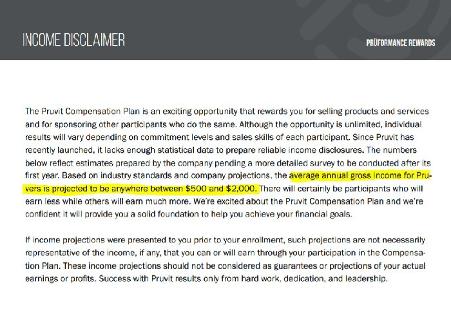 According to their income disclosure statement, which doesn't show any details, the average earnings of their members is less than $100 per month at the lowest rank.
Then you have to factor in how much money they are losing from the monthly autoship.
Recommended: See the Program that has helped us earn a 4-Figure Passive Income Online
#4 Autoship Costs
As we said, those members are probably not even making that $100 because of the monthly autoship you have to pay to remain eligible for commissions.
This autoship puts new members at a disadvantage.  When products are unsold, they continue to stack up as long as the autoship sends products out every monthly.
This leads to stockpiling and you potentially ending up in debt.
#5 Stockpiling
This is often a problem we don't really think about.  But if you are buying products every month due to this autoship and are not selling anything.  Where are you going to store all these products?  There is only so much you could use yourself and you end up having loads of stock in your garage.
#6 Expensive Start-up Costs
To get into this program, you will need to spend about $1,417 to get all of the packs at the time of enrolment.
#7 Bothering Friends & Family
One of the worst parts of an MLM is that you will have to bother your friends and family to recruit and sell products.  This has literally ruined many close relationships.  If you are struggling to make money with it, and your friends end up in debt because of the program.  They will start to blame you for it.
65% of people who join an MLM leave as they find pushing sales on friends and family feels awkward.
Haven't Made Your First $1 Yet?
Studies have shown that more than 70% of the people who want to make money online have not made their first dollar yet. So, you're not alone!
We set out to answer your question on whether Pruvit was a scam or a pyramid scheme.  I am hoping you know the answer by this point.  But clearly, Pruvit is a legitimate MLM company.
Their compensation plan has elements of a pyramid scheme, but so does every other MLM.  That does not make it an illegal pyramid scheme and the easy way to tell is to see if recruitment is the only way for you to make money or not.
Clearly, they have a product range to sell and you don't technically have to recruit to make money.
Whilst we don't believe MLM is the best option for beginners out there.  It is definitely not a scam.
My Pruvit Review - Final Conclusion
Pruvit is a legitimate MLM company with a below average compensation plan.  They even tell you that there is very little money to be made here with their income disclosure statement.
The fact that they are in the health and wellness sector which is highly competitive and such a crowded market.  Also, their products are expensive, which makes it even harder for you to succeed.
The odds of success with this MLM and all MLM's to be honest is extremely low.  You are very likely to end up in debt or lose money and not end up earning the money that you had hoped from this business opportunity.
I'm not a fan of MLM, not because it's illegal or not profitable, but because of all the restrictions and expensive costs involved.
Instead, Affiliate Marketing is our top recommended business model for anyone looking to make money online
The reasons are simple…
You can promote anything you want and aren't restricted to only promote products from one MLM company
You don't have to recruit anyone to make money
You never need to sell to your friends and family
It's free to get started
In fact, with affiliate marketing we've been able to Create a 4-Figure Monthly Passive Income Stream.  If you want to learn more, click here.
Thanks for checking out our Pruvit Review!  If you have any questions or comments to add, then please write them in the comments section below. 😉