Welcome to our Partner with Anthony Review!
On first inspection, Partner with Anthony seems like a good deal, where you can get mentored by one of the most well-known online marketers there is.  But I bet you're not entirely convinced and want to know… Is Partner with Anthony a scam?
There are a number of reasons why this program doesn't live up to the claims, and hype that surrounds this program.  It also highlights several issues with it's founder, who has a somewhat questionable reputation to date.
First off, it's great to see that you're doing your research before buying into any "seemingly good" product.
That is how you avoid scams and find only legitimate ways to make money online!
To be completely transparent with you, we're not associated with Partner with Anthony in any form.  We're not here to pitch or sell you anything.
Instead, we want to show you all the details about this program, and why this mentoring program isn't all that it claims to be…
Partner with Anthony Review Summary
Product Name: Partner with Anthony
Founder: Anthony Morrison
Product Type: Affiliate Marketing Training course
Price: $7/month or $97 one-time fee, plus upsells
Best For: No One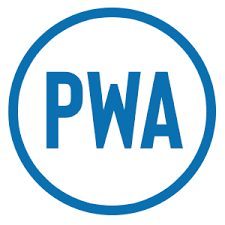 Cons
Unexpected Charges
Website Glitches with No Support
Anthony Morrison Isn't a Good Mentor!
Summary: Partner with Anthony is an affiliate marketing training course that was created by Anthony Morrison.  Morrison is a well-known internet marketer, and he is known for his training course.  But the problem is that his training courses are all known for the wrong reasons, as none of them sit well with consumers.
This is his latest program, and Partner with Anthony has several issues that stop us recommending it.  From hidden charges, marketing tactics to get people to buy it, poor support and complaints.  There are a number of issues here.
There are much better training programs out there, that are also offering proper mentoring that works…
Rating: 20/100
Recommended? No
What is Partner with Anthony?
According to the Partner with Anthony sales page, you are getting a system that does it all for you, and you'll get personal mentoring from Anthony Morrison himself, so that "you can make money when he makes money".
The sales video goes through a long pitch about how this is a "true partnership opportunity" to work with a well-known internet marketer.  But as we continue our review, you'll soon realise that this isn't really what you get with Partner with Anthony.

What you will really find inside is access to Anthony's training videos and books.  What you will not be getting is any direct contact from Anthony.  If you have any questions or concerns, you won't be able to ask him directly for help.
Instead, you will gain access to a support team which is operated via a support ticket process.
You will also be able to us his done-for-you sales funnels to send people to your affiliate products so you can make a commission.
We'll get into more detail about what is inside Partner with Anthony shortly, let's first talk more about Anthony Morrison.
Anthony Morrison is an online marketer, and he has offer 10 years experience with affiliate marketing.
He has created several books and training courses aimed at helping people earn a passive income online.  Whilst that sounds great, there are some really mixed views about how much value they actually offer people.
I've read reviews about his other courses and programs that other people are enrolled with, and the general feedback is that the material is really basic, and they felt let down by Morrison.
You can a little more about Anthony Morrison, in the 1-minute video below…
How Does Partner with Anthony Work?
The way Partner with Anthony (PWA) works is that you are taught how to promote PWA itself as an affiliate.  Basically, when you refer others to join the same site, you earn commissions.
You can also earn commissions on any tools that your referrals purchase as they progress through the training.  But that gives you a hint as to what you'll be expected to do.
You see, as you progress through the training you will need to purchase tools like ClickFunnels, Aweber, and link tracking software amongst others, in order for you to follow what Anthony teaches.
But if your referrals do the same, you can earn commissions when they do.
Simply put, it sounds lucrative, but it also hides from you how much you are going to need to spend to be able to earn those commissions from referrals.
They entice you in with a low-ticket price of $7, but the overall price of the program is much more if you want to make it work as they claim it does.  Expect to spend much more, as you will be encouraged to purchase the tools to setup your business, and the other training programs you'll find inside.
Inside Partner with Anthony
To gain access to the PWA platform, you need to pay $7/month or a one-time fee of $97.
Once you've done that, you'll end up at the Morrison Education website, where you can log in.  This is the parent company and website, where you can find access to any of Anthony's courses.  He has a few on offer…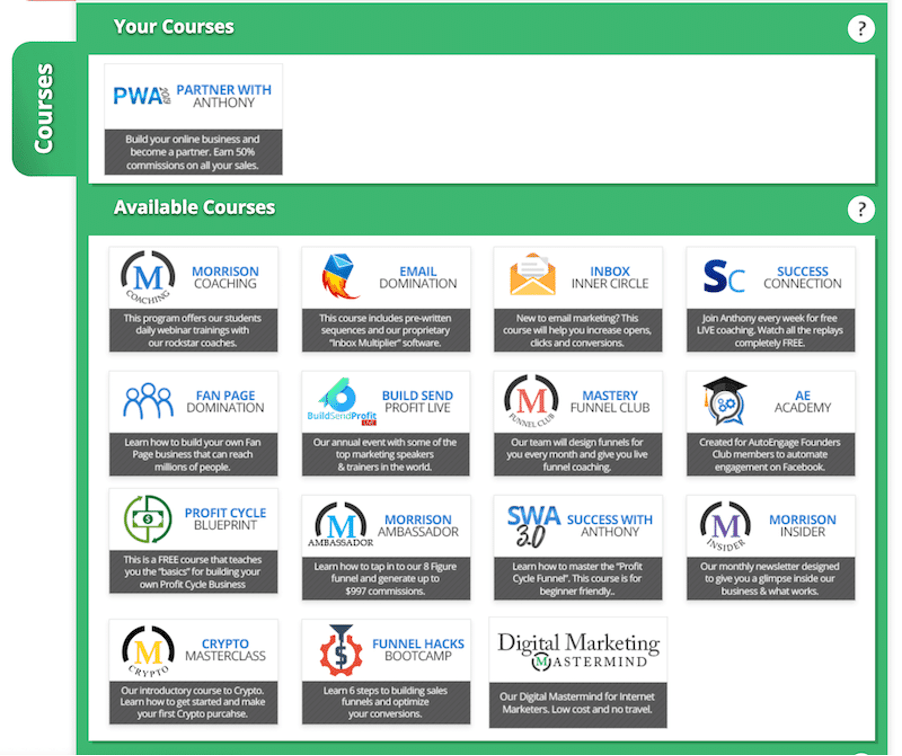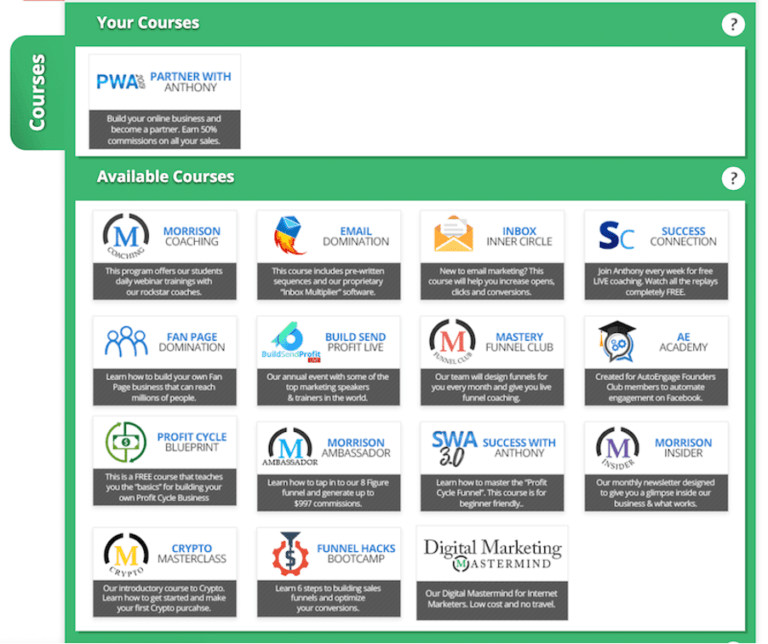 The Partner with Anthony training course consists of 13 modules, which each contain several videos.  The first module is pretty basic, and it just gives you an overview of the members area, and how you'll be making money.
What we found annoying is that there is a time-delay on each module.  You only gain access to the next one after 24 hours.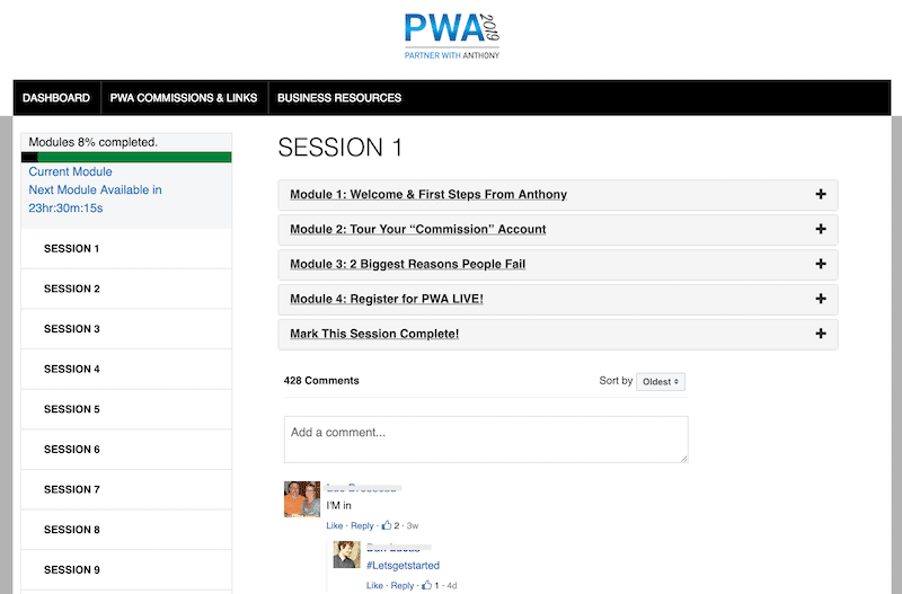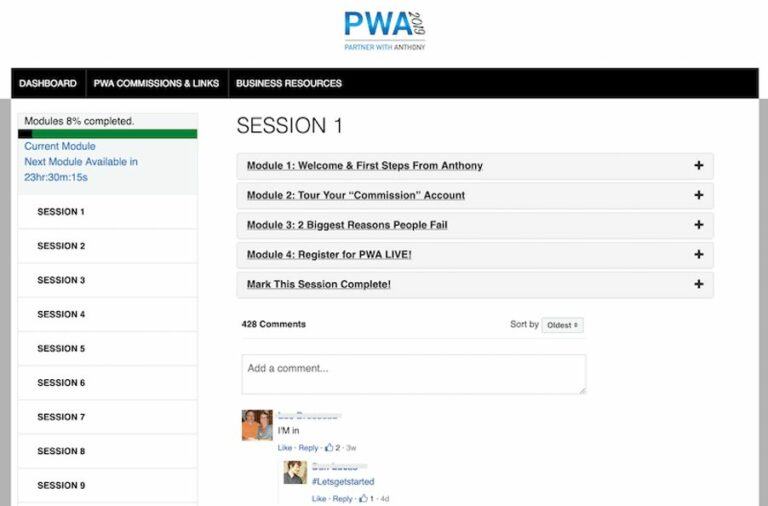 I know it's designed to stop you rushing through all of the videos and maybe missing important details, but still all it does is mean it will take you a couple of weeks to complete all of the training.
There are dozens of videos within the course, spread across the 13 modules.  I'm not going to get into too much detail about them.  But what we can do is let you know what you'll be taught to do…
Simply put, the training modules show you how to promote PWA.  Each training module puts another part of the puzzle together…
The process is this… You'll be creating a capture page (using ClickFunnels) to collect email leads (with Aweber).  All of this is setup to automatically redirect people who subscribe to the PWA sales page, where they (hopefully) become your referral.
The training also shows you how to send your subscribers more emails about joining PWA, even though they might have said no in the first place.
You are simply collecting email leads and promoting PWA as an affiliate. The only way you are "partnering" with Anthony is that he's showing you how to promote his program, which means you're both making money from each sale.
Morrison does provide you some done for you funnels, which is why he can claim that most of the effort is done by him.
Let's be honest, done for you sales funnels sound like a great idea.  But everyone who joins this program will all be using the same DFY funnels, and the same traffic source, which makes the whole thing redundant.
If you want to be successful with affiliate marketing, then you need to learn the basics yourself.  Learn the right skills to ensure you stay ahead of the crowd
Haven't Made Your First $1 Yet?
Studies have shown that more than 70% of the people who want to make money online have not made their first dollar yet. So, you're not alone!
Can You Make Money with Partner with Anthony?
Honestly, we don't believe you can make money with PWA.
There is a lot of potential with Affiliate Marketing, I just don't believe this program will teach you the right way to use affiliate marketing to earn money online.  The biggest issues is the expectations newbies will have from all the sales hype with this program.
Success with affiliate marketing takes time and effort.  But by following Anthony's lead, you will be expected to pay a lot of money on a monthly basis, promoting a questionable training program which leads people to buying the same program.
To earn the kind of money Anthony talks about in his sales page will take you time and effort, and you are not really getting any support from him other than his DFY funnels.
There are much better alternatives online for you to learn the proper foundations for an affiliate marketing business.  Examples include:
The Real Cost of Partner with Anthony!
You're led to believe that there are only two costs to consider with this program.  It's whether you want to pay $7 a month or just pay the one-time fee of $97.
But there are several upsells that you are introduced to as you progress through the training, and these are costs that you will probably not be expecting to meet.  They all add up to being hundreds of dollars a month for you to factor into your monthly costs.
Let's go through the upsells…
Upsell 1: ClickFunnels – $99 – $297/month
Upsell 2: BuildRedirects – $19.99 – $99.99/month
Upsell 3: Digital Marketing Mastermind – $69.95/year
Upsell 4: M Insider Newsletter – $9.95/month
Upsell 5: GetResponse – $15 – $1,199/month
Upsell 6 – Aweber – $19 – $149/month
Other than the M Insider Newsletter, the rest are all legitimate programs, but you're better off signing up for them individually from their main site, rather than clicking on Anthony's affiliate link.
The M Insider Newsletter is Anthony Morrison's very own newsletter program that he distributes to his member, containing all the most recent industry information in affiliate marketing.
Again, a quick search in Google would keep you updated with the latest happenings for FREE.
Why is Anthony Morrison So Controversial?
The biggest issue is that Anthony Morrison is very good at what he does, which is marketing himself.  What he doesn't do very well is actually putting that into practice of helping others.
However, a lot of people that read his books or attend his seminars don't have a lot of familiarity and knowledge about the world of affiliate marketing themselves. So, it's no surprise that people will actually want to learn from him.
This is not to discredit Anthony Morrison or anything else, but to succeed in affiliate marketing, one has to have the basic background information in computers and how internet marketing works, even if it's just surface-level knowledge.
What is quite clear from his numerous training programs is that they are not really designed to help newbies learn effective skills and strategies.  They actually appear more like the scams that bring people in and give them very little value.
That is probably why so many people worry that Morrison actually a scammer.  I think he definitely knows his stuff, he just doesn't choose to help people in the way that he could, if he wanted to..
Who's Partner with Anthony For?
There isn't anything particularly valuable here, and there isn't anything we liked about the program enough to want to recommend it to anyone.  There are much better alternatives out there, that could provide better knowledge and help you build a solid foundation in affiliate marketing.
What We Liked About Partner with Anthony
There isn't anything we liked about this program and for one of two reasons:
There are much better alternatives out there for you
There are much better mentors out there, that actually want to help you where you actually partner with them
What We Didn't Like About Partner with Anthony
Here's what we didn't like about Partner with Anthony:
#1 Unexpected Charges with No Chance of a Refund!
Many of the complaints about this program are all to do with the hidden charges and fees.  They might be quietly talked about the terms and conditions, but they were not specifically pointed out to anyone.
This makes it an unethical program, where they are not being transparent with you.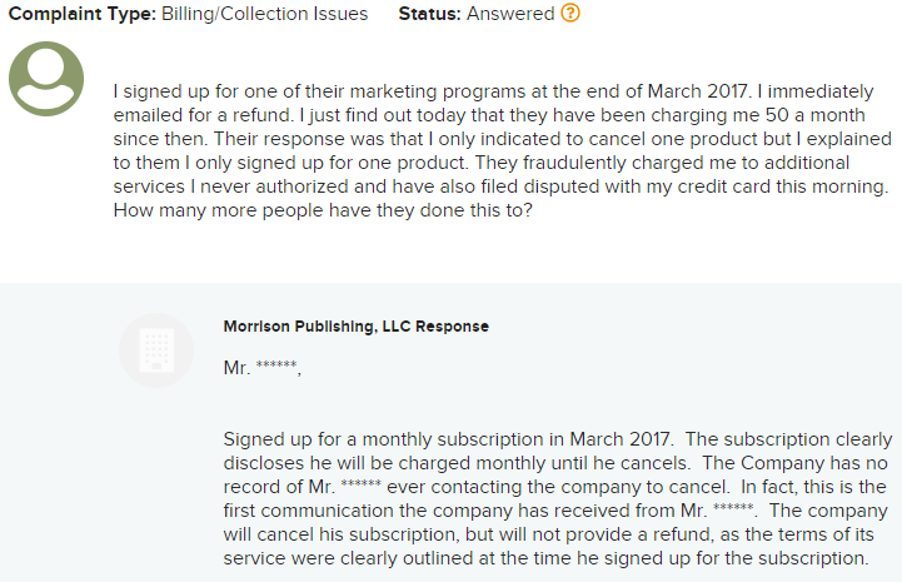 and it is still happening today…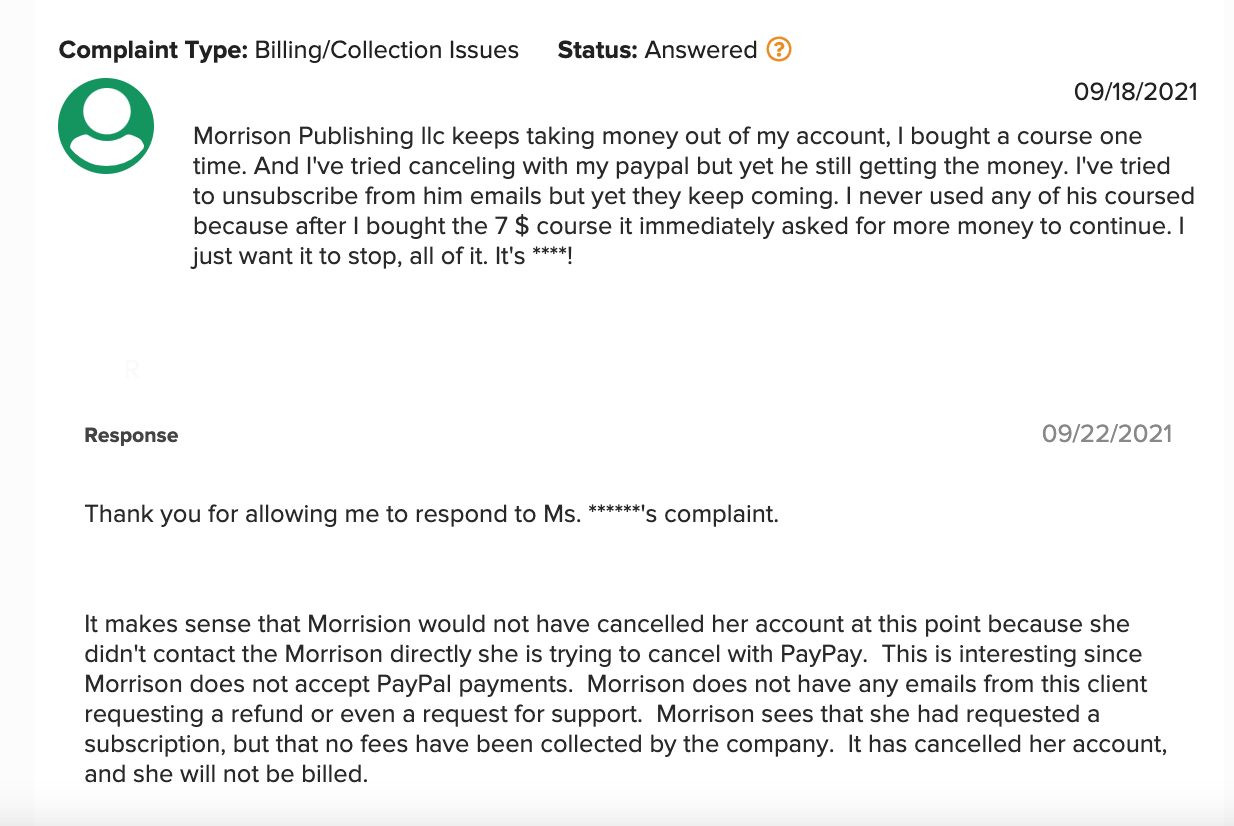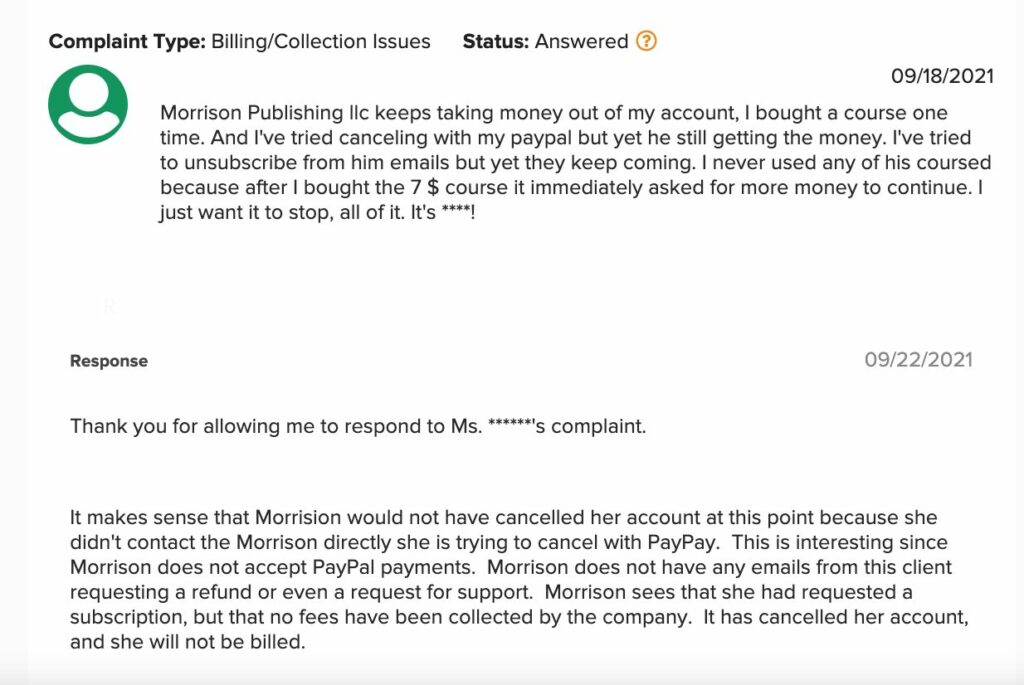 This is a screenshot of their BBB or Better Business Bureau profile that shows one of their members' complaints about getting hit with a hidden fee.
They're also unable to resolve the issue, just like the vast majority of the comments.
SOURCE: Better Business Bureau
#2 Website Problems with No Support
Aside from dealing with al of the hidden fees, members are also complaining about problems with the website, quoting technical glitches.
If you're paying for a training platform, the last thing you want is to not be able to access what you are supposed to be learning about.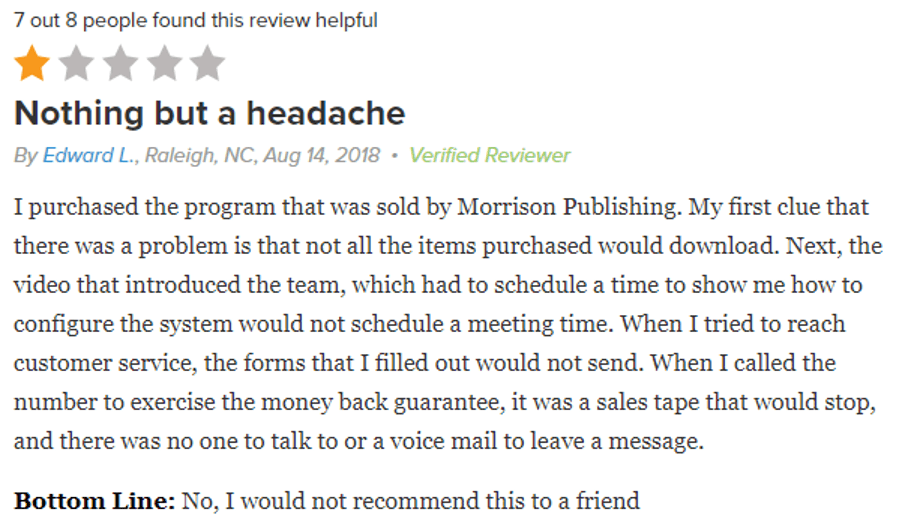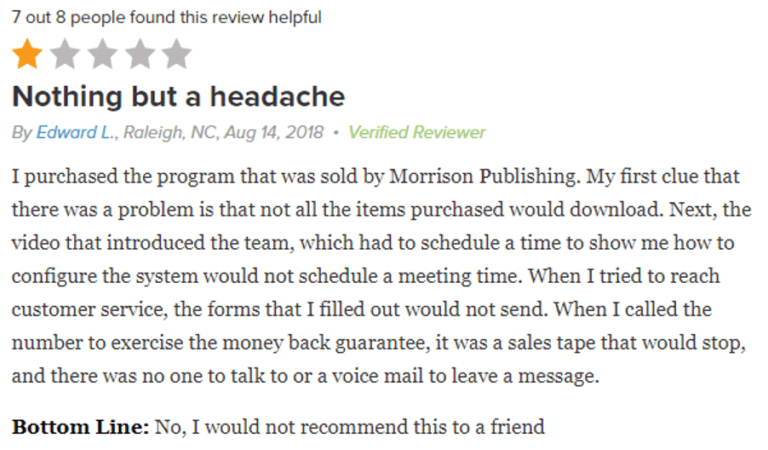 Customer service and support is integral when you are learning something new, but it appears like it isn't a priority here…
P.S. This program enabled us to Create a 4-Figure Monthly Passive Income Stream.  It's Free to get started and costs only $49/month to go full-time!
#3 Anthony Morrison Isn't A Good Mentor!
Don't get me wrong, Morrison has a good reputation as an internet marketer, but that doesn't necessarily translate into him being a good mentor.
Put simply, he doesn't actually have a good reputation, and his marketing techniques are both manipulate and frustrating.
He's just so good at marketing himself and that's why he's had people buy into the programs and courses without providing them with anything of decent quality.
I would leave it up to you to do further reading on his other products if you really wish to work with Anthony Morrison.
Haven't Made Your First $1 Yet?
Studies have shown that more than 70% of the people who want to make money online have not made their first dollar yet. So, you're not alone!
Is Partner with Anthony a Scam?
No, Partner with Anthony isn't a scam.  I know there are a few reviews that suggest that it is, and I would say that it is close.  It's a legitimate training program that teaches you affiliate marketing , but it is definitely not a program we would recommend.
My Partner with Anthony Review - Final Conclusion
The bottom line is that whilst it is a legitimate training program, it doesn't give you what it promises.  It claims that you will be partnering with Anthony, but you don't actually get access to him.  You get to watch his videos and read his books, without any interaction.
This is really manipulative and why the program is nowhere near as good as the marketing suggests.
There are also issues with hidden fees and problems with getting refunds.  There are much better program out there than PWA.  They will teach you the proper way on how to do affiliate marketing.
Affiliate Marketing is a great way for beginners to get started with an online income, but there are simply better training platforms than others.
We make money through affiliate marketing, and thanks to Wealthy Affiliate we are now consistently earning a 4-Figure Monthly Passive Income Stream.  If you want to learn more, click here.
Thanks for checking out our Partner with Anthony Review!  If you have any questions or comments to add, then please write them in the comments section below. 😉