Welcome to our Color Street Review!
Has someone approached you about an "amazing" opportunity for you to work from home and make some money with Color Street?  But you're still not sure it's all legit or even… Is Color Street an MLM Scam?
First off, it's great to see that you're doing your research before buying into any "seemingly good" product.
That is how you avoid scams and find only legitimate ways to make money online!
To be completely transparent with you, we're not associated with Color Street. We're not here to pitch or sell you anything.
We just want to share with you all the information you need, to make an informed decision about whether this is the right business opportunity for you.
To put you out of your misery, Color Street is an MLM and not a scam.  But as 99% of MLM members are losing money, there is a lot of things you need to consider before deciding if it is the right path for you…
Let's get started with a quick product overview…
Color Street Review Summary
Product Name: Color Street
Founder: Fa Park, 1984
Product Type: Nail Polish Strips MLM company
Price: $129 + $50/month
Best For: Those good at networking and recruiting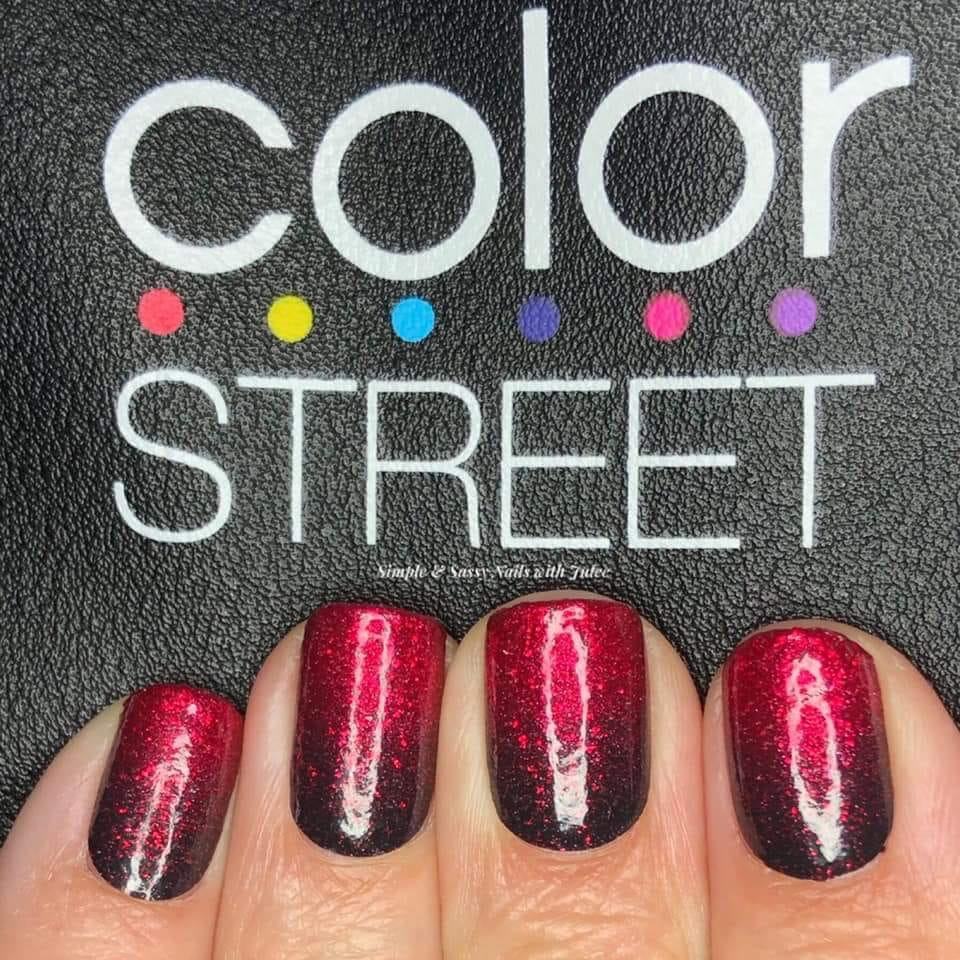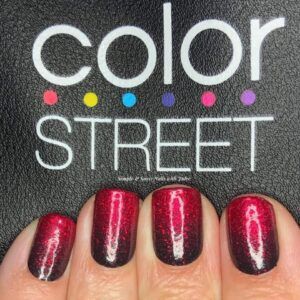 Pros
Memorable Products
Inexpensive to Join
Cons
Expensive Products
Hidden Monthly Expenses
A Pyramid Scheme in Disguise?
Low Success Rate
Negative Reviews Online
Summary: Color Street is an MLM company that focuses on a range of nail polish products, etc.  People seem to like their products, but they are overpriced (like with most MLMs) and they don't seem to last as long as they are claimed to do.
But I wouldn't recommend you join this company, as the success rate is really low.  Most people will lose money here, or feel the urge to have to recruit a lot of people into their downline team, which makes this very much like a pyramid scheme in disguise.
Rating: 25/100
Recommended? No!
Color Street is an MLM or Multi-Level Marketing company, based out of New Jersey.  They sell a range of nail-related products, like nail polish strips and nail care products.
It also offers everyday people a chance to earn money from either selling these products to family and friends or building a team of sellers through recruitment, that makes it an MLM opportunity.
It sounds like a good deal, but it is one that is extremely flawed (which we will get into later)
The founder of the company is Fa Park.  He claims to have come up with the idea for his popular nail polish strips after seeing a woman trying to do her nails in traffic.
He wanted to create a product that would expedite the process and make life easier for women.
Additionally, Park owns other nail product companies called Incoco and Coconut Nail Art. These companies, however, are not MLM's but do sell very similar products as Color Street.
Here is Fa Park, explaining a little more about the Color Street company…
It shows how much effort Park has put into making his vision a reality.
But as it is an MLM, you might still be worried that it might be a pyramid scheme…
Is Color Street a Pyramid Scheme
Strictly speaking, no Color Street isn't a pyramid scheme.
It is possible for their consultants to earn money from just selling their products, and without the need to recruit anyone.
The problem is… the income potential from just selling the products is ridiculously low, and so that naturally gets people turning to recruitment, as that is the only option that offers a chance of earning a decent income. 
That being said, it's not as easy as some make out.  But as people end up turning to recruitment, it ends up with the company looking like a pyramid scheme, or at least a pyramid scheme in disguise.  Let's explain…
What's a Pyramid Scheme?
A pyramid scheme is a company that pays its members solely for recruiting other people into the company instead of for rewarding them for selling any products or services.
They have been made illegal in most countries around the world.  As they are unsustainable.  It's impossible for everyone to make money in this kind of scheme.  As the diagram from Wikipedia shows…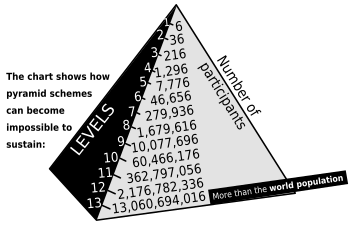 Now, Color Street does have a legit, and decent line of products and it is possible for you to make money just from selling these.
But some MLM companies hide behind these products their real intentions, which is for you to recruit more and more members into your downline.  The reason they do this, is that most consultants are stuck having to buy products on a monthly basis to remain active.
Most MLM companies have a sales quota you have to achieve each month.  If you don't, you aren't eligible for any commissions you earned.  The only way to remain active is to keep on buying products until you start making money.
Or, you start recruiting and pass on this burden to them.  Ergo, a pyramid scheme in disguise.
I'll discuss later on how this all fits with Color Street.  But for you, you might find this 5-minute video useful for how to spot these pyramid schemes in disguise…
Success is Rare at Color Street
Success isn't just rare at Color Street, but it's rare with any MLM opportunity.
Did you know that between 73% and 99% of MLM members are losing money?
When you take a look a the Color Street income disclosure statement, it shows that on average, their "Stylists" earn an average of $2729.32 annually.  That's based on 2020, the latest figures we have.
Sounds good, but you need to factor in that their stylists are expected to sell at least $50 worth of product each month, and when getting started you will probably have to buy these products yourself.
Another thing to consider is that this is an average of all member rankings, including those that have recruited heavily. 
So, the main bulk of their members are actually only earning an average of between $264.72 to $1,993.49 a year.  That makes up 86.26% of their members.  
Hardly a job where you can give up your day job, is it?  We'll share more details about this, later in our review…
How Does Color Street Work?
Color Street is an MLM company that produces nail polish strips and nail care accessories.
They also offer the chance for everyday people to become a "stylist" for them and make money from selling these products to their friends and family.
It sounds like a deal that benefits both parties.  But what it really does is save the company from having to pay for expensive marketing campaigns.
It also leaves you the hard task of selling these products to people, when they have probably never even heard of the brand…  Whilst we talking about this, let's take you through their product line…
Color Street Product Line
Color Street offers a range of nail care products, and nail polish strips.  Their nail strip products do looking appealing, and unique.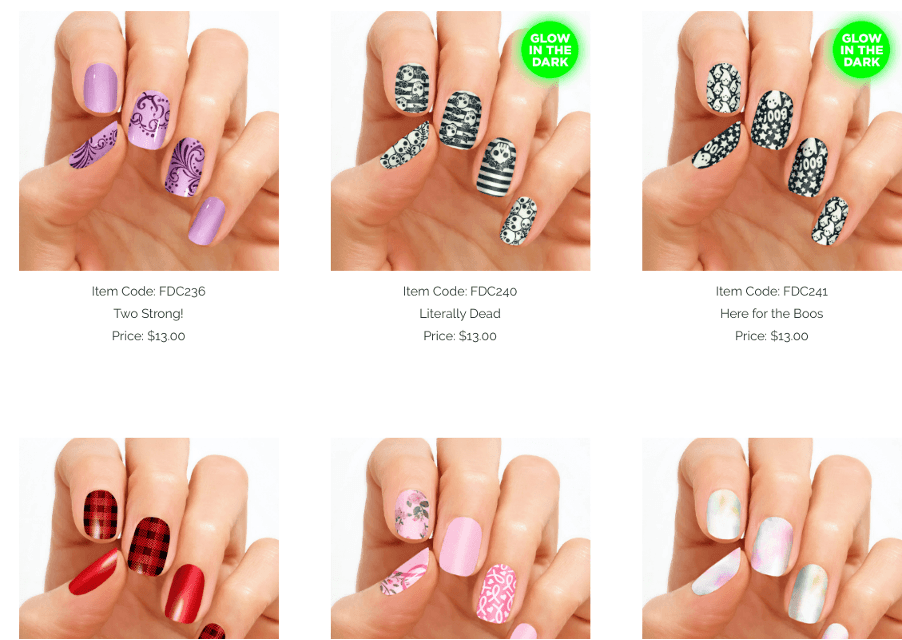 They are basically strips that go directly onto your nails, making them less messy and there's no drying time.  You can check out the 1-minute video below to learn a little more about them…
These strips cost around $11 for a pack of 16. They supposedly last for up to 14 days and takes no time to apply.  We'll compare them to other products later in our review.
But you should know that whilst these products look unique, they are also in a heavily saturated market too.
There are hundreds of beauty MLMs on the market, which you will be competing against.  Examples include:
Poofy Organics
Seacret Direct
There are many more, and that doesn't include the retail companies selling similar products, that are often cheaper and of a better quality.
Haven't Made Your First $1 Yet?
Studies have shown that more than 70% of the people who want to make money online have not made their first dollar yet. So, you're not alone!
How To Make Money with Color Street?
So, I bet you're interested in actually how you make money with Color Street?
Color Street is your typical MLM company, and that means there are two ways you can make money here:
Sell their products and earn a retail commission
Recruit people into your downline teams
Please note, you don't actually earn money for recruiting people.  That would make them an outright pyramid scheme.  Instead you earn bonuses based on the sales that your downline team makes.  This encourages you to train them, etc.
Check out the 90-second video below about the MLM opportunity…
Getting Started with Color Street
To get started as a Color Street stylist, you need to pay $129 and this gets you the starter kit.
What you will get in the starter kit is:
13 Full sets of nail strips
1 French, 2 Solid, 2 Glitter, 5 Design, 1 Pedicure, 2 Petiti
72 Testers
40 Remover pads (2 boxes)
2 Large Nail Files
2 Nail Buffers
60 Mini Files
50 Cuticle Sticks
Tote bag
25 catalogs
24 Colorful Opportunity Brochers
Road to Sucess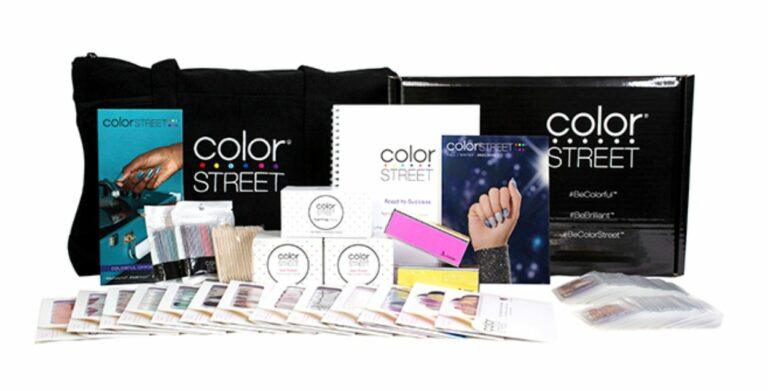 The contents do change regularly, so you can click here to find out what the latest contents list is…
But you should know that this isn't the only cost to this business opportunity…
Color Street Monthly Costs
To remain an active member, you need to sell $50 worth of product each month.

If you aren't able to sell $50 worth of product each month, and most members aren't able to, then you will be required to buy $50 worth of product yourself.
This makes it something you should consider, as you will need to budget for this expense each month.
So, the total expenses for year 1 is:
Minimum Costs for Year 1 = $729
This is before you factor in any other costs that go with this type of business opportunity, like training, marketing, travel, food, other expenses.
P.S. This program enabled us to Create a 4-Figure Monthly Passive Income Stream.  It's Free to get started and costs only $49/month to go full-time!
Color Street Compensation Plan
MLM compensation plans are often really confusing and complicated.  They always make out there are tons of ways to make money, but the reality is that there are only the two ways we described earlier to make money – sell or recruit.
Here are the retail commissions you can earn…
Retail Commissions
generate up to $599 in monthly retail sales and get a 25% commission rate
generate $600 to $1199 in monthly retail sales and get a 28% retail commission rate
make $1200 to $1799 in monthly retail sales and get a 30% retail commission rate
generate $1800 to $2399 in monthly retail sales and get a 32% retail commission rate
generate $2400 or more in monthly retail sales and get a 35% retail commission rate
Color Street lists 12 ways for you to make money with their compensation plan:
Jumpstart incentives (bonus for hitting some goals when you join)
Base retail commission (25%)
Enhanced retail commission (added per cent over $600 sales a month)
Preferred client (bonus from people that order again)
Enroller matching jump start bonus (leadership phase)
Enroller bonuses
Leadership level bonuses
Leadership depth bonuses
Team bonus
Generational bonuses
Car/ lifestyle bonuses
National leadership bonus
Whilst it looks like loads of ways, it still boils down to there only being two ways for you to make money:
Sell their products
Recruit new members
But when you look back at that list, 9 out of the 12 ways are all geared towards rewarding you for recruiting new members.  Is that their real intention?
If you want to learn more about their compensation plan, then this 10-minute video should help…
No, Color Street isn't a scam.  They sell a legitimate product line and pay their members on time like they say they do.
The bigger issue lies with the MLM companies, and the way they operate, as to why so many of them are labelled as scams.
People aren't given all of the facts before they join, especially around how much the actual costs are of running this type of business.  Most members end up losing money and walk away calling it all a scam.
Selling and recruiting are not easy tasks, especially if you are a little introverted.  MLMs have also ruined many relationships, as you feel pressured to make a sale or recruit someone.
Reviewing so many of them also shows that the ones making decent money are the ones that are recruiting loads of people, which points back at being a pyramid scheme in disguise.
The remainder of our Color Street review will help you get all of the other details you need to know, to then make an informed decision about whether this business opportunity is right for you…
Just to be completely transparent with you, I'm not a distributor of Color Street, nor do I endorse Color Street in any way.  I have researched the website, testimonials, and information available on the internet to get the details about what this program genuinely does.    I do this, as I have been caught out by a scam in the past, and am trying to help others avoid a similar fate…
What We Liked About Color Street
Here's what we liked about Color Street:
#1 Memorable Products
I'm not the target audience for these, as you can imagine.  But they do make Color Street have a unique selling point and something that stands out.  People will definitely remember them.
There are mixed reviews, as you can imagine with this kind of thing.  But still there are positive reviews to be found online about their products.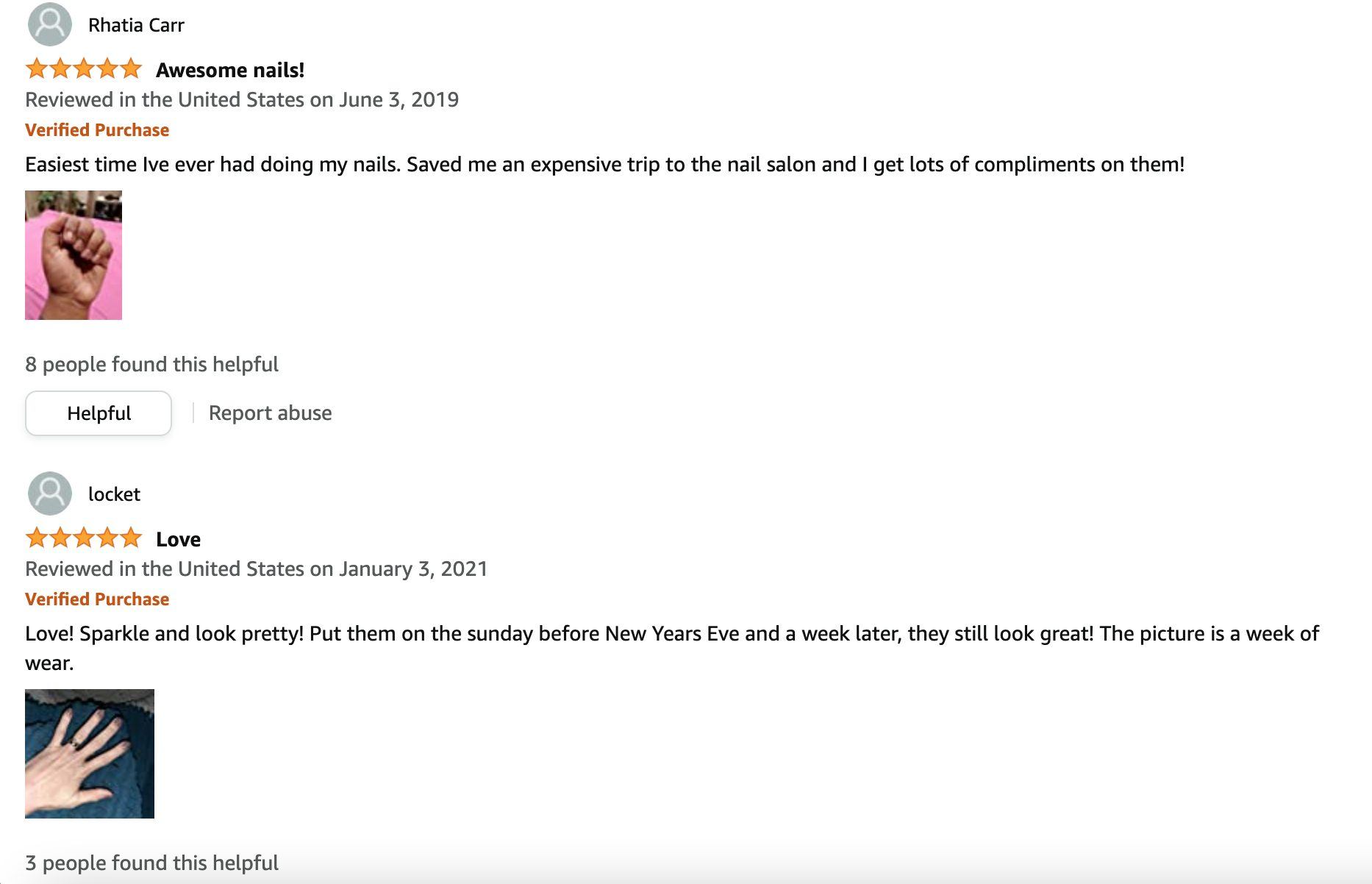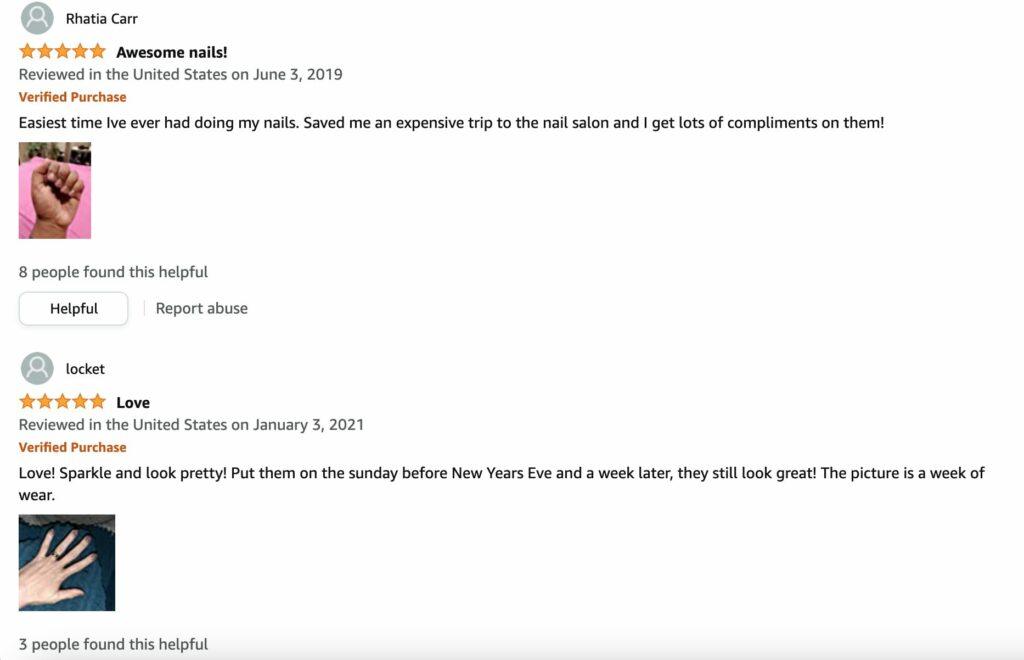 #2 Inexpensive To Join
If you compare this start-up costs to many other MLMs, it is actually one of the more affordable options.  But you do still need to consider the monthly costs we discussed earlier.
What We Didn't Like About Color Street
Here's what we didn't like about Color Street:
#1 Expensive Products
The biggest issue with most MLMs is that their products are really expensive when compared to the rest of the products found elsewhere.  That is the same at Color Street.
Check out the screenshot below…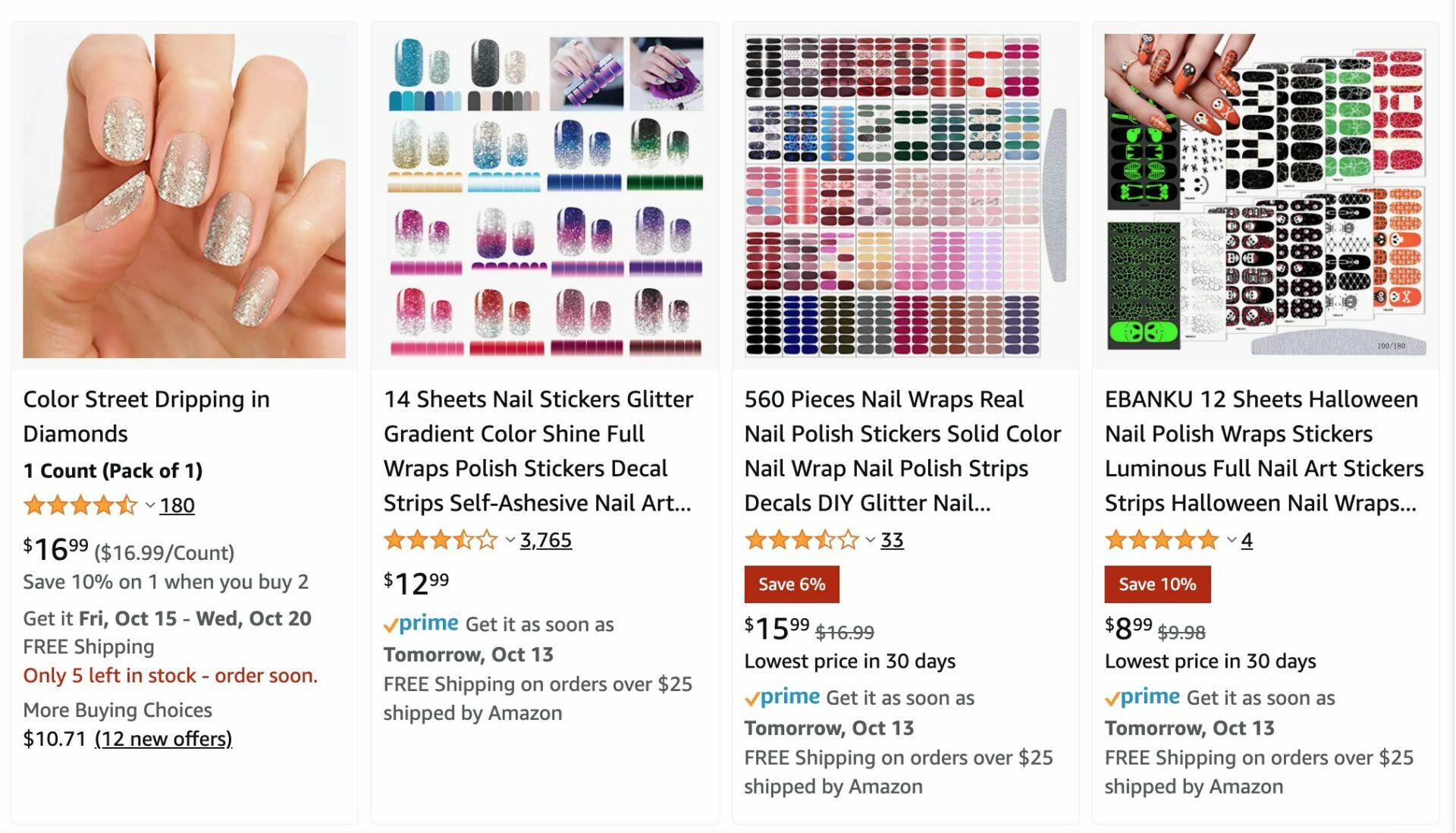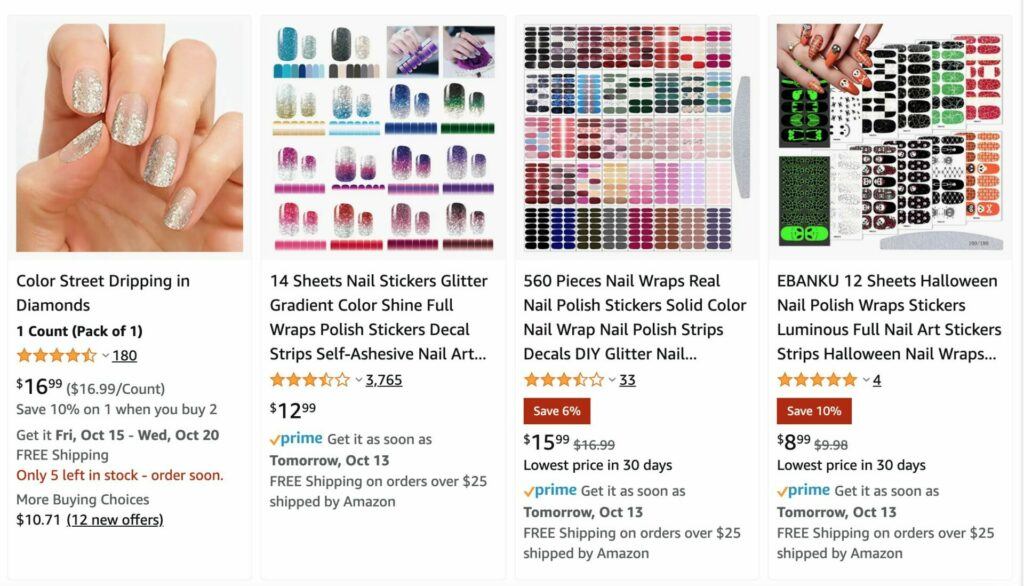 The Color Street item is $16.99 and that gives you 1 set of strips.  Or you can spend $12.99 and get 14, or $15.99 and get 560.
So, once you introduce people to the strips idea, they can then go online and find cheaper alternatives…
Expensive products at an MLM usually means they are more interested in recruiting new stylists, rather than actually selling the products.
Our second concern will help you understand why…
#2 Hidden Monthly Costs
Color Street has a monthly sales quota for you to consider, which means you have to sell $50 worth of product each month or buy them yourself.
But when you read between the lines, this means that the biggest customer group of Color Street is their own "stylists".
When you combine expensive products and a monthly sales quota, it usually points at this…
#3 Color Street Is a Pyramid Scheme in Disguise?
The only solution you have to avoid having to pay products endlessly each month is to start recruiting people, and pass that burden onto them.
Any system where it relies on more recruitment, is bound to end up looking like this…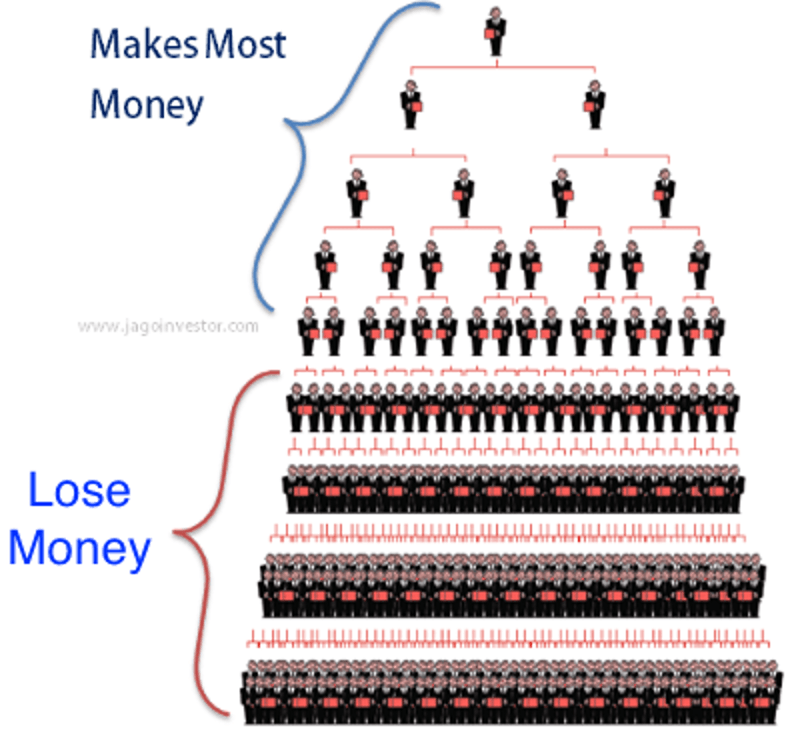 Color Street isn't techically a pyramid scheme.  But like with most MLMs, the money is in creating a downline team as making a decent income from selling expensive products will require you operating like a full-time sales manager just to earn less than the minimum wage.
Speaking which ,let's get into the success rate…
#4 Low Income Potential & Low Success Rate
The income potential is really low, unless you are able to claw yourself up to the top ranks within Color Street, which require you to recruit like mad.


Only about 2% of their members are able to earn more than $1,000 a month.  But 86.26% of their members are earning less that $1,993 a year!
#5 Negative Reviews Online
The thing to ocnsider with the positive reviews on Amazon are that they could have been posted by stylists trying to pump up chances of making a sale.  There are some objective reviews on BBB, some good and some bad.
But there ones that make you question the quality of the product…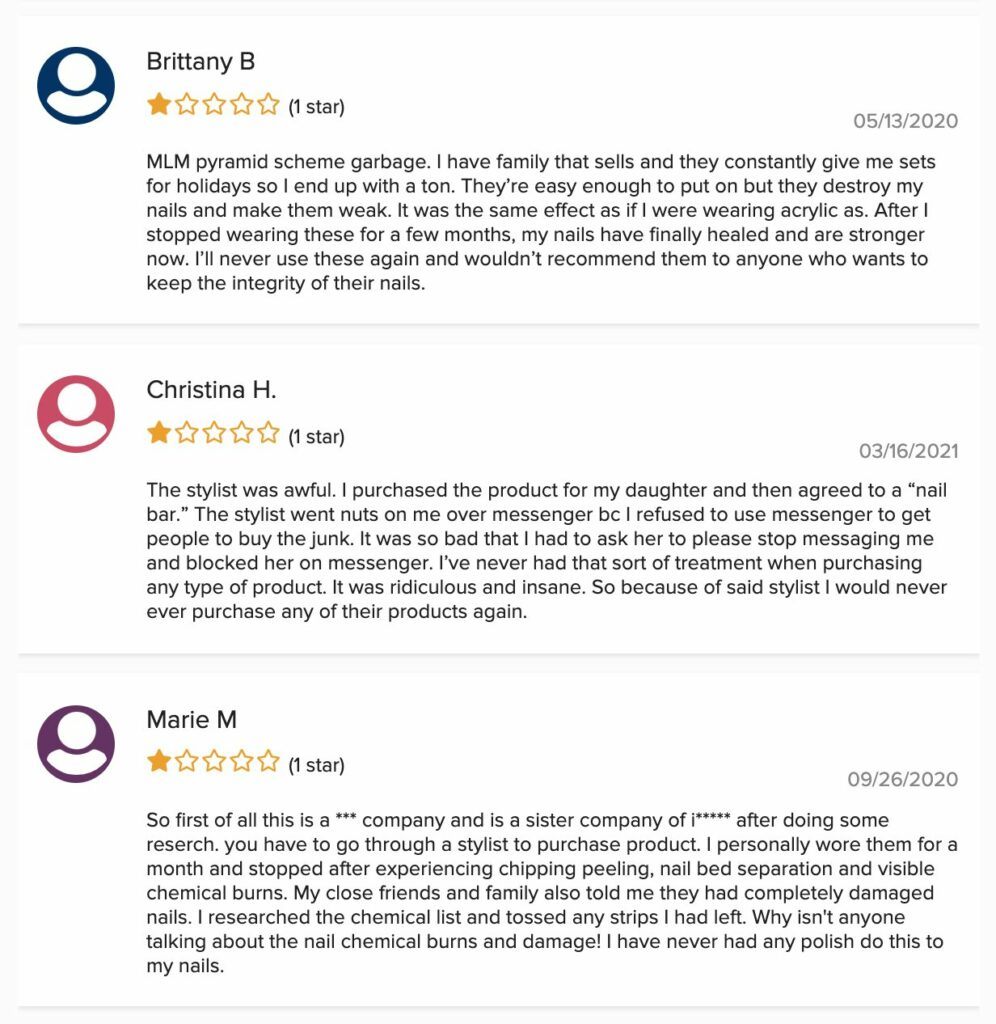 There are many complaints about them not lasting the 14 days, but there more concerning complaints are those describing chemical burns and making their nails weak.
#6 Losing Momentum
Did you know that only 1 in 3 MLMs make it past the ten year mark?  Most don't make it past the 5 year mark.
Timing is integral to success with an MLM, and you need to be joining when it is first growing.  Unfortunately Color Street is starting to wane.  Less and less people are searching for it, as this screenshot from Google Trends shows…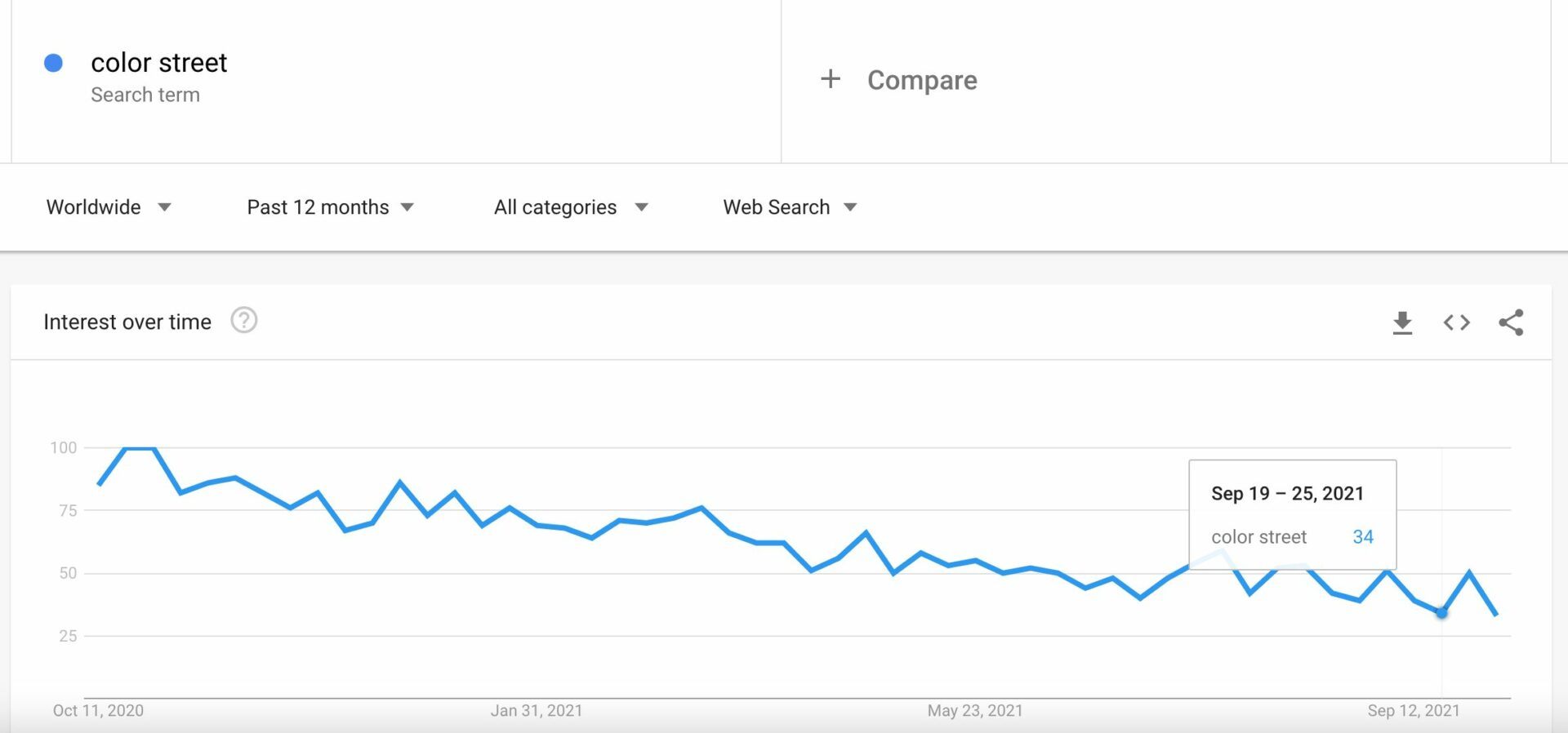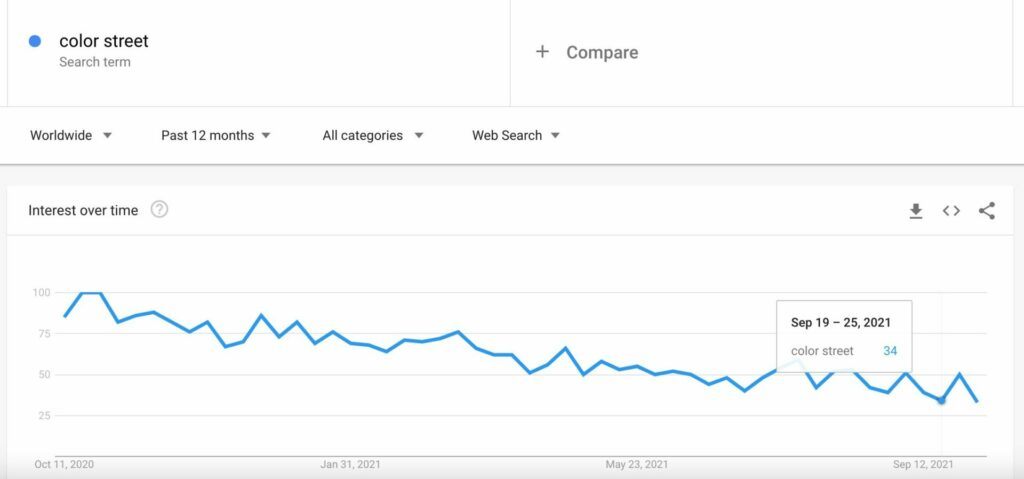 It starting to show that people are not searching for it as often, which could point to people losing interest in the products.  Not a great sign for a prospective member…
Haven't Made Your First $1 Yet?
Studies have shown that more than 70% of the people who want to make money online have not made their first dollar yet. So, you're not alone!
My Color Street Review - Final Conclusion
Color Street does seem to have an interesting product line, but as we have shown , it's not particularly unique.  The products are overpriced and have a lot of negative reviews online about the quality and chemical burns.
As for their business opportunity, there are just too many signs that the company is on the slide, with most members not making money, and stuck with a monthly sales quota to achieve.
Think of it this way, do you believe you can sell 568 packs of this product to your family and friends to make it a worthwhile venture?  I thought not…
Keep reading, if you want a better alternative…
I'm not a fan of MLM, not because it's illegal or not profitable, but because of all the restrictions and expensive costs involved.
Instead, Affiliate Marketing is our top recommended business model for anyone looking to make money online
The reasons are simple…
You can promote anything you want and aren't restricted to only promote products from one MLM company
You don't have to recruit anyone to make money
You never need to sell to your friends and family
It's free to get started
In fact, with affiliate marketing we've been able to Create a 4-Figure Monthly Passive Income Stream.  If you want to learn more, click here.
Thanks for checking out our Color Street Review!  If you have any questions or comments to add, then please write them in the comments section below.  😉