Welcome to our Bellame MLM Review!
Are you wondering what the BELLAME MLM is all about?  I'm guessing someone might have suggested it as a way of getting some great products, plus an amazing opportunity for you to earn some extra money too?
Or, you might be wondering if BELLAME is a scam, or even possibly a pyramid scheme?  That's what we going to help you get to the bottom of, within our BELLAME review.  With all the details you need to know!
First off, it's great to see that you're doing your research before buying into any "seemingly good" product.
That is how you avoid scams and find only legitimate ways to make money online!
To be completely transparent with you, we're not associated with BELLAME in any form.  We're not here to pitch or sell you anything.
Instead, we want to provide you all the details you need to know, so that you can make an informed decision about whether this business opportunity is right for you…
BELLAME Review Summary
Product Name: BELLAME
Founder: Melissa & Scott Thompson
Product Type: Personal Care MLM Company
Price: $49 – $299 for starter kit + $100 personal sales/month
Best For: Those capable of marketing and selling beauty products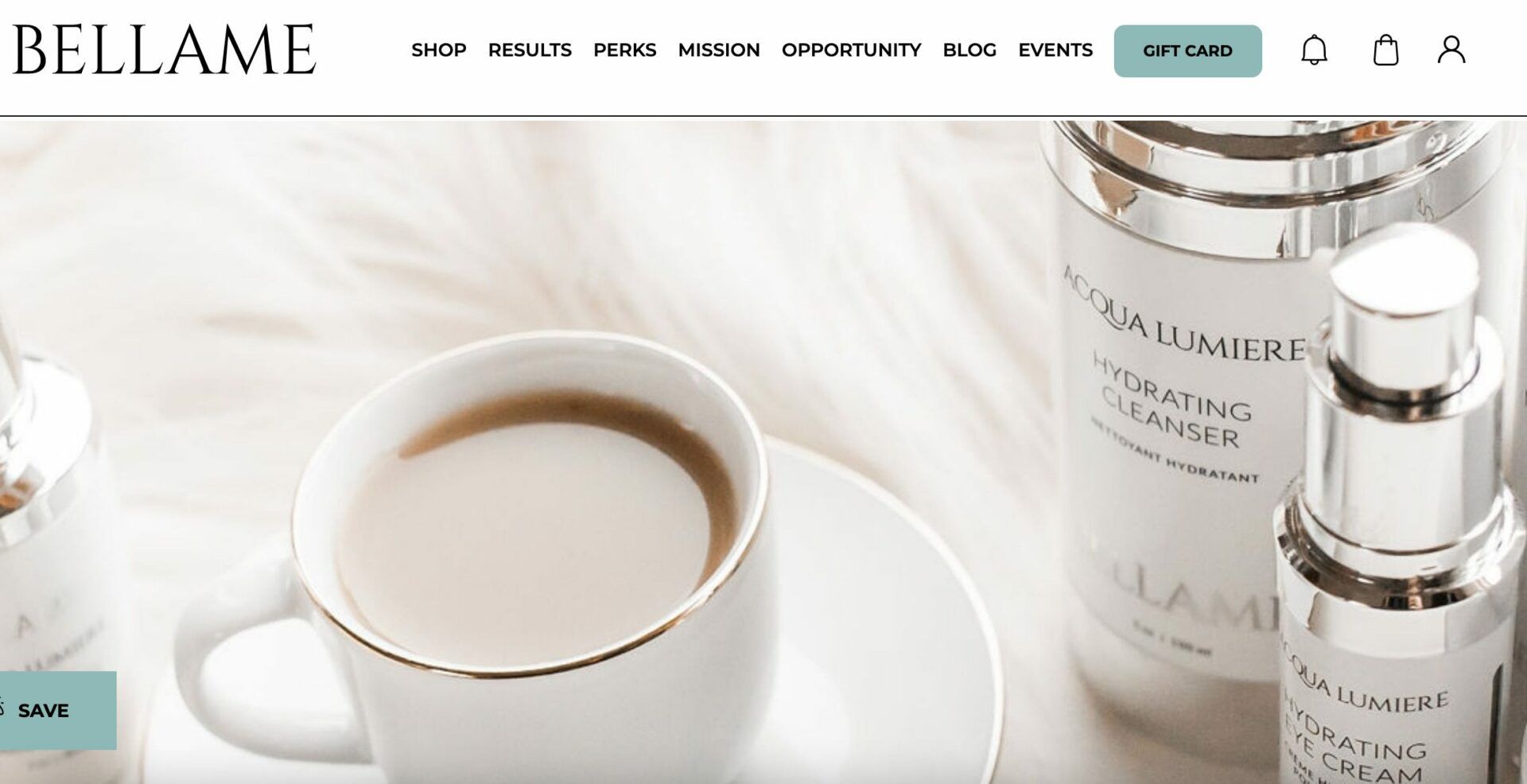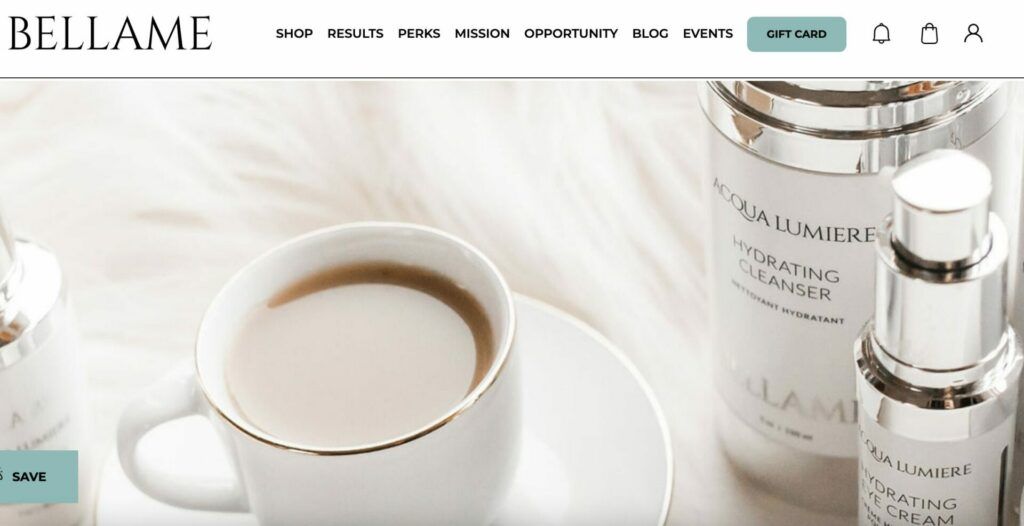 Summary: BELLAME is an MLM company that sells a range of skincare and beauty products. Their products are of a high quality, although their products are very expensive when you compare them to many other products on the market.
BELLAME offers an opportunity for you to make money from either selling those products to customers, or by earning bonuses from recruiting people into your downline.  Whilst this MLM focuses more on retail sales, rather than the recruitment side, there is no income disclosure statement… Without one of those, there is no way of knowing if any of these distributors are actually making any money…
Rating: 40/100
Recommended? No
What is BELLAME MLM About?
BELLAME is an MLM or Multi-Level Marketing company.  It provides a range of beauty and cosmetic products.  They promote and sell their personal care  products by offering an opportunity for people to become consultants, and paying them a commission for anything they can sell.
The company was established in 2017 by the experienced owners, who are also married to each other, Melissa and Scott Thompson.
They both have a a lot of experience in their respective fields, and both have had successful businesses in the past.   Melissa got started in 1999, when she joined Avon.  She spent a considerable amount of time there.
Melissa has also spent time at several companies including, Belcorp (2007), Mana, Stella and Dot (2015), and Astoria (2016), where she was the Chief Marketing Officer and where Scott was also the CEO up to the present.
Since that point, in 2017 Melissa and Scott launched Bellame, with Melissa as CEO and Scott as President/Chairman.
As far as BELLAME's mission statement goes…
"We are on a transformational mission because beauty is more than just skin deep.  It's where inner and outer radiance meets. When you share your confidence, purpose, and passion with others, your external beauty shines even brighter.  By maximising you, we empower you all".
The three-minute video below describes BELLAME pretty well…
The only thing you need to be mindful of, is these videos are only a shot of the good side of any company… It always sounds good at the start, but we'll give you a good overview of everything as we proceed with the review…
To understand the business opportunity, you need to understand the company's product line.  If the products are good, it makes for a good sale.  If the products have a really bad reputation, it's anon starter.
In regards to the BELLAME product line, they offer a variety of beauty, skincare and personal care products.
For this review, we're going to focus on their skincare and makeup ranges, as they are the most popular ones for BELLAME.
BELLAME Skincare
They have two different types of products within their skincare section, but the most popular items are:
Dream Luxe Sleeping Mask – $78 for 50ml
Acqua Lumiere Collection

Hydrating Cleanser – $48 retail price, $43.20 Beauty Passport
Hydrating Eye Cream – $68 retail price, $61.20 Beauty Passport
Moisturiser – $78 retail price, $70.20 Beauty Passport
Hydrating Serum – $88 retail price, $79.20 Beauty Passport
You can watch this three-minute video if you want to learn a little more about their Acqua Lumiere Collection, and why it stands out…
BELLAME Makeup
The main types of makeup that BELLAME sells are:
Luxe Color Palettes (eyeshadows, bronzer, highlight, blush) – $68
Moisturising Lip Gloss – $27/5.5ml
Moisturising Lipstick (they have six shades) – $28
We've only given an overview of the products available at BELLAME, but if you wanted to check out their complete range, then you should check out the Bellame shop.
BELLAME to Make Money with Bellame?
This is more likely the information you were hoping to find out about, at least with knowing that they have products and that the owners are genuine, we can consider this a legitimate business opportunity. 
So, how do you make money with BELLAME?
Well, BELLAME is an MLM or Multi-Level Marketing company, so there are the usual two ways for you to make money from their compensation plan.
Commissions from Retail Sales
Earning Bonuses from Recruiting people into your downline sales 
So, the basis is selling their products to people, and then recruiting a team under you to make sales, and earn a variety of bonuses based on that aspect.  We'll get into more detail in the compensation plan section…
But before we do that, let's describe to you how to get started with BELLAME…
Getting Started with BELLAME
To get started with BELLAME, you'll need to purchase a starter kit.  This purchase will allow you to become a BELLAME partner.
All the MLM's have different tags for their distributors, so it could also be described as consultant or influencer.
There are two options available for you with BELLAME:
Digital – $49 – This provides you with a website for 12-months and 25% personal product discounts
The Influencer Kit – $299 – This is their business starter kit
This Influencer Kit includes all the basic tools required to start your business with BELLAME. Including:
12 months BELLAME Boutique Website
One BELLAME Box
One BELLAME Binder & Training Materials
Ten Sets of Product Samples
30 Opportunity Tri-Folds
You can then buy more products, samples, brochures, etc. for a discounted price.   You can learn more about their Starter Kit by clicking here.
Monthly Costs
You should also know that there are ongoing costs that you're going to need to factor in with the Bellame business opportunity.
Basically, you stay qualified for commissions you're going to need to make 100 PV (Personal Volume) sales every month.  This works out to around $100 worth of sales. 
If you can't achieve that (which is likely in your first few months), then you're going to be required to pay for this, through buying products for yourself…
Haven't Made Your First $1 Yet?
Studies have shown that more than 70% of the people who want to make money online have not made their first dollar yet. So, you're not alone!
BELLAME Compensation Plan Explained
If this is the first MLM opportunity you've had a look at, you might think that the BELLAME compensation plan is really complicated… well, you should know that there isn't an MLM opportunity that doesn't have an overly complicated compensation plan. 
I'm sure they have competitions to see who can have the most complicated one, anyway…
I'm going to do my best to keep it simple for you, to start with there are two main ways for you to make money with BELLAME.
The first requires you to sell BELLAME products for between 25% – 40% commissions.
The second is by receiving Bonus Commissions on any sales made by your recruits (downline)
The biggest thing you need to know is, that if you want this to be a realistic income earner, you'll need to recruit a good team under you.  It's very unlikely that you'll earn a decent income just by selling their products.
This becomes apparent, when you break down their compensation plan… it shows there are actually ten ways to make money with BELLAME, but only three of them are to do with Retails Sales… Here's the list:
Retail Sales Commissions
Beauty Passport Commissions
Elite Sales Bonus
Sales Mentor Bonus
Business Building Bonus
Personal Generation Bonus
1st Generation Bonus
2nd Generation Bonus
3rd Generation Bonus
Infinity Bonus
Then there are the affiliate ranks…
Affiliate Ranks
There are Eight Ranks That you can go through with the BELLAME compensation plan.  You climb the ranks through a combination of sales and recruitment-based goals.  Here are the different ranks:
Partner – You reach this rank when you sign up, and maintain at least $300 worth of retails sales over three months ($100)
Senior Partner – 500 PV and Recruit a Partner
Executive Partner – 1000 PV and Recruit at least 3 Partners
Director – 500 PV and 3,000 GV (Group Volume) a month, and recruit and maintain at least 4 Partners
Senior Director – 500 PV and 3,000 GV a month, and recruit 3 Partners + 1 Director
Executive – 500 PV and 3,000 GV a month, and maintain at least 2 Partners and 4 Directors
Diamond Director – 500 PV and 3,000 GV a month, and maintain 4 Directors
Platinum Executive Director – 500 PV and 3,000 GV a month, and maintain 6 Directors + $125,000 in total monthly sales volume
Each of these ranks gives you more benefits, such as bigger commissions, etc. from your "downline" sales.
I found the following 13-minute video which describes their compensation plan, from a senior Director:
If you want to take a look at their compensation plan, then click here.
But here's a screenshot that describes the different ranks, tiers, commission levels, etc.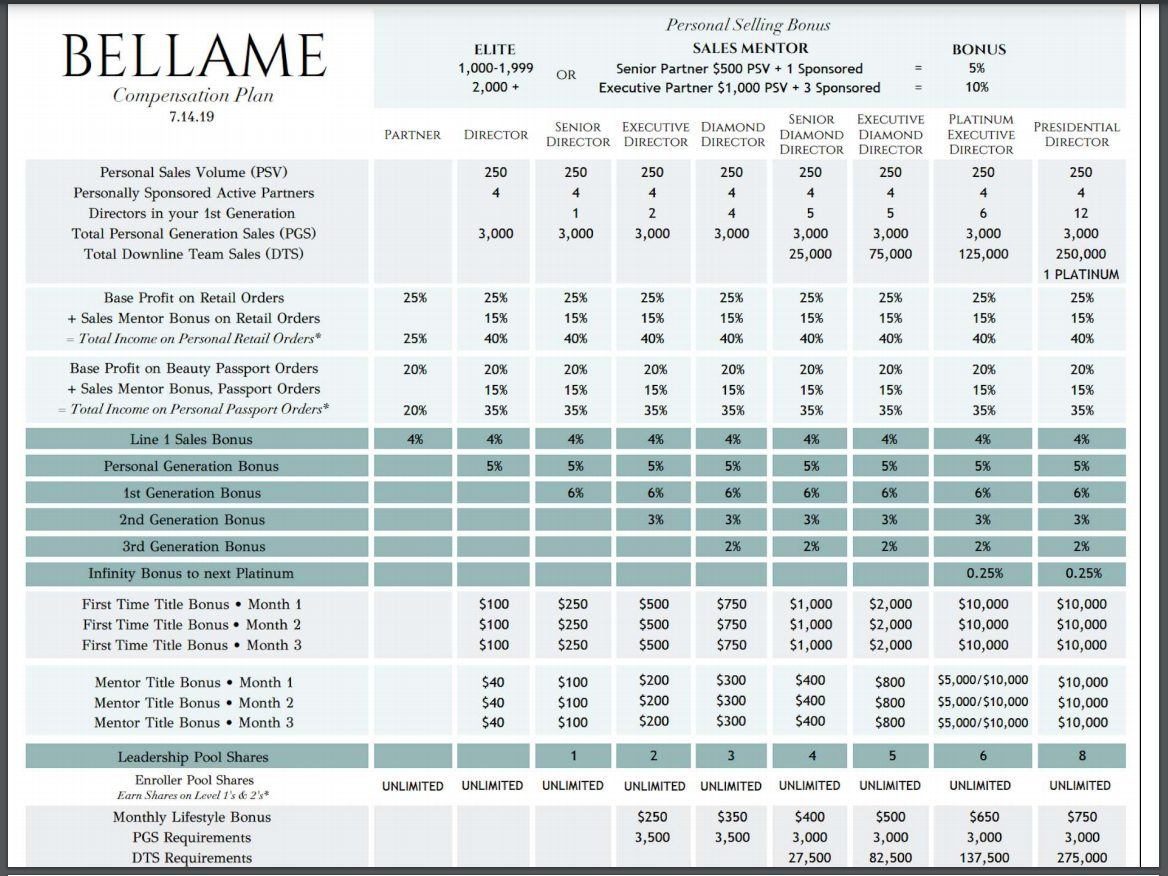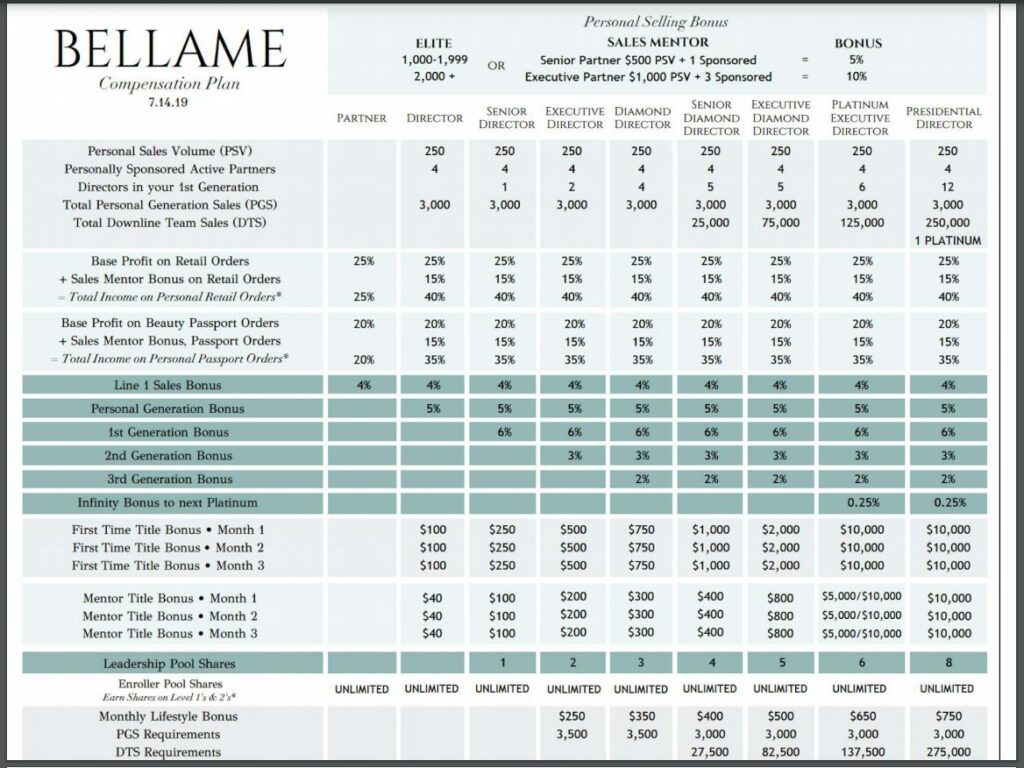 P.S. This program enabled us to Create a 4-Figure Monthly Passive Income Stream.  It's Free to get started and costs only $49/month to go full-time!
No, I don't think that BELLAME is a scam.  It's a relatively new company, but I think it's safe to say that Bellame is a legitimate MLM company that markets a range of beauty and skincare products.
I think it is also possible for someone to go and make money from their business opportunity.
However, just because BELLAME is a legit, that doesn't automatically guarantee that this is the right business opportunity for you…  Too many people have been drawn into an MLM, but then end up losing their money as they didn't realise just how difficult the business model is.
Promoting Products and Recruiting People is essential within MLM, but is probably one of the hardest things you can do…
So, the rest of our BELLAME review will provide you with some essential stuff you need to know about this business opportunity, including the pros and cons, so you can make an informed decision about whether this is the right opportunity for you…
Just to be completely transparent with you, I'm not a distributor of Atomy, nor do I endorse Atomy in any way.  I have researched the website, testimonials, and information available on the internet to get the details about what this program genuinely does.    I do this, as I have been caught out by a scam in the past, and am trying to help others avoid a similar fate…
Is BELLAME a Pyramid Scheme?
Even though we've established that BELLAME isn't a scam, but it could still be a pyramid scheme, so is BELLAME a Pyramid scheme?
Well, it is possible for you to make money just by selling their products, and without needing to actually recruit anyone.
So, Therefore it's technically not a pyramid scheme…
However, due to the lack of money you can make from just selling their products, it makes it very close to describing BELLAME as a pyramid scheme in disguise…
What's A Pyramid Scheme?
A Pyramid Scheme is a company that recruits people on the promise of payment for recruiting more people into it.
There are technically no products/services to speak of, meaning there is no other way for you to make money, other than recruiting people.
The biggest problem with a pyramid scheme is that this is not sustainable in any way, in fact according to Wikipedia, there aren't enough people in the world to actually sustain a single pyramid scheme…Look…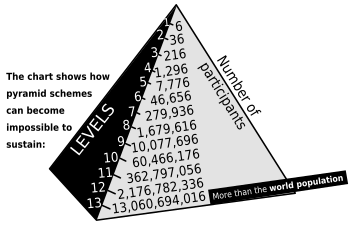 The theory goes that if a pyramid scheme required you to recruit 6 people each, there wouldn't be enough people in the world to sustain that figure past the 13th level.
But, most pyramid schemes require you to recruit a lot more that 6 people each just to make decent money!
This is partly why MLM is so difficult, they aren't a pyramid scheme, but they do require you to keep recruiting to make decent money, which makes they more like a pyramid scheme in disguise…
Check out this video to help you spot and avoid a pyramid scheme…
Let's get into the pros and cons of the BELLAME business opportunity…
What We Liked About BELLAME
Here's what we liked about BELLAME:
#1 Focus on Retail Sales
BELLAME does actually put more focus on generating retail sales over recruiting people to climb up the ranks.  You'll still need to generate a lot of sales to make decent money, but at least the focus is in the right direction.
You could actually get to the higher ranks without needing to recruit any more than 4 or 5 people into your team.
Although, the reality is that you'll need to recruit a lot more than this, but we'll cover that later in the review…
#2 Experienced Owners
Both owners have a lot of experience within the business world. Melissa has over 20 years experience within the beauty world, and she also understands the important of "social selling".
Scott has a lot of experience with Digital Marketing.  If you could find yourself a decent sponsor, you could find this is the a good business opportunity to take.
#3 This MLM Is Still New
It's actually a good thing, if the MLM is still relatively new.  It means that it could still be in the growth stage.  Many other MLM's have been around for 5 or 10 years, and are already saturated with distributors.
Typically, the most successful MLM distributors joined the program in the early stages, as there are still a lot of people yet to join the opportunity, or experience the products.
Recommended: How to Increase MLM Sales
What We Didn't Like About BELLAME
Here's what we didn't like about BELLAME:
#1 Expensive Products That Are Hard To Sell…
There are a lot of products in the beauty niche… but when you compare similar products to BELLAME ones, there is a huge price difference.
For example, Avon's eye cream retails at $22, and it's lip gloss sells for $11.
But BELLAME's Hydrating Eye Cream is $61! With their moisturising Lip Gloss costing $27!
I know there are women who would gladly spend a little more on good quality skincare products… But there are so many to choose from, how are you going to convince people yours are worth the additional cost?
#2 Personal Care Is A Crowded Niche!
Skincare, Makeup, Beauty products… There are so many different products, brands, etc. on the market already.
The majority of women tend to find one they like and then stick with it.  Your close friends might be tempted to try some of your makeup samples, but either the price or preference will tend to revert them back to their usual products.
Let's fact it, people are creatures of habit, so you're are going to have to rely on the products selling themselves compared to thousands of others out there.
One of the things that I find makes it harder for anyone trying to get into an MLM is that the products are very similar to all the others on the market, but are just that much more expensive.
This makes it even harder for you to try and sell to people.  People are always price conscious.  If they are going to spend more on your products, they should have bigger benefits to the products they currently use.  The problem is, they don't…
#3 MLM Success Rate Is Really Low!
What do you think the standard success rate is with these MLM business opportunities?
Well, the FTC published a report that shows…
Out of 300 MLM's, they found that 99% of MLM distributors/recruiters lost money!
That is a shocking figure, and there is another problem with BELLAME, and it is to do with their income disclosure statement…
#4 No Income Disclosure Statement!
Well, that's the problem.  They should have at least published one from 2019, but there is no way of knowing if Bellame consultants are bucking the trend, or they are just another example that shows 99% of their distributors are struggling to make any money.
#5 Partners Become their Biggest Customer
If we considered that 99% of people who join an MLM lose money, and then BELLAME puts a clause in that you have to have 100 PV per month to stay qualified, that means that 99% are actually the MLM"s biggest customers.
People constantly buying products every month, in the hope that next month they will make enough sales…
But that just doesn't happen… You will have to buy $100 of products every month to stay qualified…
#6 New MLM… But Interest Is Already Dropping…
It's worrying that interest is already drying up with regards BELLAME… it looks like you might have missed the boat with regards this opportunity.  A lack of income disclosure kind of says it all, and with interest fading quickly, this might become an MLM that doesn't make it to the 5-year mark!
Haven't Made Your First $1 Yet?
Studies have shown that more than 70% of the people who want to make money online have not made their first dollar yet. So, you're not alone!
My BELLAME Review - Final Conclusion
BELLAME is definitely not a scam, it's a legitimate Personal Care MLM company, that sells a range of beauty and skincare products.
But with expensive products, in a very competitive niche, and no income disclosure statement, there is just not enough proof that this is a good business opportunity.
It does focus more on retail sales over recruitment, which is a good sign, but as the interest in this company is waning, and stats showing that 99% of people fail with MLM, I think it's best you keep this one a miss…
MLM is really a challenging and risky world to venture into to start a business.  It's going to cost you a lot, without any guarantee that it will actually turn out successful for you…
The people who are really successful at MLM are those that harnessed the power of online marketing too, but they don't tend to get that training from any MLM, they go elsewhere…
The problem is, you may not know where to go to even get started with online marketing…
It wasn't that long ago, I was asking myself the same question.  I was trying to figure out how to make money online. 
I wanted to find a way of earning passive income, that also fitted around me, like…
I could work on it around my current job (I still had a full-time job)
I also didn't need it to cost a fortune to get started, and maintain
I also didn't want to sell anything to my friends or family
I also didn't want to have to recruit people like with MLM
That was when I found a place called Wealthy Affiliate!  Thanks to them, we've Created a 4-Figure Monthly Passive Income Stream!
The best thing about it is…
It's FREE to get started (no credit card details are required)
You're taught how to get qualified traffic brought to you for FREE (just think about the way you found this review… there was no time or money spent on promoting this!)
You'll find help and support from thousands of other online marketers
You don't require any technical knowledge or skills
If you were still interested in promoting any MLM program, this training would help you to create your own online business to promote anything.  You won't be tied down to just one MLM company, and you can use the skills to make money whilst you sleep.  It'll also show you how you can promote other related products through a technique called Affiliate Marketing…
When you try out this program, you'll see why so many people love and recommend it…  Learn more about Wealthy Affiliate here…
Thanks for checking out our BELLAME review.  If you have any questions or comments to add, then please write them in the comments below. 😉