Welcome to our Atomy Review!
There are a lot of MLM companies within the health, wellness or cosmetics world, today we're going to discuss the Atomy company.  It sells a range of cosmetics products, but you're probably here to understand if it's legit or not.
Is Atomy a scam, a pyramid scheme, or a legitimate platform… all will be revealed in our review!
First off, it's great to see that you're doing your research before buying into any "seemingly good" product.
That is how you avoid scams and find only legitimate ways to make money online!
To be completely transparent with you, we're not associated with Atomy in any form.  We're not here to pitch or sell you anything.
Instead, I want to reveal to you all the details behind this MLM business opportunity, and if they can actually help you make any money…
Let's get started with a quick product overview…
Atomy Review Summary
Product Name: Atomy
Founder: Ha-Gill Park, in 2009
Product Type: Cosmetics and Personal Care MLM company
Price: 10,000 PV purchase required
Best For: People good at marketing cosmetic products and who're good at recruiting a downline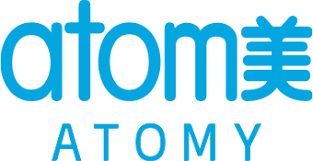 Summary: Atomy is a cosmetics and personal care MLM company that was founded in South Korea, in 2009.  It has since expanded into 13 countries, and is still gaining momentum in the USA.
The monthly sales quota to remain active is much lower than many other MLM's, and it's free to sign up with.  However, I don't think they can really help you earn a full-time income consistently. 
First, there's a lack of an income disclosure, meaning they aren't exactly transparent about their success, or lack of.  Secondly, their products are still overpriced.  And, there is just a huge emphasis on recruiting people.
Bottom line, this means that it's going to be hard to make good money at Atomy without doing any recruitment, which makes Atomy very similar to a Pyramid Scheme in disguise…
Rating: 40/100
Recommended? No!
Atomy is a cosmetics, personal care, and health supplement MLM or Multi-Level Marketing company.  It was founded by Han-Gill Park in South Korea in 2009.
Atomy has expanded into 13 countries around the world, and is currently still gaining momentum in the USA.  Their goal is to become a "global distribution hub".
The company offers an opportunity for everyday people to become their "own boss" by selling the range of products that Atomy sells, and by recruiting a team.
You can learn a little more about this opportunity with the three-minute video below…
The thing is…
The majority of people will watch that video and get really excited about the opportunity that is presented to them, but that is more because it is a well put-together promotional video.  They give you all the good stuff, without any of the reality of operating within an MLM…
Is Atomy A Pyramid Scheme?
There is a common misconception out there, that all MLM's are really pyramid schemes… there are similarities, but not all MLM's are pyramid schemes.
So, technically speaking, Atomy is not a pyramid scheme.  
It's possible for distributors for Atomy to make money just by selling Atomy products, and not needing to recruit at all…
A better question to ask for any MLM, would be "Is Atomy a pyramid scheme in disguise?"
What is A Pyramid Scheme?
A true pyramid scheme is a company that promises payment to it's members for recruiting people, without any products or services to sell.  The only way for you to make money is by recruiting others, and as soon as people stop recruiting, the scheme closes down.
These are illegal in the majority of countries, because it's impossible for everyone to earn money inside a structure like this.
If you check out the Wikipedia diagram below, you can see why it becomes sustainable…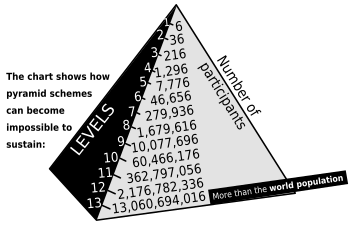 Most MLM's including Atomy, do offer legit products and there is technically no need to actually recruit people to make money with their compensation plan.
However, it only becomes possible to make good money, as in over $1,000 a month, from Atomy if members are able to recruit people, who are in turn good sales people or recruiters.
So, this makes Atomy very similar to a Pyramid scheme in disguise…
The five-minute video below will help you understand why…
Success Is Rare At Atomy...
There is no getting away from the fact that it is hard to be successful within an MLM company.
Did you know that between 73% and 99% of all MLM distributors actually lose money?
It becomes even harder to understand how distributors are doing at Atomy, as they don't release any income disclosure documents, that MLM's are supposed to have, and they are not a public company either.
This means that it's impossible to actually show you if any of their members are finding success, or failing to hit any such figures that the company tell you is happening.
The only silver lining is that Atomy has a lower monthly sales quotas to remain active, than many of the other MLM's out there.  Meaning it should be easier for members to avoid losing as much of their money each month.
But we'll get into the details about what Atomy distributors need to do to make money later on… Let's first go through the Atomy product line…


Your role as a distributor would be to market and sell these products to customers.
The Atomy categories are:
Skincare – lotions, sunscreens, moisturisers for morning and evening routines
Mens Care – aftershaves, perfumes, inner wear, etc.
Home Care – hygiene products, household products, etc.
Personal Care – hair and body wash, creams, other beauty products
Atomy Absolute Skincare – Their Flagship Product
Atomy does have a huge range of products on offer, I think it's only second to Amway in the number of products.
But their flagship product would be their Absolute Skincare set, which includes the following items:
Toner
Ampoule
Serum
Lotion
Eye complex
Nutrition cream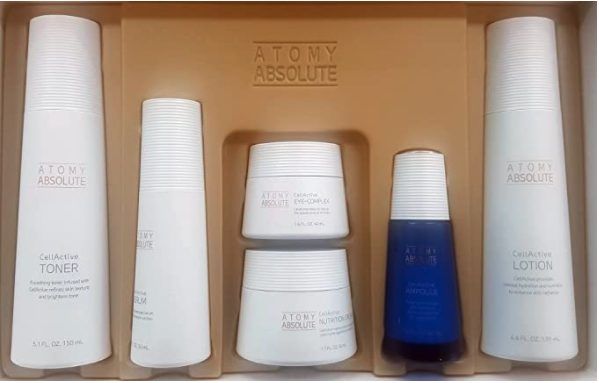 Some of the stand-out features and benefits claim to be:
Cutting edge dormin technology (plant derived EGF and natural ingredients)
Makes your skin glow
Anti-wrinkle
Hydration
Firming
Moisturising
Nourishment
I wouldn't claim to be an expert in this kind of stuff, but it would be safe to say that this is pretty standard stuff you would expect from skincare products.
So, the only way you going to know if the product is any good, is to either test it yourself, or read some honest Atomy product reviews…
To give you an idea of what we found, I checked out this product on Amazon, and here's the results (and price of it – UK prices)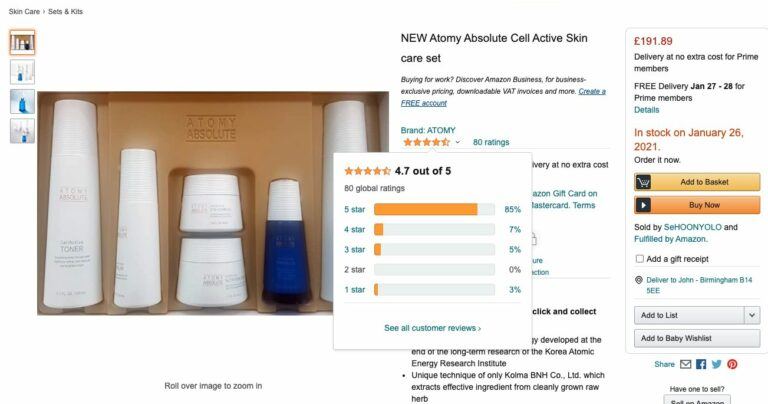 Overall, it got a 4.7 out of 5, with 85% of the reviews giving it a 5 out of 5.
We'll get into a little more detail about pricing, etc. later in this Atomy Review.
But if you would like to learn more about the Absolute skincare products at Atomy, then check out this two-minute video…
How to Make Money with Atomy?
Like with many MLM's, there are the usual two ways of making money with Atomy:
Sell the products to customers in return for a commission
Recruit people into your downline to earn bonuses from any sales they make
There is no actual money earned for directly recruiting people, that would out them as a pyramid scheme.  But there is such a focus on recruiting people, as it unlocks higher commissions and earns you bonuses.
Haven't Made Your First $1 Yet?
Studies have shown that more than 70% of the people who want to make money online have not made their first dollar yet. So, you're not alone!
Getting Started with Atomy
It's actually free to sign up with Atomy!
You can actually get started promoting the Atomy products without having to spend anything.  This is really rare for an MLM, and it also shows that Atomy is not a scam!
But there are some costs that you should be aware of…
Atomy Monthly Costs
To remain an active distributor, you'll need to accumulate 10,000 PV (personal volume) points every month.
That equates to about $20 of products each month…
That again, is actually a really low figure for an MLM, but it is still something you should be aware of.
In reality, this means that you will need to budget for spending at least $20 a month on Atomy products yourself.
But then again, if you are going to join an MLM program, you should be using the products yourself, as there is little point trying to sell something that you don't use yourself.
So, you'll need to budget for at least $240 a year.
This is a lot lower than many other MLM's.  And there are always other costs to consider when starting an online business, such as marketing, postage, packaging, and additional training, etc.
Atomy Compensation Plan Explained...
The first thing you should know is that MLM compensation plans are extremely dificult to comprehend.  I'm sure they look at how they can make it as complicated as they can be, and Atomy is no different.
We'll try and keep it simple for you to understand…
Atomy's compensation plan works on a binary structure, where you take in members at both left and right legs.
Members are then classified into five types of dealers, according to their total purchase volume and commission level:
Sales Representative – Accumulate 10,000 to 299,999 PV
Agent – Accumulate a minimum of 300,000 PV or a Sales Representative with a smaller leg of at least 600,000 PV accumulated in the previous month
Special Agent – Accumulate a minimum of 700,000 PV or an Agent with a smaller leg of at least 1.4 million PV accumulated in the previous month
Dealer – Accumulate a minimum of 1,500,000 PV or a Special Agent with a smaller leg of at least 3 million PV accumulated in the previous month
Exclusive Distributor – Accumulate a minimum of 2,400,000 PV or a Dealer with a smaller leg of at least 4.8 million PV accumulate in the previous month
Aside from the ranks, you also have something that is called "Masterships", which you can get to and turn in for bonuses.
In order to earn commissions, distributors need to obtain 300,000 PV through purchases, which is around $500 and a minimum of 300,000 PV on both legs every week.
You can find out more about their compensation plan with this 13-minute video…
P.S. This program enabled us to Create a 4-Figure Monthly Passive Income Stream.  It's Free to get started and costs only $49/month to go full-time!
No, Atomy is not a scam!
They have a wide selection of legitimate products, and they will pay their distributors for promoting them like they say they will… Even though their compensation plan is really hard to understand…
However, there are many people who lose their money from Atomy, mainly as they don't understand some of the hidden truths before getting started.
This naturally leads them to getting annoyed with Atomy, or any other MLM they join for that matter, and they start calling them out as a scam.
The rest of our Atomy review, will help you understand these hidden truths, so that you can make an informed decision…
Just to be completely transparent with you, I'm not a distributor of Atomy, nor do I endorse Atomy in any way.  I have researched the website, testimonials, and information available on the internet to get the details about what this program genuinely does.    I do this, as I have been caught out by a scam in the past, and am trying to help others avoid a similar fate…
What We Liked About Atomy
Here's what I liked about Atomy:
#1 Proven History
At the end of the day, Atomy has been around since 2009 and when you factor in that 1 in 3 MLM's do not survive past the ten year mark, this a good sign that Atomy isn't going to close down anytime soon.
#2 Products Receive Good Feedback
Selling products that have a bad feedback rating is pretty much impossible, so it's good to see that their products receive positive feedback online.
The only thing I would say to be mindful about is whether some of these reviews are actually distributors, but on the whole there does seem to be a positive vibe about the products.
#3 Free to Get Started & Low Maintenance Costs
There are MLM's out there that cost you thousands of dollars just to get started, and then many tie you into an expensive auto-ship every month.
But Atomy definitely bucks the trend, it's free to get started and will cost you $20 per month to maintain your status.
It's a good sign that Atomy is not a scam, and they clearly believe in their products.
What We Didn't Like About Atomy
Here's what we didn't like about Atomy:
#1 Expensive Products
One of the main issues with MLM companies is that they charge really high prices for their products, which makes it really hard for distributors to sell.  Especially when you consider you will be competing against well-known brands that are more affordable.
When you can find similar alternatives, and often better alternatives for half the price, how are you going to be able to compete.  Why would people want to pay your prices, against those others?
#2 You Need to Recruit!
When you factor in their compensation plan, and how you earn the commissions, you have to be good at recruiting people to make it work, and earn money.
You need to generate at least $1,000 to get into the Special Agent rank, and then have a downline that accumulates PV just as much as you to make it to that rank.
But you need to know that recruiting people into an MLM business opportunity is never easy, let alone telling that them they will be selling beauty and cosmetic products in one of the tightest industries out there.
This makes recruitment the only realistic way for Atomy distributors to avoid losing money every month, and when recruitment basically becomes a requirement, it starts to look a little like this: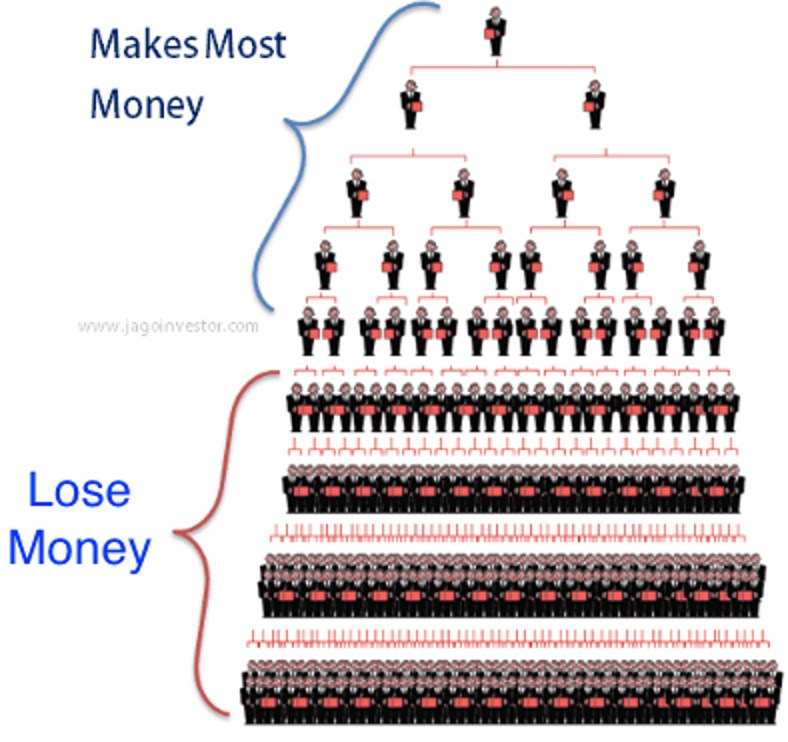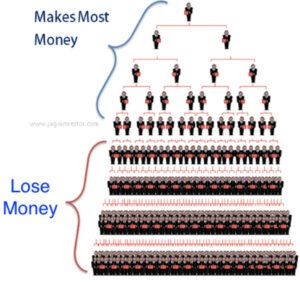 I mean, there will be a few people who are making good money with Atomy.  And, you might be one of them, if you put in the required time and effort into doing it, but you need to recruit people like there is no tomorrow to do that…
#3 No Income Disclosure
One of the biggest issues I have with Atomy, and their business opportunity is the lack of an income disclosure.  It's actually a huge red flag for an MLM not to have one.
The fact they are not being transparent with their members and potential distributors due to a lack of an income disclosure statement.
It also could be a sign that they are hiding something… The majority of MLM income disclosures  tend to show that the biggest customer base for them are usually the distributors for the company themselves.
The only thing we could find was the Mastership levels, and the amount you need to earn to be at that level:
Sales Master – approx. $1,800 to $3,500
Diamond Master – approx. $3,500 to $12,000
Sharon Rose Master – approx. $13,000 to $22,000
Star Master – approx. $17,000 – $35,000
Royal Master – approx. $40,000+
Crown Master – approx. $60,000+
Imperial Master – approx. $85,000+
That makes it sound great, but without any detail around how many people are at each of these different ranks, and the figures are definitive, as they are approximate figures…
Sure, they look impressive… But what if I was to tell you that less of 1% of distributors even make it to the Sales Master rank?
Well, if you used the same logic as every other MLM we've reviewed, then 99% of people don't even get to that rank…
#4 No Online Marketing Training
The problem with many MLM's, is their reliance on traditional ways of marketing their products, like home parties, targeting your friends and family, etc.
The people who do the best when it comes to MLM, are those people who understand how to us online marketing to help attract people and sell these products 24/7.
But you will not tend to get this training from the MLM companies, themselves.  And Atomy doesn't provide any of this training.
If you're lucky, your "sponsor" may know how to use online marketing and can show you how to do it.
But, the main method they tend to use is sharing it on social media.  That just isn't going to get you any results.
There are much better ways to use the internet for you, like creating your own website and attracting targeted people to your website for free every month.
Recommended: How to Increase MLM Sales
#5 It's A Tight Industry!
It's difficult to promote cosmetic and personal care products because you can find cheaper and better alternatives from other sources, and I'm just talking about other MLM companies.
It's even more difficult to recruit people into selling these products.  Which is why I think Atomy distributors will find it really hard to promote their products and the business opportunity to other people.
Not everyone is looking for a business opportunity, a lot of them are just interested in getting the best product at a decent price.
Now, it's so easy to shop online without having to deal with distributors, it's becoming harder and harder for those relying on traditional MLM sales techniques…
Haven't Made Your First $1 Yet?
Studies have shown that more than 70% of the people who want to make money online have not made their first dollar yet. So, you're not alone!
My Atomy Review - Final Conclusion
Atomy provides a legitimate MLM business opportunity, where you can promote their personal care and cosmetic products.
However, I wouldn't recommend this business opportunity to anyone…
The main reasons behind that, is the lack of an income disclosure statement, and the reliance on recruitment.
The lack of an income disclosure statement shows a lack of transparency, and feels like they have something to hide.  If we go with the usual MLM story, 99% of the people joining this business opportunity will fail.  Without any income disclosure statement, there is nothing to prove I'm wrong.
Then the reliance on recruitment within their compensation plan, means this could easily be a Pyramid Scheme in disguise.
I'm not a fan of MLM, not because it's illegal or not profitable, but because of all the restrictions and the expensive costs involved.
Instead, Affiliate Marketing is our top recommended business model for anyone looking to make money online.
The reasons are simple…
You can promote anything you want and aren't restricted to only promote products from one MLM company
You don't have to recruit anyone to make money
You never need to sell to your friends and family
It's Free to get started
In fact, with affiliate marketing we've been able to Create a 4-Figure Monthly Passive Income Stream.  If you want to learn more, click here.
Thanks for checking out our Atomy Review! If you have any questions or comments to add, then please write them in the comments section below. 🙂