Welcome to my doTERRA Essential Oils Review!
Has one of your friends come up to you and started talking to you about how you could improve your health and maybe earn a little extra cash with these essential oils company called doTerra?
I am so glad to see that you are doing your own research before deciding to invest your time and money into a so-called "good" business opportunity.
Research is the best way to avoid online scams and find legitimate ways to make money online!
To put your mind at ease, we are not associated with doTerra in any way.  We are not here to pitch you any products or questionable business opportunities.
We are just here to help you get a full overview of the business opportunity that doTerra offers… the good, the bad and the ugly…
Ultimately, we will answer your questions, especially around whether doTerra is a Pyramid Scheme, a scam or a legit business opportunity that has some flaws?
All will be revealed in our review.
DoTerra Essential Oils Review Summary
Product Name: doTERRA
Founder: David Stirling, in 2008
Product Type: Health & Wellness (Essential Oils) MLM Company
Price: $35 to join, plus $100
Best For: Experienced Network Marketers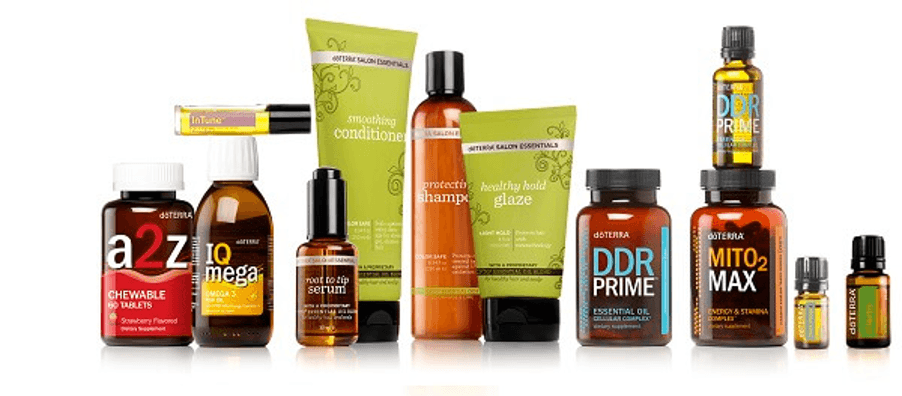 Pros
Essential Oils is a Growing Market
BBB Accredited
Includes Training
Cons
doTERRA don't have their own farms
Huge Focus on Recruitment
Inappropriate Marketing Tactics
Low Income Potential
Summary: doTERRA is a legitimate MLM business, however that doesn't automatically make it a worthwhile venture.  doTERRA sells a range of essential oils, and offer a business opportunity where you can sell these to customers or recruit a team.
The biggest problem with doTERRA is the fact there is such a push to recruit a team, that it could actually be better described it as a pyramid scheme in disguise.  In fact, we can prove that over 95% of their distributors have lost money.
It's going to be really hard for you to earn a living with this business opportunity…
Rating: 40/100
Recommended? No
Based in Utah, doTerra is an MLM or Multi-Level Marketing company selling Essential Oils.  It was founded in 2008, but the team behind doTerra were actually part of another essential oils MLM company before they started doTerra.  doTERRA's main competition is an MLM called Young Living, and it was this company they left to start doTerra.
The "doTerra" is Latin and it means "Gift of the Earth".
doTerra was founded by David Stirling, along with a team including Corey Lindley, Emily Wright and Dr David Hill.
In a way you could say that doTerra has copied Young Living, but the team has done this is ensure they only bring what works to the table, which is a good thing.
doTERRA's strategy revolves around two main objectives:
Education people about the many benefits of using Essential Oils and promoting a healthy lifestyle
Offering an ever-expanding line of Essential Oils-related products for their distributors.
It is a strategy that has worked, as doTerra now operates in a number of countries with an ever-expanding reach.  It also brings in over $1 billion in sales.  So, we can with some certainty, this company is not a scam.
Having said that, we are here to review their business opportunity and just because the company is successful, this does not always guarantee success for its distributors.  So, we are going to focus on two aspects which will either help or hinder a potential distributor – their products and the business opportunity itself.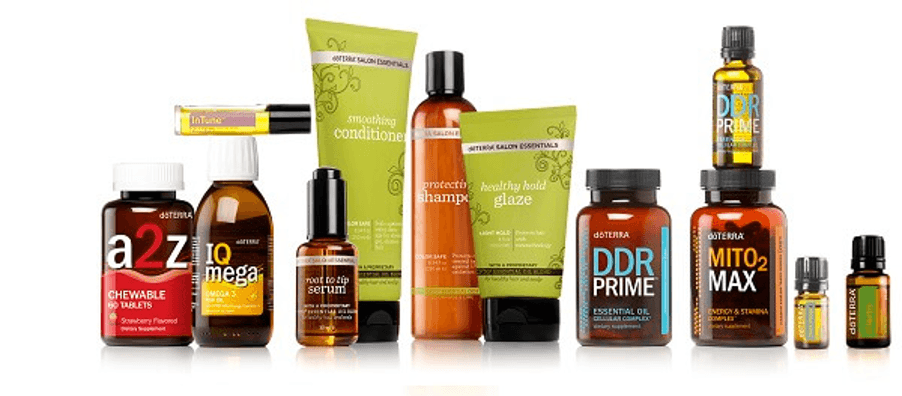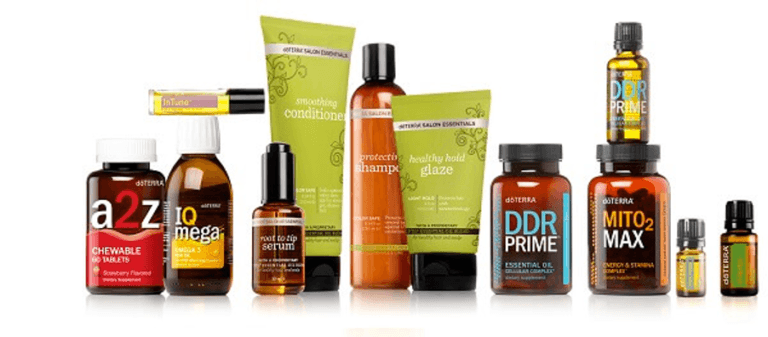 When doTERRA started out, it was solely as an Essential Oil company.
But since they launched, they have expanded their product range to include items that cover areas such as Personal Care products, Supplements and Weight loss products, to name a few.
Instead of going through all of their products, we are going to list some from each category to give you an idea:
Essential Oils – including Single Oils (such as Lavender, Peppermint & Lemon) & Proprietary Blends (such as Peace, Elevation & Serenity)
doTERRA On Guard Series – Includes hand wash, laundry detergent, toothpaste, etc.
doTERRA Breathe Series – Respiratory drops, vapor sticks. Items designed to help with your breathing & respiratory issues
DigestZen – Essential oils and supplements for people with digestive issues
Personal Care – Skincare, body care and hair care products
Supplements – Daily fruits and vegetables, daily vitality, women's supplements, children's supplements, etc.
Weight Loss – Meal replacement shakes, metabolic gum, soft gels, etc.
Other products – including essential oil diffusers, gadgets and accessories
DoTERRA designed their own certification for their products called the CPTG Certified Pure Therapeutic Grade.  This is designed to show proof to customers that their essential oils are not just pure, but they also hold some therapeutic benefits to the body.
The only problem with this is, whilst it sounds good, it is not actually accredited or backed by any authorities or associations.
In fact, if you read this post, the therapeutic effect of essential oils is just a lie and a convenient marketing strategy.  There is no such thing as real therapeutic essential oils that are certified by the FDA. 
The CPTG is just a trademark that doTERRA registered themselves for their own distillation and purification process of their oils.
Don't get me wrong, there are benefits to using essential oils, some have positive effects on the body.
But they are not as effective as doTERRA are trying to make out with this fancy certification.  They are using it to sell their products and make money.
On this point, in 2014 the FDA issued letters to three health and wellness companies, including doTERRA and Young Living.  It was a stern warning against anyone who was promoting products and making outrageous (and unproven) medical claims.
Some claims that were made included claims that essential oils could cure a variety of illnesses including cancer, autism, Alzheimers, to name a few.
This did cause doTERRA to make some drastic changes to mean the FDA compliance guidelines.  They also came up with an list of do's and don'ts for its distributors to avoid another warning.
In short, it there is now a strict policy for their distributors about what they can claim towards specific illnesses or use words such as illness, cure, disease, treat, etc.
They need to talk more about the mood or skin-enhancing effects of the essential oils.
The problem is, due to the FDA letter and the way some distributors were behaving, this has led to people thinking that the company and the products themselves are scams.
Whilst I do not believe the company or their products are scams, I am not entirely convinced about some of the benefits they do claim about them, but I know people who have found some essential oils very useful. 
It depends on the person.
My bigger issue isn't with the products, it is with the MLM business model.  Due to the sheer difficulty of the business model it pushes distributors into making claims they shouldn't make to try and make money.  
There is only a 1% success rate with MLM, and that is my problem with this business opportunity.  But more about that later…
How to Make Money with doTERRA
Just like with most MLM companies, there are two main ways for you to make money with doTERRA.
Sell their products and earn retail commission.
Recruit people and build your downline teams to earn commissions and various bonuses
To get started with your business, you are going to first have to pay a $35 registration fee.  When you compare this to most MLM's, that is a pretty good starter fee.  There are some MLM's that charge you hundreds of dollars just to get started.
Once you have paid this registration fee, you will officially be known as one of their "Wellness Advocates".  It is the term they use to describe their distributors.
But as with most MLM's, it isn't as simple as that.  You are also required to spend at least $100 a month on the company's products to qualify for any sales commissions.
Although this is one of the reasons I do not like MLM, it is pretty common in this business.  The problem is if you are spending more than you make, it can lead to some big financial problems for you.  
If you take the autoship alone, you will be spending $1200 a year before any sales that you make.  You will need to earn more than this to cover the autoship costs, but there are a lot of costs that you will need to factor in on top of this too…
Haven't Made Your First $1 Yet?
Studies have shown that more than 70% of the people who want to make money online have not made their first dollar yet. So, you're not alone!
doTERRA Compensation Plan
doTERRA has four main ways for you to get paid with their compensation plan.
Retail Bonus – you earn 25% commission from any retail sales you make
Fast Start Bonus – Within the first 60 days, this Fast Start Bonus allows new distributors to earn higher percentage commissions from their first 3 levels of downlines. (Level 1: 20%, Level 2: 10%, Level 3: 5%)
Power of Three Bonus – These are additional cash bonuses when you and/or your downlines successfully recruit 3 downlines and meet the relevant requirements (Cash bonuses include $50, $250 and $1,500)
Unilevel Bonus – If you can get this right, this is where the residual income can happen with your doTERRA MLM business. You will earn a percentage of your downlines' overrides down 7 levels deep.  This does differ to most other companies as with doTERRA the deeper you go, the higher your percentage of your unilevel commission.
The problem is that most MLM's are often very complicated, so whilst we have given you a brief overview, it would probably be best to watch the video below to learn more about the doTERRA compensation plan
Is doTERRA A Pyramid Scheme?
MLM's can often be mistaken for a Pyramid Scheme, but whilst a Pyramid scheme is illegal an MLM is legal but also has aspects that resemble a Pyramid scheme, especially on the recruitment side of an MLM.
Let me explain, it is all to do with the recruitment of your downline.  As you build up your team, and then they build up their team, it starts to look like this:


Which you can understand, looks like a Pyramid.  But the key identifier of a Pyramid Scheme is that the only option to make money with one is to recruit new members in.  A Pyramid Scheme will not have any products for you to buy or sell. 
That is basically conning people into paying for the same thing you paid for, without giving them anything but the option to sell the scheme on.
An MLM offers you a way to make money via recruiting, but it also offers you products and services to buy and sell for a commission.
That being said, whilst an MLM is legal and we can include doTERRA in that camp, that doesn't mean that success is going to be easy.  In fact, the success rate of MLM's is only1%, 99% of people joining an MLM lose their money…
Success is Rare at doTERRA
If we go back to that Pyramid diagram, the only people that are finding success with MLM's are those that are at the top of the pile and have effective downline teams that are making sales.  But like I said that is often only 1% of an MLM's distributors.
If you have a background in network marketing and/or MLM, then you might have a shot and people you could already use to sell products.
The problem you have is, they make MLM's very appealing and it entices beginners in.  But you have to factor in that with doTERRA that you are going to be handing over $100 a month in auto ship.  That means you will be buying products every month, and from the first month.
That give you no chance to test the water or to decide on the best marketing strategies, you are expected to start selling from day one.  If you are unable to sell anything in month one, you are still $100 down. 
MLM's do make it extremely difficult for beginners to get going, but they make their business opportunity look very appealing.
The products they are selling are expensive and in a competitive market too, so you need to factor in whether you have an effective strategy before you get going.
I am not saying it is going to be impossible to find success with MLM, all I am saying is the odds are firmly stacked against you…
What We Liked About doTERRA
Here is what we liked about doTERRA:
#1 Essential Oils is a Growing Market
Essential oils is a growing market, there are 3 main reasons:
There has been an increase in awareness and understanding of Essential Oils, that is mainly due to companies such as doTERRA & Young Living.
Digital Marketing is boosting this awareness
Health and Wellness is trending worldwide, it could be a good time to get involved.
There are a number of different countries that are starting to sell essential oils.  Examples include Melaleuca, Essante Organics, Arbonne & Youngevity.  They are all selling essential oils.
The only condition I would put on these others is that their sole focus is not only essential oils, they are selling a wide range of other products.
There are many low-quality essential oils in the market are not 100% pure.  This means they are using chemicals to produce the aroma, which makes it a synthetic aroma.
That puts doTERRA and Young Living at an advantage as their main focus is on Essential Oils.  The quality of their products do seem to be much better too.
#2 BBB Accredited
BBB or the Better Business Bureau is a great place to find out what consumers think of a direct selling business.  doTERRA got accredited with them in 2017 with an A+ Rating.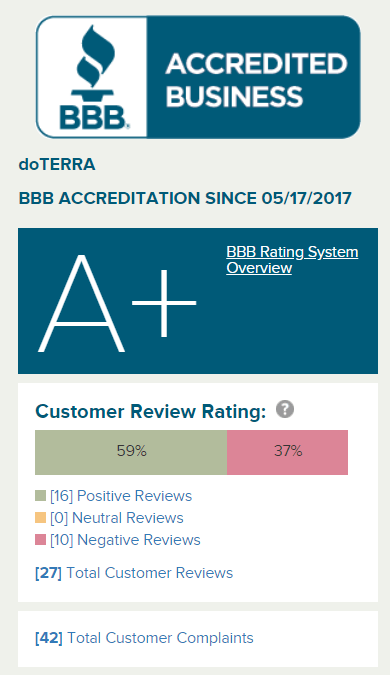 Whilst it is a good sign that they are accredited, something you will need to factor in is the fact they have had a high number of complaints…
#3 Includes Training
doTERRA does include some free articles and training videos as part of their online "University".  It has a lot product education and useful business building tools to help distributors build their businesses.
What We Didn't Like About doTERRA
Here is what we didn't like about doTERRA:
#1 doTERRA Don't Have Their Own Farms
Despite DoTERRA and Young Living are both legit Essential Oil companies, there is a big difference between them.
Young Living is the only essential oil company that has its own farms.  doTERRA do not own their own farms.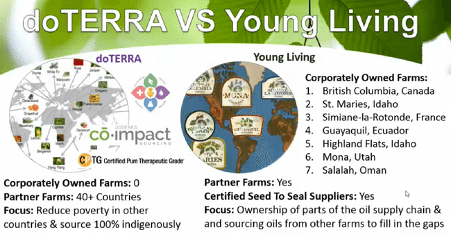 This allows Young Living to have better control over the quality of their oils, as they are the producers too.  There may not be anything wrong with doTERRA's oils, but they partner with other farms and this means they have less control over the quality.
Whilst it would look like I would recommend Young Living, I would if you were to compare doTERRA and Young Living.
But in reality, both have major flaws when it comes to its business model and that is the MLM business model.  Which we will cover off more in the next few points.
#2 Huge Focus on Recruitment
This isn't just doTERRA, but all MLM's have a major focus on recruiting other salespeople in order to increase your own profits.
We have already covered off that we do not believe doTERRA is a pyramid scheme, as they have their own products.
But the problem is that there is a limit to how much you can earn from retail sales alone.  You cannot earn residual income from retail sales.
This leaves the only viable option for an MLM is to focus on recruiting a downline (team) to earn money where you can earn residual sales from.
Recruiting isn't necessarily a bad thing, especially if you know how to recruit appropriately.
But the problem is that most people do not know how to recruit in the right way.
Traditionally, MLMs will tell you that they will show you how to recruit 100 people.  But this actually turns out to be a list of your friends, family, co-workers and neighbours, to name a few.
They tell you to contact each of them and try to sell the products or business opportunity to them.  This is one way to ending up with no friends…
Many people find that they start pushing friends and family and there is only so much before they stop returning your calls.
#3 Inappropriate Marketing

Tactics
The pressure to hit sales leads to many distributors to exaggerate the effectiveness of the products and the profitability of the business opportunity.
This led to the US Food & Drug Administration (FDA) to send a warning letter to doTERRA for marketing its products as possible treatments or cures for Cancer, Ebola, Autism and other conditions which violate the Food, Drug & Cosmetic Act.
Most MLM's have this issue, but the problem is more the fact that so many distributors are struggling to make sales and make outrageous claims to get people to buy your products.
#4 Low Income Potential
It gets even worse…
Here is a screenshot from doTERRA's income disclosure statement:

At first, it shocked me… It showed that 62% of their distributors were averaging $27,557 a year!!!
Wow, that is an amazing figure.  But it total BS.  The income disclosure is totally misleading, even for an MLM.
If you take another look at that screenshot again, it only lists the "Leaders" in doTERRA.  The ranks only start at Silver on the list, there are a number of levels underneath this level.
The reality is that only 1% of the entire distributor network made it to one of these leadership ranks!
The image below will show you 6 different ranks below Silver:
Wellness Advocate
Manager
Director
Executive
Elite
Premier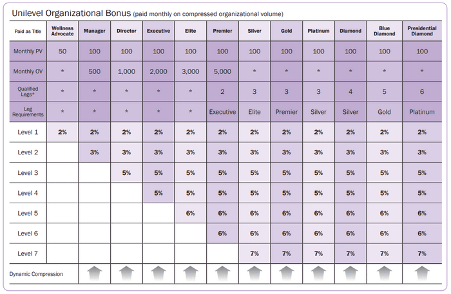 This clearly shows that ONLY 1% of their distributors made it to the Leadership ranks, which included Silver above.
The short story is that at least 95% of their distributors failed to make a sustainable income to even cover their bills.
Haven't Made Your First $1 Yet?
Studies have shown that more than 70% of the people who want to make money online have not made their first dollar yet. So, you're not alone!
Can You Make Money with doTERRA?
I am going to stress that over 95% of distributors are not even covering their costs, only 1% of their distributors have made it to a leadership level that does include a decent annual salary.
The income disclosure shows for sorry reading, a lot of their distributors have failed to even cover their costs and have probably got themselves into debt due to the monthly order requirements.
You will also need consider how you can sell or recruit without ruining your relationships with your friends or family.
I am not saying it is impossible to make money with doTERRA, but I am saying that without the knowledge and experience of direct selling or network marketing, then you may want to take a simpler option.
If Essential Oils is your thing, there are options of doing it without an MLM business.  
Affiliate Marketing has many benefits over an MLM, including affiliate programs being free to join and no need to sell in the traditional sense.  Affiliate Marketing is how we make money online and there are many benefits over MLM.  
Read about them HERE.
My doTERRA Review - Final Conclusion
We can put your mind at ease on whether doTERRA is a scam or a pyramid scheme.  
But I am not saying I recommend it; the chances are you will not make money with doTERRA.
The income disclosure alone was enough to tell you that I would not recommend it to you.
We are not a fan of MLM, not because it is illegal or not profitable, but MLM has a lot of restrictions and the expensive costs involved.
That is why we recommend Affiliate Marketing.  It is our top recommended business model for anyone looking to make money online.
The reasons are simple…
No face to face selling required
No need to recruit anyone to make money
You have the freedom to promote any products you want and not be restricted to only being able to promote the products from one MLM company
It's FREE to get started
When we compare Affiliate Marketing to MLM Marketing, you can see that there are huge advantages to Affiliate Marketing and the main part is that you will not end up with a garage worth of stock that you cannot sell and get stuck with…
We make money online through affiliate marketing and it is the one method of making money online that I would recommend to anyone.  Even if you are a little introverted and don't want to talk to anyone, that is ok because you will do all the talking through content on your website and helping people with their purchasing decisions without even leaving your house.
If you want to learn more about affiliate marketing and the awesome benefits, click HERE.
If you want to learn more about our top recommended program for learning and beginning your journey into affiliate marketing, then we highly recommend Wealthy Affiliate.  Their training, support and tools are second to none, and they will help you succeed in building your own online business through affiliate marketing.  
Click the button below and learn more about their awesome training and support…
Thanks for checking out our doTERRA Review!  If you have any questions or comments to add, then please write them in the comments section below. 😉