Welcome to our TradeDoubler Review!
If you have been searching around for the top affiliate networks, you'll have probably stumbled onto TradeDoubler.  It has acquired various recognition in the world of affiliate marketing, but there is a catch as to whether it will be right for you.
First off, it is great to see that you are doing your research before buying into any "seemingly good" product.
That is how you avoid scams and find only legitimate ways to make money online!
To be completely transparent with you, we are not associated with TradeDoubler in any form.  We are not here to pitch or sell you anything.
Instead, we want to reveal to you all you need to know about this affiliate program, and why it might only suit a certain affiliate…
TradeDoubler Review Summary
Product Name: TradeDoubler
Founder: Felix Hagnö & Martin Lorentzen
Product Type: Affiliate Marketing Network
Price: Free to Join
Best For: Affiliate Marketers With High UK Traffic Levels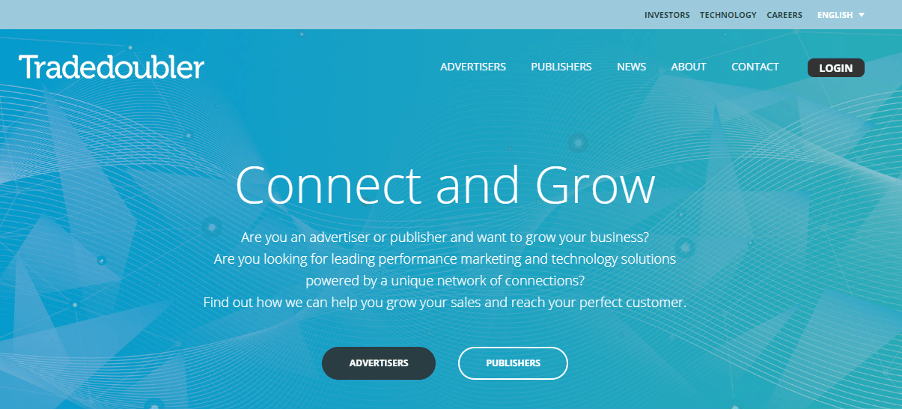 Summary: TradeDoubler is an Affiliate Marketing Network that connects affiliates with merchants and their products.  It has earned itself various recognition as being one of the Top Affiliate Networks.  Despite all the positive comments made about this network, it also has its own fair share of critics too.  It is important you research as to how relevant this network is for you, as it is a better option for those with high UK traffic levels.
Rating: 60/100
Recommended? Yes
TradeDoubler is an Affiliate Marketing network, founded in 1999 by two swedish businessmen.  Their names are Felix Hagnö and Martin Lorentzon. 
Since 1999, TradeDoubler has continued to grow as a business and it has also earned several recognitions, including being labelled as the Top Affiliate Network in 2017 according to mThink.
It currently operates out of 10 offices, in locations such as in the UK, and other countries like France, Germany, Poland, Spain, and Sweden.  It has over 350 employees.
TradeDoubler constantly works on developing its program to provide world-class performance in the Internet Marketing industry.
It is also the only company known for offering network and technology solutions.
Recommended: How Affiliate Marketing Really Works
We also notice that TradeDoubler has acquired an Influence Marketing platform called Metapic.  It is a monetisation solutions platform, which is similar to an affiliate network.
What is Affiliate Marketing?
For a moment, I want to stop and consider that you may have been looking into TradeDoubler as a way of making money, and you may not fully understand what affiliate marketing is.  If you do, then you can move onto the next section.
But if you are new to affiliate marketing or aren't too sure how it all works, carry on reading…
Affiliate Marketing is a method of online marketing.  It is a way of making money from promoting other people's products.  You can sign up with individual affiliate programs like with Amazon, or join a network like TradeDoubler and get access to a network of companies that offer affiliate programs.
It is the job of the affiliate to promote these products with a blog, or YouTube or with social media and if you can introduce a buyer to the product, then you will earn a commission.  That a look at the graphic below: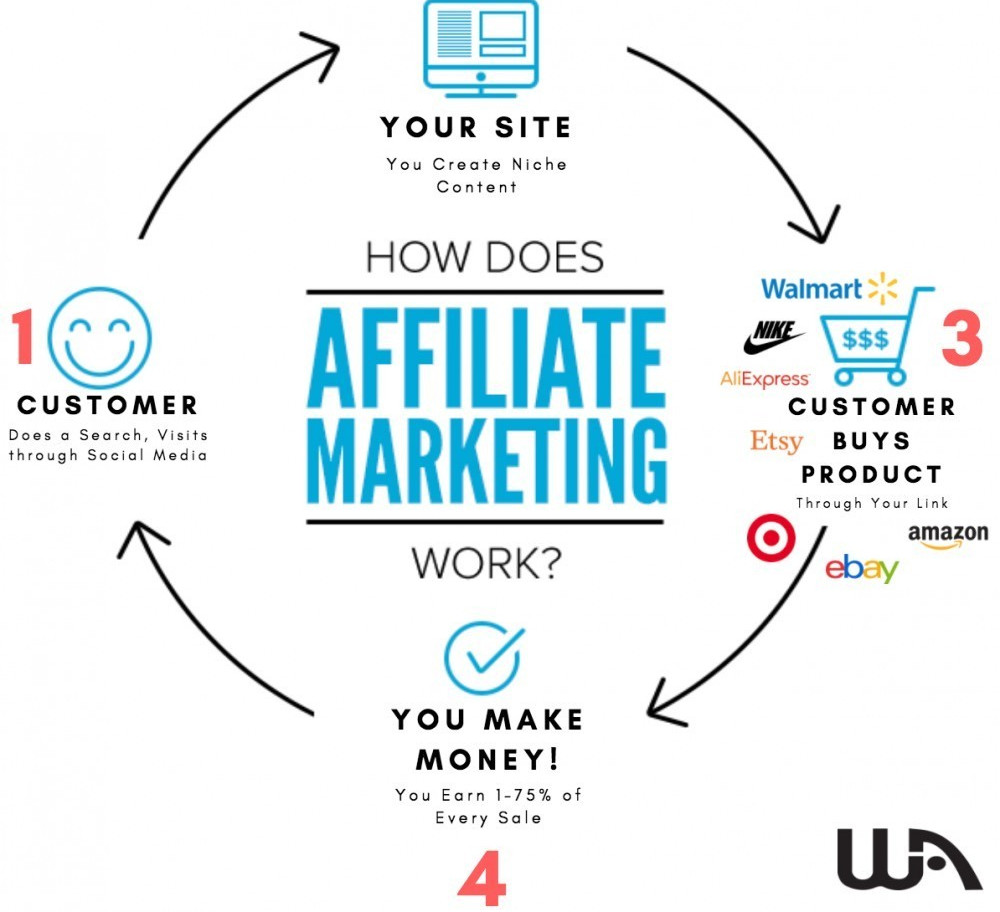 It is a great business model for someone just starting out and wanting to create a passive income stream.  There is no need to create or own your own product.   There is no need to source products like with dropshipping.  
You just sign up with an affiliate program, which is typically free and then you work on promoting your affiliate links.  There is a little more to it than that, especially when it comes to learning how to promote your offers properly.  But with the right training (the training we had), you can work on a proven strategy to achieve your goals of taking a hobby or passion and turning it into a profitable online business.
If you want to check out the training that helped us create a 4-Figure Monthly Passive Income Stream with Affiliate Marketing, then check out our Wealthy Affiliate review!
Let's get back to TradeDoubler, and see how it all works…
How Does TradeDoubler Work?
As TradeDoubler is an affiliate marketing network, it works with both the merchants (the owner/seller of products) and affiliates.
As an affiliate you can sign up with TradeDoubler and choose to promote from select merchants on their platform.  You will be provided with an affiliate link that you can use to promote the offer on your blog, social media, etc.
To earn a commission, someone will need to click on your affiliate link and then follow the specific action that the merchant wanted.  This will depend on what action the merchant or advertiser wanted.
You will earn commission based on your performance, and it has several ways for you to earn that commission, such as:
CPA (Cost Per Action/Acquisition) – Typically an example would be getting someone to buy a product
CPL (Cost Per Lead) – This could be getting someone to sign-up to an online form or a newsletter
Cost Per Download – Earn a commission on the successful download of a mobile app or platform
Cost Per Call – an affiliate could earn when a potential client calls  the company's call centre. 
You will know what you will need to achieve to earn commissions when you choose which offer to promote.
How to Get Started with TradeDoubler?
Signing up with TradeDoubler is pretty simple, and there is no prerequisite like with other networks that expect you to have certain levels of traffic, etc.
From their website, click on "Publishers" and then fill in the simple form.  Once you have submitted your form, you will receive an email with an activation code.
Haven't Made Your First $1 Yet?
Studies have shown that more than 70% of the people who want to make money online have not made their first dollar yet. So, you're not alone!
TradeDoubler is definitely a legitimate option for an affiliate marketer, but that doesn't mean that it is the right affiliate marketing network for every affiliate.
The main thing to know is that due to the merchants and their offers, you will be much better off joining TradeDoubler if the majority of your traffic is coming from the UK.
Anyone can join TradeDoubler, but the key element of any online marketing is having the right traffic for specific offers.  If you get hardly any traffic from the UK, you might find you lack any opportunity to make money from TradeDoubler.
There are tons of affiliate networks out there, but you need the right one for you and your business.
What We Liked About TradeDoubler
Here is what we liked about TradeDoubler:
#1 High Quality Brands
You find a catalog of big brand names and high-quality products to promote on your blog, or social media.
#2 Different Payment Options
There are a multitude of different ways to earn money with TradeDoubler.  Whether that be promoting products, or sign-ups, or downloads, etc.
P.S. This program helped us create a 4-Figure Monthly Passive Income Stream.  It is FREE to get started and only costs $49/month to go full-time!
What We Didn't Like About TradeDoubler
Here is what we didn't like about TradeDoubler:
#1 Very Little Details on Website
I find it strange how little details there are on the website.  You basically have to sign up to know what merchants are in the platform and what offers there are to promote.  I know it is free to sign up with, but what is the point if it is a complete waste of time.  Time is precious and it could be better spent on a platform that is more open.
#2 Focus on UK-based Traffic
Like I said earlier, there is little point joining unless you have a ton of traffic coming from the UK.  That gives you an idea that most of the merchants are UK based brands or products
#3 Not Great Reviews on TrustPilot
Whilst these aren't recent, it still shows that they haven't done a lot of help people, especially when it comes to communication.
There are numerous complaints around communication and with a lack of reviews since 2019, it makes you wonder how many offers are actually inside the platform.  Here are a number of complaints on TrustPilot.
Haven't Made Your First $1 Yet?
Studies have shown that more than 70% of the people who want to make money online have not made their first dollar yet. So, you're not alone!
My TradeDoubler Review - Final Conclusion
TradeDoubler is definitely a legitimate affiliate network, although the earning potential is totally dependent on your UK traffic levels.
With that being said, it also shows that a beginner might struggle with this platform as it doesn't offer much training to help a beginner and communication seems to be the biggest complaint about this platform.
There is very little information provided from the outside, meaning you have to sign up to learn more about what merchants are inside.
All being said, we feel this is a good network for the right affiliate – someone with consistent traffic from the UK.
If you are a newbie to affiliate marketing and want better support to get started, then we would highly recommend you check out our complete step-by-step guide to affiliate marketing.  Choosing an affiliate network is only part of the puzzle, and if you want to earn money online like we do, you would do well to check out our top recommended training platform.
Affiliate Marketing is our top recommended business model.  Turning a hobby or passion into a full-time income is a fantastic option.  Although, affiliate marketing does require hard work and picking the right direction.  But getting the best strategies and training is probably the most important starting point for anyone serious about this.
We make money from Affiliate Marketing, but couldn't have done it without the training and support from Wealthy Affiliate.  You will get access to a proven step-by-step guide to starting your business, get access to a free website and niche/keyword research tools, support from a community of like-minded individuals.
You will also gain our full support, get our help along the way as you work to achieving your goals.  Wealthy Affiliate offers a free starter membership, that gives you a full look into their training platform (that has just had a major update) and see if it is the right place for you.
Thanks for checking out our TradeDoubler review!  If you have any questions or comments to add, then please write them in the comments section below. 😉