Welcome to our Idle Empire Review!
Idle Empire is another Get-Paid-To (GPT) offering you a way of making money online for completing various tasks.  But that also sounds like many scams or low-quality programs online.  Which is why you are wondering is Idle-Empire legit?  I am so glad you decided to do some research before buying into any "seemingly good" product.
That is how you avoid scams and find only legitimate ways to make money online!
To be completely transparent, we are not associated with Idle-Empire in any form.  We are not here to pitch or sell you anything.
Instead, we want to share with you everything that is important about Idle-Empire, so you can make an informed decision about whether to join or not.
Is Idle-Empire Legit or a Complete Scam?
Idle-Empire Review Summary
Product Name: Idle-Empire
Founder: Simon & Yanik
Product Type: Get-Paid-To (GPT) Reward Site
Price: Free to Join
Best For: Casual Income Seekers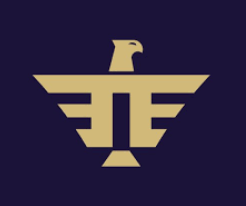 Summary: Idle-Empire is a Get-Paid-To reward platform.  It has been around for about 5 years, and is actually linked to the Steam gaming platform.  It offers several ways of making money, such as online surveys, paid offers, watching videos, mining cryptocurrency, etc.  It is legitimate, although the usual issue with these GPT websites comes to fruition as the payout is really low, and the time spent doesn't match up with a decent payout.
This might be a good shout if you want to earn in-game rewards as it started out as a way of earning rewards for the CS:GO game.
Rating: 50/100
Recommended? Not Really
What is Idle-Empire About?
Idle-Empire is a Get-Paid-To (GPT) site.  We say it has a twist, as it started from an unusual route.  It was started in 2015 by a couple of guys called Simon and Yanik.  Apparently Simon was spending too much money on the game CS:GO.  This is described in their About Us page.
Consequently, the idea for Idle-Empire came from Simon spending too much money, and they saw an opportunity.
Besides a few different opportunities within the platform, it is a similar GPT site to those like Swagbucks, it will reward you with money for completing various tasks.
They are actually powered by the Steam gaming platform, those who are into PC gaming, will probably have heard of Steam and you can actually use your login to join Idle-Empire.
Idle-Empire claims to have over 500,000 users on their site, although we suspect this is the number of total users and not the number of current members.
They offer payouts in a number of guises, including Bitcoin, PayPal, CS:GO Shop, Ethereum, etc.
It looks like the majority of the traffic is coming from India, Turkey, and Pakistan according to Alexa.
Signing up with Idle-Empire is free, and just takes a few minutes to choose how you want to login.  You can use your steam account details, or your social media.  They there are just a few questions about you before you get access to the platform.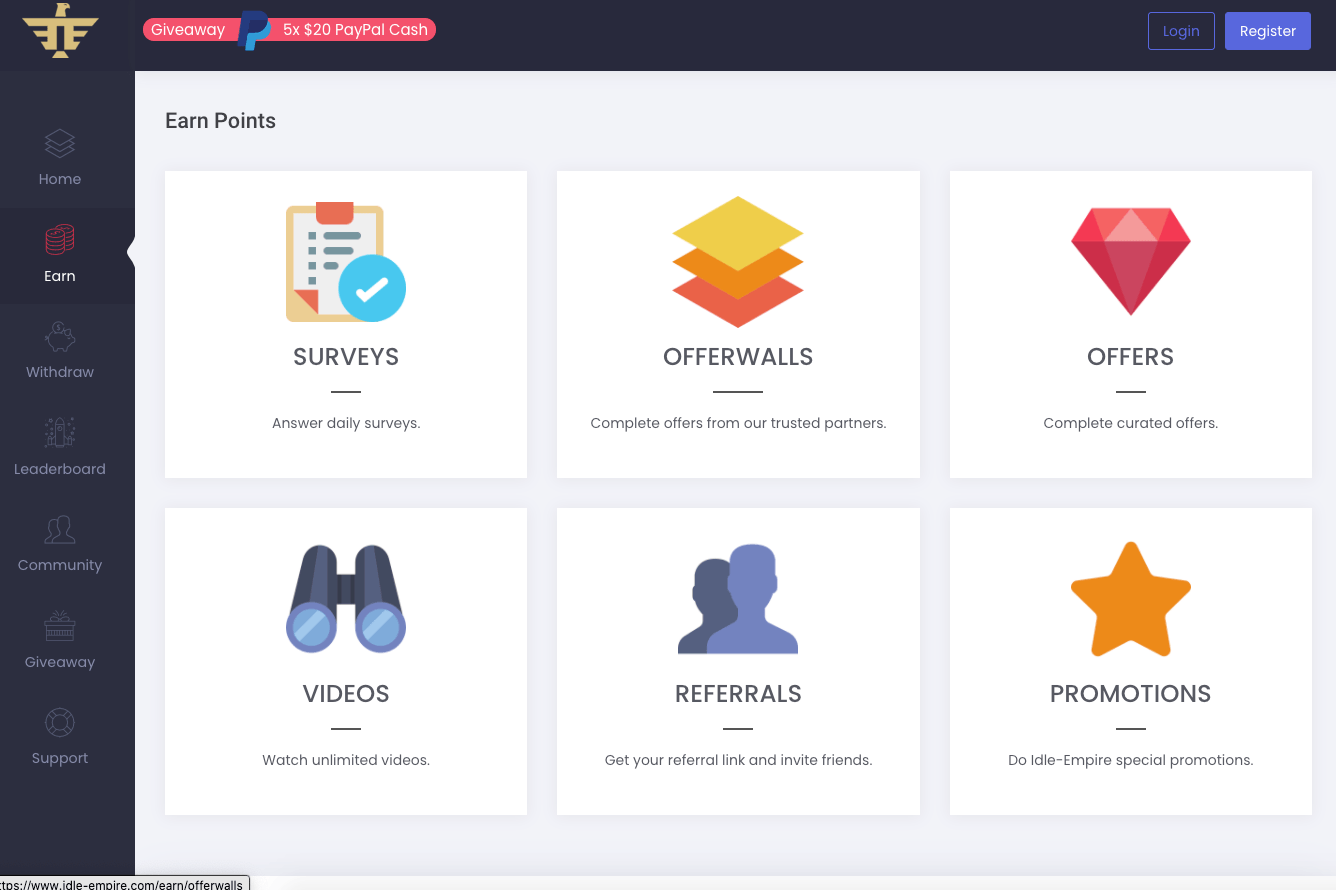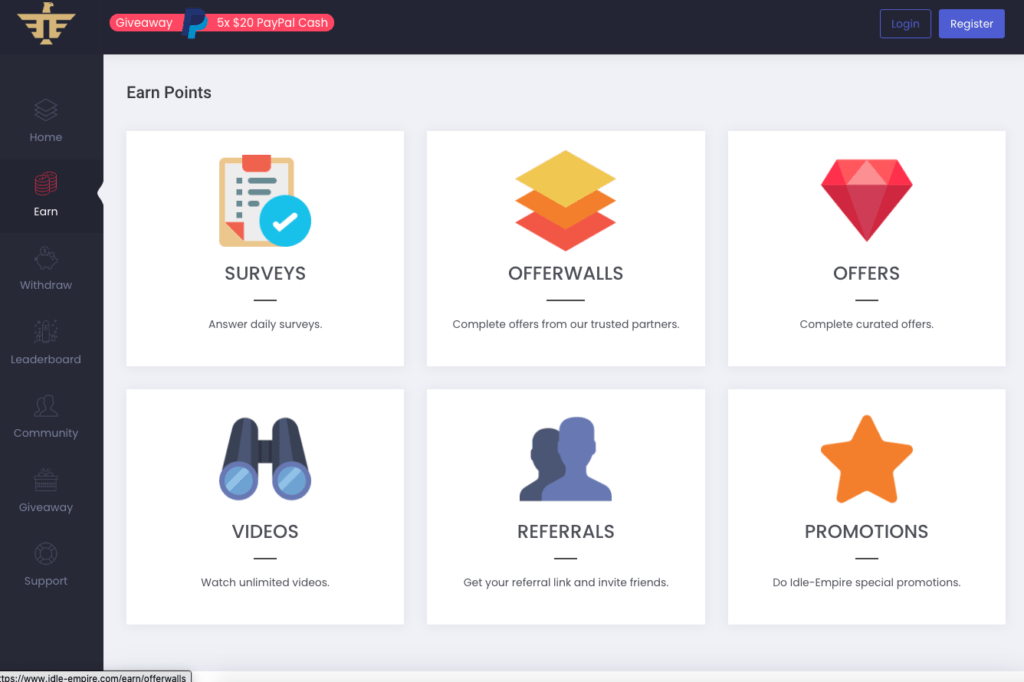 Once you are inside Idle-Empire, there are several ways of making money with Idle-Empire.  Here are the main ways:
Paid Surveys
Online surveys are a common way of making money with GPT sites, and you will have a selection of surveys available to you with Idle-Empire.  Before you are able to access the surveys, you will have to fill out a questionnaire.  This is a profiling step, it allows them to get to know you a little better and then they can provide you with a list of relevant surveys.
From what we have seen, there are is a good amount of surveys for you to complete and each option will display the length of time you will need to spend taking the survey and how many points you are going to earn from completing it.  Here are a few examples: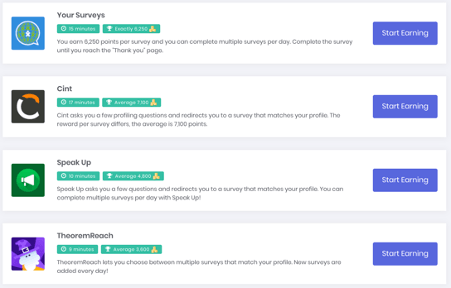 Idle-Empire acts as an intermediary, so these surveys are not provided from Idle-Empire themselves.  They will take a small percentage of the commission you earn from completing the surveys.
Paid Offers
These are similar to surveys, except you will be doing things like signing up to Hideout TV, downloading various browser extensions, explore a website for three minutes, etc.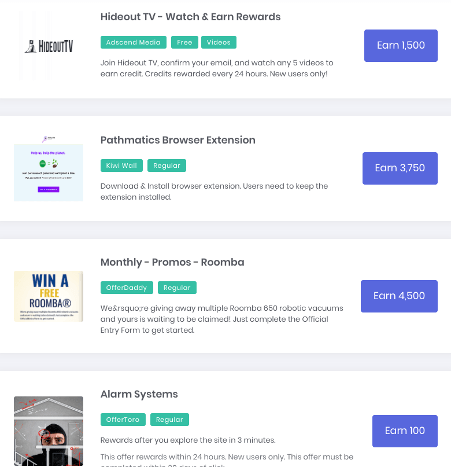 Watching Videos
You can earn some money by watching videos available on Hideout TV: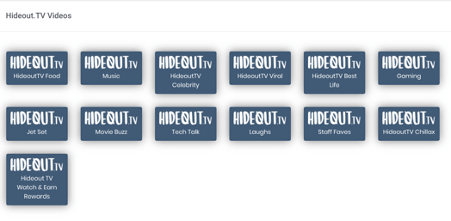 Please note, this requires you to sign up with an outside program called Hideout TV and you will end up watching mostly ads and informational videos for a really low payout.
Idle On Servers
There is an opportunity for you to earn points for every minute you're idle on one of their servers for the game Team Fortress 2.
Crypto Mining
You can also make money from mining cryptocurrency with Idle-Empire.  This works by downloading a mining application.  It will use your computer's CPU/GPU to solve complex mathematical problems to mine crypto.  How effective this is, we are not experts.  But it will probably require a high-spec PC to be effective.
Daily Promotions
There are also bonus points you can earn from doing certain tasks, such as:
Including Idle-Empire in your Steam name
Using an Idle-Empire avatar in your Steam profile
You can also earn points by posting about Idle-Empire in forums, blogging about them and creating YouTube videos about them.  Things like that.
Referrals
You can also earn money by helping bring more members into Idle-Empire.  You will be provided with an affiliate link that shows a unique landing page and you can earn points by inviting people to Idle-Empire.
Each time someone you invite signs up with Idle-Empire will earn you 500 points.  On top of that, you can earn an additional 20% commission on all surveys that your referrals complete as well as any points they earn on the other services offered by Idle-Empire and Crypto mining.
Haven't Made Your First $1 Yet?
Studies have shown that more than 70% of the people who want to make money online have not made their first dollar yet. So, you're not alone!
How Do You Get Paid with Idle-Empire?
The thing to know first is that you are don't actually earn money, you earn points that then can be turned into money.
One thing I notice that the platforms that use the points system (Swagbucks, etc.) is that you don't actually see how much you would be earning just by seeing the website.  When you take the examples we displayed earlier, 15 minutes to complete a survey that earns you 6,250 points.  That sounds like a great figure…
However…
The reality is completely different when you learn that each point earned at Idle-Empire is worth $0.01.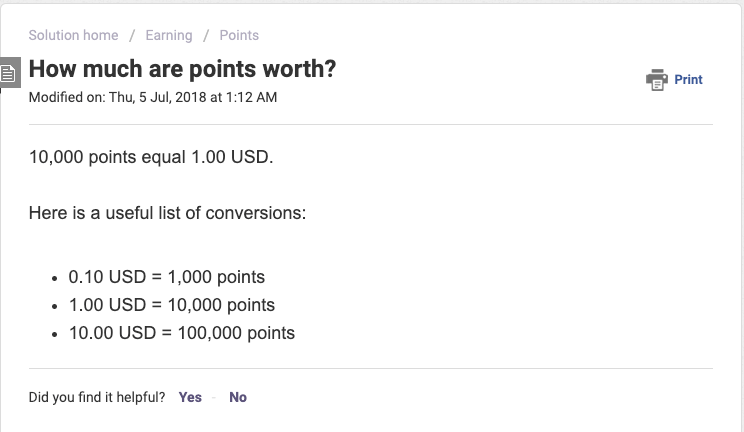 To earn a dollar, you need to earn 10,000 points.  That means that 15 minute survey didn't even earn you a dollar.
Once you have started accumulating your money, you do have a number of options as to how you withdrawal your money.
These include:
Bitcoin
PayPal
CS:GO Shop
Ethereum
Steam Gift Cards
Payeer
Litecoin Ripple
Xbox Live Gift Cards
Amazon Gift Cards
Here is a complete list.
Recommended: This program helped us achieve a 4-Figure Monthly Passive Income Stream.  It is FREE to get started and cost only $49/month to go full-time!
What We Liked About Idle-Empire
Here is what we liked about Idle Empire:
#1 The Different Payment Options
If you are looking for a specific way of receiving your money, there is a good chance that Idle-Empire has it to offer.  They have a wide selection of choices for you.  
You can get payouts in Bitcoin, Paypal, a selection of giftcards, other cryptocurrencies and many others.
#2 The Site is Still Growing
Idle-Empire is five years old, and it started out as only a way of getting free skins for CS:GO players.  Now, they are offering a much bigger platform and other ways to spend your points.  It looks like they could go in other ways too, and it gives a good opportunity for their members.
What We Didn't Like About Idle-Empire
Here is what we didn't like about Idle-Empire:
#1 The Earning Potential is Really Low
If you think that you are going to be able to earn a full-time income from a GPT site like Idle-Empire, then I'm sorry to say that it is going to be extremely difficult for you to earn a lot of money with Idle-Empire.  When you factor in that you need to earn 10,000 points just to earn a US dollar.
If you were able to complete the four surveys in the screenshot above, that works out to the following:
15 minutes & 6,250 points
12 minutes & 7,100 points
10 minutes & 4,800 points
9 minutes & 3,800 points
That works out to 36 minutes and 21,950 points.  At 10,000 points = 1 USD.
For 36 minutes of survey, you would earn $2.19.
The US Minimum wage at the moment is $7.25 per hour.
So, when you factor in the time versus wage, the earning potential is really low!
#2 Confusing Points System
That is something we don't like with these GPT sites that rely on a points system.  It works to hide the argument we have just shown you regarding earning potential.  You see how many points you can earn, but then you have to do the math to work out how much it will work out to.
Another thing I didn't like with Idle-Empire was it wasn't that easy to find out how much each point was worth.  I had to search their support page and try a couple of different searches before I came across the right post with the information on it.
I am also not even sure what the minimum threshold is for Idle-Empire.  I saw plenty of documents around how to withdrawal your money with the different platforms, but nothing about a minimum threshold, which is a typical thing with GPT sites.
Haven't Made Your First $1 Yet?
Studies have shown that more than 70% of the people who want to make money online have not made their first dollar yet. So, you're not alone!
My Idle-Empire Review - Final Conclusion
Is Idle-Empire Legit?  Yes, we feel that Idle-Empire isn't a scam.  It offers you a legitimate way of earning money from completing surveys, watching videos, mining cryptocurrency, etc.
Idle-Empire receives positive reviews on TrustPilot.
Whilst it is legitimate, we do feel like the biggest issue is that the income potential is really low.  You'll spend hours completing surveys and other offers just to make a dollar or two.  But if you were hoping that this would be a way of replacing your job, I am afraid it will disappoint you…
If you were looking for a way of replacing your job, or at least earning a decent amount of money online, then we do have an option for you to consider…
We are not fans of GPT sites, not that they aren't legit or a way of making money, they just don't tend to make you a great deal of money.
Instead, we recommend Affiliate Marketing.    With the right training and support, we have been able to create a 4-Figure Monthly Passive Income Stream.
If you would like to earn a full-time income and create your own financial freedom, then Affiliate Marketing is a solid choice and Wealthy Affiliate is our #1 Recommended Training program to help newbies create an affiliate marketing business based on a hobby.  It is free to get started, and you will get access to training, tools and support when you join.
Thanks for checking out our Idle-Empire review!  If you have any questions or comments to add, then please write them in the comments section below. 😉