Welcome to our Survey Voices Review!
Online surveys have become a popular way of making a few extra dollars online.  There are a lot of survey sites that all promise to make you a lot of money, but the majority of them don't really live up to their promises…
Today, we're going to talk about Survey Voices, as we go through all the details in our review.
First off, it's great to see that you're doing your research before buying into any "seemingly good" product.
That is how you avoid scams and find only legitimate ways to make money online!
To be completely transparent with you, we're not associated with Survey Voices in any form.  We're not here to pitch or sell you anything.
Instead, I want to reveal to you why this is a survey platform that you should definitely avoid.
Survey Voices Review Summary
Product Name: Survey Voices
Founder: Survey Voices
Product Type: Reward Zone USA LLC
Price: Free to Join
Best For: No One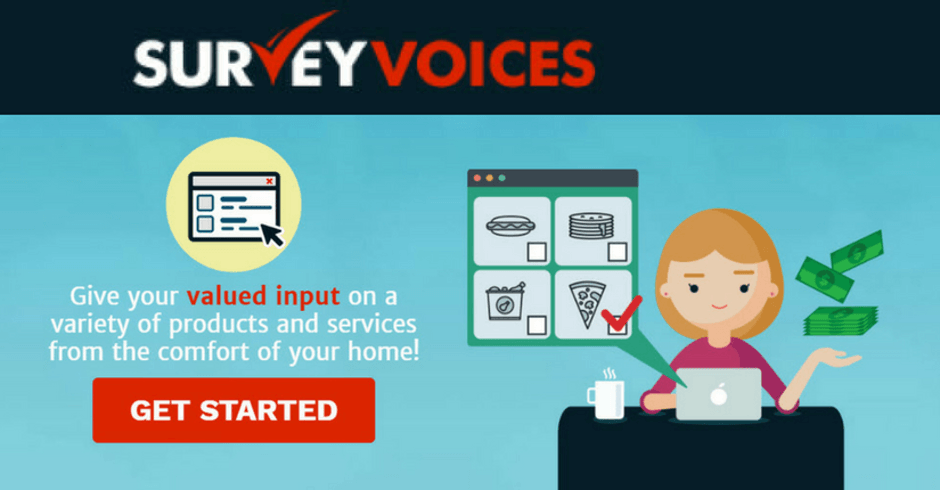 Summary: Survey Voices is a paid survey aggregator.  This means they don't really host their own surveys, all they do is lead you to other survey sites. But there are some big issues with this platform, one of them relating to confidentiality issues with your personal information.
They are know for selling your contact information without your consent, so that is the main reason why we would advise you to avoid it.
Rating: 10/100
Recommended? No!
Survey Voices looks like a typical paid survey site, but it would better to describe them as a survey aggregator platform.  They are owned by Reward Zone USA LLC, which was founded by Matthew Conlin in 2011.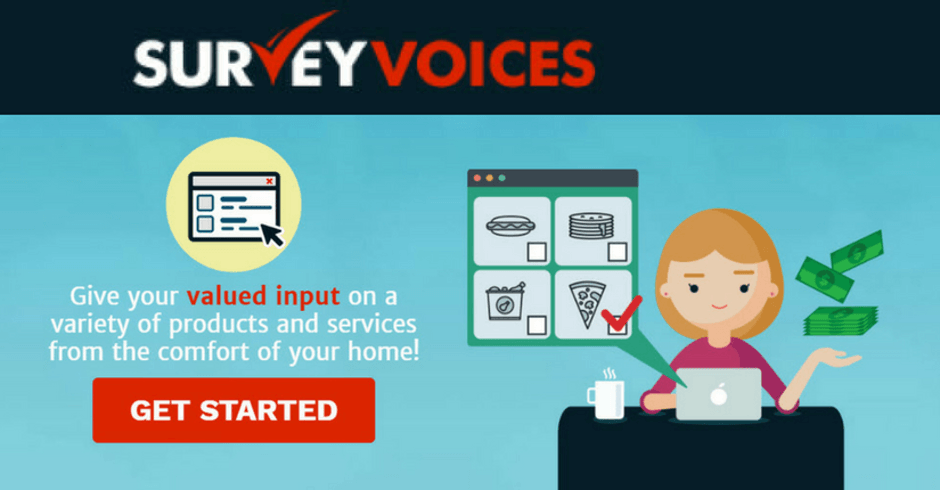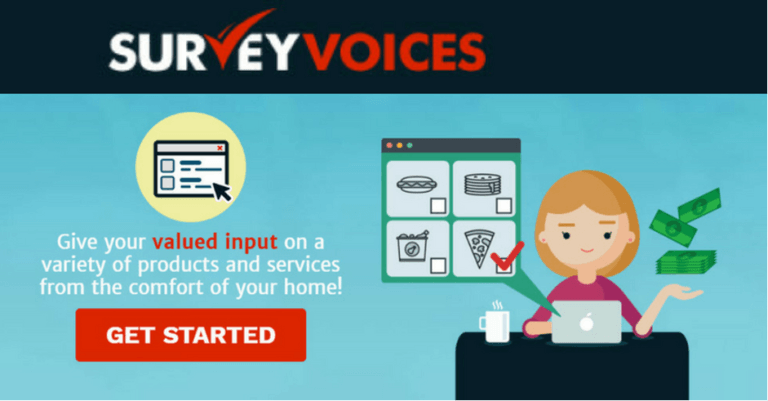 Survey Voices doesn't have any of their own surveys, nor do they have their own platform.  They are just a platform that connects users to other paid survey sites.  They're also not a market research company like they claim too.
They also promise that you're going to make $300 in your first week.  Any survey site that makes claims like that, is not to be trusted…
Survey Voices is like a middleman between users and third-party survey sites.  As we said earlier, they don't provide you with their own surveys.  They just act as a portal to other survey sites that are already established, and are proven to earn you money. (which you could join yourself without Survey Voices).
They claim to be partnered with trusted survey companies, and upon closer inspection, it does look like they are true to their word.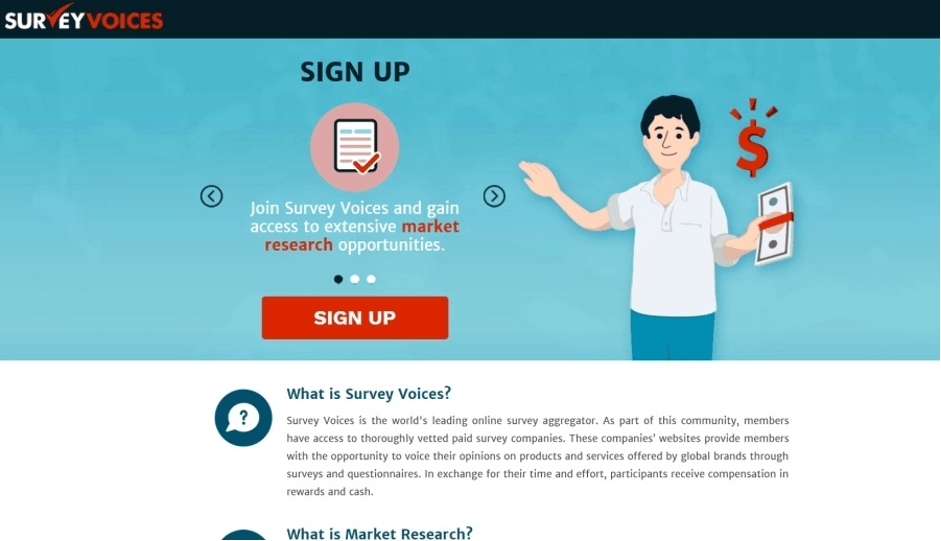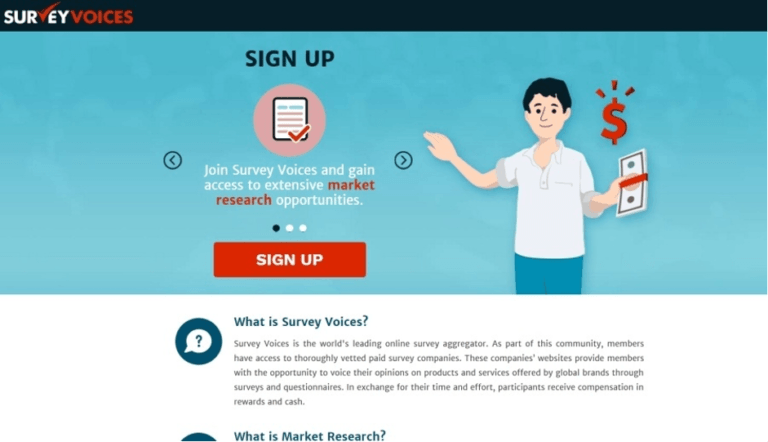 Survey Voices also claims that they are the world's leading and most transparent aggregator website, which is highly doubtful, as I don't there there are any other platforms that work like this one does.
There's no information about what they get out of your earnings through their platform, but it is very likely they are affiliated with the sites they recommend. This means they are profiting by introducing you to these other sites.
There isn't technically anything wrong with that, expect they claim to be transparent, and don't tell you this.
How Much Can You Earn with Survey Voices?
As you aren't really earning from Survey Voices, it is really more about how much you can earn from the other survey sites they introduce you to.
So, your earnings will be dependent on which survey site you decide to join via their list.  Some survey sites will pay anywhere between a few cents to $75, depending on your location.
Some will also pay you to complete other tasks, such as watching videos, opening emails, shopping online, etc.  A perfect example would be Swagbucks, but you don't need Survey Voices for that.
Survey Voices is partnered with Survey Junk and Inbox Dollars, which are two of the biggest surveys sites online, so that is a positive side to Survey Voices.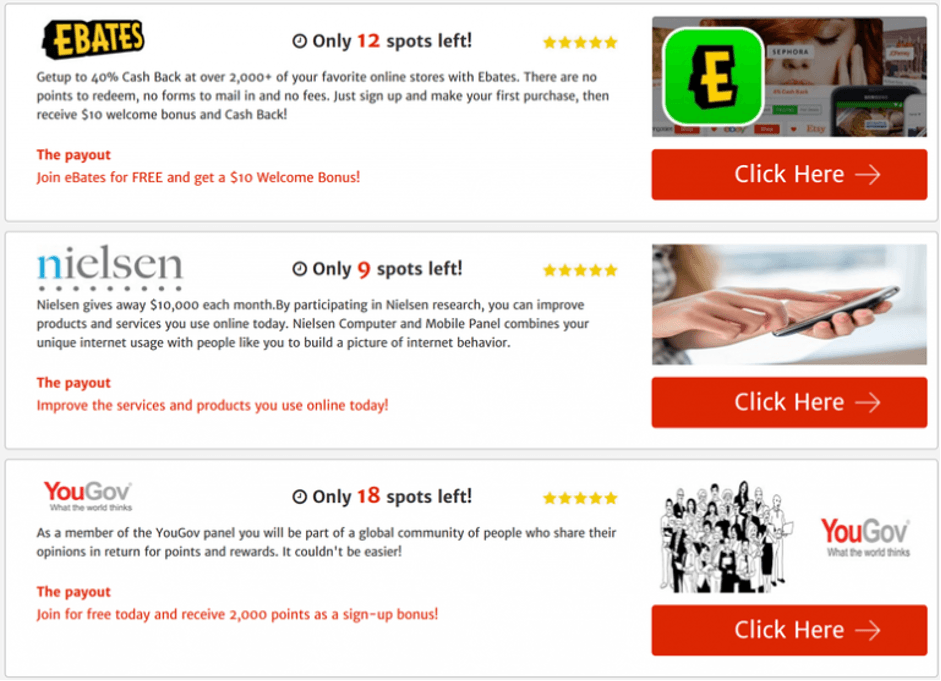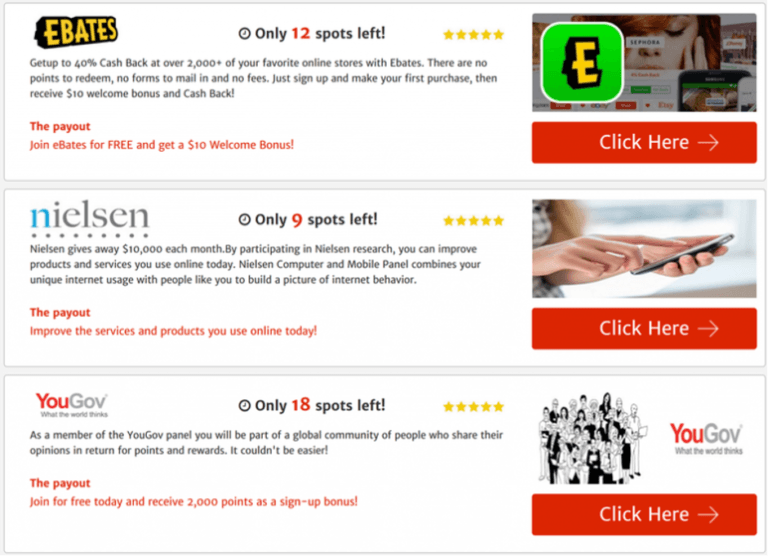 But, on the other hand, they are also partnered with some questionable sites too, but we'll go through that in the next section.
You'll also have to check with each of their partnered sites on how much you're going to earn if you did decide to join them.  Survey Voices doesn't provide enough information about their partnered sites.  It is like you are supposed to only take their word for them being a good option.
They also don't provide anyway for you to track your income.
Haven't Made Your First $1 Yet?
Studies have shown that more than 70% of the people who want to make money online have not made their first dollar yet. So, you're not alone!
Getting Paid with Survey Voices...
Well, as the surveys you complete aren't actually accessed via Survey Voices, it isn't them that will be paying you.  Instead, you will be earning your income from these other sites, and then getting paid from these sites themselves.
Most survey sites will often pay you in the following ways:
Bank deposits
Wire transfers
PayPal
Visa debit cards
Gift Cards (Amazon, etc.)
It's important you understand the cash out threshold for each platform you sign up with, as some have a pretty good target to reach. Whilst others have such a high cash out threshold, that it makes no sense to actually join, as you will never reach that level.
I personally find Swagbucks and Prolific AC pretty good, but don't expect a huge payout, but their cash out threshold levels are at least realistic.
Bottom line is that online surveys are not going to earn you a lot of money.  Regardless of what some of these survey sites say, they are really only going to benefit you if you shop online a lot where you can earn points by shopping online (Swagbucks), or some dollars to save towards the holidays.
But if you are set on going down the survey site road, my suggestion would be to research and find some legit survey sites and join them individually, rather than trusting your personal information with a questionable platform like Survey Voices (we'll share with you why we think that shortly…)
Recommended: 10 Things You MUST Know Before Taking a Paid Survey Online
What We Liked About Survey Voices
I'm sorry but there are too many concerns with this survey site aggregator for us to find anything positive to write about it.  It does recommend some legit surveys, but then it also fills your inbox with a ton of spam too…
What We Didn't Like About Survey Voices
Here's what we didn't like about Survey Voices:
#1 Inconsistent Recommended Websites
One of the biggest problems with Survey Voices is its inconsistency.  There are some sites that they recommend that are reputable and legitimate, but there are also users that reporting that they've been forwarded to sites that are refusing to pay, or pay very poorly.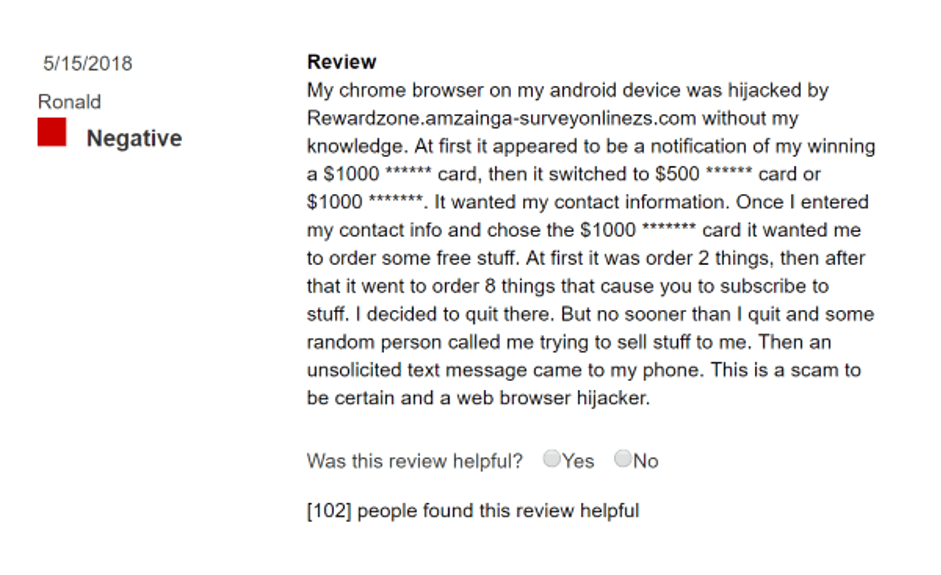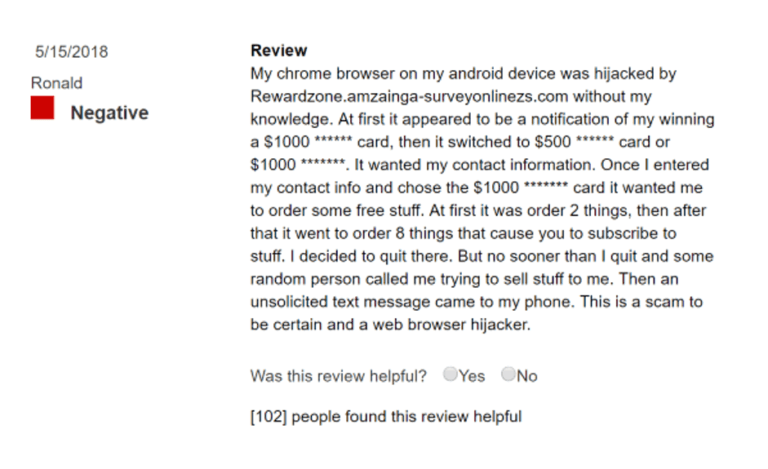 There are even some sites that don't even offer any surveys at all.  This can be really frustrating for people, as they claim to have done their homework and that you shouldn't worry about getting sent to the wrong site.
But that is clearly not the case.
#2 Expect Spam!
If you sign up with Survey Voices, you should expect a lot of spam, whether that is from their end or from their partnered sites.  As part of the sign up process, they also take your telephone number, email address, and your postal address: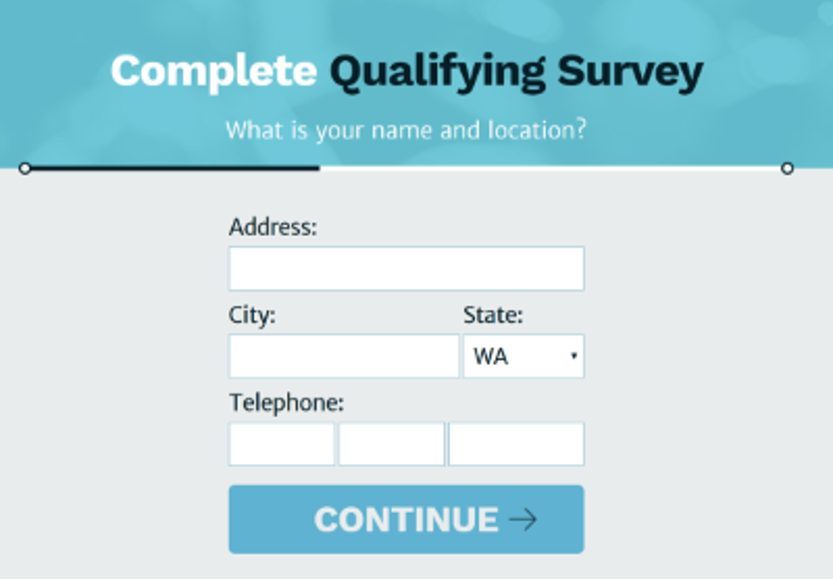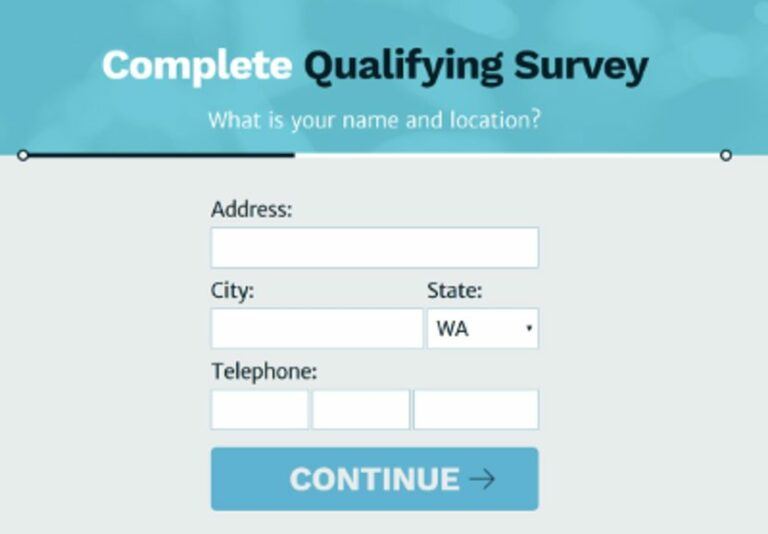 It's a bad idea these days to give out your phone number, and a lot of users have also complained about the fact that they've received many different marketing calls after signing up with Survey Voices.
That means they've proven they sell on your information to third-party companies without your consent and knowledge, and the've already had a lawsuit to deal with regarding this.
#3 Some Survey Location Restrictions Apply
When it comes to surveys, there are different tiers associated with countries.  Tier 1 includes USA, Canada, UK, and Australia.
This means that if you live outside these locations, then you might find that the survey sites they show you, may not be available to you if you live elsewhere.
#4 Low Income Potential!
Even if Survey Voices was a good option, there is still the fact that completing surveys has a really low income potential.  You couldn't make a living from this, or any other survey site.
The best you can expect is to earn a few dollars a month or so, and that' not even going to be with the time and hassle it would take to complete and reach the withdrawal level.
Haven't Made Your First $1 Yet?
Studies have shown that more than 70% of the people who want to make money online have not made their first dollar yet. So, you're not alone!
Survey Voices is technically a legitimate platform that operates as a survey site aggregator.  But it doesn't actually host their own surveys, it just introduces you to a selection of other survey sites for you to choose from.
They claim they check these out before introducing them to you, but there are several issues that have me concerned and those are the main reasons why we wouldn't recommend it to you.
The main concerns are that they're inconsistent in terms of providing legitimate survey sites to you.  Whilst they claim to do quality checks, there have been reports of fraudulent sites being shown to you.
Then there is the issue where they are selling your personal information to third-party websites, and they've had a class-action lawsuit against them for it.
Bottom line, we wouldn't recommend this site to you, when you could join the sites independently and protect your personal information better. 
If you're pretty new to survey sites, here's a useful guide you should check out…
I wouldn't recommend online surveys, not because they're not legit or that you can't make money with them, but the fact that the amount of money you earn against the time it takes is just not worthwhile…
Instead, we explored a different option… Now, we've created a 4-Figure Monthly Passive Income Stream from the business model called Affiliate Marketing. 
It requires some time, effort and some training, but it will help you earn a passive income online, rather than be stuck earning a few cents completing surveys for the next few months…
If you want to learn more about how we got started with affiliate marketing, click here.
Thanks for checking out our Survey Voices Review!  If you have any questions or comments to add, then please write them in the comments below. 😉