Welcome to our Online Marketing Classroom Review!
Online Marketing Classroom is a platform that has been teaching people how to make money online since 2008, it claims to give you a solid foundation on which to build an online business.   
Today, I want to share with you what our thoughts are on this training platform, is it still worth a look?  Is it worth the price? And a few other details too.
First off, it's great to see that you're doing your research before buying into any "seemingly good" product.
That is how you avoid scams and find only legitimate ways to make money online!
To be completely transparent with you, we're not associated with Online Marketing Classroom in any form.  We're not here to pitch or sell you anything.
Instead, we want to reveal to you what Online Marketing classroom has to offer, their training, pros/cons, cost to join, and any other details that are relevant to help you make an informed decision.
Online Marketing Classroom Review Summary
Product Name: Online Marketing Classroom
Founder: Steven Clayton & Aidan Booth
Product Type: Affiliate Marketing Platform
Price: $37/month (BLUE), $97/month (Gold), $1497 for two years (Platinum)
Best For: Those looking to get started with an online business or affiliate marketing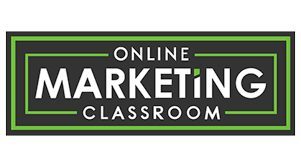 Summary: Online Marketing Classroom is a training platform that teaches people how to get started with an online business.  It trains you on three different business models, which affiliate marketing, eCommerce, and a consultation business.  It provides training, in-house tools, a community to find help and support.
Bottom line is that it's a legitimate platform to help you get started, and the memberships are offered via ClickBank which offers a 60-day money back guarantee.   However, to get the most out of this platform, you are going to need to go for at least the $97/month membership which might put it out of your price range to begin with…
Rating: 85/100
Recommended? Yes
What is Online Marketing Classroom?
Online Marketing Classroom is a training platform, where you will find a collection of things you would need to get started with an online business.  You'll find training, tools, tutorials, a community of entrepreneurs, and pretty much everything you'll need to get started with an online business.
It could also be described as a membership site.  It was created way back in 2008 (12 years ago) by two very successful online marketers, who are Steven Clayton, and Aidan Booth.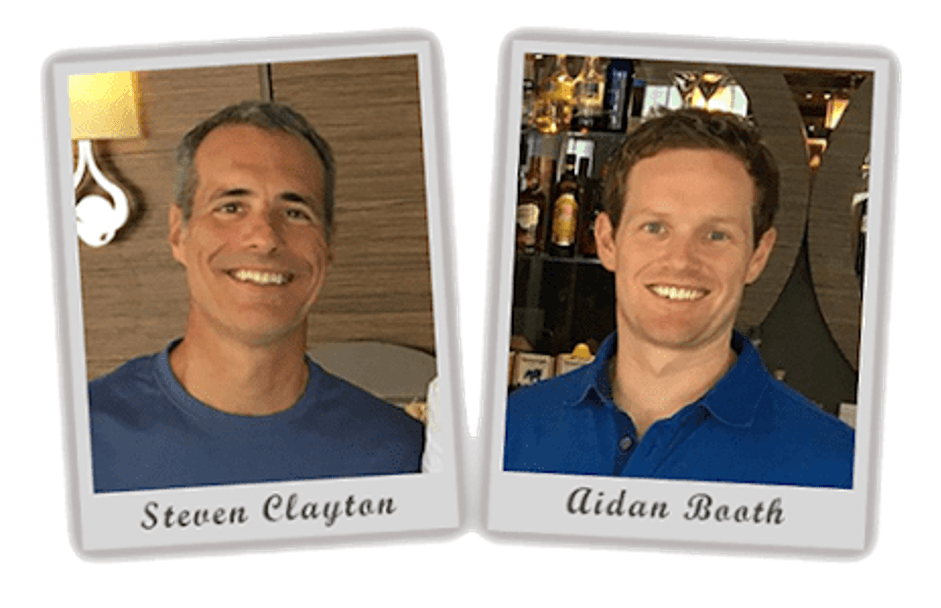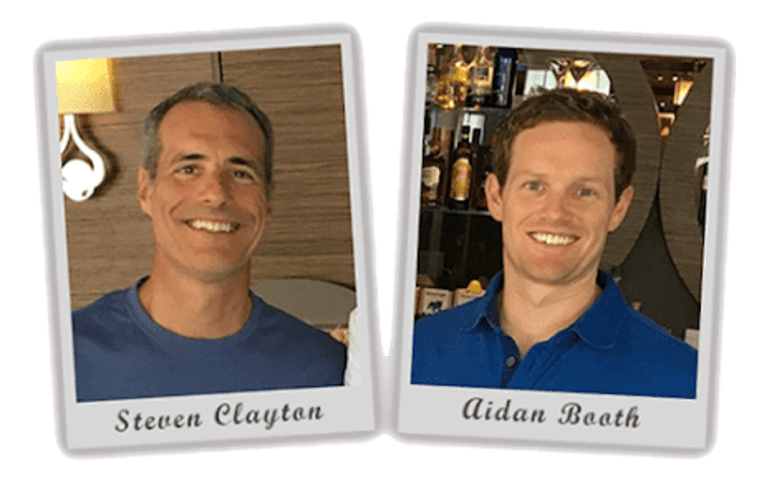 Steven Clayton has been an online marketer since 2003.  He got started because he wanted to escape the 9 to 5 rat race and become his own boss.
As for Aidan Booth, he's been an online marketer since 2005, and he got started with online marketing as a way to give him geographic freedom.
They both were able to achieve their goals, and created the Online Marketing Classroom platform as a way of sharing what they had learned from their experiences, and to help others who want to earn a living online, just like they did.
Their first attempt at a course was called "Commission Blueprint".  It helped some people make money online, but it definitely wasn't the best option and needed plenty of improvements to make it worthwhile.
But they learned a lot from the process, and made tons of improvements before they upgrade it and launched "Commission Blueprint Evolution Accelerated".
This is basically what OMC is based around within their membership levels.
Within the Online Marketing Classroom platform, you'll find content labs with step-by-step instructions showing you how to make money online with the following methods:
Also, you'll find:
a library of proven execution plans
manuals
cheatsheets showing you how to build sales funnels
run product launches
increase website conversions
design high converting landing pages
email marketing
other methods to boost your income
As well as these features, you'll also find that they include private members online live webinar workshops.  These are hosted monthly and they teach you new methods, strategies, and techniques.
Don't worry, I'll break all that down as we carry on with the review…
Who's Online Marketing Classroom For?
In my opinion, the following people would benefit from joining Online Marketing Classroom, although like I said in the summary, you'll need to invest into the $97 per month membership to get the training, tools, and support you need to get the most. 
(Alternatively, you can try our top recommended training platform for free…)
Those who would benefit from Online Marketing Classroom are:
want to quit their job and work for themselves online, but don't know how to get started
have already started an online business, but aren't seeing any substantial results
have tried other MMO courses but without any luck
are already running an online business and want to increase traffic or conversions
are at least able to afford the $97/month level
P.S. This program helped us Create a 4-Figure Monthly Passive Income Stream.  It's Free to get started and is only $49/month to go full-time!
Inside Online Marketing Classroom...
The training within OMC is comprised of three main components…
The first one is that there are six full business labs.  Each of these labs provides you with step-by-step instructions on how to make money with a different online business model.
The six business models within these labs are:
Affiliate Marketing – earn commissions by promoting other people's products
Amazon FBA (fulfilled by Amazon) – sell your own physical products on Amazon
Consultation & Coaching Business
Creating & Selling your own digital products
Amazon Kindle Publishing – earn money by writing and selling your own e-books on the Kindle store
SEO (Search Engine Optimisation) – offer your services to other business as an SEO specialist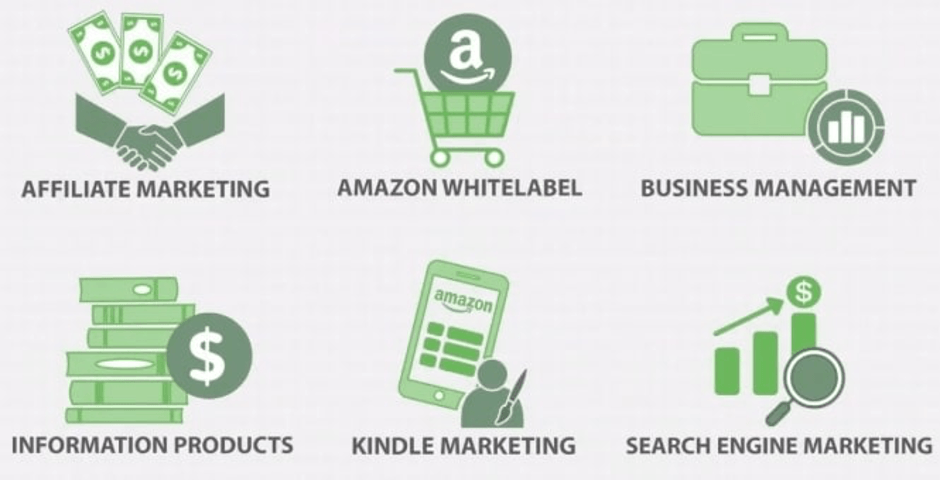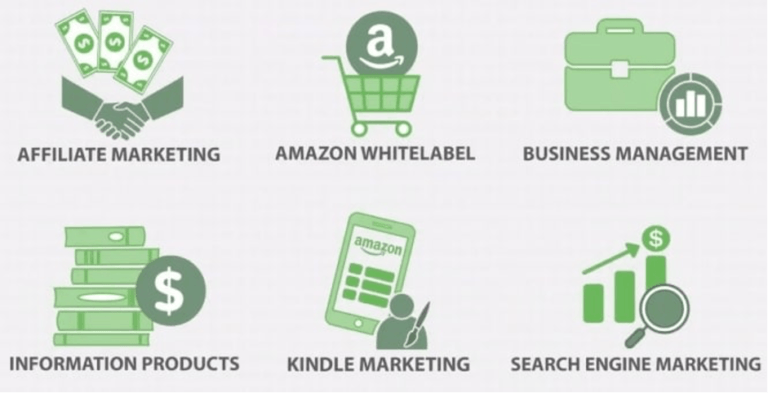 Then there is also the library of tutorials… They offer a collection of over 45 tutorials on several subjects.
Examples include:
Building sales funnels
Selecting the subject of your business
Running product launches
Increasing your conversions
Case studies
Designing high converting landing pages
Mastering email marketing
Other methods to boost results
Dozens of manuals and spreadsheets helping you with the execution of everything you learn
You'll also gain access to step-by-step training courses that were developed by Aidan and Steven.
The Commissions Blueprint Evolution Accelerated Course
This course focuses mainly on the process of earning money by promoting affiliate marketing offers through landing pages.
There are nine core elements within this course:
Done-for-you landing pages
Software and tools to help you set up things quicker and to maximise results (I'll describe these tools later)
Traffic generation training – both free and paid traffic methods through SEO, social media, etc.
Pre-made sales funnels and lead magnets
Pre-written emails to turn your leads into buyers
Workshop sessions, Live Q&A sessions
Super Strategy Manual – techniques that Steven and Aidan use to scale their business
Social support through a private Facebook group and an email help desk
Execution plans and instructions to put it all together
60-Day Challenge Course
You gain access to a 60-day challenge training course that features over 50 instructional videos that shows you how to build a profitable eCommerce store.  You get nine weeks of step-by-step training, tools, and support too.
Natural Earth Kitchen Case Study
This is a private case study.  This is an additional training that is done "over-the-shoulder" and shows you how to build and launch a new business from scratch, going through the whole process, and documenting everything that it entails.
The business case study is focused on selling physical products on Amazon.
Now, let's take a look at the tools within the platform…
Haven't Made Your First $1 Yet?
Studies have shown that more than 70% of the people who want to make money online have not made their first dollar yet. So, you're not alone!
Online Marketing Classroom's Tools & Software
OMC doesn't just provide training on how to start a successful online business, but you also gain access to some tools/software to help you too.
These tools will save you time, when building, scaling, monitoring, and managing your business.  It will save you money as you won't need to by any third-party tools and services.
Here are the tools included within OMC: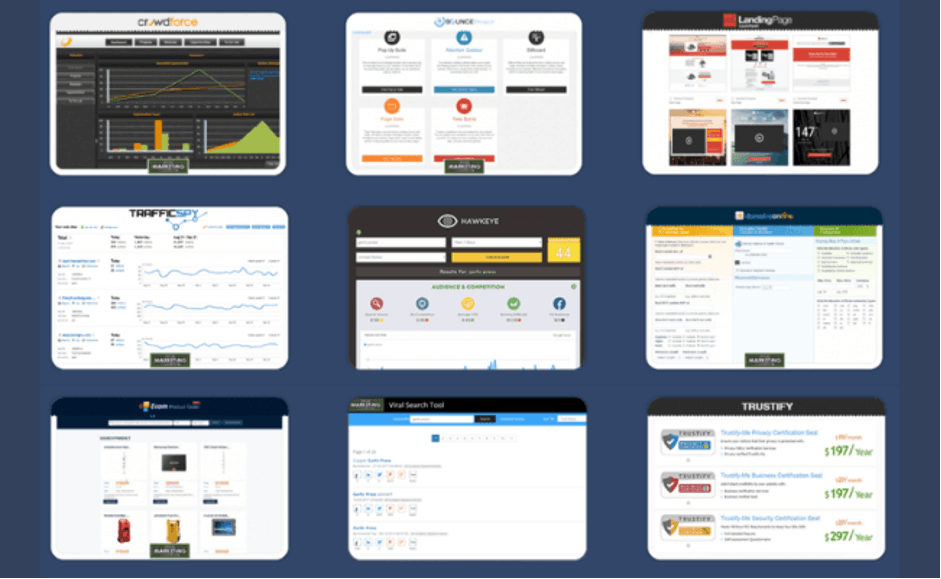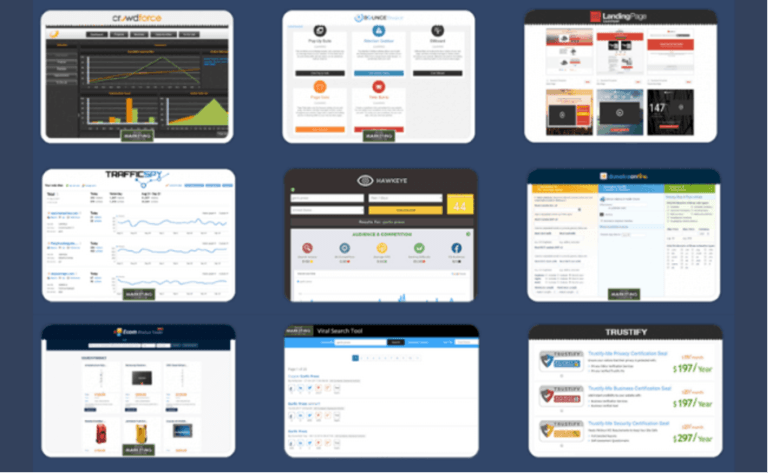 The tools are:
Crowdforce – monitors and managing your free traffic
Bounce Breaker – conversions tool
Landing Page Launchpad – drag and drop landing page builder
Traffic Spy – traffic analytics tool
Hawkeye – product finding tool
Domains on Fire – domain name research tool
eCom Product Finder – another product finding tool
Viral Search Tool – finds hot content ideas
Free Trust Seals – increases your website's credibility by including those seals, which normally cost a couple of hundreds of dollars each
In addition to these tools, you also gain access to a tool called "The Blackbird Suite".
This tool includes over 60 training videos and shows you how to build an Amazon FBA business as well as software, which will make the whole process much smoother, by:
Increasing your Amazon reviews
Tracking your products
Finding more profitable products
Finding high-converting and relevant keywords for your products
Online Marketing Classroom Bonuses
OMC also offers the three following bonuses:
Outsource Mastery Course
This is a 7-module training course with 30 videos and tutorials on how to outsource certain parts of your business
Private Mastermind Session
Strategies on how to speed up your results and maximise your earnings
Phase X
Is a strategy that claims to take your business to the next level by using multiple business models in the same or very similar niches.
How Much Does Online Marketing Classroom Cost?
Whilst the list of whats included does look impressive, the first thing you should know is that, what you get will depend on how much you are able to spend.
OMC offers three different membership options: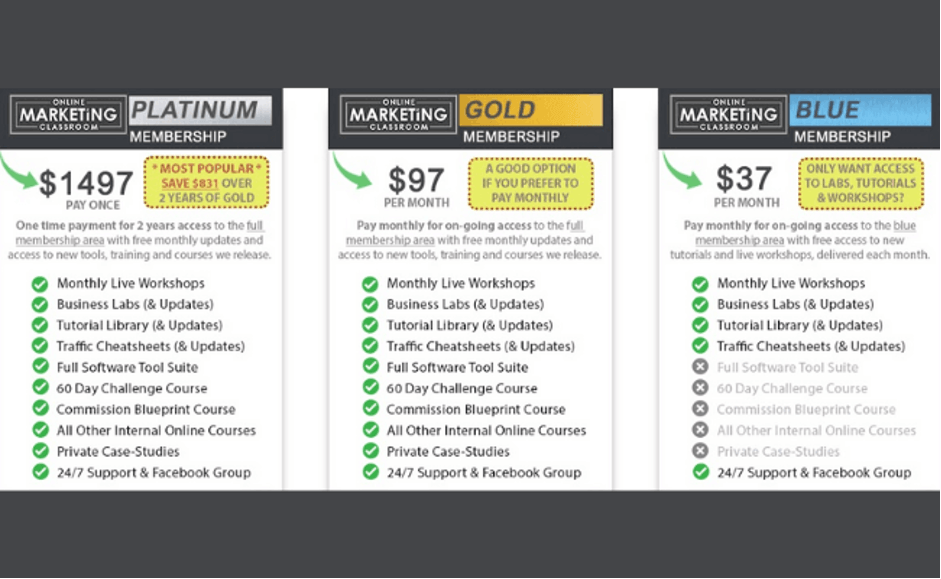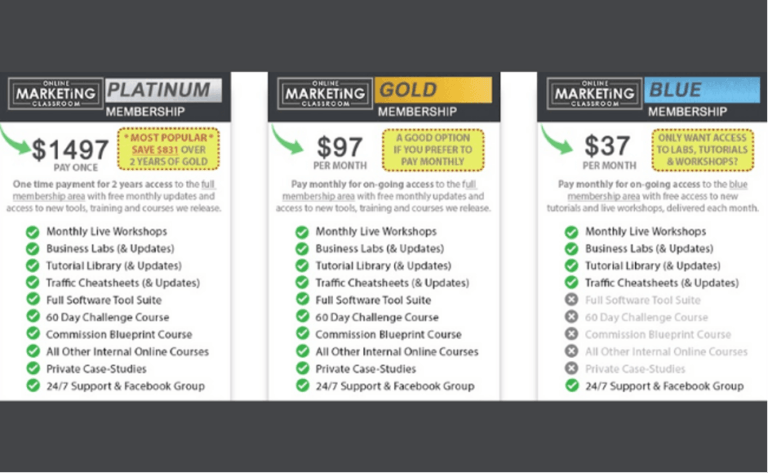 Online Marketing Classroom Blue Membership – $37/month
This membership includes the workshops, labs, library, cheatsheets and access to the Facebook support.  to access everything else, including the tools, you'll need to go for the Gold membership.
Online Marketing Classroom Gold Membership – $97/month
This membership gives you access to everything that is included within the Blue membership, and also gives you full access to:
the tool/software suite
commission blueprint evolution accelerated course
60-day challenge course
All other internal online courses
Private case studies
Online Marketing Classroom Platinum Membership – $1497 for two years
This gives you access to everything in the Gold Membership for two years.
All memberships are backed up with a 60-day money back guarantee.  So, if you do change your mind they will give you your money back.  
Two months to see if this is really for you is pretty generous, and if you don't like it, you can ask for your money back.
What We Liked About Online Marketing Classroom
Here's what we liked about Online Marketing Classroom:
#1 It Offers Multiple Strategies To Choose From
No single business model is ideal for everyone, and within the Online Marketing Classroom you get several options to choose from.  The training is pretty comprehensive in any of the options, so you can really explore and find one that really suits you and your goals, and check out each to pick one that fits.
#2 Hundreds of Hours Training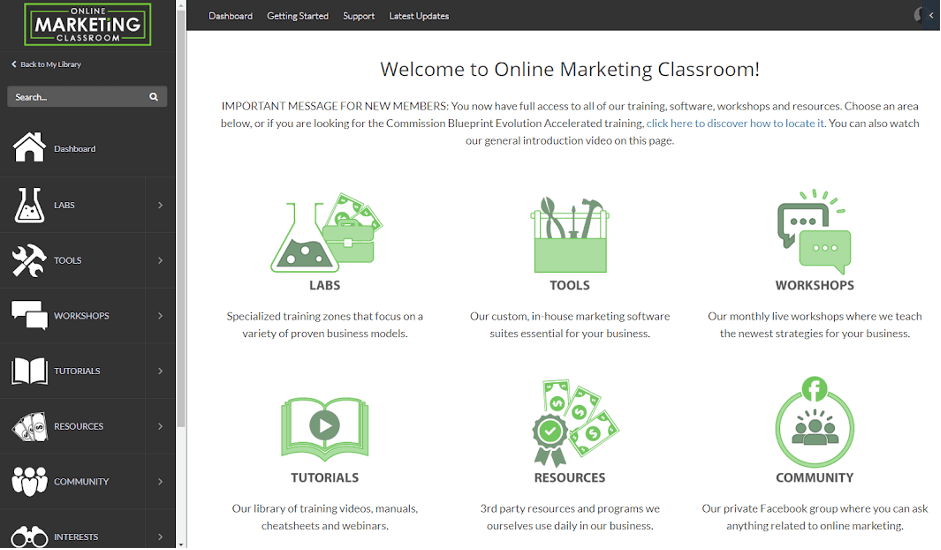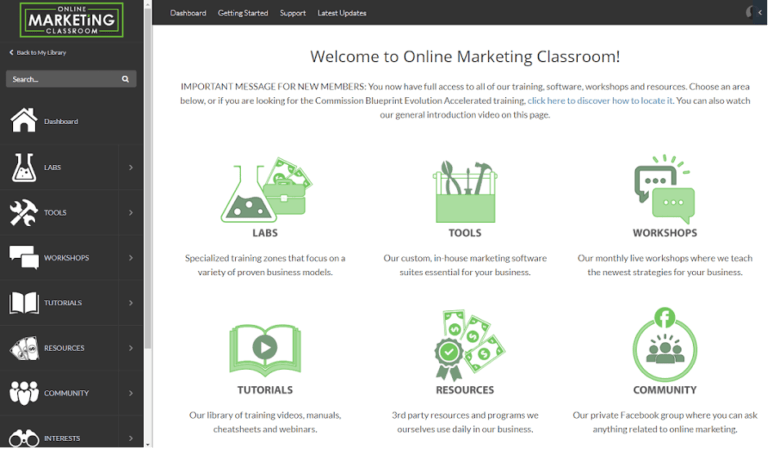 The amount of training within Online Marketing Classroom adds up to hundreds of hours worth of training, with it all being high-quality online marketing training.
They also offer live monthly webinars, which will keep the platform current and up-to-date as the online world evolves.
#3 Offers Useful Tools
It offers a suite of useful tools, and let's face it you cannot get away without using tools when starting an online business.
You can do a lot of this manually, but it will take so much time and effort, when these tools will simplify the process and save you a lot of time…
#4 Active Private Facebook Group
I've seen a lot of programs that claim to offer a valuable facebook group to help you with support and your questions, but when you dig into them they aren't really active or offer any value.  The group at OMC actually has over 1,500 people in it.  The number of posts does seem to be slowing, but that doesn't mean it doesn't offer value.  See the figures below: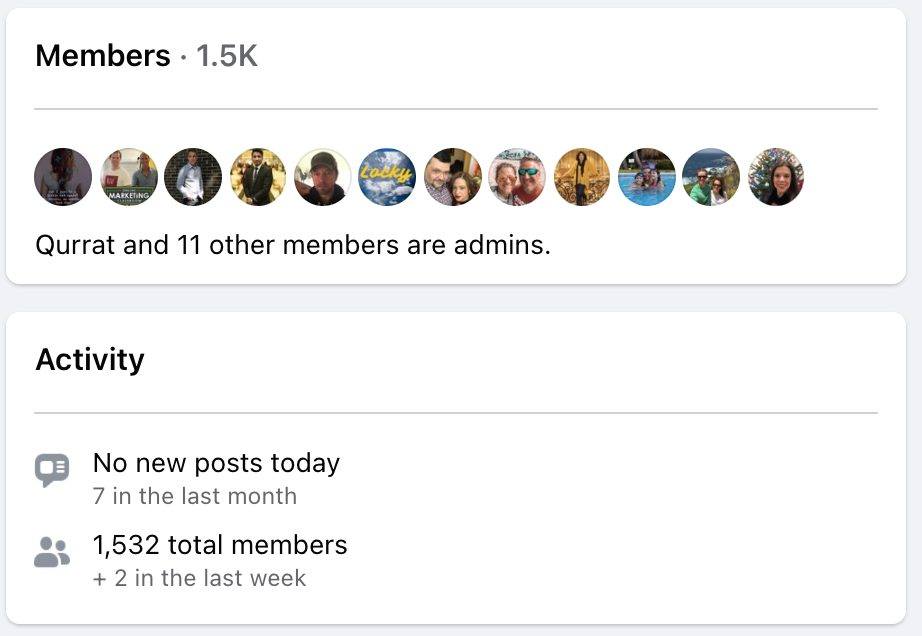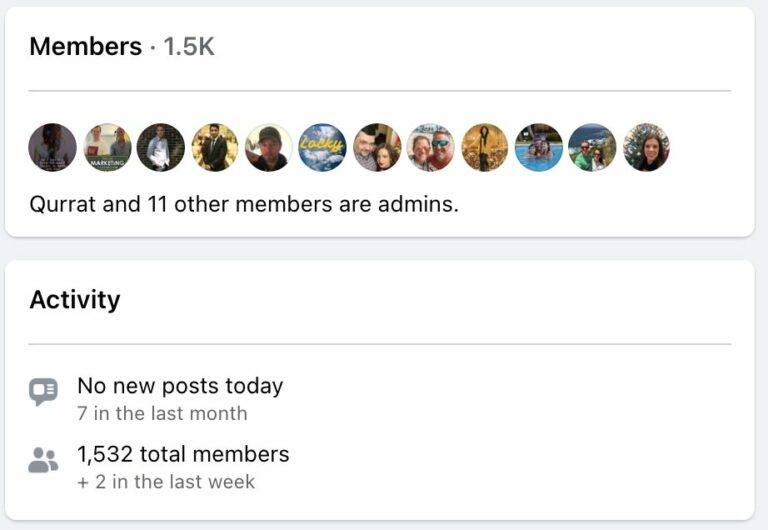 There seems to have been two people that have purchased the program is the last week, and it stands as having 1,532 members in the group.
As long as these other members help you out, there is nothing more valuable than a community of people to bounce ideas off, get answers to questions, etc.  Plus this gives you access to Aiden and Steven too.
#5 Offers Training About Success Mindset
Towards the beginning of the course, the creators include a section where they talk about the fear of failure, lack of perseverance, and negative beliefs that hold so many people back from actually succeeding in making money online.
This is something a lot of people don't really give much consideration to when they first start out.  There is no magic program that will help you earn money overnight, but most people believe there is.
Including training that puts you in the right mindset to success is invaluable.
#6 60-Day Money Back Guarantee
If you don't like Online Marketing Classroom, you can always request your money back up to 60-days after you initial paid for it.
Even if Aiden and Steven refuse to cooperate, you can just contact ClickBank directly, and they will process your refund.
#7 No Hidden Costs
They are completely upfront with the costs to access OMC.  You will need to pay either $97/month or $1497 to access everything, but even if you did, there are no hidden costs once you are inside.
Due to the suite of tools included in the Gold or Platinum membership, you won't need to purchase any third-party programs too.
What We Didn't Like About Online Marketing Classroom
Here's what we didn't like about Online Marketing Classroom:
#1 Hype & Unrealistic Claims
I mean, I've seen worse sales pitches out there.
But the fact remains, that their main sales page includes hype and some unrealistic claims in order to drive more people to actually buy the program.
For example, Aiden and Steven claims that it's fast and easy to starting earning money online, and that you could earn $100K with their system.
They also overuse the words; secret, hidden and private in order to make you feel curious and want to find out more.
I get there is an element of this in online marketing, but the big problem is trying to make you think that you can earn money fast and easy, which isn't the case.
#2 No Free Trial
I don't like the fact that you cannot try it out first, you either have to pay $37 check out the training, or $97 month if you want to give the tools a try.
Experts at marketing are good at getting you in the door, and keeping you there.  So, you could be spending a lot more than you thought.
P.S. Our top recommended training program has a free starter membership and gives you a great insight into whether building an online business is for you…
#3 Not Fond of Done-For-You Systems
Hear me out, DFY systems sound great.  They've removed all the needs to do elements like researching and choosing a niche.
However, when everyone who invests in the course all get the same pre-made landing pages, pre-made sales funnels, this means everyone will be sharing the same stuff.
If we take the number of people in their Facebook group as those who have paid for the membership.  If all of those 1,500 people use the same 50 pre-made landing pages, etc. 
Many people will end up with similar or even identical pages.  This can really hurt your reputation and credibility, and will harm your search engine rankings, meaning you cannot get free traffic.
#4 No Specialised Training
The only problem with them teaching so many business models in their platform is that none of them are going to be specific enough on each.
It's like a double-edged sword.  As, offering so many different avenues sets this training course apart from others.  But at the same time the training offered within each individual business model will naturally not be specialised and in-depth.
If you already know which business model that you want to go with, then I would suggest you go for the program which specialises specifically with that business model. 
For example, Wealthy Affiliate for Affiliate Marketing, or Amazing Selling Machine for Amazon FBA.
If you're not too sure on which business model to go with, the it might be worth trying OMC to help you experiment with the different models, until you find the right one for you.
#5 Potential Fake Success Story?
The last concern we have, although we cannot prove it, but I think the success story where they claim Niko is earning a 7-figure income after purchasing OMC is potentially fake.  I'm sure I've seen this image used on a stock image website, and if he really was earning that kind of money, surely he would be well known in online circles?


Like I said, I cannot prove this.  But surely they would provide more details if he really had found that kind of success purely from their training.
Haven't Made Your First $1 Yet?
Studies have shown that more than 70% of the people who want to make money online have not made their first dollar yet. So, you're not alone!
My Online Marketing Classroom Review
Online Marketing Classroom offers a good option for those looking to get started with their own online business.  
It offers good training and several different business models, offers tools if you pay for the higher membership level and offers support through their Facebook group.
The platform is suitable for both beginners, or those that need some help with their current business model.
I think this is a solid option for someone looking to start an online business.
Starting a successful online business can be hard when you don't have the right tools and support.  But if you do have these elements, then building an online business and making money online becomes a fun and rewarding experience.
We should know, when we first started out we were trying everything and anything, and our first business flopped as we didn't have the right tools, no real training, and no help or support.
But as soon as we found the right platform that provided training, support and tools, we started seeing real results from our business.  No we are earning consistent income online, thanks to the training at our top recommended training.
That being said, I still think that Online Marketing Classroom is a solid option.  It offers decent training, tools, and support for a reasonable fee.  If you are interested, I would recommend you try it.
But, before I let you go…
Our top recommended training platform does offers awesome training, tools are included, a community of thousands of entrepreneurs to converse with and the support is 24/7 365.  You get all you need for $49/month but they have a free starter membership that gives you a good introduction with no risk.
If you're looking for a better alternative to Online Marketing Classroom, then Wealthy Affiliate is it!
Thanks for checking out our Online Marketing Classroom Review!  If you have any questions or comments to add, then please write them in the comments section below. 😉
Online Marketing Classroom
$37 or $97 per month, $1497
Pros
Training on Several Business Models, Hundreds of Hours Training
Offers Useful Tools
Active Facebook Group, Success Mindset Training
60-Day Money Back Guarantee
No Hidden Costs
Cons
Hype & Unrealistic Claims
No Free Trial
Not Fond of DFY Systems
No Specialised Training
Potential Fake Success Story