Welcome to our DFY Hero 2.0 Review!
Cindy Donovan has made some updates and improvements to her DFY Hero platform and relaunched is as DFY Hero 2.0.  It comes with more website templates, and some useful features which wasn't in the first version.
As you're here, you probably looking into whether this program is any good, and worth your money?
First off, it's great to see that you're doing your research before buying into any "seemingly good" product.
That is how you avoid scams and find only legitimate ways to make money online!
To be completely transparent, we're not associated with DFY Hero 2.0 in any form.  We're not here to pitch or sell you anything.
Instead, we want to give you an objective review compared to all of those biased reviews on the net, offering tons of bonuses without really telling you all the facts you need to know…
DFY Hero 2.0 Review Summary
Product Name: DFY Hero 2.0
Owner: Cindy Donovan
Product Type: DFY Website Template Builder
Price: $29.97 or $47 per month + Upsells
Best For: Established Marketers Looking for a Website Template Builder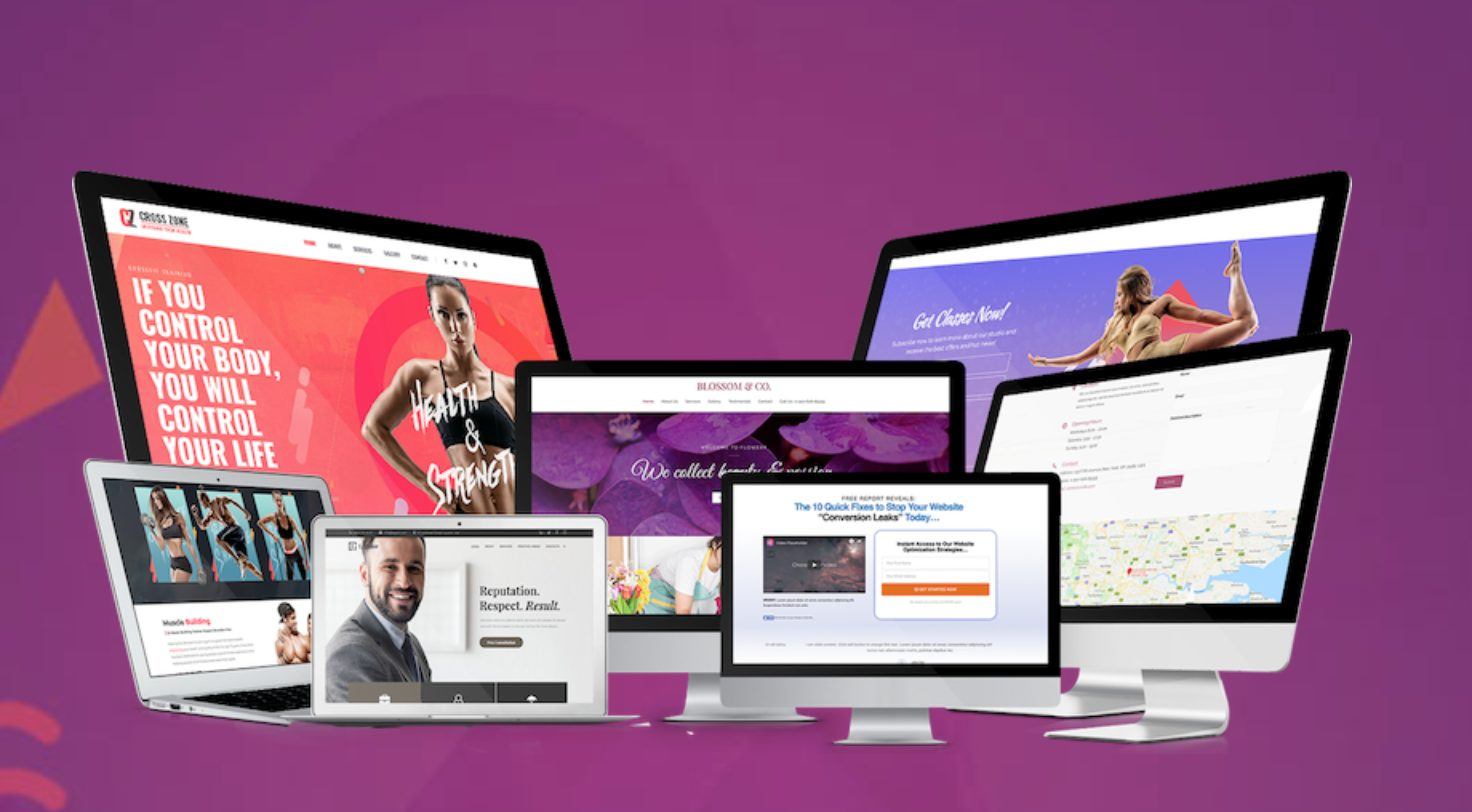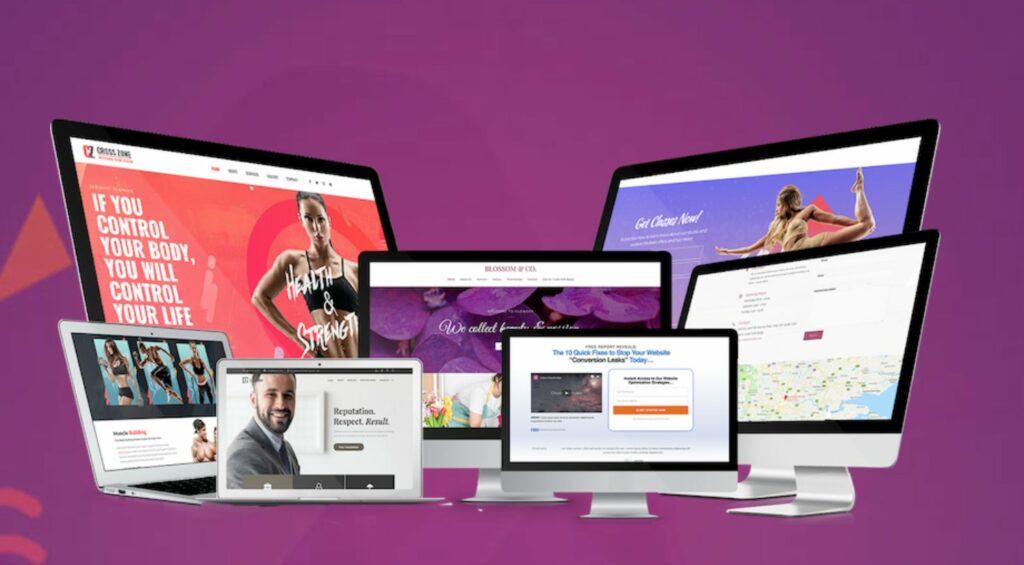 Summary: DFY Hero 2.0 is a cloud-based software platform that allows you to create websites, sales pages, landing pages, etc.. It's equipped with 100+ DFY templates and a drag and drop editor feature too.
I think it has it's uses, but it alone is not going to help a beginner go and make money from this website.  You need to know how to generate traffic to do that.  It kind of has a mixed view as to who their target audience is too.  It might work for an agency looking to build client websites.  But WordPress websites aren't that expensive, and you could do better with Elementor.
With it's DFY nature, you're not going to learn any real skills with this platform, and as your websites will be hosted on their platform, if it were to close down you would lose your website.
If you were hoping that this will help you make money, then I need to disappoint you.
Rating: 50/100
Recommended? Not Really
Cindy Donovan has gone and updated her DFY Hero with some upgrades, and come back with DFY Hero 2.0.  The platform offers over 100 ready to use website templates.
This way you can build websites with ease, and without any prior knowledge or experience, as it also comes with a simple to us drag and drop editor tool.
They claim that you can use the software to launch eCommerce and Affiliate Marketing websites easily and quickly.
It sounds great, but that isn't exactly a new feature.  Whilst you may not really know much about building websites, you should know that it's nowhere near as complicated as it might sound.  You can get a free website pretty quickly these days, and even the basic WordPress editor isn't that complicated.  
But if you wanted a drag and drop editor, we use Elementor.  They have a free version, which allows you to edit your website and tons of content on YouTube to show you how it works.
Back to DFY Hero 2.0, they claim its as easy as these three steps: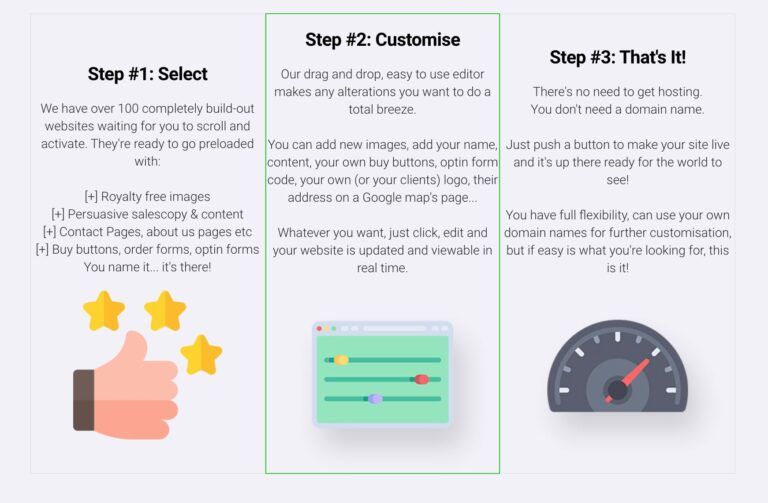 They also allow you to build unlimited websites, although they will be subdomains.  You can also use blank templates and start a new project from scratch, and edit the different elements with it.
Straight from the bat, you should know that I don't believe this product to be a scam.  Just a little confused about who it should be targeting.  I would suggest that this might benefit someone wanting to start an agency, but those costs will soon mount up.
There are also issues with DFY stuff, which we'll describe to you later…
Another issue we have is that all this software will do is help you build a website.  Which is great, if you know all the other stuff that goes with a website to make money, but if you already knew all that, you would know how to build a website.
So, I'm not sure why they are targeting beginners, as having a website without knowing how to promote it or get it into the search engines is like having a shop, and never opening the door…
I tell you this, so you don't get confused.  This software will not help you earn an income…
It would help an individual who already knows how to market and promote a website, but I'm not sure why they would need this???
How Does DFY Hero 2.0 Work?
The main idea behind DFY Hero 2.0 is to give you a way of creating a website, without having to learn WordPress, web design, coding, or anything like that.
All you would need to do is log into DFY Hero 2.0 , choose one of the categories, and pick a done-for-you theme.
They have DFY themes in the following categories:
Corporate
Portfolio
Creative
Local Business
Medical
Blog
Squeeze Pages
Sales Pages
eCommerce
Local Services
Education
You can either use any of these as they come, or you can use the drag and drop editor to change it around to get the look you like.
This includes being able to include images, change the text, layout, logo, menus, etc.
You can also change a few other features too.
All of these websites come with:
Royalty-free images
Persuasive sales copy and content
Contact Us Pages, About Us Pages, etc.
Buy buttons, order forms, and opt-in forms
Once you have made it look as you would like, then you add a few details, such as a domain name (URL) and website title.
There is no need to pay for a domain name, as they provide you a hosted subdomain.  But you also have the option of connecting it your own hosted website, which in my opinion is the better option.
A subdomain isn't really yours, and if the platform were to close down tomorrow you would lose your website.  So, if you were to use this platform, I would suggest you get yourself your own URL from BlueHost, or a similar provider that allows you to have full control over your website.
Once, you've gone through all of these steps, you then have a website live and ready for you to share with the world.  And then what…
For someone who already knows how to make money online, they know what to do to take this website through the neccessary steps needed to make money with it.
But if you're sitting there, thinking where do I go from here… you'll be sorely disappointed with this platform…
The platform does provide some training, but that training is limited only on how to use the software.  It includes no training on how to actually get traffic to your website. 
There is little point having a website, if you don't know how to get anyone to come to your website.  You can't just launch it and hope that someone comes knocking.  
In short, this might look like an all-in-one business solution but it falls far short of the mark as most DFY programs do.  You still need to go elsewhere and learn how to generate traffic, otherwise these websites you build aren't worth anything.
Haven't Made Your First $1 Yet?
Studies have shown that more than 70% of the people who want to make money online have not made their first dollar yet. So, you're not alone!
Here's where I think it gets really confusing.  This tool might benefit someone looking to start agency business, where they create websites for clients.  I get that, and there could possibly be a use for it.
But if someone is a complete beginner and has no prior knowledge of creating websites the correct way, knowing how to bring traffic to their website, or any of the usual stuff that goes with having a website or online business, should they really be starting an agency?
My point is this tool is not going to teach you any valuable skills you need to run an agency.  If you already know everything, you wouldn't need this tool.  You would do better and save yourself some money by hosting your websites, and using a Page Builder like Elementor, ThriveThemes or ClickFunnels.
So, this is giving complete beginners the idea that this is the best way to get started, but as the training is so limited and doesn't offer anything that would allow you to make any use of the website, I find myself not sure who to recommend this to.
If you are looking for a way to make money online, with a website and want to learn the necessary skills to do this, I would much rather you research Wealthy Affiliate and learn invaluable skills that you can use to launch your own profitable website, or agency.
It's $49/month to go premium, but offers everything you need  including a website builder, and training on how to generate traffic…
If you're already established as a digital agency, then you already know to create these websites anyway, so I'm not sure anyone could really benefit from this…
How Much Does DFY Hero 2.0 Cost?
There are two versions of the software, and a few upsells as well.  If you read their FAQ, they state there are no upsells, just some additional programs you can make use of.  But considering the nature of them, I would suggest they are upsells as they offer additional features that are not in the main memberships.
DFY Starter Membership – $29.97 per month
As the name suggests, this is a limited plan that offers you the basics and would be best described as the tester membership.  If you like what you see, then you can upgrade to the full program.
Features included are:
20 Website Templates
No Domain Names Needed
One-Click Installer
10 New Templates/Month
Like I said, very limited and not really worth it.
DFY Hero 2.0 Deluxe Membership – $47 per month
This is, what I would describe, as the main product.  Here's what's included:
100+ Website Templates
Complete Niche Selection
No Domain Names Needed
Unlimited Website Installs
Unlimited Website Visitors
Unlimited Hosting
One-Click Installer
Commercial License
8 Magic Methods Training
$1,200+ Plugin Bundle
10 New Templates/Month
40 Pro Level Plugins
Agency Startup Kit
There are also the OTO or One-Time-Offers that are shown to you once you've signed up.  These include:
OTO #1 DFY Hero Templates Group – $19.97/month, $197/annually, or £297 Lifetime
This first upsell provides you with access to ten additional templates by professional website designers and marketers.  You'll also receive ten extra templates every month… (don't you already do in your main membership?)
OTO #2 DFY Hero Agency Startup Kit – $47
This upsell allows you to utilise DFY Hero as an agency.  In other words, you can create sub-accounts for your clients and let them use your websites.
This upsell also comes with training hosted by the creators, where they show you the best ways to use this software, etc.
OTO #3 DFY Hero Resellers Licence – $97
Pay $97 and you can resell this software to others and keep 100% of the commissions.  It includes full customer support and development costs.
What We Liked About DFY Hero 2.0
Here's what I liked about DFY Hero 2.0:
#1 Easy to Use
There is no denying that the software is easy to use, and if you want a quick and easy way of creating multiple websites quickly, then it might have it's uses.  If they included training on traffic generation too, it would have got a better rating from me.
#2 30 Day Money-Back Guarantee
DFY Hero 2.0 is covered by a 30-day money back guarantee
What We Didn't Like About DFY Hero 2.0
Here's what we didn't like about DFY hero 2.0:
#1 No Training On Getting Traffic, or Making Money
Aside from the hype and claims made on the sales page, this is my biggest concern about this program.  If you want to start a digital agency building websites for clients, one of the biggest selling points for you is getting good rankings in the search engines for your clients.
Building a website isn't that difficult anymore, despite how difficult these guys try and make out.  If you have the right knowledge, taught properly, then I could build a website and customise it to how a client wants in a couple of hours. 
But the difference is that I also know how to get that website ranking well in the search engines, because I've had training to help me.  You don't get any of that, and I'm not convinced the agency training they provide is enough to help you acquire clients, etc.
Plus, if your clients start asking you about why they should go with you, over other more experienced agencies, I think you would still come up short.
The goal of any online business, website, affiliate marketer, etc. is to rank #1 on Google.  But DFY Hero 2.0 doesn't teach you how to do that, so how are you going to do that for your clients.
That's why this is my biggest concern.  Like I said, you could spend some time doing some research on YouTube as to how to get the best look on your website with your chosen PageBuilder (we use Elementor, but there's loads of options out there).  Get a good hosting provider (we use SiteRubix, but there's BlueHost, etc. too), and you would have the right skills without the need for DFY Hero to have your own Agency, or great looking website.
For what it's worth, let me tell you this…
It doesn't actually matter too much about what your website looks like, it's the content that matters more.
Your website could be the best looking thing out there, but if your audience doesn't think your content is that good, they won't stay on your site.  Content is king, over and above what your website looks like…
#2 Duplicate Websites/Content
When you're a complete beginner, it's easier not to mess with the templates or content they give you. But the problem is that when everyone does that, it means everyone has the same looking website, and the same content.
You might not think that matters, but it can really hold your business back, as duplicate content websites don't rank in the search engines.  If your website cannot rank, then you cannot get traffic.
Not traffic equals no sales.
#3 Subdomain Websites
There are a couple of concerns here…
The first is that if you stick with their free subdomain websites, it means that you don't technically own the website.  Your website will be a subdomain of DFY Hero, and will looks something like this…
https://yoursitename.dfyhero.com
This means that you don't have full control over your website, you will also typically only be able to install plugins they approve of.
But the biggest problem is that if Cindy decided to close down DFY Hero, as is often in the MMO world, you will lose your website.  If the hosting service is poor, you cannot transfer it elsewhere.
So, if you were to use DFY Hero, get your own domain.  You can then do what you like with it, and it will be yours to do so.
The second issue is that subdomain websites will be no good to offer your clients if you were to be considering starting an agency business.  They might be free, but what business is going to pay you to have a website that is a subdomain of a program.  They may not want to be associated with it.
Haven't Made Your First $1 Yet?
Studies have shown that more than 70% of the people who want to make money online have not made their first dollar yet. So, you're not alone!
My DFY Hero 2.0 Review - Final Conclusion
I don't believe DFY Hero 2.0 is a scam, and there are some good points about the program.  
But my biggest concern is still around how it could be misleading newbies into thinking that all you need is a great looking website, but it offers no training on how to market said website.
Like I said earlier, having a website without any knowledge of how to promote it, get traffic to that website is like having a shop on the high street that you never open the door.
If you already know how to generate traffic, and all the things that go with that, then this might be useful.  But if you knew that, you probably already know to create and customise a website.
So, on the one hand this could benefit someone getting ready to launch a digital agency.  But if you were thinking this software would help you make money online, then you will be sadly disappointed.
It's better to learn all the relevant stuff that is required to build a website, and customise it (YouTube is really useful) before trying to find a shortcut…
Creating websites is an important step towards making money online.  But it is only a really small step.  Whether you want to make money online through affiliate marketing like we do, or even if you wanted to create a digital agency, you need to learn everything that is required to make money online.
There are too many DFY programs out there that claim to offer you shortcuts, and easy ways to make money online – but 99% of them are not worth it at all.  The reason is that they don't teach you how to get traffic correctly.
DFY & Shortcuts sound great, until you keep buying them, end up in loads of debt and are still no closer to making money online.
If you want to make money online, earn passive income and find financial freedom, you do need to stop looking for quick-wins, and get started with a proven training method.
The training we recommend is ideal for marketers of any level, including beginners.
You'll be led through a step-by-step training guide that will help you start your own affiliate marketing business from scratch, get traffic to that site, and earn an income from promoting other people's products.
You'll also gain access to a website builder, domains, hosting, keyword research tool, market research tool, content writing platform, 100″ profit-ready themes, private coaching, 24/7 support, and a whole lot more.
I joined this platform a few years ago, and have never looked back.
If you want to make money online, or are thinking about starting a digital agency, you will learn everything you need within this training program.
Thanks for checking out our DFY Hero 2.0 Review!  If you have any questions or comments to add, then please write them in the comments section below. 😉