Welcome to our Perpetual Income 365 Review!
Have you been sent an email or has someone shared this platform that uses a "Secret Coding" like Netflix does to help you earn hundreds of dollars a day…
I am guessing that you are a little dubious about this program and you want to learn a little more before you decide on whether to make a purchase or not.
First off, that is great to see someone doing research before buying into any "seemingly good" product.
It is the best way to avoid scams and find only legitimate ways to make money online.
Perpetual Income 365 doesn't offer a lot of information on their sales page, in fact they practically tell you nothing about what you will be actually doing to make money online, instead focusing on creating a bit of hype and showing you a video where they talk about a data scientist who worked for Netflix came up with a great way of introducing a way of making you money online and that is what Perpetual Income 365 is about.
But that still doesn't tell you a lot about it, and how it works…
In our review, we will be going through all the details you need to know and hopefully, you will have all the information you need to make a sound decision.
Is Perpetual Income 365 Legitimate?  Let's find out, shall we?
Perpetual Income 365 Review Summary
Product Name: Perpetual Income 365
Founder: Shawn Josiah
Product Type: Affiliate Marketing, Email Marketing, Solo Ads Training Course
Price: $9 to start with, $47/month recurring subscription + upsells & other costs
Best For: People with a budget available to follow the methods described in the course.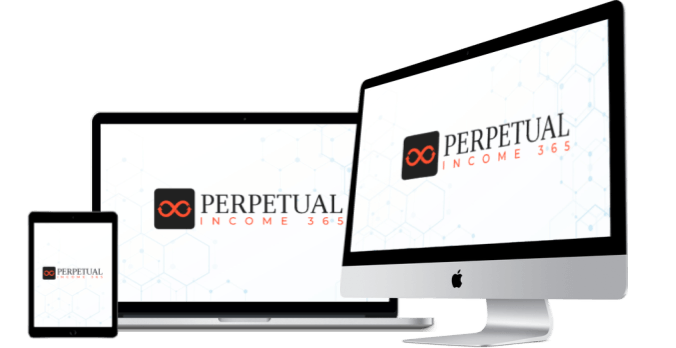 Summary:  Perpetual Income 365 is a training platform that will introduce you to affiliate marketing, email marketing and solo ads.  It also provides you with some squeeze (landing) pages, email marketing sequence and a list of solo ads providers.  It has been created by Shawn Josiah, who is a very successful affiliate marketer and businessman himself.  This is being aimed at beginners though, and whilst some are seeing success, you will have to have a budget to follow their methods.  You will have a number of ongoing additional costs to factor in, which aren't described prior to you joining and they could mean you having to spend a few hundred dollars a month.
If you have a budget and/or some experience, this might be a good option.  But if you are a complete beginner or want to learn how to get started for free, check out our #1 Recommended Training instead…
Rating: 65/100
Recommended? Yes and No (We'll explain)
What is Perpetual Income 365?
Perpetual Income 365 doesn't make it very clear on what you will actually be doing from the sales page.  There is a lot of hype, bold claims and something about a "secret Netflix algorithm" that they claim will mean that you can exploit this to make money online.  It makes it out that you will be making money with Netflix, but that is just a sales pitch and not the reality. The reality is that this is an email marketing and affiliate marketing training course.
The Netflix Connection
The only connection to Netflix is the way that Netflix gets customers to sign up for a cheap fee, and then charges them more money once they have signed up.  It is the same basis on why Car companies sell base models and then charge for upgrades after.
Or Chinese restaurants in food courts will give out free samples.
You offer something for free or cheap with the hope that the customer ends up spending more in the long run.
That is the basis for the "Netflix Algorithm" they are talking about and is often the way Email Marketing is described.  Offer a free gift to get them to sign up to your list and then start promoting products once they are in…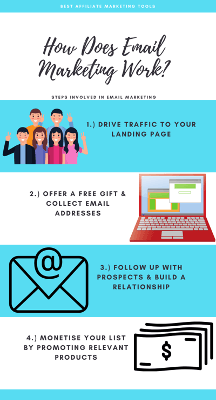 What is Perpetual Income 365 REALLY About?
In my opinion, mentioning the Netflix Algorithm without explaining it makes it sound a lot more complicated than it needs to be.
Perpetual Income 365 is an affiliate marketing and email marketing training platform with some tools, etc. to help you make money from promoting affiliate products from a platform called ClickBank.
Before we go any further, know that affiliate marketing is perfectly legit and it is the business model we use to make money online.  
Affiliate Marketing is when you make money by marketing products or services owned by someone else (If you want to learn more about affiliate marketing, here is our complete guide).
There are many ways of doing affiliate marketing, but the method they are teaching you within Perpetual Income 365 is via Email Marketing with Solo Ads.
Simply put, you pay a person to promote your affiliate products on their email list in the hope that they buy into your affiliate offers.
This, of course requires you to have a budget as you will be relying on paid traffic routes to your sales funnels with Perpetual Income 365.
I personally am not a fan of solo ads, but that doesn't mean that they don't work.
Perpetual Income 365 provides you with squeeze or landing pages, email templates and some training on putting this altogether with Solo Ads.
Perpetual Income 365 was created by Shawn Josiah.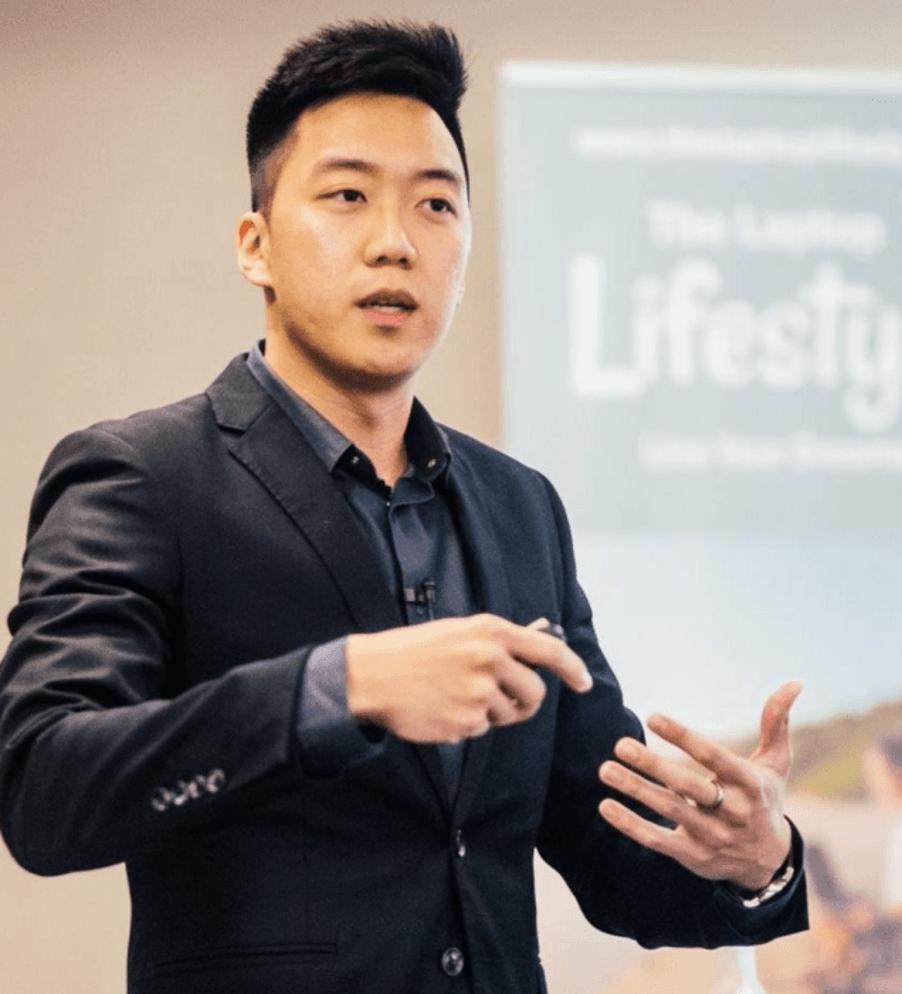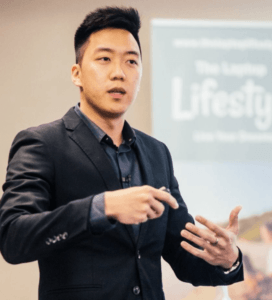 Shawn is a successful 7-figure Affiliate Marketer, who generated over $500,000 in sales last year on ClickBank.
How Does Perpetual Income 365 Work?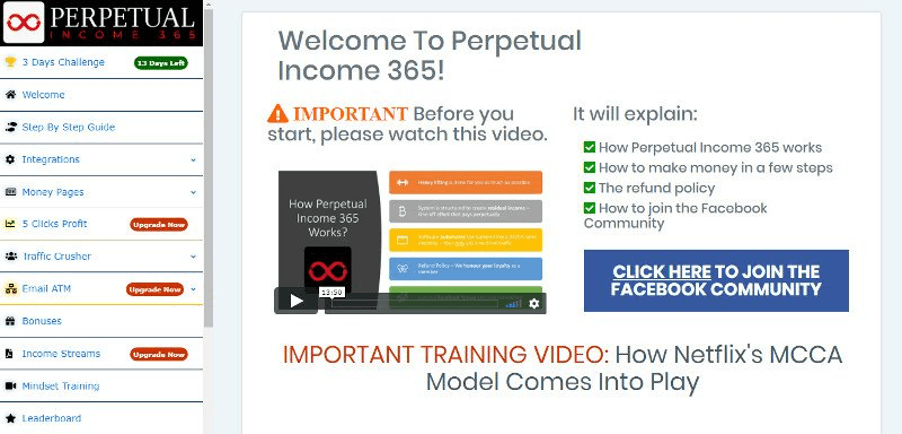 The Perpetual Income 365 system is an affiliate marketing package designed for "quick-start" newbies.  You will receive:
2x ready-made Squeeze Pages
Web Hosting for these pages
an Email follow-up sequence for 31 days
a Guide to Solo Ads
Once you are inside, you will need to sign up with ClickBank.  This is free to do and ClickBank is a marketplace for digital products, best described as an Affiliate Network.
You will also be required to sign up with GetResponse.  GetResponse is an Email Autoresponder service and this is a requirement to make Perpetual Income 365 to work.
This will require you to sign up for a monthly subscription with GetResponse (we will go through the costs later in the review).
Once you have signed up with ClickBank & GetResponse, you connect them to your ready-made squeeze pages and this will only take a few clicks of your mouse.
Then you will have your unique URL ready to share and promote.  This is when the Solo Ads kicks in.
Know that Perpetual Income 365 is focusing on paid traffic routes, so you will not get any training on how to get free traffic at all. (you will require a budget to do this).
Their training is focused on how to use Solo Ads (Paid) to get traffic to your squeeze page.
This is one of the issues with "Done-For-You" systems, traffic is always left up to you to generate.  That is a problem if you want to rely on free traffic methods, but the training they provide on using Solo Ads is really good and shows results.  But it also requires you to have a budget to start with.
How Solo Ads Works
Basically, you will be paying someone with an established email list to share your squeeze page with their email subscribers.
The idea is that you earn more than you spend, so you will shown a number of Solo Ad networks to use to find people to pay.
If anyone from the list clicks the link in the email, they will go to your unique squeeze page which is the sales page for Perpetual Income 365.  If they make a purchase, which is $47 a month (the same as you will be paying), you will get 50% commission of this.  At the same time of doing this, they will also be added to your email list and receive the 31 day follow-up sequence that was included in your PI 365 purchase.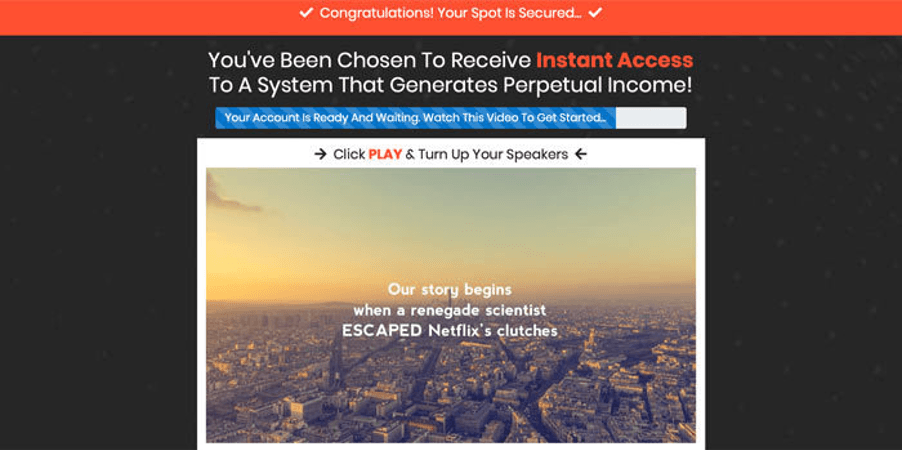 It does appear as though all you will be doing is promoting the same product that you have just bought to make money.  There isn't anything particularly wrong with that, but it does take away some of the freedom that you normally get with affiliate marketing.  
For example, if you were hoping to use a hobby or passion, then you wouldn't have the freedom to do that as you only get to promote Perpetual Income 365…
It also isn't clear that this is what you will be doing…
The Solo Ads Traffic
Perpetual Income 365 is going to provide you with some training and guides on how to get Solo Ads traffic.  Within this training they will provide you a list of 4 Solo Ad traffic sources:
Udimi
Traffic for Me
Wayne Crowe
Roy Tay
I cannot really give an opinion on these marketplaces, as I have not had any experience with them.  But my advice would be to check out a few reviews on any of them before deciding on which one to use.  I believe them all to be legit, but research is the best way to avoid scams or poor vendors.  Do a bit of research into how to choose the right vendor, first 😉
Haven't Made Your First $1 Yet?
Studies have shown that more than 70% of the people who want to make money online have not made their first dollar yet. So, you're not alone!
How Much Does Perpetual Income Cost?
Don't get fooled by the sales hype, this product is not just $9.  That is just to hook you in, the product is actually a monthly subscription, which is $47/month.  When you factor in that this gives you the initial training, squeeze pages, email follow-up email and the web hosting.  
It kind of means that you will be paying $47 a month just for the hosting of your squeeze pages.  Then there is the other costs and the upsells that will be presented to you as part of the sales funnel.
Shawn claims that GetResponse is "100% free", which is not the case.  What it does offer is a "30-day free trial" and then it starts costing $12 per month and will increase as your number of subscribers increases.
Then there is the cost of the Solo Ads.  Solo Ads Traffic will typically cost you $40 – $100 to generate anywhere between 20 and 50 subscribers.  But, like anything paid, that doesn't guarantee that they will all buy from you and not just delete your emails or your spam filter get in the way.
Email Marketing is still very effective, but think about how many emails you get to your inbox, do you open them all?
Either way, your goal is to get subscribers to your list, but the much more important factor will be that you get people to actually go ahead and buy Perpetual Income 365 and that you start earning commissions.  If you are earning more than you are spending, that is when you are in a good position and can start buying more traffic and hopefully grow your sales.
Then, there are the Upsells…
The Perpertual Income 365 Upsells
There are a number of upsells along the sales funnel into Perpetual Income 365:
Perpetual Asset ($127) – This allows you to install 5 more squeeze pages
5 Clicks Profit Activator ($197) – Gives you the ability to customise your squeeze page.  Adds display banners, visitors country flag, "spots available" display and tracks visitors
Email ATM (£297) – Use "Content Fountain" to rewrite the email swipes automatically, "Spambox Filter"to cloak affiliate links to avoid your email being considered spam and send a broadcast (one-off emails) using "Instant Broadcasts".
These are all costs that you are going to be presented to you along the sales funnel, and they are pitched in a way that you will feel like you have to buy them then and there, but in our opinion it would be better to advertise them as optional upgrade and then they are there for you to upgrade to when you are ready to.
What We Liked About Perpetual Income 365
Here is what we liked about Perpetual Income 365:
#1 Introduction to Email Marketing & Solo Ads
For those who have the budget, this is a good introduction to email marketing and solo ads.  It provides some basic training on how to get started and recommends sources for Solo Ads.
#2 Shawn Josiah is a Successful Marketer
Josiah has had some huge successful with online marketing.  He is legit, and it also means his product is legit too.
#3 60-Day Money-Back Guarantee
As Perpetual Income 365 is available on ClickBank, it comes with a 60-day money-back guarantee…  Although, keep reading to understand why this might not be as positive as it might sound…
What We Didn't Like About Perpetual Income 365
Here is what we didn't like about Perpetual Income 365:
#1 Too Much Hype!
The sales page and the video is focusing on a lot of hype to get you thinking that all you need to do is hand over $9 and you will get this money-making program that does all the work for you.  But, fails to address a few things like, what you will actually be doing and that you will require a budget to get started.
It is like a lot of programs out there, and could easily be mistaken for a scam!  I do not believe PI 365 is a scam, but I am saying that it is using similar sales tactics to get you in.
#2 Expensive Upsells & Hidden Costs
They are marketing this product at complete newbies, and yet they fail to tell them that there are a number of costs that they will have to consider before joining.  Going into something with both eyes open will ensure you consider all the angles.  There are hidden costs as Shawn claims GetResponse is "free' and yet it is only a free trial and then there is the cost associated with the Solo Ads.
Then, as part of the sales funnel you will be expertly presented with a number of upsells that you will be sold as you will require them to make money.
#3 Done-For-You Systems Are Restrictive
We love affiliate marketing, we make money from it and we know that you have the freedom to promote products/services from anything you want.  If you want to choose a hobby or passion, then you can.  DFY systems completely take this away from you.
If you join Perpetual Income 365, you will be promoting Perpetual Income 365 and maybe a few other things from ClickBank.  This means that if you stop paying for the solo ads, you will lose your opportunity to learn more.  
But the biggest factor is that, for one reason or another if PI 365 was no longer available, you completely lose your income stream.  That is the problem with DFY systems, if Shawn decided to close it down, you would lose all of your time and money invested into it… (Hopefully, he doesn't)
#4 Not Taught About Other Forms of Traffic Generation
There are a number of different forms of traffic online, free (i.e. SEO, Social Media, etc.) and paid (paid ads, etc.)
You will only learn about solo ads, and the training will be restricted to only showing you how to follow the routes set out by Shawn and PI 365.
Learning only how to promote one product in one way is not sustainable in our view, and doesn't give you the ability to expand your affiliate offerings by promoting other affiliate products.  You would need to go elsewhere to learn it. 
P.S. This training platform helped us to achieve a 4-Figure Monthly Passive Income stream and is FREE to get started with and only costs $49/month to go full-time
#4 Blacklisted If You Request a Refund?!
Look, Shawn Josiah is a well respected and experienced marketer, but this was one we found disturbing.
In his welcome message, he asks you not to claim a refund in any circumstance, he also refers to "abusers" and "cheap people".
Look there are some people who keep buying these digital products and then jumping onto the money-back guarantee.  But he claiming that only "cheap people" claim a refund.
He says he doesn't like it due to the amount of time he has put into his system.  He then goes onto say "The moment you click the refund button, your ID will automatically be blacklisted.  This is not the place to be!"

Here is the issues, we feel need addressing:
Firstly, the sales page clearly promises a "60-day Money Back Guarantee".  ClickBank specifically allows buyers to claim their refund easily under its policy.  There is no way for him that he can tell customers not request a refund, let alone threaten them
Secondly, a consumer has a legal right to a refund when they are unhappy with their purchase, etc.  Especially if the sales page is misleading, which we feel is relevant to the sales page used on Perpetual Income 365
#5 The "Netflix Algorithm" Is Just Sales Talk & Nothing New
This again just goes back to the first concern, this program is just a load of hype.  In fact, no where in the members area do they mention the netflix algorithm.  The methods you will learn are basically about generating leads using a standard squeeze page and making ClickBank affiliate commissions using Solo Ads.
It is just a sales tactic to get you thinking this is a brand new concept, but people have been doing this for years.
Haven't Made Your First $1 Yet?
Studies have shown that more than 70% of the people who want to make money online have not made their first dollar yet. So, you're not alone!
Who is Making Money with PI 365?
When you take into account who is really making money with Perpetual Income 365, the results kind of point at the affiliates who are promoting PI 365 and not the beginners who are being drawn to the sales funnel for it.
The screenshot below is from within ClickBank and it shows that affiliates are making average sales of $124 per sale.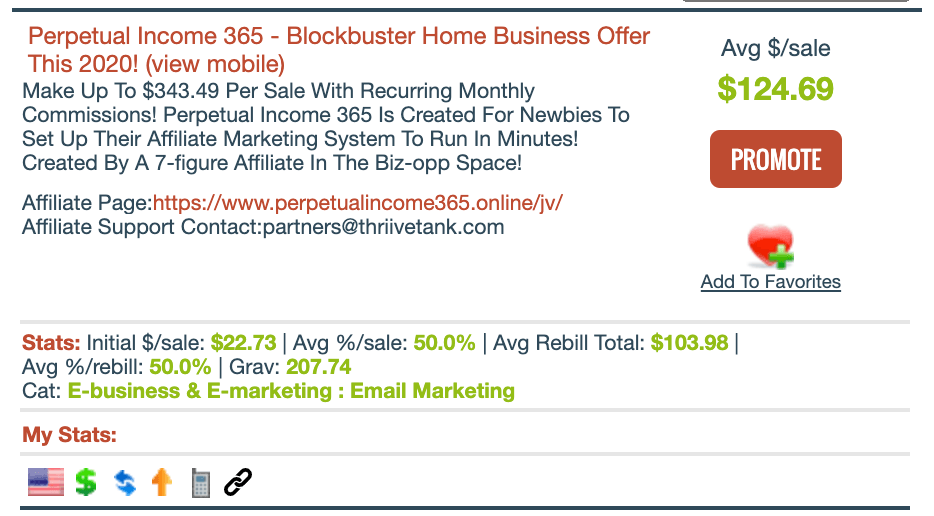 This looks great, but the people who are promoting this are experienced marketers.  I am not saying that you will not be able to replicate the results he is talking about.  But you do need an initial budget to get started and expect to not learn much other on the way.  
Another ironic thing is that, you could join ClickBank and promote this product for free.  You just wouldn't have access to the squeeze pages, etc. that you get access to by paying for the program.
Is Perpetual Income 365 a Scam?
Is Perpetual Income 365 a Scam?  No, I don't believe so.  You do gain access to squeeze pages, an email follow-up sequence and some training on how to use Solo Ads for your campaign.
If you are considering signing up with Perpetual Income 365, know that you will require an initial budget and that you will be self-promoting the same product you have just bought.  There is also a risk of being blacklisted if you do ask for a refund.  There are just too many signs that tell me not to recommend this to a complete beginner.
This product will allow you to get started quickly with affiliate marketing, but I am not sure I would recommend it to a complete beginner due to the fact of it just being about promoting the same product you have just bought, you would also not get any other forms of training to help you for if PI 365 was no longer available or not something you actually want to promote.
I am not saying don't buy it, but just expect it to be a little different to how they initial describe it.
If you are a complete beginner and want a less expensive and less risky way of learning affiliate marketing, then this guide would be a better starting point for you.
Affiliate Marketing and Email Marketing are both very effective marketing methods to make money online.  It is how we got started making money.  But our recommendation is that you do not rely on Done-For-You systems and learn the marketing methods to use yourself and promote things you really want to promote to make money online.  
DFY systems come and go very easily, and if they do you lose all the income and time and you lack any skills or knowledge on how to build your own passive income stream.
If you can learn the basics of how to start with affiliate marketing, learn how to implement them into your own online business and then learn how to implement email marketing into your campaigns and then even start to invest in paid traffic routes, you will have your own passive income stream that no one can take away from you.
It will take time, effort and patience, but isn't it better to learn how to do this yourself.  That is our recommendation and how we got started, especially if you lack the funds to get straight into paid traffic routes.
Learning how to generate free traffic with the search engines gives you solid information to then follow up with paid traffic to scale your business up.
Affiliate Marketing is legit and is a great way for a beginner to get started online and to make money with, and with our #1 Recommended Training provider you will get tons of training, support and tools to help you out and you can even get started for FREE (no credit card required) and double check it is right for you…
If you want to learn more about Wealthy Affiliate (our #1 recommended training ), then click HERE!!
thanks for checking out our Perpetual Income 365 review.  If you have any questions or comments to add, then please write them in the comments section below.
Perpetual Income 365
$9 + $47/month + Upsells & Hidden Costs
Pros
Good Introduction to Email Marketing & Solo Ads
Shawn Josiah is Successful Internet Marketer
60 Day Money-Back Guarantee
Cons
Too Much Hype!
Expensive Upsells & Hidden Costs
DFY Systems are Restrictive
Not Taught Other Forms of Traffic Generation
Could Get Blacklisted if Request a Refund, System is Nothing New