Welcome to our My Income Club Review!
If you believe the sales hype My Income Club comes up with, you come aware with the impression that you could earn $500 per day with literally no effort!
If only that were true, we would all love to find a magic system that earns you money on auto-pilot.  So, what exactly is My Income Club and can it really help you make any money?
First off, it is great to see that you are doing your research before buying into any "seemingly good" product.
That is how you avoid scams and find only legitimate ways to make money online!
To be completely transparent with you, we are not associated with My Income Club in any form.  We are not here to pitch or sell you anything.  
Instead, we want to reveal to you what My Income Club is really about and why you will spend a lot more than you actually make with their program.
Let's get started with a quick product overview…
My Income Club Review Summary
Product Name: My Income Club
Founder: Alfredo Delgrado
Product Type: Sales Funnel Leading to an MLM-based business model, could be considered a Ponzi scheme!
Price: Claims to Be Free, But Will Introduce Expensive Upsells
Best For: No One!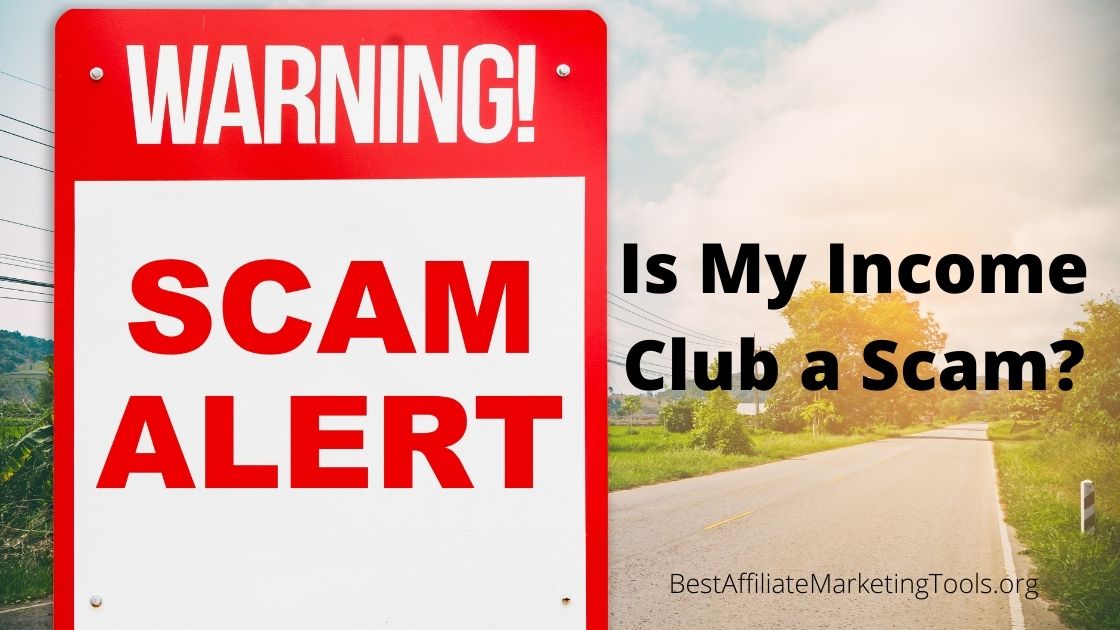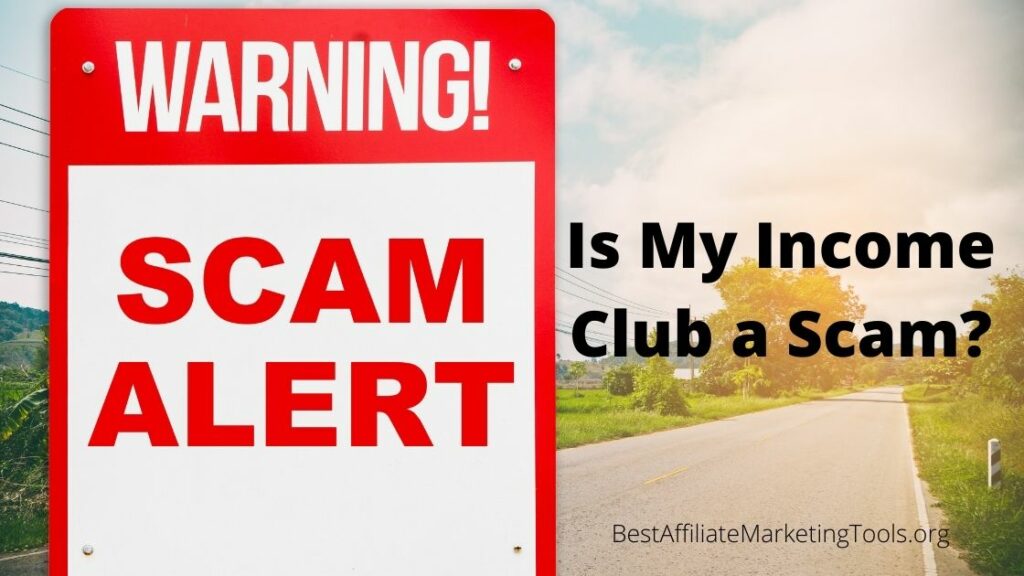 Summary: My Income Club is a sales funnel using the MLM business model that claims to earn you $500 per day, for free…  But the reality is that it is a sales funnel to some high-ticket affiliate programs and you will find that you are spending a lot more money than you first expect and all you will be doing is promoting My Income Club and other programs to others.  To promote these, you will have to fend for yourself.
There are a lot of red flags with this program, including the hidden costs, it is supposedly a "done-for-you" system and could be considered a Ponzi scheme as it operates like a membership site.
You will spend an absolute fortune and not have a way of earning money without spending more.  
Our recommendation is to stay away from this program.
Rating: 1/100
Recommended? Definitely Not!
My Income Club claims to be a "Done-For-You" system that you can simply sign up for and watch the money roll in.  They even claim that it will not cost you anything and you get the impression you can easily earn figures like $10k to $30k per month!!!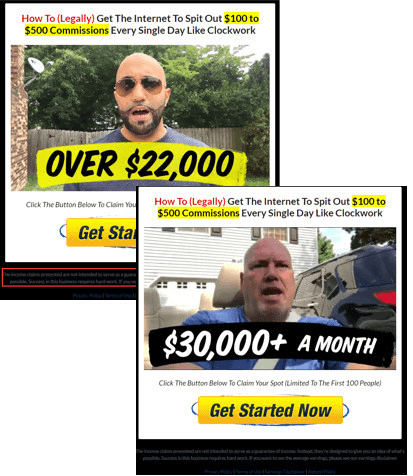 Then you get to meet the guy behind the program, called Alfredo Delgado.  But as soon as that name came up, it meant some bad news as Alfredo is the guy that was formerly involved in the Digital Altitude scam.  Many people lost a lot of money as it was outed as a Pyramid scheme.
What is also noticeable is that when you watch the sales video, it looks surprisingly like the video he used to promote his Digital Altitude venture.  Which makes us think this is possibly another high-ticket scam…
We will go through the details in the next section, but this is definitely not going to end well for those hoping to make money online.
P.S. This program helped us earn a 4-Figure Monthly Passive Income Stream, It is free to get started and only $49/month to go full time.
According to Alfredo, this fully automated system will help you earn $100 to $500 in commission daily, even if you have never made any money online before.  He claims it is fully automated, and is generating a huge income for its members, plus it is Free to join…
But the Truth Is…
My Income Club is a glorified sales funnel.  You can access the system for free, but the methods that are required to make money using their model are not free and will involve you to have a huge budget to get started with.
It is designed to be like a membership system, but everything you do, including all the links is connected to the person who introduced you to the system.
This is Affiliate Marketing.  Now, Affiliate Marketing is legitimate and it is how we make money online.  But there is a big difference between how we do it and programs like this one are doing it. (Click Here if you want to know more about Affiliate Marketing).
You can access the system for free, but to continue on you will need to invest into some of the "income streams" they show you.  These are not your run-of-your-mill affiliate products, these are "high-ticket" programs meaning high price-tag programs.
But that is when you find that you are stuck with some high-ticket programs that you have to sell to others to make money.
It isn't even Done-For-You, you have to find a way of promoting these affiliate products to others to make any money.
We do it by creating content, it is called Content Marketing and it generates free traffic.  There are paid forms of traffic generation too.
But don't expect a ton of training from Alfredo to help you generate traffic to your affiliate offers…
The bottom line is that you will spend a lot of money with the potential of making money, but will have no help to get the most important ingredient to make money and that is the traffic, or audience to come and buy your products…
How Does My Income Club Work?
Basically, when you sign up you will be provided with email swipes, SMS templates and Facebook images to use to promote My Income Club to others, in the hope they sign up to the two income streams that are promoted within My Income Club.  These will be the same income streams that you will introduce to as well.
At this point you will be introduced to two separate income streams.  In my research, I have found that these two different schemes change regularly.  That is because the schemes that are being promoted to you are typically Ponzi schemes or scams and so if they keep changing the schemes, it makes it harder for the FTC and other authorities to keep track of it.  I am going to list the ones that I am aware of, but these could be different to what you could see if you decided to join this scheme (Don't do it!)
The first we will talk through is a platform called "Forsage".  Forsage is basically a cryptocurrency Ponzi scheme.  You invest money in the hope that you earn a ROI from introducing new members to the platform.  We have done a full review of the platform, and wouldn't recommend it as we firmly believe it is a Ponzi scheme.  It is based on the Ethereum cryptocurrency, and you would need to invest ETH to join…  It is based on the MLM or Multi-Level Marketing business model where you are only going to earn money from recruiting people.
You must invest at least 0.05 ETH (or around $20) to buy slots, and these slots are described as Forsage X3 and Forsage X4.  The only way you are going to earn money back is recruit others into the scheme too.  Your investment will increase as you increase your level.  Otherwise, if you do recruit people who go into it at a higher level, you will leave commissions on the table as you will not qualify for them.
But if you consider that 1 ETH is worth around $400.  So, to buy the 12 slots in just one of the X3 or X4, it would cost you $40,950! And if you wanted to own the 24 slots it would cost you about $81,900!
But, that doesn't mean that you would be able to recruit anyone above slot no.1.  Like I said, it is a "Pay to Play" system and doesn't guarantee you any ROI, as you need to know how to recruit people.  But as it is a shady program, do you believe you could get anyone to join?
The second scheme we will talk through is David Deckel's "Profit Passport".  It promises high earnings all done on "Autopilot":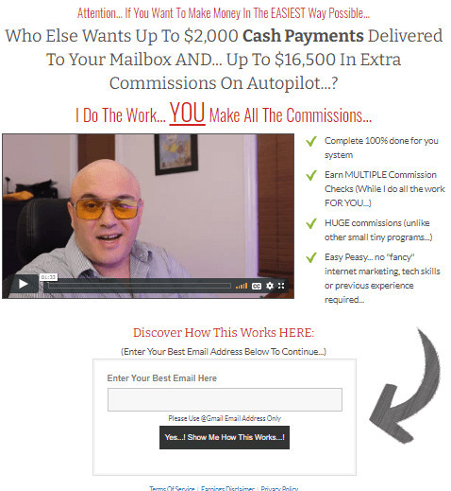 Like I said, everything is supposed to be 10% Done-For-You and they claim that you don't need any experience.
But when you dig a little deeper, you find that it is actually a "Pay to Play" system and it is actually a Very High-Ticket Sales Funnel.
They use the typical sales pitch of starting out with a really low amount to join, but you could end up paying out up over $107,709 in expensive membership fees and monthly subscriptions…
If you were to join Passive Passport, you will be asked to watch a webinar that is 1hr 45 minutes long.  This is basically a long winded sales pitch that explains what you can expect from the system.
The income streams within Profits Passport add up to 7 different streams.  You will be required to register with each of them and add your affiliate ID.  These will not be free, and you will be expected to promote these income streams to make any money.
You will also need to pay for each one before you can promote them, and you will only get paid for the level you are at.
For example, if you are a level 2 affiliate and someone you introduce comes in at level 4, you would not earn the commission that comes in that level.  That commission will be passed up to the next level 4 affiliate.
This is common with Pyramid type systems and they try to convince you that the only way you will earn money is to be at the top of the pile so you can earn all commissions.  But to do that, you will need to spend a lot of money to buy all levels.  But the key thing to know is that you still don't know how to promote these income streams at this point…
To give you an idea on what you are getting into, here is a list of the different income streams , their levels and the costs…
Income Stream 1 – Easy1up
The Easy1up system is again based solely on promoting the system itself.  You promote the program and earn money depending on the level they buy in at, and what level you are at.  It has every aspect of being a Pyramid Scheme!
It has six levels:
Level 1 – Elevation $25
Level 2 – Elevation Elite $100
Level 3 – Vertex $250
Level 4 – Vertex Elite $500
Level 5 – Vertex Pro Connect $1,000
Level 6 – Vertex Live $2,000
So, if you wanted to join at level 6 so you could earn all commissions from anyone you introduce, you would need to spend $3,875!
Income Steam 2 – Funnel X Advance
This is the new version of Funnel X ROI.
I believe that when you sign up here, if you sign up for the leader membership.  You will pass 50% of the commission to David Dekel.  So, it is a DFY system but for David and not for you…
The levels for the system are:
Level 1 – Builder $200
Level 2 – Super Affiliate $597
Level 3 – Leader $1,997
To join at level 3, this will cost you $2,794!
Income Stream 3 – ROI Panel
ROI Panel is an affiliate link tracking software.  But it is really expensive for what it is, there are better and cheaper alternatives online…
Here are the different levels:
Level 1 – $197 per month for the Beginner system (3,000 clicks)
Level 2 – $597 per month for the Advanced system (15,000 clicks)
Level 3 – $1,497 per month for the Master system (65,000 clicks)
This will cost you $2,291 per month if you were to join at level 3 (so you qualify for all commissions).
Income Stream 4 – Forsage
Ironically, David is also promoting the same program that My Income Club is…
I am not going to repeat the info, but the total cost is $40,950!
Income Stream 5 – OPM Wealth
The letters stands for "Other People's Money" and this one is very controversial!  It is based on the premise of gaining wealth by taking other people's money!!
The idea is that you push this high-ticket system to other people, but there are no actual products.  You only have the option of promoting the system to others.
They also have these "success coaches" that will push you to even get a load or max out your credit card, just so you can get to the higher levels.  This is an awful program for Dekel to be promoting, but it shows he isn't interested in helping you earn, but to exploit you for profit…
Here are the different levels in this system:
Level 1 – Hermes $2,000
Level 2 – Apollo $5,000
Level 3 – Athena $8,500
Level 4- Poseidon $14,500
Level 5 – Zeus $27,500
The total cost is $57,500
Income Stream 6 – Udimi
This is a Solo Ads marketplace.  The short story with Solo Ads, is that you pay someone who has an established email list to share your promotion.  You share the email swipes that you were given when you sign up to, with their email list for a price and hope that someone buys into what you are promoting.
The bottom line is that it is a gamble.  There is no guarantee that people will click on your links.  You are hopefully here because you are a little sceptical, and you should be.  Do you think people are going to click and have the money to buy these offers we have just chatted about with you spending money on Solo Ads?
The amount of money you can spend will depend, but most of these scheme owners will typically say you need to spend at least $200 per month.
Income Stream 7 – Ringless ALN
Ringless ALN is a ringless voicemail service and auto SMS text messaging service. This is morally wrong in my opinion, and I don't believe it will help you get any leads and it isn't worth the cost.
The total cost is $299 for this system
When you factor in all of the income streams you are supposedly going to be earning from, there is a clear picture of what this really is.
This is a sales funnel that will leave you massively in debt and lacking any real way of earning income back with it.  It goes from telling you it is free, to expecting you spend $107,709 if you want to have the full "potential" of earnings they are claiming is possible.
The only way they are offering you as a way of promoting all of these schemes is via Solo Ads, which again isn't free and isn't that reliable.
Haven't Made Your First $1 Yet?
Studies have shown that more than 70% of the people who want to make money online have not made their first dollar yet. So, you're not alone!
How Much Does My Income Club Cost?
We have just gone through a lot with regards to the cost of actually getting into the full sales funnel, but there are some other costs you will find with My Income Club.
That is because to explore the Solo Ads portion, you will need an Autoresponder.  They recommend Aweber.  Now Aweber itself is legitimate.  We use it.  But it isn't free.  It has a free trial, but it will cost you $19/month to start with.
Then they will also expect you to sign up with ClickFunnels, which will cost you at least $97/month.  This will give you a landing page to ensure you capture these leads.
Don't get fooled into thinking this is a free opportunity to earn money, you will have a huge outgoings to consider with no guarantee of any earnings…
What We Liked About My Income Club
Here is what we liked about My Income Club:
#1 Technically it is FREE
Look, it is a sales funnel that is there to convince you to start handing over money.  But it is technically free to join.  You will gain some email swipes, capture pages and Facebook images to promote the system.  But you will not earn anything unless you buy into the programs to earn affiliate commissions.
What We Didn't Like About My Income Club
Here is what we didn't like My Income Club:
#1 It Isn't Really FREE
Let's get into it, it isn't really free.  All you can do with the free sign up is introduce others to sign up for free.  But if any of them buy any of the products in the sales funnel, you will not earn a commission.  You need to buy what you want to promote.
#2 It's a "Pay to Play" system
That makes it a "Pay to Play' system.  If you want to unlock the full potential of this sales funnel, you will need to spend over $107,000!
Affiliate Marketing is usually free, unless you go into these expensive programs that don't work.  People see the big figures and want that, but they don't realise how much it would cost to promote.
We started affiliate marketing with a really low budget, there is no need to spend thousands to earn money.  We pay $49/month and got all the tools we needed to get started and work our way to earning a 4-Figure Monthly Passive Income stream.  We didn't need to spend thousands, we just had the right training and support.  If you want a better route where honesty is paramount, then check out our #1 Recommended Program.
#3 Introducing Ponzi Schemes
Ponzi schemes are illegal.  This is where the only way of earning money is by recruiting people.  Once there are no real products or services, and you can only get an income by recruiting others, makes it a Ponzi scheme.
These scammers prey on the innocent or beginner, as they lack the knowledge to spot one.  That is why we are so glad you did your research, before handing over all that money on My Income Club.
#4 No Transparency
There is no transparency with this program and the only way you find out that the income potential is nowhere near what they quote is with their earnings disclaimer.  Which is very small print, and is very different the claims made in the video.  See here:

So, the video is claiming that $200k is a reality within 30 days, or $500 per day.
But the income disclaimer shows that projected annual income is between $500 to $2,000 a year!
If you take that as a reality, you could earn $2,000 a year.  But that doesn't take into account of anything you have spent to get that earnings.
#5 It Isn't Done-For-You
There is nothing that is done-for-you, other than the email swipes they give you.  It is not as easy as these people say to promote these things online.  Especially when you factor in that they are targeting people who don't have any knowledge about how to generate traffic.
There are many ways of generating traffic, we prefer to focus on free methods.  But they are not providing you any training on how to get traffic.
There is little point having email swipes or landing pages, if you are never going to get anyone landing on them to click on your links.
These people are not here to help you, they just want to exploit you and take your money.
If you want to make money online, you have to realise that any DFY system is not going to magically make you money.  They bring you the promise of easy money, but the reality is that they leave the hardest part up to you, and that is generating traffic.
If you want to make money online, fix your financial situation and eventually earn a full-time income online then you need help and not gurus and fake or false promises.
We love affiliate marketing, it allows you to earn income from a hobby or passion.  Sharing something you love with people and being able to make money online is what it is all about.  But there are those out there who want to exploit people rather than teach them the correct way.
Wealthy Affiliate is our top recommended training platform to learn affiliate marketing, it is free to get started and is fully transparent, and that is what helps people.  There are no hidden costs.  It is $49/month if you wanted to access the full platform.  But there is nothing hidden.  They are the same training platform that taught us how to earn a 4-Figure Monthly Passive Income stream.
Haven't Made Your First $1 Yet?
Studies have shown that more than 70% of the people who want to make money online have not made their first dollar yet. So, you're not alone!
Is My Income Club a Scam?
Is My Income Club a Scam?  Look it is free to join and you do get some resources to help you promote it.
However, they are misleading people into thinking that you will be earning $500 per day with this program, and not being told that they will need to spend a lot of money on other programs to put yourself in a position of earning income.
That is why we do feel like this is a scam, down to the fact they are misleading people.  It will cost you an absolute fortune, yet they are telling you that you will only earn up to $2k…
Unfortunately, there are tons of these programs that promise you the world, and the reality is that they are making the owners rich and putting you into debt.
We want to help people find a better alternative.  We regularly review these kind of programs and the majority of them are scams.  We want to help you, but we will not make any promises.
We make money with Affiliate Marketing, but it is not a "magic button" system.  It takes hard work and effort to earn money with it.  I know that doesn't sound appealing, but here is the difference.
You spend 6 months trying to find a get-rich-quick scheme and keep finding crappy IM programs that never lead to anything but spending thousands of dollars.
Or, you spend 6 months working on your own affiliate marketing website in a subject you love.  You follow the step-by-step training by our top recommended training program and our personal help.  You could actually start earning an income in as little as 3 months if you put in the effort…
There are some who don't want to put the effort in, but you will not find a legitimate way to make money online without investing time and effort.  It is up to you, but hopefully you understand now that My Income Club will do anything close to what they promise…
Thanks for checking out our My Income Club review.  If you have any questions or comments, please write them in the comments section below and we will respond to you as soon as we can. 😉