Welcome to our MONAT Global Review!
Have you seen an opportunity where you can make money from a hair care company called Monat and are wondering if it is a legitimate company or is MONAT Shampoo a Scam?
First off, it is great to see that you are doing your research before buying into a "seemingly good" product or company.
It is the best way to avoid online scams and find only legitimate ways to make money online.
For complete transparency, we are not associated with Monat Global in any way.  So relax, we are not here to pitch or sell anything to you.
We just want to make sure that you have all the facts and information that you need to ensure you know everything you need to know before you decide with Monat is the right opportunity for you.
By the end of this MONAT Global review, you will know some company information, the price to join, their compensation plan and the pros and cons of this hair care MLM company.
Let's get straight into it with a quick product overview…
MONAT Global Review Summary
Product Name: MONAT Global
Founder: Luis Urdaneta
Product Type: Hair Care MLM company
Price: $99 for business starter kit, $49.99/year, additional product packages ($299-$649)
Best For: Those good at networking or recruiting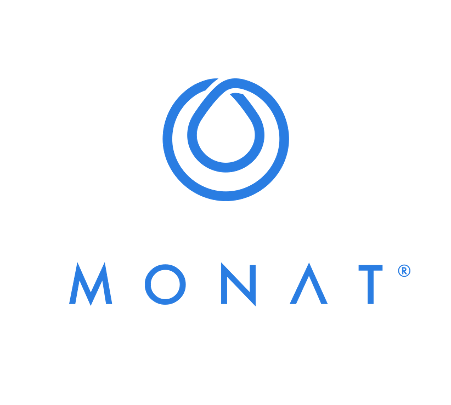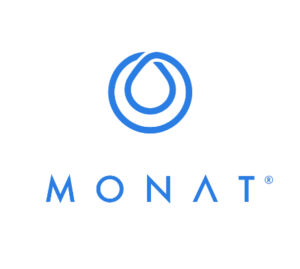 Pros
Includes Training & Support
Cons
Side Effects
Customer Complaints
Lawsuits
Summary:  MONAT Global is an MLM company selling hair care products. The company has seen rapid growth due to is distributors promoting it heavily on social media.  However, the customer complaints and lawsuits about the safety of the products show there are bigger things to worry about with MONAT than it being an MLM.  Complaints about it causing hair loss or scalp irritation shows that their products are not as "all natural" and "safe to use" as they make out.
We would not recommend this business opportunity to anyone!
Rating: 20/100
Recommended? No
MONAT Global is a Hair Care MLM or Multi-Level Marketing company.  It was founded in 2014 by Luis Urdaneta and his family.  It has its HQ in Miami, Florida.
MONAT is actually short for "Modern Nature" and this is the focus of the company with its products.
When it first started, it was part of their mother company which is called the Alcora corporation, which focuses on beauty and wellness products.
It has grown very quickly due to their market partners promoting MONAT's product line on social media and it has grown to become a billion-dollar company in the hair care industry.
The company claims that all of their products are made as a solution to common problems such as hair loss.  There are "all natural" and "absolutely safe" according to their claims, however when you look into more detail like we always do in our reviews.  There are actually some lawsuits that put those claims into the light, and they do not come out well.
Let's get into that now.
MLM's always seem run close to controversies or lawsuits and MONAT Global is no different.
MONAT has seen a number of complaints and concerns around side effects of their products, these include hair loss and scalp irritation.
They have even seen a class action lawsuit brought against them, click HERE to see it.
It basically brings into the question the safety around their products and even claims the company is being deceptive.
MONAT Global Product Line
MONAT focuses on their All-Natural Hair Care products.  These range from shampoos and conditioners to hair serum and hair styling products.
The prices range from $22 to $99 if you buy them separately, but they also offer collections.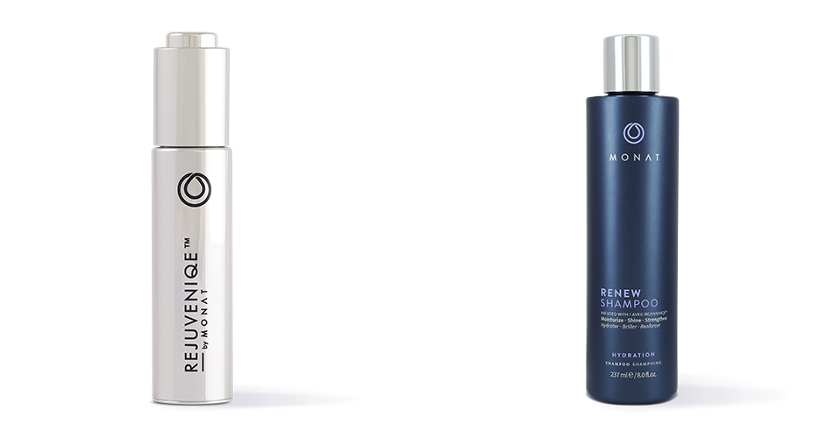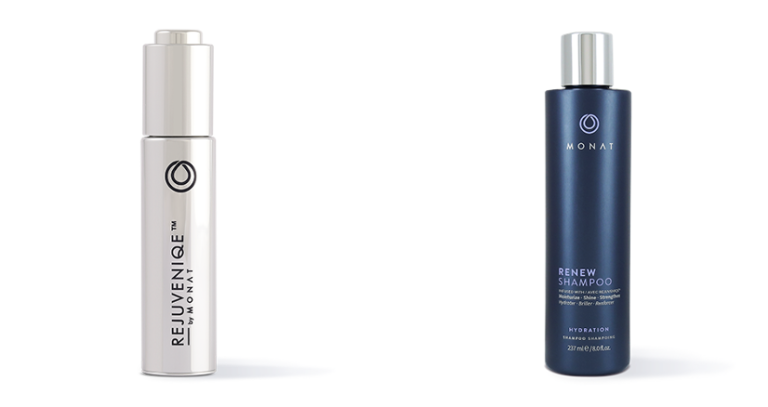 The products above are both their best-selling products.
The first is their Rejuviniqe Intensive Oil.  This is priced at $99 a bottle for a 30-ml bottle.
That is pretty expensive when you compare it to other hair serums.  It is supposed to nourish and energize your scalp to promote smoother and shinier hair (according to their claims).
The RENEW shampoo is priced at $35 a bottle, which again seems really expensive for shampoo?
IF you want to see the full list of products available at MONAT and their prices, click HERE.
Haven't Made Your First $1 Yet?
Studies have shown that more than 70% of the people who want to make money online have not made their first dollar yet. So, you're not alone!
How To Make Money with MONAT Global?
Typical MLM's like Amway, Tranont and Amare offer two main ways for you to make money and MONAT is no different. Here is how you can make money with MONAT:
Retail Commissions – Make money from selling the products to consumers
Recruitment Commissions – Refer or Recruit people into your downline to earn bonuses and commissions from their sales as well as your own.
Naturally, it is this second one that many MLM's and their distributors focus on as the compensation plan is heavily weighted towards the recruitment side.  But it is also the main reason why legit MLM's often get called a Pyramid Scheme.
Let's clarify that point now and determine whether MONAT could be a pyramid scheme…
Is MONAT Global a Pyramid Scheme
It is more common for an MLM to be called a Pyramid scheme nowadays, even if they are not one at all (there are a few that do turn out to be pyramid schemes) they still get people claiming they are one.
The main factor to look for to determine whether an MLM is a pyramid scheme is down to the ways you can make money from them.
If recruitment is the only way for you to make money with a company, then it is a Pyramid scheme.  If the company has products for you to sell, as in you don't need to recruit to make money, then it is an MLM and not a pyramid scheme.
MONAT has products for you to sell.  You don't have to recruit to make money with this business opportunity, although as it is the way to make more money, people often chase the recruitment side.
But it is the recruitment side of an MLM that resembles a Pyramid Scheme and causes the confusion.  Let me explain, look at the image below that describes an MLM compensation plan: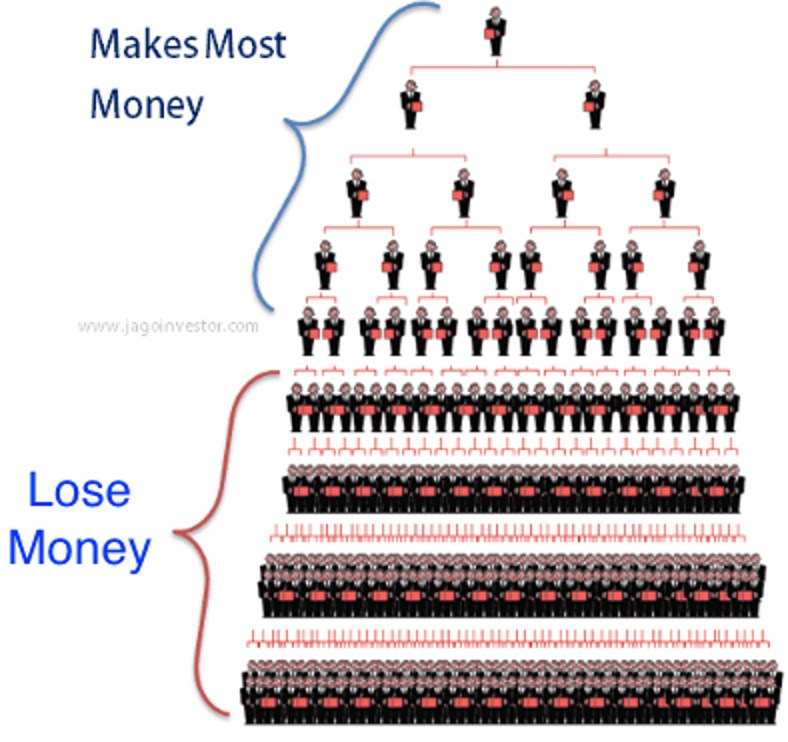 When you get to the top of the pyramid, you earn more than the people under you.  This is because you get a percentage of every sale they make as a commission.
The more people you can recruit into your downline, the more money you will get when they start making sales.  You will even earn commissions as your downline recruit people under them too.
Both Legit MLM's & Illegal Pyramid Schemes follow this same model.  The only difference is that an MLM will have products for you to sell.
But that doesn't mean you will earn big from just selling retail products alone.  Anyone will tell you that the money is building up your downline.  The more you can recruit, the more you can make.
You can choose either way, selling or recruiting, but recruiting has the bigger potential.  But then again, it depends on how good your recruitment is.
The bottom line is that the people at the top, the top 2% are normally the ones that are making the big money.  Whilst the remaining people at the bottom of the structure are struggling to even make enough to cover their costs.  In fact, a study showed that 73% of people joining an MLM make no money.
Success is Rare at MONAT Global
To get an idea of whether MONAT is any different, we can look at their income disclosure statement.  But this states that most of their distributors are earning between $22 & $1188 a year?!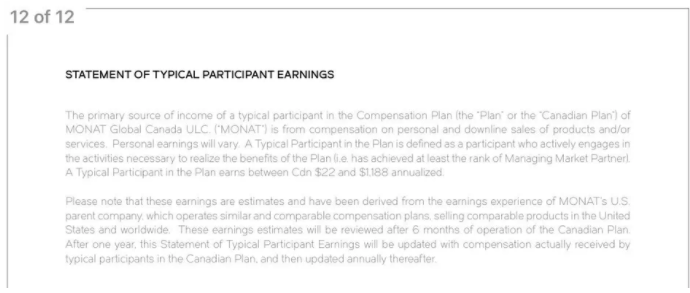 Each member at MONAT is required to sell at least 200 products in order to gain 7% commission. The more sales you make, the more money you can make.  But you have to consider a couple of factors with this:
The products are expensive against its competitors
The bad reputation the company and its products have.
You have to buy products each month too.
With their reputation the way it is, this will make it even harder for you to make a sale, but then when you factor in the price, I can understand why the earnings are so low…
If you aren't making sales regularly, then it is going to be extremely expensive for you as you have to buy products every month to stay qualified for commissions.
MLM's tie you in to a monthly autoship.  Most MLM's we have reviewed do this, but it shows that the majority of their sales are coming from their distributors and not from retail sales.
I am just trying to show you that it is going to be a hard battle for you to climb that pyramid and make the sales you need to make a sustainable income.
IN our opinion, MLM is not the best route for a beginner.  Click HERE to check out our top recommended way!
Getting Started with MONAT Global
People are drawn to MLM as they are cheaper than a normal bricks and mortar type business, they also sound relatively cheap.  But that is before you factor in the ongoing expenditure and the fact that it all depends on how quickly you can get going with selling or recruiting.
There are a number of ways of getting started with MONAT.  There are four options available for you and your budget.
Starter Product Pack ($99)
The starter pack is a one-time $99 fee and includes 35 different sample products.  You also receive start-up roadmaps, product brochures and training workbooks.
You will also need to pay their annual fee of $49.99 to be your membership at MONAT Global active.
This isn't a bad price as a start-up price to be fair.
Business Product Pack ($299)
This would retail at $499, which would give you 40% commission on sales and includes 11 full-sized products (shampoos, conditioners and oils).  It also includes 50 assorted product samples.
You would also have to pay for the Starter Product Pack $99 and the annual fee of $49.99.
Success Product Pack ($399)
This would retail at $745, which would give you 46% on sales and includes 17 full-sizes products ranging from shampoos, conditioner, hair masks and styling products.
There are also 80assorted sample products and a product brochure.
You would again need to buy the Starter Pack for $99 and pay the annual fee of $49.99.
Overachiever Product Pack ($649)
This would retail at $1299 and comes with 30 full-size products.  It also includes 100 assorted sample products and a product brochure.
On top of that $649, you would also need to pay for the start-up fee of $99 and the annual fee of $49.99.
If you want to see what you get in each package, then click HERE.
P.S. This program enabled us to Create a 4-Figure Monthly Passive Income Stream.  It's Free to get started and costs only $49/month to go full-time!
MONAT Glboal Compensation Plan
I would love to know why MLM's have such over complicated compensation plans.  It seems to be they make it so complicated that people do not dive into the details and just accept their income claims as the whole truth.
Either way if you want to see the full compensation plan, you can read it here.
Or, you can check out this video that will explain everything for you:
But we have broken it down to show you the main ways for you to make money with MONAT here:
Fast Start Bonus – If you can sell or recruit really quickly, you can benefit from this bonus within your first month or so
VIP Customer Sales – 15% sales commission from selling products to VIP members
Retail Customer Sales – 30% sales commission on products sold at retail prices
Referral Bonus – $20 per referral that enrols as a VIP member
Level Advancement Bonus – bonuses for reaching higher levels of the pyramid
Builder Bonus – $150-$300 each month
There are other ways for you to make money with MONAT but considering the number of class action lawsuits and complaints we have found about this company and its products, it is going to become increasing more difficult to make any sales.  There is only so much a fancy ad on social media can do.  If people start to hear bad stuff about a company, they will avoid their products.
The more complaints that appear online, the more you will find that you have no one to sell the products too.
There are also requirements to attain each level in the MONAT Global market:

These include your Product volume, active lines and group volume.  Like most MLM's, there is only so much you can earn from selling the products, recruitment is where the money is, and you need to recruit so many people to unlock the higher levels.
What We Liked About MONAT Global
Here is what we liked about MONAT:
#1 Includes Training & Support
This is a great benefit of MONAT, where they actually help their distributors getting started.  They provide training and support, which many MLM's do not do.  Most expect you to hit the ground running with little or no help.
So, it is good to see that they include training workbooks and materials.
What We Didn't Like About MONAT Global
Here is what we didn't like about MONAT:
#1 Side Effects
I have to question whether their products are "all natural" and "safe to use" when people are complaining that they are losing their hair, rather than the products helping their hair.
Most MLM's do not run external clinical tests on their products and it looks like MONAT have not either.
It shows they are either poorly made or are not as natural as they make out.
#2 Customer Complaints
There are plenty of customer complaints about their products which is a huge worry.  They have made complaints about a number of side effects, including bumps appearing on their scalp, hair loss, bald spots and scalp irritation.
The more people complain, the harder it will be for you to make money from this opportunity.
#3 Lawsuit After Lawsuit
It is not just the one class action lawsuit that has been brought against MONAT, and I am sure it will not be the last.  The Food & Drug Administration (FDA) have brought these lawsuits against MONAT to help protect people from bad products.
Haven't Made Your First $1 Yet?
Studies have shown that more than 70% of the people who want to make money online have not made their first dollar yet. So, you're not alone!
I cannot say that MONAT is a scam, but that doesn't mean that I would recommend this business opportunity for you.
Bearing in mind the number of lawsuits and complaints their products have, I am surprised anyone is making money from their business opportunity and when you look at their income disclosure, it shows with the annual income being between $22 – $1188.
Just to put that into context, $1188 a year equals $3.25 a day.
Making money with MONAT is going to be a tough road to travel due to all the lawsuits and complaints.  I am not saying it isn't possible, but consider who you are going to be promoting these products to and whether they are going to buy dodgy products from you?
Most MLM's want you to promote these to your family and friends to get started with.  Are you ready to damage some relationships to make some money, because that is what tends to happen with MLM.
98% of people feel the pressure to sell to their friends and family is the main reason why they quit and 73% of people who join an MLM end up losing any money they invested in.
MLM puts people into debt, when they are not established direct sellers or recruiters.  If you feel you can go out and make sales, then this might be an option for you.  But the majority of us, are not geared up to direct selling.  But don't worry, we have a better option to show you shortly.
My MONAT Global Review - Final Conclusion
The basis of any business opportunity is having the right product and knowing the right audience.  But if the product is shown to be flawed, this makes anything you do an uphill battle.
The number of complaints and lawsuits about MONAT's products has us worried.  They clearly are not learning from their mistakes and ensuring their products are safe for consumers.
The bigger brands will spend the money to do the tests on the products as their brand is reliant on consumers liking and using the product safely and with no side effects.
How can a shampoo cause hair loss, if it was made right?
There are many reasons why we do not like MLM, especially for beginners.  But all that aside, it is the product range that makes us not recommend this business opportunity.  You cannot sell dodgy products and make money.
You will end up paying a huge fee only to find you have no sales coming in.
I'm not a fan of MLM, not because it's illegal or not profitable, but because of all the restrictions and expensive costs involved.
Instead, Affiliate Marketing is our top recommended business model for anyone looking to make money online
The reasons are simple…
You can promote anything you want and aren't restricted to only promote products from one MLM company
You don't have to recruit anyone to make money
You never need to sell to your friends and family
It's free to get started
In fact, with affiliate marketing we've been able to Create a 4-Figure Monthly Passive Income Stream.  If you want to learn more, click here.
Thanks for checking out our MONAT Review!  If you have any questions or comments to add, then please write them in the comments section below. 😉