Welcome to our Millionaire Mentors Alliance Review!
Have you been asking yourself what is the Millionaire Mentors Alliance?  Can it really earn you $1,000 a week with little or no effort?  Then you are definitely it the right place.
We would all love to be able to earn easy money by doing little or nothing, but can this "alliance" really live up to all the hype…?  Or will it leave you with an empty wallet and still looking for a genuine way to make money online?
There are a ton of products that all claim to be able to earn you money online and we are here to review them and make sure you know everything you need to know about whether they are the right fit for you. 
First off, it's great to see that you're doing your research before buying into any "seemingly good" product.
That is how you avoid scams and find only legitimate ways to make money online!
To be completely transparent with you, we're not associated with Millionaire Mentors Alliance in any form.  We're not here to pitch or sell you anything.
Instead, we want to reveal to you why this MLM is potentially a Pyramid scheme in disguise…
Millionaire Mentors Alliance Review Summary
Product Name: Millionaire Mentors Alliance
Founder: Not Disclosed
Product Type: MLM Company (Pyramid Scheme)
Price: $500 – $50,000!
Best For: The Owners

Summary: Millionaire Mentors Alliance claims to be a group of elite entrepreneurs committed to helping each other to reach their financial goals.  But the reality is that we think this is a Pyramid Scheme disguising itself as an MLM company.
I found little that would support their claims that you will get loads of support, and all you will find is pressure to invest more and more money.
Rating: 1/100
Recommended? No
What is Millionaire Mentors Alliance?
Millionaire Mentor Alliance is a collection of part-time and full-time business owners who have formed a direct marketing association all helping each other to succeed.
They claim they are not an MLM business and there are no downlines for you to earn from, but that doesn't really clear up what it actually is.
But when you dig through the dirt, you find they are a high-ticket program, it started back in March 2018 but isn't actually that new.  It is a reboot of the Business Success Alliance.
"Millionaire Mentors Alliance is an association of entrepreneurs and business owners from around the globe".
They apparently have 'ready-made business and done-for-you digital products with proven marketing systems to make it extremely easy to make money…
Their primary focus is on the baby boomers and retirees who have the money to "invest" and due to the lovely marketing, they might believe they can earn more by investing into this program.
The marketing focuses on the fact that 99% of the work is done for you and that you will have a mentor that will help you get everything set up and work with you to create a success plan.
Millionaire Mentors Alliance tell you that you could be earning $500-$50,000 a week using this system and that they want you to be earning the higher end (obviously, they would tell you that).
Like we said, they are targeting the high-ticket programs and they say "why sell 35 $100 packages to 35 people when you can just sell 1 $3,500 item to one person.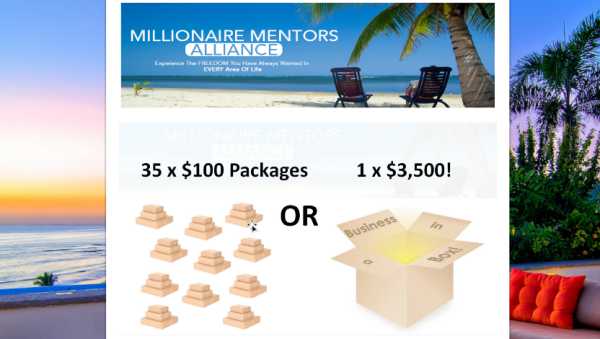 It does sound good, but in reality it is much easier to sell $100 items then it is to sell a $3,500 item and as we dig into this program in our review, you will find it isn't going to be as easy as they make out to make any money.
They make it sound like it is so easy with 99% of the work done for you but know that they have left the hardest 1% for you to do!
Is The Millionaire Mentors Alliance a Pyramid Scheme?
I cannot believe they have been able to launch this product when 2 big schemes got shut down by the FTC.
Digital Altitude and MOBE were both shut down as pyramid schemes, due to their misleading marketing and their business model were called a total fraud.
But when we dig deeper and go through how you can make money with Millionaire Mentors Alliance; you will see they use the same model.
If you don't know what a pyramid scheme is, let me go through it now:
Wikipedia describes a Pyramid Scheme as "a business model that recruits members via a promise of pay or services enrolling others into the scheme, rather than supplying investments or sale of products and services"
Check out the next section and tell me that it doesn't describe the Millionaire Mentors Alliance?
How Does Millionaire Mentors Alliance Work?
MMA follows a similar vein to most programs like this one, they don't really tell you how it all works before you sign up.  They don't want to tell you that, because it would give the game away that it is totally not worth your time.  So, they keep the details ropey and they just want you to put your hand in your pocket and hand over the money.
Here is a video they have put together:
They tell you that you will make loads of money, and hope you don't ask the question "But How?"
For a start, all Millionaire Mentors Alliance says you need to do to join is pay the one-time admin fee for the level you want to join at.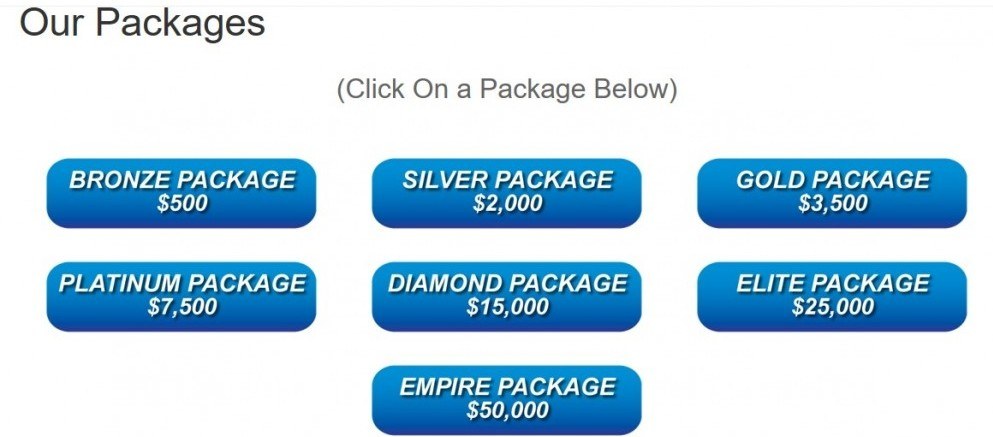 There are 7 levels, each with a one-time fee and a commission rate:
Bronze – Admin Fee $195, Commission Rate $500
Silver – Admin Fee $198, Commission Rate $2,000
Gold – Admin Fee $298, Commission Rate $3,500
Platinum – Admin Fee $398, Commission Rate $7,000
Diamond – Admin Fee $448, Commission Rate $15,000
Elite – Admin Fee $498, Commission Rate $25,000
Empire – Admin Fee $1,498, Commission Rate $50,000
At this point, it looks like a good deal.  You pay $1,498 for the empire level and you could earn $50,000 per sale.  That sounds fantastic, but sorry to burst your bubble but programs like this do not work like that at all.
You might pay the admin fee and then get your own template done-for-you website but then you will get a phone call from your mentor and that is the point where you find you need to spend more money if you want to actually make any money.
That admin fee only gets you in the door, it doesn't allow you to earn that commission rate unless you spend that much.
The admin fee is just paying the unknown owner of the Millionaire Mentors Alliance.  You have got to pay the actual cost of the level to your sponsor that got you into the system.
Whomever got you interested and possibly signed up with the MMA with will be receiving that money that you have to pay to be able to unlock the ability to recruit new people to receive commissions when they sign up for MMA through your link.
This means that to make money with the MMA program you are going to have to recruit other people to sign up via your done-for-you website.
You are going to have to find people who have that kind of money to spend on a program that you will feel duped you and then you need to dupe them into handing over that kind of money so you can earn money.
The worst part is the fact that your first sale doesn't go to you, it goes to your sponsor.  You will get anything from the second sale.
You will also normally find that you need to own the level to benefit from the commission.
So, if you can only afford the Bronze level but someone you recruit decides to go for the Empire level.  Do not expect to receive that $50k commission.  It is their way of getting you to buy the highest level and remember your mentor, the person who will be phoning you to choose your level will be receiving the commission based on the level you choose. 
Do you honestly think they will have your best interests at heart?  No, they will be trying to get you to buy the Empire level so they can have a great payday!
Recruiting for high-ticket items that are shady is one of the hardest things to achieve online and that is why we say, that even though they are saying 99% of the work is done-for-you, you have the hardest part to do to actually make any money.
Another factor to consider is, if you have that kind of money to invest into a business wouldn't you do better speak to a financial advisor and investing into something worthwhile that is going to truly see your assets grow.
The only reason they have the levels and the products is so they can try and avoid the pyramid scheme tag.  But I firmly believe, there isn't any intrinsic value to the levels other than to convince people to hand over money with the promise of earning more.
Haven't Made Your First $1 Yet?
Studies have shown that more than 70% of the people who want to make money online have not made their first dollar yet. So, you're not alone!
What Do The Millionaire Mentors Alliance Provide You?
You do get a number of things to try and help you dupe; I mean sell Millionaire Mentors Alliance to others:
A Personalised Website – the same website everyone has but with your own details included. It could even be classed as duplicate content which is a big no-no for the search engines.
An automated follow up system – an automated email response series for anyone who signs up for your list
A Lead Rotator
Social Media Marketing
Advertising & Marketing Resources
Motivation & Support
"Live" Conference Calls & Webinars
Prospect Tracking
But the program needs to be good enough in the first place for any of this to work and I just can't see it doing anything but swallowing up your savings or putting you into huge debt.
What We Liked About Millionaire Mentors Alliance
There wasn't anything I liked about the Millionaire Mentors Alliance.  It does provide you with some basic training, but the whole system reeks of being a Pyramid Scheme in disguise…
What We Didn't Like About Millionaire Mentors Alliance
Here's what we didn't like about Millionaire Mentors Alliance:
#1 A Pyramid Scheme in Disguise
The only reason it might not be described as an outright pyramid scheme is the fact that they offer some training and give you a website, so you could class that as a product.
But in all honesty, the only real focus is on recruiting new people and ripping them off in the process
#2 Misleading & Deceptive
The whole sales pitch is very misleading, it is not that easy to just recruit new people and make $50,000 as easy as they are trying to make out.  They claim you can "make a ton of money in an instant".  That is simply not possible.
They are also very deceptive in the way they make you believe you only have to pay the admin fee to earn any money.  But in reality, you need to actually but the level you want to promote.
#3 Who is Getting the Admin Fee?
There is no public identity around the Millionaire Mentors Alliance.  Who is the Owner or the CEO?  Why would you keep that a secret?  It doesn't give anyone a level of trust to go off with this program.
That is a huge worry, that the owner wants to keep of the radar.  But as we already know that this MMA used to be the Business Success Alliance, maybe it is so when it does get found out by the FTC.  They can just move it quietly to another business name and dupe more people.
#4 The Cost of the Levels
Have you got $50,000 to invest; then why would you use it to join this questionable program?  I just can't get over the cost, especially as there is no real value or difference between the levels other than the commission rate.
#5 Fake Testimonials
This is a typical theme when it comes to scams, the people they are using for their testimonials are not real users of the system.  Their images are from stock images.  These are images that anyone can use for website work.  Check out the images below: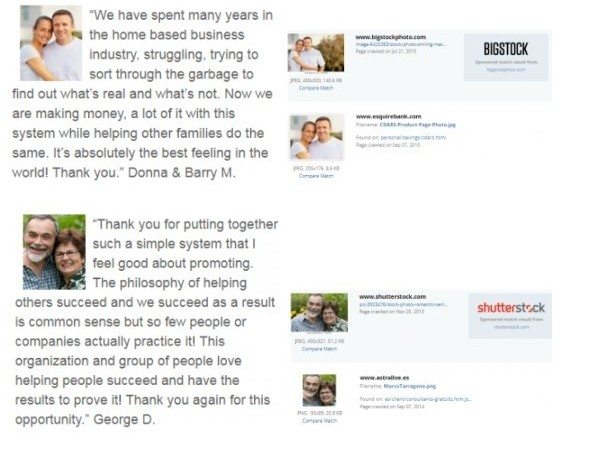 Haven't Made Your First $1 Yet?
Studies have shown that more than 70% of the people who want to make money online have not made their first dollar yet. So, you're not alone!
My MMA Review - Final Conclusion
I personally feel that the Millionaire Mentors Alliance is a scam if you were to ask the FTC and it better watch out as the FTC has already closed down 2 huge players already.
The success rate of high-ticket programs isn't that great, and I feel this program will not last very long at all, although we will have to watch out for if they try and change the name again to try and get it going again.
The bottom line is that if you were duped into using this system, you will need to spend a lot of money to get in.  You will be given a duplicate website that will only be yours whilst the system is around.  You will have no control over your business and have no choice in what you have to recommend as you can only recommend MMA, and could you possibly think about promoting this opportunity to your friends and family?  That is why I would say this is a scam and that you should stay away from it.
99% of People Lose Money with MLM schemes, Can you Afford to do that?  
Learn about why Affiliate Marketing is 100x a Better Option…
Here's A Better Alternative...
If you are looking into ways to make money online, there are much better options and they will not require you to hand over an extortionate amount of money like the MMA is wanting you to do.  In fact, our preferred option is a way where you could get started for FREE.
We have been making money with Affiliate Marketing for a couple of years and it is by the best option because:
You Do Not Need to Recruit Anyone to Make Money
You Can Get Started for FREE
You Can Promote Any Product You Want, with no restrictions by the company you join
All it took for us to make money was the right training platform, our time and effort.  You could literally take any hobby or interest and turn it into a profitable online business using Affiliate Marketing.
If you want to learn more about our top recommended training platform, which you could get started with for FREE, then click HERE.
Thanks for checking out our Millionaire Mentors Review.  If you have any questions or have any experiences you wish to share, please write them in the comments below and we will get back to you as soon as we can.
Thanks for checking out our Millionaire Mentors Alliance Review!  If you have any questions or comments to add, then please write them in the comments section below. 😉