Welcome to our Super Affiliate System 3.0 Review!
You've probably seen an ad for SAS, or watched the free webinar and are still asking…. What is Super Affiliate System 3.0 About? It might have seemed like a great training program, but you've walked away with more questions than answers, and maybe even concerned it could be a scam.
First off, it's great to see that you're doing your research before buying into any "seemingly good" product.
That is how you avoid scams and find only legitimate ways to make money online!
Our in-depth SAS review, with videos, will show you exactly what to expect from inside the system.  That way you can then make an informed decision about whether this is the right platform for you…
Super Affiliate System 3.0 Review Summary
Product Name: Super Affiliate System 3.0
Founder: John Crestani
Product Type: Affiliate Marketing Training Platform
Price: $997
Best For: Those looking to get into paid traffic routes for affiliate marketing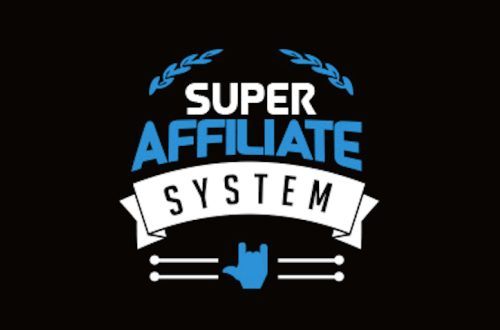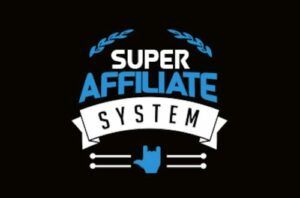 Pros
Step-by-Step Training
Pre-built Templates
John Crestani is Real Deal
Cons
Unrealistic Claims
Black Hat Sales Tactics
High Price & Additional Costs
No Tools Provided
Summary: Super Affiliate System 3.0 is a training course that teaches you how to get started with affiliate marketing (Internet Jetset) and then how to create ads on platforms like Facebook, YouTube, and Google.
It's a decent course, but the whole of the system appears salesy, scammy, and low quality, with tons of unrealistic claims and hype!
Rating: 55/100
Recommended? No
What is Super Affiliate System 3.0 About?
Super Affiliate System 3.0 is a training course that shows you how to create ads on several different platforms, like Facebook, YouTube, and Google to make money online from affiliate marketing.
It's a course designed by John Crestani, and works with Internet Jetset.
Internet Jetset is a beginners course teaching you how to use free traffic methods, and then Super Affiliate System trains you on paid methods.
The step-by-step training is designed to help a complete beginner to start making money from affiliate marketing.
The basic process is…
Create an ad on Facebook or Google, etc to drive people to your "landing page"
Get people to sign up to your email list
Send them emails and affiliate links, so they buy a product you recommend and earn a commission
Before we get into more detail, let's discuss the founder, John Crestani…
John Crestani is a super successful online marketer, who has made millions of dollars through both internet marketing, and now the courses he sells.
We would say that John is the real deal, so that you can be assured that you're learning from someone who knows what they are talking about…
There is quite a lot about John online, all showing his worth and knowledge.  But the main thing to know is that John Crestani is legit, which gives you some confidence with his course.
For more context, John created a successful online business which sold health products on his website Nutryst.com.  It also included an affiliate network which allows people to join as an affiliate and sell his products.
After this, he brought his knowledge and skills over to create Super Affiliate System & Internet Jetset, the platforms where he teaches people how to use the same methods he did to make money online.
His success story is featured in a variety of platforms, including Forbes, Business Insider, Yahoo Finance, Inc Magazine and Home Business Magazine.
Inside Super Affiliate System 3.0
If you want to know what's inside the Super Affiliate Sytem 3.0 ,then this awesome video below will show you exactly what you'll find inside this course and what you'll get…
(If you're in a hurry, you only need to watch from 1 min to 12 mins no X2 speed)
Unlike Internet Jetset, which is a beginners course into free traffic methods, Super Affiliate System 3.0 only focuses on paid traffic methods.  But you do gain access to Internet Jetset as a free bonus when you buy SAS 3.0.  If you want to know what's included with Internet Jetset, here's the link to our review.
So, we're only going to focus on what is included with SAS, which includes 6 weeks of training.  This training will show you the following…
Setting up the System – Join the networks you need, goal setting, etc.
Success Skills – mindset, how to choose the right niche/offer/ad network, etc.
Marketing Skills – How to write good copy, optimising your ads, & John's 17-step copywriting formula, etc.
Facebook & Google Ads – FB Ads compliance, metrics, metric to measure, all you need to know about, etc.
Native & YouTube Ads – Set up MGID ads, Outbrain ads, Volume DSP ads, YouTube ads, etc.
Scaling and Outsourcing – How to use survey funnels, utilise Media Buyers, Case Studies, etc.
There is a lot of good content within the 6 week course, with step-by-step videos and instructions on how to make sure your business is setup for success.
But you should also know that there are many other similar courses out there, such as…
6 Week Super Affiliate System Pro
Secret Society of Millionaires
So, you might still be wondering…
Is Super Affiliate System 3.0 a Scam?
No, we don't believe that Super Affiliate System 3.0 is a scam.
It offers some useful training on how to get started with paid traffic with affiliate marketing, which is an effective route if you have the budget to handle it…
There are two main ways that an online training course could be considered a scam, these are:
Take you money and run, never to be heard from again
Provide some basic information, but doesn't live up to the promises or hype
I think it's safe to say that Super Affiliate System 3.0 isn't the first type,…
However, does it live up to the promises and hype that John uses to promote it?  Will you be earning $460 by the end of the day?  That's what we'll explore in the remainder of our review…
Haven't Made Your First $1 Yet?
Studies have shown that more than 70% of the people who want to make money online have not made their first dollar yet. So, you're not alone!
What We Liked About Super Affiliate System 3.0
Here's what we liked about Super Affiliate System 3.0:
#1 Step by Step Training
Training that is step-by-step is really important, especially if you're a beginner or lack any experience with this type of thing.
The training videos will only pay in order too, to help with the order of things, making them easy to follow and get started quickly.
#2 It's Possible to Start Earning Quickly
The advantage of using paid ads, is that it is possible to get people to your landing pages quickly.  So, as long as your sales pages and scripts work like they say they do, you can start making money quickly.
Keep in mind, this is paid routes though, so you'll need a budget to achieve this.
#3 Ready Made Landing Pages & Swipe Copy
This can be both a good thing and a bad thing…
It can help speed up the process for beginners, as you don't have to create them yourself.  It's not easy to create landing pages and sales copy that works, and converts, even for a seasoned online marketer.  Doing it as a newbie is exceptionally hard.
But the downside is that it can both limit the creativity of people, but also hurt Google ranking as the content is usually the same as everyone else's who uses the platform.
#4 60- Day Money-Back Guarantee
They claim to offer a 100% money-back guarantee if you're not satisfied with the course.  If you're able to offer this guarantee, it's a good sign that tcourses are at least above average.
It also means you can try out the course risk-free.
It is important to note that you may need to show proof you have tried the course to get a refund. If you are looking for a quick refund it's probably best to go straight to ClickBank.
What We Didn't Like About Super Affiliate System 3.0
Here's what we didn't like about Super Affiliate System 3.0:
#1 Black Hat Sales Tactics
A lot of misleading sales tactics are used in the sales videos for the Super Affiliate System…
For example, John claims there is only one chance to buy the course.  He also suggest there are limited seats due to "software".
*Throws cash into the air* "This is only happening once"
"Make sure you're on time or you may not get a seat… the software only allows 1,000 people to be on it at one time".
These are just lies that John is using to try to put pressure onto you, so that you make a rash and emotional decision.
There are those that argue that it is simply good marketing…
But it is possible to use the "scarcity tactic" without resorting to thse types of tactics.  For example, you could offer a part of the course for free and then if they upgrade within a given time period, they'll get a discount.
It's the same strategy, just with some integrity.
Another issue is that, if he is using these back hat tactics, what do you think you'll be taught within his course?
#2 Unrealistic Claims
Super Affiliate System claims that you can earn your first commission in less that 2 hours.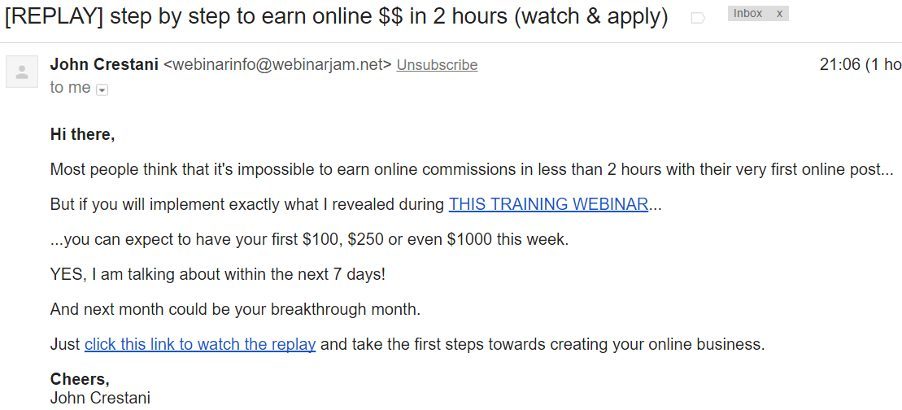 As an experienced online marketer, I can confidently tell you that this is IMPOSSIBLE! 
Even if you are using the best platform, tools and support, it is impossible for a complete newbie to earn commissions within 2 hours after getting started in an ethical way.​
And they are promising you to start earning $100, $250 or even $1,000 in their first week.
Another of his sales videos claims that you can make $460 today.  But he doesn't give you any detail about how you will make this and the 90-minute webinar doesn't even refer to it.
There are even reports online that people were recommended to sign up to Amazon Associates, place a link of an ebook on Facebook and get a friend to buy it through your link.
Not only is this unsustainable, but a great way to lose some friends!
#3 Only Paid Traffic Methods Taught
Paid traffic is effective, and it can help you create sales quickly.  But it does come with some risks…
The reason we say that is that no one can guarantee that this is going to work like it did for them.  They even have a disclaimer on their website (in really samll writing) confirming that there is no guarantee.
Using paid ads can quickly burn through your money, so unless you are able to start making sales quickly, you can find that you are just chasing lost money, and racking up a huge credit card bill.
Some recommend you have at least $200 to $1,000 a month to make this work…
#4 It's Expensive & Has Additional Costs
The Super Affiliate System 3.0 will set you back $997, but that isn't where the costs stop.
They recommend that you spend at least $250 a month on Facebook Ads.  Then there are some other expenses you need to consider:
Here is what you should consider a budget for…
Web Hosting – at least $75 a year if you use BlueHost (most cost effective).  You'll have to pay this if you want a website (and you can't have an online business without one)
Software – for example, ClickFunnels.  Which is $97/month and the bonuse landing pages you get only work with ClickFunnels
AutoResponder – Can be between $15-$30 a month
Whilst you may not need these things, if you want to follow the step-by-step training and follow what John has done, you are going to need them!
Haven't Made Your First $1 Yet?
Studies have shown that more than 70% of the people who want to make money online have not made their first dollar yet. So, you're not alone!
Compared to Our #1 Recommended Affiliate Marketing Platform
Wealthy Affiliate is our #1 Recommended platform for affiliate marketing.
Let me quickly show you some comparisons between WA & SAS, to show you how awesome Wealthy Affiliate is…
The table above is a simple comparison between the two platforms, and you can clearly see which one is the winner.
So, if you're looking for online money-making opportunities or are looking for affiliate marketing platforms specifically, we would highly recommend you to try out Wealthy Affiliate.
It's FREE to join (as compared to SAS, which doesn't allow you to try for free) and it will allow you to have a much stronger foundation in online marketing, with various tools and support included.
Our opinion is that WA's step-by-step training is a lot more thorough and in-depth than SAS.
My Super Affiliate System 3.0 Review - Final Conclusion
Super Affiliate System 3.0 is a legitimate course that could help you make money with affiliate amrketing.  There are some people who have been successful from using this course, but it does come with a huge problem…
And that is, you'll need at least $2,000 to make it worth your time and be able to follow through on the steps given in the training.  You'll also need to be willing to lose money, whilst you setup the system to work for you.
You'll not get taught any free traffic methods, making a huge part of online marketing missing from this course.
If you're still interested, you can find the link here.
Affiliate Marketing is a great way of earning a passive income online, but you don't need to spend $997 to follow a training course that will require you to spend more and more money to make it work.
Thanks to Wealthy Affiliate, we've Created a 4-Figure Monthly Passive Income Stream.  It's FREE to get started, and costs only $49/month to go full-time!
Thanks for checking out our Super Affiliate System 3.0 Review!  If you have any questions or comments to add, then please write them in the comments section below. 😉